50 sad quotes about love that everyone can relate to
Love is a vibrant part of our daily lives. As humans, we drift in and out of it. During early adulthood, heartbreaks are a common occurrence that is propagated by ignorance. One of the best ways to ward off sadness and depression whenever you are heartbroken is by reading sad quotes that will remind you that you are not the only one experiencing such pain.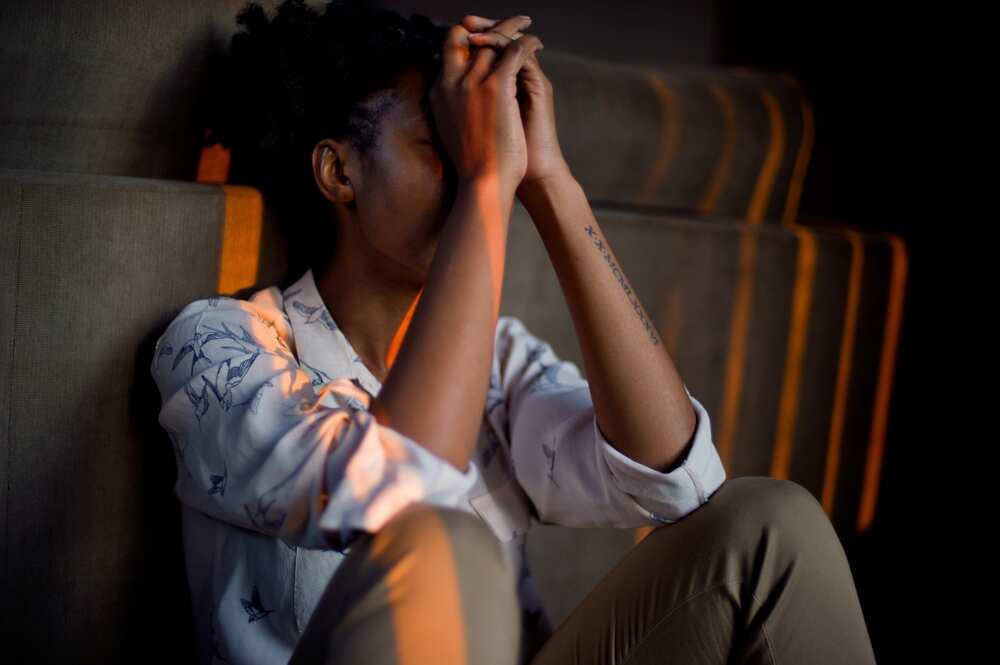 Such quotes uplift the soul and unveil the reality that falling in and out of love is normal. Reading sad sayings on a day-to-day basis will refresh your soul and prepare you for a new chapter in your life. What is the saddest quote in the world? It must be one of the many listed below.
Sad love quotes for her
Most girls encounter heartbreaks that leave them sad, annoyed, and depressed. These sad but true quotes are a great way of coping with emotions. You can forget your pain and love again because sadness quotes reveal that your suffering is not a permanent affair.
If you adore her, never speak lies in her ears, put words in her mouth, bring tears to her eyes, add confusion to her mind or pain to her heart.
I yearn for him not; I yearn for the person I thought he could be.
Whenever I miss him, I bring out the old chats, grin like a fool, sing songs that remind me of him, and that makes me miss him more.
I wonder when you look into my eyes and watch my heart breaking, does it smash your heart too, even a little bit?
You never realize how much you cherish a person until you watch them love another person.
It may be difficult now but eventually, you shall discover the good in goodbye.
Do not feel sad over one that dumped you. Feel sorry for them for giving up on one who would never have given up on them.
Tears may be irrelevant in a sea of water but they can calm the spirit as they flow down your face.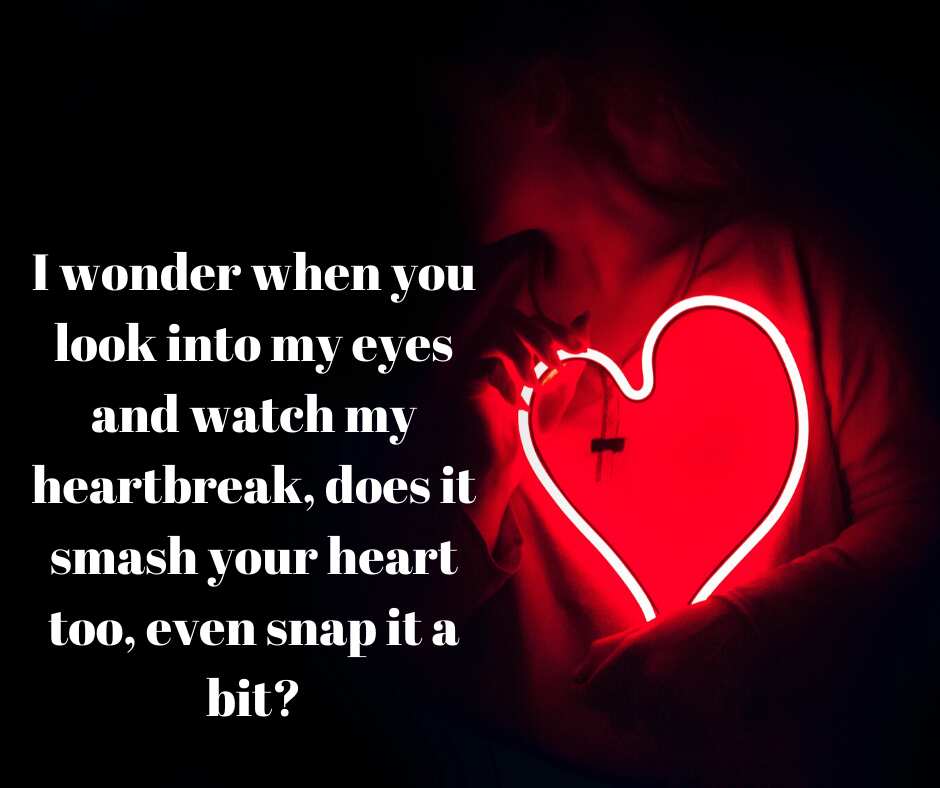 The only lesson I learned from being with you is that I gave you too much power to crush me
Because you intend to make me weep, please avail yourself to wipe away my tears.
If there is anything more agreeable than to be loved, it is to love.
Within you, I am lost. Outside of you, I catch myself yearning to be lost again.
It is astonishing how one can crush your heart and despite that, you will continue adoring them to bits.
Every one of my recollections returns, but he never does.
You made me feel like I had prospects of being with you, but when I took that chance, you made me discover that I never really did.
He taught me how to love, but not how to end it.
I will forever adore you when we are together and also when we are far, far away from one other.
The worst way to endear oneself to another is to snuggle beside them, knowing they are not fond of you.
It kills me to let go, but I know it will hurt me more to hold on to you.
Sad love quotes for him
Men hardly ever admit to heartbreak, yet they suffer just as much as women do. Not a single thing can be as painful as being jilted. How do you express sadness in words? Depressing quotes will soothe the pain.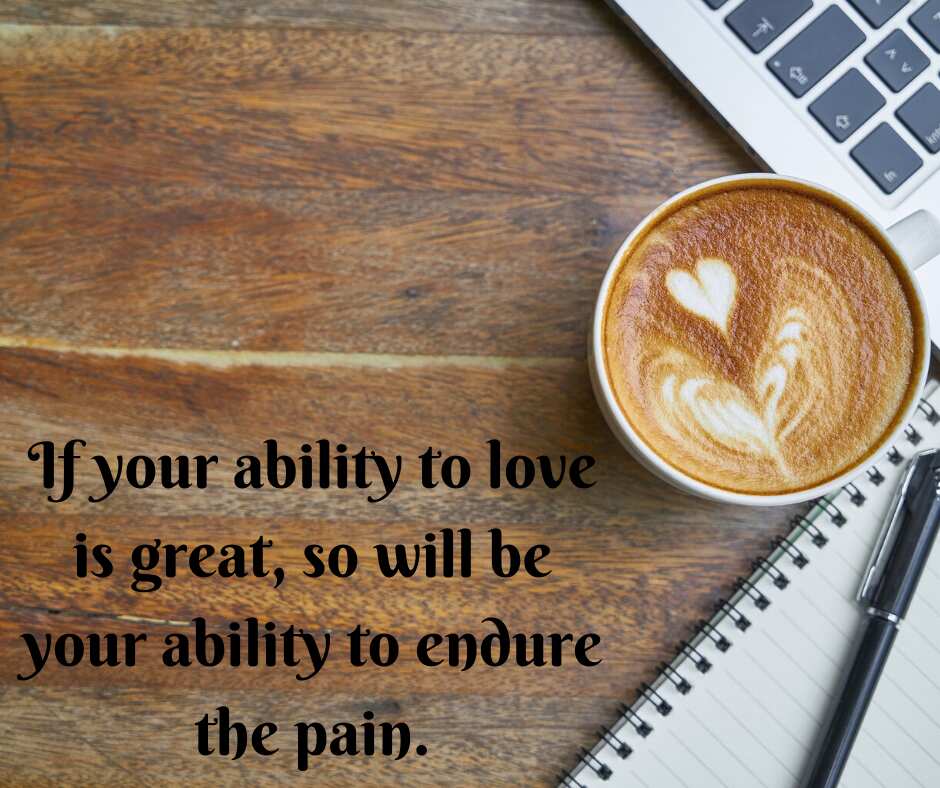 For this reason, quotes about sadness are a welcome relief. Reading and internalizing them daily rejuvenates a shattered heart. An example of a sad quote is: I know not why I still keep hoping.
Other sad quotes about love that point a grieving heart towards a healing path are:
I will never ask that you stop cherishing me. Indeed, I trust in hopeless love. I have confidence in it with all my soul, though you may discount the soul of old.
This presents the problem of being devoted to a person when they leave you; you feel helpless.
A shattered heart is the most unfavourable. It resembles having splintered bones. No one perceives it, yet it wounds every time you exhale.
I enjoy weeping in the rainfall, for if I do, none can understand the agony.
Every heart hurts. It is one of the channels of conveying it that is distinct. Fools conceal it in eyes, while the clever conceal it in their grin.
Never cling on to a person who cares the least about no longer having you.
A few say it hurts to wait for a person. Others claim it is hurtful to get a person. But the least desirable hurt comes when one is clueless about whether to wait or forget.
If your ability to love is great, so will be your ability to endure the pain.
A shattered soul is the Maker's reward to mankind. It is His way of showing us that He salvaged the soul from the pathetic one.
Cry when it ends but never forget to celebrate the fact that it was good while it lasted.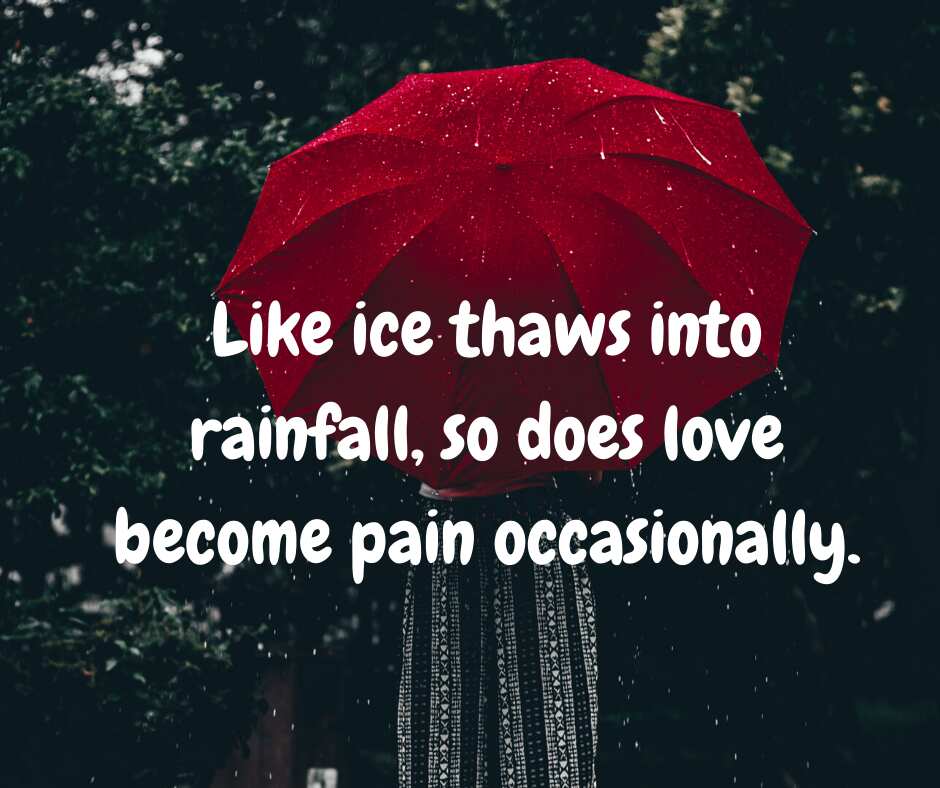 I desire not a flawless one. I just need someone who can make me feel that I am the only one.
Whenever people want to leave you, let them go. Your future is not hinged on anyone who left.
What do I do when the only one who can stop these tears from falling is the one who caused them in the first place?
If a woman desires you, there is little you can do to stop her. If she has no desire for you, there is little that can make her keep you.
What can I do to get rid of this heart that causes me so much pain?
Never make someone a priority when all you are to them is an alternative.
If you are fond of someone, let them know because hearts are always shattered by words that are never uttered.
Like ice thaws into rainfall, so does love turn into pain.
Sad anime quotes
Animation is always entertaining and sometimes relatable. These sadness quotes from various anime characters are ideal for consolation after heartbreak:
If you let yourself get depressed, you'd be making light of the people who trust and follow you - Ogami Rei
If you are cold, you hurt people. If you are sensitive, they hurt you.
Even though I am bitter over losing, even though I am depressed, even though my ankle hurts and my eyes are smeared with tears...even though I have never felt worse...I wonder why the stars are sparkling like this - Tsubaki Sawabe
Don't do. Don't go. Please don't go. Please don't leave me behind - Arima Kousei
Forget about revenge. The fate of those who seek revenge is grim. It's tragic, you will end up suffering and hurting yourself even more. - Hatake Kakashi
If I had faith, then I could blame all the bad things on God. Then I would be sure it was not my fault - Nakahara Misaki
If you do not want to be betrayed anymore, then start by doubting the person you want to doubt the least - Heinrich Lunge
Wake up to reality! Nothing ever goes as planned in this world. The longer you live, the more you realize that in this reality only pain, suffering and futility exist.
Quotes about being sad by famous people
It is not just ordinary people who suffer because of love. Even famous people go through this journey of love and pain. There are many depressing quotes about love that have been mentioned by celebrities.
Some of the saddest quotes about love that have been coined by prominent people are:
Our greatest joy and our greatest pain come from our relationships with others - Stephen Covey
Part of me aches at the thought of her being so close yet so untouchable – Nicholas Sparks
You can close your eyes to things you do not want to see, but you cannot close your heart to things you do not want to feel – Johnny Depp
Sometimes good things fall apart so that better things can fall together – Marilyn Monroe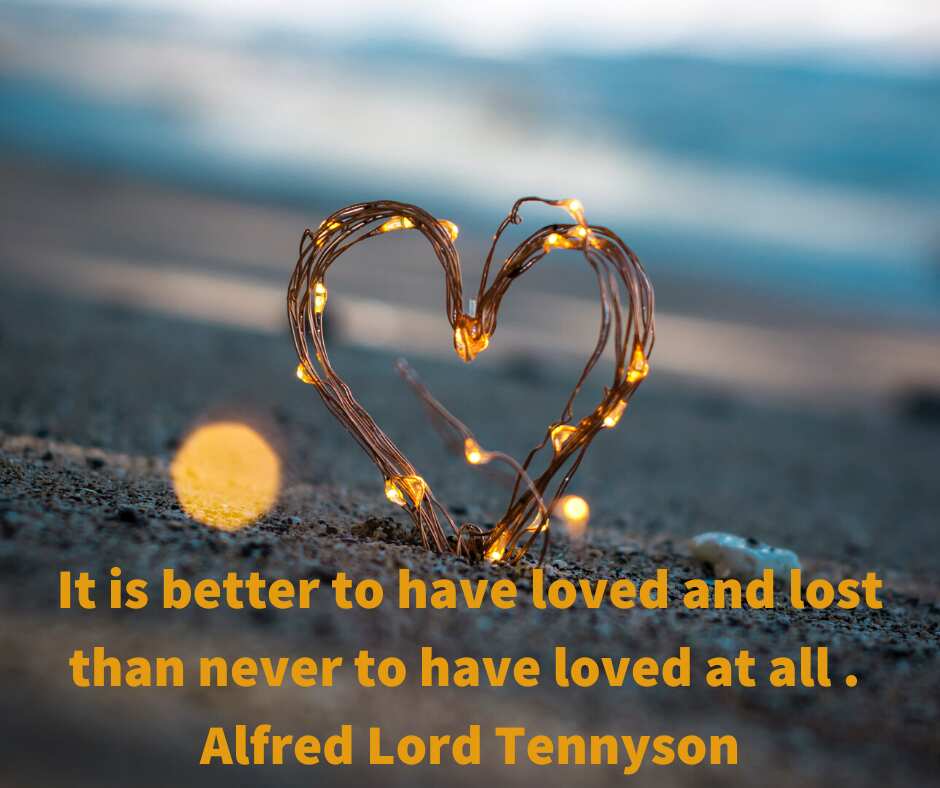 The heart will break, but the broken live on – Lord Bryson
It is better to have loved and lost than never to have loved at all – Alfred Lord Tennyson
Being deeply loved by someone gives you strength while loving someone deeply gives you courage – Lao Tzu
Tears come from the heart and not from the brain – Leonardo da Vinci
Sad words are the norm whenever lovers vent their frustration. Once you break up with your significant other, what you do during the grieving period determines your future relationships. Sad anime quotes rekindle hopes of unadulterated affection again.
Sad quotes bring to mind the reality that there are many people who are experiencing something similar. They are ideal, not just for you but also to be shared with others who are going through heartbreak.
Source: Legit.ng