50+ great happy 50th birthday wishes and messages to send to friends
When someone exists in the world for half a century, you know that they have seen a lot of what life has to offer. Sending them happy 50th birthday wishes is not only kind but also shows that you truly appreciate this person.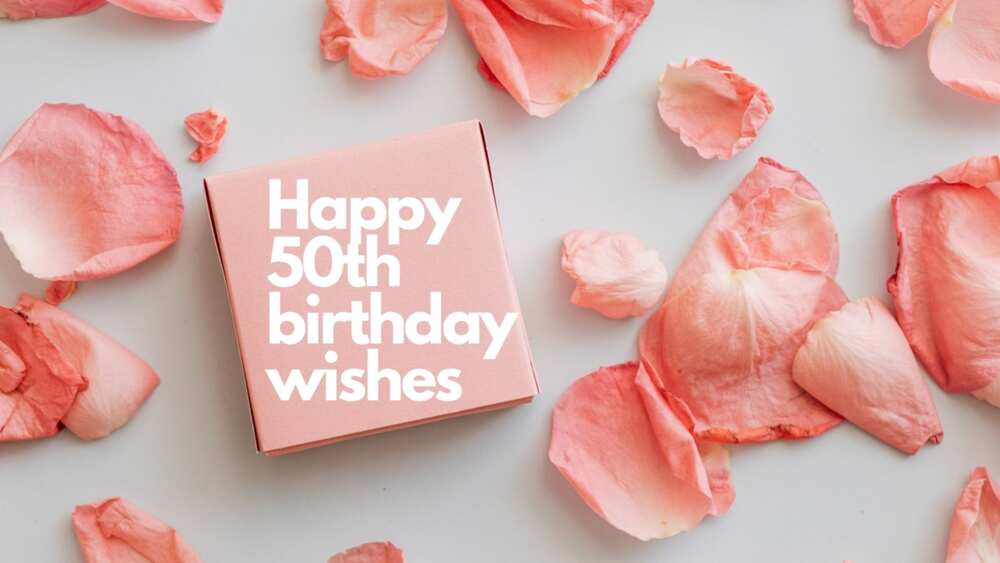 Depending on the recipient, you can choose to send them happy 50th birthday images with heartfelt messages. This is more applicable when done digitally as you can create a beautiful collection of their photos, or your photos together, and write your message on them.
You can also make their day better using funny 50th birthday sayings. Another great option is using a few happy 50th birthday quotes that you will find most suitable for them.
Here are some of the best wishes you can send to your loved ones on their special day.
15 lovely happy 50th birthday wishes to send to friends
Which are the best happy 50th birthday wishes?
I hope you are around for more years than you have currently lived because people as remarkable as you do not come along very often.
What a great opportunity to stop and reflect on how much you have achieved so far in life. You are an inspiration to all of us. May your future be bright and full of many blessings!
Congratulations on reaching the half-century club! May this next half be just as amazing as you are!
To someone who totally rocks! May the rest of your life be filled with the best music, great friends, and amazing times.
Congratulations on your 50 years on the planet. You have accomplished so much, and the best is yet to come! Be prepared for the ride.
You make being in your fifties look so good. I may have to try it sometime!
If you are only as old as you act, then you are the youngest person I know.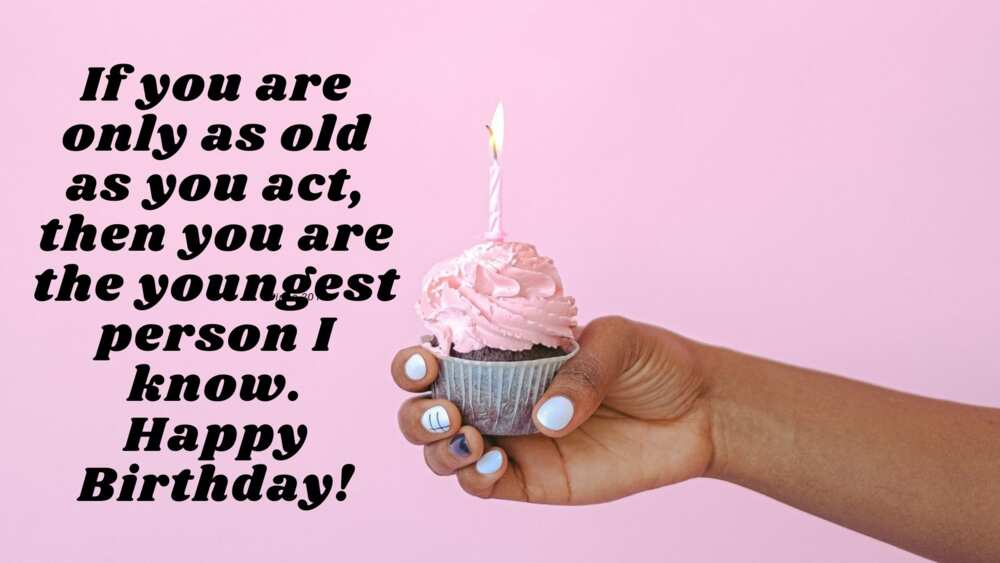 As it is popularly said, age is just a number! Our bodies may age with time, but for our hearts, love and wisdom only become better.
Here is to another decade of us laughing at each other's jokes, and offering each other a shoulder to lean on.
Friendship with you has been a life-saving grace. Whenever I have needed a shoulder to cry on or a hand to hold, you have been by my side, not to mention the joyous moments as well. Thank you for being the one I need. Have a good one, dear friend!
May all the coming days be as lovely and bright and beautiful as you. You are a true friend and a beautiful soul. I am so blessed to know you.
Look back and see all your happy moments. Though the time flew and things changed, your memories will remain the same.
You are a talented and creative soul who always has something uplifting to say. You deserve all the very best, now and always.
You are such a generous, kind, and fabulous person, and I am so lucky to have you as a friend. Wishing you an extra special birthday and best wishes for the many years ahead.
The world has been lucky to have you since you were born. Congrats on reaching this special milestone. I wish you many happy years ahead.
15 have a happy 50th birthday funny wishes
Send your loved ones one or a few of these messages as most people enjoy a good joke.
You do not even look close to your age, and that is a really, really, annoying thing about you. Cheers!
Buy the sports car, get the tattoo, take a trip, learn something new. Let the midlife crisis adventure begin!
Welcome to the age where it is no longer possible to find a birthday cake big enough to hold all your candles!
Let nothing worry you. You are allowed to continue growing up and get more stupid. Do anything you want to and make your life adventurous. Have a good one!
Don't you just hate it when people say that someone is halfway to 100 whenever people are celebrating their happy birthday 50th year? In fact, you are more than halfway there the second the day arrives. So, have a joyous half-century-and-a-bit!
If getting older means getting better, you are now approaching perfection!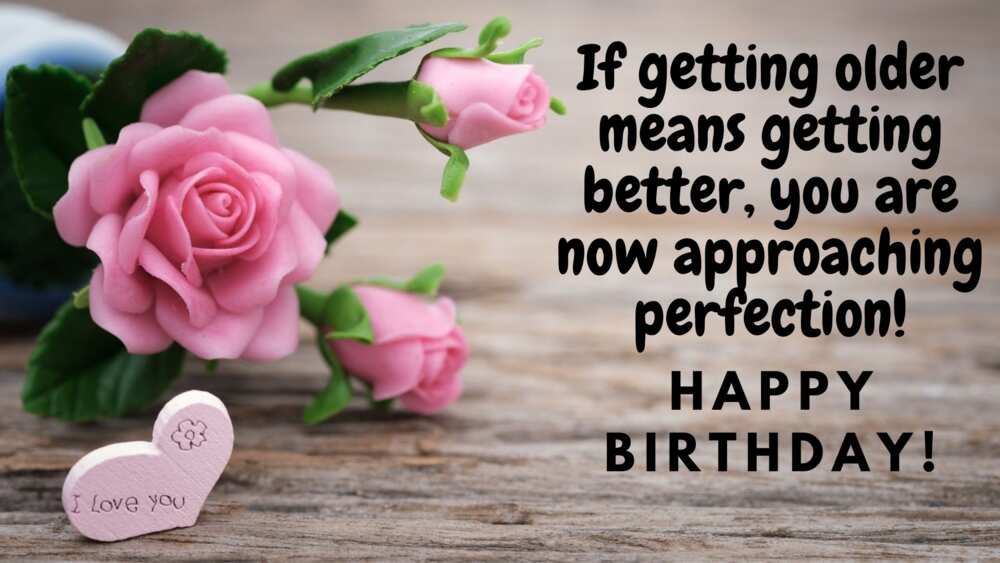 Remember how excited you were when you turned 10 years old? Well, now you should be 5 times as excited!
Do not panic. Those are not grey hairs you see. They are strands of celebration glitter growing out of your head! It is time to celebrate!
Once you get to your fifties, it is nature's way of telling you to start lying about your age. Brace yourself.
I see changes in your face, gut, and hair. But what remains the same all these years is your dry sense of humor that I like the most.
Turning 50 makes you wonder where the years have gone. Also, where are your keys? And what did you do with your glasses? And why did you walk into this room?
Congratulations! You have now reached the age when the inside of your ears and nose is hairier than the top of your head.
You have arrived at a very special time in your life. Be prepared for some unexplainable pains and pleasures!
Throughout your life, you have luckily acquired a lot of common sense which is great because your sense of sight and hearing are not going to be what they used to. Enjoy!
Once in a while, someone comes along who makes 50 look good. Let me know when you come across them. Just kidding! Happy birthday, dearest!
15 thoughtful 50th birthday wishes
It is always a wonderful feeling when you know that someone is thinking about you and has your best interests at heart.
Today is not only special for you but also for me. I have seen you as a strong leader and a motivating factor in my life. Wishing you peace, success, and good health.
Your sparkling personality is just as strong now as when you were sixteen. Live fully and celebrate!
Irrespective of age, being healthy is one of the biggest accomplishments. I wish you the best health for the coming years of your life.
To the person who always has a kind word, a bright smile, and a silly joke to make everyone's day brighter, cheers!
I wish you all the possibly achievable happiness, success, and pleasure for the rest of your life.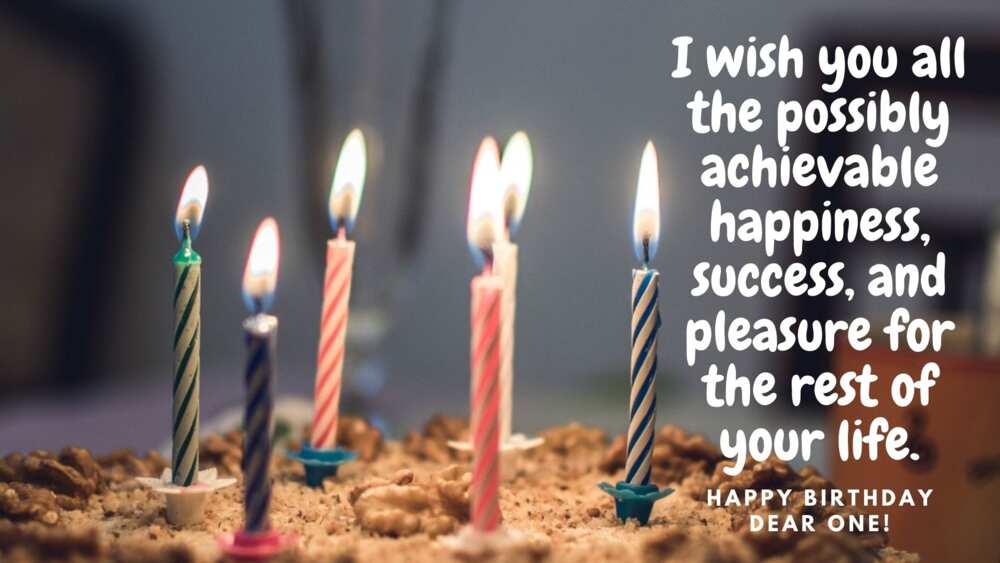 A small party just won't do. It is time for a huge celebration in honor of you. I send my wishes of cheer your way in hopes that you have the most delightful day.
It is easy to drink from the fountain of youth when you are young. It is harder when you are 50, but that does not mean you should not take a sip every once and a while. Drink up now!
Everywhere you go, the sun shines brighter, the flowers smell sweeter, and the world is a little bit happier. The entire human race is lucky to be graced by your existence.
I hope this period rocks! Let loose, celebrate loudly, and know that you are one of the world's best people. I believe that this new chapter will be your best yet!
Now that you have reached this big milestone, I can truly say that you look fabulous at any age! What's your secret?
Growing older is not a big deal, but getting older by heart is sometimes a big dilemma. Take a long breath and have a fresh start.
It is probably time to start taking that bucket list a little more seriously. I hope you have an exceptional one, my friend!
You have accomplished many terrific things over the years, succeeded at so much, and for that, you deserve a huge celebration!
This moment is all about you and this amazing milestone that you have reached. Enjoy yourself and the cake too!
Aging gracefully does not mean staying home and waiting for something to happen. Now is the time to throw caution to the wind and really embrace life!
15 inspirational 50th birthday wishes for loved ones
Sharing some inspirational 50th birthday sayings and wishes with a loved one on their special day is a sweet way to remind them that they are doing great and that there are even better days ahead.
By now, you have learned your hardest lessons. You have found out that only a few things are really important, and that you should take life seriously but be gentle with yourself. I hope that any remaining lessons are fun!
You make every day a gift to those around you, and you deserve the very best that this new decade has to offer.
Live it up! It is time to celebrate another wonderful decade of being you!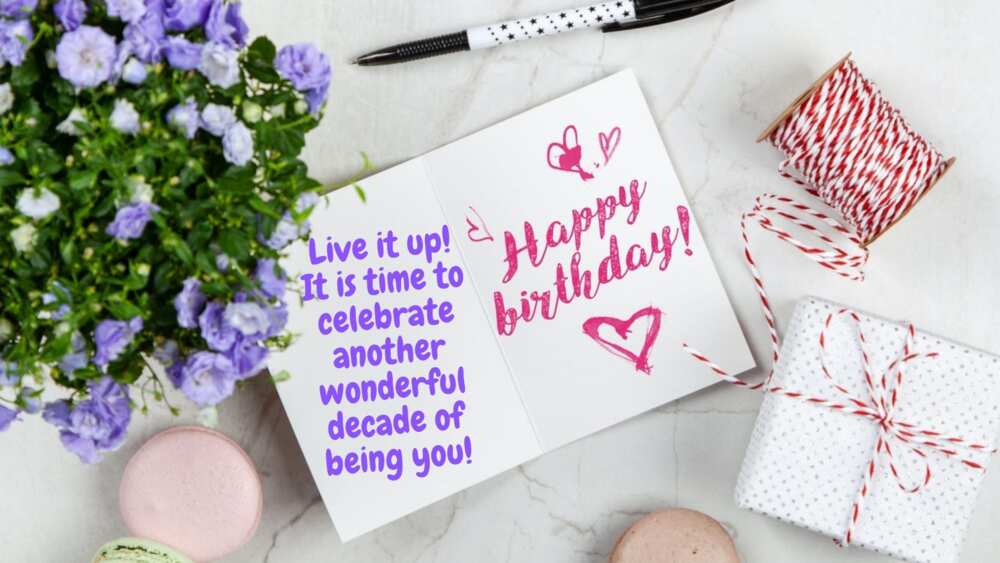 Do not let the thought of turning older make you feel nervous. Ups and downs in life come and go, so do not make a fuss. Do not slow down. There is no need to worry about taking a rest. Forget your age and just live every single day of your life to the fullest.
You have done so many incredible things all your life. Waiting to hear about your new ventures in the upcoming years.
To the young people in their 20's, you may look older, while to the older people in their 70's, you are younger. So, enjoy every moment! It is not the perspective of others that defines you but your own definition.
In this peak season of your life, you have learned the crucial lessons necessary, and you are capable enough of teaching others. I wish you all the best in your present and future.
Adam lived for 930 years. Biblically, you are still a baby!
We have walked this journey together and made both good and bad choices, but as you turn a year older, what matters most are the lessons you have learned. I wish that you get to enjoy the finest experiences only from now henceforth.
Congrats on reaching another milestone! What is next? A marathon? A trip to Europe? I hope that all your wishes for adventure come true in this new chapter of your life!
This is not the age to unbuckle the seat belts or get off the roller coaster. It is time to pull up your socks and plan out as many adventurous rides as you possibly can.
You are a light in the darkness, a friend in an hour of need, and a gracious human being who makes life a million trillion times more fun. May you be truly blessed.
I have seen you encounter many ups and downs, but you have never given up as you always overcome all the situations with courage. You are an inspiration to me, and you truly deserve everything great that life has to offer.
One of the best ways to cherish life is to forget your age. All you need to remember are the best memories you had.
I cannot believe your age! You are so young at heart, and you look as young too! Congratulations on this milestone, and I wish you many, many, many happy returns.
Happy 50th birthday memes
Sending your loved ones memes is a great way to make them laugh on their special day. As 50 is not old, they will enjoy the jokes, especially if they have a great sense of humor.
1. Reality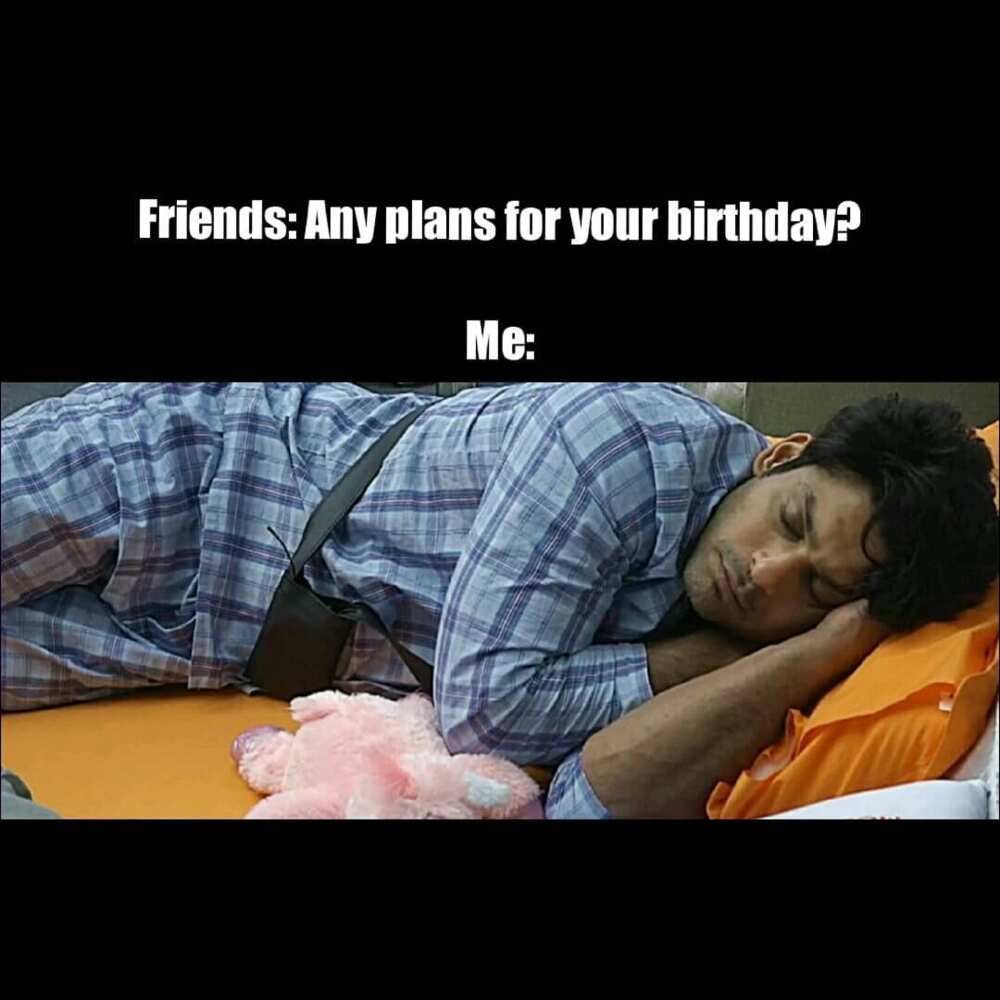 Do you ever feel so lazy on some of your birthdays that all you want to do is lay down and relax? Well, it could be a normal thing. However, since this day comes in a year, do not let this be you!
2. How you see them when they come empty-handed to the party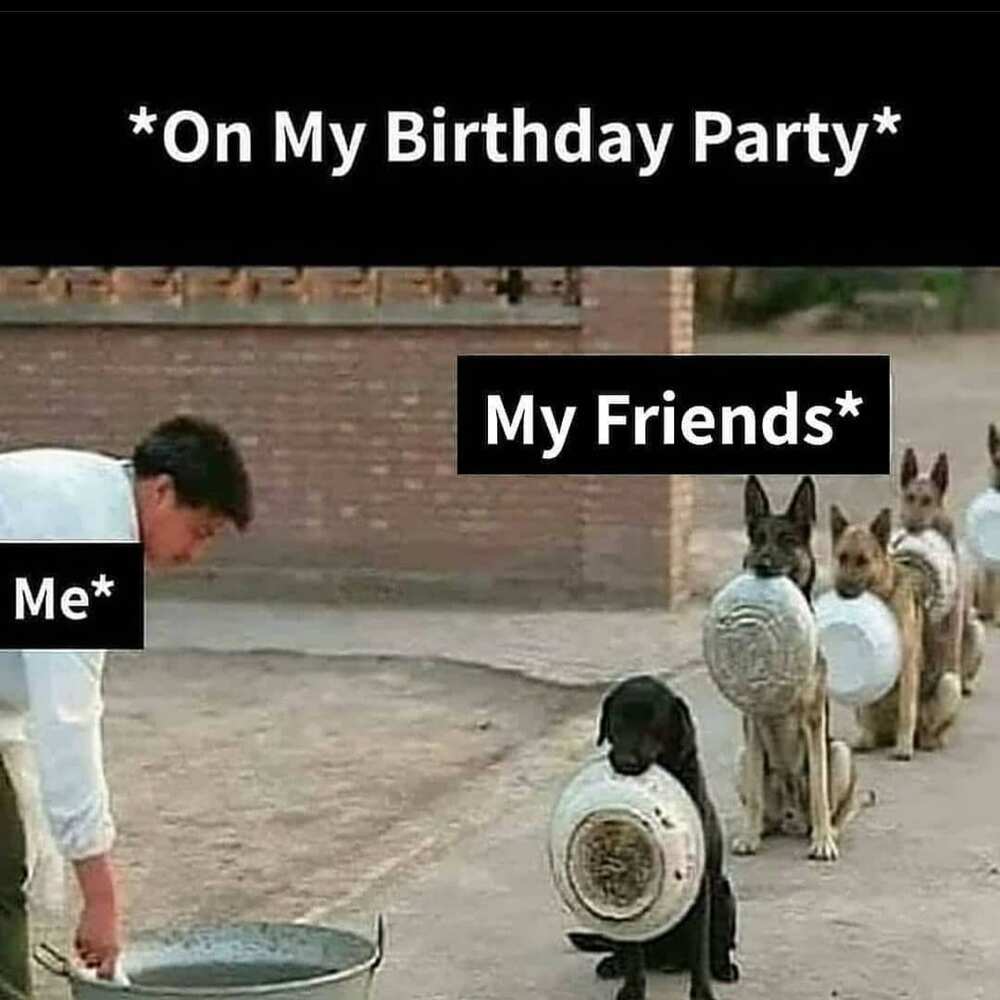 There are those friends or family members who attend celebrations without a gift. For this reason, you can get triggered sometimes, especially when it becomes a habit. Nonetheless, let them be! One day they might learn how to be more courteous.
3. Looking for the excitement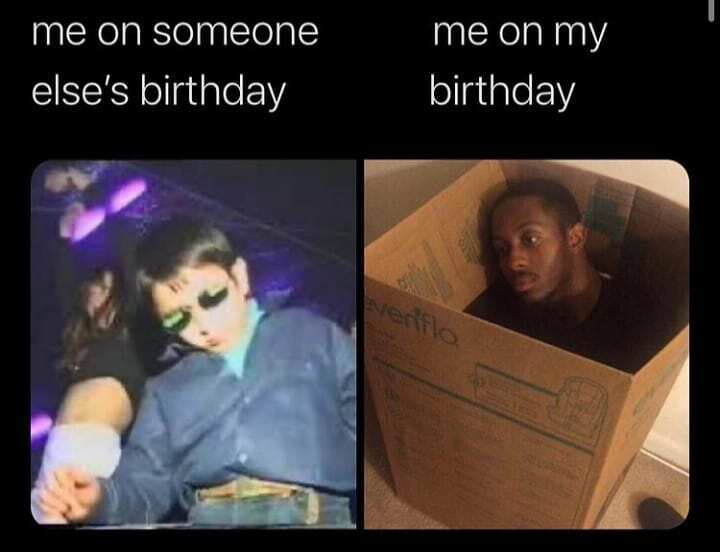 It is funny how we tend to go all-in on our friends and loved ones' parties while when it is our turn, the party mood just vanishes! Maybe it is because we overthink instead of enjoying the moment.
As your friends and loved ones reach this milestone, do not hesitate to send them happy 50th birthday wishes and messages to brighten up their day. Make them feel loved and remembered.
READ ALSO: 50+ adorable happy birthday grandma wishes for your meemaw
Legit.ng reported that there are many wonderful things that you can write to wish your grandma a happy birthday.
If you have been looking for the most amazing wishes and messages, find out the best happy birthday grandma wishes ever! Check out this collection of the most heart-felt quotes, wishes, and messages.
Source: Legit.ng