Get well soon messages for friends and loved ones
When someone you know is experiencing health problems, you want to do everything to make sure this person is okay. You can let them know how much you care by sending them a heartfelt get well soon message. Here are some of the best examples of get well wishes if you are having trouble speaking your mind.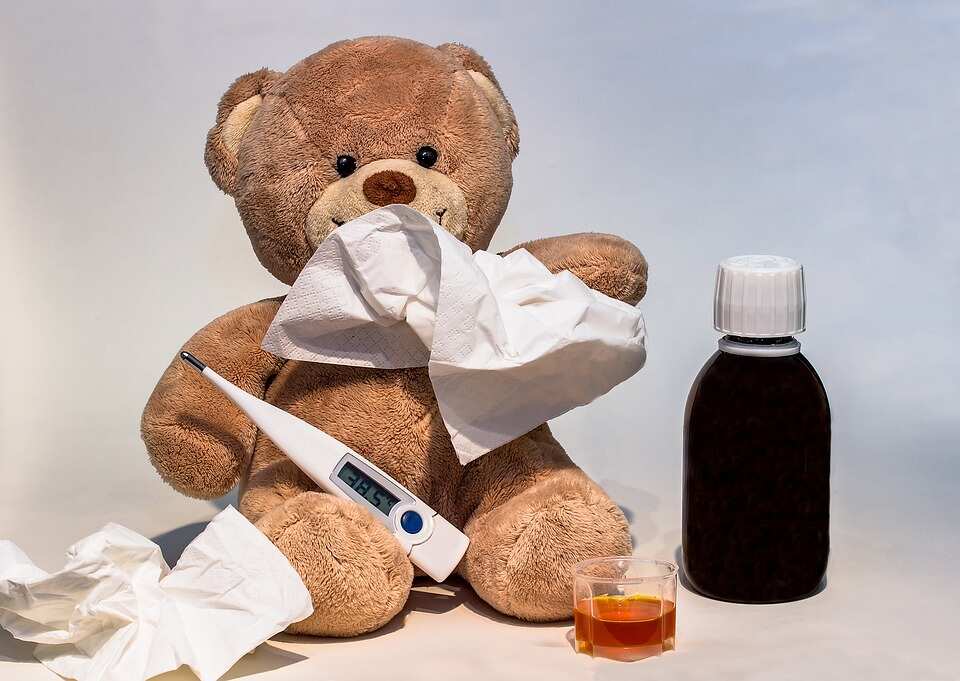 People with health issues need to know that they are cared for and loved more than anything else. This is why writing them some get well soon messages would be a great idea. This way, they will feel less lonely and more treasured.
How to write a sincere get well soon card
To write a great get better soon card, you should remember a few things:
Be positive. You have to focus on the bright side when talking about someone's health. The person wants to get better soon, and they need to get some positive vibes from those who are close to them.
Add some humour. The one you are writing to does not want to wallow in self-pity and a foul mood. By adding some hilarious inside jokes that the two of you enjoy, you will be able to add some light to their life.
Send them a prayer. If you both come from a religious background, it would mean the world to the sick person to know that you are praying for them. It will also strengthen their hope to feel better soon, as they will know that it is supported by your prayers.
Express your empathy and support. Let the person know that you feel strongly about their condition and that they are always in your heart. You should try to put yourself in their position and understand what they want to hear.
Now that you know the basic rules of writing get well cards, here are some ideas of what to include in your message.
Get well soon messages for someone in need
These words of support can be included in a card or a text that you are going to send to your ill friend or family member.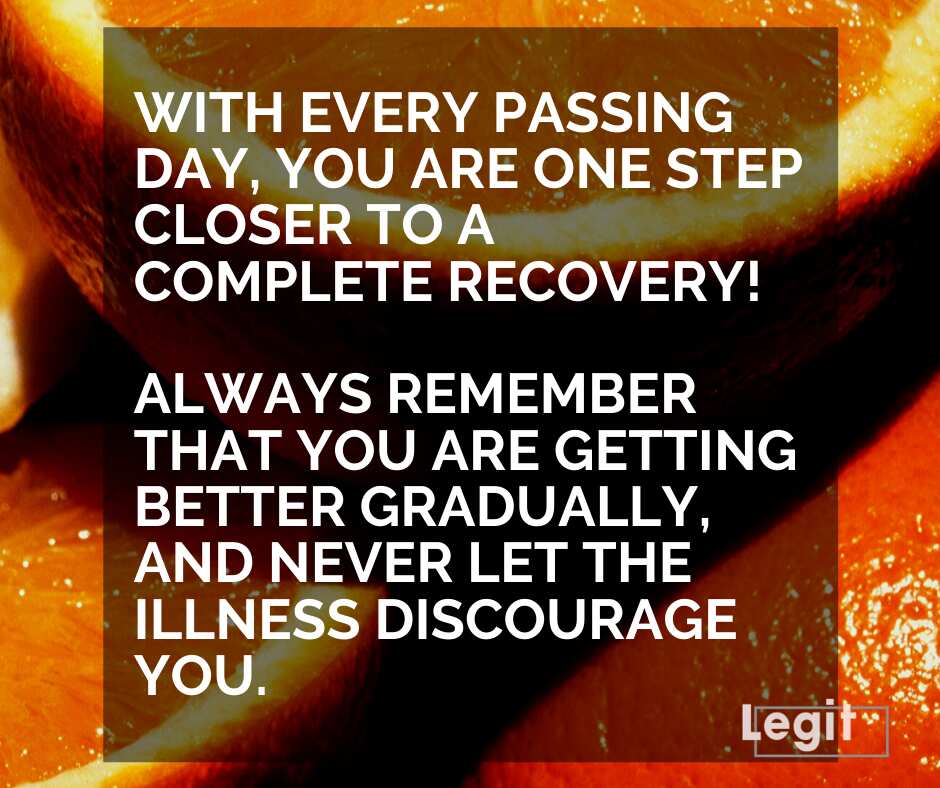 I can't wait to hear your beautiful laughter again. Please come back as soon as you can.
I want to send all my positive and healing thoughts to you and wish you a speedy recovery.
You are in my thoughts and prayers during your recovery time. I hope we will be able to meet again in the nearest future.
You are the strongest person I know, and this is why I am absolutely sure that you will get well very quickly.
I wish you comfort, good care, and speedy healing.
With every passing day, you are one step closer to a complete recovery! Always remember that you are getting better gradually, and never let the illness discourage you.
Without you, it feels like we lost our sunshine. We miss you so much and I hope you feel better soon!
Recovery will take a while, but do not get discouraged too easily. I believe that with a little faith and strength, you will get fully healed in no time!
I heard you were feeling a little unwell. I sincerely and wholeheartedly hope that you will make your recovery.
I am thinking fondly of you every minute and missing you. I want to send you my warmest well wishes and the speediest recovery!
Funny get well messages for your loved ones
If you have a friend or a coworker who is sick, you can make them giggle by sending them one of these hilarious or sarcastic messages.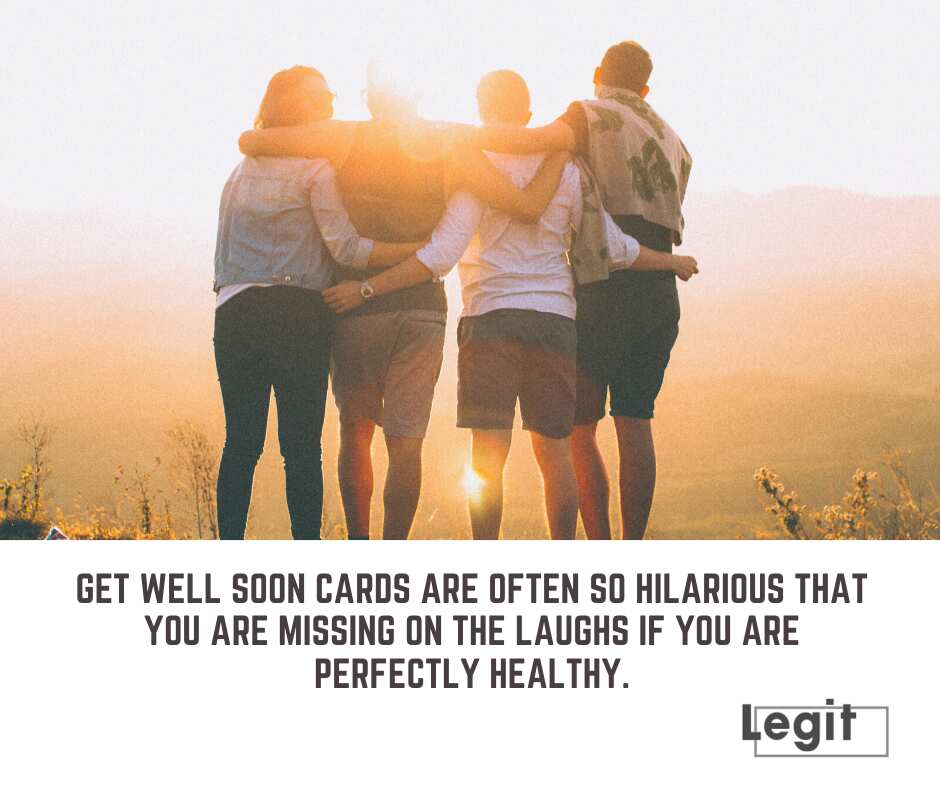 Get well soon cards are often so hilarious that you are missing on the laughs if you are perfectly healthy.
If your immune system was a lawyer, I would fire it. It doesn't seem to be defending you well enough.
I hope you feel better soon, so you can come back to work and immediately feel worse.
I miss your bad sense of humour, so make sure to get better as soon as possible!
Everything that happened to you was because you did not eat enough apples. Please, make sure not to forget eating any apples anymore.
You are such a patient person that your tolerance is just being tested all the time, which is why you get ill so often. Feel better soon!
I'm sorry that you had to take your sick days because of actually being sick.
I know that you wanted to take some time off work, but that was a little too long.
Lying in bed for many days gives you a chance to reflect on what's important in life and count little cracks in the ceiling.
I'm sorry that all this time you had to eat hospital food. Come back soon so I can treat you to a good dinner.
Get well soon quotes
You can include some good health-related quotes in your message to remind your friend or loved one of what is really important.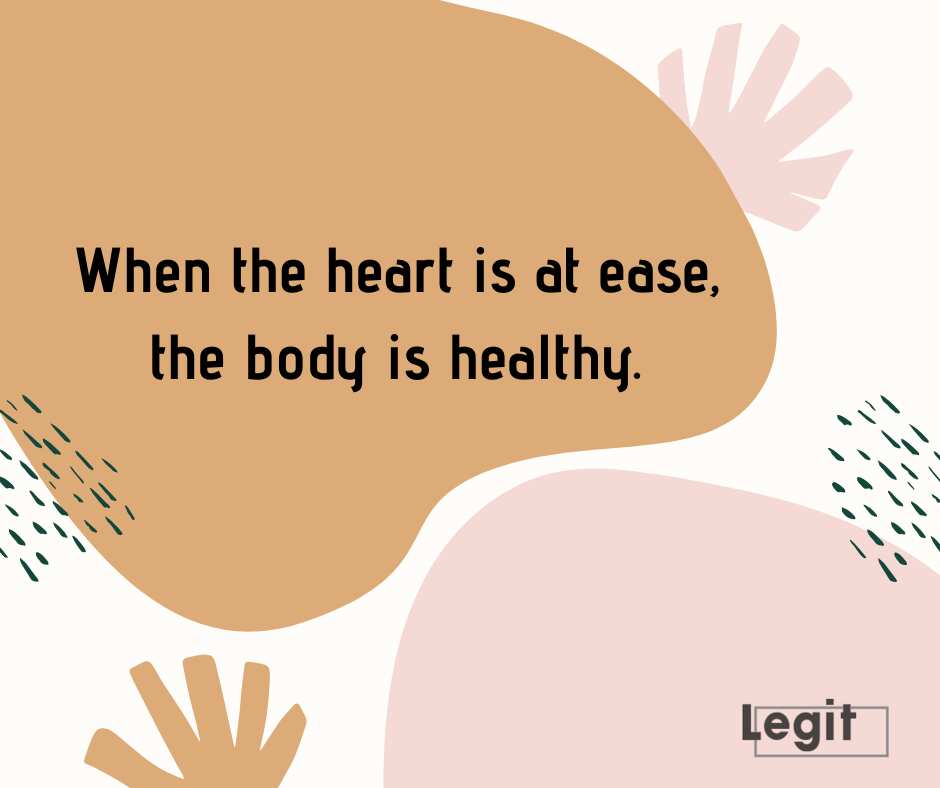 "Health and good humour are to the human body like sunshine to vegetation." - Massillon
Being in a happy mood directly influences the state of your body.
"It is healthy to be sick sometimes." - Henry David Thoreau
We are all human and cannot be in our best spirits all the time. In a way, sickness is a cleansing of your body and soul.
"Early to bed and early to rise makes a man healthy, wealthy and wise." - Benjamin Franklin
In order to stay in a great physical and mental state, it is necessary to keep up with your daily schedule.
"To keep the body in good health is a duty... otherwise we shall not be able to keep our mind strong and clear." - Buddha
According to the wise Buddha, our physical state has a huge impact on our mental condition.
"When the heart is at ease, the body is healthy." - Chinese proverb
This proverb tells us that as long as your mind is free of worries, your body will always be in a good state.
You can share one of these lovely get well soon messages with someone who needs to hear words of support and encouragement today.
Source: Legit.ng