50 thigh tattoos ideas for women
Mentioning thigh tattoos is something we cannot help doing. Women do a lot of things to emphasise their compelling beauty and individuality. Some ladies choose stylish and exclusive clothes, while others make original and unusual inking. Of course, there are many parts of the body where the drawing will look attractive, but since the area of thighs is quite large, you can free your imagination and choose a large design. Check out 50 interesting ideas we gathered for your inspiration.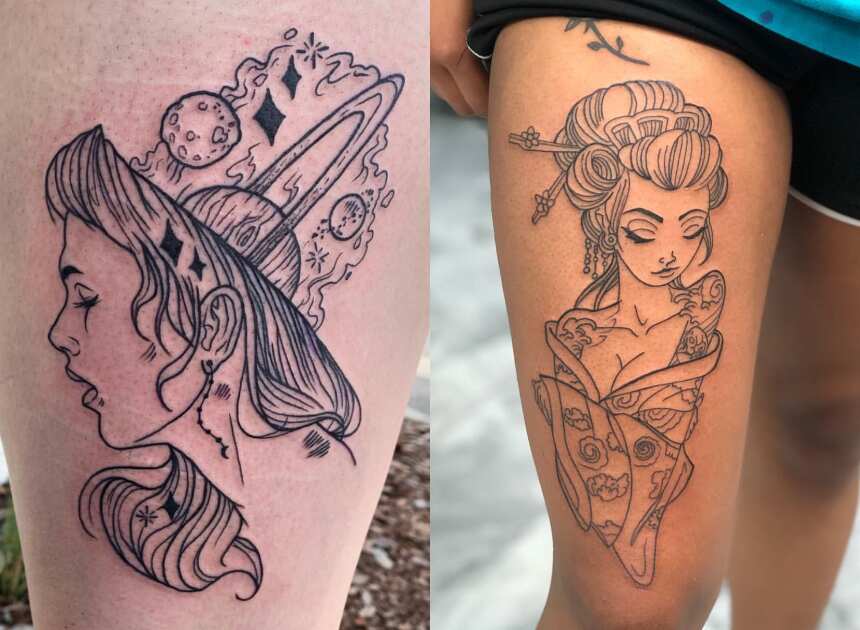 Thigh tattoos are at the peak of popularity, especially among ladies. They put beautiful patterns on the skin that can be easily hidden with clothes when it is needed. Besides, inking in the thigh area is a stylish and exciting trend in modern body art.
Beautiful thigh tattoos for women
Hips are one of the most attractive parts of a woman's body, and a beautiful ink can make them even more attractive. A variety of sketches and a fertile imagination of inking artists allow them to create a unique design for everyone. Here are some amazing ideas for thigh tattoos for ladies.
1. A wise rose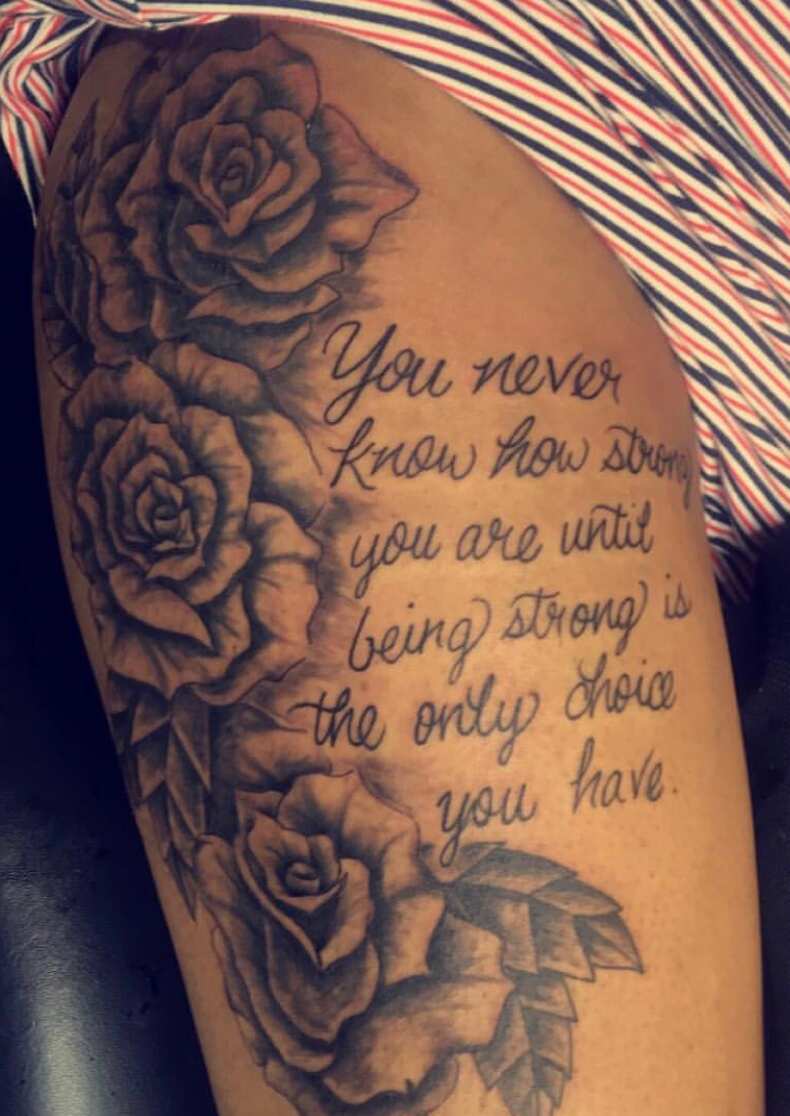 Ladies love to combine beautiful images with beautiful and compelling words. This is a great idea for an ink. Consider this design, if you are a supporter of such a trend.
2. Blooming flowers
Flowers are always a good idea for an ink design. Try this pattern if you also like it.
3. Cute dinos
Although big scale designs are very popular for thigh tattoos, small inks can also look very cute and beautiful. This example with dinosaurs is real proof of it.
4. An elephant in lilies
The big area of a hip provides ladies with opportunities for implementing the craziest ink ideas. Just look at this fantastic design.
5. A face in flowers
This thigh tattoo definitely deserves your attention. If you try it, the latter will be granted to you.
6. The Phoenix
This Phoenix looks neat and gorgeous at the same time. Its soft lines and curves are meant to decorate your body.
7. A koi fish
Koi fish designs are gaining a lot of popularity in the world of inking. They look fantastic and feminine when combined with flowers.
8. A diadem
An ink can become an opportunity to make you a queen. This little flower crown looks very gentle and royal.
9. A dragon
You can decorate your entire thigh with this a fantastic wiggling dragon. The making process will definitely take time, but it will worth it.
10. Adventure time
If you are a fan of cartoons, you can put an image of your favourite character or even a bunch of them.
11. A mandala flower
Flowers are an eternal source of inspiration for thigh tattoos for women. Ladies who want to make one can consider this amazing design with a big mandala flower and beautiful patterns.
12. Memorable dates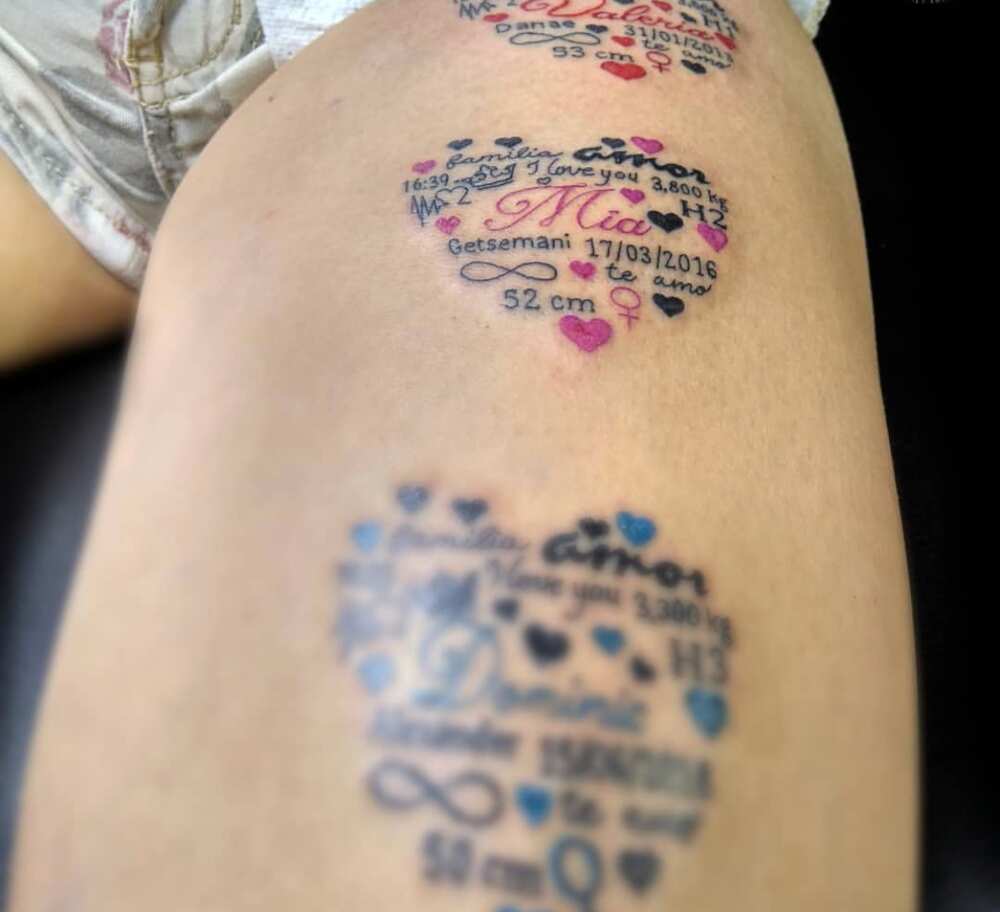 You can make an ink with a significant date in your life. For example, yours or your significant other's date of birth.
13. Harry Potter world
Big fans of the Harry Potter universe always have one or two ides for their thigh inks.
14. A seahorse
The underwater world has many tattoo ideas for women. One of the most popular inhabitants of the sea for ink design is a seahorse.
15. Flowers and butterflies
Flowers are not complete without butterflies. Add some to your design and make it even more beautiful.
16. A blooming butterfly
Here is another creative way to combine flowers and butterflies.
17. If it is not okay, it is not the end
A motivational phrase with a beautiful image is a perfect combination for one of wonderful thigh tattoo ideas.
18. Your pet is always with you
If you miss your lovely pet often, put an image of it on your skin, and it will always be with you from now on.
19. A lovely turtle
Thigh area allows you to fit even such sea giant like a whale. They have become a real mainstream recently. So, be creative and try something else, for example, a cute turtle.
20. A script around the thigh
A beautiful handwritten ink is an excellent way to express yourself and your state of mind. Find your matching phrase and go for it.
21. A borderless imagination
With the help of an ink, you can even bring your dreams to life. This pattern is a sheer imagination, that can only be witnessed while sleeping.
22. Create yourself
You can start creating yourself with this simple but wonderful ink idea.
23. A koi fish design
This catfish in a koi style looks just fantastic. Try it, and you will look as beautiful as this thigh tattoo.
24. A magic cat
This vivid ink is a real splash of colour and creativity. This design will highlight your individuality in the best way.
25. A mandala masterpiece
This amazing design for thigh tattoos for women looks pretty even if it is not visible entirely. It will definitely attract attention to your personality.
26. I am the architect of my own destiny
A beautiful and neat handwriting and a meaningful phrase make this thigh tattoo worth taking into consideration.
27. A queen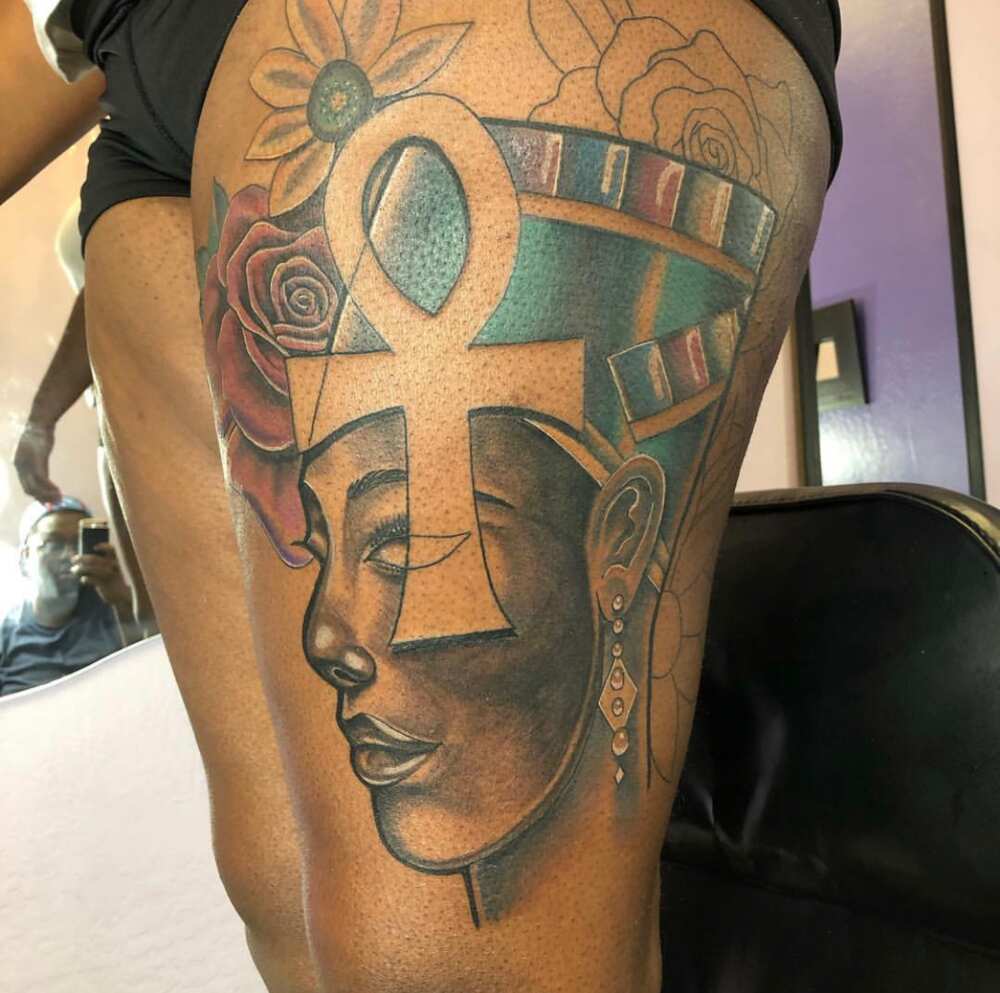 Putting faces on the skin is a big trend today. This one is just wonderful and gorgeous.
28. Ing and yang
Here is a creative idea of how to image ing and yang in another way. Even cats can show that there are two sides to everything.
29. Mandala flowers
Thigh tattoos for girls are the best way to implement the most creative images of mandala patterns and capture even the smallest details of it.
30. A cobra
This aggressive snake will give everyone a warning that you are not the girl to mess with.
31. A diamond ink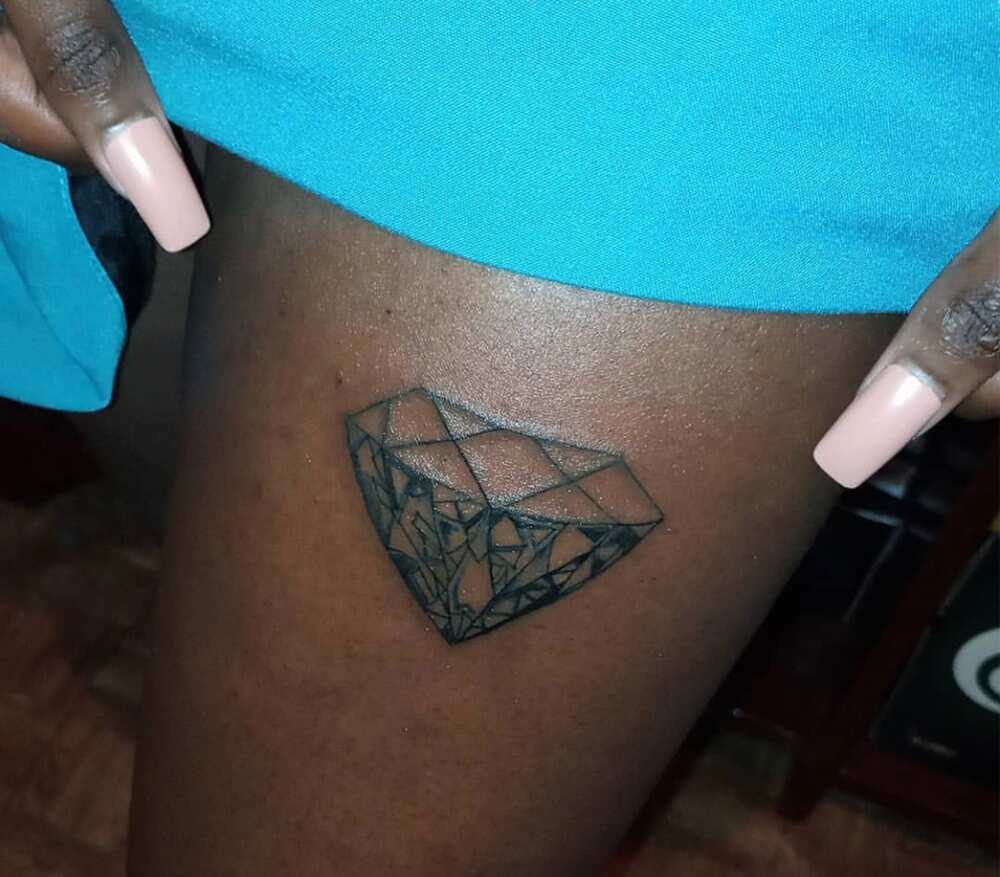 Small tattoos for women have many ideas, and this little diamond is one of the best of them.
READ ALSO: 35 simple henna designs to try in 2019
32. Mandala is classic
There are different ways to picture a mandala. Here is another beautiful flower pattern you will love.
33. Tiny daisies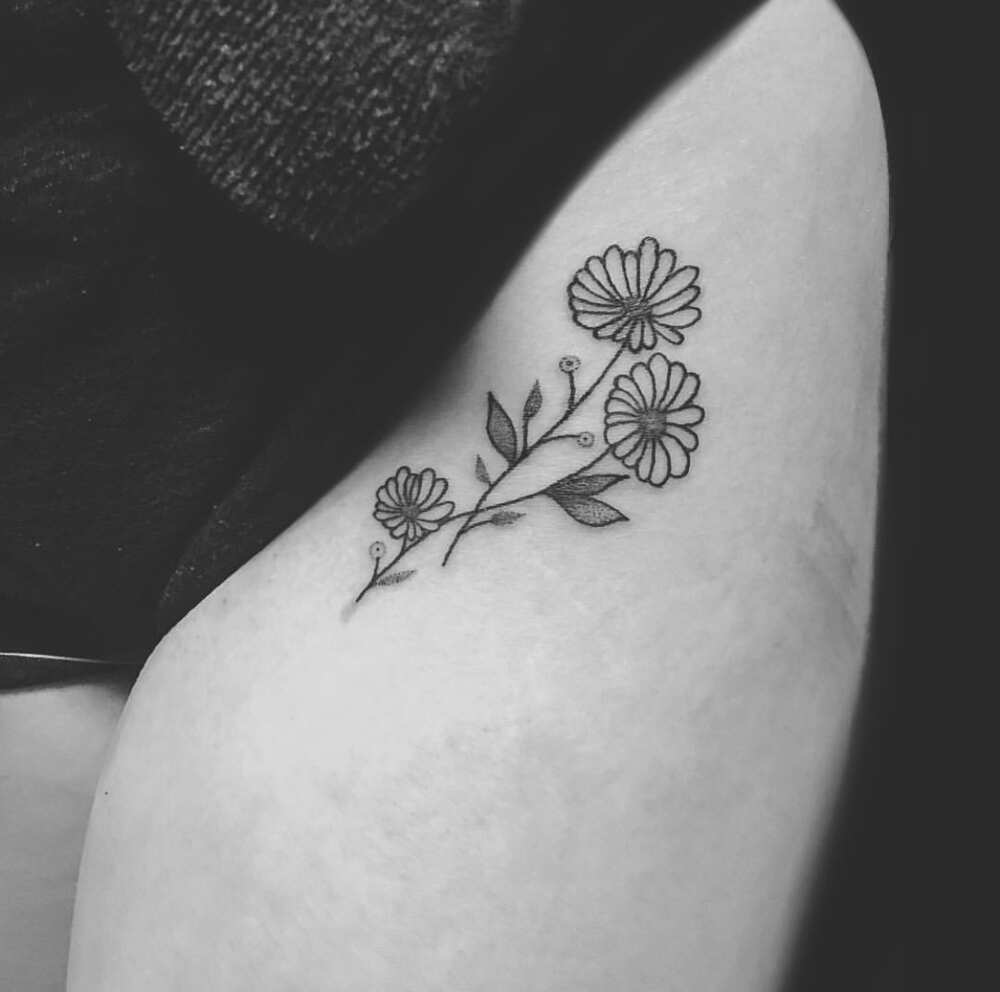 Although this thigh tattoo is small, it looks very beautiful, feminine and catchy.
34. A mandala wolf
This design looks especially original and magical. The combination of differently styled wolf images can become your perfect match for a great ink.
35. The sun and the moon
This mandala dreamcatcher with the sun and the moon in the centre of it beares some magic vibes.
36. Africa ink
This ink design is for real patriots. The sketch of an African mainland and a jaguar face in it look fantastic.
37. Mandala Africa
You can place an entire continent on your thigh and make it look fantastically with mandala pattern.
38. Remember your roots
Another wonderful and patriotic idea – a contour of Africa filled with national and traditional ethnic symbols and elements.
39. Africa lady
Take a look at this incredible image: an African woman with her hair styled as the ocean waves with boats looks really fantastic.
40. A minimalistic elephant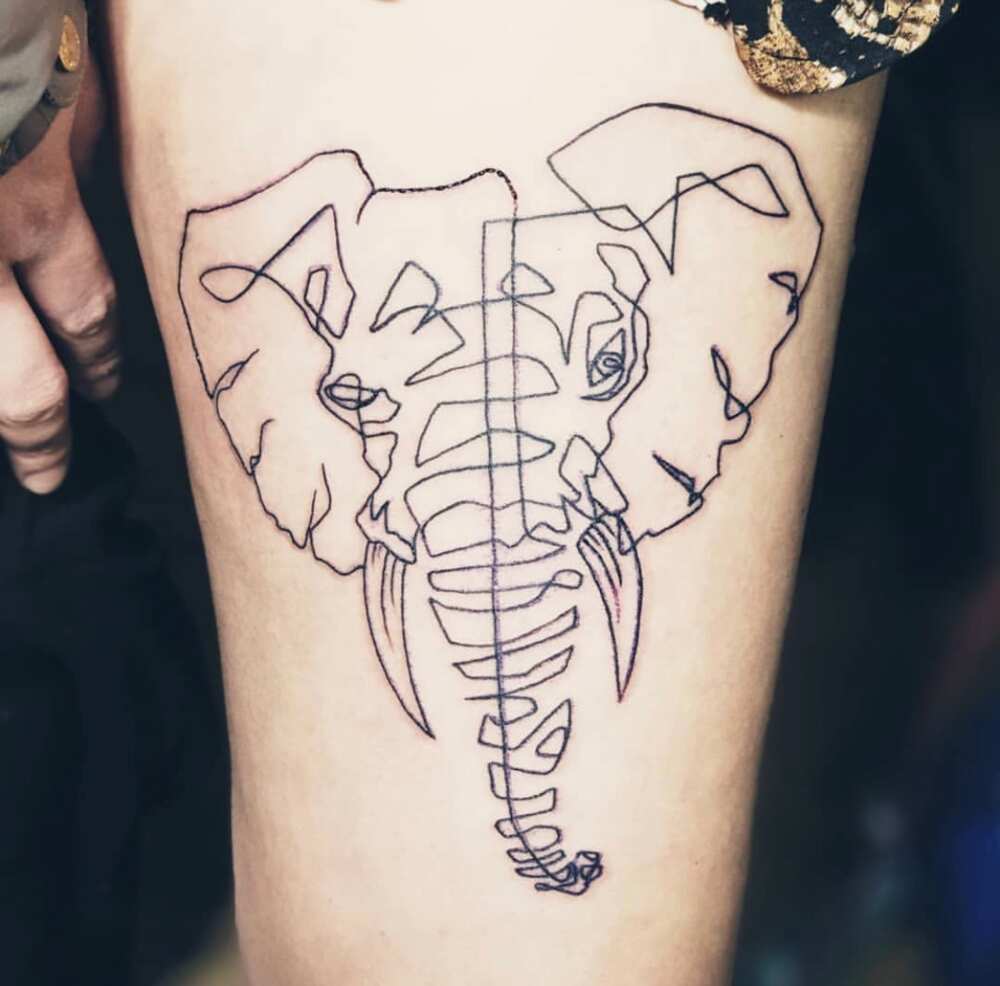 This filigree picture is worth noticing. A one-line elephant will look amazing on you.
41. Bird sketch
Such a wonderful idea for a thigh tattoo! A beautiful image of a bird captured in motion looks like a real bird and creates an impression like it is going to fly away right now.
42. An elephant with a crown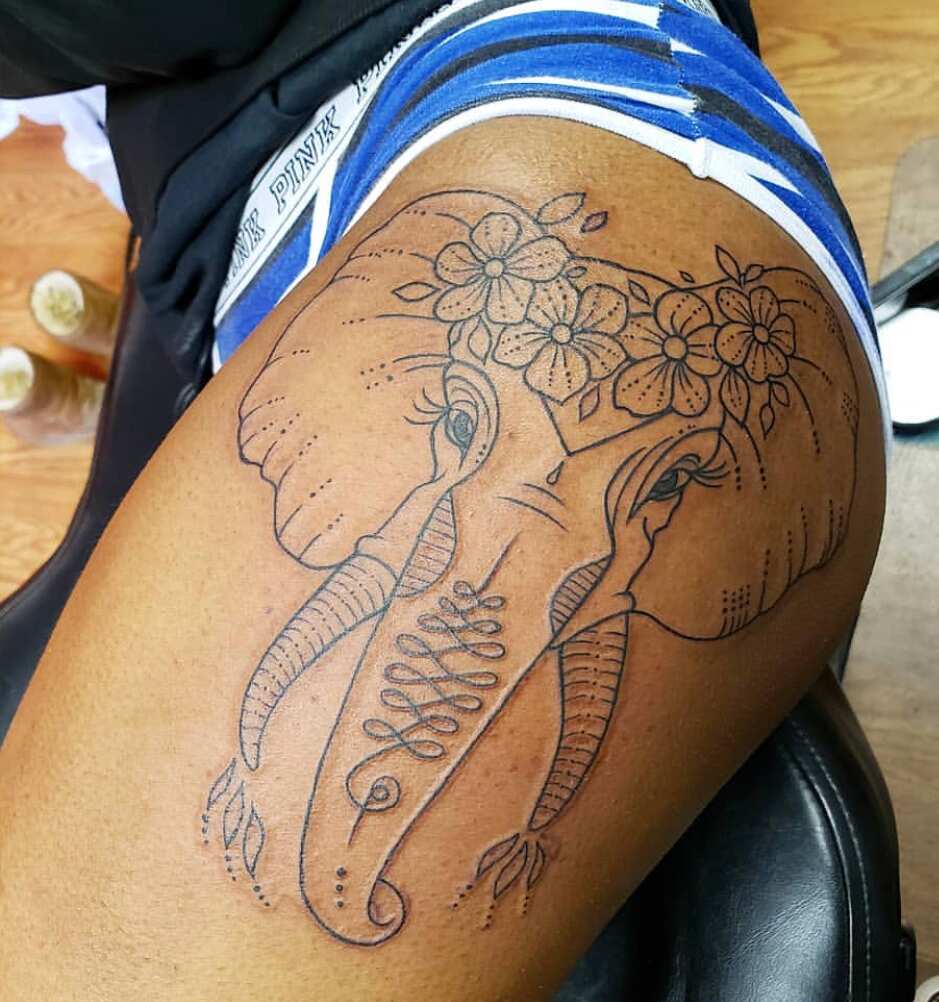 Here is a gorgeous female elephant with a flower crown for the lady who is no less gorgeous.
43. UFO
Let your imagination fly up to the sky with this UFO thigh tattoo design.
44. A love quote
It is another inspirational quote about the mystery and power of love you can ink on your thigh.
45. A mystical raven
Add some mystery to your look and try this design with black raven surrounded with several additional details.
46. Do not miss your life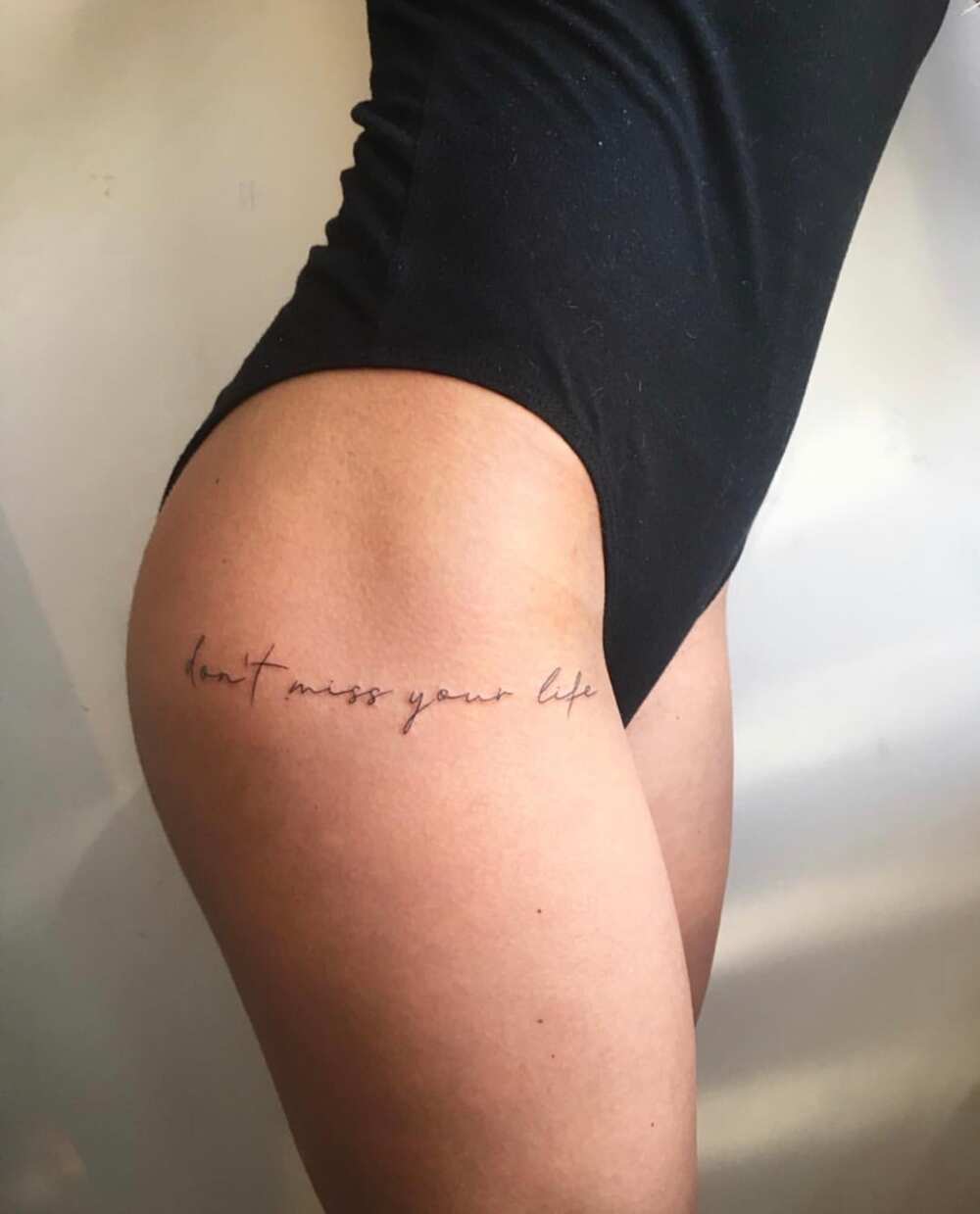 Put this on your skin, and you will never forget to get the most of your life for the rest of your days.
47. Become a mermaid
Many girls dreamed of becoming a beautiful little mermaid. Now, when you are an adult, you can make a dream come true with this thigh tattoo design.
48. Indian deity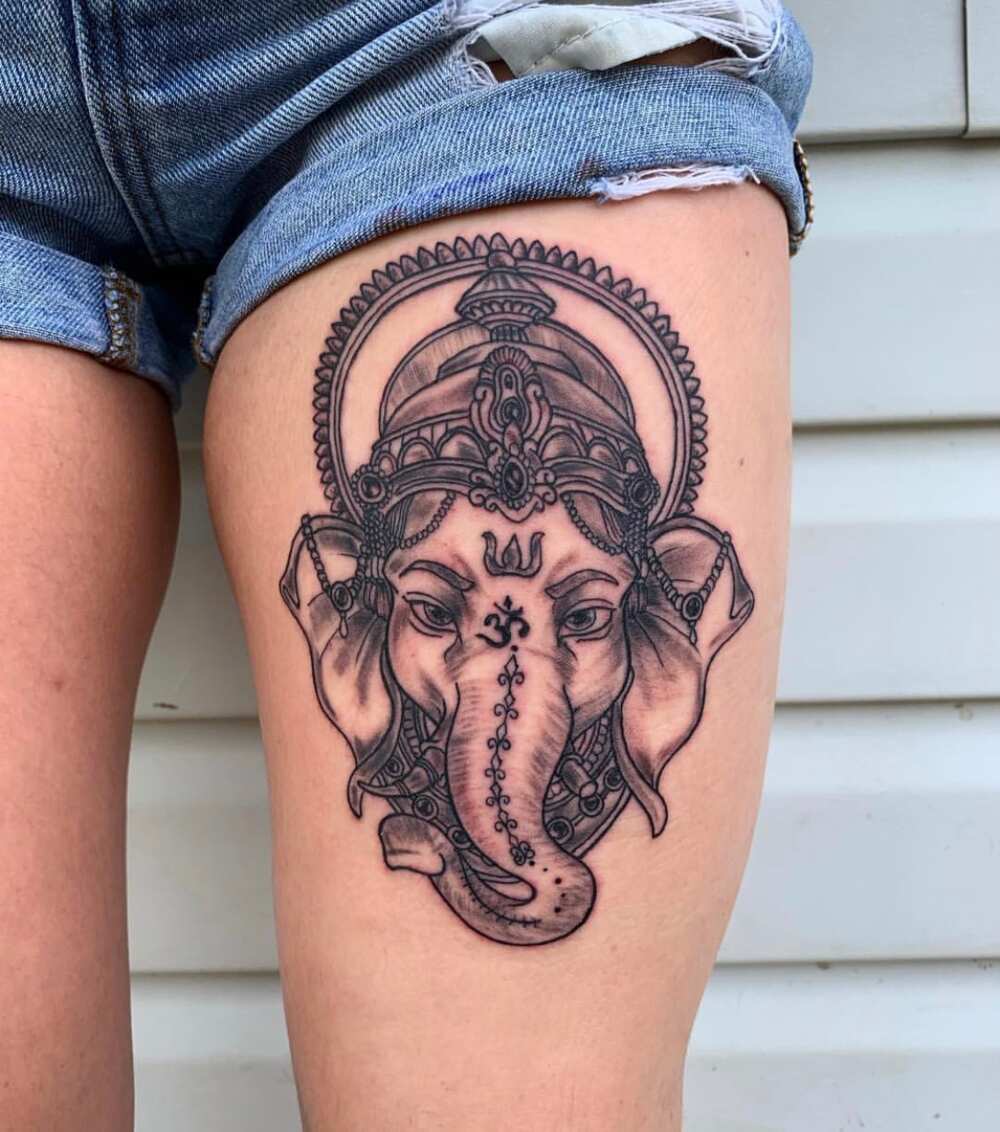 Ganesha ink designs have never looked more exciting and beautiful. Do not miss trying this one on you.
49. An octopus and a skull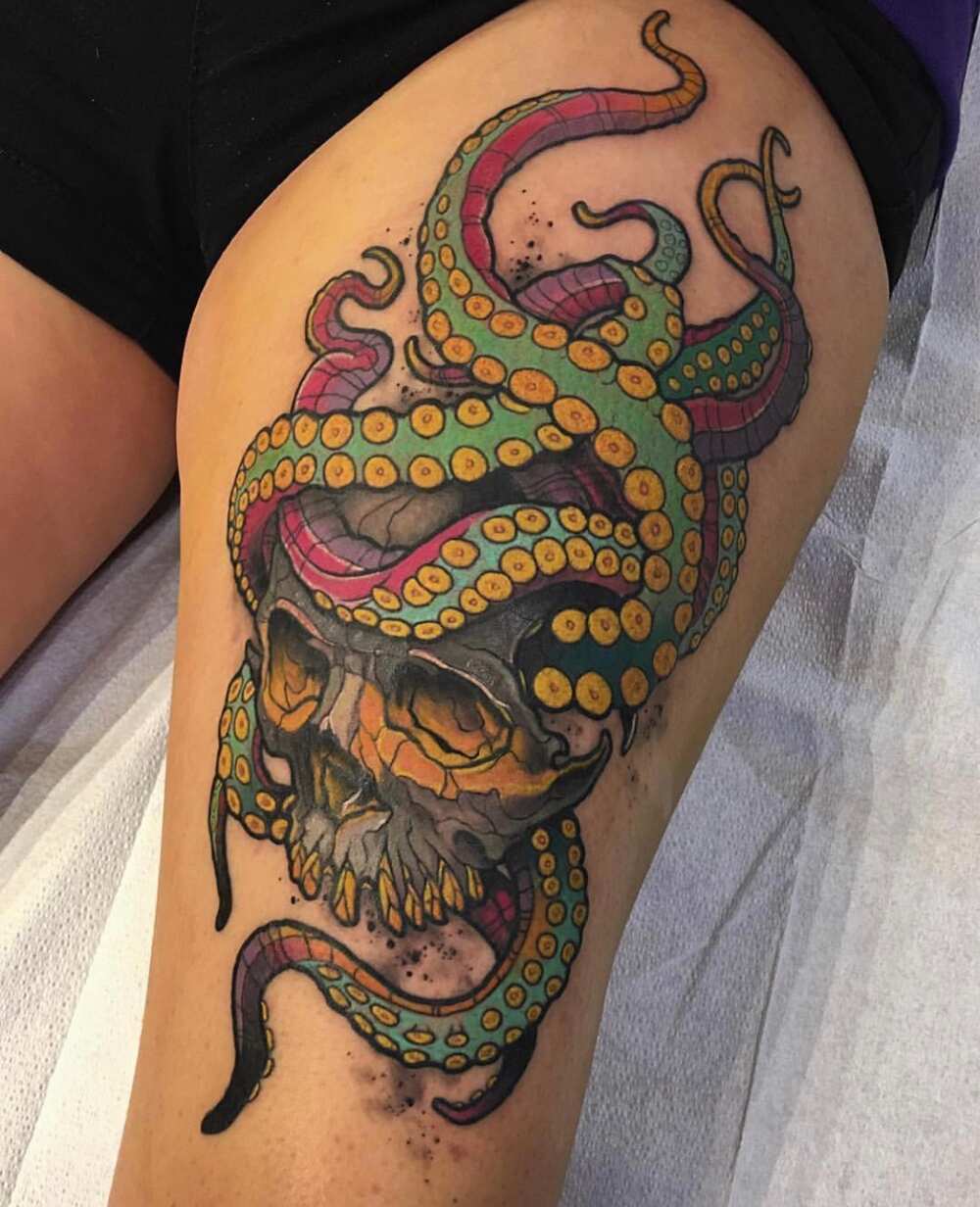 This combination of an octopus and a skull looks bold. Vibrant colours and dark vibes make this thigh tattoo amazing.
50. A dreamcatcher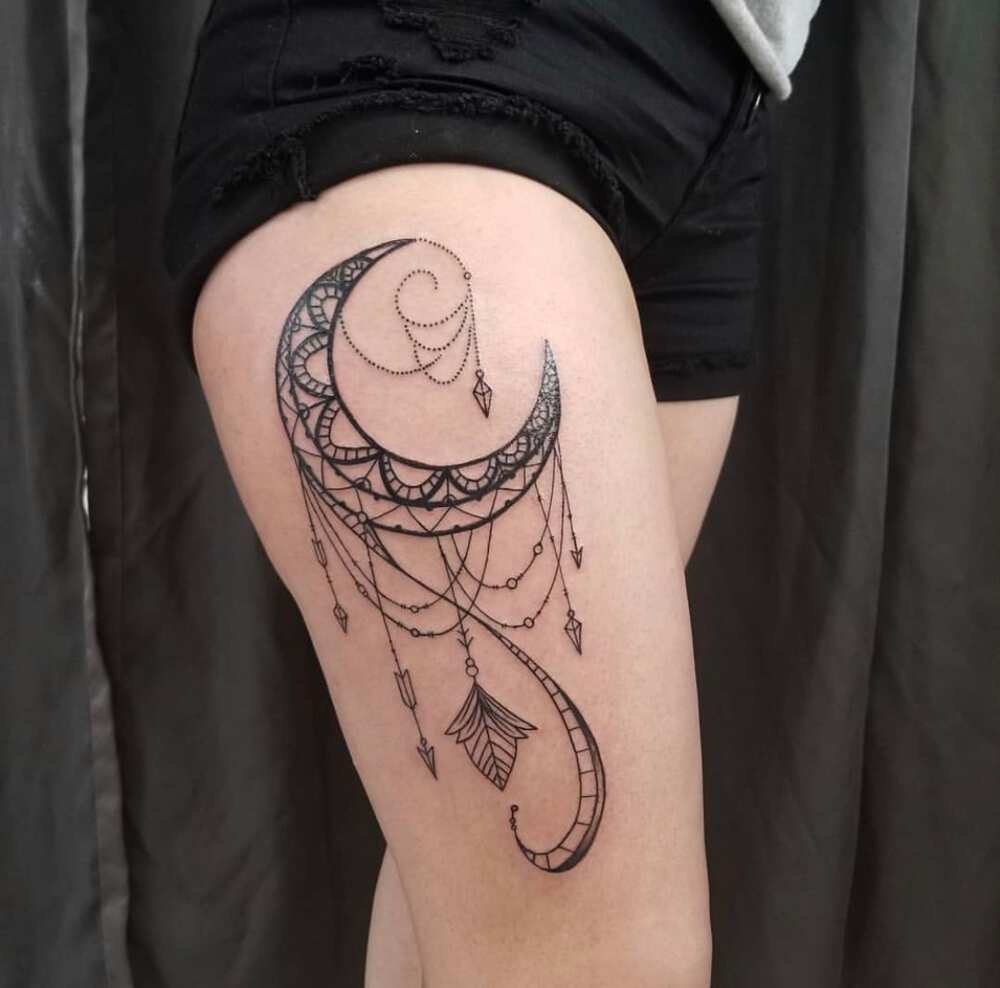 This dreamcatcher is not an ordinary one. It is shaped like the moon and looks totally amazing. Such a perfect design for a unique thigh ink!
Thigh tattoos for women give both ladies, and inking artists express themselves and create something really beautiful. This is really a piece of art that should not be underestimated. Some designs above look like masterpieces, and some are rather simple but still fantastic. They give a lot of inspiration for women to create new patterns and decorate their bodies with them.
READ ALSO: 50 mother daughter tattoos ideas to inspire you
Source: Legit.ng