60 cornrows hairstyle ideas for men and women to rock the day
Are you looking for a fresh new hairstyle that can define your individuality and portray you in the best light? Cornrows might be regular braids, but they have a rich history. There are a variety of cornrow braid styles, starting from the traditional ones and ending with vibrant and original cornrow hair. Have a look at these amazing styles and choose the one that catches your eye!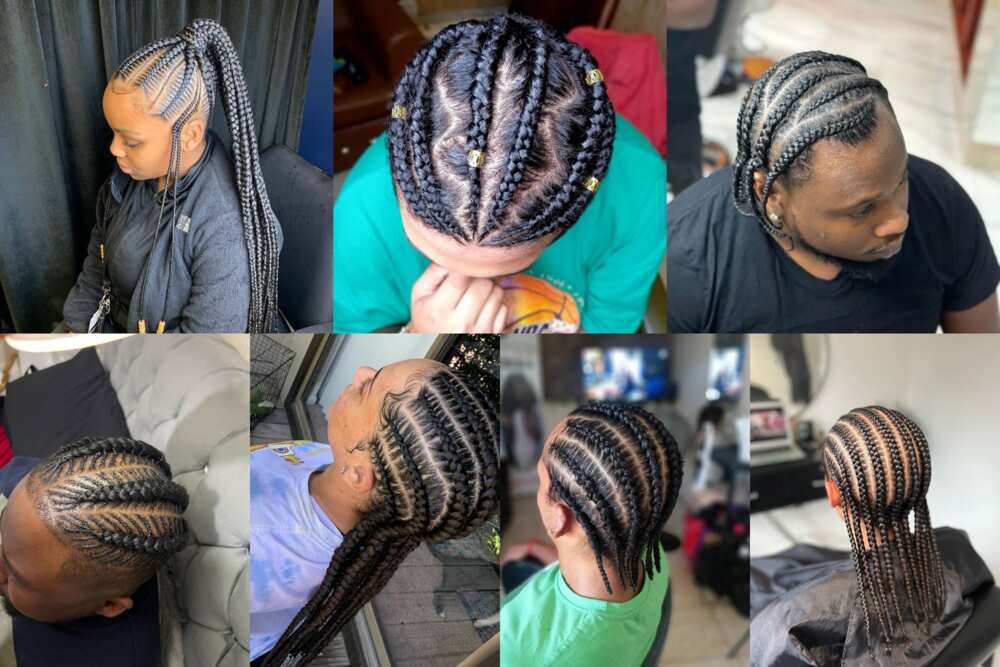 Cornrow braids are a classic African style that can be worn by men and women and are especially prominent among black people. The history of cornrows hairstyles dates as far back as 3000 B.C. They used to be popular among famous warriors and monarchs back in the day. Cornrow braid hairstyles always express a unique and bold personality.
Cornrows for men
Many famous male celebrities, especially musicians, rock their braids and are confident about them. Check out these unique cornrows braids for men.
1. Freestyle braids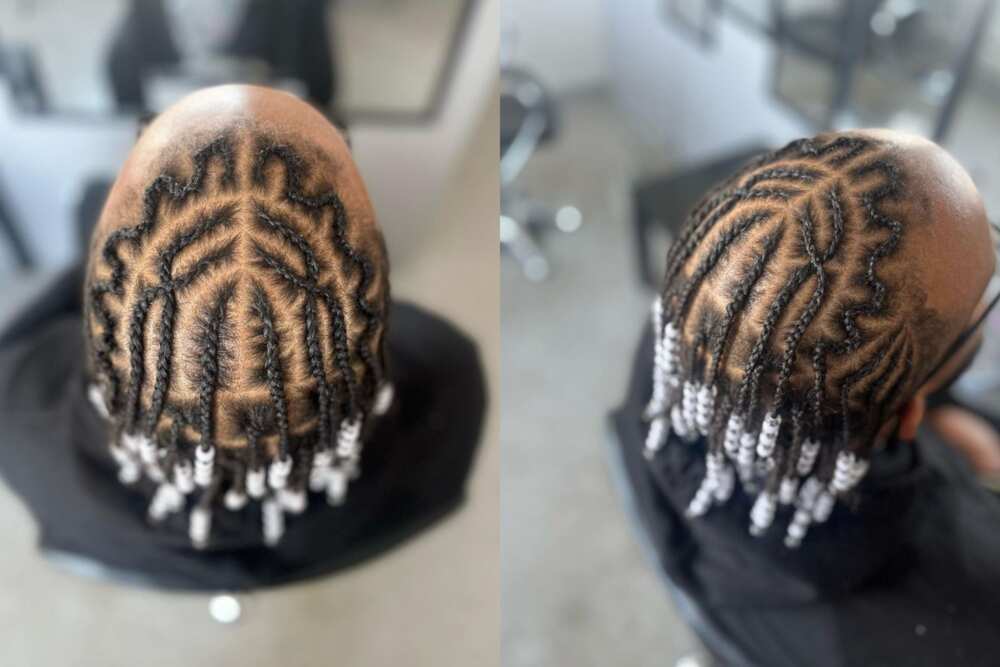 Are you tired of your plain straight, or curly hair and ready for some changes that would create an unforgettable look for you and make you a king of the night? One of the most popular choices for men is the regular braids, which are styled into some engaging pattern.
2. Original braids
Do you know someone who is a ray of sunshine among their friends? This look is great for them. Combining braids with natural hair gives it a perfect look for any occasion.
3. Sideways stitched up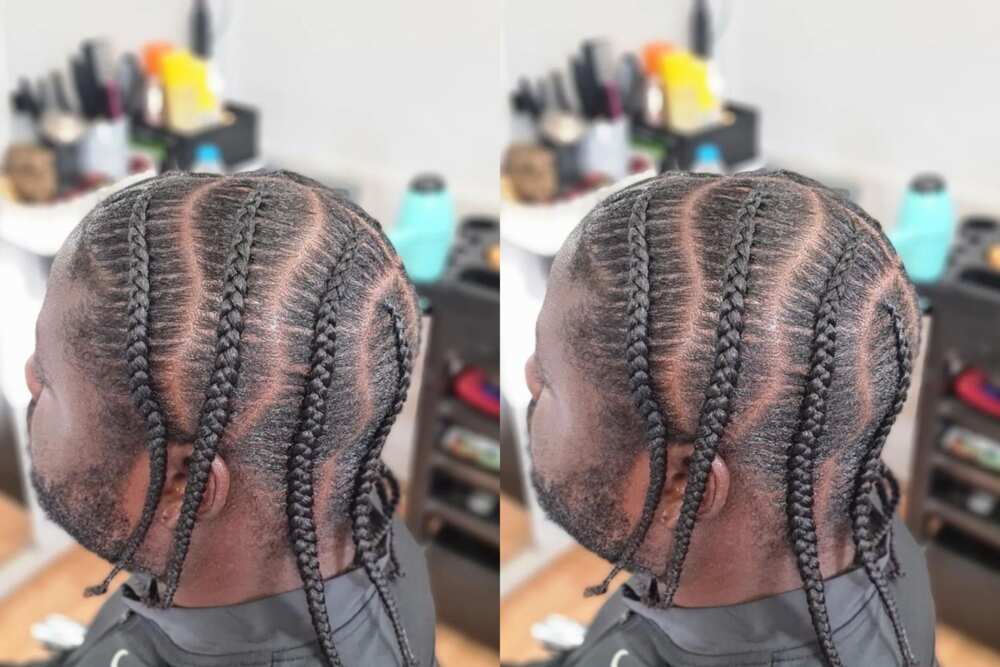 Perhaps, your hair has an afro texture, and you fear it would be impossible to braid it. In this case, you are wrong because you can still have some braids or twists done in a short period, and this hair option is very protective and will keep your hair safe from external factors.
4. Neat braids with decorations
Athletes love this hairstyle type mainly because it can let their individuality shine and, at the same time, does not distract them from the game. If you are a fan of everything simple but still want some spice in your looks, you can always choose the chic style with braids of average length.
5. Artistic geometric shapes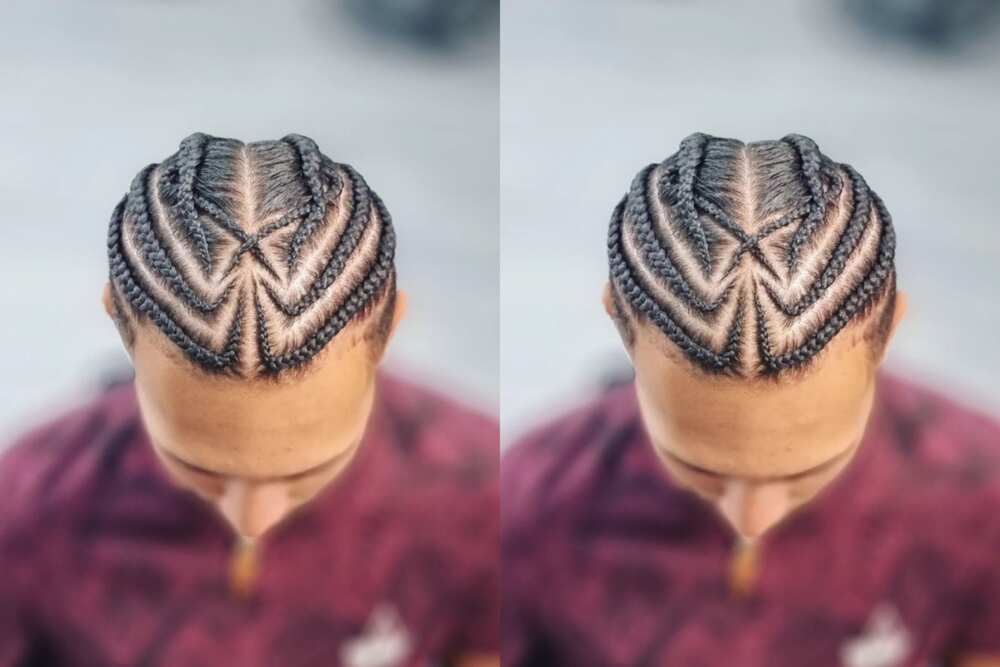 Who told you that guys could not have a wonderful pattern created on their heads? Suppose they have enough hair for braiding and a head full of imagination. In that case, there are endless possibilities without limits, and a hairstyle like this will show exactly how talented and expressive you are.
6. Zig-zag with cornrows
If you are craving something inventive but are still deciding whether to fill your head with braids, what about the zigzag hairstyle? It is quite similar to the previous geometric one, but the main difference is that triangular shapes are prevalent, and the cornrows divide them stylishly and interestingly.
7. Half updo
Some people are new to the world of braids and are unsure whether they would want to weave their entire heads straight away. If this is reminiscent of your situation, there is a good compromise that you can reach: just weave, as shown in the photo.
8. Peculiar shapes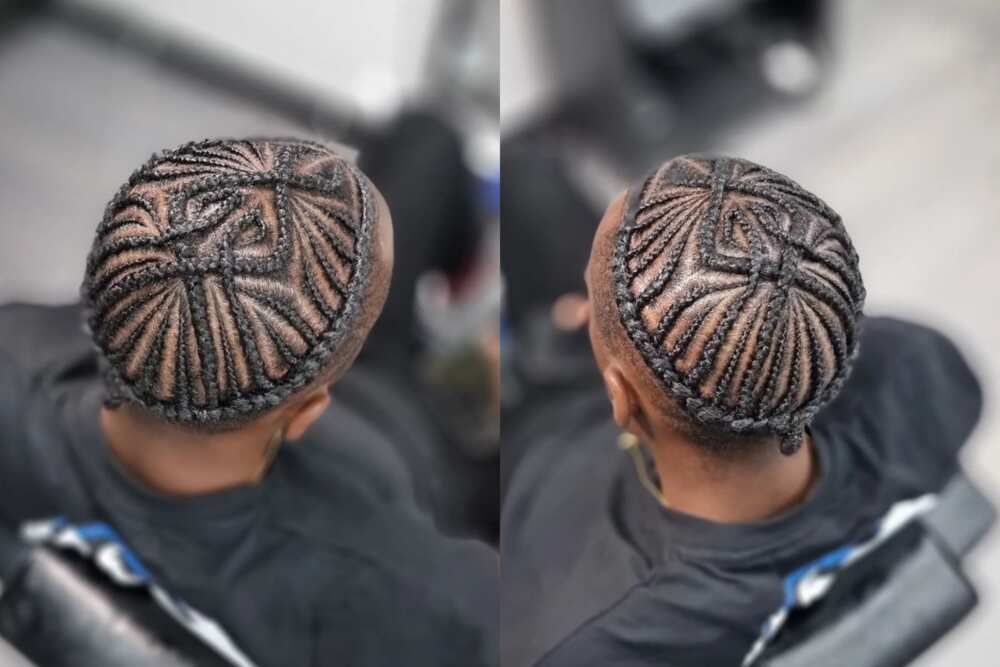 Do you like the circle-shaped designs? Usually, they contain a lot of symbolism, including wholeness, eternity and infinity. They even represent God himself and the perfection of all things; circles are so timeless, and a lot can be done with them on your head.
9. Striched with a bun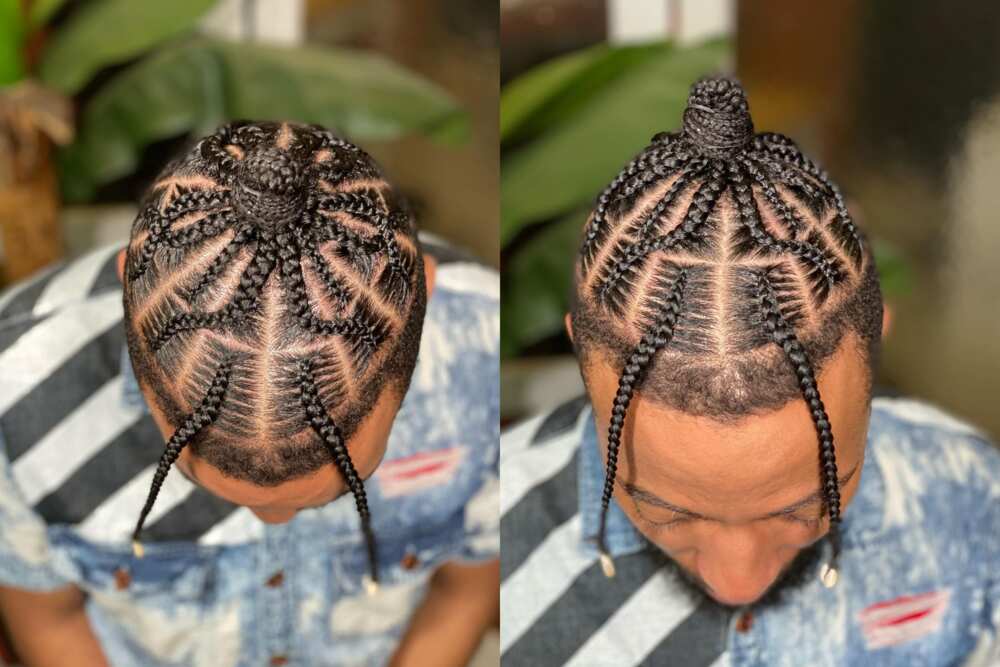 If you enjoy cornrows and would love to work them into the conventional hairstyle, here is your chance! These cornrow braids and a strong bun will make a statement and likely gain you popularity if you also step up your game at charisma and smoothness.
10. Thick braids with a ponytail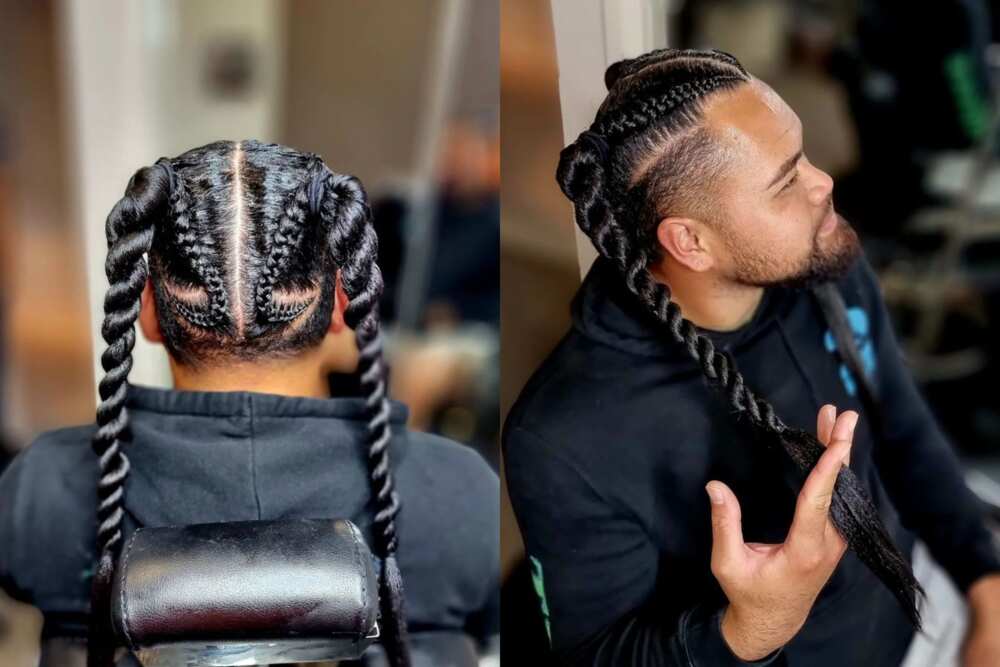 This hairstyle is special because it starts with small braids, which eventually phase into thick ones. Gradually, the thick braids become thicker and create a ponytail at the end.
11. A small bun
There are times you just want to keep things simple. In this case, you can go for a small bun that is easy to style.
12. Metal beads style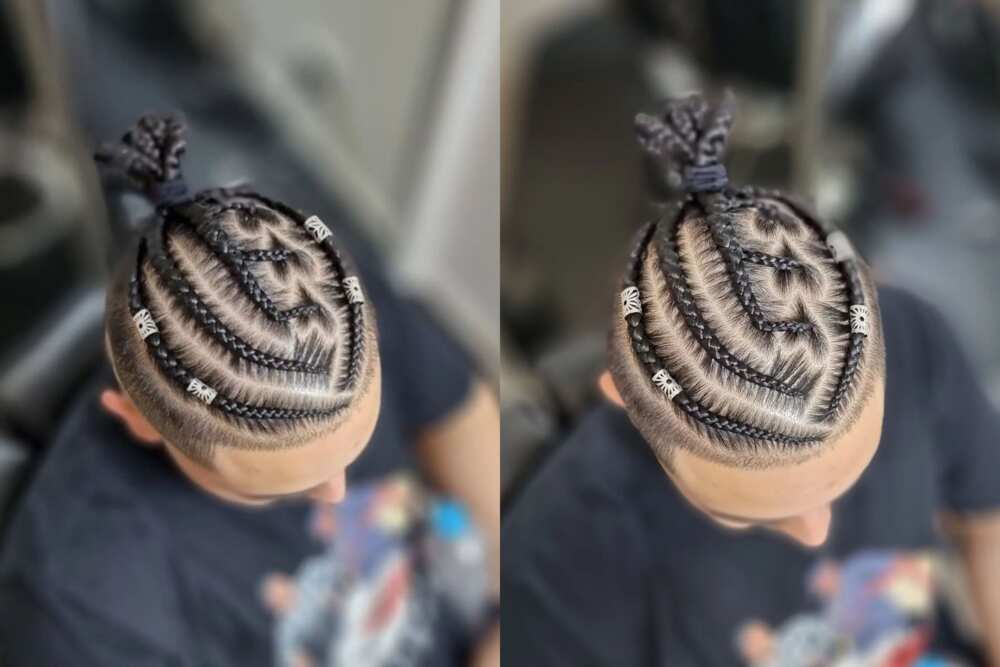 Beads are known to add some beauty to the hair when used. Metal beads, in particular, will make your style visible and give it a bold look.
13. Unique zigzag
How about being unique with this zigzag style? It's not a common style, giving you room to look different from the rest.
14. Lower bun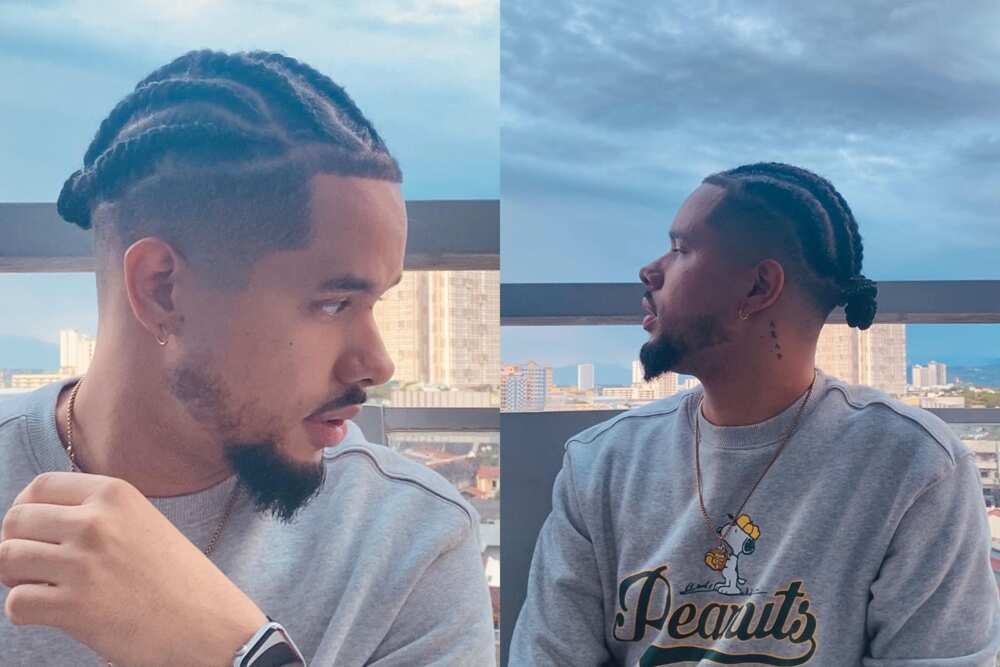 Lower cornrow buns offer a versatile hairstyle option that can be worn for various occasions. Whether you're going for a casual look or a more formal event, lower cornrow buns can be styled to suit different outfits and settings.
15. A style with an undercut
Cornrows, which involve braiding the hair close to the scalp, provide a protective style that helps to minimize hair manipulation and reduce damage from everyday wear and tear.
16. Matching hairstyles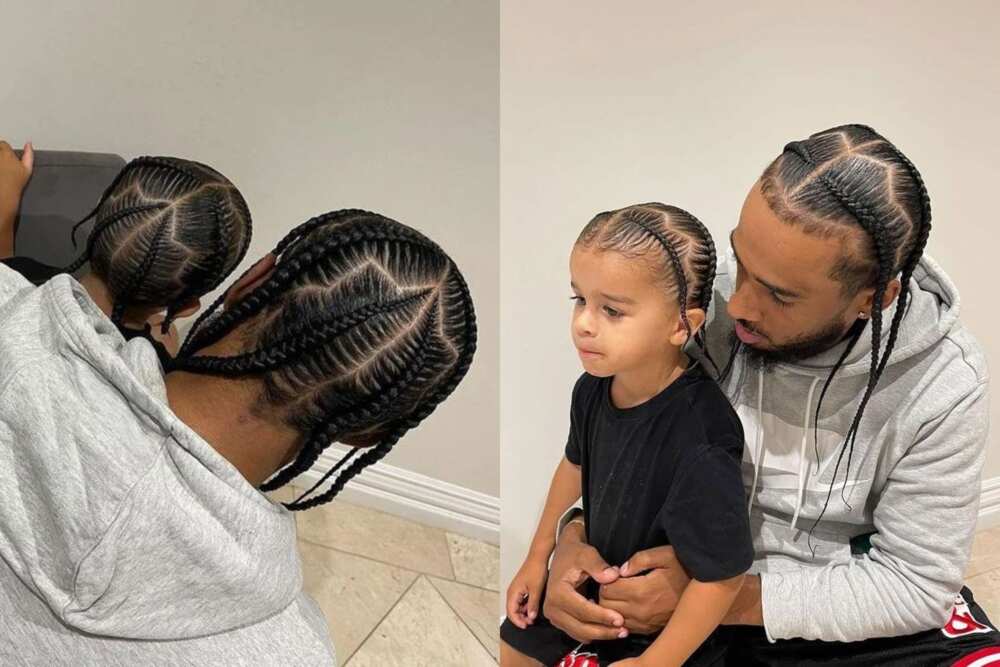 Matching hairstyles can create a sense of unity and identity between a father and a son. It can symbolise belonging, solidarity, or a shared purpose.
17. Thin, laid-back cornrows
Thin cornrows distribute the tension across a larger scalp area, reducing strain on individual hair strands. This can help protect the hair from breakage and damage caused by excessive pulling or styling.
18. Partern variation
There are numerous cornrow style ideas you can opt for. The key is to keep your style simple and neat. Unlike women, men do not need complicated accessories to add to their hair.
19. Two-braided design
This is a practical choice for individuals who prefer low-maintenance hairstyles or have a busy lifestyle. You can style using various types of beads to add more beauty.
20. Young look style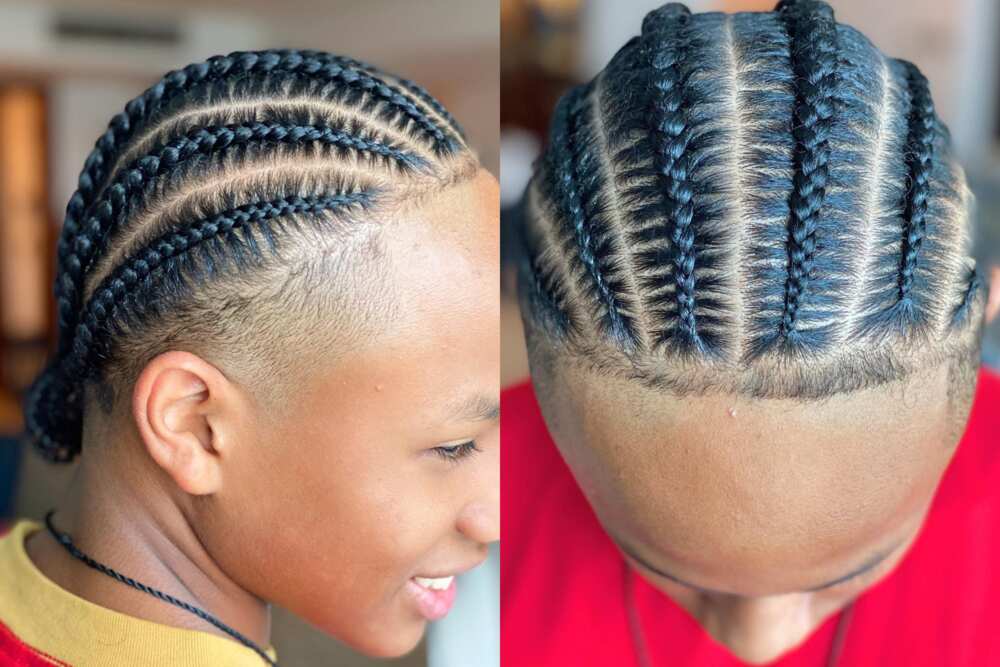 Cornrows are particularly beneficial for individuals with textured or natural hair. They help to minimize tension on individual strands, reducing the risk of breakage and promoting hair retention.
21. Neat style on natural hair
The laid-back nature of the cornrows allows for a more gentle and less tight braiding technique, which is beneficial for maintaining healthy hair.
22. Complex cornrow and Dutch braid style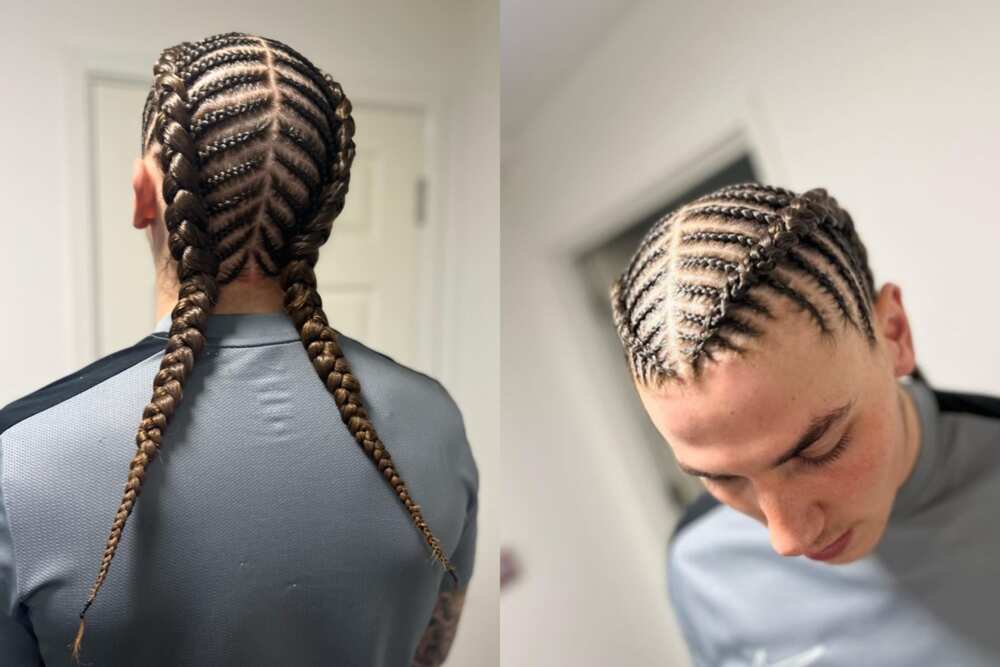 Cornrows offer versatility in terms of styling options. The smaller size of the cornrows allows for more intricate and creative designs.
23. Brown-dyed hair
Are you a big fan of coloured hair? You can dye your hair brown and braid cornrows in your desired style.
24. Pink and black combination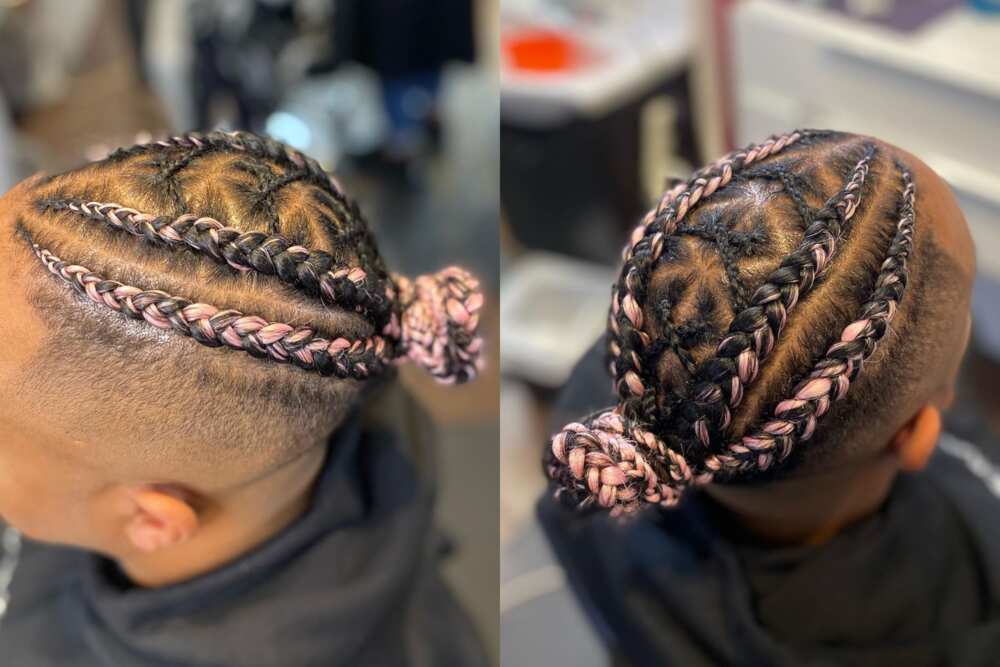 How about adding some pink colour to your natural look? Combining pink and black braids adds more beauty to your hair. You can style it into various updos, buns, or ponytails, allowing you to switch up your look.
25. Four large cornrows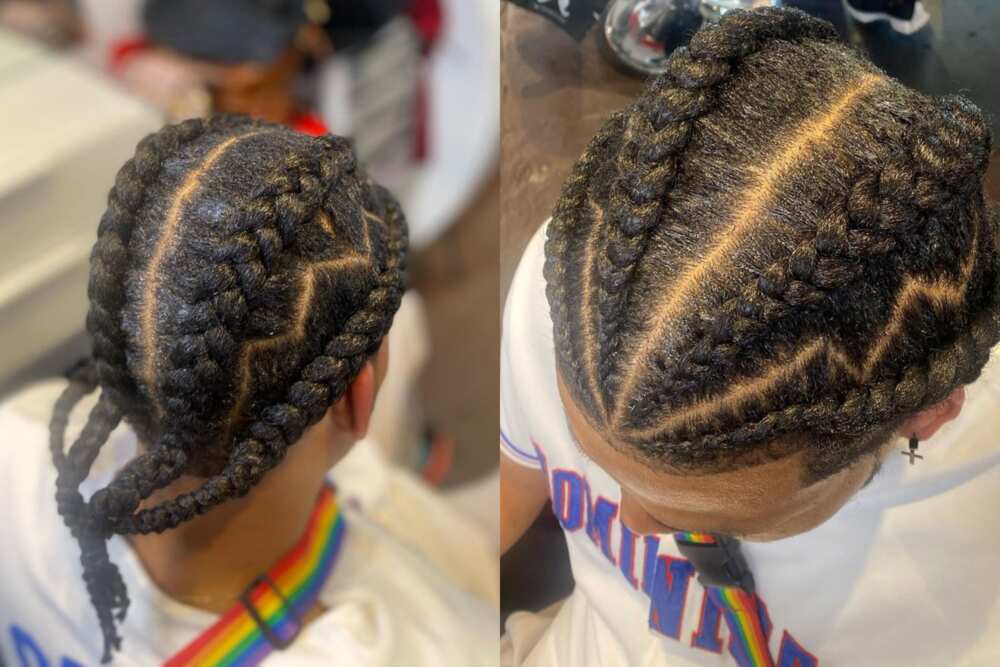 Cornrows blend more seamlessly with natural hair textures, creating a more natural and undetectable look. The large braids create a finer appearance that can mimic the look of natural hair when styled appropriately.
26. Simple two-braided styled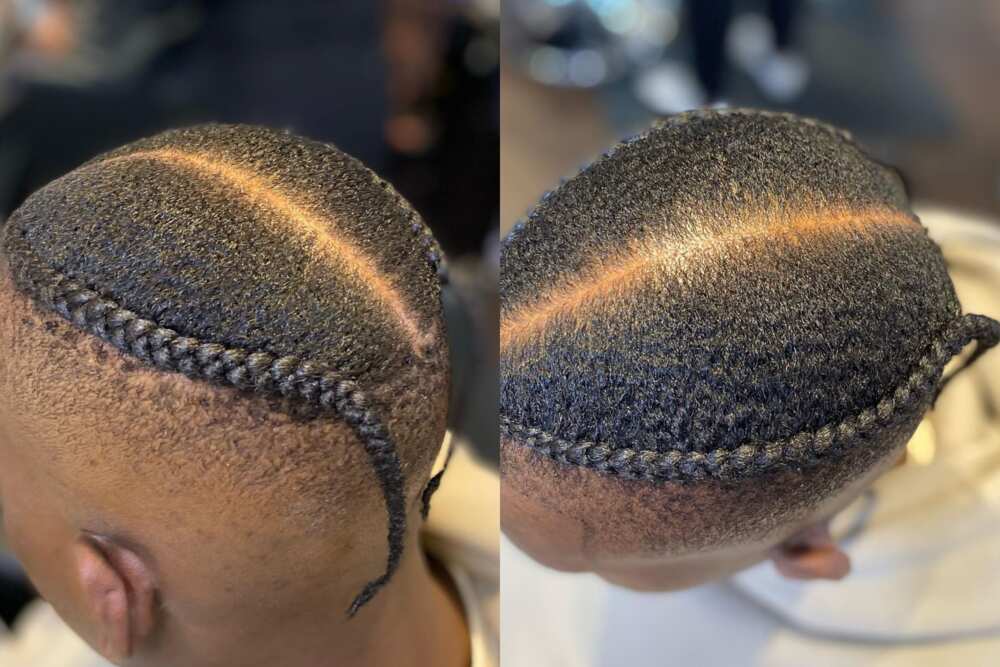 Cornrows can be long-lasting, allowing you to wear the style for an extended period. The laid-back technique helps to minimize tension on the hair, reducing the risk of premature fraying
27. Neat male-designed cornrows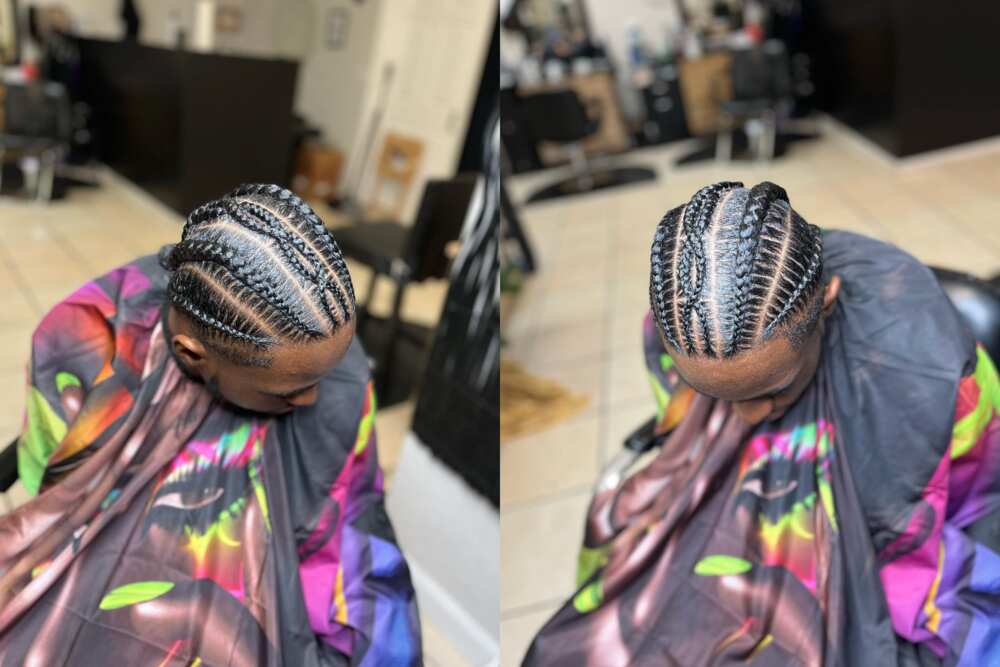 How about going for this time-saving style? The neatly braided cornrows minimize any potential damage to the hair and scalps. It's a simple style yet striking.
28. Side swept with two middle lines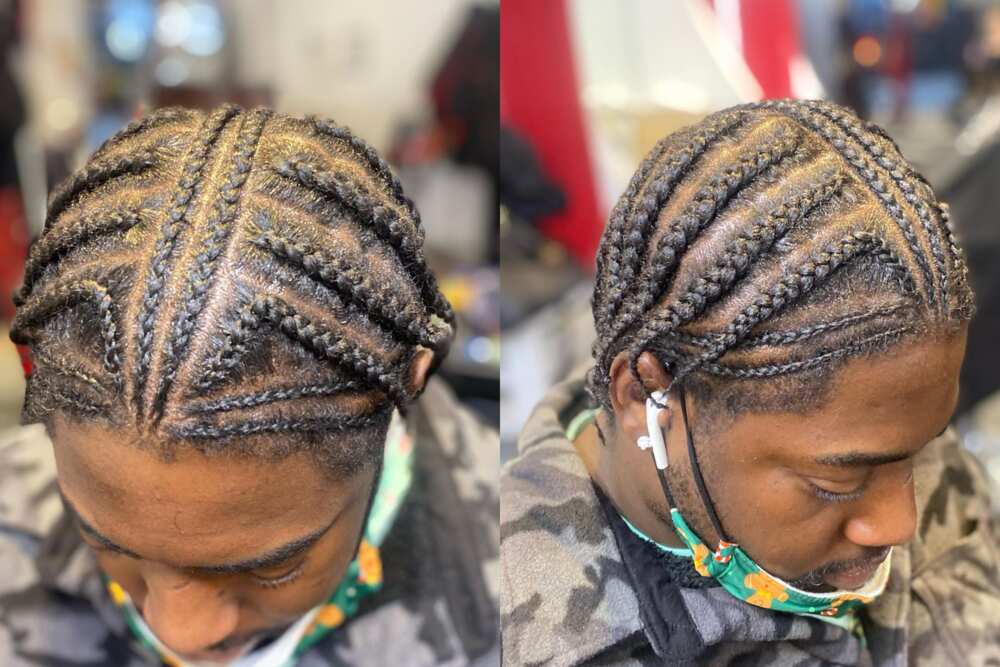 The side-swept cornrow style with two middle lines is a fashionable hairstyle choice. It combines the classic cornrow technique with modern elements, creating a visually striking and edgy look.
29. Three cornrows with an undercut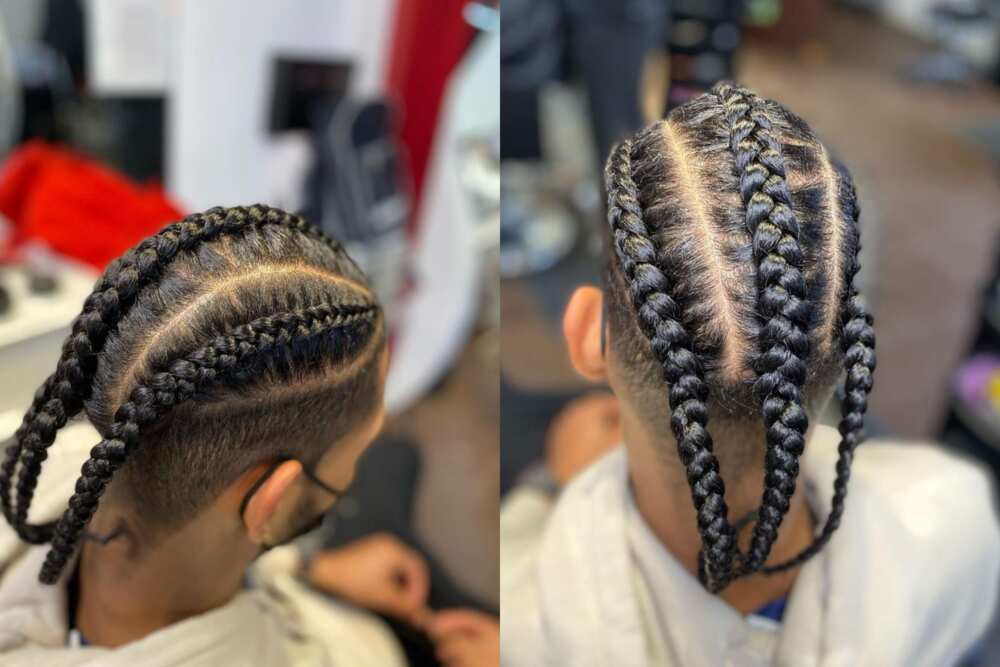 This cornrow style offers versatility and customization options. You can choose the size and thickness of the cornrows and the placement of the middle lines.
30. Mixcornrow and single braid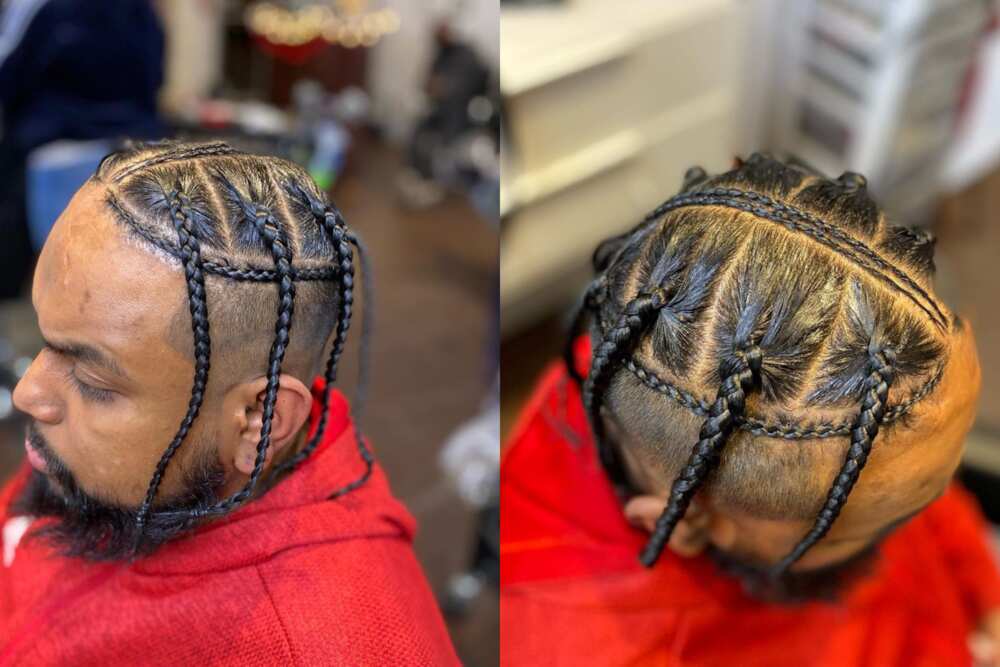 How about mixing your cornrows with single braids? It creates an asymmetrical look that draws attention and adds visual interest to your hairstyle.
Cornrows for women
There are many appealing female cornrow styles. Every year, plenty of new fashion statements enter the arena. Some of the hairstyles are classic, while some are breakthrough trends. Either way, it is possible to find the one that would fit you in particular or get inspired for your own.
1. Shoulder length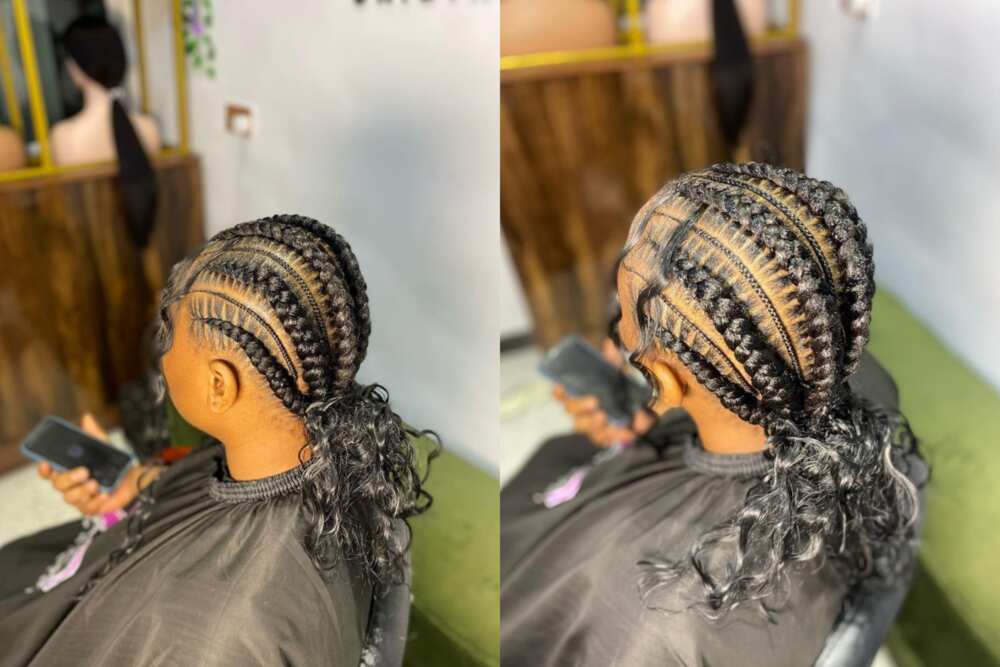 Long and massive cornrows can become quite stressful to wear and maintain. For those who went through this but are unwilling to say their goodbyes to the cornrow fashion, there is a simple solution: to keep the braids but shorten them to shoulder length.
2. Protective bun
If you have long braids, the chances are that you do not want to wear them loose all the time, and quite often, your first wish is for your hair not to get in your face. The bun is a universal style that would suit every woman, and with this design on your head, everyone will know that you are a confident lady who means business.
3. Half updo style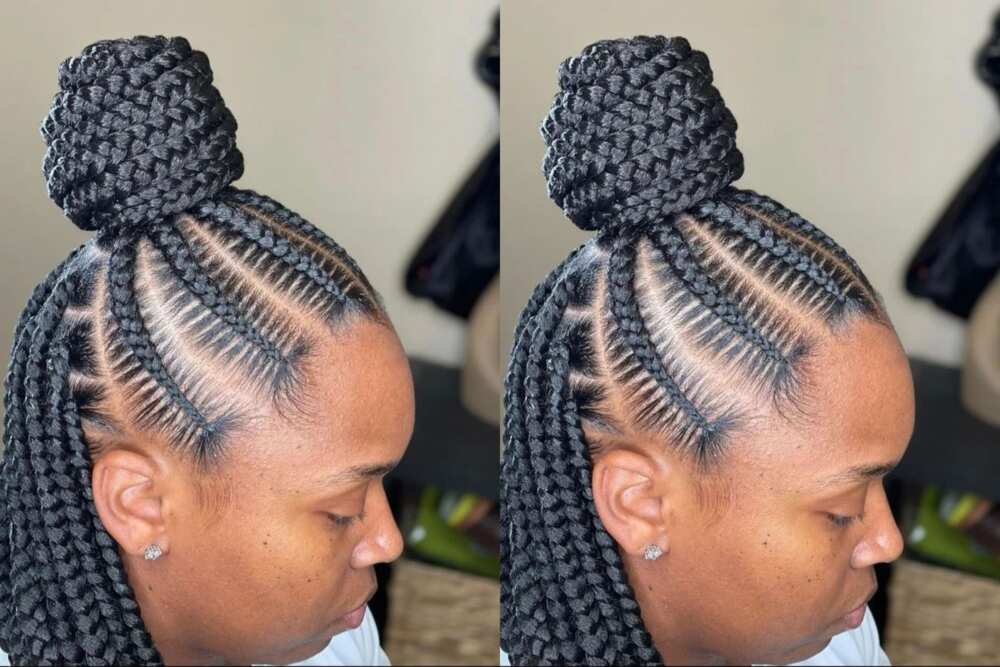 Sometimes ladies with long braids prefer updos in a way that exposes their ears and sweeps back unnecessary hair. As a result, this hairdo can be worn anywhere, whether you are going to a party, a gathering with friends, or work in the office.
4. Black cornrows with an updo ponytail
Here is a good choice: instead of wearing this type of braid loose, you can gather them into an updo ponytail and let some hairs flow. These ponytails usually look gorgeous and show all the elegance of thick, lush braids.
5. Elegant stitch braids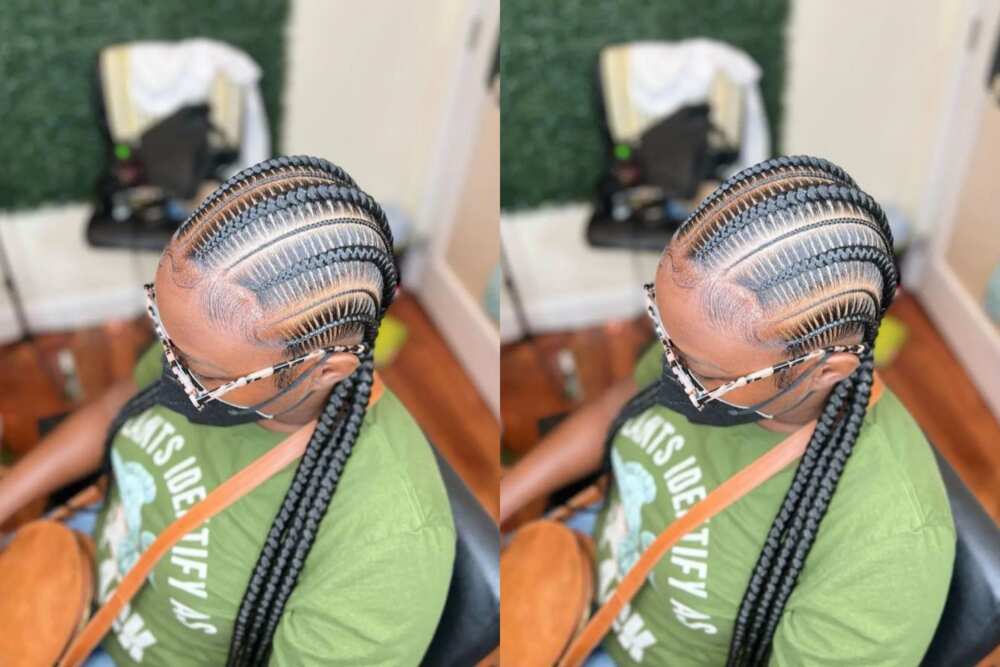 These stitch feed-in braids have a natural and realistic appearance, especially with extensions matching your hair texture and colour. The stitching technique imitates natural hair development, resulting in a flawless blend of your existing hair and the added extensions.
6. High bun with curls
You might already know that a high bun is a universal style, which is convenient and pretty at the same time. It shows the woman's face shape in the best light and pays more attention to her eyes.
7. Heart-shaped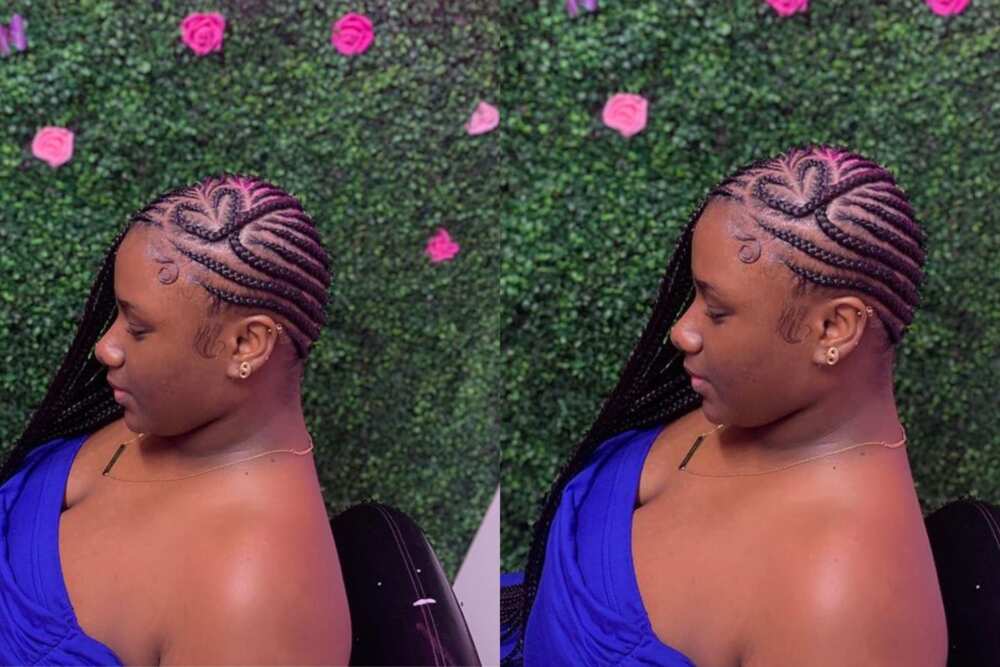 Are you one of those people who like classic options but secretly, in their heart, crave experiments? This option is intricate, weaving your hair into a side sweep, but the result looks amazing.
8. Thin long braids with curls
From the first look at this hairstyle, you can see that it symbolizes something spiritual and natural. If you are proud of your heritage and want to express this through your look, you can weave these thin long braids with curls letting them fall on your shoulders and lower.
9. Thin cornrows into a bun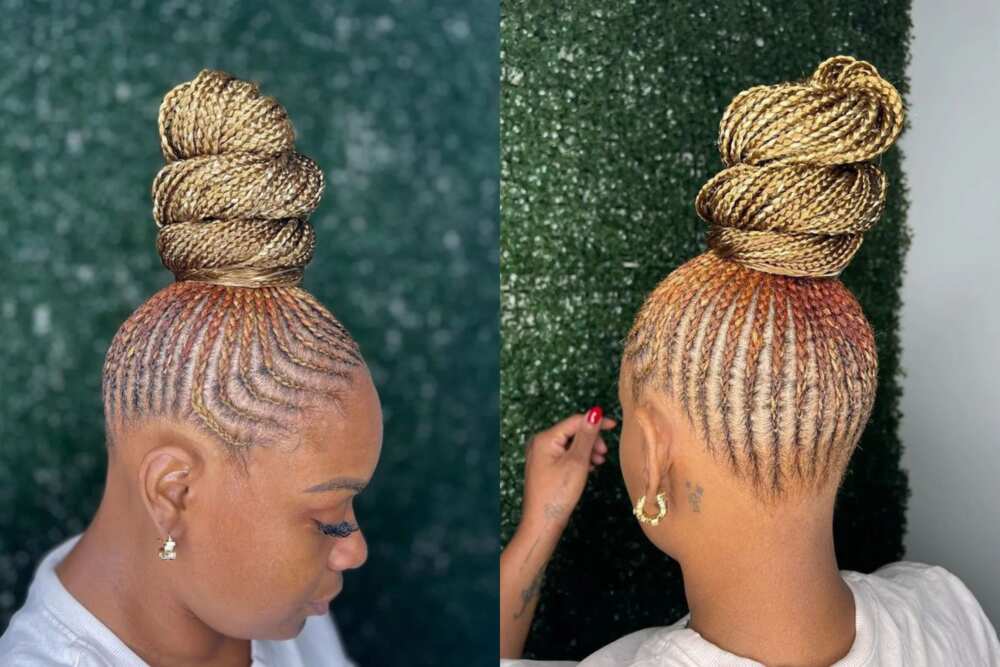 Are you tired of the regular black colour? Try thin brown cornrows. They are very protective and stylish, which is why so many women worldwide have embraced them.
10. Stitched with a low bun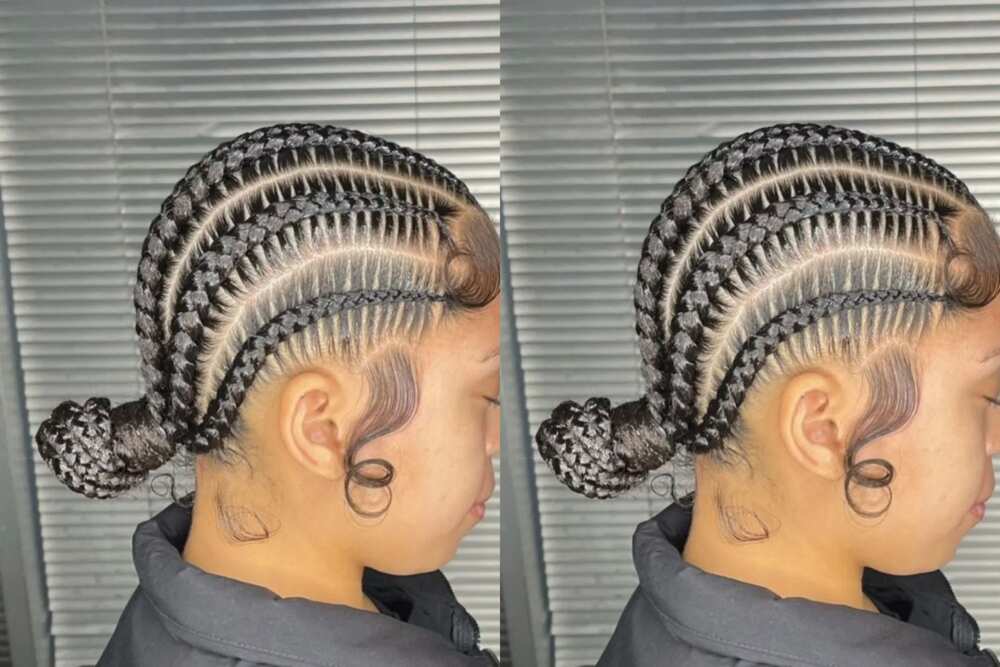 Have you ever wanted to become one with nature and try something really bold? Stitched braids with a lower bun are a thing, and they are a fine example of an original style that you can experiment with.
11. White braided hair
Loose hair is full of grace and dignity, and styling it this way would make you a rock star in the eyes of everyone. This hair colour choice will give your look somewhat of a vintage vibe and make you feel like a movie superstar from the old times.
12. Grey cornrows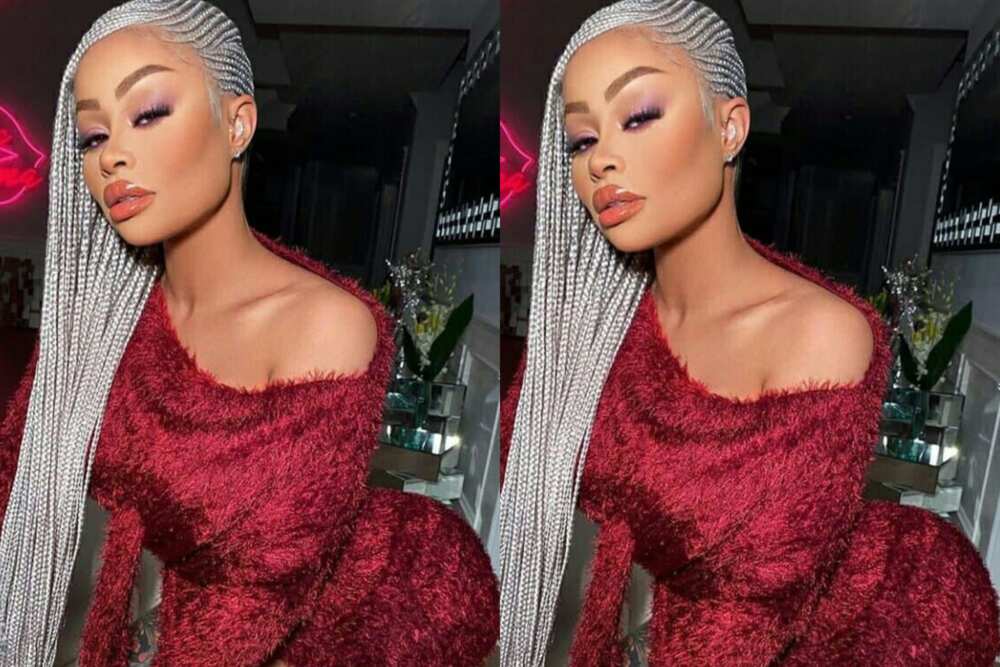 Recently, when the fashion trends have changed, the younger generation reclaimed the grey, and since then, they have owned it. Grey is now considered more like silver, a symbol of grace, modernity, wealth, and glamour.
13. Unique style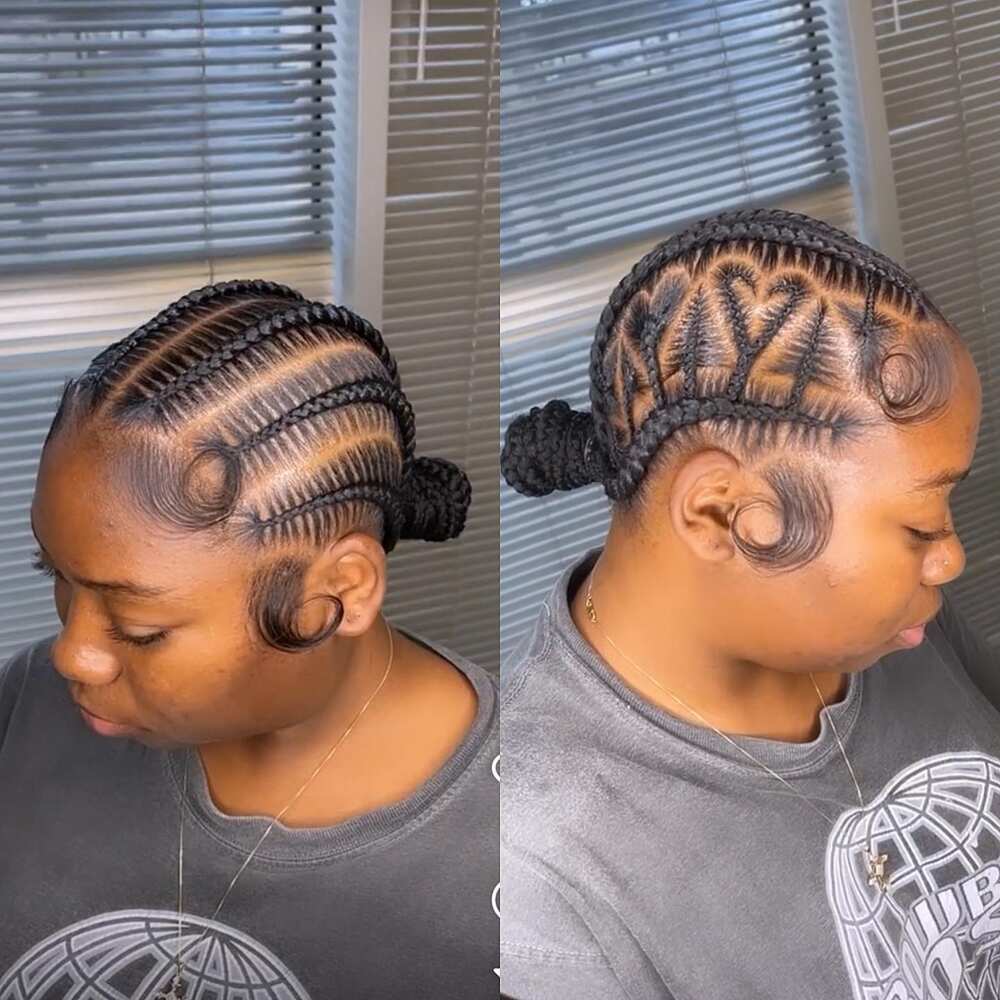 People increasingly use hairstyles to express their individuality and would give anything to stand out from the generic crowd. The above style portrays how calm and peaceful you are.
14. Gorgeous golden beads
Who would not want to feel like a queen and take gorgeous photos for their Instagram with a new hairstyle? Golden beads have so much potential because they are of neutral colouring and can be worn with pastel and bright tones in clothing and makeup.
15. Maroon side-swept style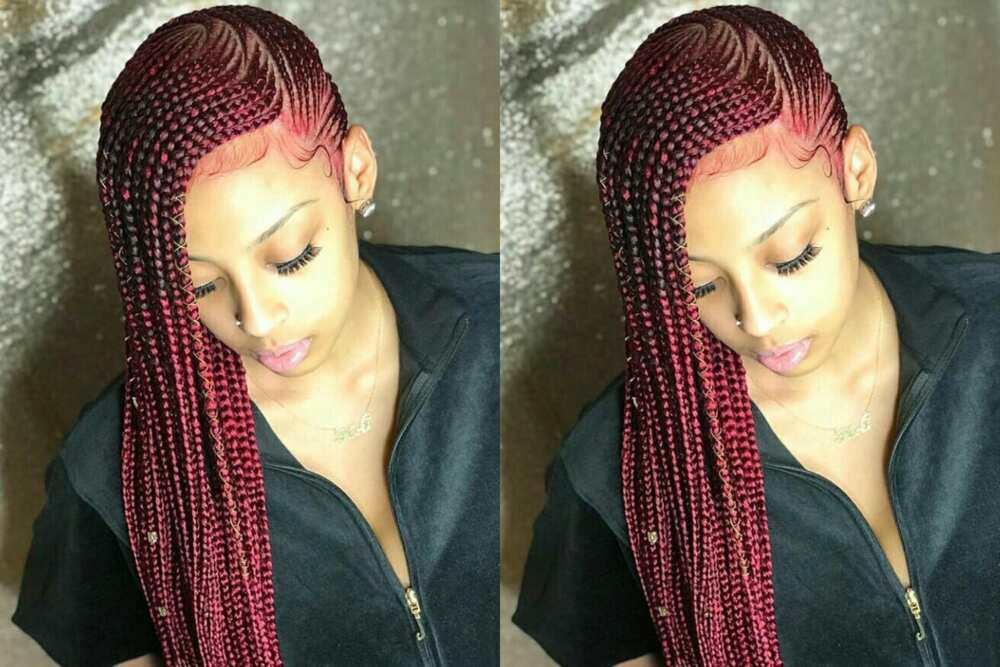 These vibrant maroon braids look together with black hair! It brings some vibe of youth and rebellion and reminds you of the old school days.
16. Fulani braids with beads
Hairstyles like this one are usually associated with something out of this world. If you are aiming for the extraterrestrial look and would like it to suit your quirky personality, it is possible to implement it.
17. Blue braids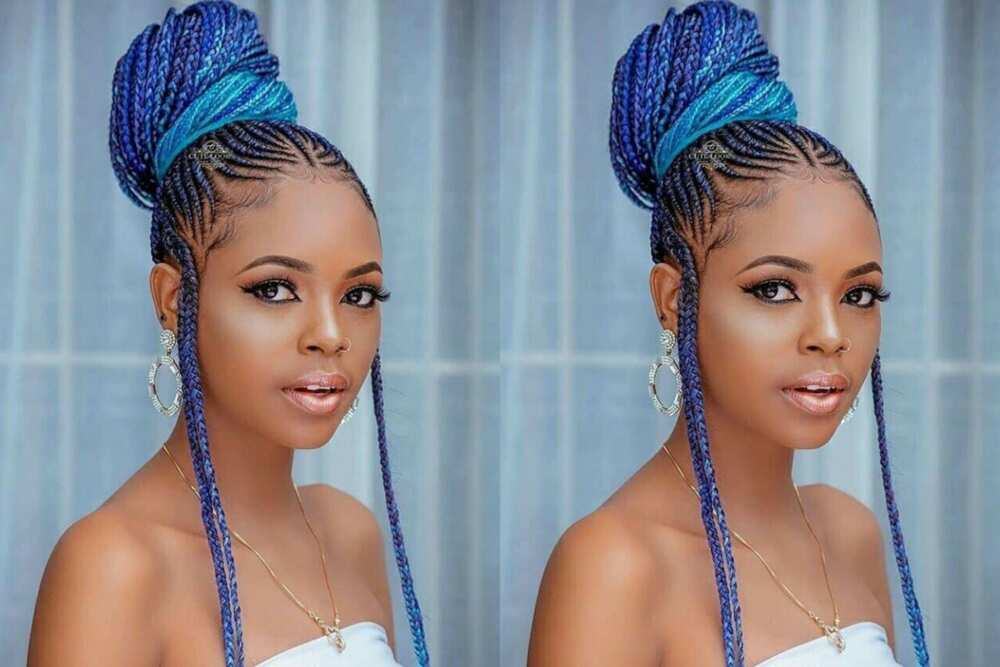 Sometimes, taking care of the regular long silky braids is tricky – they require a huge amount of maintenance, and with time, it just becomes tiring. However, if you have a braided hairstyle, it gets much easier to style them into a high bun.
18. Double buns
Want a chic and memorable look that makes you feel like an A-class celebrity? These chunky braids will show that you are not only ambitious and hardworking but also very chill and easy-going.
19. Half cornrow half braids
Want to keep it classy and simple? You can go for half cornrow half braids style. This style is ideal for workplaces and format events such as meetings.
20. The classic 6 cornrows
If you love simple styles, you can go for this bold style. You can accessorize it with beads and style them however you wish.
21. Half cornrows with curly braids
This hairstyle is considered simple and creates an original and fantastic look. You can decorate them with beads and cowrie shells. They can fit perfectly well on all occasions.
22. Two bog cornrows with feed-in
This is an excellent choice for women who want to express their individuality and create an exclusive look. It's an easy style that can serve you for several weeks.
23. Braided brilliance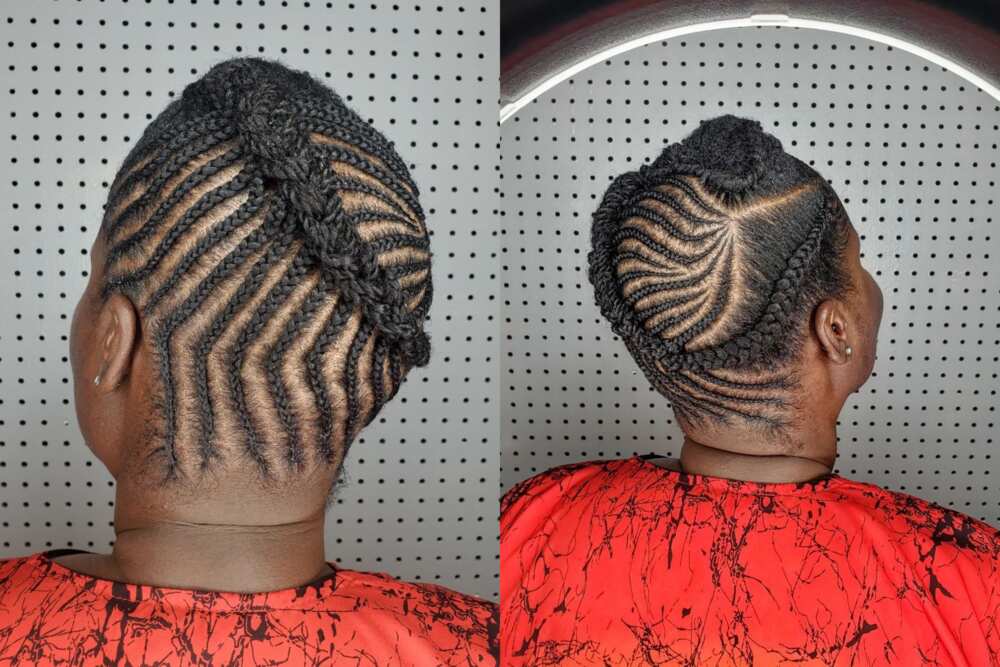 Cornrow styles, including the side-swept version, are known for their practicality and low maintenance. Once the cornrows are braided, they can be worn for an extended period without much daily upkeep.
24. Lower ponytail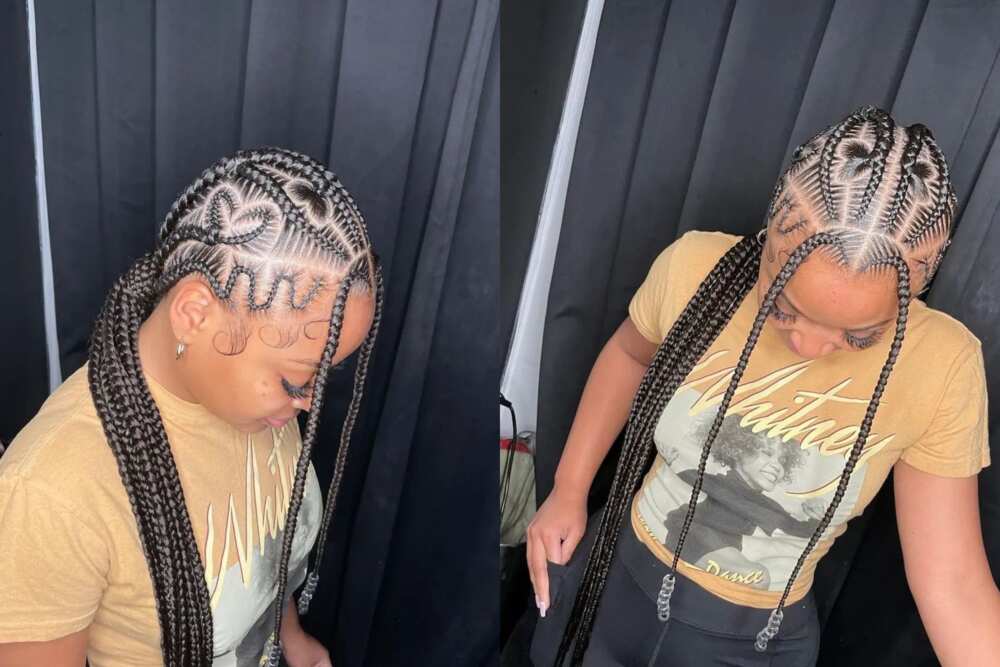 If you don't like high ponytails, you can do a lower one like the one shown above. This is merely to keep the style basic. Beads can be used to provide a wonderful touch to the look.
25. Large feed-in Cornrow
This style makes it convenient for individuals with busy schedules or those who prefer low-maintenance hairstyles. The lower bun keeps your hair intact, allowing you space to move around freely.
26. Goddess bun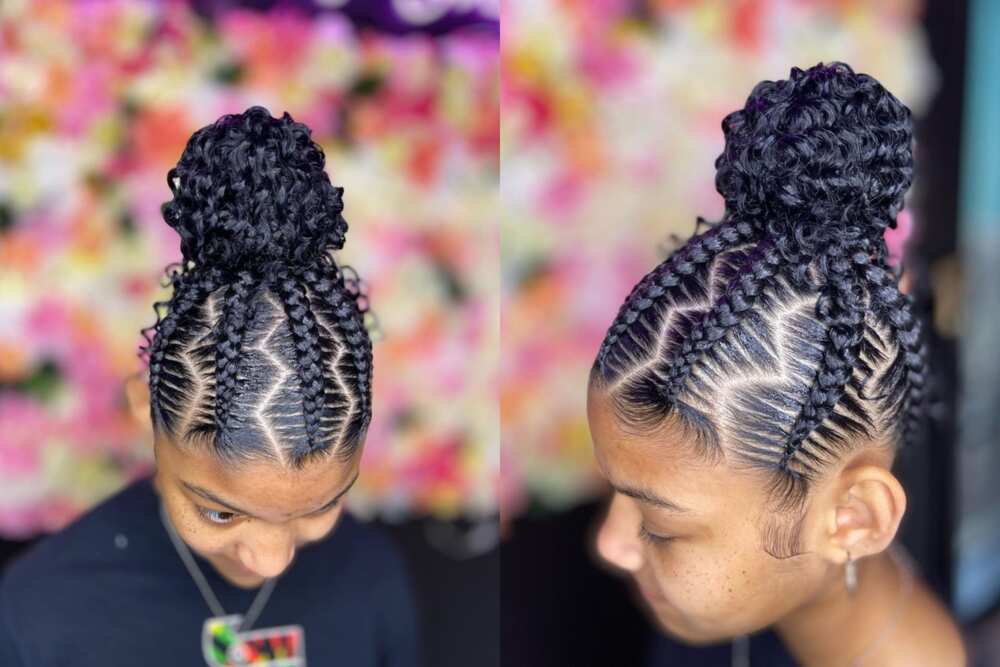 This hairstyle is perfect for anyone who wants a simple and elegant look. It is perfect for those who want a low-maintenance hairstyle but are still stylish.
27. Thin cornrows with curls
This stunning and bold style is perfect for anyone who loves simplicity. The additional curls create a unique, personalized look that can change your everyday look.
28. Brown junk cornrows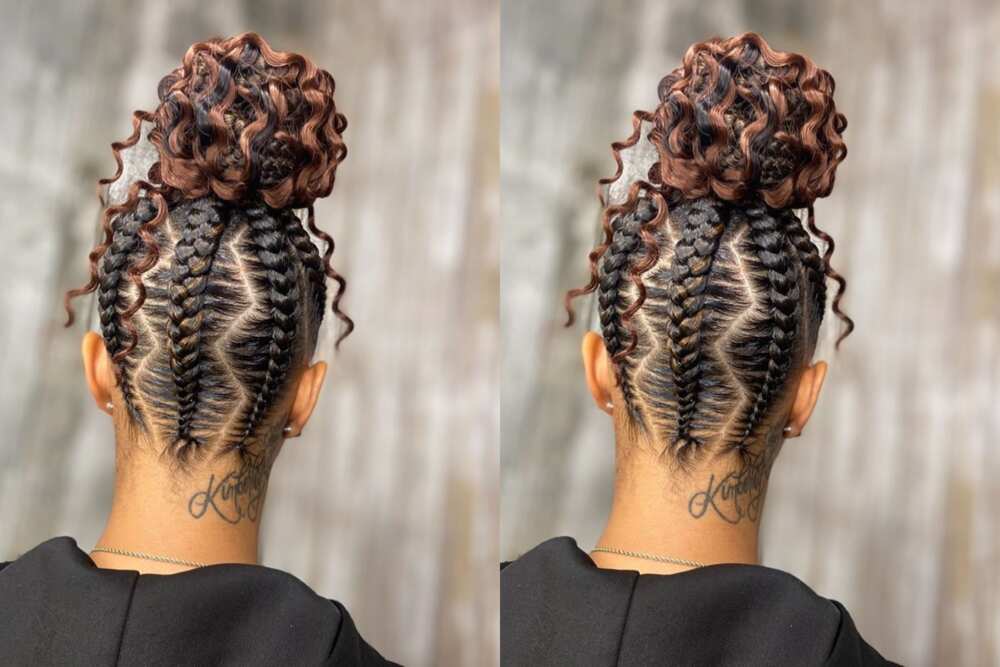 These junk cornrows can be quicker to install compared to smaller ones. This can be advantageous if you're looking for a hairstyle that can be done efficiently, saving you time at the salon or during the styling process.
29. Twists with side cornrows
As shown above, you can have a combination of twists and simple cornrows on the side. You can also accessorize them with beads, cuffs, or ribbons to add a personalized touch or create a more decorative look.
30. Simple feed in a high ponytail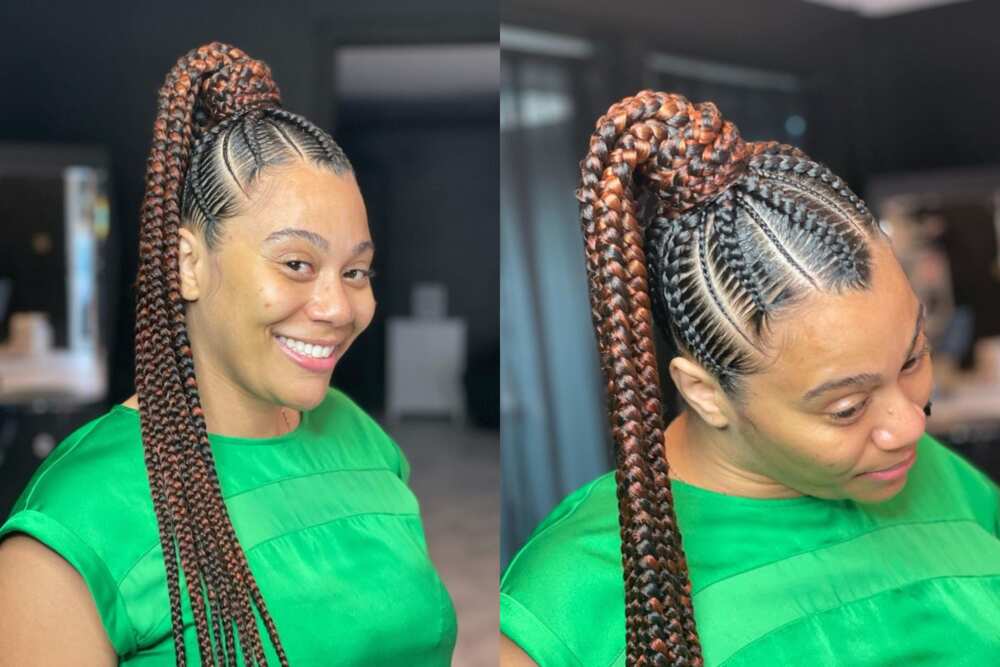 Ponytails make a bold and statement-making hairstyle. This can be a great choice for individuals who want to express their style, make a fashion statement, or enjoy a more dramatic and attention-grabbing hairstyle.
What is the easiest cornrow style?
Simple straight-back cornrows are frequently regarded as one of the simplest styles to learn and execute. They are easy and do not require much attention.
What is the significance of cornrows?
Cornrows have traditionally been worn to express cultural identity, heritage, and community affiliation. They are also a form of protective hairstyling.
Are cornrows healthy for your hair?
Yes. When not braided too tightly, distribute tension across the scalp, minimizing strain on individual hair strands. This can help reduce breakage and damage caused by excessive pulling or styling.
The cornrow hairstyle is a great way to add personality and flair while protecting your natural hair. There are numerous styles you can experiment with.
Legit.ng recently shared a collection of all-back Ghana weaving hairstyles. Women all over the world have embraced these hairstyles because they look beautiful on anyone.
Ghana weaving hairstyles last for 2-3 months if properly maintained. You can wash them with warm water and shampoo and then dry them with a hair dryer.
Source: Legit.ng