Latest Nigerian bead designs: top ideas
It is no secret that Nigeria is famous for the amazing beaded designs. They have won the hearts of many people who love cute multicoloured accessories. You can have a look at the latest Nigerian bead designs and see which of them are trending nowadays. Always be stylish!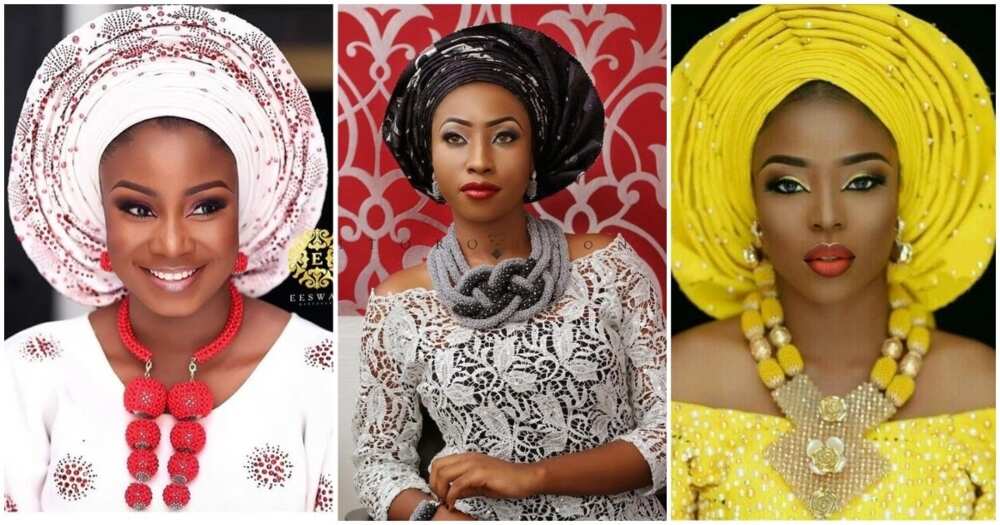 Latest bead designs in Nigeria
Bead designs are a huge part of Nigerian culture, and they have always been appealing to the ladies of Nigeria. They wear the beads both to the everyday events and the festive parties. The designs of the beads are always spectacular, and bead lovers can showcase their creativity in full power. Today, we will show which beaded trends are popular nowadays. Even despite our recommendations, you can still search for something creative and innovative because the bead designs fully allow it. Maybe you will be the next trend-setter someday!
There are no boundaries to your imagination when you decide which beaded jewellery you should wear today. There are millions of different combinations and patterns for every event, style, and occasion. Even though there are certain trends this year, they are always changing, and next year something else will be on trend.
Below, we will suggest you some of the most timeless and stylish beads designs. Nigeria has a rich culture, and beaded necklaces together with matching earrings and bracelets are the inseparable part of it. Hop on the train of latest beads necklace designs and be always in trend!
Nigerian latest bead designs
Without a doubt, almost every woman in Nigeria loves wearing the beaded necklaces with the matching accessories. Here, we will give you some examples of what you can choose this year.
1. Coral accessories
The most classic and elegant accessory set for Nigerian ladies is a simple coral set of necklace, bracelet and earrings. It will be a big bonus if you put on a gentle dress and head wrap. These accessories will also look absolutely brilliant together with the black or white gown. Shortly, this is a perfect addition to the look. Most women choose it for the weddings and other parties, and they never regret it.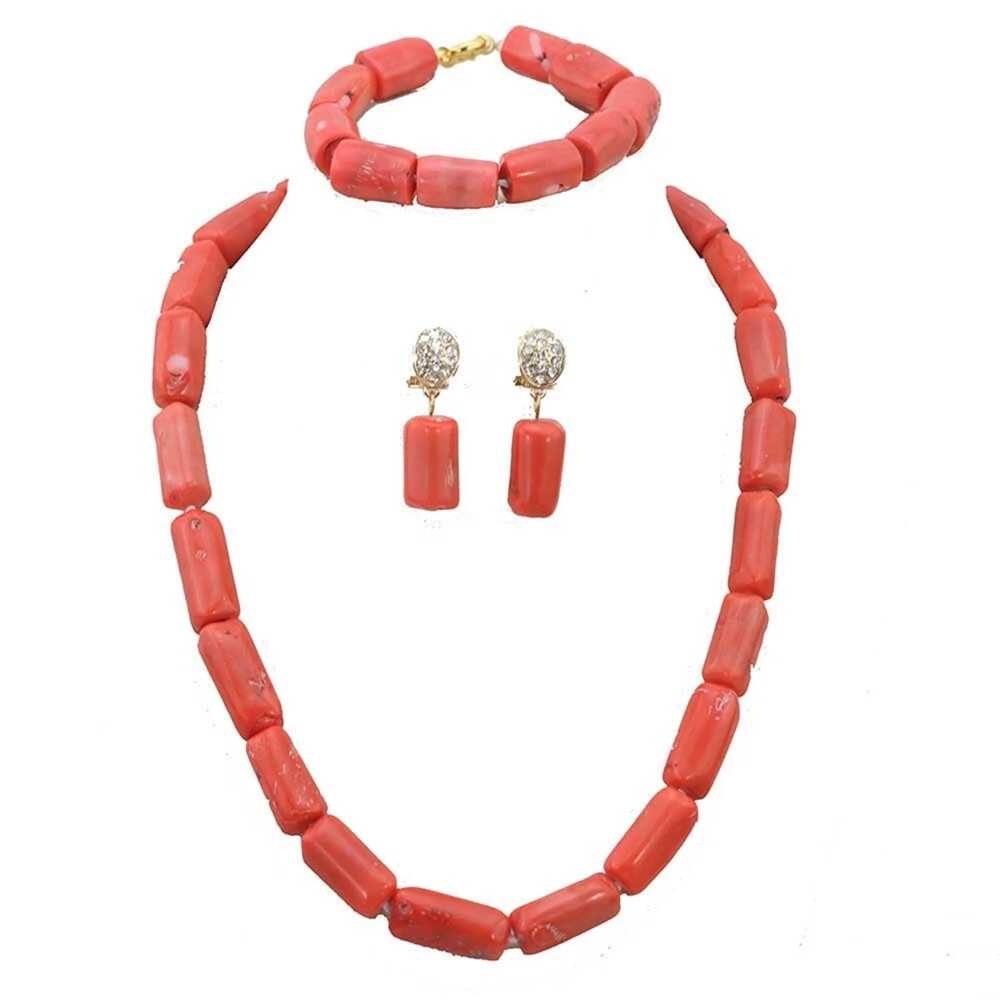 2. Colour pop
You should never think that mixing different colours is a sign of bad taste. This cheerful accessory will give good vibes to everyone around, and show you as an optimistic and friendly person. You can wear it together with the dress of one colour. Or, if you are a risky lady, you can go a little crazy and try mixing colours in your outfit too. Either way, this will be this exact type of accessory that will make people see you in a new light.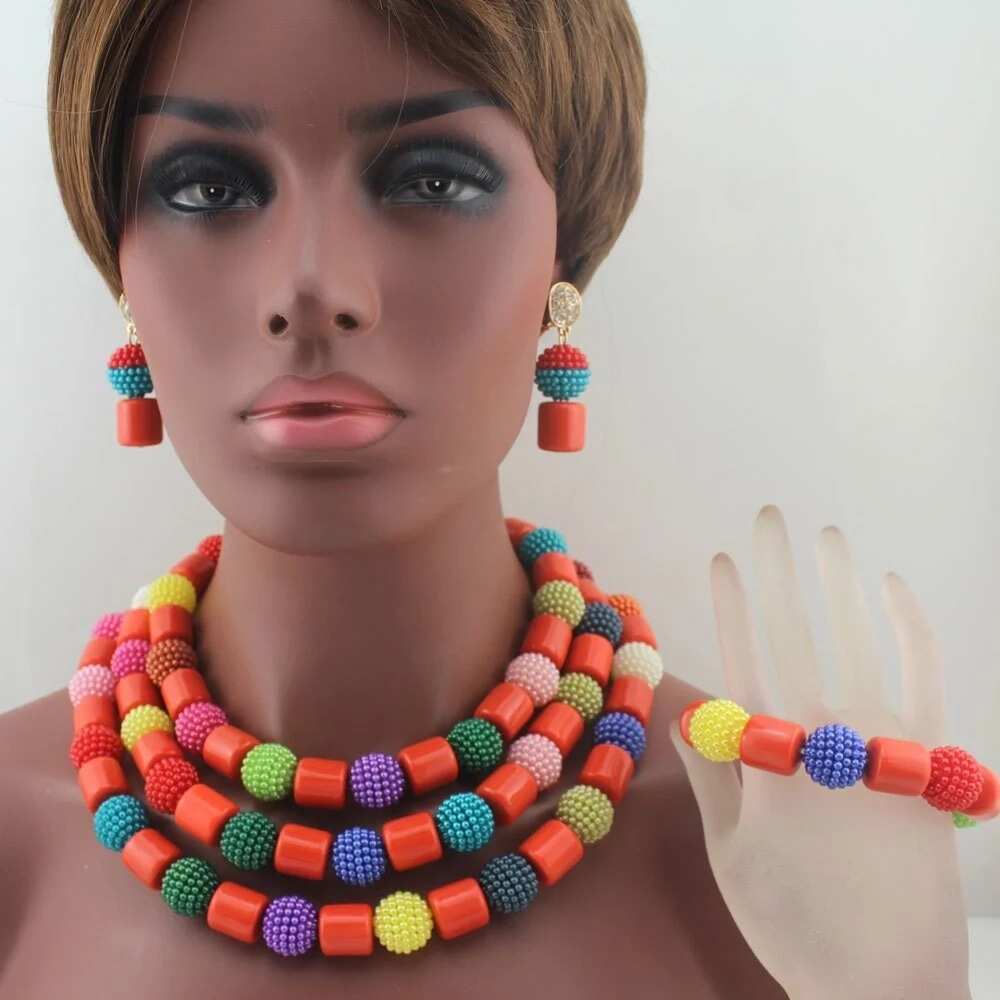 3. Futuristic beaded designs
Why not add some modern and innovative charm to the regular classic accessory? This one will be a perfect choice for everyone who wants to mix traditional looks with something completely new and fashionable. This is usually a good choice for simplistic dresses if you want to mix them with smart style. The multicoloured flowers will make everyone drive their attention to you.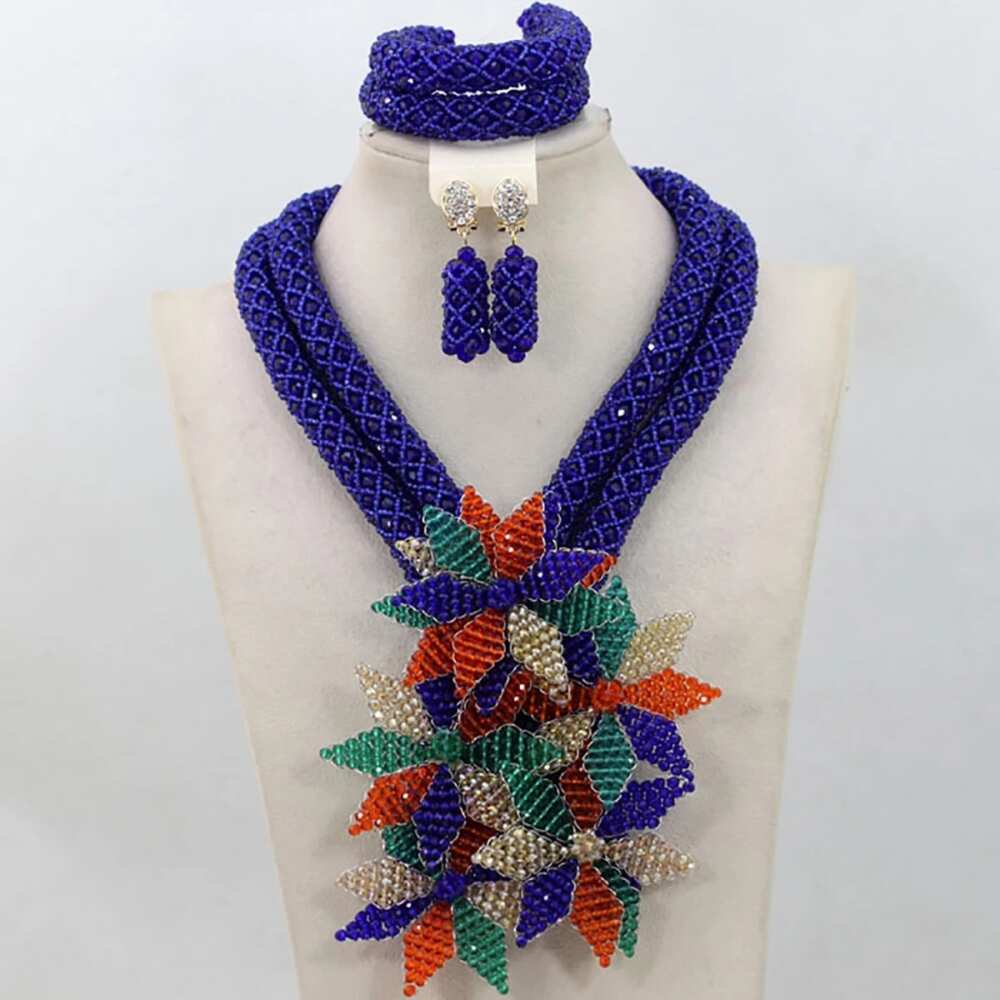 4. Rich green beads
Have you always wanted to feel like a mermaid or siren from the old fairytale? You have this chance now with rich green spiral beaded accessories! They would match with neutral outfit colours, or you can choose light green for the dress. The beautiful flowers on the side will only make your accessory more interesting and creative!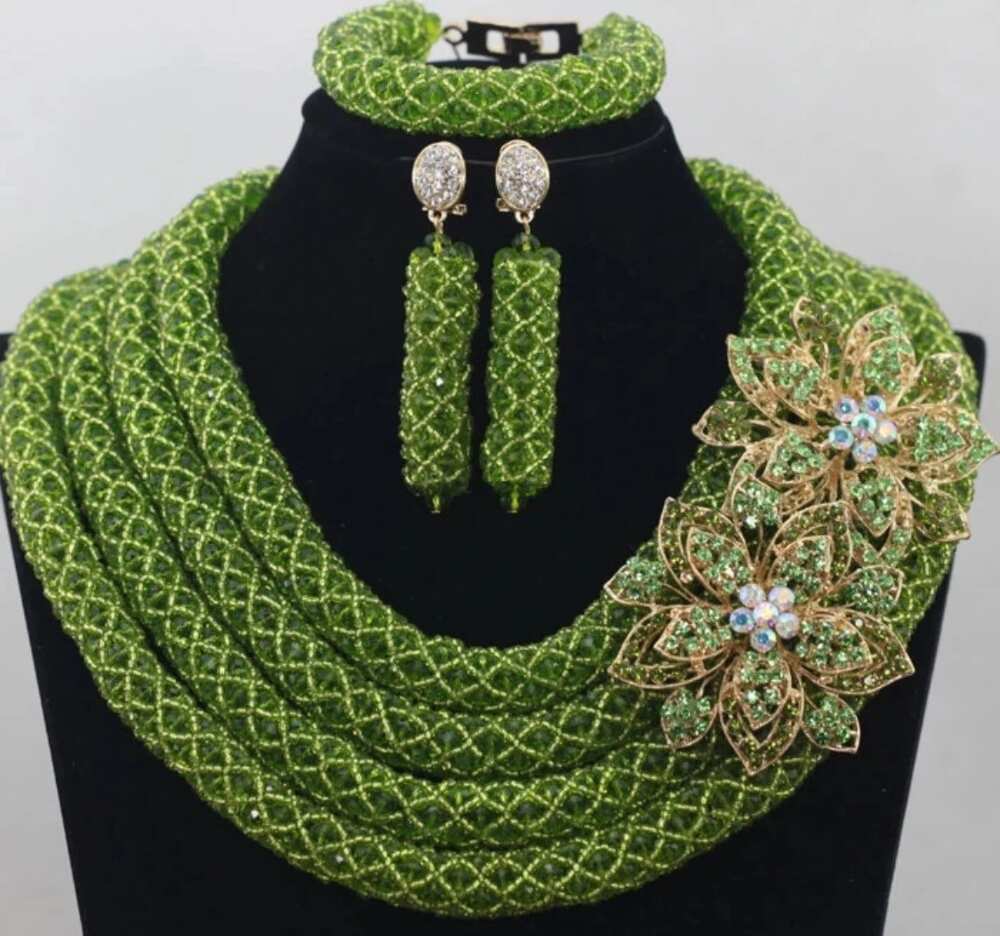 5. Yellow sunflower style
Yellow is the colour of the sun and fertile fields. It brings us hope for the better. If you show up in yellow, you will be remembered by everyone as that girl that brought sunshine in the room. This is quite a massive accessory, so you can choose the light and elegant dress to shade it. The yellow beaded spiral accessory worn to the formal event will show that you are a positive person who never loses faith.
READ ALSO: Top Nigerian bead necklace designs and patterns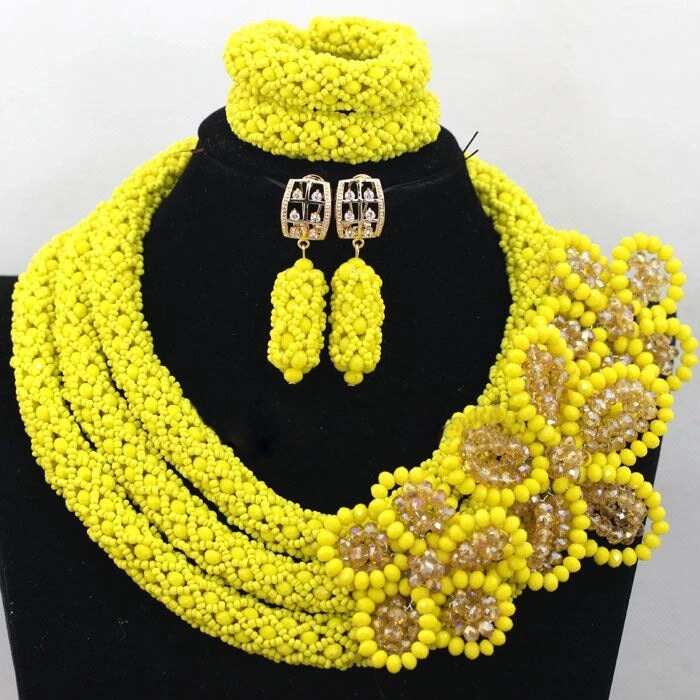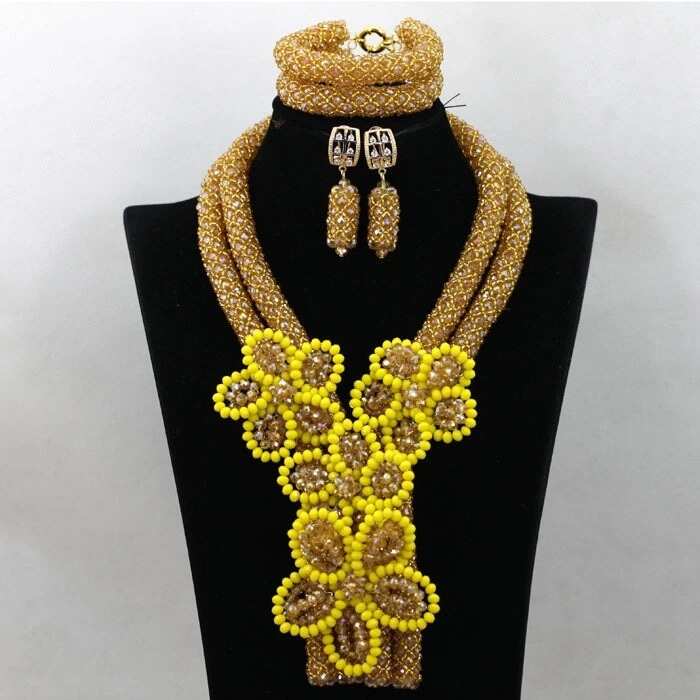 6. Dark blue and silver graceful beads
If you have chosen a dress that is in the blue palette, you should consider choosing the accessory in related colours. Same if your dress is white. Blue goes extremely well with silver and gives the sophisticated vibes that everyone in the room will surely notice. You can not help but see how skillfully this jewellery is made, and if you choose it, you will go in history as someone who has a refined taste. Everyone will keep you in mind as a true pearl and treasure of the evening.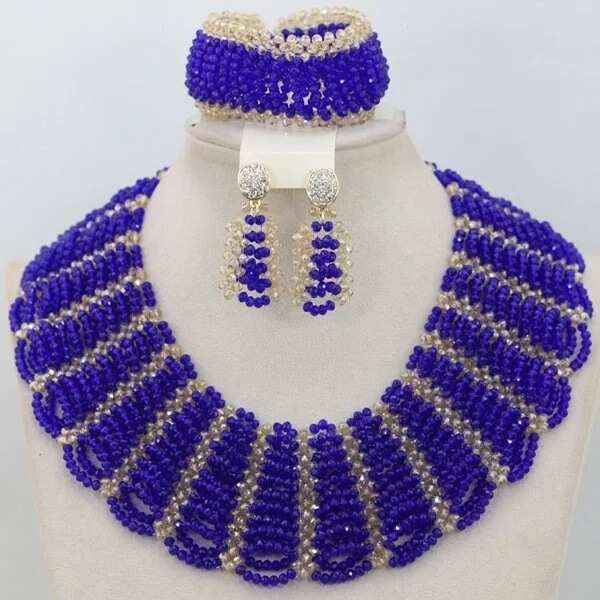 7. Tasteful dark green beads
Dark green is a unique colour. It can be mixed with both gold and silver, and will still look absolutely amazing. So, if you are trying to go for a noble look which will make you a queen of the night, you should go for the similar accessories. The long beads of square shape look really distinguished and combined with a classic Nigerian dress, there is no doubt that this style will impress everyone and make you a part of royalty for one night.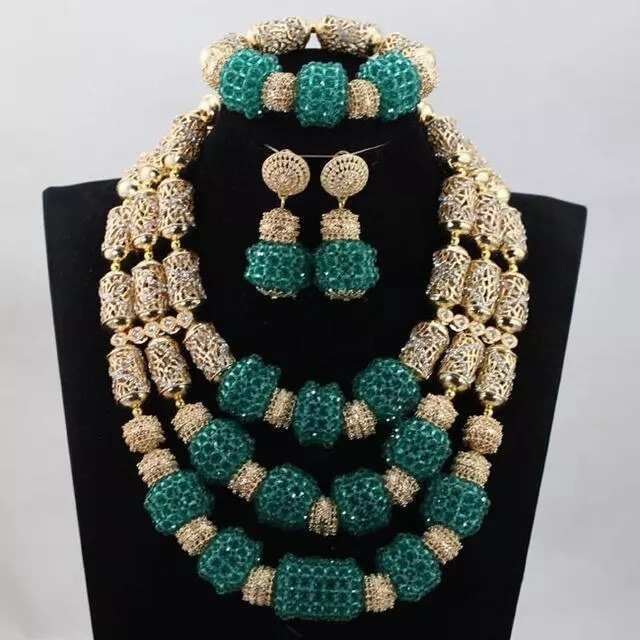 8. Red and golden handmade beads
Red is probably the favourite colour among the Nigerian fashionable ladies who like attending ceremonies. Not only it makes them elegant, charming and hot, but it also symbolizes passion and high class. Red is also one of the most attractive colours, so everyone's eye will automatically be on you if you wear a red piece in your outfit. The red and golden beads are a perfect combination because both these colours are a well-known symbol of something grand and royal. You totally are assured to become the centre of attention if you choose this set of accessories.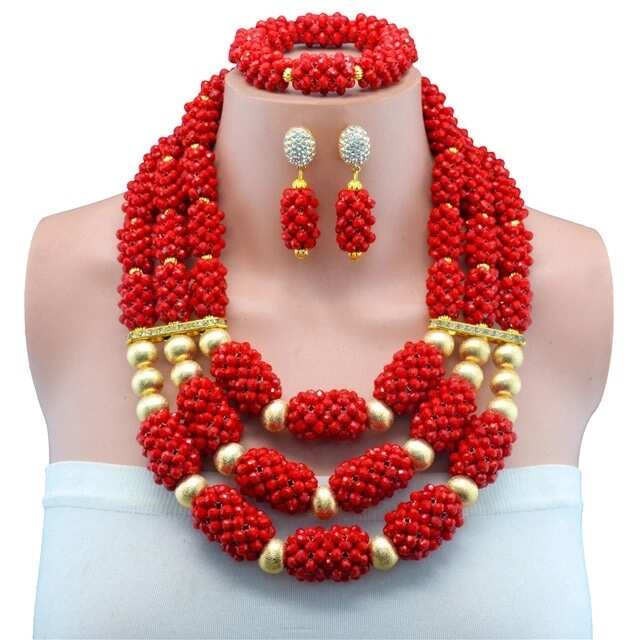 9. Asymmetric bead designs
The beaded necklaces do not have to be perfectly symmetric. Sometimes you can put together two or more colours and make a mess out of them, and it will work because it will still be a fashionable and trendy mess. For example, some people like mixing dark blue with yellow, but you can try different combinations. You can try blue and gold, black and yellow, red and gold, pink and blue, and other colour conjunctions. Also, it will be a great decision to put darker and lighter shades of the same colour together.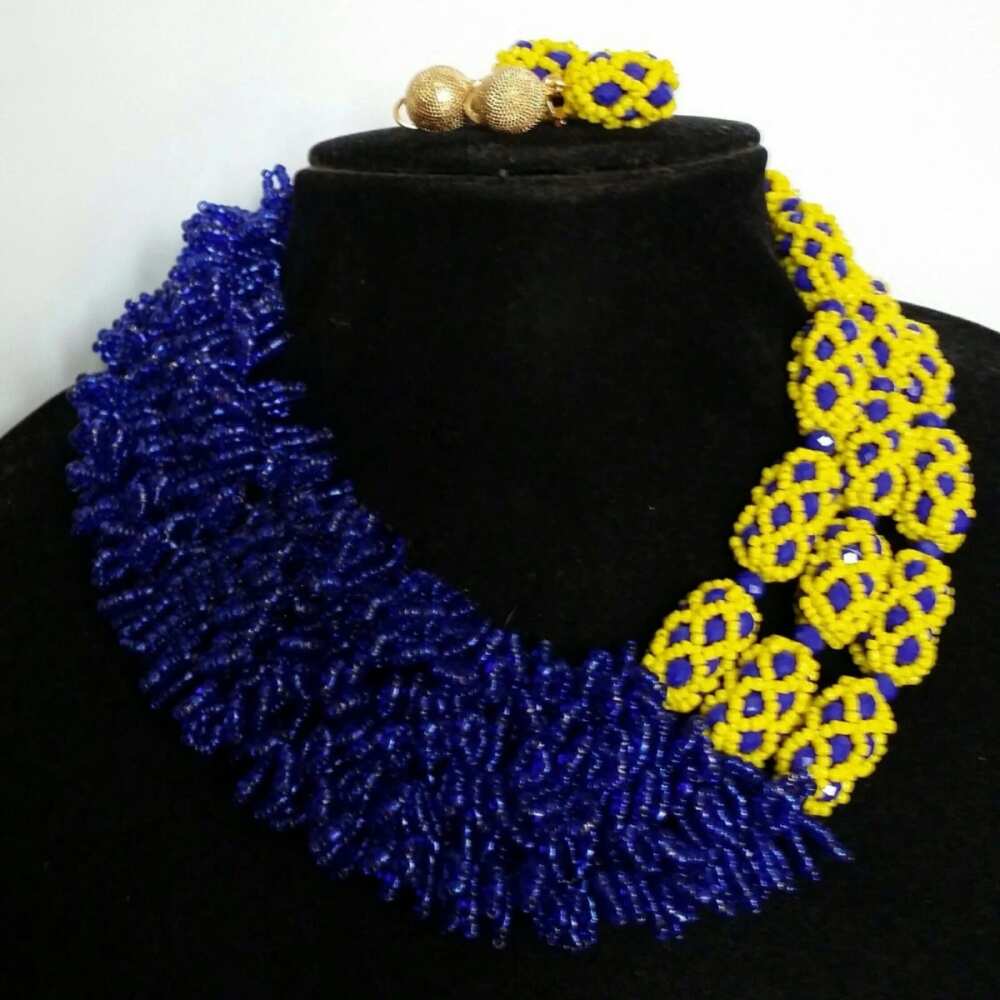 10. Small bead patterned style
The beads should not be solely huge. Sometimes, the small beads will be an amazing solution and attract everyone's eye no less than big beads. Besides, the small bead techniques involve amazing patterns, like this tiger one.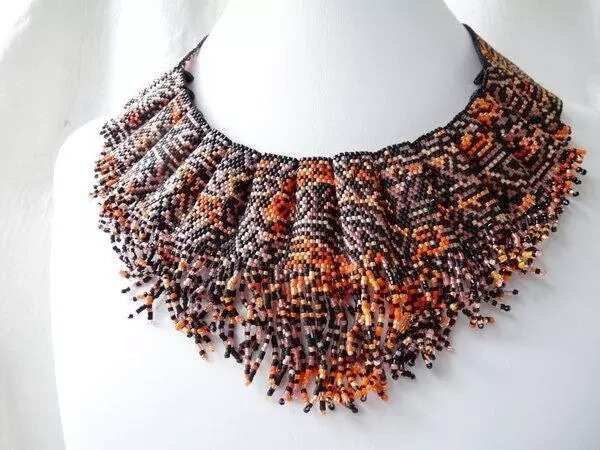 These are fashionable and modern bead designs in Nigeria. You will not have to purchase the same accessory sets, but we hope that they inspired you for rekindling your love towards beaded accessories.
READ ALSO: Latest beads in vogue this season
Source: Legit.ng