Ankara plain and patterned skirt and blouse designs
Do you have a special occasion or want to look stunning on a casual day? Ankara plain and patterned skirt and blouse is what you should wear if you want to stand out of the crowd. See these latest designs that will help you to create the perfect image for you.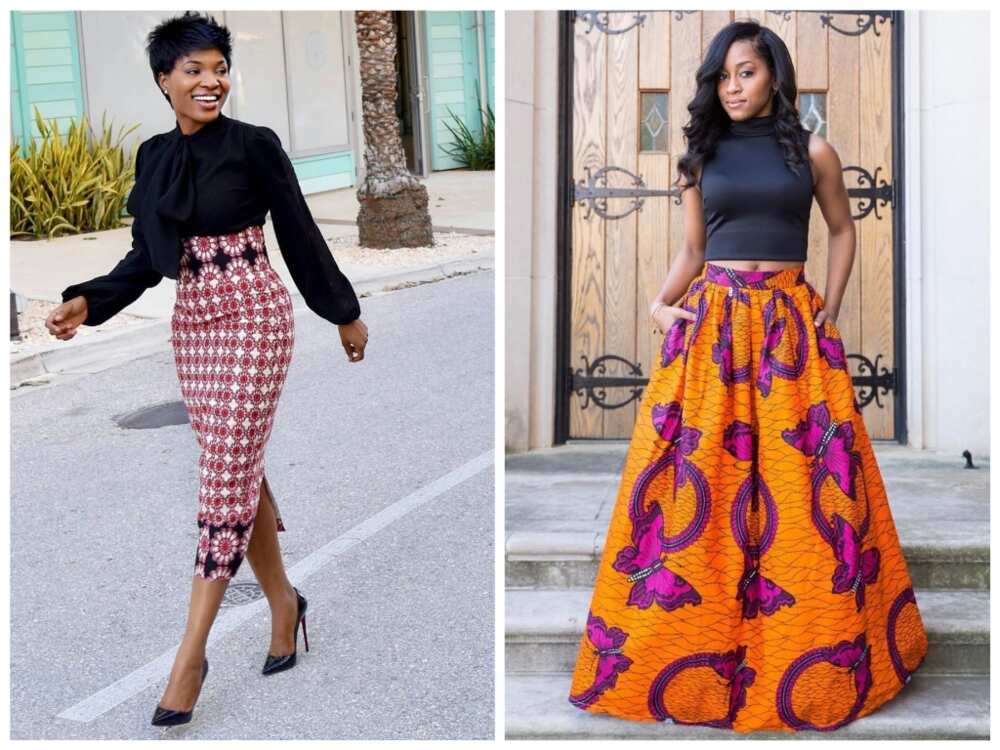 Ankara fabric is widespread and extremely popular in Africa. It is vibrant, colorful, diverse and unique. The fabric literally helps you to express yourself. It comes in a variety of colors, cuts and types of clothes. You can have ankara skirt, blouse or dress with different accessories and beautiful shoes. So here is a list of the finest plain and pattern styles that will inspire you.
What is Ankara?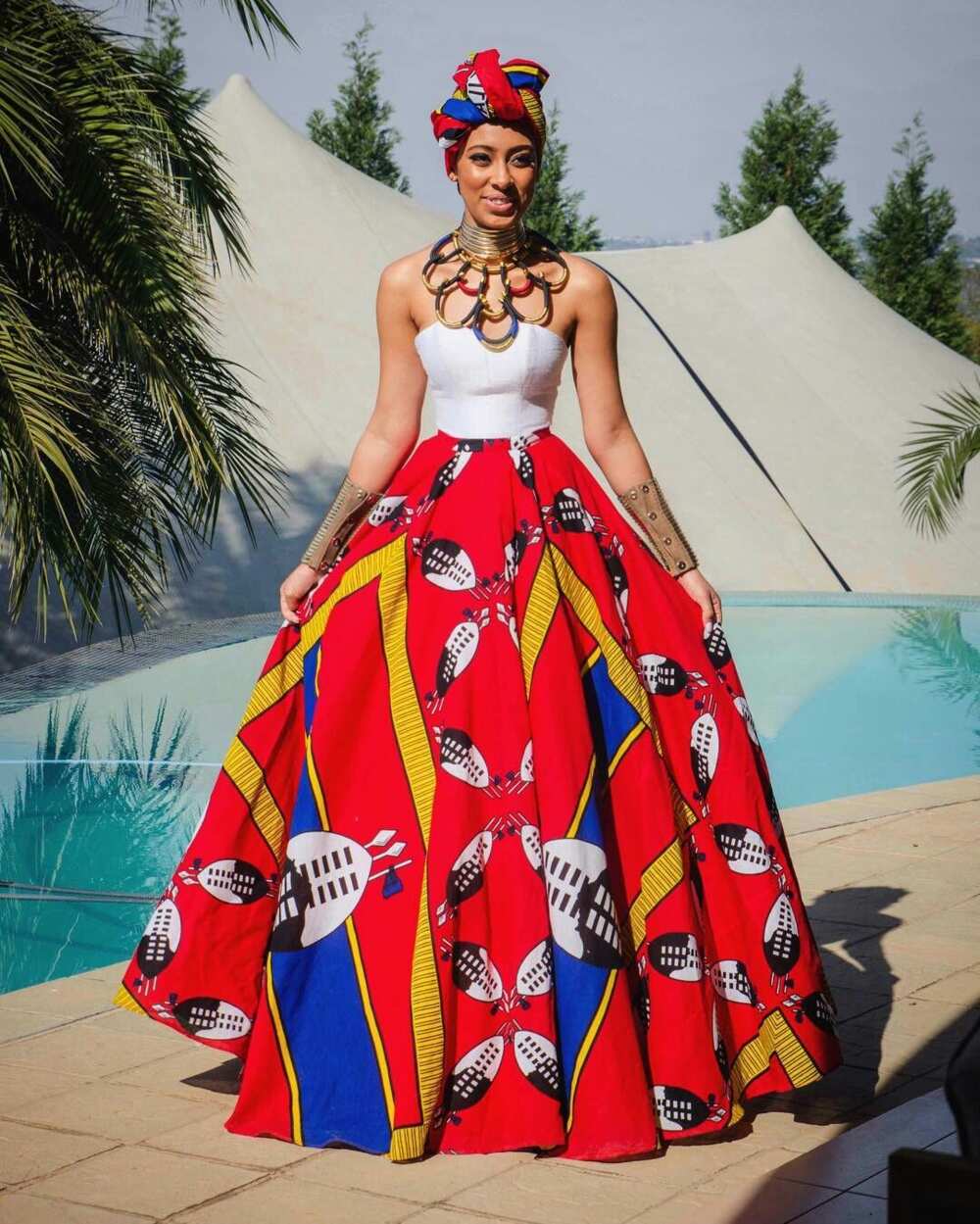 Ankara is a cotton fabric with printing. It is soft and light, which makes it a perfect clothes for hot climate countries. Depending on the area you are buying clothes in, you will find various colors of Ankara design. Usually ankara dressings are worn of special festive occasions, but lately it is also common to see them on ladies on a casual ordinary day.
Ankara designs are famous for their wax prints, which are the way of communication between African women. You may find numerous names of ankara prints, called after famous personalities or places. Among rich people it is a widespread hobby to collect ankara clothing.
Plain and pattern styles for ladies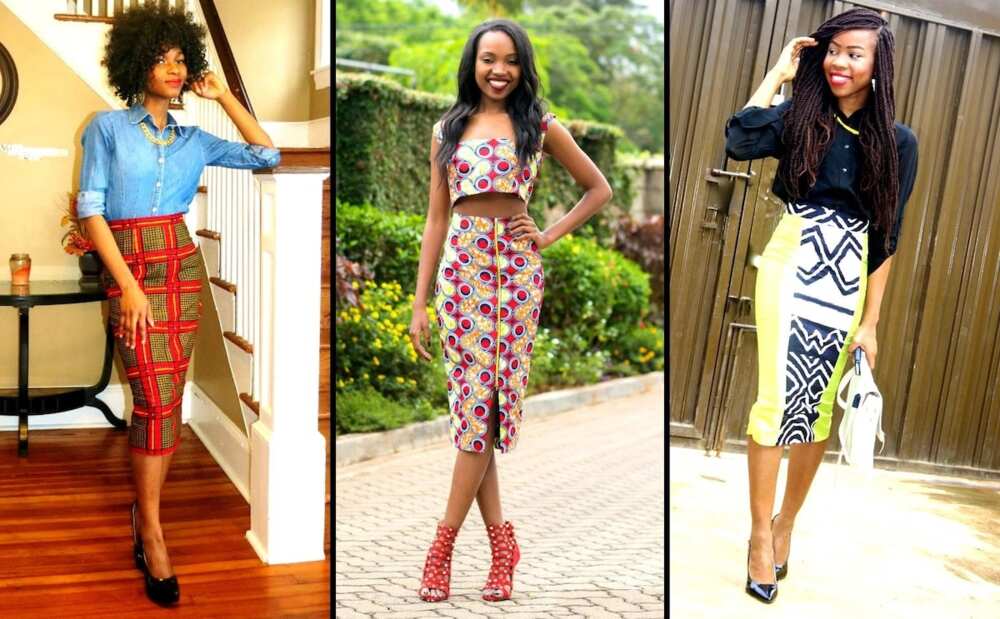 There is a variety of options for modern ladies to shine. If you want to look elegant and sophisticated, you should choose plain dresses and skirts of bright colors, such as red, pink, yellow or green. The dresses and skirts can be of the middle length or be long.
You should choose color and style of the dress depending on the occasion you are attending. It is worth mentioning, that a lot of celebrities turn to plain and pattern ankara styles. For example, Tasha Smith, Jidenna and Tiwa Savage, Nomzamo Mbatha, Lupita Nyong'o and others. On various fascinating entertainment events they appeared in an Ankara clothing, showing the true heritage of African culture to the world.
Plain and pattern ankara skirt and blouse styles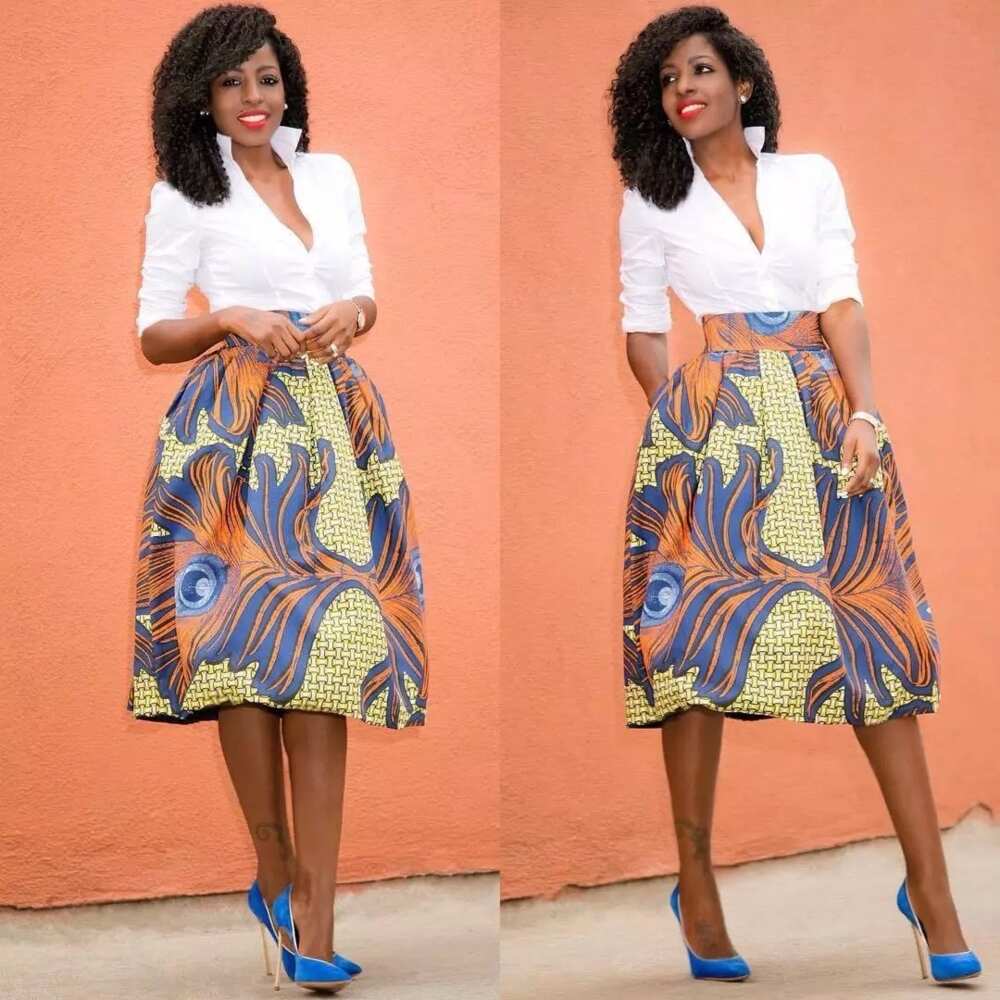 This year, skirt and blouse combinations with ankara designs are getting more attention. These are perfect dressings for any event. Either you want to look gorgeous on a special occasion or just be astonishing at work. The biggest pro of the latest plain and pattern styles is that you can wear them anywhere and be sure that you look fantastic.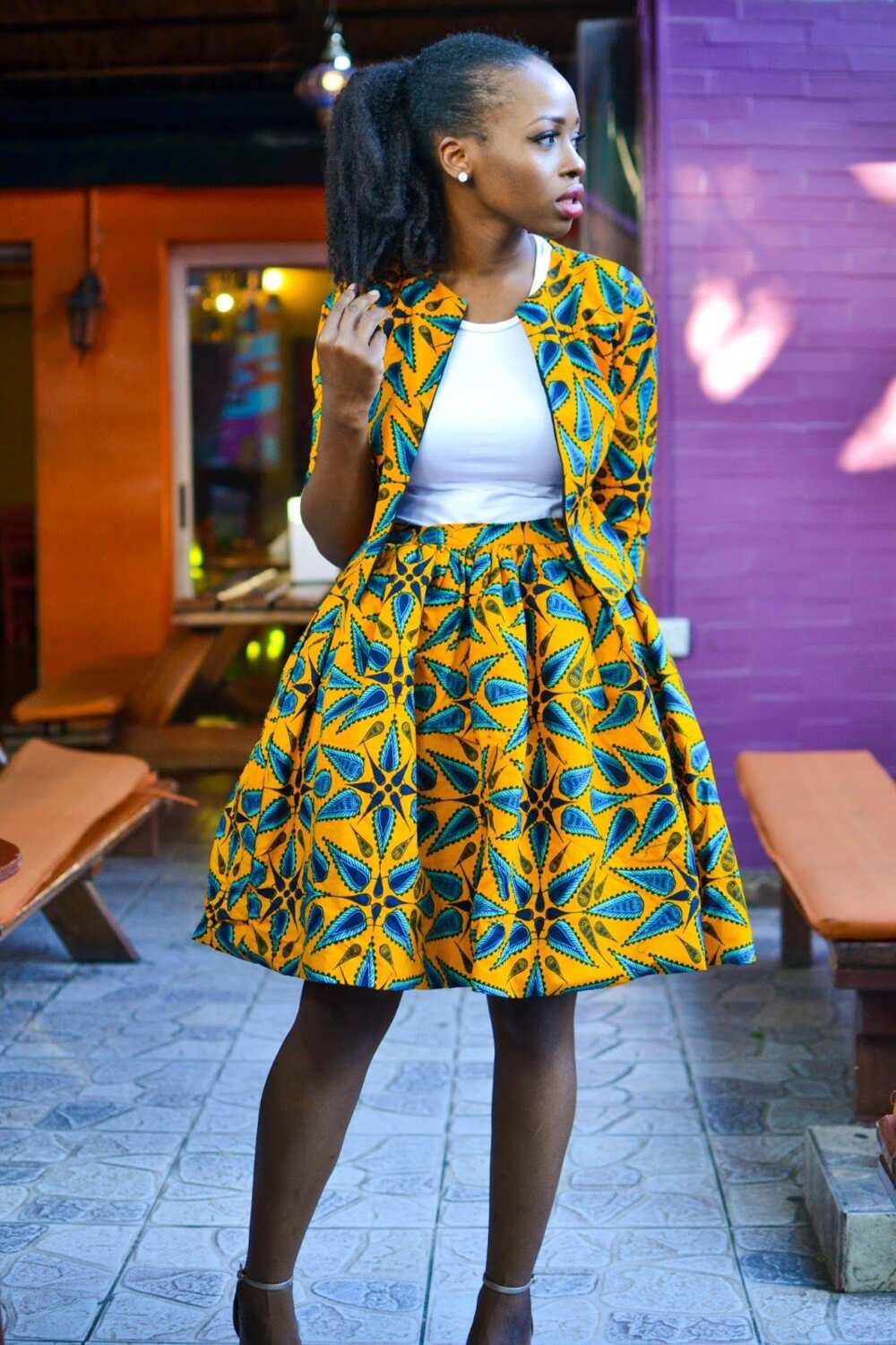 This stylish bright yellow outfit is perfect for casual meetings, such as a date in a cafe or weekend out of town. Short printed skirt with the jacket of the same pattern makes you look official, yet relaxed. Combined with the appropriate accessories and shoes with high heels makes your outfit perfect. Don't forget about the right hairstyle and makeup.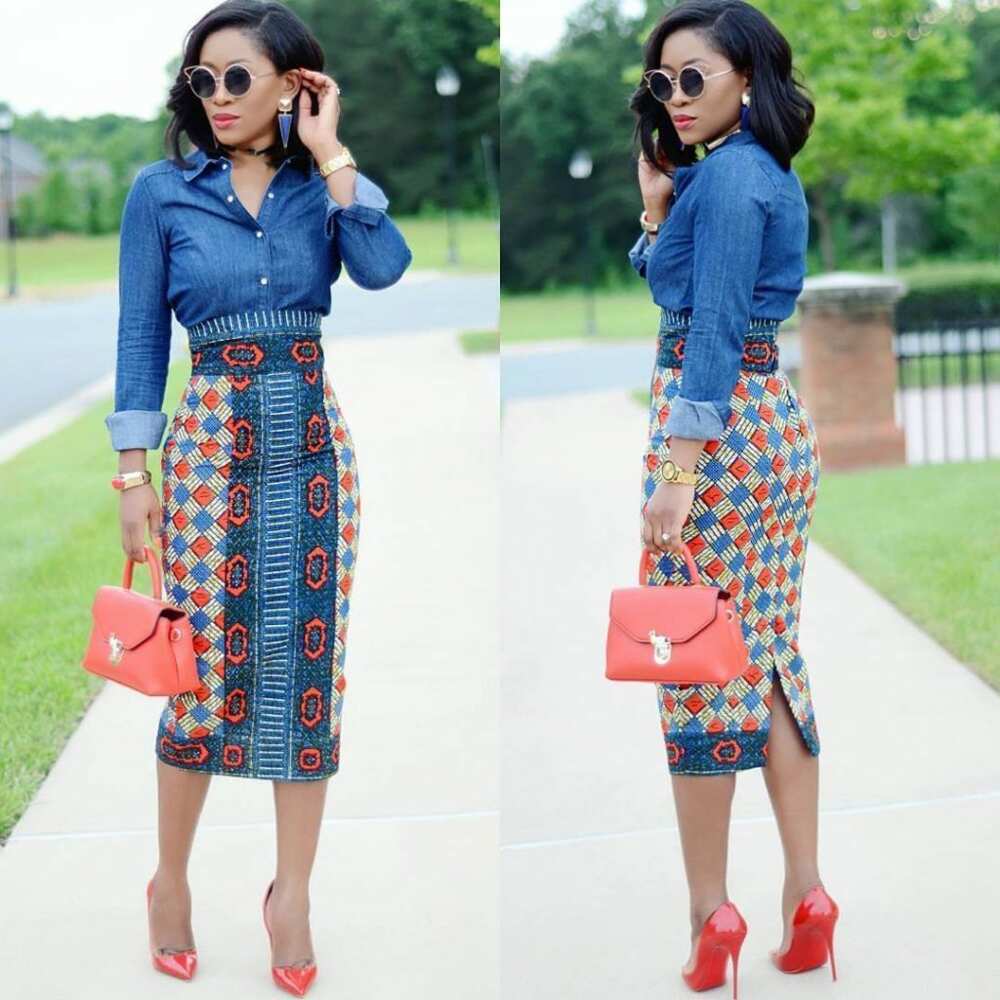 This stunning patterned ankara skirt with denim blouse is the right choice for office wear or a fancy dinner. The high waist rise highlights the figure of a lady, and the right accessories do the rest. Look at the colors of shoes, purse, bracelet and even lipstick that match and create a stunning outfit. Earrings match the shirt and skirt as well, making the lady's look seem perfect.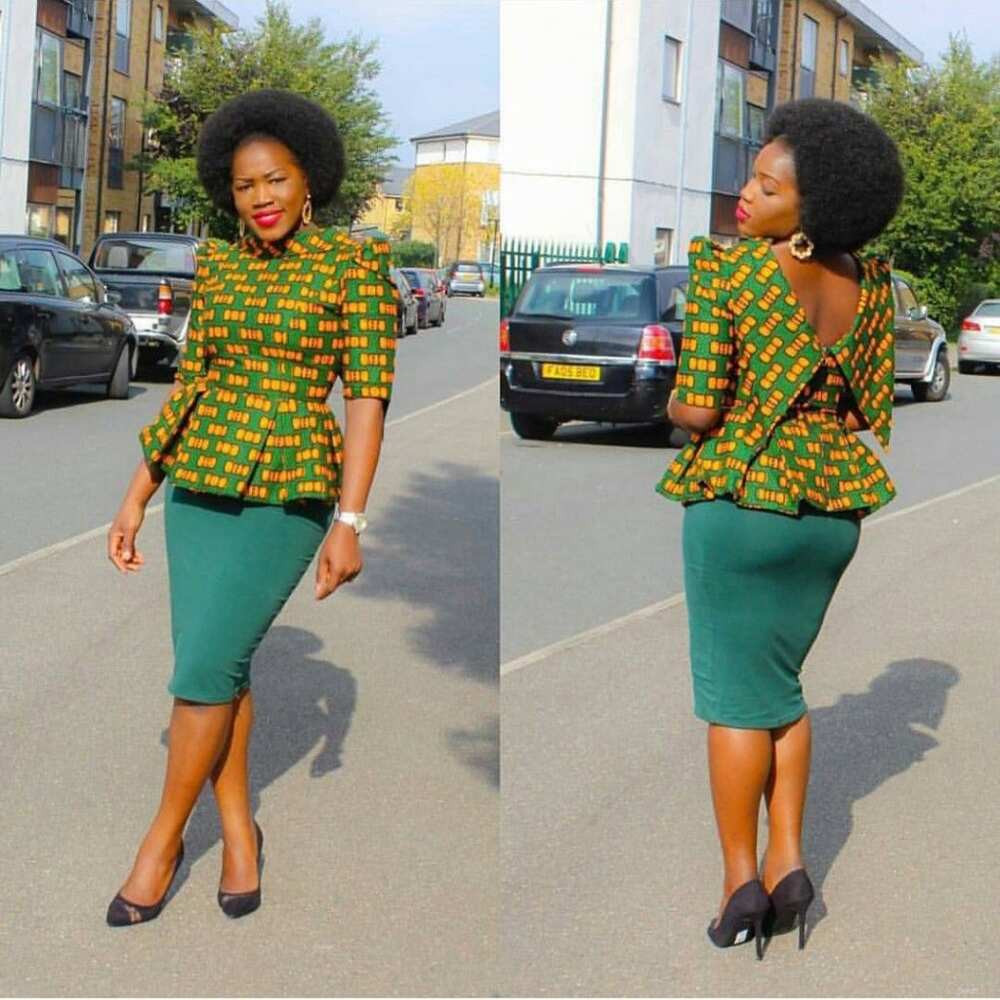 Continuing with the office/fancy style of the outfit, look at this fantastic example of a dressing. A plain pencil skirt of turquoise color matched with a printed bright green long-sleeve blouse astonishingly highlights all the beautiful parts of women body. Together with the high heels, such an outfit can be work for a meeting at work or a special occasion.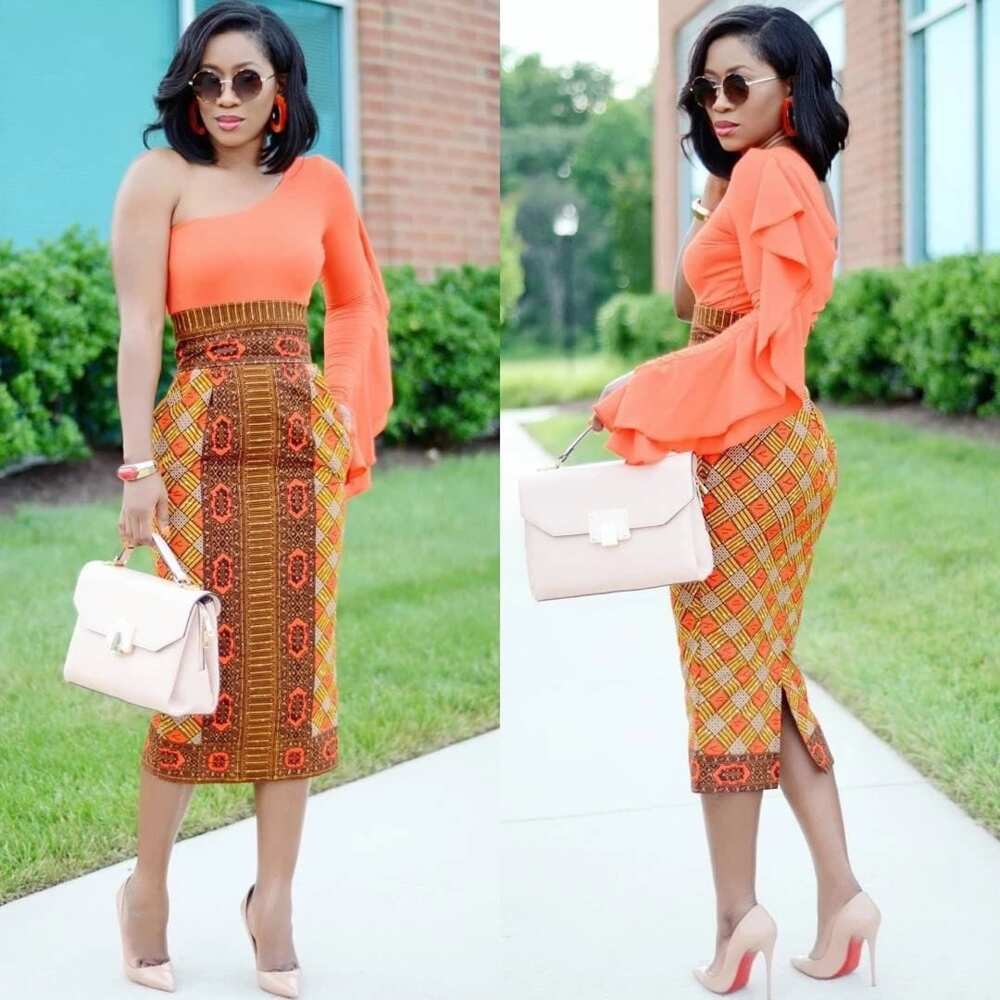 READ ALSO: Short dinner gowns: best tips for real fashionistas
If you are going to a fancy event, pay attention to such combination of a midi printed skirt with a high waist and a plain blouse of pastel pink color with one long sleeve. Pastel shoes together with a purse and earrings complete the image. You will e a star anywhere in this outfit.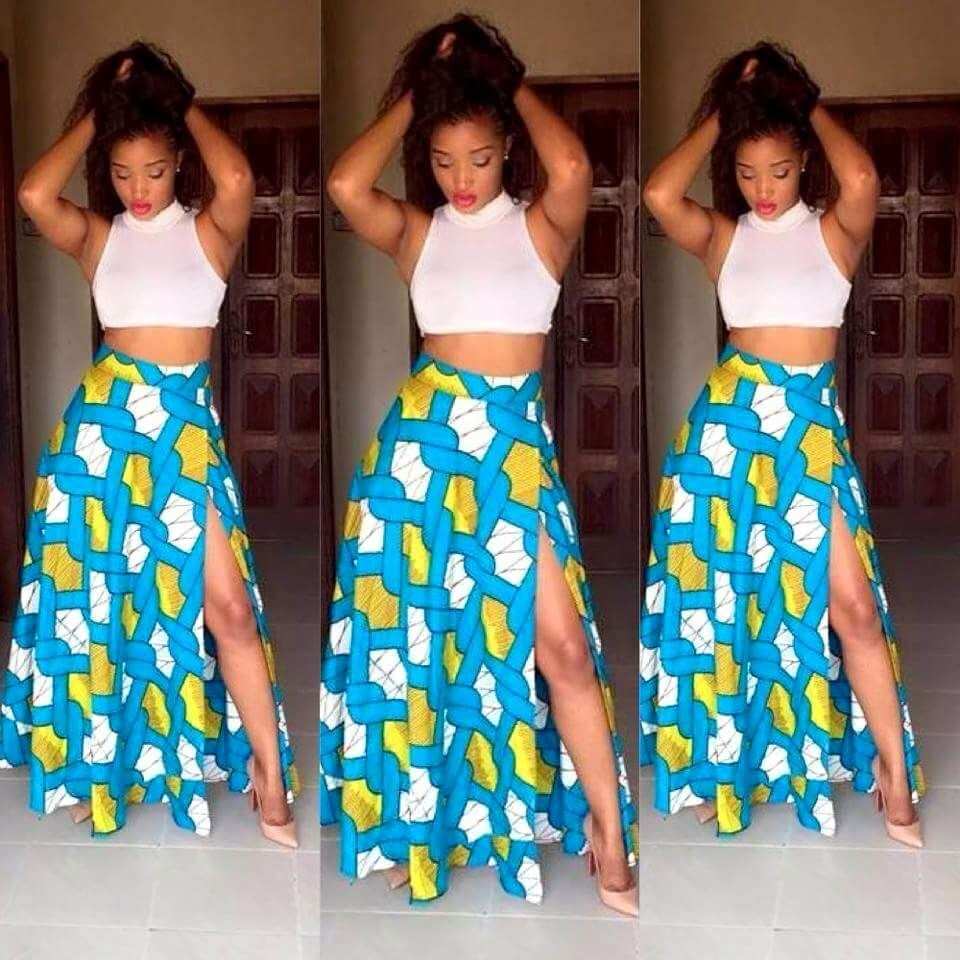 Long printed blue skirt with high waist together with a white top is an excellent combination for a weekend casual outfit. In the look like this, you can spend vacations, for example. It exudes freedom and cheerfulness. Add pastel shoes on high heels to bring some elegance to the dressing.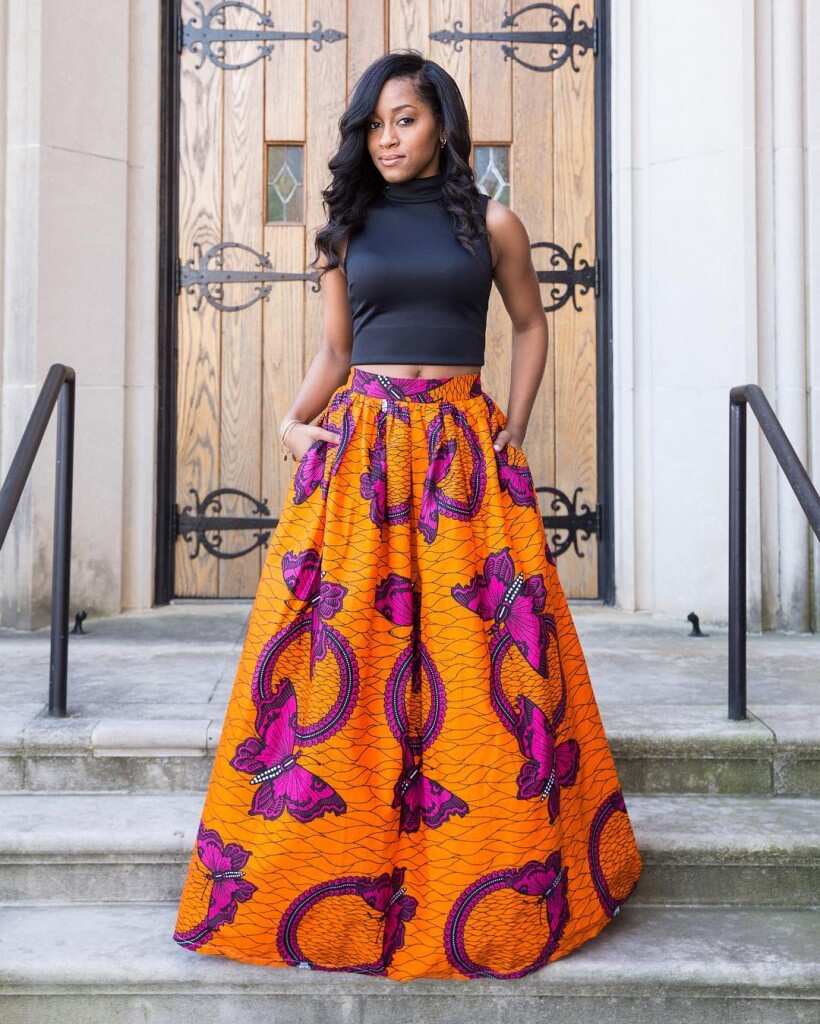 This fancy outfit shows the national heritage of the land. It is an excellent choice for some casual, yet important occasion, such as the birthday celebration, for example. The long printed bright orange skirt perfectly suits black top. Even no accessories needed for the ideal look here.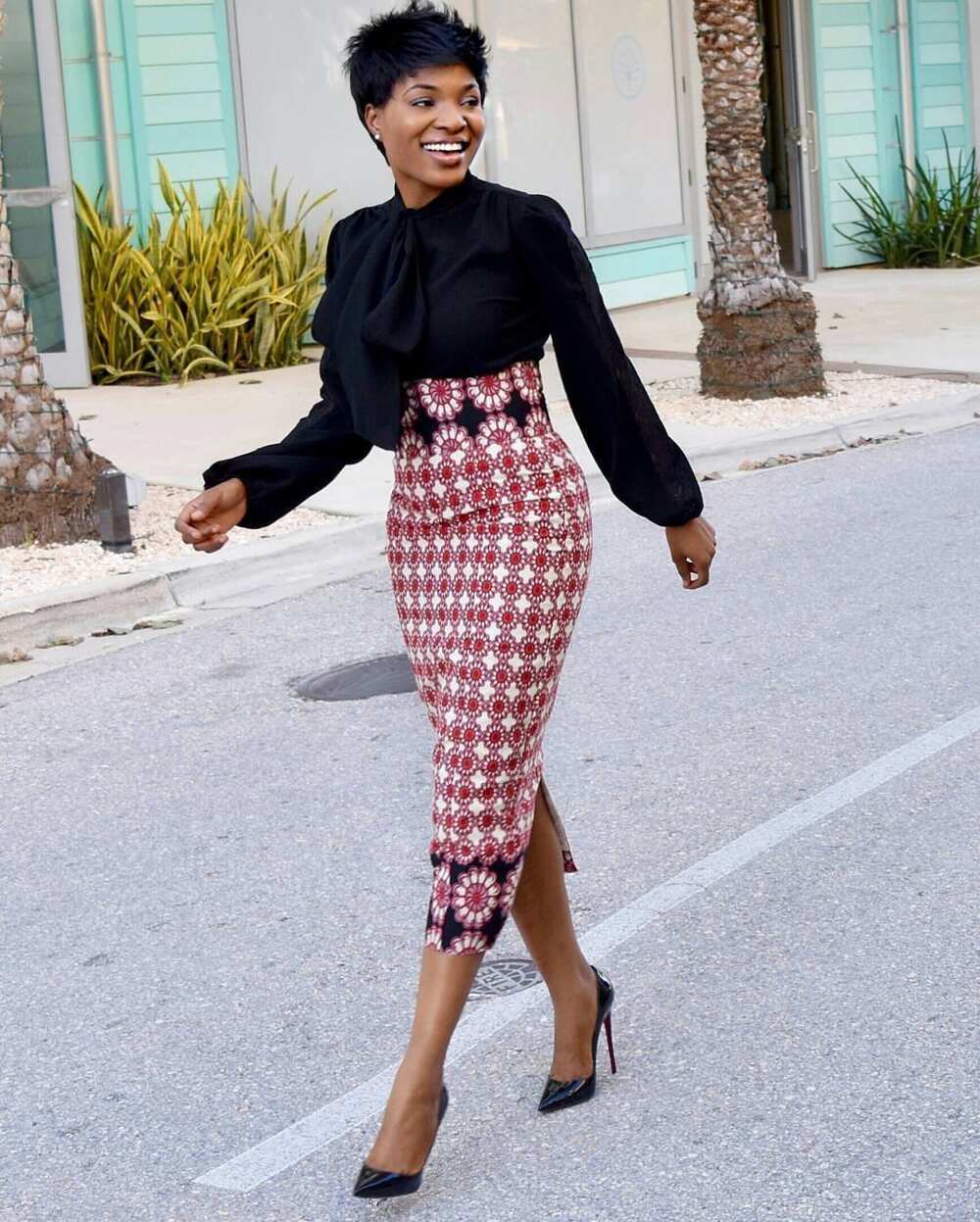 Stunning printed pencil skirt with plain black blouse and shoes is an excellent choice for an official outfit for work and festive events. The dressing looks elegant, sophisticated and exclusive.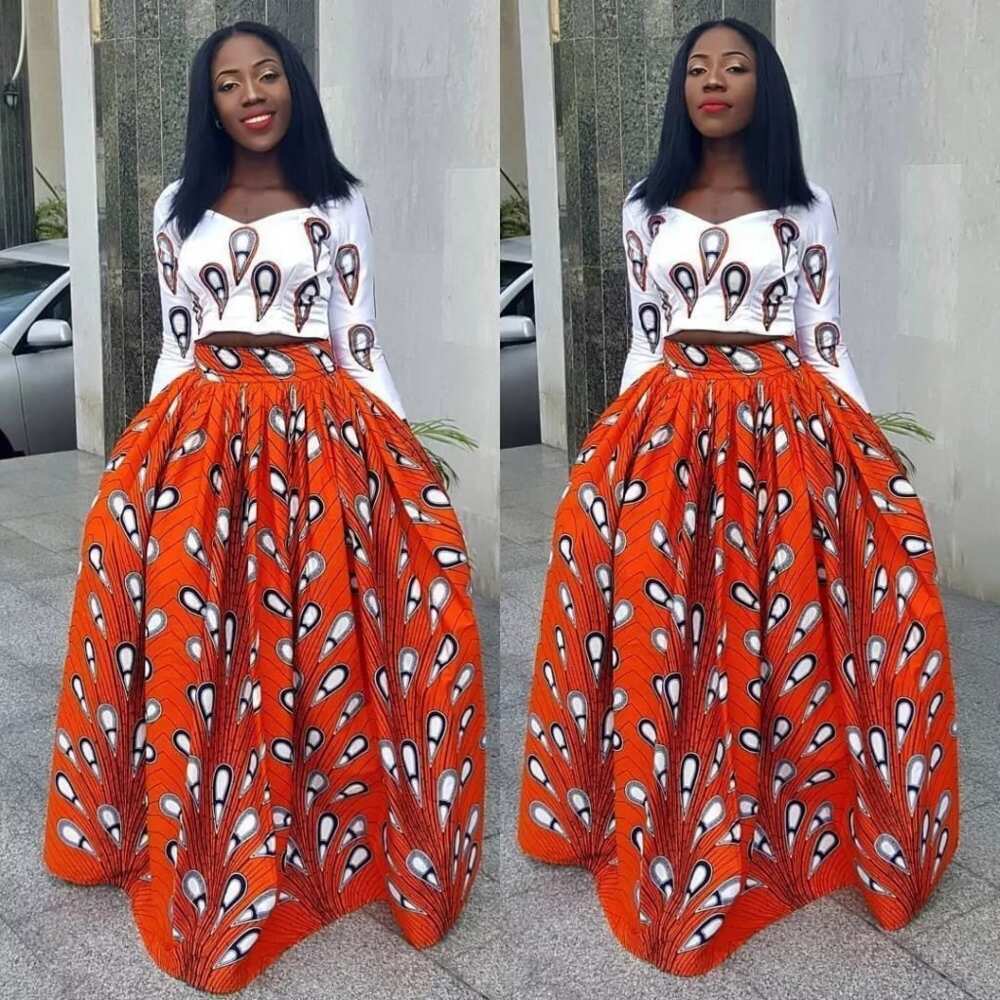 Classy design with a printed skirt and blouse is a stunning combination. The print perfectly matches. And there is even no need in accessories.
How to choose the fabric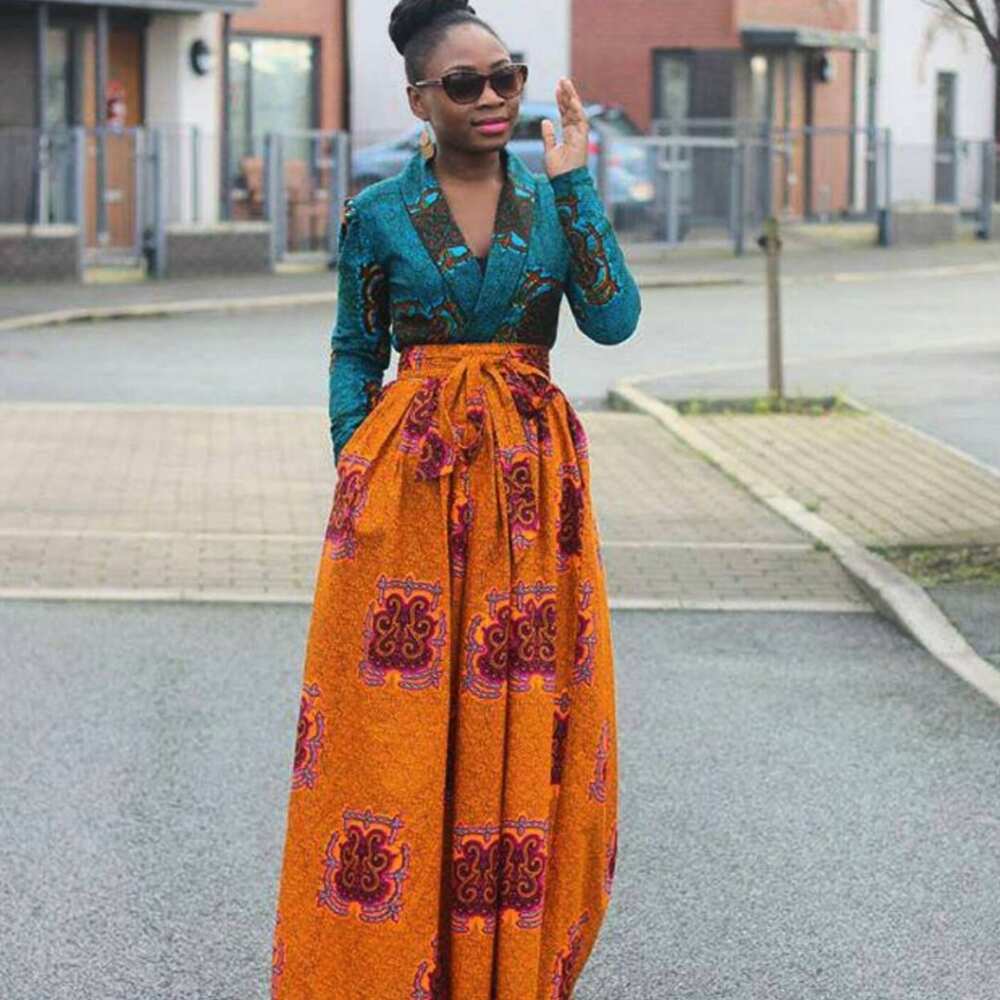 There is a valuable reason for people to choose ankara as a fabric for their clothes. Firstly, it is light, soft and durable. Secondly, it is elegant, beautiful and eye-catching. At last, it is trendy.
Choosing the right fabric is essential. You don't want to waste money on something that will break apart after a few wearing. Therefore, people prefer ankara. When you have to select the fabric, follow these simple rules:
Choose lasting fabric;
Try it on to understand how you feel wearing it;
Make sure it is the original fabric.
Tips to choose the right clothing design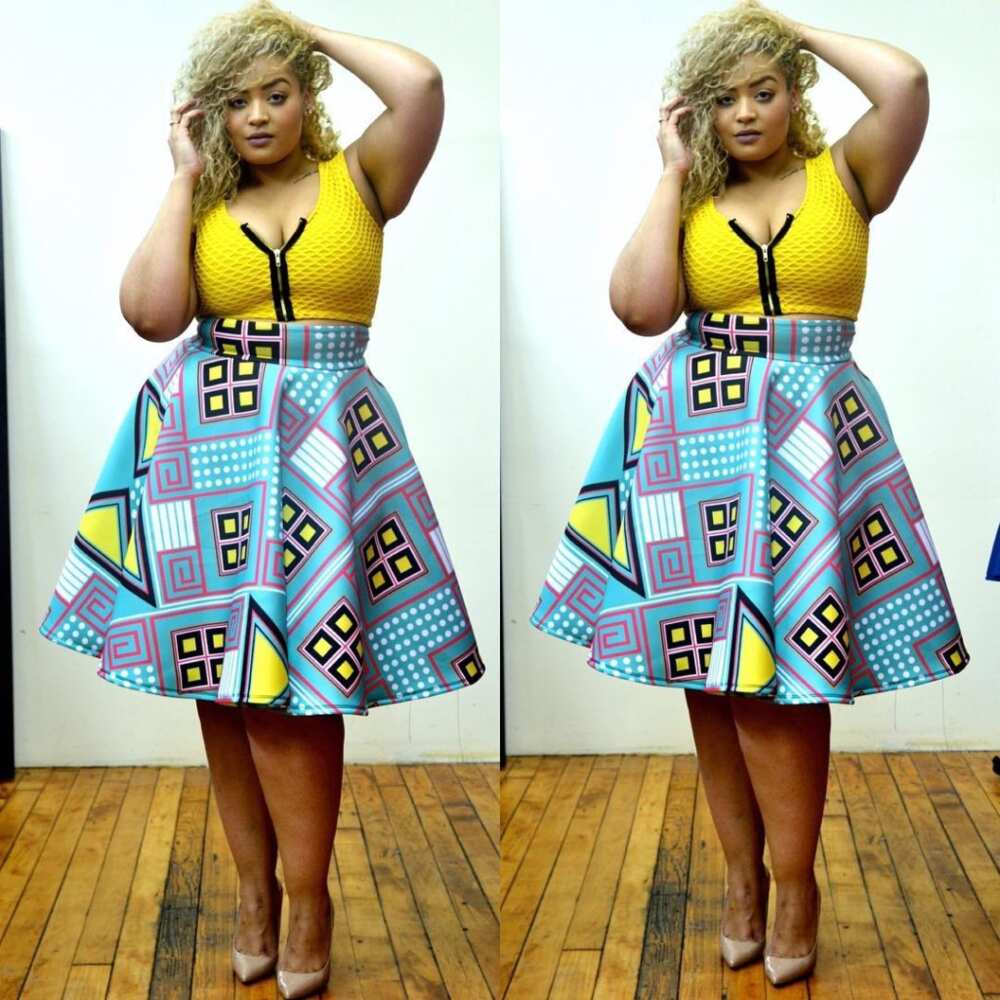 Depending on your shape, height, hair color and other factors, you should select the appropriate dressing styles. For example, for women with darker skin it's best to choose lighter colors and prints, such as yellow and orange. Lighter skinned people, in turn, would look good in solid colors, such as green, red and blue.
When you have to choose the style of clothing, pay attention to the following:
Decide on what occasion you need your wear;
Select the accessories for the outfit beforehand;
Think about how the wear matches your other pieces of clothing;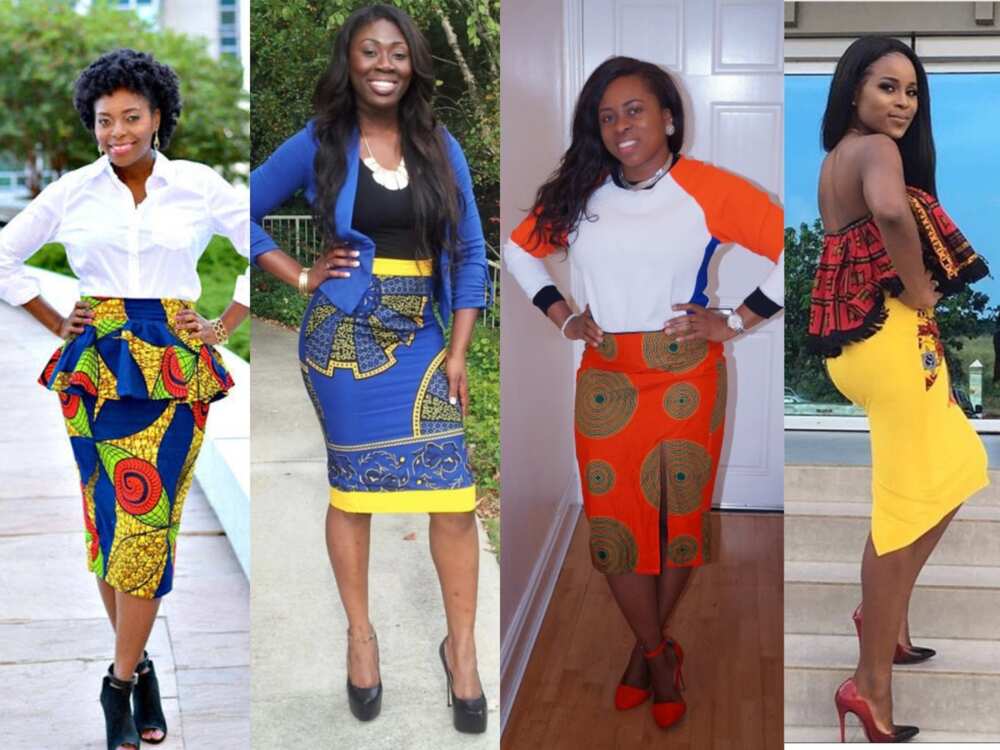 Among the vast range of designs available on the market you should always remember that you can either have sleeves or not, choose a long skirt, midi or short, have a high-rise skirt with solid top or blouse or vise versa and even combine two prints.
In recent years, it is more widespread to wear skirt and blouse combinations to the wedding. A right-fitted skirt with a stunning blouse, decorated with accessories will make you look stunning.
Now you know how to combine plain and pattern styles in Nigeria and what kind of the outfit should be worn to various occasions. Keep up with the latest trends and update your wardrobe with plain and pattern ankara skirt and blouse styles.
READ ALSO: Best dinner gown styles in Nigeria
Source: Legit.ng