Big Ghana weaving styles in Nigeria 2017
Since the beginning of the summer, I have seen a myriad of creative and colourful Nigerian hairstyles. Many of which stem from traditional weaving styles and are accessorized to give a sense of African pride. For the past year, we have seen a growth in a number of individuals, especially females who have reformed or decided to keep their natural hair and embrace it. Natural hair requires upkeep and special care. It is very difficult to do this on a daily basis. As a result, many women opt to weave their hair. In this article, I will be looking at one unique form of hair weaving style called Big Ghana weaving styles, to learn more, continue reading this article.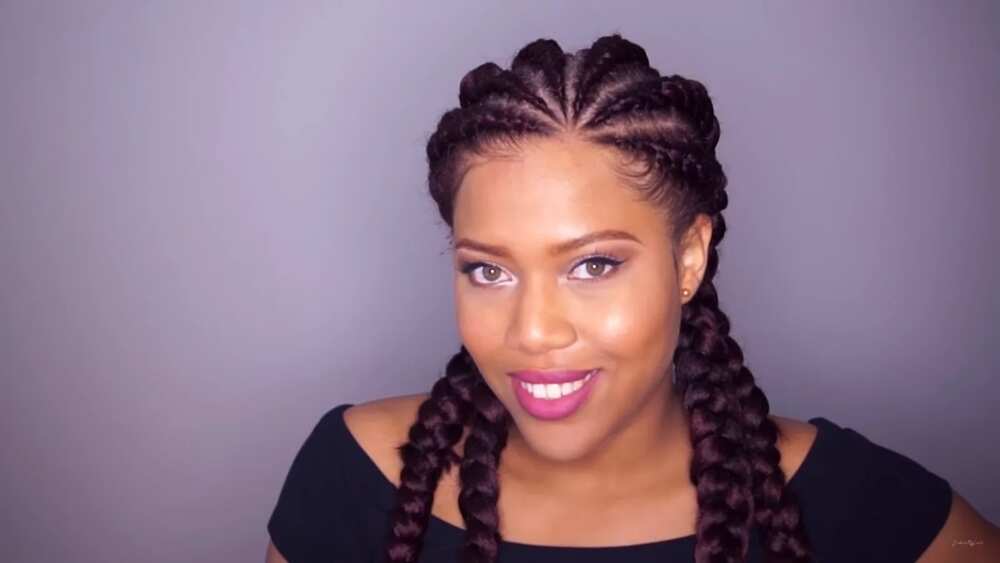 Ghana weaving
For those who are not familiar with the term "Ghana weaving", do not be alarmed. If I had to describe what it is in my own world, I would say it is just like regular weaving or cornrows with extension. But instead of using the same pieces of extension all the way down each cornrow, little ones are added as you go on to give an especially beautiful effect.Ghana weaving is not a new concept, but these days, it is getting a whole lot of popularity.
A long time ago, some specific hairstyles were used to represent authority, ethnicity, age and even religion. From centuries ago hieroglyphics and sculptures were made exhibiting these hair style. It has also been said that intricate designs were created to illustrate resistance and opposition by slaves to prevent their masters from straightening their hair. Now that is something to think about.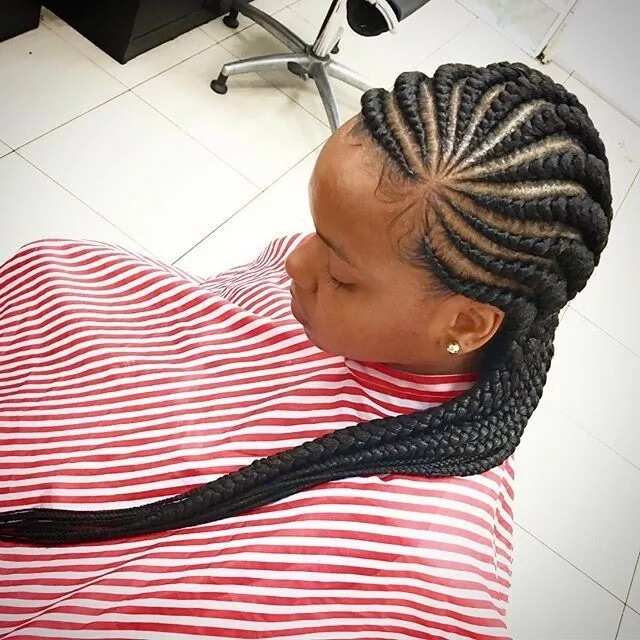 How to style Big Ghana braids
Braids are becoming more popular as time goes by, especially with people keeping their natural hair. The braids do not only serve as a cultural art form or fashion but as a form of protection for hair and on top of all that, it saves time. I recommend braids for busy individuals who know that they would not be able to stop and make their hair daily. Such a hairstyle is not limited to any particular person, hair type or race.
Braids have the capability to last for a long period of time. It can last as long as three months or more depending on the quality of braids, how they were installed and proper maintenance. Proper maintenance means tying your hair with a silk head tie nightly before going to bed, washing it well and trimming them every now and then to maintain a fresh appearance.
If you are worried about washing it because it results in a fuzzy and untidy look, then dry shampoos are the next best option. In a previous article, I had written a set of instructions on how you can achieve cornrows and braids. So, if you take the time to read it that then you would be familiarized with the easy set of instructions. If not, do not worry, I have attached the link to the article below. Feel free to read as many times as you would like and practice until you have become perfect.
READ ALSO: Kinky braids hairstyles in Nigeria.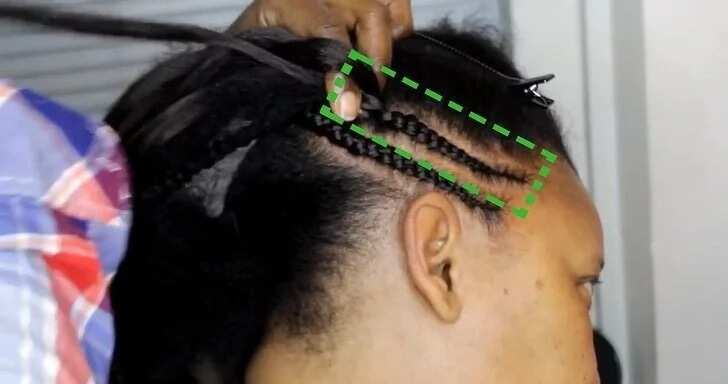 Below I have also gathered some of the latest hairstyles for you to serve as inspiration, take a look at the following photos: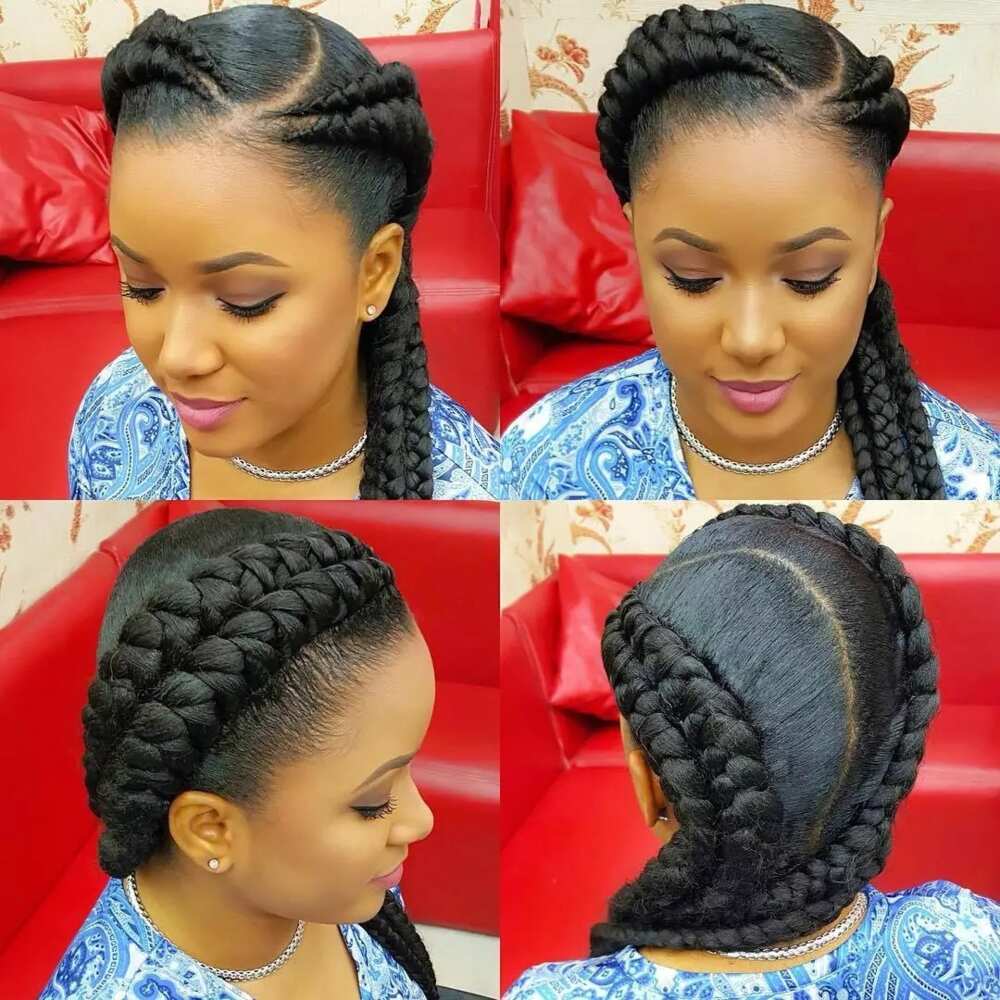 This young lady opted for something stylish. This style does not take long to create but requires high maintenance to preserve it.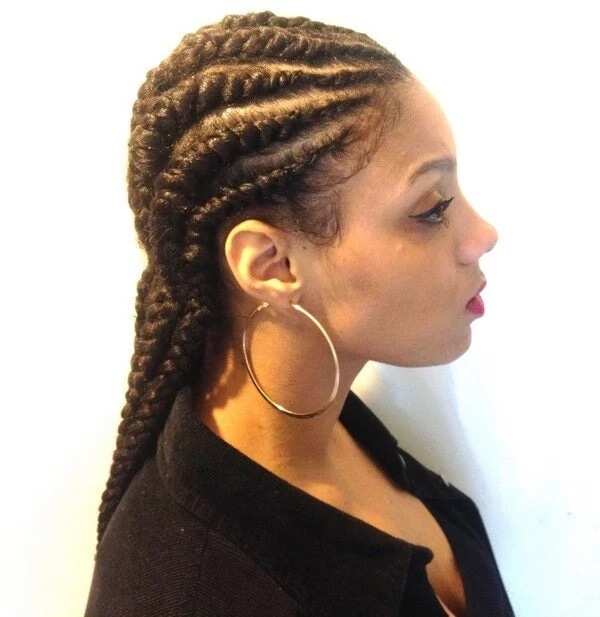 This is basically Ghana braids wrapped by strands of braids. It is very popular across the world, especially in Africa where it originated from. It is very fashionable and will continue to be trendy.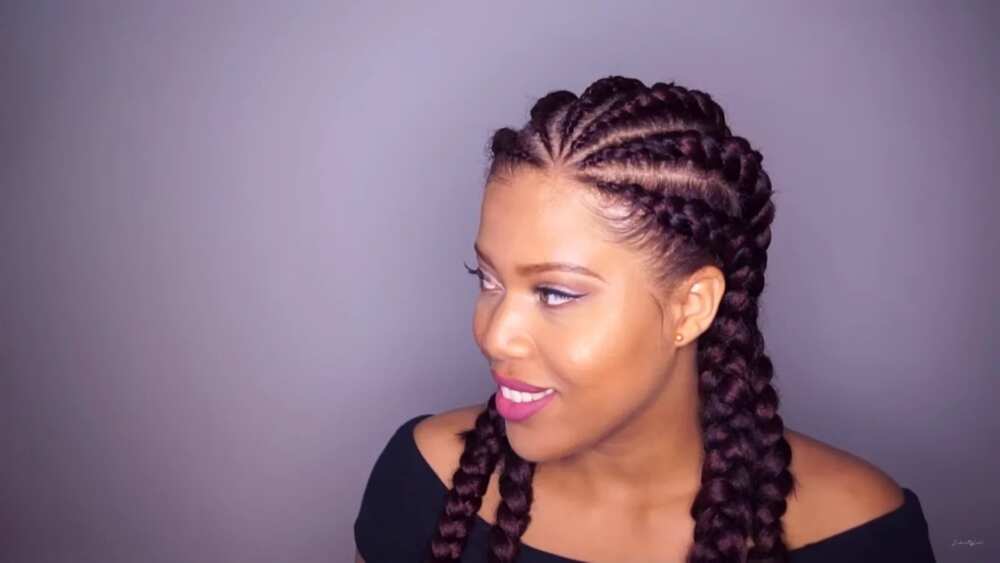 Here is a side view of the first model shown at the beginning of this article. If neatly done, you can not go wrong with big Ghana weavings.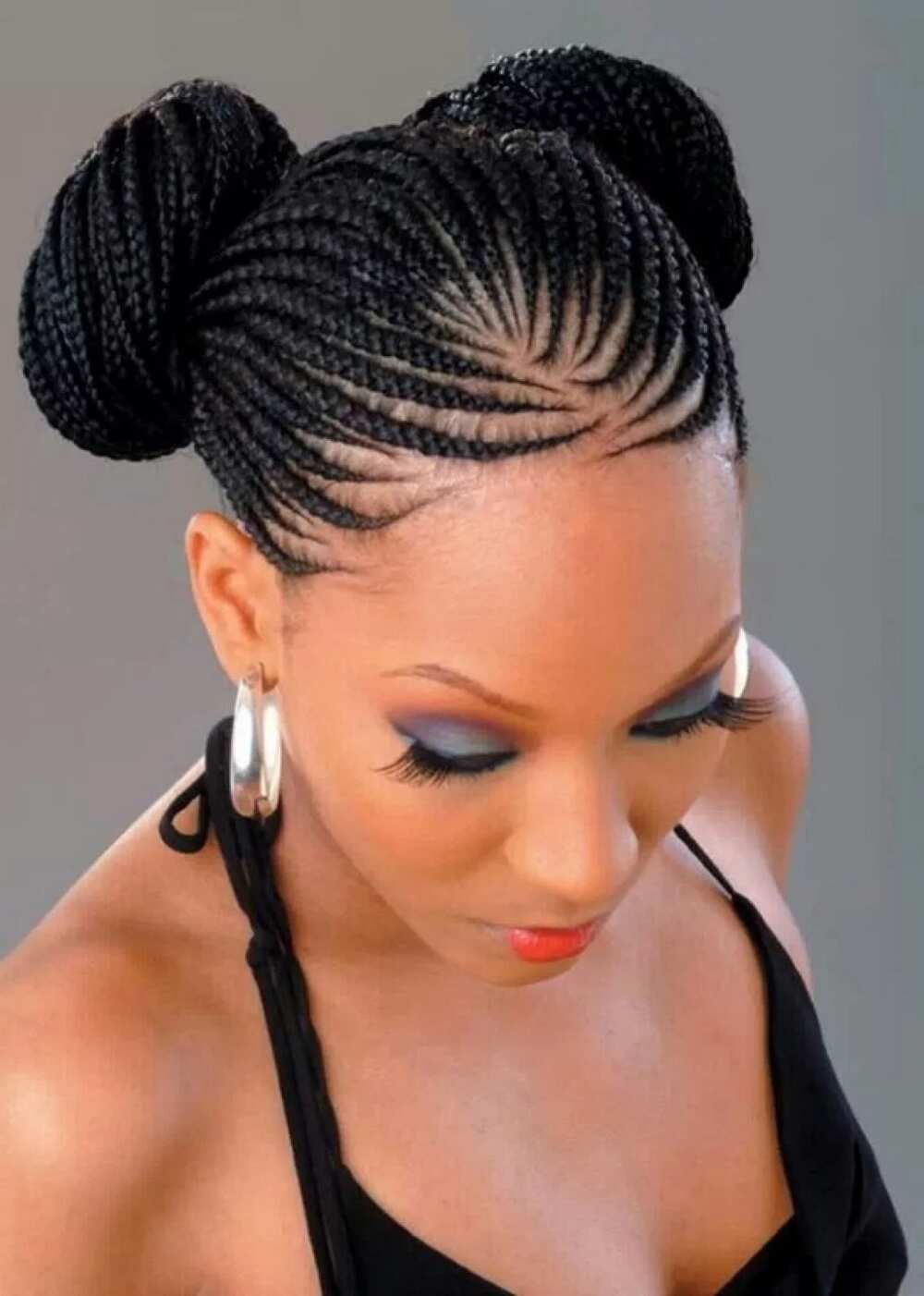 Feeling Nostalgic? Did your mom tie your hair in two and plait the ends too? Consider this a "big girl" upgrade. It is suitable for pretty much anyone, it gives you a flirty and fun kind of character.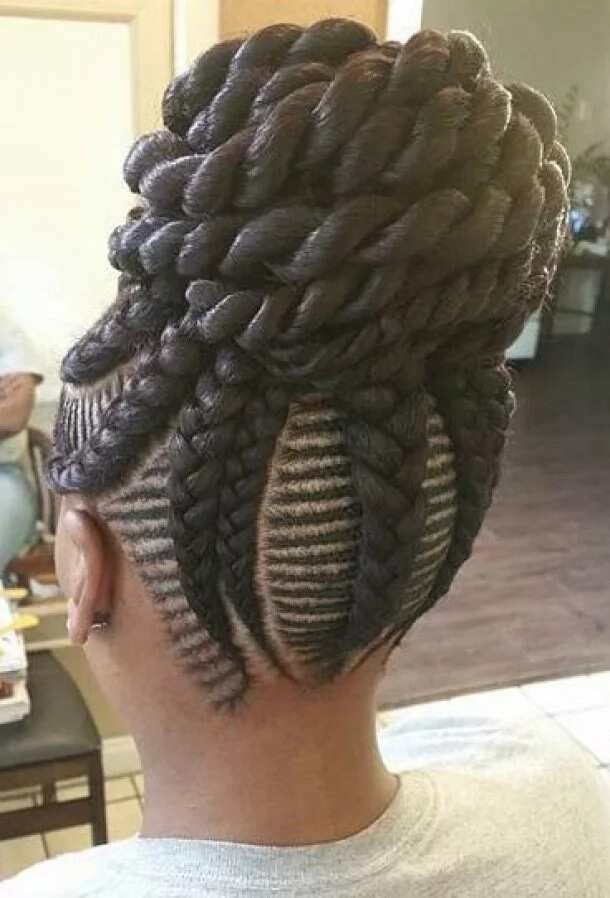 You can never go wrong with an updo, especially with one as unique as this. If you would like to try it and maybe add a bit more oomph - feel free. Try accessorizing it with trendy hair beads.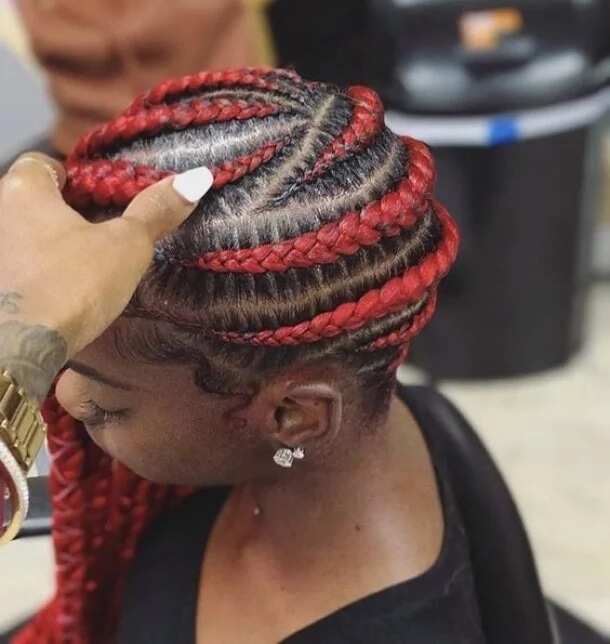 Red breathes fire. This weaving style is swooped to one side. It can be viewed as classy and even bold depending on the entire outfit that you decide to pair it with.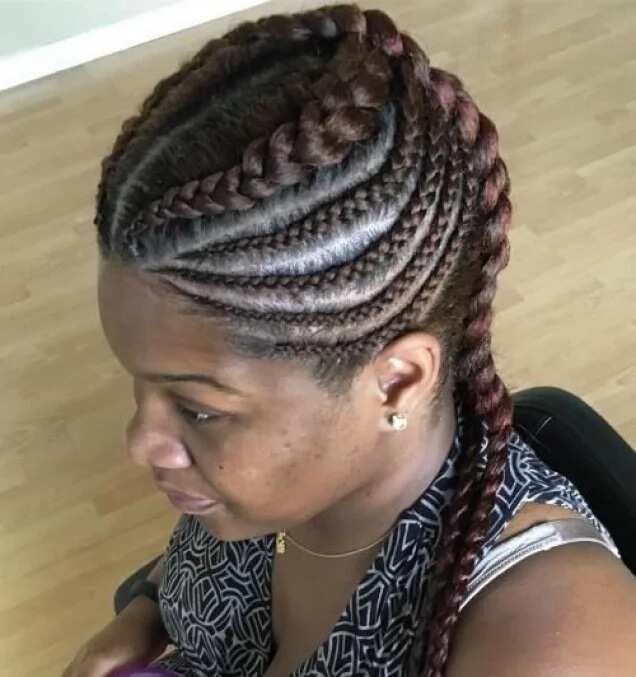 Two styles combined to make look is pretty impressive.
These styles are the most popular and trending latest hairstyles. I hope that you were inspired and feel free to comment below or share with us your finished product or any new style you come up with. Who knows? You might become a trending topic!
READ ALSO: Nigerian braids for round face.
Source: Legit.ng