Best cornrow hairstyles for round faces
Today, we want to dedicate our article to cornrow hairstyles for round faces. Find some cool looks that would fit the shape of your face beautifully. Hopefully, by the end of this, you will have at least a few pictures to take with you on your next visit to your hairdresser!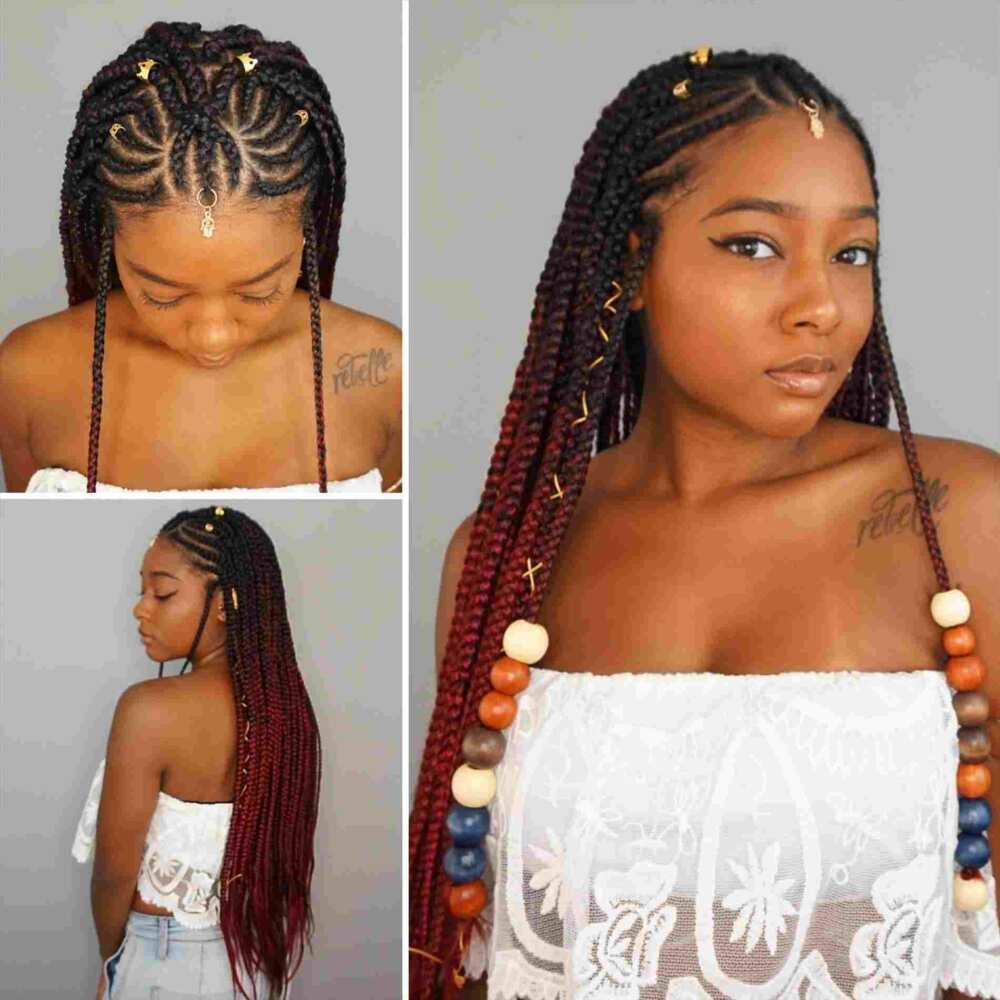 Photo: warekge.win
Cornrow hairstyles will most likely never go out of fashion, and it just so happens that they are perfect for people with round faces. There are plenty of variations you can choose from, and we have divided our picks into two general categories: short and shoulder-length cornrow styles, and long cornrow braid styles. Check them both out and figure out which one would suit your features best.
Short hairstyles for round faces that involve cornrows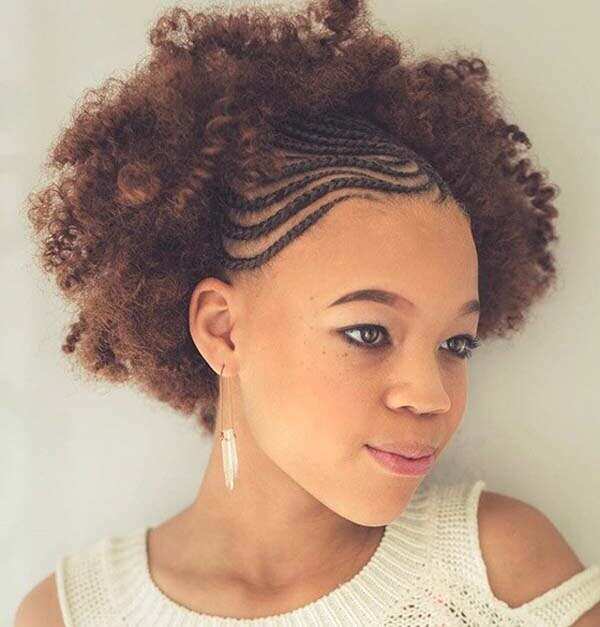 Photo: belloblog.com
Our first pick is this lovely hairstyle, which involves braiding the hair at the front in cornrows and doing the rest of it in twistouts. It is a great protective style, and it allows you to install some extra hair if you need to without much hassle. If you (or most likely your hairdresser) do it right, you will get a hairstyle that can make you look youthful and fresh.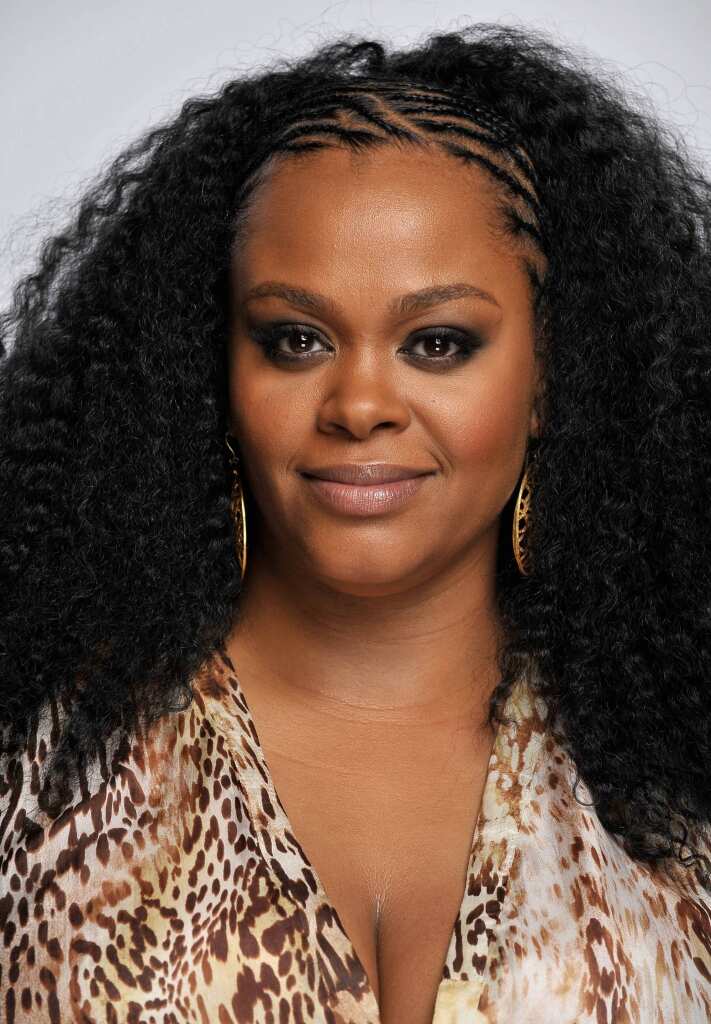 Photo: dailyhairpics.com
Here is a somewhat similar hairstyle, yet in reality, it is quite different. First, the cornrows lay flatter against the head. Second, they are braided in a criss-cross fashion. Third, the rest of the hair falls naturally. This hairstyle looks somewhat easier to achieve than the first one, but you be the judge!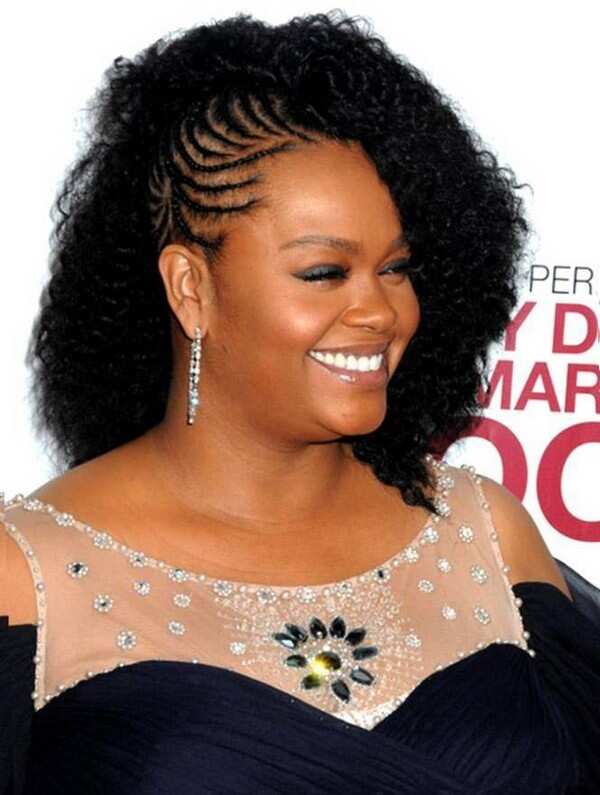 Photo: lifestyle.ng
Another option you can go for is to braid the cornrows on one side of the head and let the rest of the hair fall like it would naturally. This sort of hairstyle is great for those who consider shaving off one side of their head but do not yet have the courage to do so. After all, you can untangle the cornrows much faster than you can grow your hair back :)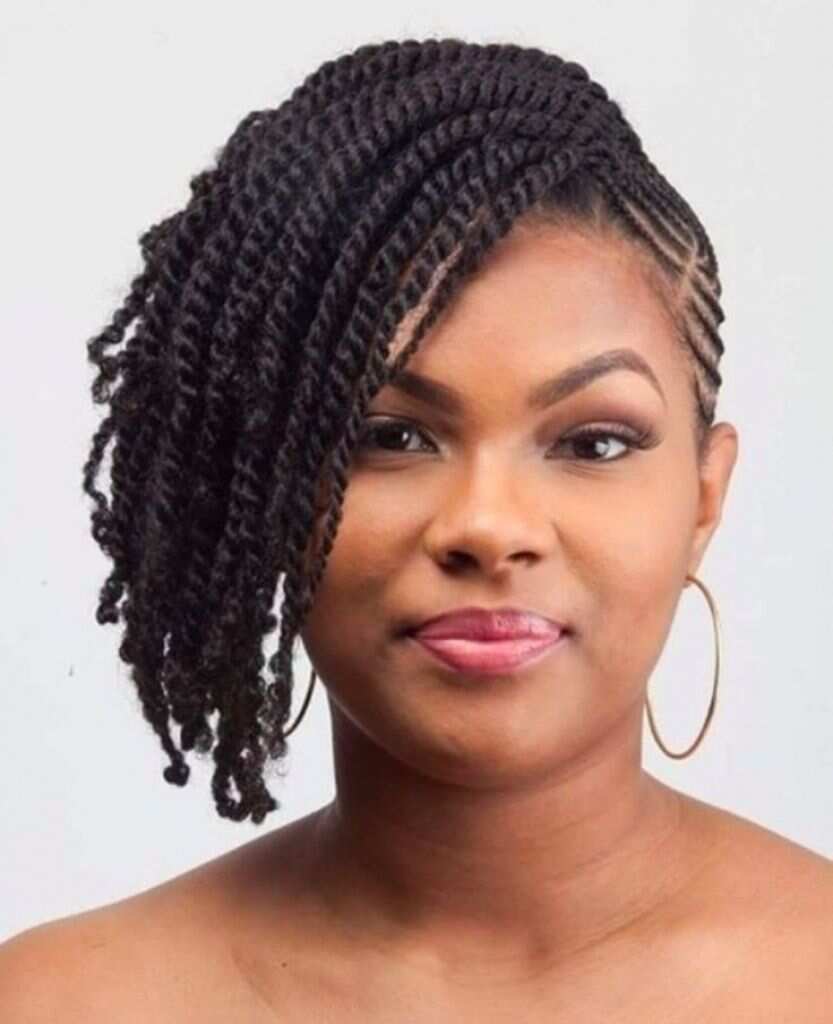 Photo: pinterest.com
READ ALSO: Latest female hairstyles in 2018
If you want to have cornrows on the side of your head, but you do not feel like having your hair all over the place, it might be a good idea to go for some short twist braids. You can both twist your natural hair and add a few hair bundles, depending on how long or how thick you want your twists to be.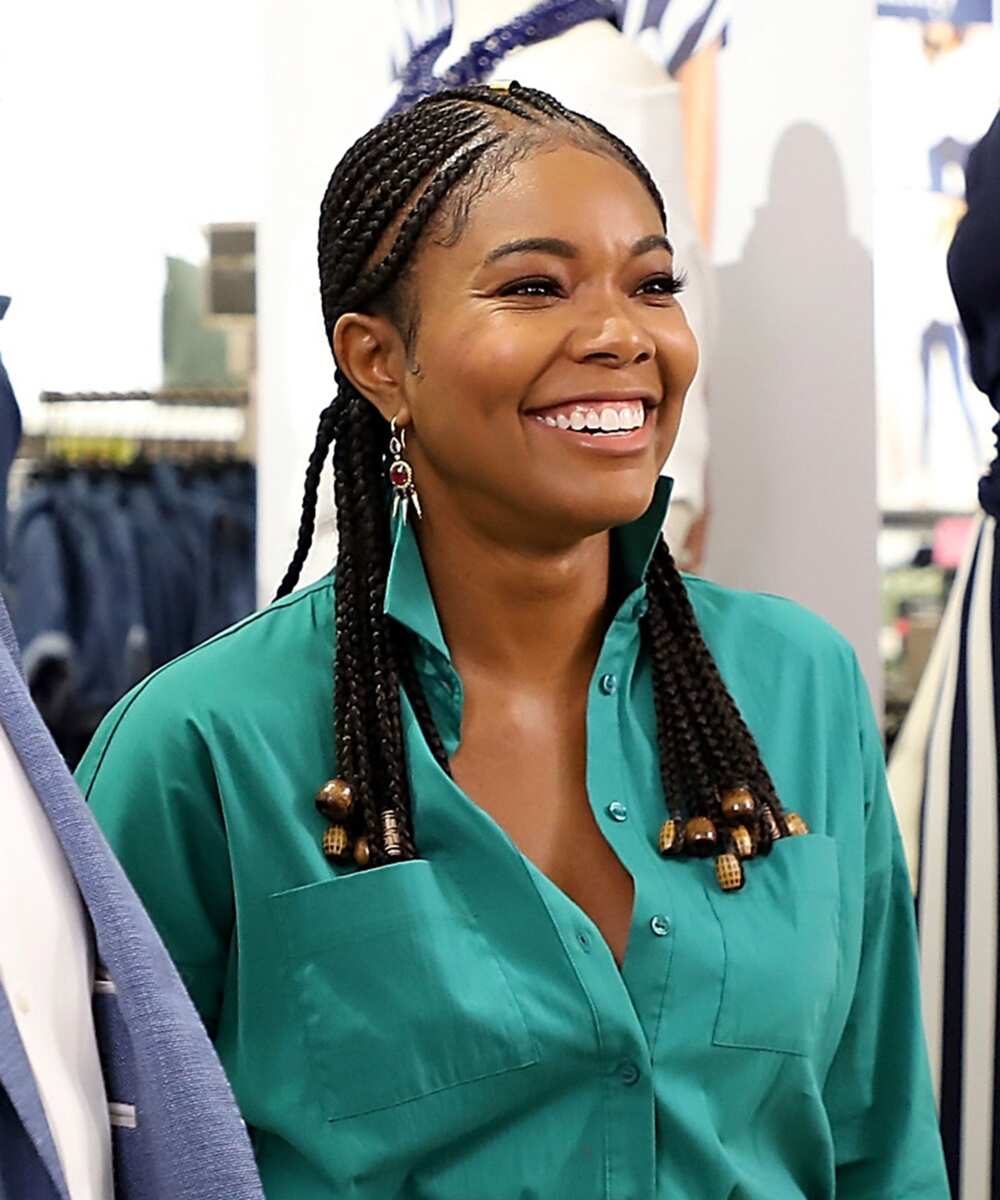 Photo: refinery29.com
This is a classic look featuring some short cornrow braids. All braids are almost identical, the baby hairs are perfectly gelled down, and the whole look is elevated with the addition of some lovely wooden beads. We particularly love the three cornrows in the middle that make this look special.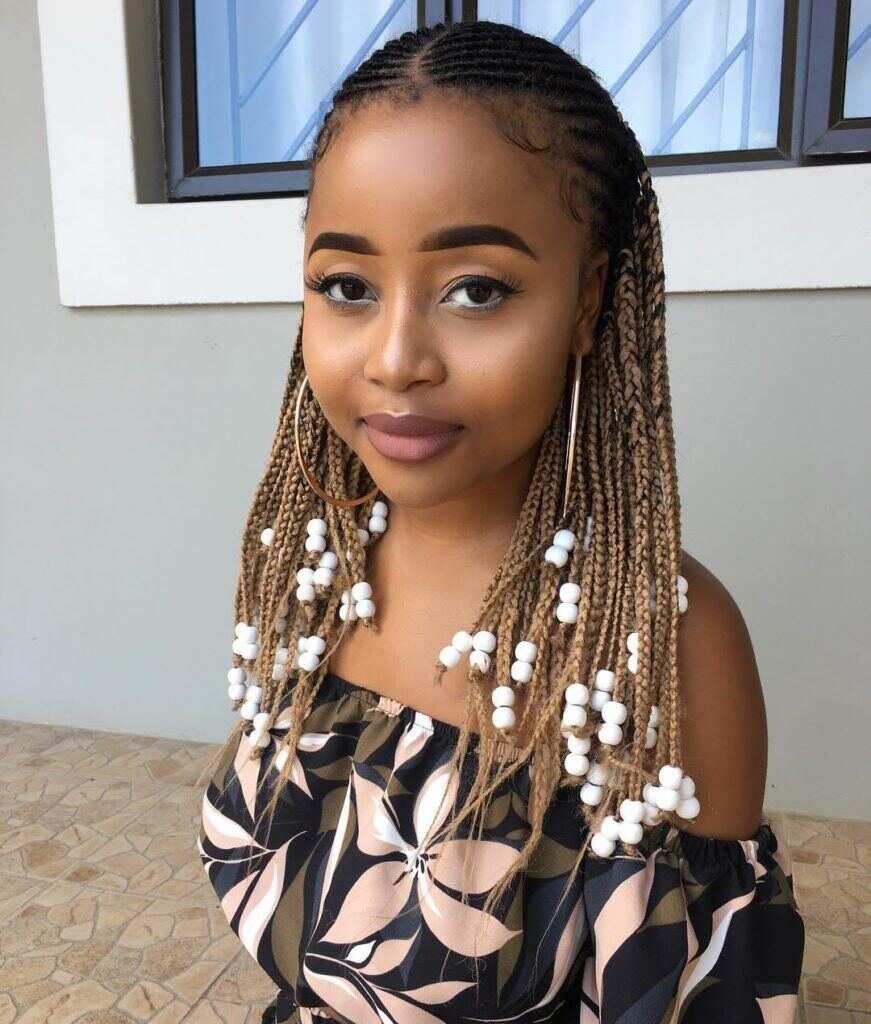 Photo: zumi.co.ke
Not all people like to gel down their edges or make the cornrows so tight that you can see the scalp in between. If you are one of such people, but you still love cornrow braids, consider something like this. You can also spice up the look by adding differently coloured hair and some cute beads.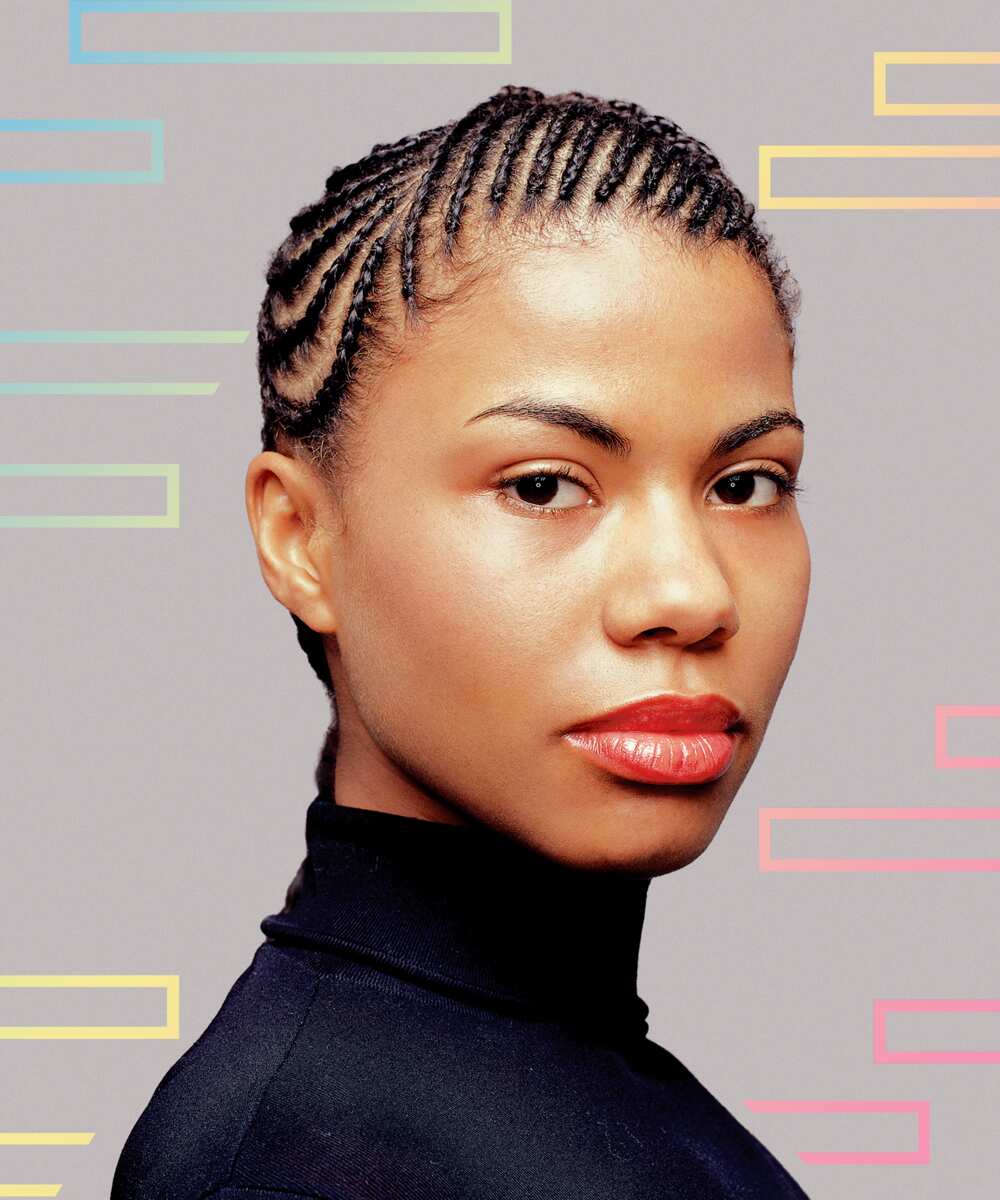 Photo: refinery29.com
Now, if you want to go really short, you can just braid all the hair you have in cornrows and not bother with any additional bundles. This hairstyle is especially useful for people who are trying to grow out their hair and do not want to add any fake hair on top.
Long cornrow braid hairstyles for round faces
Photo: allure.com
READ ALSO: Nigerian hairstyles for round faces
Sometimes people think that short hairstyles will only accentuate the roundness of their faces further. While it is not always so, and there is nothing bad about having a round face, there are plenty of long hairstyles to consider, such as this stylish high ponytail made out of alternating cornrows. This style can fit any occasion, be it a casual outing or a red carpet event.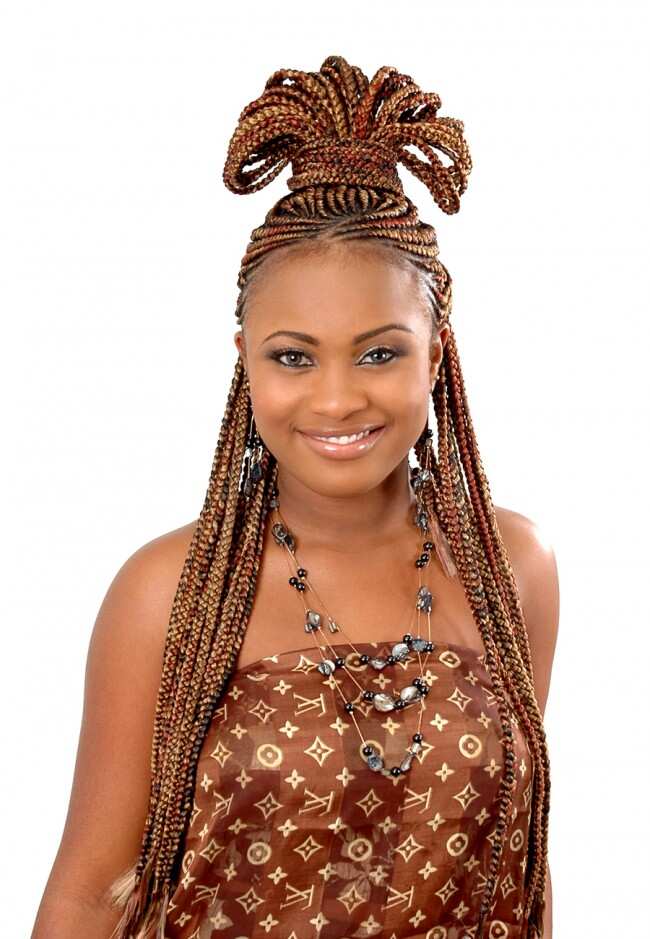 Photo: hairrusvt.com
If you are a lover of all things extravagant, then you will love this hairstyle. Not only does it contain at least four different shades of brown, but it also features a very fascinating top knot. A hairstyle like this will definitely help you to stand out from the crowd, if that is something you are interested in.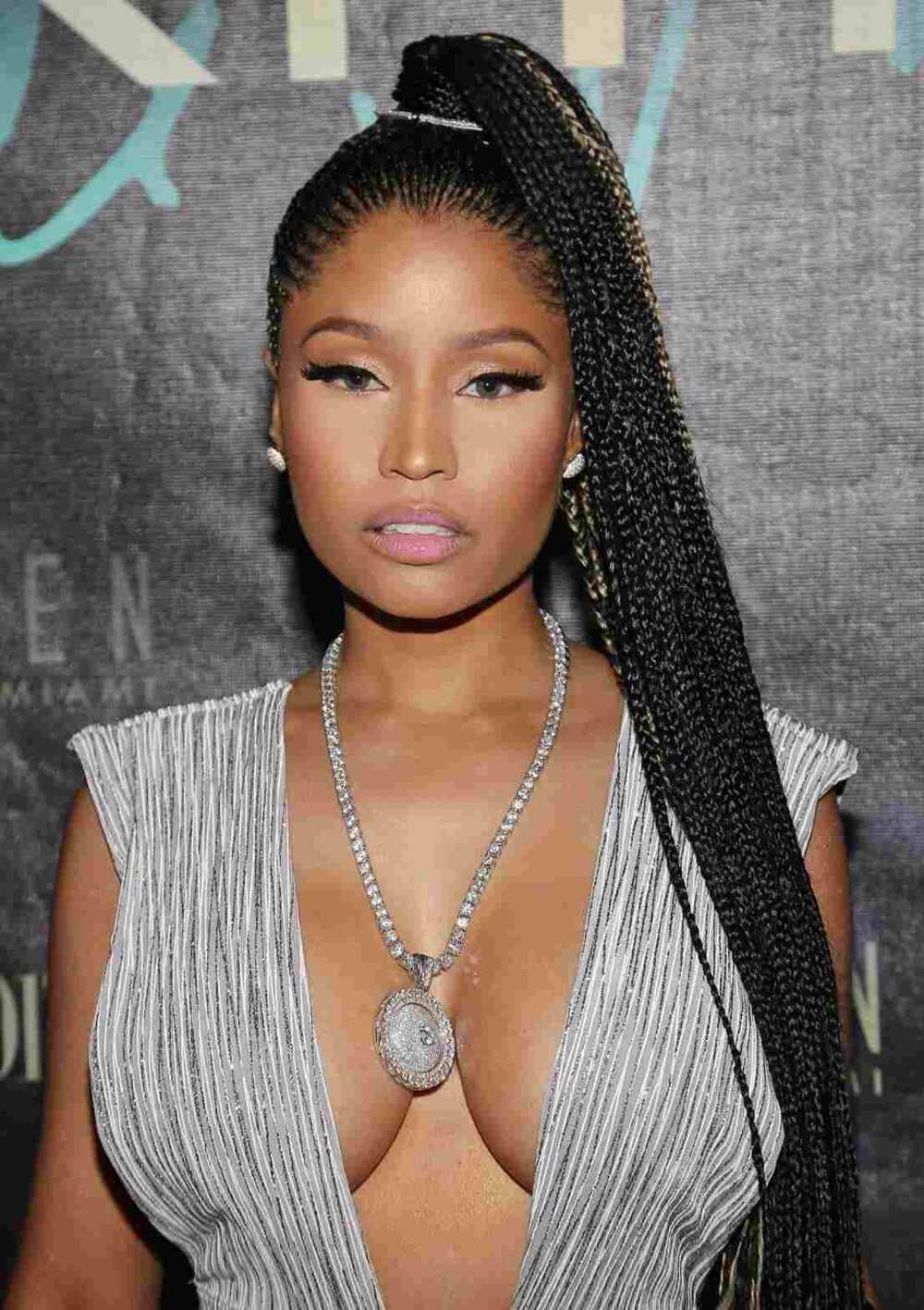 Photo: kalispellbypass.com
Here we have the stunning Nicki Minaj, proving to us all once again that she is a style icon. Everything about her look is perfect, from the dress to the jewellery, but we love her hair the most. In case you have not noticed, it is braided in the smallest cornrows. It must have taken ages to get her hair to look like that. We also love the way it is styled in a high ponytail.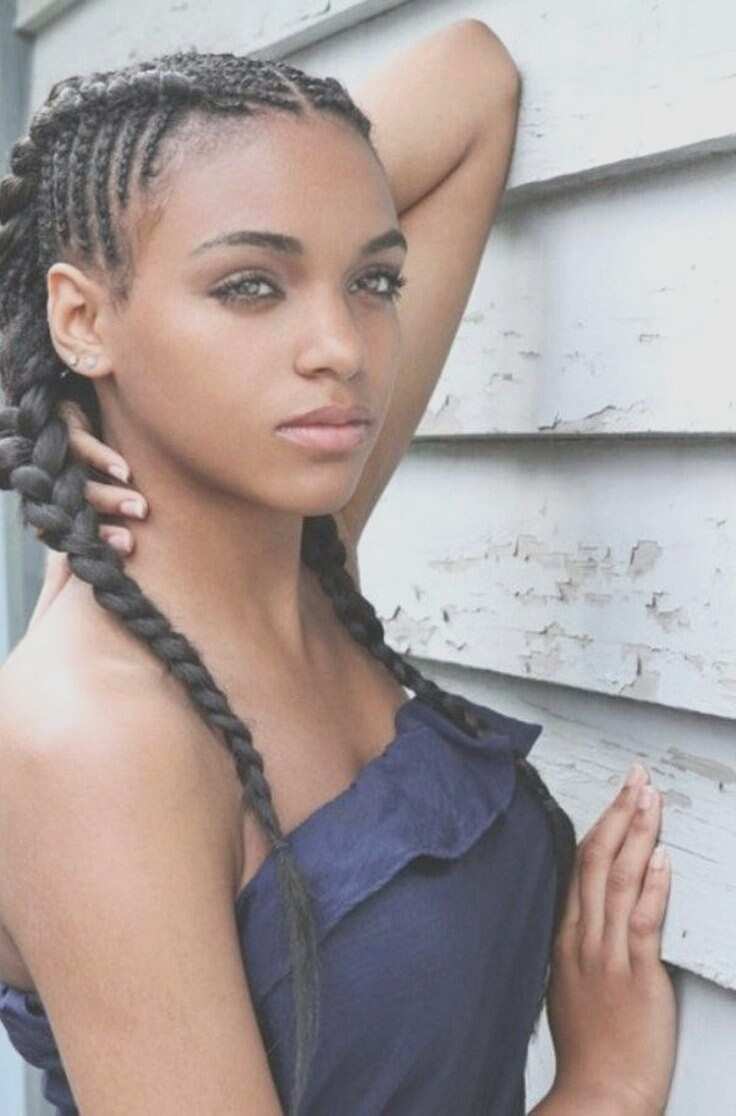 Photo: mndster.com
Just look at this gorgeous hair. It is beautifully done in cornrows at the roots, while the rest of the hair is braided into two thick French braids. You should definitely try something like this, as it seems like a very convenient hairstyle that allows you to attach some long hair with very little effort. After all, you just need to braid your hair, attach the bundles and braid them. And if you get bored of them, they should be very easy to remove.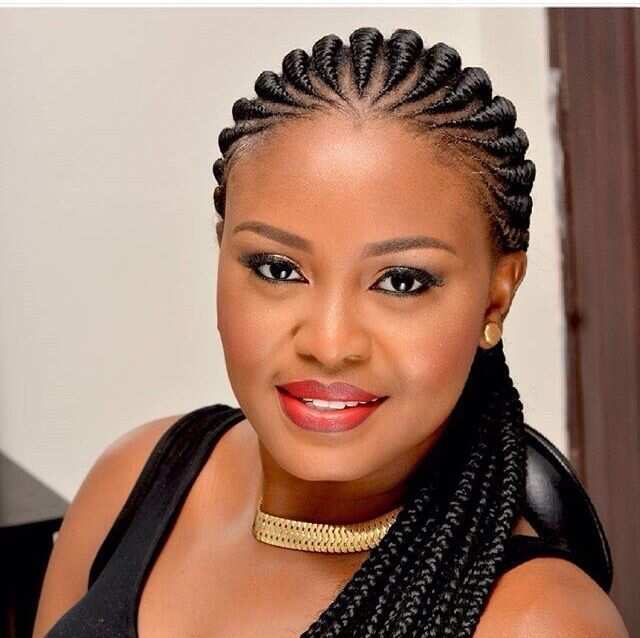 Photo: pinterest.com
READ ALSO: Latest Ghana weaving hairstyles in Nigeria
This is a classic cornrow style that has been around for decades, and people are still loving it. The gradually thickening cornrows add more dimension to your look, and they can be conveniently tied up in a low ponytail. It is a great hairstyle for any occasion.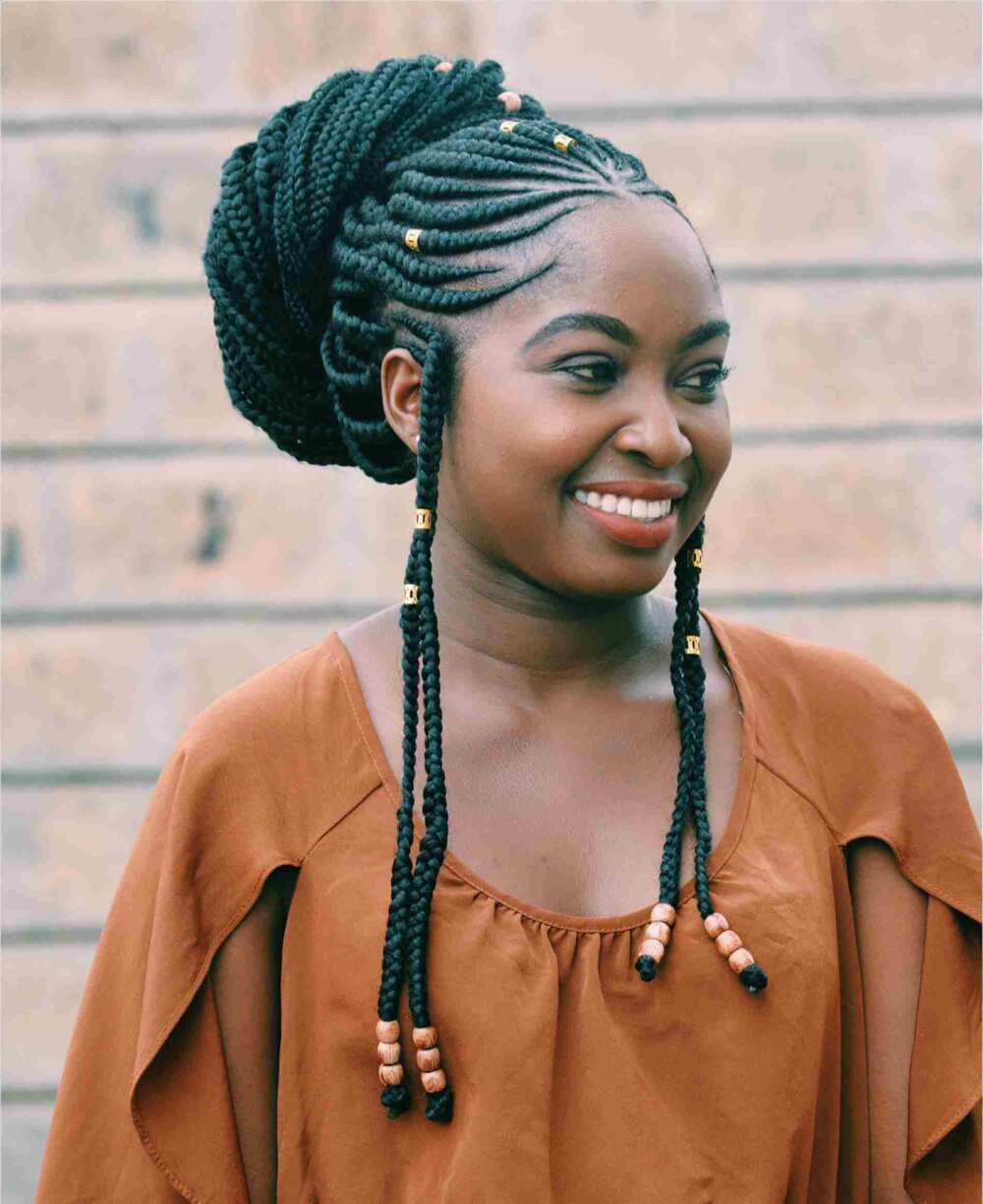 Photo: risingstarstv.net
If you do not want to go for some plain cornrows, you can add some pizzazz to them. For instance, make a few braids at the temple that go in the opposite direction from the rest, throw in some beads and tie the braids in a large twisted knot on top of your head. With the hair like this, you will be the talk of the town (and we mean it in the best way possible).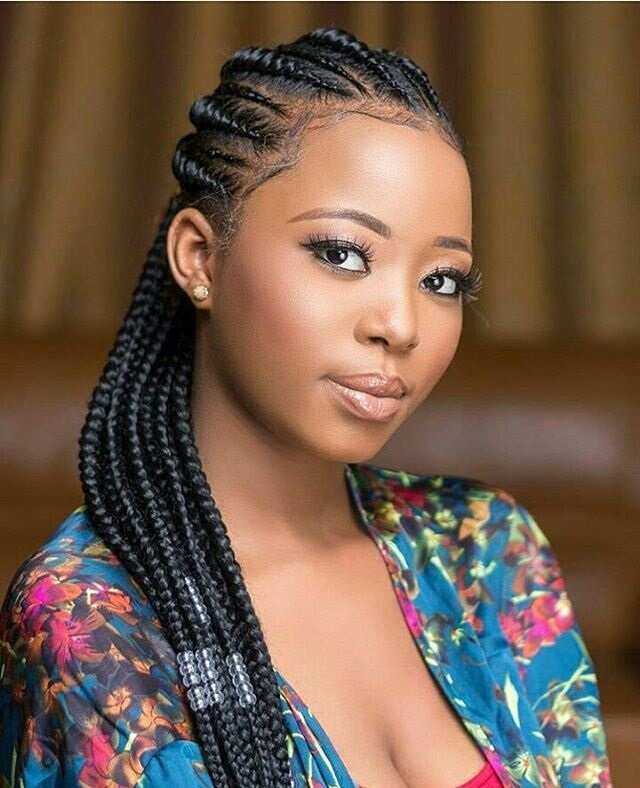 Photo: tomiscolourpavilion.com
Nobody has ever gone wrong with some classic alternating thick and thin cornrows in a ponytail. This look is timeless and classic. As long as your braids are nice and neat, and your baby hairs are laid down properly, you will be the most beautiful person in the crowd wherever you go.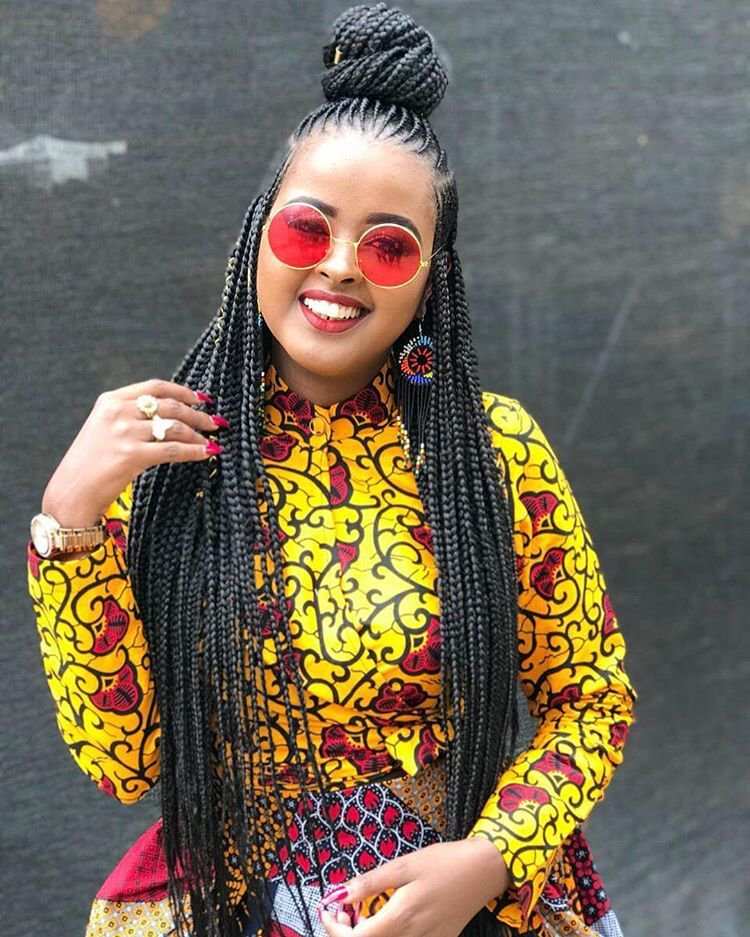 Photo: twipu.com
We want to finish our collection with this cute hairstyle. If you do your hair in cornrows like these, you will be able to have a whole plethora of opportunities when it comes to the styling. You can tie your braids in a bun, as is done in the picture, or you can do whatever else that comes to your mind.
Those were all the cornrow hairstyles for round faces that we had prepared for you. We hope you like our selection. Which hairstyle was your favourite? You can let us know in the comments.
READ ALSO: Hijab styles for face shapes: square, long, oval, round & diamond
Source: Legit.ng