Natural hairstyles for medium length hair
Natural hairstyles for African women can turn one's hair into a really luxurious accessory. Such a hairstyle will emphasize the beauty of its wearer and the beauty of her hair. The point of natural hairstyles is in the absence of attached hair, any processing that kills the natural look of the hair, and so on. Only the beauty, only nature.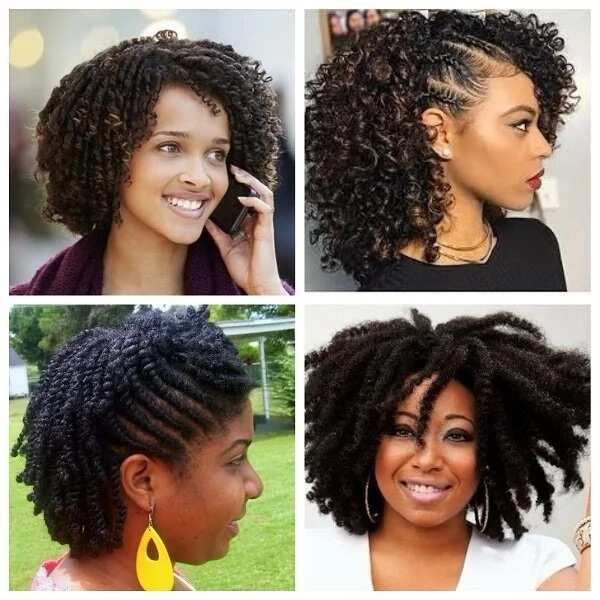 What are natural African medium hairstyles for women?
African hair is very specific and different from Asian or European. It's very curly and has a lot of natural springiness. Besides that, African women usually have plenty of it on their heads and can do whichever hairstyles they want.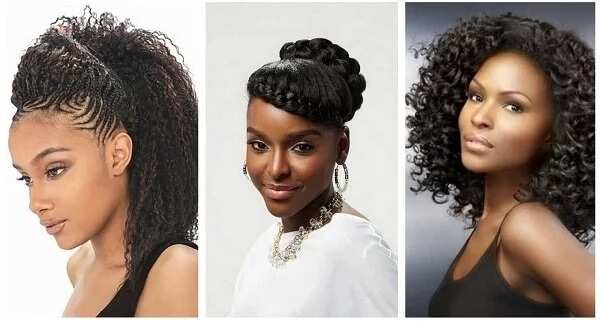 Traditional African hairstyles have become known worldwide due to their elaborate look. Many people are now trying to wear African braids and curly hair in order to obtain this authentic look. Well, having the thick and healthy African hair, you can wear plenty of hairstyles and always look elegant, neat, and very beautiful.
If your hair is of a medium length, it's easier for you to create a neat natural hairstyle than for women with long or, instead, short hair. In general, it's very likely that your hair itself looks much healthier than somebody else's long curls. So, let's check out the best available options for the medium length hair.
Best medium hairstyle ideas
1. Natural curly hair and a side twist
READ ALSO: Latest Ghana weaving styles in 2018
This is a flirty but easy to make hairstyle that uncovers your face on one side. It's quite casual until you decorate the twist with some accessories like decorative pins or things like that. With some hair bling it will quickly turn into a hairstyle for a party or another special occasion. The only requirement such a hairstyle has is healthy and properly moisturized hair ends
2. Double buns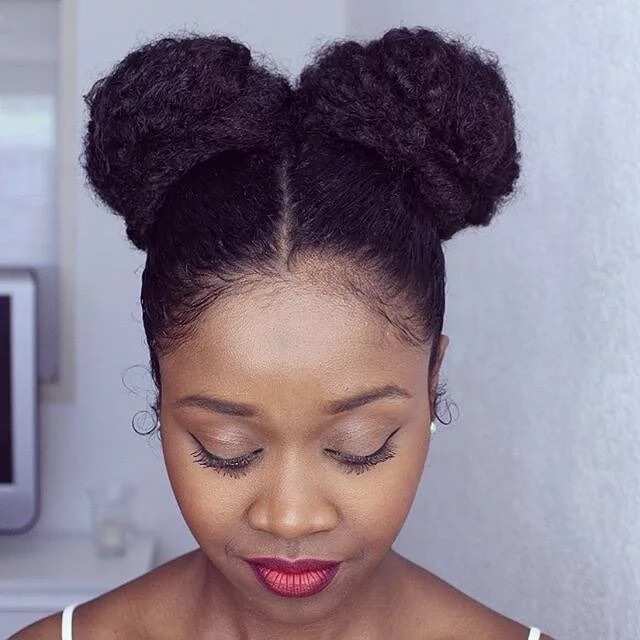 African hair is perfect for the creation of voluminous and lovely buns. A funny and very easy to make hairstyle will quickly become your favorite. A piece of advice: leave a couple of small curls here and there, on your temples or near the neck to give the hairstyle a touch of carelessness
3. Voluminous Dutch braids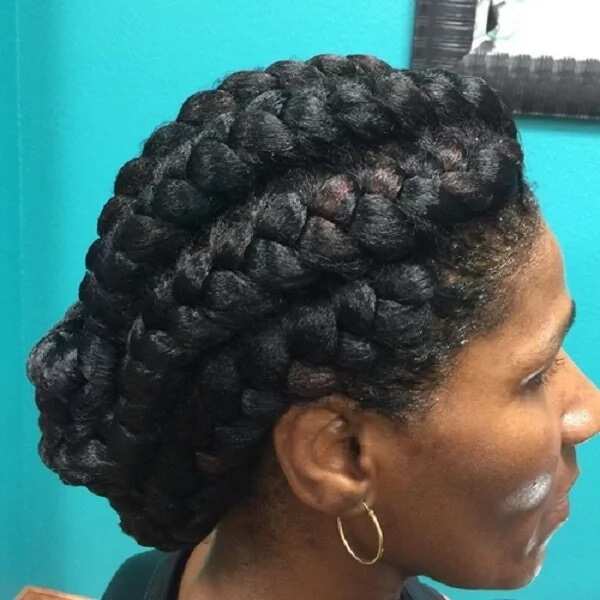 This is a great hairstyle for those women who know no other ways to tame their super thick hair. The braids look simply fabulous due to their size and the entire hairstyle is very neat and elegant. Again, with some hair accessories it's a great option for a festive occasion
4. Thin side braids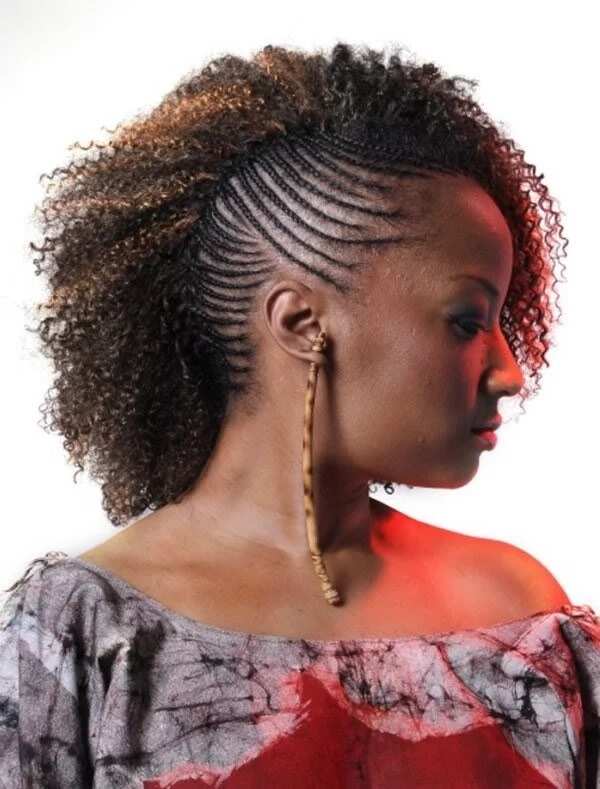 This is one of those natural hairstyles for medium length hair, which you can do once and wear until you are completely tired of them. Everything you need to do is find a good hairdresser with smart fingers and choose a pattern. Your hair will create thin braids on one side of your head while the rest of your curls will be left free
5. Thin braids around your face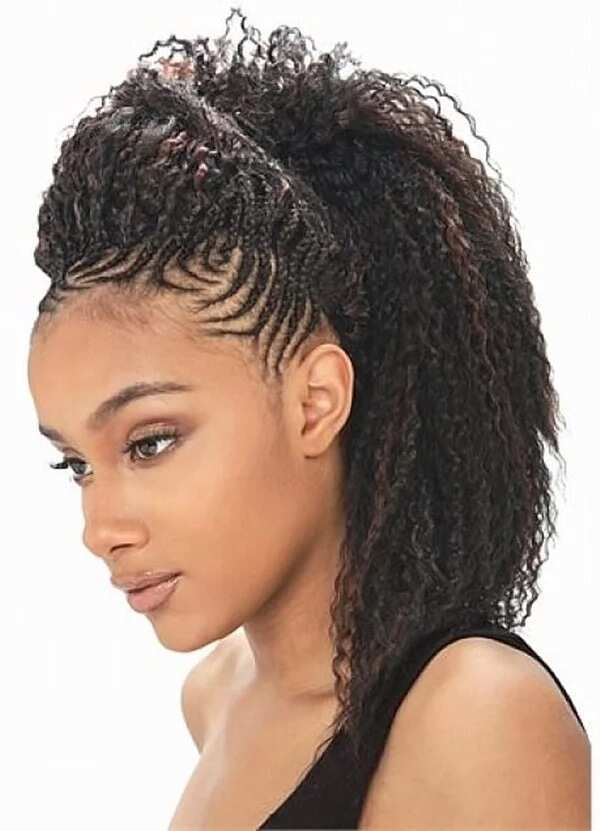 This hairstyle is an option that allows removing your curls from your face without tying them into a bun or a ponytail. Thin braids are done around your face and are only several inch long. Then, your curls are free to lie as they like. You are free to leave them in their natural shape, tie them up or pin them to complete the hairstyle
6. A half up bun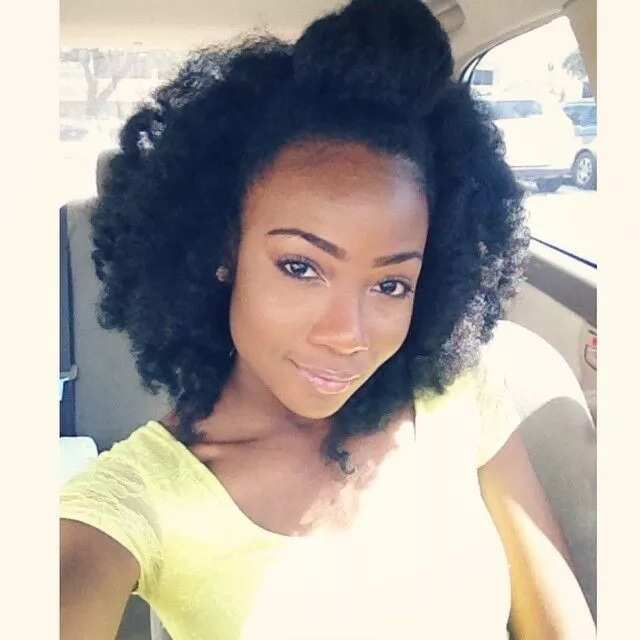 This is a hairstyle, which you can do in a minute in the morning. Just take a part of your hair above the forehead and temples, brush it smoothly backwards, and tie a bun on the top of your head. You are free to make it soft or tight, whatever you like. The rest of your hair will create lovely natural curls behind your face, looking tender and nice
7. A bun with faux bangs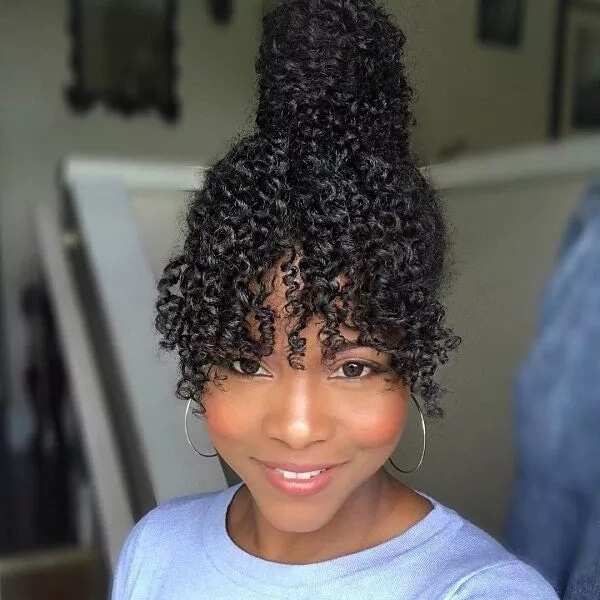 This funny hairstyle is very easy to make. You just need to create a high ponytail on the top of your head, separate one part of your hair and stretch it out to cover your forehead. Wrap the rest of the hair around the tail to create the bun and here you are! Remember: the hair ends should be moisturized thoroughly to create a neat and well-groomed look
8. Mohawk with natural curls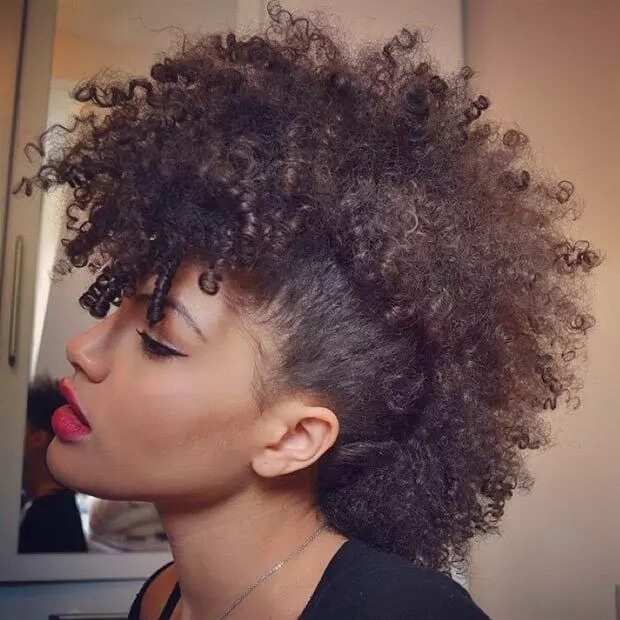 To create such a hairstyle, you will need a handful of hairpins and some patience. You will just need to brush your hair upwards and pin it accurately from both sides to create a smooth look on your temples and a voluminous curly style from the front to the back of your head
9. A half updo with natural curls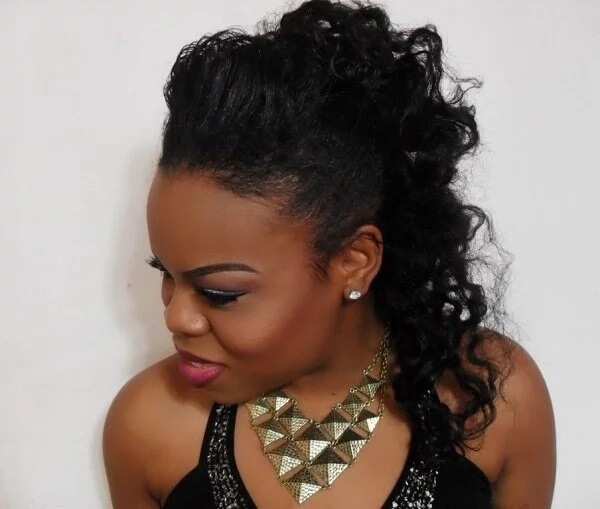 This is one of the top shoulder length hairstyles that's loved by many women. It's easy to make and very feminine. Experimenting with the volume of the frontal part, you can create different styles and achieve different results. A smoother style will be more suitable for casual occasions like going to work or studying. Designs that are more voluminous are great for festive events and romantic dates
10. Flat twists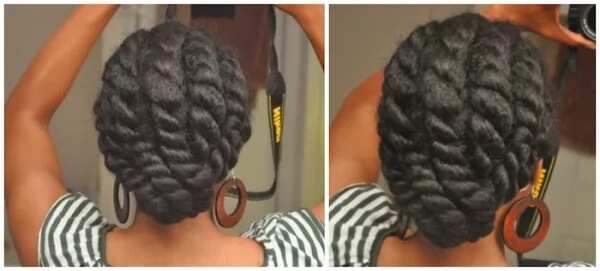 This is a true rival to popular Dutch braids. Twisted hair strands lie closely to the scalp, creating an interesting and attractive rope effect. Such an elegant hairstyle can be a perfect choice for a party or a good friend's wedding
11. A wrap updo
This is one of the quickest and easiest things that you can do with your natural hair. It's a perfect idea for a last moment casual hairdo. You just need a piece of brightly patterned fabric (or plain, depending on the situation) and a couple of moments to wrap it around your head. Such a flirty and very lovely hairstyle will hardly leave somebody indifferent!
12. A jumbo bun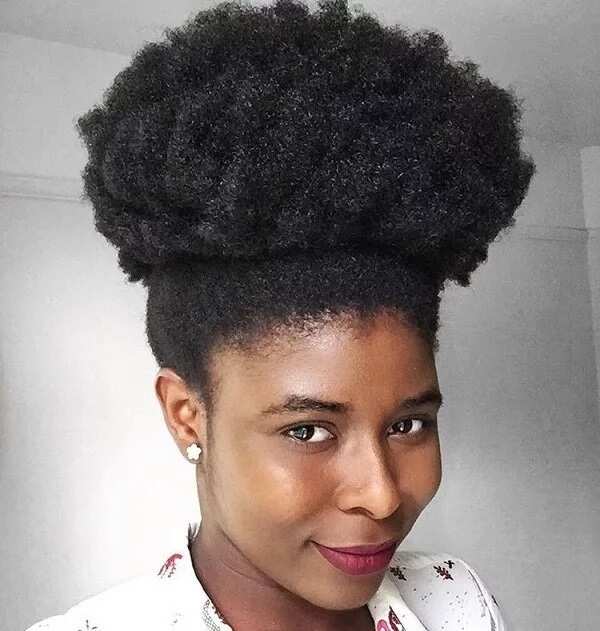 It may be a bun or just a cloud of your natural curls that are tied up on the very top of your head revealing your face. It's a perfect hairstyle for those who have a mass of super thick and voluminous hair. The point of this hairstyle is in the puffiness
13. Natural curls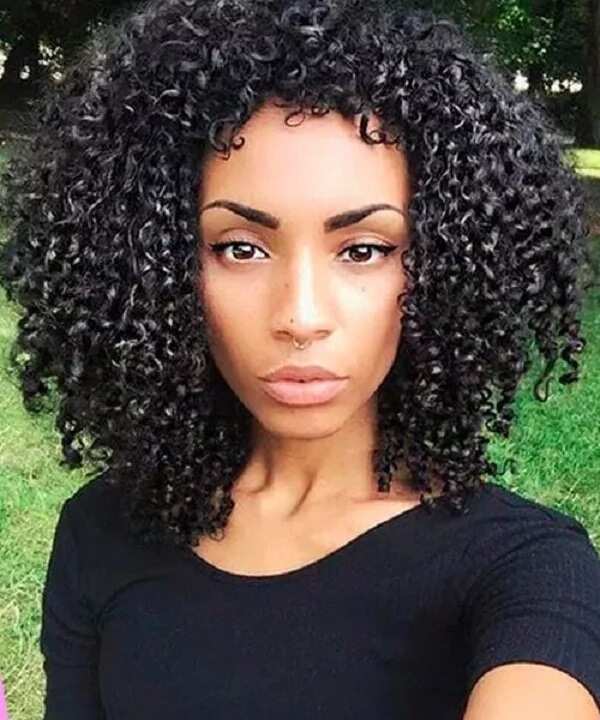 It's the easiest way to demonstrate the beauty of your natural hair. You just need to groom your hair in the way it doesn't cover your face but creates a frame for it. Your eyes will look brighter and, in general, you will look young and fresh
Natural hairstyles for African hair are numerous and we've just given attention to only a small part of them. You are free to combine techniques and create braids that end up with soft lovely buns on the back of your head. You are free to twist your hair beside your face and let those twists become parts of pigtails behind your ears, and so on.
Just love your hair and unleash your imagination!
READ ALSO: Trending hairstyles in Nigeria 2018
Source: Legit.ng