Savannah Guthrie bio: net worth, salary, husband
Savannah Guthrie is an attorney and broadcast journalist from the United States of America. She is famous for being a co-anchor of the MSNBC program, The Daily Rundown. Savannah worked alongside Al Roker and Natalie Morales in Today show as a co-host, thus making her debut.
The television personality has all the skills that a good broadcaster should possess. Apart from working as a journalist, she has played a significant role in dealing with criminal cases as a verified attorney. Her adequate qualifications as an attorney earned her a good title in America's civic life. In June 2012, Guthrie substituted Ann Curry on the Today Show as a co-host.
Profile summary
Birth name: Savannah Clark Guthrie
Celebrated name: Savannah Guthrie
Birth date: December 27, 1971
Savannah Guthrie age: 48 years
Birthplace: Melbourne, Australia
Zodiac sign: Capricorn
Hair color: Brown
Weight: 60 kgs
Profession: Attorney and Broadcast journalist
Instagram: savannahguthrie
Twitter: Savannah Guthrie
Early life
Savannah was born in Melbourne, Australia, on the 27th day of December 1971. She was named after her matriarch, who also resided in Melbourne. Guthrie's father was a professional mining engineer while her mother was a housekeeper. At the age of two, her family relocated to Tucson, Arizona. As the smallest kid among her two siblings, Savannah learned to play the piano and tennis. At only 16 years, the death of Savannah's father forced her mother to seek employment.
Education
In 1993, after completing her high school education at Amphitheater High School, the celebrity joined the University of Arizona. Following her mother's advice, Savannah studied a Bachelor of Arts in Journalism at the university. She graduated with the highest honors. In 2002, she pursued a Law Degree at the Georgetown University Law Center in Washington.
Career
After graduating from the journalism class, the celebrity was employed at a native television station in Missouri. Having worked for two years, she left for KVOA, an associate station for NBC News located in Tucson. She has worked in several television channels as a journalist before being a fully incorporated employee for NBC News in 2011. She has interviewed many influential American personalities, such as Dr. Conrad Murray, on the Today show.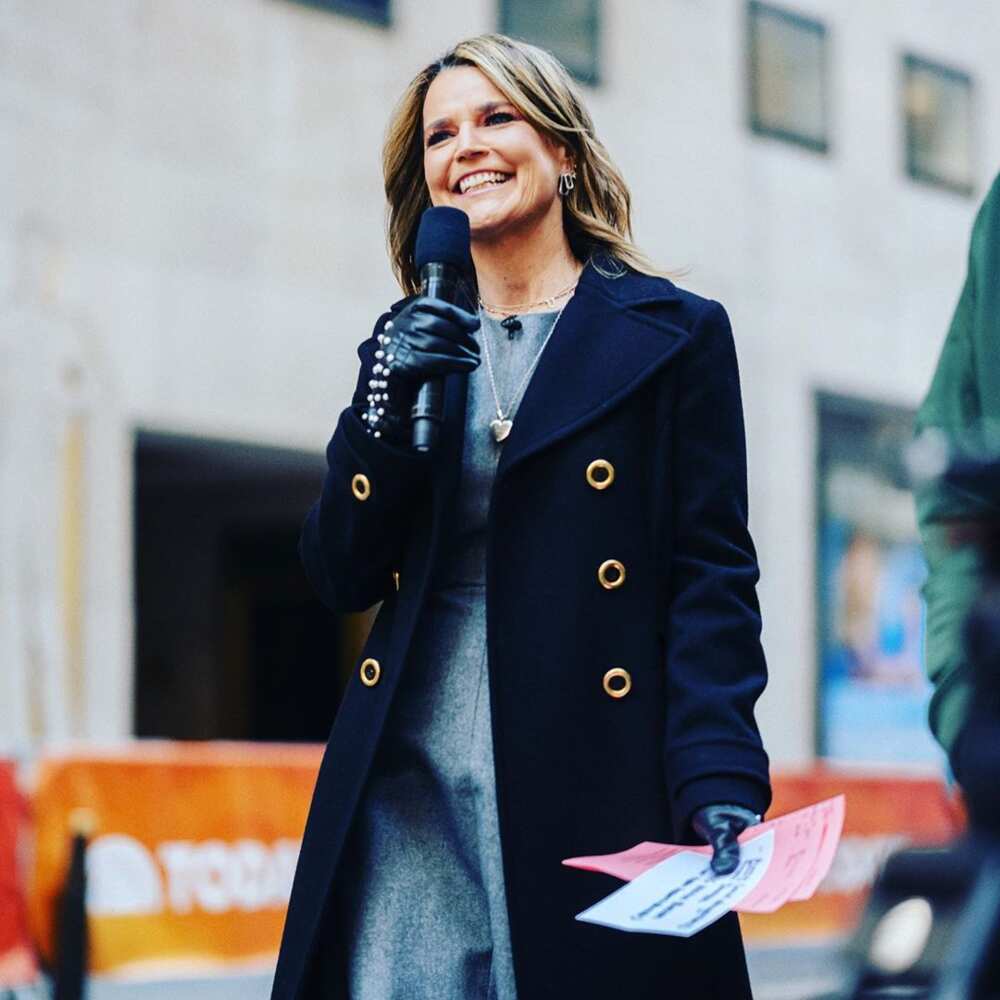 As an attorney, she was involved in Michael Jackson's trial case from 2002 to 2003. Through her experience in law, she dealt with personalities who had severe civil and criminal matters. Savannah advocated for Martha Stewart's case, a television personality on her behalf.
Awards and nominations
The celebrity has a successful career life and has bagged some awards:
She qualified for the Emmy Awards for having an outstanding performance of a Current News Story.
She was awarded the International Academy of Trial Lawyer's Student Advocacy Award for contributing to the moralities of domestic violence.
Savannah Guthrie husband
Savannah was first married to Mark Orchard from 2006 to 2009 before their separation. The celebrity is currently married to Mike Feldman, a media consultant in America. Feldman got engaged to Guthrie in May 2013. While the couple was on vacation in the Caribbean, Mike proposed to the journalist. Before the proposal, the couple had been dating for four years. On March 15, 2014, the couple held their nuptials in Tucson. The wedding was impeccable as they also announced that they were expecting their first child.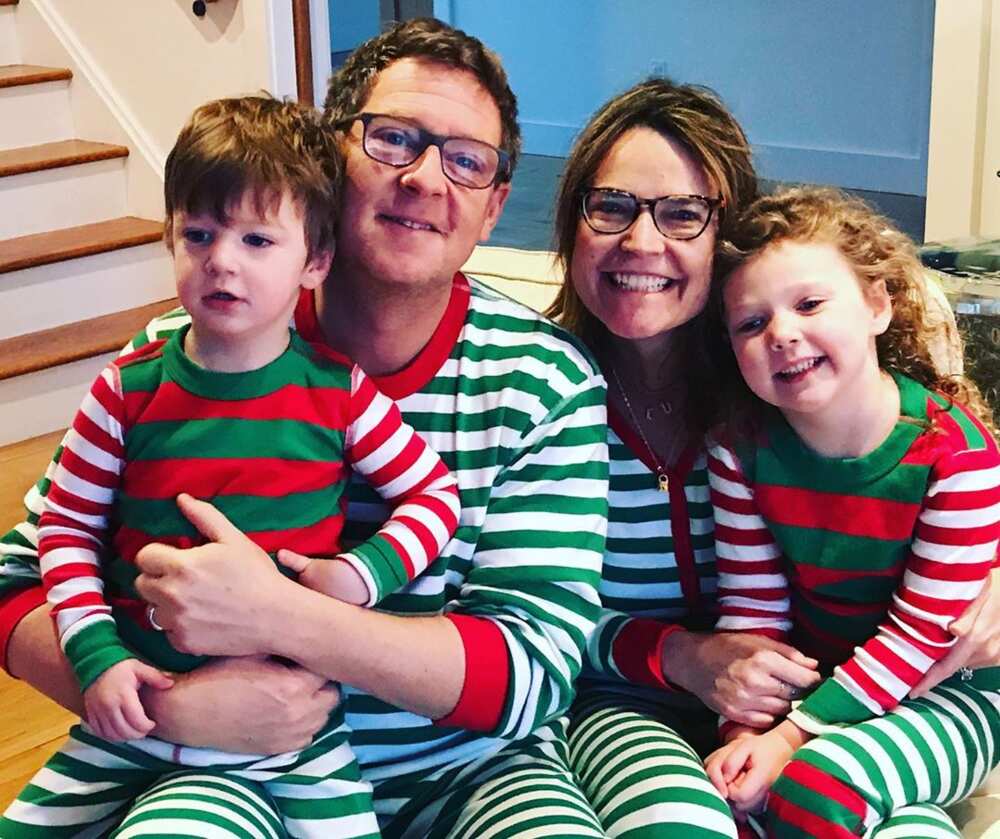 Is Savannah Guthrie pregnant?
On August 13, 2014, the couple hailed daughter Vale Guthrie Feldman. Savannah Guthrie pregnant again the news was publicized on June 7, 2016. This turned out to be the main reason why she was unable to avail herself of the Summer Olympics in Rio. On December 8 of the same year, the couple welcomed their son, Charles Max. As of 2020, Savannah is not pregnant.
How old is Savannah Guthrie?
The celebrity is 48 years as of March 2020. In nine months, Guthrie will celebrate her 49th birthday.
How tall is Savannah Guthrie?
Savannah has a towering height of 5 feet 10 inches.
Savannah Guthrie eye injury
The celebrity was playing with her three-year-old son in November 2019, when he accidentally threw his toy train to her right eye. The injury was grave because she lost sight for 24 hours. She successfully had laser treatments before the primary surgery on her retina. The journalist had partially lost her vision, but after her retina was detached, she has regained full sight. She is thankful to the excellent and competent doctors who attended to her serious problem.
Is Savannah Guthrie really leaving the Today Show?
The celebrity is having a tough time trying to convince her fans that she will not leave the show at any point. This is a result of the internet scammers who use her name for advertising their beauty products. According to some sources, it is clear that the journalist does not even own a skincare line. Therefore, leaving the show so that she can focus on her beauty parlor is just a fake story. This is a problem that other celebrities have had to deal with, including Kim Kardashian, Lara Spencer, and Joanna Gaines.
Savannah Guthrie net worth
The American attorney and journalist has an approximated wealth of 25 million dollars. The total amount is attributed to her successful career life. Savannah Guthrie salary annually is assessed to be about 500,000 million dollars as a broadcasting journalist. Working on such a channel earns her a good wage enough for her family upkeep.
Savannah Guthrie has gained fame after interviewing great influential people on the NBC News Today show. Through hard work and commitment, she has learned to have an independent life. She is a committed and devoted mother to her family. At the same time, she is an inspiring attorney and journalist. Her life is a great inspiration for many upcoming journalists.
Source: Legit.ng