Presidency Tackles Obaseki, Reveals Reason for Attacking Tinubu Over Fuel Subsidy Removal
The Presidency has reacted to Governor Godwin Obaseki's claim that President Bola Tinubu's administration lacks a clear plan after fuel subsidy removal
The claim was made by the Minister of Information and National Orientation, Mohammed Idris, who urged Obaseki to show more statesmanship as the elections were over
Idris said the Tinubu-led federal government has approved N5 billion for each state and is working on a new national minimum wage
State House, Abuja- The Federal government has replied to Edo State Governor Godwin Obaseki over the allegation that President Bola Tinubu's administration has no clear plan for Nigerians after removing the fuel subsidy.
The Presidency said Obaseki is using the nation's economic challenges to divert attention from his poor performance at the state level.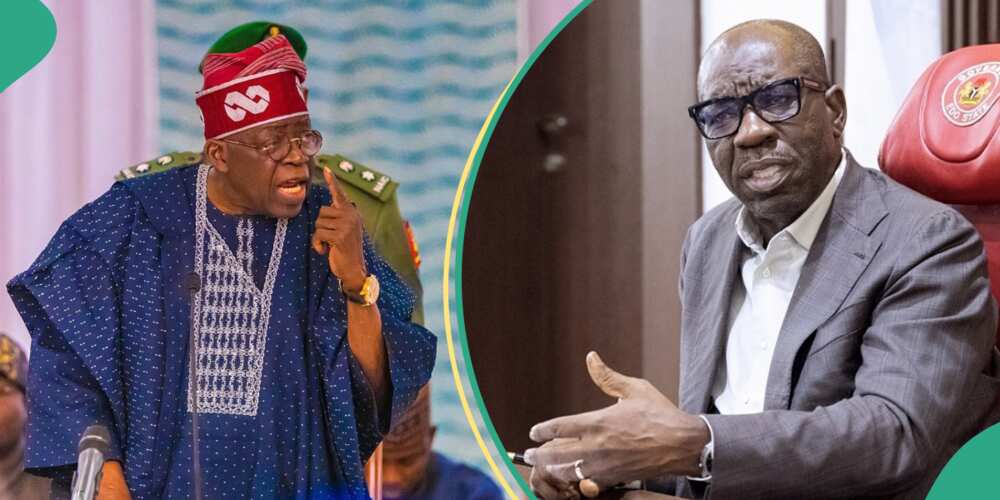 Obseki diverting attention from his poor performance
The Minister of Information and National Orientation, Mallam Mohammed Idris, said this in a statement issued via the official Twitter handle of the Government of Nigeria, @NigeriaGov
Idris said Obaseki's narratives did not provide the complete picture of the state of things as the Edo state governor has:
"...notably benefited from the fuel subsidy removal, which is evident in the more than doubling of the FAAC allocation between June and July 2023 to Edo State - more than it had ever received pre-fuel subsidy removal."
He, however, advised Obaseki to focus on using the increase of the FAAC allocation to drive impactful projects that will genuinely uplift the people of Edo State.
He explained that Obaseki is a member of the National Economic Council (NEC), where far-reaching decisions were taken on the issues he accused Tinubu's government of, but has been absent in the last two meetings.
Tinubu's palliative after removing fuel subsidy
He further stated that contrary to Obaseki's allegation of lack of a clear plan, the FG has approved N5 billion to each of the states to procure food items for onward distribution to families.
The minister also stated that governors are working on social registers for cash transfers to 20 million of the most vulnerable Nigerians.
He said NEC had constituted a committee to negotiate a new national minimum wage with the Labour Unions.
He noted that there were also plans to provide 11,500 CNG-powered mass transit vehicles for affordable public transportation.
Meanwhile, the federal government will supply fertilisers and support for farmers to cultivate 500,000 hectares of arable land to plant staple crops for consumption and industrial use.
Obaseki lashes out at Tinubu's administration
Earlier, Legit.ng reported that Governor Godwin Obaseki of Edo State has lashed out at the administration of President Bola Ahmed Tinubu for lacking plans and solutions for Nigerians after removing the fuel subsidy.
Obaseki said he was shocked that Tinubu's administration has no clear plan to support Nigerians who are victims of the policy.
The governor stated this while addressing journalists in Benin City on Wednesday, August 23.
Tinubu announces N5bn palliative for each state
The government of President Bola Ahmed Tinubu has announced N5 billion palliatives for each state of the federation, including the federal capital territory (FCT).
The N5 billion palliatives are to cushion the effect of petrol subsidy removal on Nigerians.
Borno State Governor Babagana Zulum disclosed this at the end of a National Economic Council (NEC) meeting on Thursday, August 17, in Abuja.
Source: Legit.ng