Full Statements as Buhari's Govt Fines Tinubu's TVC, Arise News over Keyamo, PDP Comments
For breaching broadcasting codes in Nigeria, the National Broadcasting Commission (NBC) on Friday, February 3, fined Television Continental (TVC) and Arise Television the sum of N2 million each.
NBC on Friday said it monitored the consistent breach of the Nigeria Broadcasting Code over a period of time by the TVC during the countdown to the 2023 general elections.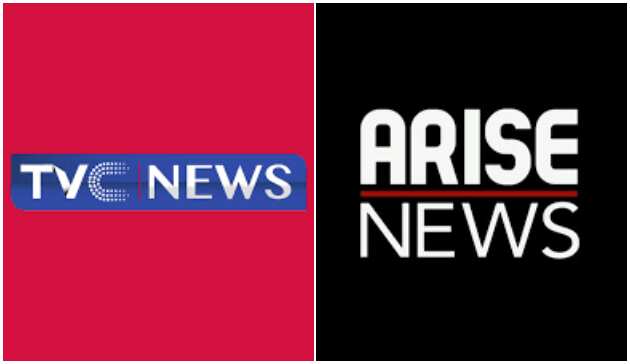 This punitive by the commission is contained in separate letters addressed to the two media outlets by the director general of NBC, Balarabe Shehu llelah, Nigerian Tribune reports.
Ilelah lamented the worrisome trend which he said has become a house style on the media house that enjoys national coverage.
Siting ample instances of violation on the newspaper's part, the NBC boss stated:
"On 06/01/23 at 12:29PM, the Joint Media Directorate of the APC Presidential Campaign Council made the following comments while briefing the media.
"FESTUS KEYAMO: "…Obasanjo and Atiku run a criminal enterprise, an empire of fraud in Abuja. At the same time that Ahmed Bola Asiwaju was toiling hard, beautifully and meticulously to rebuild Lagos, 2 criminals were stealing money in Abuja at the time…they both stole from the SPV account at that time."
"Speaking about the whistle blower, Micheal Achimugu, he said, "We suspect that some goons of Atiku Abubakar are planning to eliminate him and members of his family. In fact, my big brother FFK actually hinted me about something like that yesterday…"
"On 24/01/23 at 03:39PM, during the APC Presidential Rally in Abia State.
"The APC Presidential Candidate BOLA AHMED TINUBU after telling the public to vote APC under the symbol of broom, he went on to make the following comment "…You know what you do with the rest of them? They are like lizards, cockroaches and mosquitoes. Just take the broom, wipe them off"
"On 31/01/23 at 02:37pm, during the All Progressives Congress (APC) rally which held in Anambra State. The Party's Presidential Candidate, Bola Ahmed Tinubu also made the following remarks; "… When you hear Atiku used the word Muslim and say 'Wallahi Talahi, you know what is in his heart? "na lie I lie". Anytime you hear Atiku say Wallahi Talahi, just reply him say, na lie you lie."
"… The man who left here, he calls himself Peter Obi. We read in the Bible, that before cok crows 3 times, he will deny Jesus Christ. He denied, so how can he keep a promise to you if he cannot keep a promise to God"
"On 30/01/23 at 03:50PM during the APC Presidential Rally in Akwa Ibom State, the presidential candidate of the APC, Bola Ahmed Tinubu made the following unfair comment against the PDP Presidential Candidate, Atiku Abubakar and the Governor of Akwa Ibom State, Udom Gabriel Emmanuel. Thus: "…Who rescued him from Obasanjo who wanted to roast him like Goat Meat?"
"Speaking against Emmanuel Udom, "he said "…That boy wey bring
"Atiku here, Wey dey call himself Governor tell him Enough is Enough, He live in my backyard in Lagos if no be because we be one, I'll drive him home…the biggest palace that he build I'll just put lizard and pigeon and scorpion there if not because you begged me".
The agency went ahead to note that TVC News does not give equal news coverage to other political parties in all their news.
It said:
"On 10th October, 2022, your station started its news with 17 minutes of APC news and 1 minutes of PDP story with a video clip that did not play.
"Consequently, pursuant to the aforementioned Sections of the Nigeria Broadcasting Code, TVC News is hereby sanctioned and shall pay a penalty of N2,000,000.00 (Two Million Naira Only).
"Note that the penalty shall be paid within 2 weeks of the receipt of this Letter or sanction shall be graduated."
Arise News
The agency also fined Arise TV for airing and reporting a broadcast where the spokesman for the Peoples Democratic Party (PDP)'s presidential campaign council, Dino Melaye, mocked Asiwaju Bola Ahmed Tinubu of the All Progressives Congress (APC) over his health condition and status.
In a letter to Arise Global Media Limited NBC said: "for avoidance of doubt, some of such unprofessional broadcasts are listed below for your perusal.
"On the 24th of January, 2023, between 1.00pm – 2.27pm, Arise TV aired Presidential campaign Rally of PDP which held in Delta State, replete with unfair remarks and mockery of the APC presidential Candidate by DINO Melaye. Mr. Melaye sang a song "…hand dey shake, leg dey shake, baba wey no well, e dey shout emilokan" he further went on to fall down demonstrating the frailty of the APC presidential Candidate.
"Arise TV did not only air the programme but repeated the distasteful clip of Dino Melaye in a mockery of the APC Presidential candidate in another programme anchored by Ojy Okpe What's Trending. The Presenter and her Colleagues had a good laugh over such unfair treatment of another.
"On the 26th January 2023, at 9.40am, during the programme Morning Show, a guest, Na'jaatu Muhammed described the Presidential Candidate of APC, Senator Bola Ahmed Tinubu as mentally deranged without caution from the anchor. The Guest had a field day with vituperations against the Presidential Candidate of the APC. She referred to him as Senile.
"On 31-01-2023 at 3:30pm, during the broadcast of the PDP Presidential Rally in Sokoto State, Dino melaye referred to the Vice Presidential Candidate of APC, Kashim Shettima as GCOB, meaning Grand Commander of Bandits.
"During the same Campaign, PDP Presidential chieftain, Dino Malaye said, "we should be happy that our candidate's hands don't shake, his legs don't shake and he doesn't have a bell that rings in his head" he further said, "if APC come for campaign, sing a song after them saying, APC are bed-wetters…" then he said again, "…his name is not Bola, his name is bola" (the difference is in pronunciation, later meaning dustbin).
"Hajiya Naja'atu in the same broadcast said, "We are not going to vote for hypocrites, the one that lied that he is a muslim, but he doesn't know how to recite the suratul fatiha. We are not going to vote for an illiterate that doesn't know anything, if people insist on voting him then they should also get ready to allow him lead them in prayers…"
He therefore said "consequently, pursuant to the aforementioned Sections of the Nigeria Broadcasting Code, Arise TV is hereby sanctioned and shall pay a penalty of N2,000,000.00 (Two Million Naira Only).
"Note that the penalty shall be paid within 2 weeks of the receipt of this Letter or sanction shall be graduated."
2023 elections: Melaye speaks on evidence of Tinubu's criminality
Dino Melaye, a spokesperson of the Atiku presidential campaign council, has said that there is evidence of criminality linked to Bola Ahmed Tinubu.
Melaye said this in response to a claim by a self-acclaimed former aide of Atiku Abubakar, Mike Achimugu, that the former vice president used the Special Purpose Vehicles to usurp funds while in office.
In his defence of Atiku, Melaye noted that his principal is not the only former vice president of Nigeria, adding that people meet him on the streets on a daily basis and greet him cordially.
Source: Legit.ng