2023: What I'll Do for Nigerians if Elected President, Bola Tinubu Reveals Strong Plans
The national leader of the APC and presidential candidate, Asiwaju Bola Tinubu has revealed his true intentions for Nigeria
In a chat with newsmen on Wednesday, September 7, the former governor of Lagos state said the ruling party is determined to change the situation of the country if given a chance
Tinubu has vowed to deliver a new and promising hope for Nigerians if given an opportunity to serve in 2023
The presidential candidate of the ruling All Progressives Congress (APC) Asiwaju Bola Ahmed Tinubu has assured he is determined to turn Nigeria to a progressive, highly developed and prosperous nation.
He gave the assurance on Wednesday, September 7, at the party's national secretariat during a meeting with the National Working Committee (NWC) ahead of the kickoff of the presidential campaign on September 28.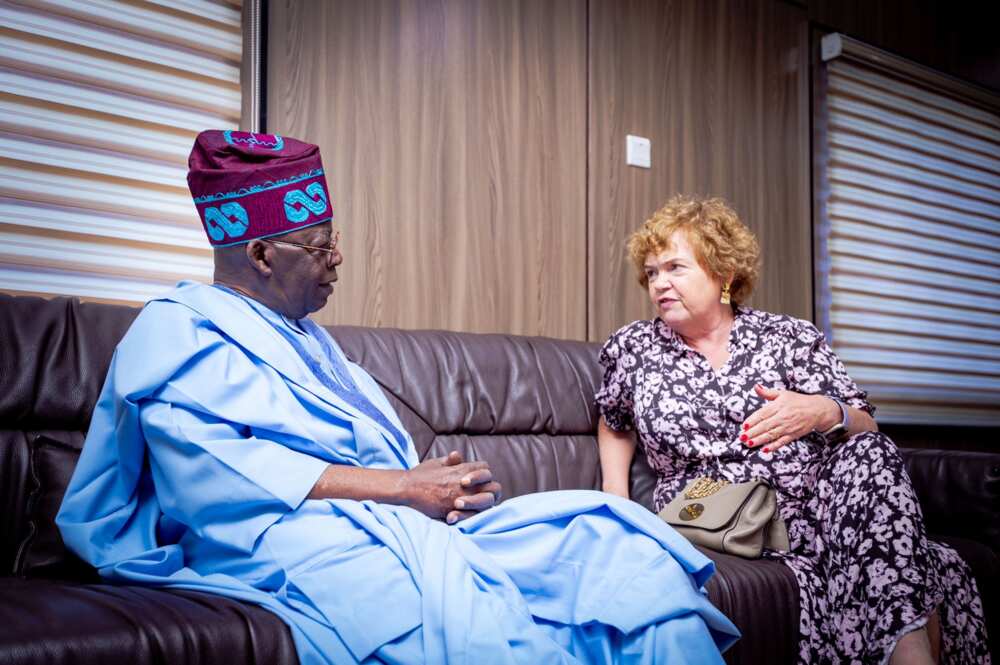 Tinubu makes a promise
Tinubu also promised to ensure the full democratisation of the country so that it can remain the beckon of democracy of the black race in the world, The Nation reported.
He stressed:
"I admit that democracy is challenging, very hard and difficult a system to manage. We have seen challenges left and right outside the international sphere of politics, but we are determined to ensure that we democratise Nigeria fully and remain a beckon of democracy as the largest nation of black race in the world."
A new Nigeria is certain, Tinubu assures
Speaking with newsmen after the meeting with the NWC members, Tinubu assured Nigerians of a new and refreshing hope that will lead to rapid development and progress.
According to the APC standard bearer,:
"It is a new horizon and we assure them that every Nigerians will benefit and I am very sure that there will be a refreshing and we will continue development in a rapid way."
He promised to unveil his agenda in line with the Independent National Electoral Commission (INEC) election regulations and timetable.
Nigerians react
Nigerians in their usual manner reacted to the development.
They took to the Facebook page of Legit.ng and shared their view on the assertion of Bola Tinubu.
Saddam Yayo Dens said
"You destroyed it and want to fix it..You are a failure."
Timothy Tersoo Ancha urged
"With all due respect, sir!!
"Goan fix your health."
Richard Johnson stated
"APC cannot deliver Nigeria from APC. We can't be deceived any longer."
Mahmud Mudashiru maintained
"Keep the dream for your children not you we don't want elderly people to rule us again in this country please Biko."
Abdulsalam Ibrahim said
"U are too old to rule. Go and enjoy your retirement."
Ntufam Promiz Edim stated
"He's not lying
"He can do it."
Adenike Abidemi Azeez stated
"The opposite of fix is destroy, beware."
Kester Okpala wondered
"Fix it how..
"We thought APC under buhari already fixed Nigeria."
Nzekwe Kelechi Nzekwe queried
"Are you fixing a nation you already fixed in a mess,it's laughable.
"We want to rescue APC by APC."
Zainab Mohammed prayed
"Same thing Buhari promise,I don't believe in them anymore
"May almighty bless us with good leaders."
Friday Ejege lamented
"They promised us in 2015 to fix this same Nigeria, have they succeeded in fixing it? 2023 is by the corner still same promise. Abeg shift!
2023: APC leader Ginika Tor asks Ndigbo to vote Tinubu
In a related development, president of Omaluegwuoku Progressive Initiative, Mrs. Ginika Tor, has assured the people of the southeast that Tinubu would address the marginalisation of Ndigbo if voted into power.
Speaking at 'Igbo Kwenu 4 Asiwaju' town hall meeting in Keffi, Nasarawa state, on Monday, August 15, she remarked that the Tinubu-led presidency would run an all-inclusive government.
According to her, it would be in the best interest of Ndigbo to vote for Tinubu to remain in the mainstream politics of the country.
2023: Igbo businessman says Tinubu should be next president
On his part, Lagos-based Igbo businessman, hotelier and realtor, Chief Cornelius Sunday Solomon Nwachukwu, has backed the aspiration of the All Progressives Congress (APC) flag bearer, Asiwaju Bola Tinubu to govern the country.
Nwachukwu also declared that Tinubu is the best among all the candidates eyeing to succeed President Muhammadu Buhari.
He made the comment at the commemoration of his coronation recently as the Otun Amuyudun of Orile-Agege Kingdom by the Alayige of Orile-Agege Kingdom, His Royal Majestic, Oba Ambaliu Hakeem Agbedeyi.
Source: Legit.ng