2023: What Would Happen if Osinbajo Decides to Run Against Tinubu, APC reveals
If Yemi Osinbajo decides to contest for the 2023 presidential ticket against Bola Tinubu there would not be any clash, according to the APC
The Lagos APC stated this while declaring its support for the party's national leader decision to run for president
The APC chieftain had on Monday, January 10, informed President Buhari about his intention to run for president in 2023
Lagos - Amid Asiwaju Bola Ahmed Tinubu's declaration to run for president in 2023, the All Progressives Congress (APC) has reacted.
The Lagos state chapter of the ruling party has declared that if Vice President Yemi Osinbajo decides to run for president against Tinubu there would not be any clash.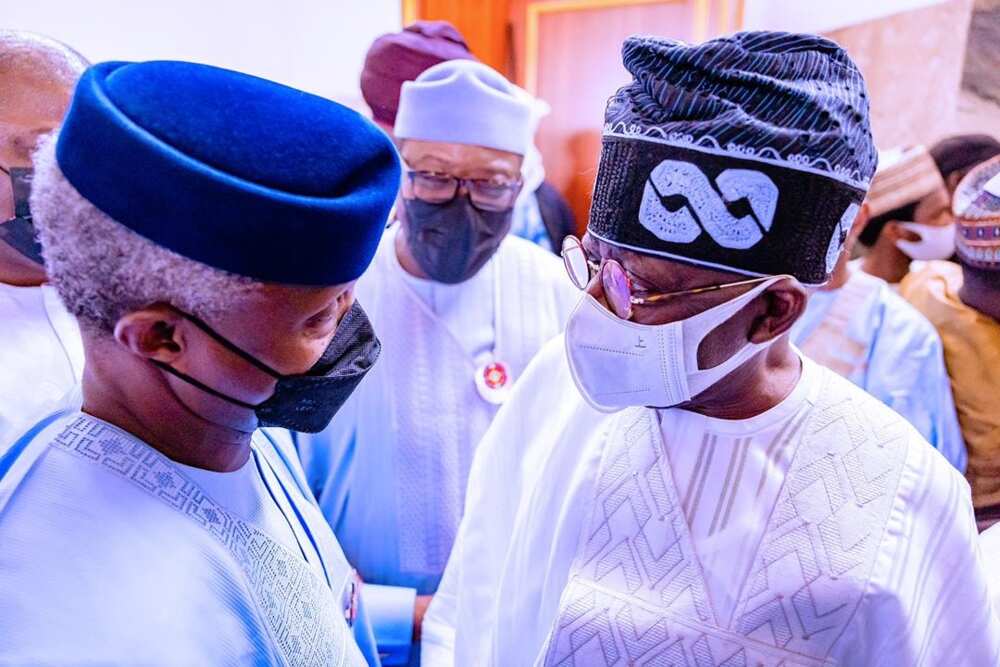 Recall that Tinubu, who had on Monday, January 10, met with President Muhammadu Buhari at the Villa in Abuja, where he declared his intention to run for the presidency.
Seye Oladejo, the publicity secretary of the party disclosed this in an interview with Daily Trust, describing the declaration by the former Lagos State's governor as a welcome development.
Oladejo speaking in Lagos on Tuesday, January 11, while declaring its support for the party's national leader, to contest for the 2023 presidential ticket maintained that Tinubu's decision is 'a very exciting news.'
He said:
"There will be no clash. It will be a family affair and I believe we will overcome it. So far, the VP has not declared his intention to run. Asiwaju only responded to the clarion call to run. He just didn't stand on his own free will, so they are two different things."
Tinubu addresses Yemi Osinbajo's alleged interest in 2023 presidency
In a previous report by Legit.ng, Tinubu, the national leader of the APC refused to comment on the alleged presidential ambition of Osinbajo.
On Monday, January, 10, the former governor of Lagos state told newsmen that he has informed President Muhammadu Buhari about his intention to run for president in 2023.
When asked to comment on the speculations that Osinbajo may also vie for the ticket, Tinubu declined to answer.
2023: No aspirants' declaration will bother us, ays Osinbajo supporters
In a related development, the Progressives Consolidation Group (PCG) stated that no declaration by any number of aspirants can douse the patriotic passion associated with those championing the cause of an Osinbajo presidency in 2023.
According to the chairman of PCG, Dr. Aliyu Kurfi, the plurality of candidates and political parties are necessary for a robust democracy and a rich array of strong contenders will only deepen the legitimacy of Osinbajo's eventual victory.
His words:
"As genuine democrats who believe in the progressive ideals that vice president, Professor Yemi Osinbajo stands for, we welcome others into the race because we strongly believe that a plurality of candidates and political parties only enhances the robustness of our democracy.
Source: Legit.ng