Of Progress in Nigeria's Maritime Sector and Akinola's Ethnic Baiting By Olusegun Williams
Editor's note: In this piece, Olusegun Williams, a maritime expert based in Apapa, Lagos writes on some of the key activities of the Nigerian Port Authority under the leadership of its managing director Mohammed Bello-Koko and some other sister agencies.
Indisputably, democracy would lose its defining egalitarianism if it foreclosed the free expression of viewpoints by its adherents. This includes often unreasoned, beggarly perspectives by forces that seek to diminish, obfuscate and divide, like Dr. Bolaji Akinola who claims to be the CEO of Ships & Ports, did in an opinion article recently.
Against this backdrop, public communicators, who through discipline and intellectual honesty have achieved that delicate, firm balance between viewpoints that enlighten and lift society and contrived commentary that distorts, diminishes and stunts, should be appreciated.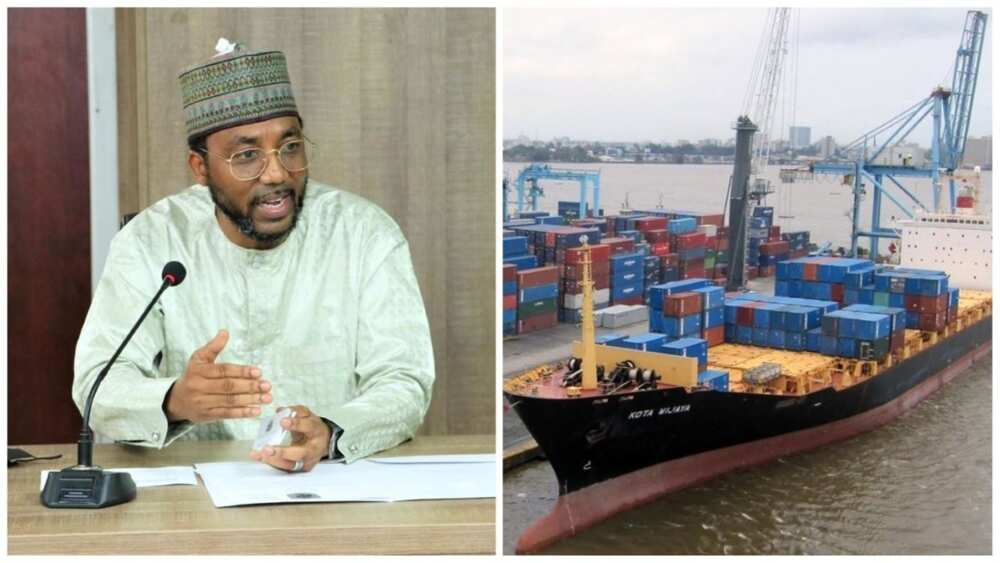 Recently, Dr. Bolaji Akinola turned his gun sight on the trio of Mohammed Bello Koko-led Management of the Nigerian Ports Authority, NPA; Chief (Dr) George Moghalu-led Nigerian Inland Waterways Authority, NIWA, and Dr Bashir Yusuf Jamoh-led Nigerian Maritime Administration and Safety Agency, NIMASA and others – in the ecosystem of the nation's maritime industry, alleging a laundry list of sins against these committed managers of men and the institutions they head.
At the core of Akinola's specious beef is that the maritime sector's key management institutions' current CEOs "owe their appointments to familial and political links rather than merit." His words: "When people complain about the poor development of the maritime industry, they fail to see the nexus between the underdevelopment of the industry and underachieving CEOs who owe their appointments to familial and political links rather than merit.
PAY ATTENTION: Сheck out news that is picked exactly for YOU ➡️ find the "Recommended for you" block on the home page and enjoy!
"Without a doubt, the outputs of the CEOs of NIMASA, NPA, Nigerian Shippers' Council (NSC), National Inland Waterways Authority (NIWA) and the Council for the Regulation of Freight Forwarding in Nigeria (CRFFN) have been sub-optimal. The underachieving chief executives have failed the industry." Haba!
Surprisingly, Akinola, who claims familiarity with the sector given his self-attribution of being a "CEO of Ships & Ports," spouts allegations he cannot by any stretch substantiate. From elementary logic, this scenario, given its timing, seeming ethnic-baiting and superficiality, suggests he is simply pushing an agenda. But, unfortunately, he has come out as a rather poor poster boy for his obviously sponsored jiggery-pokery project.
On his part, Dr Bashir Jamoh, Director General of, the Nigerian Maritime Administration and Safety Agency (NIMASA) has paid his dues and he continues to hold notable focus on his mandate at NIMASA. It was the Chairman Senate Committee on Marine Transport, Senator Danjuma Goje who recently commended the NIMASA boss for his sterling performance at the Agency.
Senator Goje who spoke as Chairman of Dr Jamoh's induction ceremony as a Fellow of the Nigerian Institute of International Affairs, NIIA, described the NIMASA DG as a patriotic Nigerian dedicated to the development of the nation's economy through the maritime sector.
He specifically noted the role Jamoh is playing in leading the country's push towards realizing the Blue Economy as well as the success of the Agency-driven Deep Blue Project in reducing maritime crimes in Nigerian waters. Arrests and prosecution of criminals and pirates. Due to Jamoh's visionary leadership, Nigeria was removed from the IMBs Red List.
On Dr Jamoh's watch, NIMASA has progressed considerably in carrying out its core mandates. Unfortunately, the core ingredients that define professionalism and intellectual honesty are for some reason largely missing in Akinola's jaded ethnic baiting and asinine perspective. This scenario throws up legitimate posers.
Curiously reserving his worst bile for NPA's Managing Director, Mohammed Bello Koko, Akinola alleges the former lacks the moral grounds to claim any achievements. Hear him: "The present NPA Managing Director lacks the moral grounds to lay claims to any achievement with his glaring failures and yet-to-be-addressed allegations of corruption."
Akinola is obviously ignorant that today, Nigeria and Africa stand on the brink of substantial disruptions - and of considerable opportunity - as new political and economic models challenge traditional templates. This gripping scenario also applies to the maritime sector.
This is even more so as the Covid-19 pandemic massively unsettled conventional political-economic playbooks and upended the global economy. Even as the recovery phase has kicked in, only tested trailblazers with vision, knowledge and courage can provide the imperative cutting-edge leadership to ensure both stability and progression, especially in the critical maritime sector. And this is the forte of Mohammed Bello Koko, Dr Bashir Jamoh and Chief (Dr) George Moghalu.
The troika that Akinola tried to tar with the brush of non-performance, is a common streak of a powerful vision that pulls in ideas, people and other resources. It creates the momentum and will to make change happen. It inspires individuals, complementary organizations and institutions to commit, persist and give their best. Enlisting this enduring philosophy, they have also deployed impeccable professionalism, discipline and persistence to change the traditional narrative in the nation's strategic maritime arena with their impactful engagements, thus far.
Consider NPA's Bello Koko: Aware of these massive global disruptions and their implications for the stability and growth of Nigeria's economy, the NPA boss adopted a management and policy footing that prioritised support of the national economy through unprecedented revenue generation and remittances to Consolidated Revenue Fund (CRF) of the federation with revenues steadily growing from N317bn in 2020 to N361bn in 2022 and remittances progressively soaring from N80bn in 2020 to N91bn by financial year end 2022.
A summary of landmark achievements of the Mohammed Bello Koko-led management of NPA can hardly be exhausted within the scope. On the critical front of trade facilitation/ease of doing business/employment generation, the NPA management under the firm and focused guidance of Bello Koko created new businesses and attendant job opportunities such as the barge operations services which besides reducing pressure on the roads have grown into N2bn annual generation business both from direct investment and accompanying externalities.
The NPA boss initiated the licensing of ten export processing terminals to facilitate exports at Nigerian Sea Ports. This is to provide a one-stop shop for export where quality control, cargo assessment by all government agencies and issuance of good-to-ship clearance will be obtained. Then there is a significant reduction in truck turn-around time due to the successful implementation of the E-Call Up System.
Bello Koko also covered remarkable grounds in the crucial maritime arenas of Improved Navigational Aids, Enhanced Port Security, Engineering Infrastructure/Operational Capacity Strengthening and Employee Welfare and Training/Industrial Harmony.
By procuring and deployment of Security Patrol Boats (SPBs) to all Pilotage Districts to address incessant attacks of vessels along the channels and at Ports' waterfronts, his management considerably enhanced port security. He also adroitly established a robust partnership with the EU-funded West and Central Africa Ports Security (WeCAPS) towards risk prevention, vulnerability assessment of port infrastructure, and skills acquisition for port personnel to strengthen the security and safety of the Nigerian Ports. Is Akinola not aware of these?
Those are not all. He established a standing partnership with the Police high command resulting in the reduction of illegal checkpoints along the port corridor to stem abuse and extortion as well as make traffic management more effective. There was the standardization of operational procedures for different activities such as barging, private jetties, pilotage, vessel berthing/sailing, et cetera, which represents another positive of his leadership. Significant reduction in the traffic gridlock along the main Port corridor and the internal access roads through enforcements, proper batching, continuous access control mechanisms and movement of cargo via barge operations are others.
On the Engineering Infrastructure/Operational Capacity Strengthening front, Bello Koko initiated the creation of the Forcados Signal Station to enable the Authority to capture the movement of more Service Boats and the commencement and completion of a bathymetric Survey for the dredging of Escravos Channels.
Significantly, approval was granted to Messrs Ringadars for the construction of 6,000 metric tonnes Bitumen Tank in Rivers Port Complex to improve the company's bitumen storage capacity which will ease their operations and have an impact on the infrastructure development of the South-South. The construction, according to check sat the site and corroborated by officials at the NPA, was now at 58% completion.
He also approved the construction and rehabilitation of quay infrastructure at Berth 15, Lagos Port Complex, Apapa and also gave approval for the completion of the road network for the integration of Berth 9,10, &11 at Federal Ocean Terminal, Onne Port with approval for the construction and rehabilitation of Control Towers at Lagos Port Complex and Tin Can Island Port.
Rather than embark on palliative repairs of decayed port infrastructure, the Bello-Koko-led NPA has come up with an ambitious plan to do a complete reconstruction of the 2.563m Quay Wall & Pavement to 13.5m Depth at the Tin-Can Island Port Complex (TCIPC), the Quay Wall at the Lagos Port Complex (Apapa Quays), reconstruction of 200m Quay Wall (Intels Terminal) at the FLT 2, Onne Port, Rivers State, Jetty reconstruction at Meiver and Millero Jetty, Calabar Port, rehabilitation of the Escravos Breakwaters in Warri, Delta State.
The Authority is on the verge of signing off the funding arrangement with Afrexim bank.
Some of the other positives recorded on the Engineering Infrastructure/Operational Capacity Strengthening front include approval for the Supply and Installation of One Hundred and Eighty (180 Nos) Marine Fenders Authority Wide.
The NPA is also currently rehabilitating port internal roads in Tincan, Calabar, and other ports.
To upscale data integrity and information communication technology, the NPA signed a Memorandum of Understanding (MoU) with the National Bureau of Statistics (NBS) for data digitalization and exchange for effective integration of Ports statistics with the National Database and upgraded the website and daily shipping position portal while automating archiving/records management.
In fact, while upgrading NPA's website (www.nigerianports.gov.ng) to a real-time fully interactive platform the Authority also upgraded the Daily Shipping Position Portal to be more user-friendly and engaged with the IMO on development of the Port Community System pursuant to the IMO instrument on automation and digitalization of port processes.
Looking ahead, the NPA is planning a port capacity expansion and standardization. Along this line, it has inaugurated actual work towards the 25-year Port Masterplan; ISO Certification of Onne and Calabar Ports with all other ports at advanced stages of certification, and inauguration of the Lekki Deep Seaport in record time and attendant job creation opportunities from coastal shipping activities arising forthwith.
It has also secured Federal Executive Council, FEC, approval for the commencement of construction of the Badagry Seaport and provided technical support for the establishment of Ondo and Benin Ports.
Against the backdrop of these uncommon grounds covered by the NPA under the adroit guidance of Mohammed Bello Koko, in a very difficult period, Bolaji Akinola has clearly goofed in his seeming politically-motivated attacks on the Bello Koko-led NPA and the maritime industry at large.
On another front, Akinola's attacks on the Dr. George Moghalu-led National Inland Waterways Authority (NIWA) were as baseless as they are unwarranted. He betrayed surprising ignorance of the development and achievements in the inland waterways sector. His allegation that, between March and October of 2022, 212 lives were lost in boat mishaps across the country is highly exaggerated, unfounded, outrageous and fallacious.
Under the current circumspect leadership of its MD/CEO, Dr. Moghalu, NIWA has initiated several reforms in addressing the menace of boat mishaps in the nation's inland waterways which has resulted in drastically reduced boat mishaps.
As Akinola obviously needs some education on the positives of the NIWA boss, Chief Moghalu-led management, some of the transformations carried out include: a sensitization campaign on the importance of adhering to NIWA safety guidelines to both passengers and boat operators in all of the Authority's Area offices nationwide; workshop and training programmes of boat operators in Lagos, Port Harcourt, Warri, Calabar, Onitsha, and Yenagoa. The programme is ongoing in the remaining Area offices; free distribution of life jackets to Boat Operators Associations nationwide and introduction of a special task force to enforce NIWA safety guidelines in Onitsha, Lagos, Port Harcourt, Warri, and Benue.
They also include charting and installation of buoys of the navigational channels in Kogi, Onitsha, Delta, Port Harcourt, and Lagos. The programme is ongoing on other channels across the country; and, wreck removals to ease navigation in Lagos, Yenagoa, Benin, Port Harcourt, and Calabar, and procurement and deployment of water ambulance buses in Lagos and Port Harcourt and much more.
In his maritime sector blitzkrieg, what was Akinola's motive? Could it have been the Biblical voice of Jacob and the hand of Esau scenario? Big questions.
Disclaimer: The views and opinions expressed here are those of the author and do not necessarily reflect the official policy or position of Legit.ng.
Your own opinion articles are welcome at info@corp.legit.ng— drop an email telling us what you want to write about and why. More details in Legit.ng's step-by-step guide for guest contributors.
Contact us if you have any feedback, suggestions, complaints, or compliments.
Source: Legit.ng