International Women's Day: Retail Firm Advocates Gender Equity in Workplace
Retail giant CHI Limited has pledged to uphold gender equity in the workplace following the recently concluded International Women's Day
The company said it is committed to driving diversity and inclusion through gender equity in the workplace
According to the firm, women are some of the biggest drivers of success in workplaces
CHI Limited, A Member of the Coca-Cola Family, recently celebrated its International Women's Day Event. It was marked with fanfare as CHI Limited appreciated female employees' resilience and commitment to growing the company.
In line with the Theme for this Year's IWD, #EmbraceEquity, the company had a diverse panel of accomplished speakers who shared invaluable insights on their professional and personal journeys.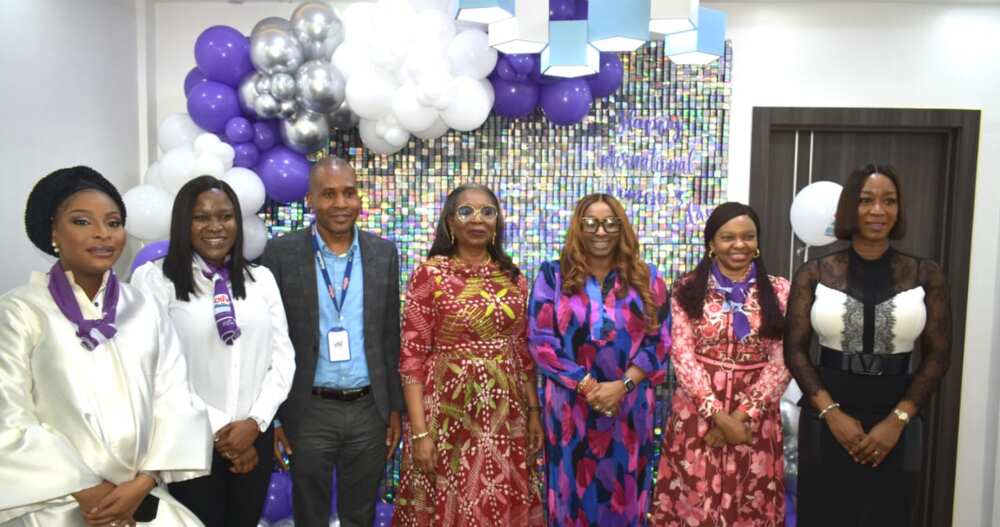 Women discuss the role of women in workplace
In her opening remarks, CHI Limited Human Resources Director, Temitope Adedayo-Ojo, stated that the company is committed to driving diversity and inclusion through gender equity in the workplace. She used the occasion to unveil the Women's Network at CHI Limited- "GREAT Rubies," which highlights the values the women at CHI Limited represent.
Keynote Speaker, First Female Chairman of First Bank, and Chief Executive Officer of The Chair Centre Group, Mrs. Ibukun Awosika, stated that equity is about evaluating what each person needs to succeed at their best. She noted that women represent about 50% of Nigeria's population, and undermining them will be detrimental to society. She charged women to identify their limitations, close the gap, take ownership of their careers, and value their journey.
Speaking further, she stressed that for organizations, it would take eveveryoneboth, both male and female, to be at their best to make them succeed. She called for organizations to create an ecosystem that helps get value for the organization while optimizing the potential of staff members through its provision of resources and platform.
Reports say that panelists at the event included Chinwe Iloghalu, General Manager, Fidelity Bank Plc; Bola Arotiowa, Sales Director, CHI Limited; Ms. Osayi Alile, CEO Aspire Coronation Trust Foundation, and Neelam Gupta, Operations Manager, CHI Limited, who also lent their voices to the emerging drive for equity to all parties.
Women encouraged to develop skillsets
Mr. Bola Arotiowa encouraged women to be more assertive and present themselves within their place of interest as long as they are ready to enter the competitive market. Ms. Osayi Alile also encouraged ladies to equip themselves with relevant skillsets while consciously creating their brand identity. This will enable people to listen when they speak, welcome their insights, and recommend them for positions. She also said the importance of building a tribe of mentors.
In support, Mrs. Chinwe Iloghalu said that having a mentor early is crucial for success. She noted that at various stages, women would require sponsors to speak out on their behalf in rooms they have no access to and put a word for them in the right places to facilitate their success. Mrs. Neelam Gupta re-echoed the same message previous speakers had reiterated, the message on equity must be consistent across the board.
The event, which was the exquisite Hollandia Lounge within the company's premises, was attended by female employees, invited dignitaries, and the media. CHI Limited supports a gender-inclusive workplace through its diverse and inclusive culture that promotes equity to forge unity, and help drive success for all.
International Women's Day is a global day celebrating the social, economic, cultural, and political achievements of women.
International Women's Day: Believe in your abilities, Adeeko urges women
In a related story, Legit.ng reported that To mark the 2023 International Women's Day, serial entrepreneur, Adenike Isi Adeeko, has urged women and girls in Nigeria to believe in their capabilities and pursue their dreams. Adeeko made the statement on Thursday,
March 9, while speaking to Legit.ng in the Federal Capital Territory, Abuja.
She said the theme of this year's event: "DigitALL: Innovation and Technology for Gender Equality," would go a long way in exposing women to the market, further improving their technology skills, and availing them of more opportunities.
Source: Legit.ng