Over N32 Million Now Raised for Late Mohbad's Son by Kind Nigerians, Fans React: "DNA Test Needed"
Nigerian music producer, Samklef, has updated fans on the amount of money raised for late singer Mohbad's son
Just a day after announcing that N15 million had been raised for the little boy, the amount has now increased to over N32 million
The news of the hefty donation to Mohbad's son from Nigerians was met with a series of mixed reactions
Many well-meaning Nigerians have raised funds for the late singer Mohbad's son following his controversial death.
Legit.ng had earlier reported that Mohbad's 24-year-old widow cried out about how their son was just five months old.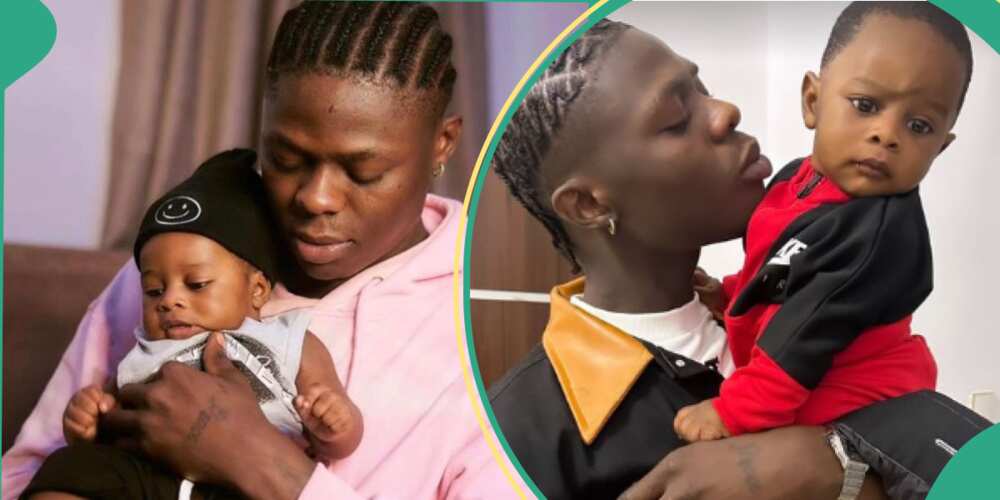 In a new development, it has been gathered that over N32 million has been raised for the late singer's son, Liam.
Legit.ng earlier reported that popular music producer, Samklef, took to his official Instagram page to announce that as of Monday, September 18, 2023, N15,567,300 had been raised for the young child.
In his words:
"Here is the total money raise as at this morning for mohbad son. N15,567,300
God bless you all for all you do and for fighting for imole he was an Angel among us. #justiceformohbad."
See his post below:
Nigerians raise over N32 million for Mohbad's son
In a new development, Samklef has updated fans by sharing that over N32 million has now been raised for Mohbad's 5-month-old baby boy.
Taking to his official Twitter and Instagram pages, the Don't Dull music producer explained that as of September 19, 2023, a total of N32,744,900 has been raised for the child.
He wrote in his caption:
"So far we have raised! N32,744,900 so far for mohbad son! there is the deputy governor of Lagos state @drobafemihamzat paying last respects for @iammohbad imole!"
See his post below:
Reactions as Nigerians donate over N32 million to Mohbad's son
Shortly after Samklef's update on the total amount raised for the late Mohbad's young son, many netizens took to his comment section to share different hot takes.
Some advised the late singer's wife on how to spend the money. Some said Mohbad's parents should be given some, while others said a DNA test should be done on the late singer's child.
Read some of their comments below:
officialmelvinp:
"My own is they should share the money among all of them... The father mother and the wife and his brothers...."
official_xenagram:
"Omoooooo some people sef go don dey pray make Dem papa kphef ."
esther.mike.3785:
"D .n .a .needed bro for the child."
engr_prince_c:
"Not for just his son ,monbad family too."
dreepa.interior:
"Please this money should not be kept under her mom care, because if that money is kept under, the money will not be used for that purpose, she might end up spending that money on another guy after they twist her bråin."
luxe_by_ademide:
"Abeg don't forget his mom , make the mama too no suffer."
uptunzino:
"To my own little advice or thinking, the money should be released according to his educational steps."
mobilecare_gadgets:
"The money should be fixed in the boys names till his 18years."
corlerdayy:
"Pls pls and pls @samklef please don't give the money to the wife , you can give part of the money to wife to set up a business but 80% of the money should be save into the boy Account with documentation backing it up on how much should be given to the mother every month without that the money is going to vanish in few months or years or na one bf go collect it from her "
only_jiggy:
"Waitin they pain me pass , this money when we Nigerians raise for him son, hope it will be put to good use .. cus that him wife I no trust her ."
lydiaonyeochaonyeaghala:
"She should just leave this country with our little mohbad. It's well is all I can say."
orientation_glance:
"Abeg Samflef make una help the woman and the baby go the Canada when them be one go before. God bless you man Respect ✊."
alihy_de_bossman:
"Pls before handling this money to the wife pls let them run a DNA on the child while the bring out the corps to be sure pls becos this case is complicated anyone is a suspect.."
official__pounds:
"Before giving her this money let her know that she need to leave Naija and stop to cast or post her location for security purpose. Thanks alot small mohbad you will surely shine ✨ ."
lujaking01:
"In whatever way the money is shared, please don't leave his parents out, they are the only one who lost totally, whatever is given to the child is directly given to the wife and her families. The reason we all dislike the father is the people going to interview him and asking unnecessary questions. Mohbad's parents will still want to have access to the child and take care of their grandchild their little way. Na only the parent no fit born child way go be like am, the wife fit marry another man anytime. My opinion."
Gold_bby23:
"Omo❤️…God go help them ❤️she should take him out of this country pls."
deariesworldevents:
"The money donated to them should be kept out of social media. I don't think it is safe."
o_seunabiodun:
"The wife should just take this baby and leave Nigeria ASAP because his family will not allow her have rest of mind."
Pasuma gifts Mohbad's wife and son N1 million
Legit.ng earlier reported that Fuji star Alabi Pasuma gave the late Nigerian singer Mohbad's wife and son, Liam, the sum of ₦1m.
Pasuma's good deed was shared on Instagram days after the 27-year-old Afrobeats singer's passing.
After Mohbad passed away on September 12, kindhearted people in the entertainment space have been donating money to help his father, wife, and only son.
Source: Legit.ng