Lagos State Tax, Baba Ijesha, 2023 Election, 4 Other Times Iyabo Ojo Trended for Controversial Reasons
Veteran Nollywood actress Iyabo Ojo is no doubt loved by many but she has also been known to be involved in controversies
The movie star's boldness and outspoken nature seems to have contributed to her stepping on some toes and addressing issues online
Today, Legit.ng will be looking at some of the times the mother of two made headlines for controversial reasons
Top Nigerian actress Iyabo Ojo is no stranger to being in the public eye over the nature of her job in the entertainment industry. However, she is sometimes under scrutiny for controversial reasons.
The mother of two has been known to dominate trending topics from time to time on social media but not always for good reasons.
The movie star has trended for dishing out 'vawulence' whenever she deems fit and fans have made it a point to know that she is about to call someone out when she rocks her black bonnet during Instagram live sessions.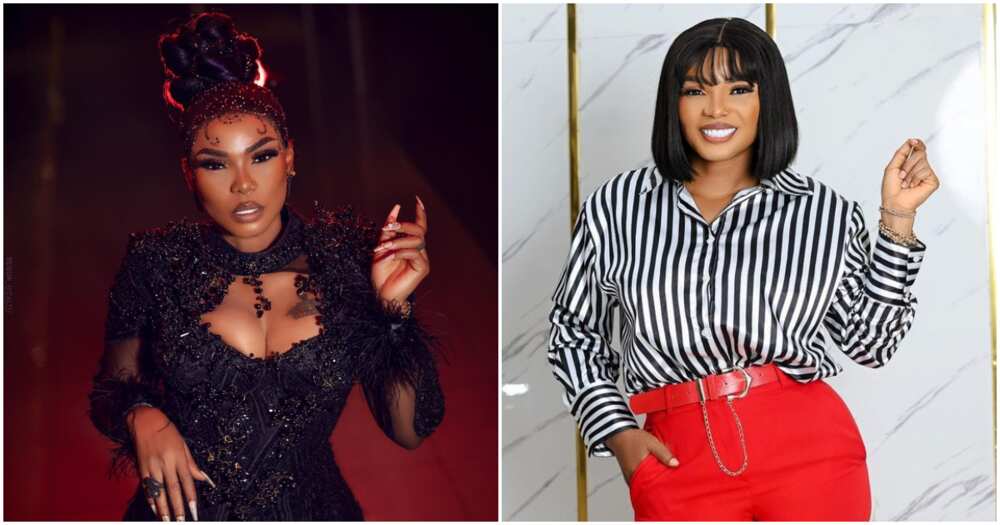 The movie star has been at loggerheads with colleagues, former friends, and other industry professionals for various reasons but mostly because she seems to fear no one.
PAY ATTENTION: Follow us on Instagram - get the most important news directly in your favourite app!
Today, Legit.ng will be looking at some of the times Iyabo Ojo made headlines for controversial reasons. See below:
1. Iyabo Ojo's involvement in Baba Ijesha's assault case:
Iyabo Ojo proved herself to be a woman who supports another when she took up the case comedienne Princess had with veteran actor, Baba Ijesha, who had assaulted her 16-year-old adopted daughter.
Despite not knowing Princess or being friends with her, the movie star stood against others in her industry who refused to speak up against the wicked act because it was done by 'one of their own'. Iyabo Ojo gave Princess the needed moral support and even gathered other women who went to court with the comedienne.
The case between Princess and Baba Ijesha led to Iyabo Ojo lambasting some of her Nollywood colleagues such as Yomi Fabiyi, Iya Rainbow and others who dared to support the arrested actor.
2. Iyabo Ojo accuses Funke Akindele of being behind Toyin Abraham smear campaign:
Another time that Iyabo Ojo shook social media was when she boldly accused actress Funke Akindele of being behind a 'movie critic' blog that had heavily blasted Toyin Abraham's new movie at the time, Ghost and The Tout. Iyabo seemed to think Akindele had sponsored the post after the blogger had used serious derogatory language to bash the movie. This obviously caused a rift between Iyabo and Funke but they eventually buried the hatchet.
3. Iyabo Ojo and herbalist who cursed her to die:
During the Iyabo Ojo and Baba Ijesha saga, a video made the rounds of an elderly man known to be a herbalist cursing the actress to die. The herbalist called her a series of derogatory names before proclaiming her death.
Iyabo Ojo reacted to the video which went viral at the time, by saying that it's only God that can take her life. The movie star also reaffirmed her faith in God and added that everybody will eventually die. Rumours later made the rounds that the herbalist had passed on.
4. Iyabo Ojo's fallout with MC Oluomo over 2023 presidential election:
Iyabo Ojo and the National Union of Road Transport Workers (NURTW) chieftain, MC Oluomo, have always been known as friends. However, the 2023 presidential and gubernatorial election seemed to draw a wedge between them. MC Oluomo is an avid All Progressives Congress (APC) supporter while Iyabo Ojo pitched her tent with Labour Party's Peter Obi and Gbadebo Rhodes-Vivour. Shortly after she openly declared her support for them on social media, many of her Yoruba colleagues were not pleased including actor Kehinde Adams aka Lege Miami. Lege called out Iyabo and mentioned how MC Oluomo had given her millions. The actress wasted no time in setting things straight and noted that Oluomo is her friend and he has supported her on different occasions just like she has done for him too. She added that Lege would not have known if MC had not fed him with information.
5. Iyabo Ojo and Dayo Amusa's shade over 2023 election drama:
The 2023 elections had Iyabo Ojo trending for the umpteenth time when her perceived friend and colleague Dayo Amusa threw shade online and many claimed it was directed at the 'bonnet wearing' actress.
In Amusa's post she wrote about how a person did not regard the other as a political thug when he paid her children's school fees, paid her house rent, her children's birthday party bills, when he paid her new house mortgage, when he sponsored her flight ticket and paid for her and her kids' hotel for weeks.
Many netizens claimed Amusa was shading Iyabo over her friendship with MC Oluomo. To that, Iyabo claimed Amusa could not have been referring to her because MC never paid for her mortgage, her rent, her kids' school fees and more.
6. Iyabo Ojo drags ex-governor Ayo Fayose's brother after his visit to her restaurant:
Iyabo Ojo caused a buzz after she reacted to Isaac Fayose calling her out on social media. Fayose had visited her restaurant and was displeased with the pepper soup portion he was served. She explained that she immediately ordered another pepper soup to be made for him but he was clearly trying to ruin her business by calling her out online after she requested his account details for a refund.
7. Iyabo Ojo and N18m tax payment to Lagos state government:
In June 2023, Iyabo Ojo called out the Lagos state government after she was served a letter and told to pay N18 million within seven days. The movie star questioned how they arrived at the figure and also asked how they had ever helped her life despite all the tax she had been paying. Not stopping there, in usual Iyabo Ojo fashion, the actress also went on Instagram live to share evidence of her tax payments. Some netizens seemed to think it was a witch hunt for not supporting APC during the election.
Iyabo Ojo's outspoken and bold nature might be why people love her but it also seems to be why she gets involved in controversial situations.
Source: Legit.ng