"You Dey Find Husband, You Wear Abaya": Lege Slams Late Alaafin of Oyo's Wife, Orders Her to Wear Shorts
Queen Dami, one of the young wives of the late Alaafin of Oyo, Oba Lamidi Adeyemi, made a sorry sight on actor Lege's dating show
The actor introduced Dami to the audience and rudely made fun of her for desperately looking for a husband and wearing a big outfit
After ordering her to speak in English even if she has to struggle, Lege also told the widowed queen to wear skimpy outfits
Popular Nollywood actor Lege Miami has a dating show, and the widowed queen of the late Alaafin of Oyo was his guest recently.
Queen Dami is ready to settle down with another man, and Lege, in a viral video from his Instagram Live, told her to move back and turn on the light so that he and others can see her full form.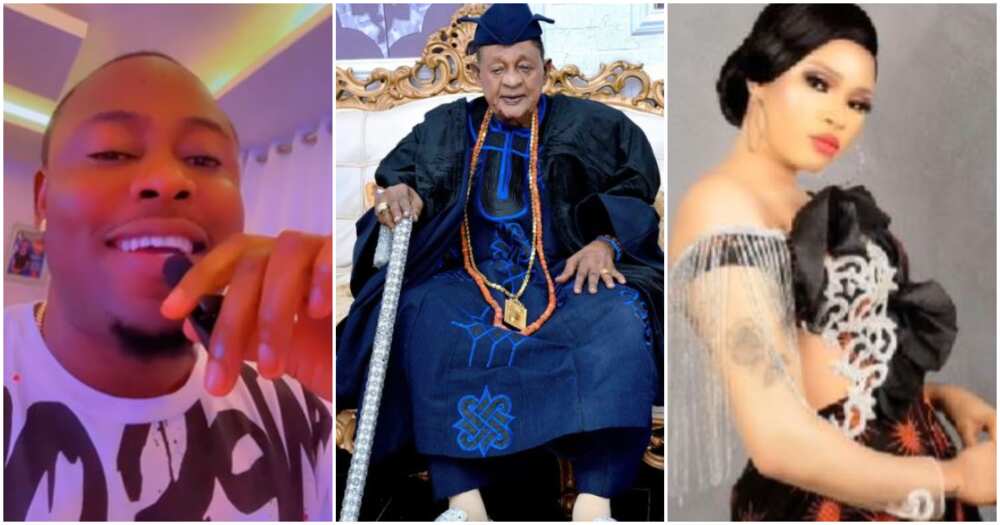 The actor, however, got mad after seeing that the queen had a huge gown on and queried if she really wanted a husband with her outfit.
Lege ordered the widowed queen to change into shorts and a shirt. He noted that she had to speak in English even if she had to struggle like he was in the video.
The single mother, in a bid not to get Lege mad any further and not ruin her chances, scurried off to get changed.
Watch the video below:
Netizens react to Lege's video
The video was criticised by netizens who did not like how Lege addressed Queen Dami. Legit.ng gathered some of the reactions below:
bola_bugatti_:
"You see old these old wrinkled men, marrying and impregnating these young girls, when they die the young wife becomes a nuisance while the kids become society's liabilities. What's all this eyesore na. Anyone linked to a king by marriage should be taken care of for life, there should be a local arrangement to take care of their harem. I'm sure she's more hungry than looking for a partner."
olu_flex:
"Wow… am speechless, isn't this disrespectful to the throne."
igwebikeofficial:
"Two of them no get sense ooo.. u dey use Yoruba dey talk to her then she reply u with same Yoruba, u com dey quarrel her say make she speak English.. the girl sef say let me on light.. omo forget apart from the English sef this girl no get level at all cuz if she has, what is she doing on this kind of platform for this yeye guy to dey talk to her like this?"
realestatebabygirl:
"I wonder why women allow themselves get disrespected this much."
theladykara:
"Why is he speaking to her so disrespectfully… that's a King's widow! Hah Na wa o "
bossbiodun:
"Lege the Gods are watching you."
Lege boasts about being friends with President Tinubu's son
Controversial actor Lege is a staunch supporter of the newly sworn-in president, Bola Ahmed Tinubu, and his loyalty seemed to have earned him rewards.
In a post on his page, the actor reminded netizens that the president's son, Seyi, is his friend.
The actor, who travelled to Abuja for Bola Tinubu's inauguration, said he might have poor parents and not know anyone, but nobody should fight him because he has the president's son in his corner.
Source: Legit.ng