Emotional Photos of African-Americans Who Trace Their Root To Ile-Ife, Visit Ooni, Historical Sites
African-Americans went into a trace. some cried on visiting historical tourist sites in Ile-Ife, Osun state
They also pay homage to the Ooni of Ife in his palace, and the king assured them that Nigeria, Ile-Ife is happy to receive them
The African-American tourists led to Nigeria by Oladotun Taylor said they were happy to return home
The Ooni of Ife, Oba Adeyeye Enitan Ogunwusi, Ọjájá II, and his r, recently received African-American tourists in Nigeria.
When they got to Ile-Ife, the visiting American tourists visited historical sites like the iconic Opa Oranmiyan, Moremi, and Osun grooves, among other places in the city and had memorable experiences.
According to Taylor, who led the tourists to Nigeria, the African-Americans could trace their roots back to West Africa and Nigeria through technology.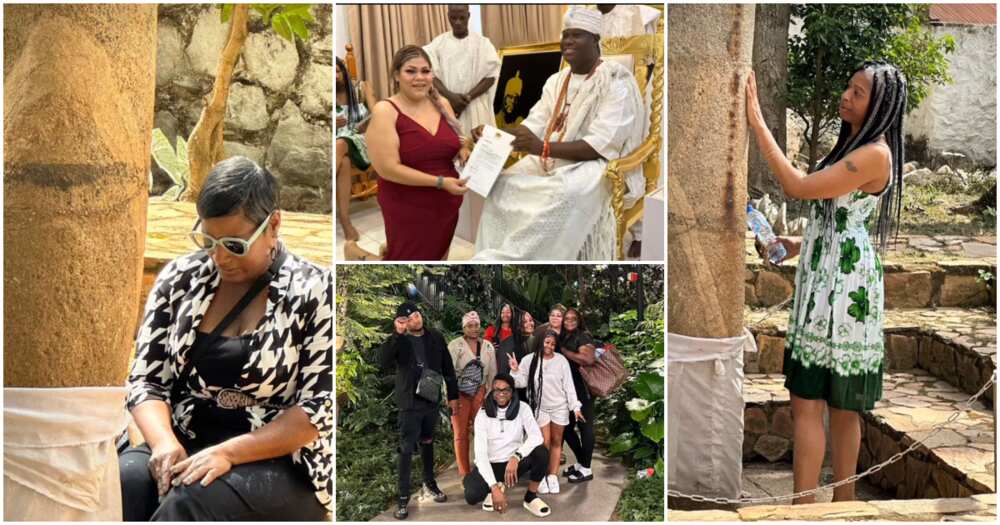 The Ooni emphasised the importance of knowing one's origin and root, stating that it brings joy and a sense of belonging. He said:
PAY ATTENTION: Follow us on Instagram - get the most important news directly in your favourite app!
"If you take a closer look at yourselves in comparison to your kinsmen and women here, you will agree with me that there is no difference between us. The only difference is that my own forefathers missed the boat that yours caught up with, but luckily for you, your source (Ile-Ife) is filled with lovely people, and it's a very safe environment."
Delzora Dotson, who is now to be addressed as Delzora Omotilewa Dotson who spoke on behalf of the American tourists described the experience as worthwhile. Dotson said she couldn't wait to tell her friends and family about her discovery. She said:
"Right now, I am feeling the origination connection and happy to be back home."
He also commended the 'Take Me Home' project initiated by Taylor, which seeks to help African-Americans identify their roots and connect them with their ancestral home, lauding his cultural ambassador, Taylor, for this impactful project which educates and promotes the culture of the Yorubas.
"The 'Take Me Home' project is a commendable initiative to connect African-Americans with their ancestral home. I cannot overemphasise the joy and fulfilment of identifying one's origin and connecting with their roots. It is a step towards cultural awareness and identity preservation. I commend Alfred Oladotun Taylor and his team for their efforts."
Taylor and other dignitaries at the meeting with Ooni noted that part of what transpired makes up some of the scenes of the 'Take Me Home' movie set in Hollywood Studios and Ile-Ife.
Speaking about the trip, Taylor said:
"Some of them touched the Opa Oranmiyan and went into a trance; some cried. It was ecstatic, particularly when only a few could trace their ancestral roots. I used the same title, Take Me Home, for this trip because we plan to have another one towards the Olojo festival in September."
Ooni of Ife's wife Queen Tobi Phillips challenges Beyonce and Jay Z, gives singers 24 hours to respond
Queen Tobi Phillips, one of the young wives of the Ooni of Ife, Oba Adeyeye Enitan Ogunwusi, caused a buzz on social media.
The young queen clocked a new age on June 5, 2023. To celebrate her birthday, she shared a series of beautiful photos.
One of her posts included photos of herself with the Ooni of Ife. The royal couple rocked matching white fabric with sky-blue accessories for details. In one of the photos, Queen Tobi also smiled sweetly at the king.
The queen in her caption challenged US celebrity couple Beyonce and Jay Z.
Source: Legit.ng