20 best Christian movies based on true stories you should watch
Are there Christian movies based on true stories? Yes, hundreds of films speak to Christian audiences inspired by actual events. Many ordinary people worldwide have been inspired by their faith to do extraordinary things. These films tell their stories, inviting Christian audiences to re-examine their faith and its meaning in their lives.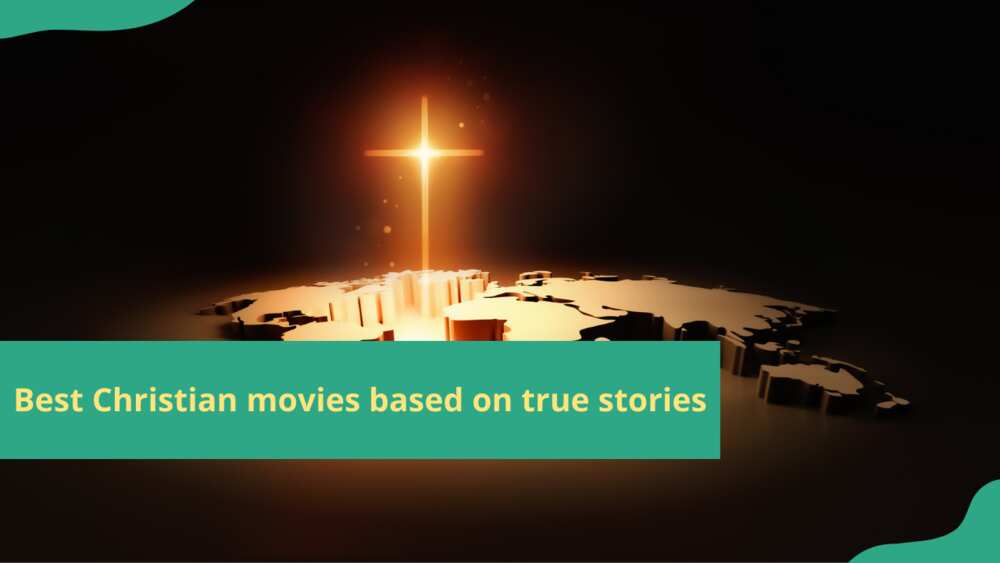 There are many reasons why filmmakers favour true stories when making Christian films. Like movies geared to non-religious audiences, true-story films have a greater impact. They are an avenue for the preservation of Christian culture and history. More importantly, they give faith a human face, letting believers see themselves as the protagonists.
Christian movies based on true stories
Religious movies focus on the central themes of redemption, forgiveness, love, and compassion. They encourage believers to stay strong in their faith, even when things get tough or seem meaningless. Here are some top Christian movies based on true stories.
Chariots of Fire (1981)
This British sports drama movie is based on two British athletes who competed in the 1924 Olympics. Harold Abrahams was an English Jew who ran to overcome antisemitism. Eric Liddell was a Scottish Christian who ran to glorify God.
Hacksaw Ridge (2016)
This is a real Christian movie starring Andrew Garfield. It tells the story of World War II combat doctor Desmond Doss. As a Seventh-day Adventist Christian, he didn't believe in using weapons and wouldn't train on Saturdays. He singlehandedly saved 75 men in the Battle of Okinawa and was awarded the Medal of Honor without compromising his principles.
Soul Surfer (2011)
Soul Surfer is based on Soul Surfer: A True Story of Faith, Family, and Fighting to Get Back on the Board, an autobiography by Bethany Hamilton. Hamilton is an Australian surfer who lost an arm in a shark attack. With her faith and support from her family and church, she retrained and became a globally renowned one-arm surfer. Hamilton continues to inspire others on TikTok.
Unbroken (2014)
Louis Silvie Zamperini was a World War II veteran. His plane crashed into the Pacific Ocean during a mission. He survived on a raft for 47 days before he was captured by the Japanese military and sent to Prisoner-of-War camps. Following his release after the war, he forgave his captors and became a Christian evangelist.
Woodlawn (2015)
Woodlawn tells the story of Tony Nathan, one of the first black football players at Woodlawn High School. Nathan joined the predominantly white football team despite high racial tensions in Alabama. In the film, faith guides Nathan and his coach, Tandy Gerelds, to lead the team to a spiritual awakening.
The Case for Christ (2017)
This is one of the top faith-based true stories about Lee Strobel. He was an atheist investigative journalist who started an investigation to disprove Jesus' story. However, his studies led him to the opposite, and he became a Christian at 29. He has since become a Christian author.
Breakthrough (2019)
This 2019 film tells the story of John Smith, a St Louis teenager who drowned in the icy Lake St Louis. He is underwater for 15 minutes and then has no pulse for 45 minutes in the hospital. Miraculously, after his mother Joyce prays, his pulse returns, and he fully recovers.
Sergeant York (1941)
Sergeant York is an action movie about American World War I soldier Alvin York. As a Christian, he struggled to reconcile his faith with military training. However, he found Bible verses about violence and was able to kill 25 and capture 132 German soldiers.
The Letters (2015)
The Letters tells the story of Mother Theresa, globally recognised as one of the greatest humanitarians ever. It speaks of her zeal for Christianity and political struggles through her letters.
Miracles from Heaven (2016)
This is among the best miracle movies based on true stories. It was inspired by the 2015 memoir Miracles from Heaven: A Little Girl, Her Journey to Heaven, and Her Amazing Story of Healing. Christy Beam tells the story of her 10-year-old daughter Annabel, who was miraculously cured of a terminal stomach illness.
The Hiding Place (1975)
Based on an autobiography of the same name, The Hiding Place is about Corrie ten Boom. Corrie was a Dutch woman who, with her family, helped Jewish families escape during the Holocaust. They were arrested and sent to a concentration camp, where she found and shared her faith until her release in 1944.
End of the Spear (2005)
End of the Spear is an adventure movie based on the true story of five missionaries killed by the Waodani people of Ecuador. Steve Saint was the son of Nate Saint, one of the missionaries. He bonds with Mincaye (Mincayani in the film), one of the tribesmen who kills his father. They travel the world together, spreading the gospel.
The Insanity of God (2016)
This documentary-styled film is on the story of Nik and Ruth Ripken, two missionaries who serves in African countries. They are confronted with the horrors of war and personal struggles, causing them to explore whether their faith is worth it.
October Baby (2011)
October Baby is among the most controversial true-story Christian movies. It is loosely based on the life of Gianna Jessen, an American activist against pregnancy termination. Jessen was born during a failed termination attempt, which left her with cerebral palsy.
90 Minutes in Heaven (2015)
Baptist pastor Don Piper was driving home on 18 January 1989 when he had an accident. This 2015 film, starring Hayden Christensen, is adapted from his 2004 book of the same name. Piper tells the story of how he died in the accident and spent ninety minutes in heaven before he miraculously returned to life.
Faith Like Potatoes (2006)
Faith Like Potatoes is based on Angus Buchan, a Scottish-Zambian farmer. Buchan moved from Zambia to South Africa in 1976 following political unrest. He later became a full-time evangelist.
The Cokeville Miracle (2015)
This film is based on the Cokeville Elementary School hostage crisis of 1986. Former town marshal David Young and his wife entered the school with a homemade explosive. They took 154 people hostage, demanding millions. Luckily, all the hostages survived while Young and his wife died.
I'm Not Ashamed (2016)
This is among the heartbreaking true Christian movies. It portrays Rachel Scott, the first victim of the Columbine High School shooting of 20 April 1999. It speaks of her faith and how it held her until her untimely death.
All Saints (2017)
All Saints tells the real story of a Tennessee preacher who used his church to shelter refugees. He contends with his role in helping the refugees as he is ordered to shut down the church.
Machine Gun Preacher (2011)
This 2011 film tells the story of Sam Childers, a former motorcycle gang member. He converted to Christianity and travelled to Sudan, where he witnessed war atrocities. He now dedicates his life to rescuing children in the South Sudan war zone.
There are many Christian movies based on true stories. Some tell tales of heroes risking their lives to help others, others speak of sinners redeemed. All these stories share the theme of faith and how it inspires even the most unlikely people to do good.
Legit.ng recently published a list of the best Easter movies and cartoons. Easter is a time to commemorate Jesus's ultimate sacrifice on the cross for humanity's sake. It is a time for practising Christians to analyse their lives. It is vital for believers to take Easter and consider the best way to live for God.
There are many Easter movies and cartoons the whole family can enjoy together. These films provide great entertainment to allow the family to bond. They also offer an avenue for families to consider the Easter holiday's themes. Discover some of the best Easter holiday films in the post.
Source: Legit.ng