50 best comedy action movies you should add to your watchlist
Are you tired of scrolling through streaming services, trying to find a movie that will give you a good laugh and a thrilling ride? Discover some of the best comedy action movies you should add to your watch list. These movies will have you on the edge of your seat with their heart-pumping action sequences while simultaneously cracking you up.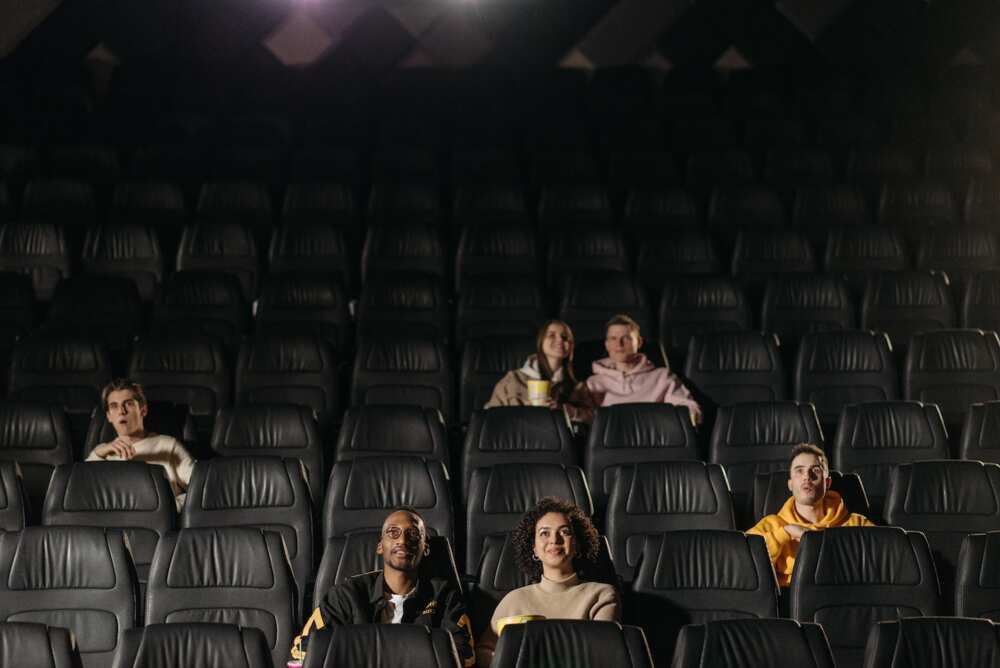 Comedy action movies are the best to watch with family. They keep you engaged and entertained throughout the film, making it an enjoyable and fun-filled experience.
Best comedy action movies
The blend of hilarious dialogue and high-stakes action has produced some of the most memorable and beloved films in cinematic history. Here are the best action comedy movies that will keep you on the edge of your seat.
1. The Paper Tigers (2020)
Gifted with incredible Kung Fu prowess in their younger days, three middle-aged men have grown increasingly frail with age. But they must combine their personal rivalries to avenge their killed teacher.
2. Guardians of the Galaxy Vol. 3 (2023)
Grieved by the loss of Gamora, Peter Quill leads his crew to fight for the universe. Unfortunately, their chances of success are slim, and their efforts may lead to the ultimate downfall of the guardians.
3. Supercop (1992)
To infiltrate a drug cartel, a Hong Kong police inspector joins forces with a female Chinese partner and goes undercover in a Chinese prison.
4. Peter Pan & Wendy (2023)
Come along on Peter Pan's enthralling escapade! He is a lad who isn't interested in growing up, and he brings three siblings from London to the remarkable island of Neverland.
5. Spy (2015)
A CIA analyst, accustomed to their desk work, courageously offers to go undercover to disrupt a malevolent arms dealer and thwart a catastrophic international calamity. If you want a great movie to add to your watch list, then Spy will be ideal for you.
6. Dungeons & Dragons: Honour Among Thieves (2023)
A delightful burglar and an improbable assemblage of adventurers set out on a legendary mission to find a long-lost artefact. However, their mission is perilous when they provoke the wrong people.
7. Three Kings (1999)
After the end of the Persian Gulf War, four warriors began their quest to retrieve gold which had been pilfered from Kuwait, only to find those in need of their assistance.
8. Ghosted (I) (2023)
Cole was immediately smitten by mysterious Sadie, yet soon discovered her to be a covert operative. Eventually, Cole and Sadie were drawn into a far-reaching journey to protect the planet.
9. Midnight Run (1988)
An erstwhile Mafia accountant is on the run from a rival bounty hunter, the F.B.I., and his former crime lord, having absconded from his court-ordered bail.
10. Guardians of the Galaxy (2014)
An assembly of out-of-this-world outlaws must band together to impede a fanatic fighter from annihilating the universe. The thrilling action springs it to the best comedy action movies.
11. Thor: Ragnarok (2017)
Thor: Ragnarok is a 2017 American superhero film based on the Marvel Comics character Thor. Thor is in a race against time to return to Asgard and stop the powerful, villainous Hela from unleashing the apocalyptic event of Ragnarök, the obliteration of his homeworld.
12. Ant-Man and the Wasp: Quantumania (2023)
Scott Lang and Hope Van Dyne are forced to the Quantum Realm, prompting them to seek an escape route. However, they are faced with an added mystery.
13. The General (1926)
Refusing to accept the Confederate army's unwitting denial of his enlistment due to his great importance as a civilian, an engineer set out to retrieve his beloved locomotive from Union spies and bring it back to the enemy side.
14. Guardians of the Galaxy Vol. 2 (2017)
As the Guardians attempt to work in unity, their familial issues become an obstacle, particularly Star-Lord's confrontation with his dad, Ego, an aspiring heavenly being.
15. 48 Hrs. (1982)
An uncompromising law enforcement officer is reluctantly paired with an impertinent convict on parole, assigned to him to pursue a murderer.
16. Everything Everywhere All at Once (2022)
A middle-aged Chinese immigrant finds herself challenged by an audacious task, saving the universe from annihilation by journeying through alternate universes.
17. Men in Black (1997)
A law enforcement officer joins a clandestine organization devoted to monitoring extraterrestrial activities on Earth. MIB operatives discover the vicious plan of an interstellar terrorist with the intent to kill two diplomats.
18. Operation Fortune: Ruse de Guerre (2023)
Agent Orson Fortune and his crew of covert agents enlist the assistance of a major celebrity from the world of movies to execute a secret mission and impede the global impact of a new, dangerous arms technology up for sale.
19. The Nice Guys (2016)
Two unlikely partners in a private investigation are on the hunt for a missing girl and the suspicious demise of an adult actress. Unexpectedly, they encounter people with a sinister agenda searching for the same girl.
20. Shazam! Fury of the Gods (2023)
In this iconic movie, Billy Batson, a teenager, can utter the magic word "SHAZAM!" and become his alter ego, the adult Super Hero, Shazam.
21. The S*uicide Squad (2021)
Task Force X, a top-secret and questionable organization, transports Harley Quinn, Bloodsport, Peacemaker, and a set of zany inmates from Belle Reve prison to the faraway, foe-filled Corto Maltese island.
22. Mafia Mamma (2023)
When an American mother comes into possession of her grandfather's Mafia domain in Italy, her actions in her role as the head of the family business are both funny and surprising, thanks to the counsel of her consigliere.
23. Hot Fuzz (2007)
A skilled and determined London cop is transferred to a rural village where the police officers act lazy. However, a series of gruesome murders shake up the town, testing the officer's mettle.
24. Bullet Train (2022)
Five skilled assassins travelling on a high-speed bullet train soon realize that the objectives of their missions are connected.
25. Kung Fu Hustle (2004)
A determined individual sought to become a part of the feared "Axe Gang", while those living in a particular apartment building possessed extraordinary capabilities to safeguard their property.
26. Spider-Man: Across the Spider-Verse (2023)
With an incredible leap, Miles Morales flies across the expansive Multiverse. He is met by an assortment of Spider-People devoted to safeguarding its survival.
27. Something Wild (1986)
The jaunt of an unconstrained woman turns menacing when her former convict husband unexpectedly appears after she has "abducted" a young, affluent person for a thrilling weekend.
28. Kisi Ka Bhai Kisi Ki Jaan (2023)
The oldest sibling is determined not to wed, as he thinks it would disrupt the harmony of his large family. His married brothers gather to seek a suitable spouse for him.
29. Black dynamite (2009)
The incomparable African-American action hero, Black Dynamite, fights for justice in the 70s when his beloved brother is brutally taken from him by the oppressive powers of The Man.
30. Polite Society (2023)
With a fierce determination, Ria Khan devises a daring plan to rescue her elder sister Lena from her betrothal. Convening her trusted companions, she endeavours to accomplish the greatest wedding robberies.
31. Shaolin Soccer (2001)
A youth affiliated with the Shaolin school reassembles with his disheartened siblings to establish a soccer team, exploiting their aptitude for martial arts to their benefit.
32. Murder Mystery 2 (2023)
Released in 2023, this great film is about two private detectives struggling to start their investigative firm. They get involved in a dangerous international abduction plot when Maharaja is kidnapped at his wedding.
33. Beverly Hills Cop (1984)
While investigating a murder in Detroit, an adventurous police officer faces the diverse atmosphere of Beverly Hills.
34. The Unbearable Weight of Massive Talent (2022)
Nick Cage, a renowned actor, finds himself trapped between a fanatical admirer and a secret agent from the Central Intelligence Agency.
35. American Made (2017)
A US pilot, Barry Seal, was enlisted by the CIA for a secret mission involving smuggling illegal substances. This scheme, which became known as the Iran-Contra Affair, was ultimately uncovered.
36. Thor: Love and Thunder (2022)
Thor solicits assistance from Valkyrie, Korg, and his ex, Jane Foster, to combat Gorr, the God Butcher's plans to eradicate all gods.
37. Kiss Kiss, Bang Bang (2005)
A thief from New York is mistakenly instructed to learn the ways of a private detective in Hollywood for a possible film part. Unexpectedly, he was dragged into an unsolvable murder enigma.
38. The Gentlemen (2019)
A wealthy American living in London seeks to divest his successful illegal trade business, but it becomes challenging. Before the deal, blackmailing ensues in a desperate attempt to wrest the empire from its owner.
39. Free Guy (2021)
Free Guy introduces a bank teller who discovers he's only a background character in an expansive video game. So, he determines to write his own story, one in which he is the hero.
40. Baywatch (2017)
An extremely dedicated lifeguard constantly disagrees with a self-assured new team member, and together they discover a malicious plan that poses a serious risk to the bay's future.
41. Deadpool (2016)
With his newly acquired immortality but mutilated visage, a sarcastic soldier sets off on a mission to find the one responsible for his transformation. The thrill pushes it up to the top action comedy movies.
42. True Lies (1994)
An intrepid secret agent is shocked when he discovers his wife cheating on him with a secondhand car salesman. On top of this, a menacing gang of terrorists is secretly moving nuclear weapons into the US.
43. Game Night (2018)
A group of friends accustomed to gathering for lively game nights suddenly find themselves in a life-and-death mystery when the shady brother of one of them vanishes.
44. Kingsman: The Secret Service (2014)
Kingsman: The Secret Service is a unique spy action comedy film that is interesting to watch. A shadowy spy network enlisted a gifted street kid into their prestigious training program as a menacing technology mastermind stirred up a brewing international crisis.
45. 21 Jump Street (2012)
Two cops who had previously failed to meet expectations were assigned to a local high school to discover and apprehend the people responsible for distributing an illegal synthetic drug.
46. The Lost City (2022)
On a book tour with her cover model, a shy romance author is swept up in a kidnapping and plunges into a treacherous jungle odyssey.
47. Romancing the Stone (1984)
An introverted romance writer embarks on a treacherous journey to Colombia to save her abducted sibling. She finds herself in a life-threatening escapade searching for treasure alongside a mercenary rebel.
48. The Machine (2023)
The Machine is an upcoming American action comedy film. According to the plot summary, years after a bender abroad in Russia, Bert's tumultuous past haunts him and his father. They are both kidnapped by individuals he wronged in his younger, more impulsive days.
49. Drunken Master II (1994)
Drunken Master is arguably among the best action comedies of all time. A dilemma arises for a young martial artist who struggles between obeying his father's wishes to stay non-violent or halting the disrespectful foreigners from pilfering precious artefacts.
50. Jumanji: Welcome to the Jungle (2017)
Four adolescents find themselves pulled into a captivating computer game, and to make it out alive; they must unite and complete several challenging tasks in the jungle.
There is nothing quite like the thrill of good action comedy movies. These films offer the best of both worlds, from the perfectly timed one-liners to the intense, heart-pumping fight scenes. Regardless of your taste, there is something for everyone on this list of 50 funny action movies. Why not add a few to your watch list and let the laughter and excitement wash over you?
Legit.ng recently published an article with the 50 best hood movies of all time you should add to your watchlist. Hood movies mainly focus on themes revolving around the struggles of many black and other foreign communities living in impoverished urban neighbourhoods.
The films explore various aspects of life, including drug trafficking, police brutality, gang conflicts, racial discrimination, and other related subjects.
Source: Legit.ng