50+ Vinland Saga quotes: best lines from your favourite anime
Vinland Saga, created by Makoto Yukimura, is a popular manga anime that premiered in 2019. The series revolves around the English army and the Danish Vikings war in the 11th Century. The anime became popular due to its deep story and great characters, hence the many iconic quotes. These are some of the most famous Vinland Saga quotes.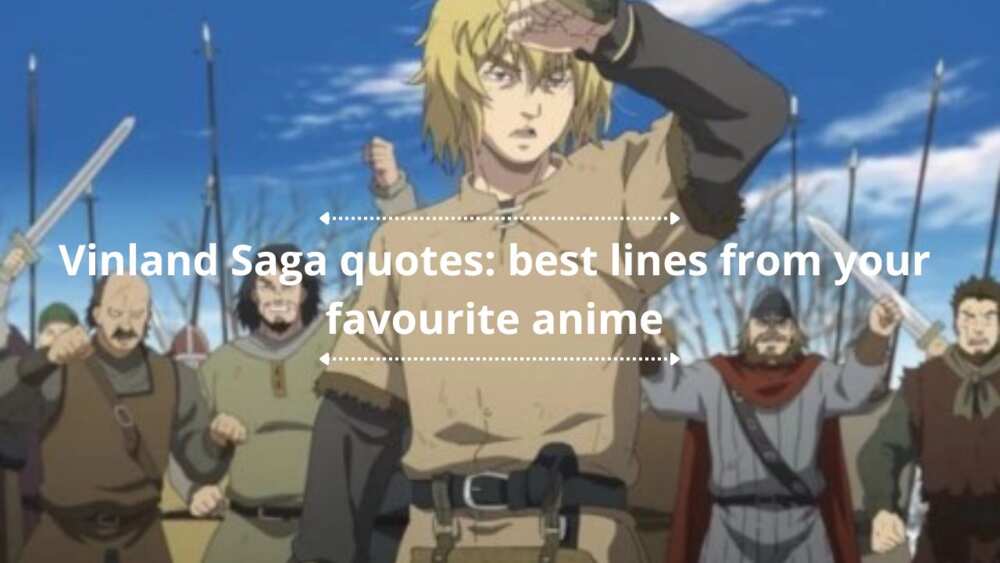 The Vinland Saga is a refreshing anime that airs on Netflix. The show has two seasons and revolves around the protagonist Thorfinn. He transforms from a vengeful teenager to a level-headed man. Vinland Saga has some of the greatest quotes revolving around Thorfinn's incredible transformation.
Vinland Saga quotes
The manga anime is not only entertaining but educative. There are numerous quotes you can utilise in your life. Below is a list of quotes from Vinland Saga worth knowing.
No one can give you your freedom. You have to take it with your own hands. — Thors
Not all warriors fight on the battlefield with a sword in hand. A sailor makes his living battling the sea. — Leif Erikson
There are times when those with power must use it to protect the powerless. — Thors
Faith is not blind obedience. It is the courage to face the unknown. — Willibald
You have the right to want revenge, but you also have the right to forgive. — Helga
The most dangerous person is the one who can't be controlled. — Askeladd
Fear is a weapon that can be turned against your enemies. — Bjorn
It's not about winning or losing. It's about fighting for what you believe in. — Thorkell
Norsemen pride themselves on strength and will not follow orders from a weak leader. — Gunnar
In battle, victory goes to the one who can endure the most pain. — Bjorn
The only thing necessary for evil to triumph is for good men to do nothing. — Leif Erikson
In the pursuit of knowledge, one must be open to questioning and doubt. — Willibald
Honour is earned through deeds, not words. — Bjorn
Best Thorfinn's quotes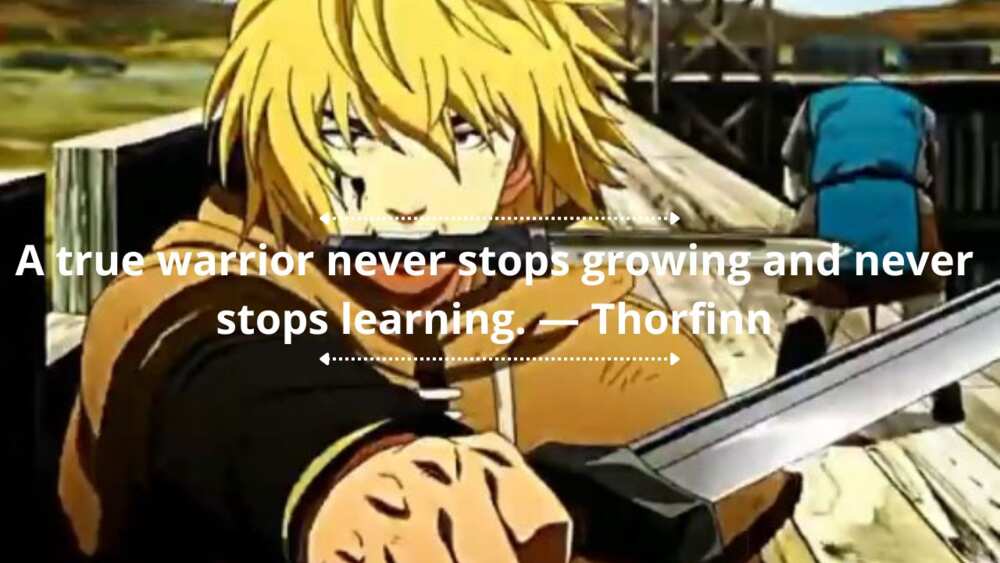 Vinland Saga tells the story of Thorfinn Karlsefni as he seeks revenge for his father, Thors' death. Throughout his journey, there are various lessons to be learnt. Below are Thorfinn's quotes from the show that you may find relatable.
A true warrior never stops growing and never stops learning.
I want that which surpasses even the merciful release of death.
There's no point if you fight for peace. You'll never escape from that bloodthirsty hell that way.
Don't forget, Askeladd. My only wish as a warrior is to beat you in a duel. Our next duel will be your last. I will carve out your heart and offer it to my father's spirit.
People are born weak. They need strength to live. That's why they try to become strong.
The strong kill the weak. It's only natural.
Do you think it's possible we could eliminate warfare and slavery from this world?
Far west, across the sea, there is a land called Vinland. It's warm. And fertile. A faraway land where neither slave traders nor the flames of war reach.
Warriors don't have any regrets. We do what we have to do without hesitation.
From now on, I'll never hurt anyone again.
Memorable Vinland saga quotes
Vinland Saga has some of the best quotes to transverse through life. Below are inspirational quotes from the anime you can share with your loved ones.
Strength without justice is meaningless. — Thors
The people who aren't afraid to die are the most dangerous. — Askeladd
You won't accomplish anything just by worrying about your problems. — Thors
The path to righteousness is not always the easiest but the most fulfilling. — Willibald
You never know what's waiting for you until you go find it. — Thors
The mark of a true warrior is not how many battles they've won but how they treat their defeated foes. — Bjorn
If you want to make enemies, try to change something. — Thors
You can't run away from your past. No matter how far you go, it will always catch up to you. — Thors
True strength is found in forgiveness, not vengeance. — Willibald
A warrior's heart should be as calm as still water. — Thors
Vinland Saga quotes about life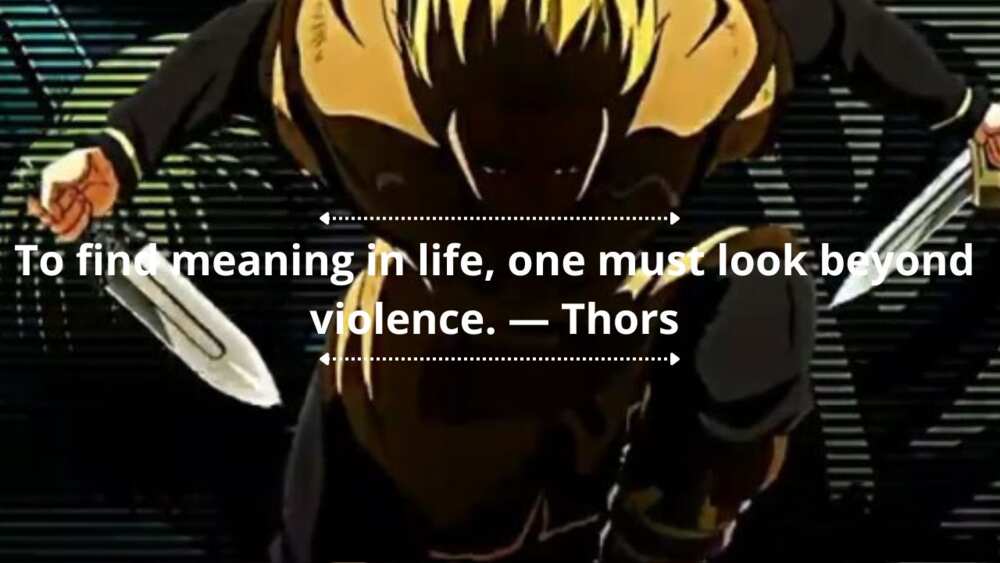 Vinland Saga has some of the best life lessons told through Thorfinn Karlsefni's journey. Below are great life quotes from different characters.
The world is a stage, and we are merely players in a grand drama. — Leif Erikson
Only a warrior with no regrets can stand in the centre of a battlefield! — Thors
Life is Fleeting. It's what you do with the time you have that matters. — Helga
The best way to live a full life is to be a child, no matter how old you get. — Thors
A life without purpose is like a ship lost at sea. — Willibald
The blade that protects life is called justice. — Thors
If you have time to think of a beautiful end, live beautifully until the end. — Thors
The world is full of idiots who don't understand anything. — Thorfinn
You must carve out your path. You must not let your father's wishes determine your life. — Thors
To find meaning in life, one must look beyond violence. — Thors
Vinland Saga quotes about love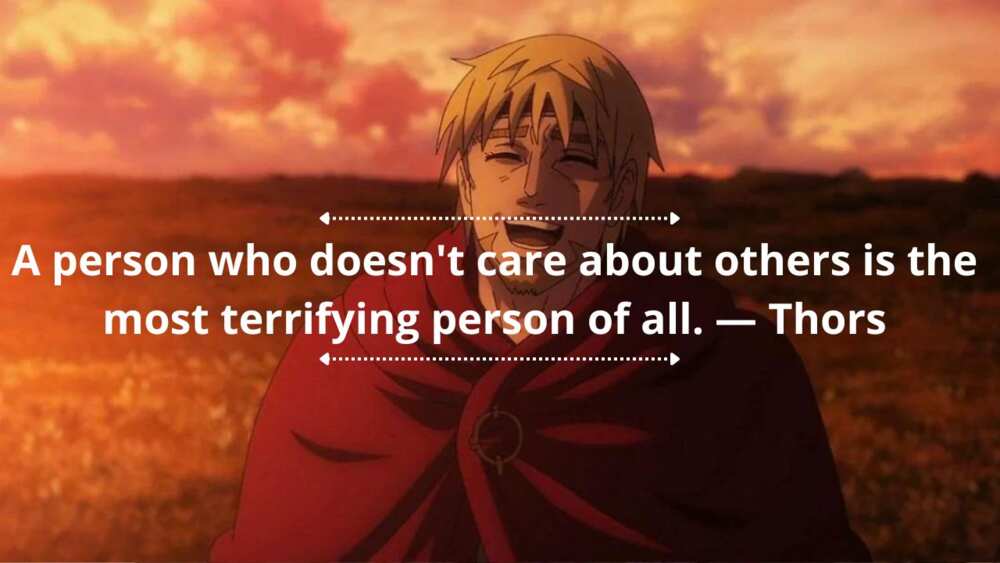 The anime series explores different love relationships, mainly between Gudrid and Thorfinn. Here are some memorable love quotes from anime.
Love provides the worth of everything in the world. Without love, gold, silver, horses, and women, all are worthless. — Willibald
To truly understand someone, you must listen not only to their words but also to their silence. — Thors
Sometimes, the blood of innocent people must be spilled to protect the ones you love. — Askeladd
There's nobody in the entire world who deserves to get hurt, nobody in this world. — Thors
Love and compassion are the most powerful tools for bringing about change. — Willibald
A person who doesn't care about others is the most terrifying person of all. — Thors
Vinland Saga's Prince Canute quotes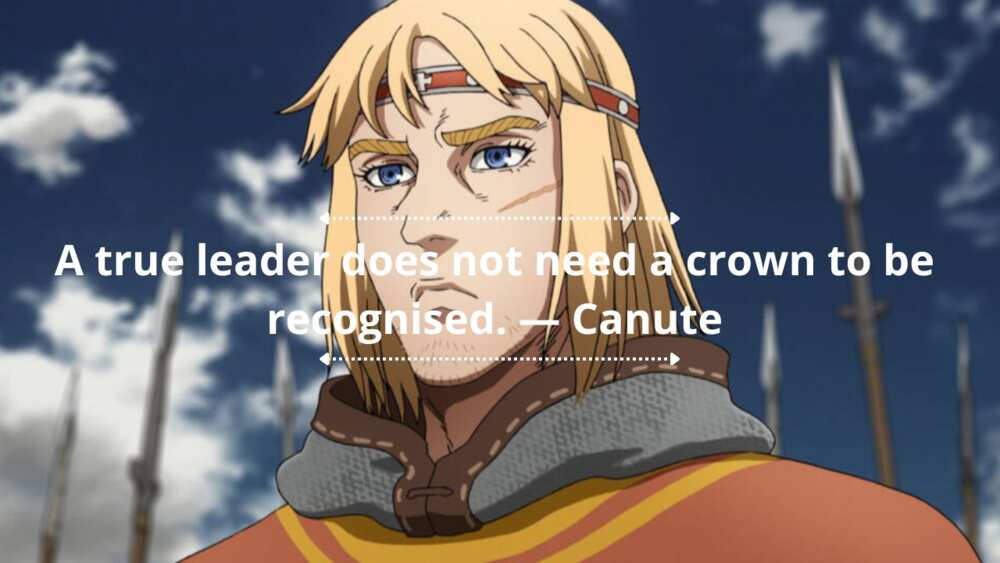 Canute Lavard is the Danish prince in the Vinland Saga. Canute was the only legitimate son of Eric I of Denmark but was bypassed at the 1104 election since he was a minor. Here are some of his quotes.
The world, God's divine creation, is brimming with love, yet there is no love in the hearts of men.
We don't need heaven, nor its trials, any longer; our paradise is on earth.
Where in this world can a sane man be found? We're the same. We're all the same. None of us understands what it means to love all. Or the meaning of life. Or the meaning of death. Or the meaning of our battles.
A true leader does not need a crown to be recognised.
The greatest fools are those who believe they are untouchable.
Even in the darkest times, there is always a flicker of hope.
Those who can't throw something important away can never hope to change anything.
Askeladd's quotes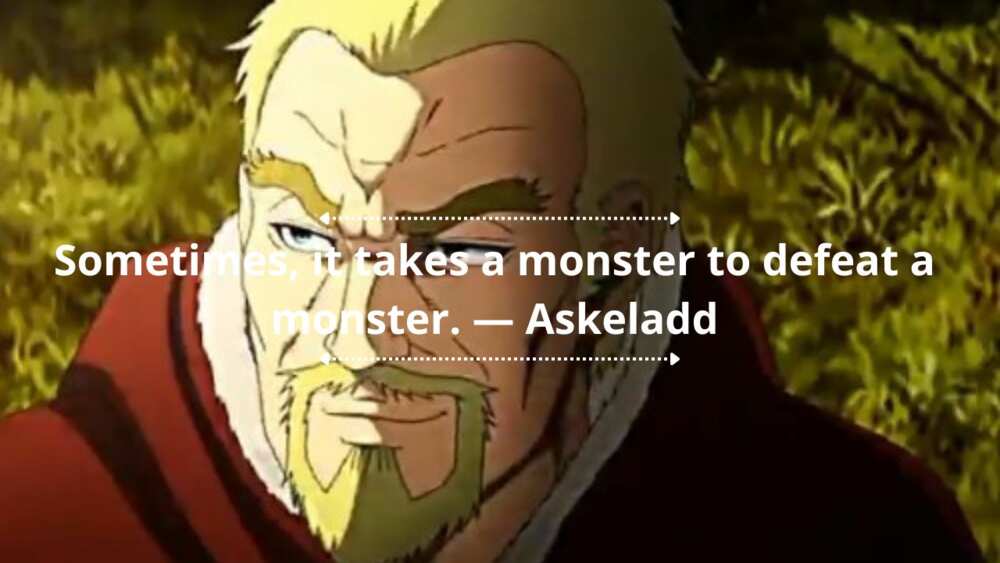 Askeladd is the captain of a group of Viking pirates in Vinland Saga. He killed Thors and was Thorfinn's boss for a decade. Below is a collection of quotes from Askeladd.
Sometimes, it takes a monster to defeat a monster.
War does not determine who is right. Only who is left.
The difference between a hero and a villain is the amount of damage they do.
Victory is determined by the totality of one's actions.
You'll never reach your destination if you stop and throw stones at every dog that barks.
In this world, everyone is a slave to something.
The world is cruel, and the only morality in a cruel world is chance.
One does not simply walk away from a life of killing.
Vinland Saga is a popular anime series set in medieval Europe that has captured the hearts of many fans. Many of the Vinland Saga quotes offer valuable life lessons. If you're a fan of the series, you'll find these quotes relatable and worth recognizing.
Legit.ng published an article about big forehead jokes. Foreheads come in different sizes and shapes. This disparity can be a source of humour, with people making fun of big foreheads.
People with big foreheads have been subject to humour and teasing for a long time. Telling forehead jokes can be fun if the mood is right and boundaries are respected. Find out some of the most hilarious forehead jokes to crack up your friends.
Source: Legit.ng