Happy new week message and prayer ideas to send to people
A new week is refreshing as it brings new opportunities and hopes. It is time to focus on your goals and purpose in life. Finding the motivation to start a new week is a good thing. Discover some happy new week message and prayer ideas you can share with people.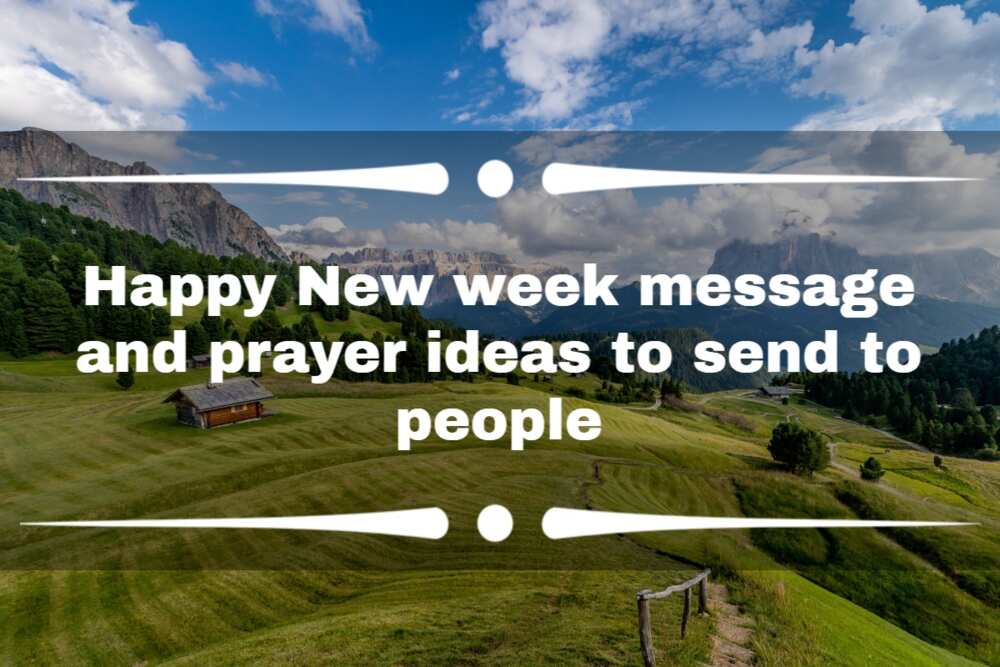 Starting a new week can be daunting as you do not know what to expect. However, getting a message or prayer for the new week will motivate you to start fresh and strong. Here are new week message ideas you can send to loved ones.
Happy new week messages
A new week is a chance for you to start over again. Below are some happy new week message ideas to send your loved ones as they kick off the week.
Be happy; it's a new week with new beginnings. Good morning and happy new week ahead.
Go and succeed where the enemy thinks you will fail. Have a successful week.
All things that happen in your life happen for a reason. May the new week help you accomplish your purpose.
Embrace each new week because it promises to bring a breakthrough in your life journey.
Hello, new week. Hoping you find happiness and joy.
Wishing this week becomes a blessing and doors of success open for you.
I wish you a great week ahead. May you enjoy every day of it!
As you bid goodbye to the past week and welcome a new one, may your life be filled with hope for tomorrow.
May remove all doubts and fill you with confidence—happy new week.
May the new week allow you to accept the change in the coming week and lead others to accept change in a meaningful way.
Short prayers for a new week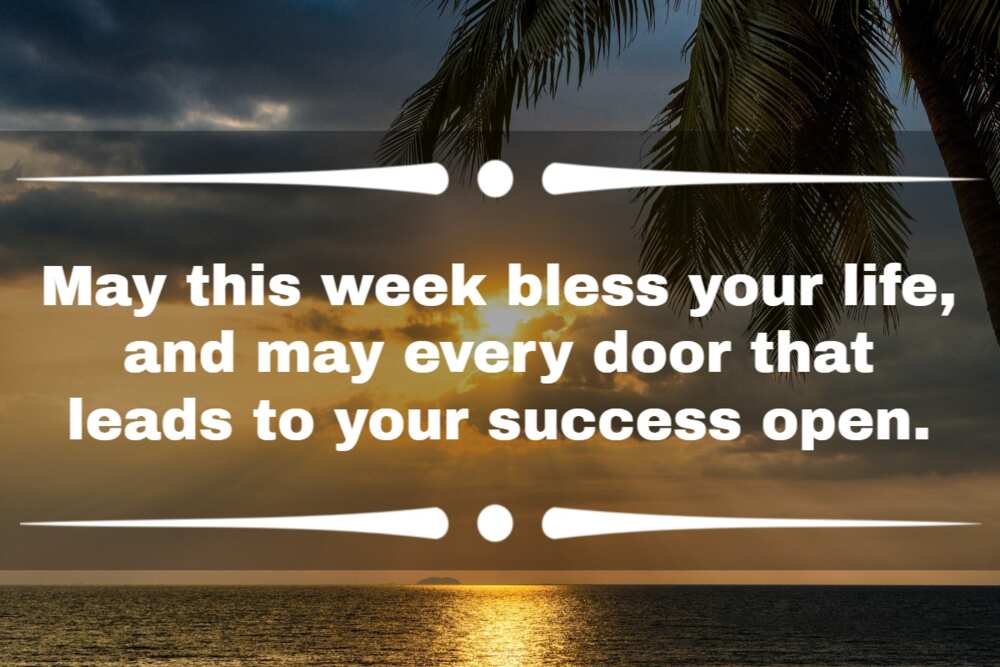 People communicate with God through prayer. Below are the new week prayers for your family and friends as they head on to a new week.
Welcome to the new week. It is the time to make new beginnings, take up new challenges and write new success stories. Happy new week to you and your loved ones.
As you enter the new week, may God's blessings and mercy be with you always. May the Lord help you know what is right and wrong. You are in my prayers.
May your new week be full of fresh air, thoughts, hopes and growth. Make the most of this beautiful new week which is all set to rock your life with happiness and success.
May the Lord make your life smooth and give you the strength to overcome difficulties. All the best in the coming week. I am wishing you a great week ahead. May God prosper you and show you mercy. May your belief in Him remove all worries from your life.
Remember God and thank Him for the past. Always thank him for the new blessing, and may the new week be your best yet.
As you approach the new week, thank the Almighty for all his blessings. May He protect you from all evils.
Praying you have a great and wonderful week ahead. May the Almighty's grace be upon you.
May this week open doors in your life's endeavours and lead you to tremendous success. I wish you a remarkable week ahead.
May you make a difference in the coming week for yourself and others.
Happy new week messages to my love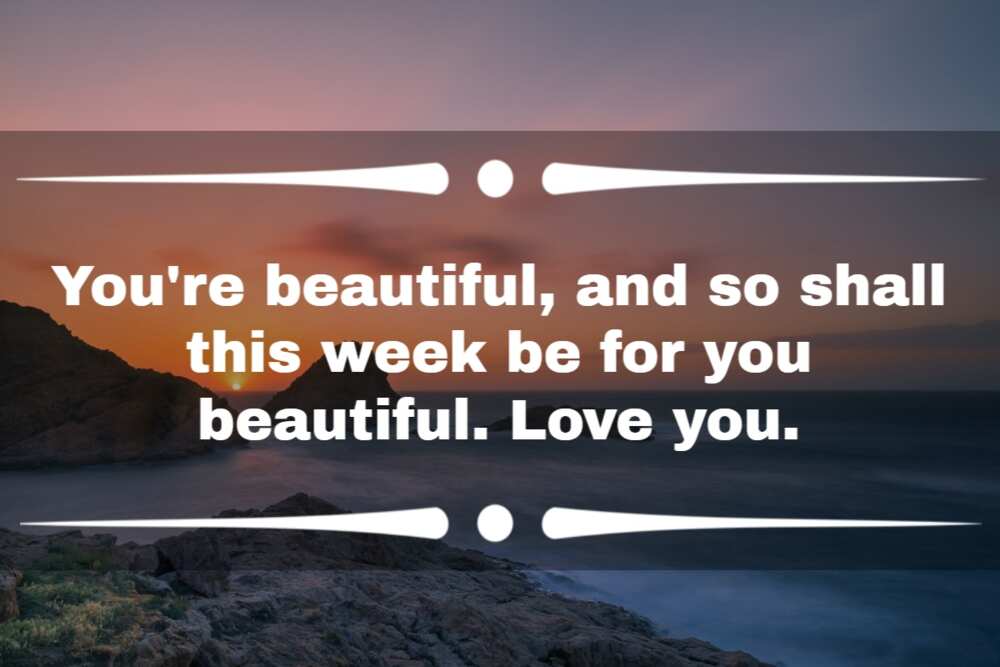 Love is a beautiful thing. It could be love for your family, friends or even your partner. Here are some unique happy new week love messages for your loved ones.
I hope this week will be beautiful, just as you are.
Happy new week, sweetheart. As you step out, may God be with you throughout the week, and may the path be smooth and doors of opportunities open in your life.
Fantastic week, my love! May good things locate you and bring you happiness and love.
Nothing can be more impressive than waking up on a beautiful morning and seeing your shining smile. Every new week is another seven days to feel lucky for having you.
May this new week bring you double portions of God's love, blessings, wisdom and favour.
I wish you all the happiness and good health from this day forward. May your heart desire be filled throughout the week.
May the Lord's face shine upon you in the coming week. I miss you, and I wish you a blessed week.
You're so beautiful my love, and may this week be as beautiful as you are. Lots of love.
May the divine blessings of the Almighty be bestowed upon you this week and help you achieve great success, sweetheart!
Open doors, great new ideas, strong motivation, and great inspiration shall be your portion this week and beyond.
Happy new week wishes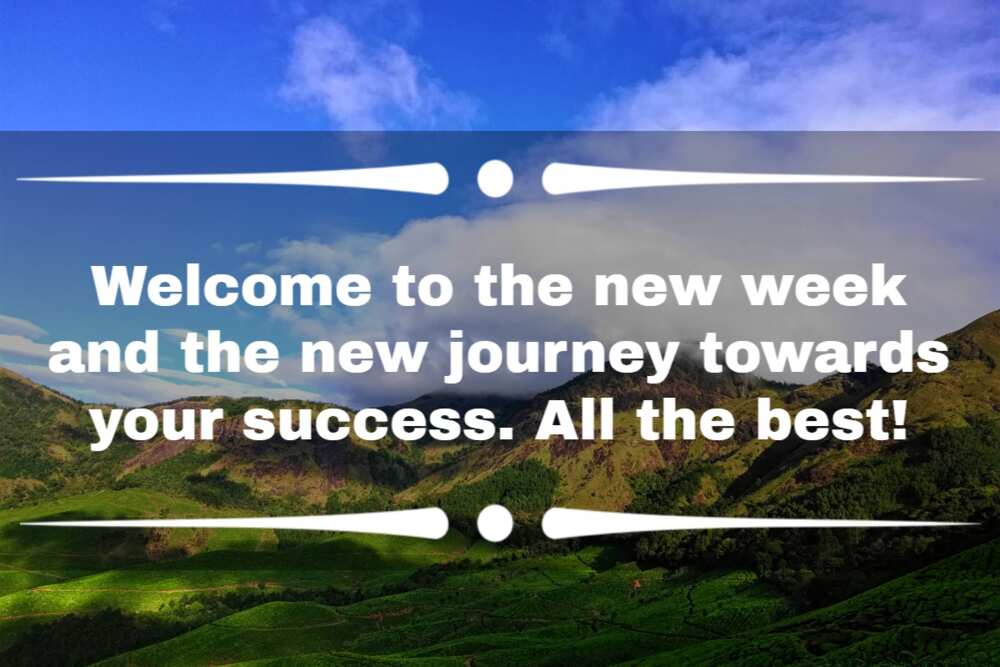 If you truly love someone, you can only send them inspirational wishes throughout the week. Below are happy new week wishes to spread positive vibes.
I am wishing you a very successful week. May you use every bit of it.
May this week sweep away all your tiredness and fill your life with new energy.
Welcome to the new week and the new journey towards your success. All the best!
It's the start of a new day and the beginning of a new week. May this week be renewed in all ways, and may your happiness be complete till it overflows.
I hope each week will be a blessing in your life, and may you receive everything you have ever wanted.
You must know your priorities, focus, and always move toward your goal to succeed. Have a lovely week ahead.
This week, may your strength go up, and may you embrace all the successes. New week blessings to you!
Good morning. Sending you strength and wishes so you can achieve everything you want to this week. Good luck!
A new week means a new beginning. Begin the week with good thoughts and a fresh mind.
The first phase of your task is over; your journey has started, don't look back, keep the pace, and move forward.
Happy new week messages to my customers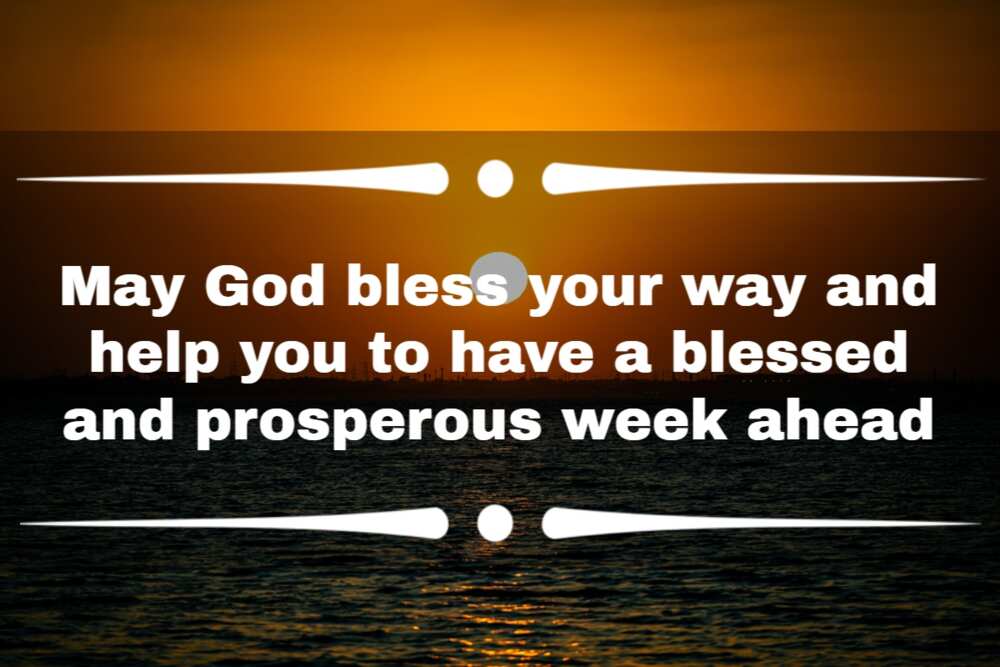 Customers are an essential part of any organisation or business. These new week messages for customers will maintain your relationship with them.
All the best for the week ahead!
Have a good week, and may the Lord bless you in all your endeavours.
May the new week be fresh and full of joys and surprises. May this week bring you all you were meant to be, do, or have.
Good luck this week! May the good fortune and happiness of last week continue.
As you start a new week, may God bless you with love, joy and inspiration to embark on significant achievements.
May the new week bring you peace, freshness and enjoyment. And this day brings you closer to your most cherished goals and aspirations.
May God bless your way and help you to have a blessed and prosperous week ahead.
May all your dreams and aspirations come true this week so that you and your family are lifted.
I am wishing you a wonderful week! Success, happiness, and good health.
Motivational new week blessings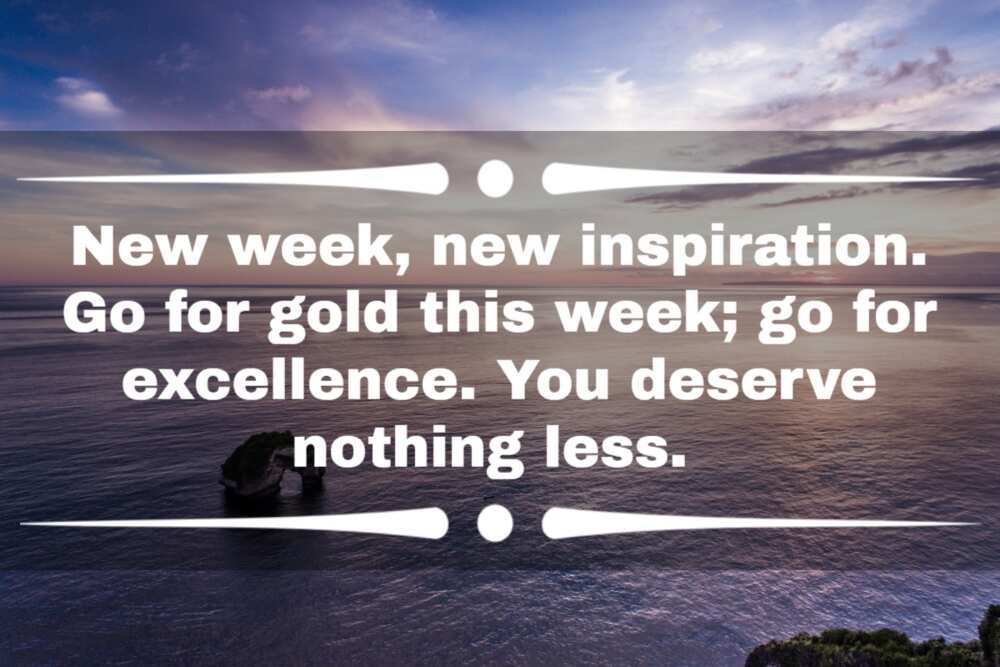 Everyone desires to receive blessings. Bless your loved ones with this new week's blessings to bring energy as they progress their week.
May you find opportunities where you are in the coming week, and may past failures never be remembered.
The journey to success starts with you. Focus on your goal, and leave the worries. You'll be able to succeed.
May God be your guide as you enter the new week. May your path be lit so you can achieve your objectives.
Embrace the week with enthusiasm and energy. Take advantage of every opportunity.
New week, new inspiration. Go for gold this week; go for excellence. You deserve nothing less.
This week, all your hope shall become a reality. You shall experience greatness like never before.
Being the first day of the new week, take a breath and move towards your purpose.
New week blessings to you all! May this week open the door of success for you.
Wherever you go, whatever you do, may the presence of God be with you. Have a blessed week!
Forget about all the failures and make your days full of joy, prosperity, and happiness.
Everyone feels happy when they receive a good message and prayer from someone they love. The messages reflect the unending love and care you have for them. Every week surprise your loved ones with an excellent message to motivate them to keep moving. Use the above happy new week message and prayer ideas to send to people you love.
Legit.ng recently published an on Sunday blessings. Sunday is the first day of the week and a rest day for many cultures globally. It is also an important day of worship for religious groups such as Christians. Sending these Sunday blessings to your loved ones will make their day.
Sunday is an easy day as many people do not go to work. Other people use the day to go out and meet friends and family. Use these Sunday blessing messages to express gratitude and best wishes to your family and friends.
Source: Legit.ng