Cute good morning messages for her to make her smile
Good morning messages for her are among the best ways you can use to help your girl start her day in a fantastic mood. There is nothing more romantic than waking up to a lovely text from your partner expressing his affections. As simple as the texts are, they are bound to make her morning, if not her entire day!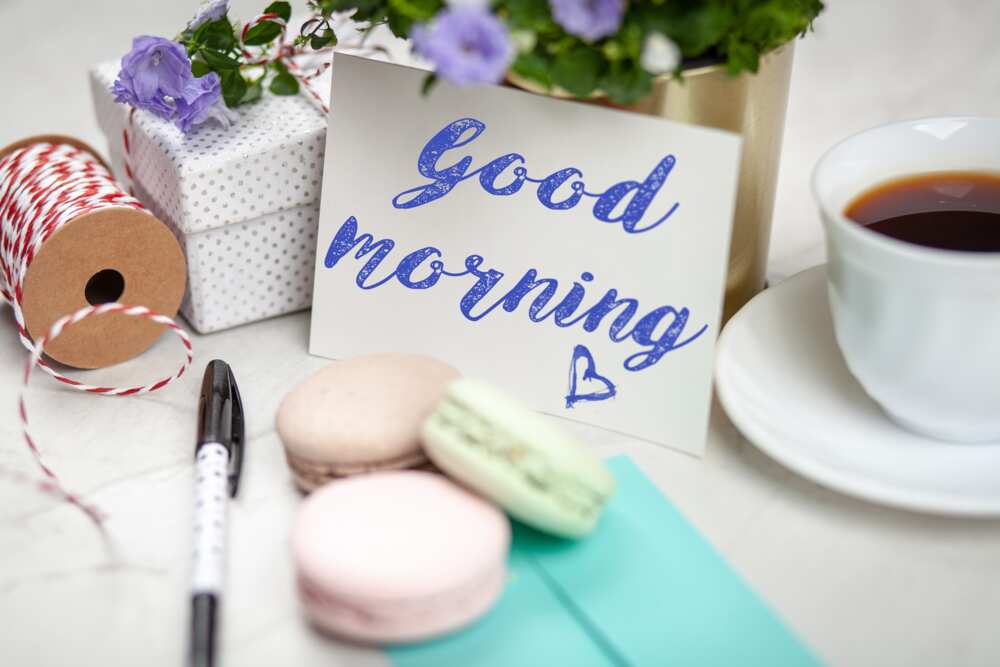 A good morning message for her should be something thoughtful, This, however, does not mean that it is something very complicated. She just wants to know that you woke up with her on your mind; that you missed her so much and thus crafted a good morning text for her.
However, if you cannot figure out what to say, here are some quotes, texts and sayings that are sure to brighten her day, make her heart beat a little faster and give her butterflies in her stomach.
Good morning messages for her
These are perfect to send to your love. They convey your love and adoration, letting her know that you value her and would not let a day go by without expressing your love for her.
Good morning beautiful. I will not be able to text you throughout the day, just know that I will be spending every waking moment thinking about you.
Most people in relationships like having some form of communication throughout the day. Not texting each other can be taken as a sign of trouble. Instead of letting her think that you are mad at her, just let her know that you are busy.
As you go about your duties this day, carry with you the undeniable fact that I will forever love and adore you.
Hey, sunshine! This incredible morning needs your smile to make it even more beautiful.

We all work hard in our daily lives and every small accomplishment should be celebrated. Including making her laugh in your list of accomplishments is a very romantic gesture.
How I wish I was there to wish you a good morning. Since I am not, this message will have to do.
Good morning quotes for her works for those who are unfortunately apart and are in a long-distance relationship. These kinds of relationships can be hard on the parties involved and thus a cute text such as the one above will help in keeping the romance alive.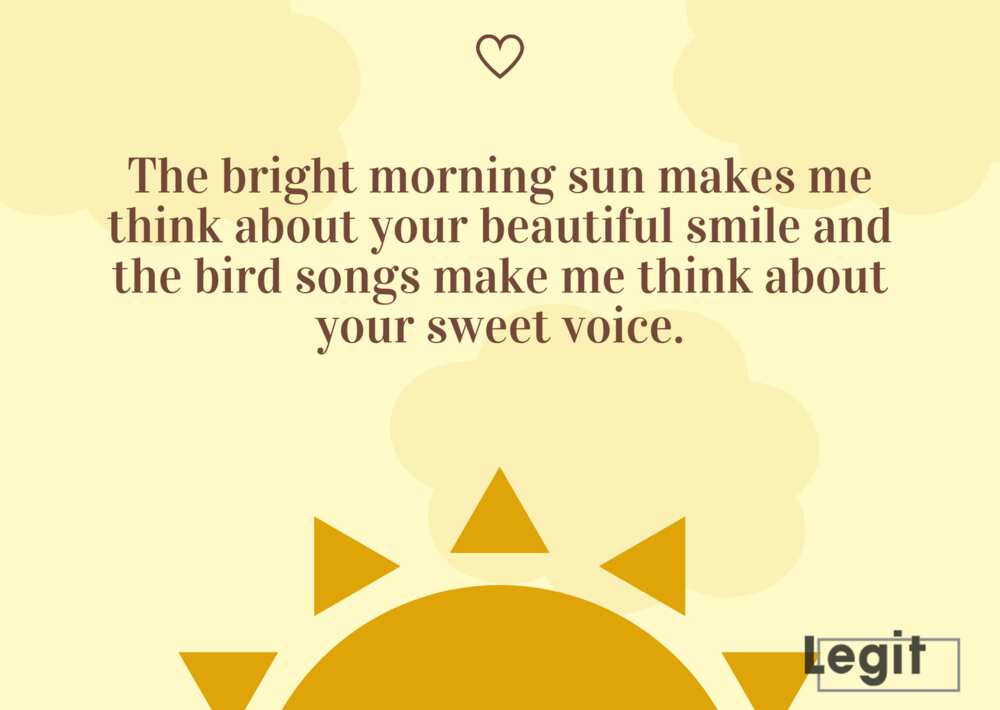 How is the girl whose hugs make every worry wash away and whose kisses I crave?
As grateful as I am to see another day, I would be more grateful if I had you lying by my side. I miss you my sweet.
All of the above messages are perfect. It does not take much time to type them out and press send but their effect shall be felt for hours on end.
Good morning love quotes
Our love is a beautiful painting that deserves to be seen by all.
'I love you'... Words so simple yet so underrated. However, from your mouth, they feel like heaven.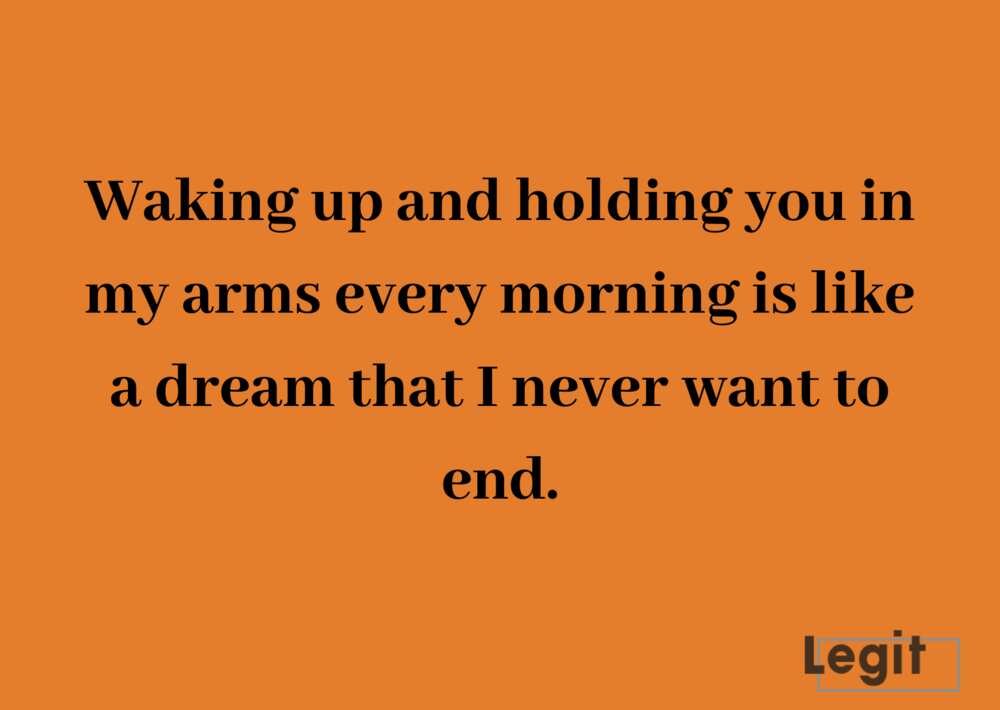 My coffee always tastes better when I'm with you. Without you, it is like a bitter sludge that only helps me stay awake.
If you ever doubt our love just look down at your keyboard. Note that 'u and I' are always together and so shall we.
Everyone asks me why I am always smiling. You are the secret to my most perfect days.
Love message for her
There is nothing more perfect than a beautifully crafted message.
I shall forever thank the Lord for allowing me to experience my life with you.
I am not perfect but you still choose me on a daily basis. I do not deserve your love and I shall treasure it always.
They say that if you wish on a falling star then your wish shall come true. I know this to be true because I wished for the perfect girl for me and the universe brought us together.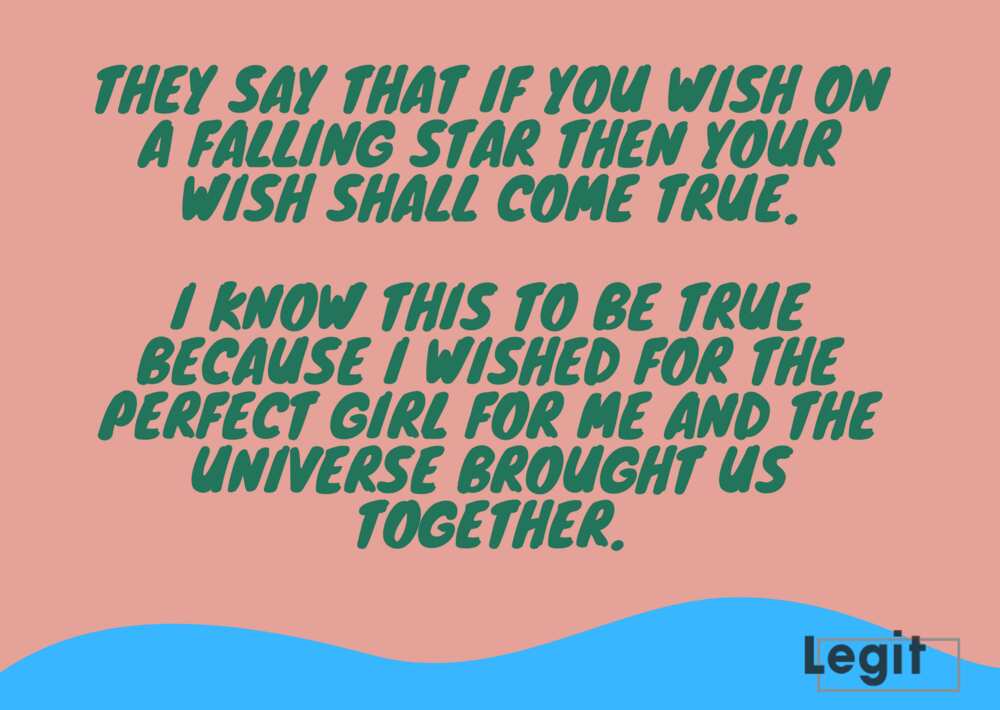 There is no clear way of explaining how and why I love you. Trying would be as impossible as trying to put a specific taste to water. You know there is a taste to it but there is no way to define it.
You are my day and my night, my sky, my moon, my stars and my sun. My every breath.
All the stars in the galaxies cannot come close to quantifying my immense love for you
Good morning I love you quotes
I love you more than words could say.
A text today. A kiss tomorrow. I am counting down the days, hours, minutes and second to it.

Good morning baby. Good morning sweetheart. My love and heart are yours
Nothing comes close to the perfection of spending my days with you.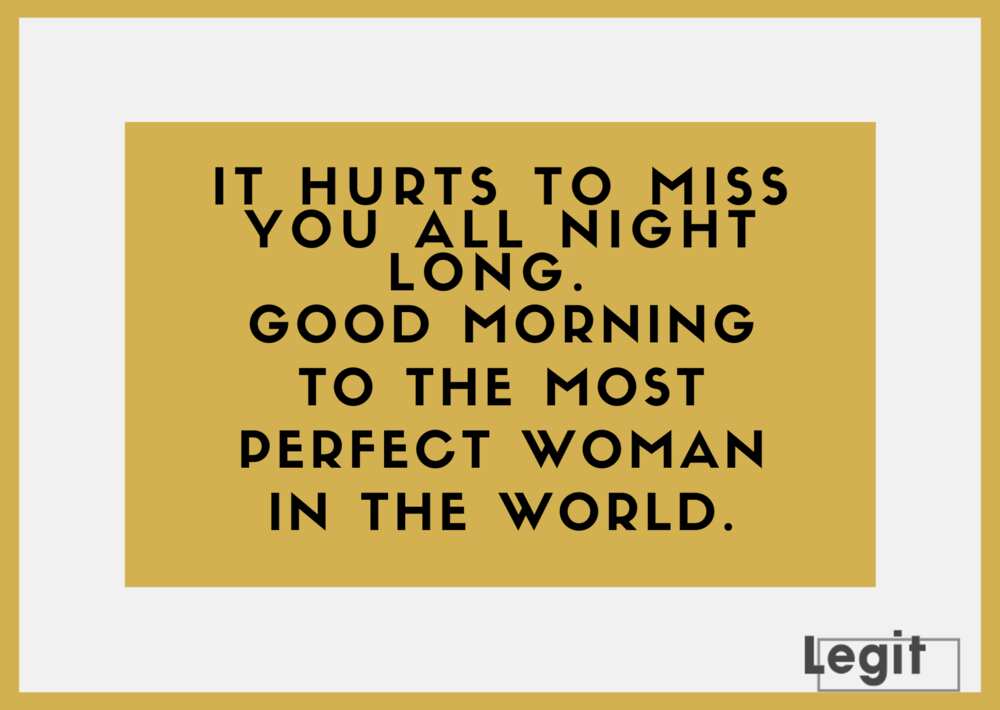 If you encounter any hard decisions today or you feel like life is bringing you down. If you feel like everything is falling apart, do not despair. Call me.
Good morning love. Greetings to God's most perfect creation.
Good morning my love. My sunshine.
You are my inspiration. I just look at your picture and everything seems possible.
It just takes a second to think about your lovely face. However, the joy that this thought brings lasts with me all day.
Good morning messages for her are not something to stress on. They can be sweet, corny, cute or even flirty. Hopefully, these examples will give you some inspiration when deciding what to write to her today, tomorrow and in all the next mornings to come.
Source: Legit.ng