Common Chinese girl names and their meanings
What comes to mind when you hear the name China? The Asian country is widely known for its unique cultural practices,martial arts, among many other things. China also has an exciting naming system, especially when it comes to Chinese girl names and their respective meanings.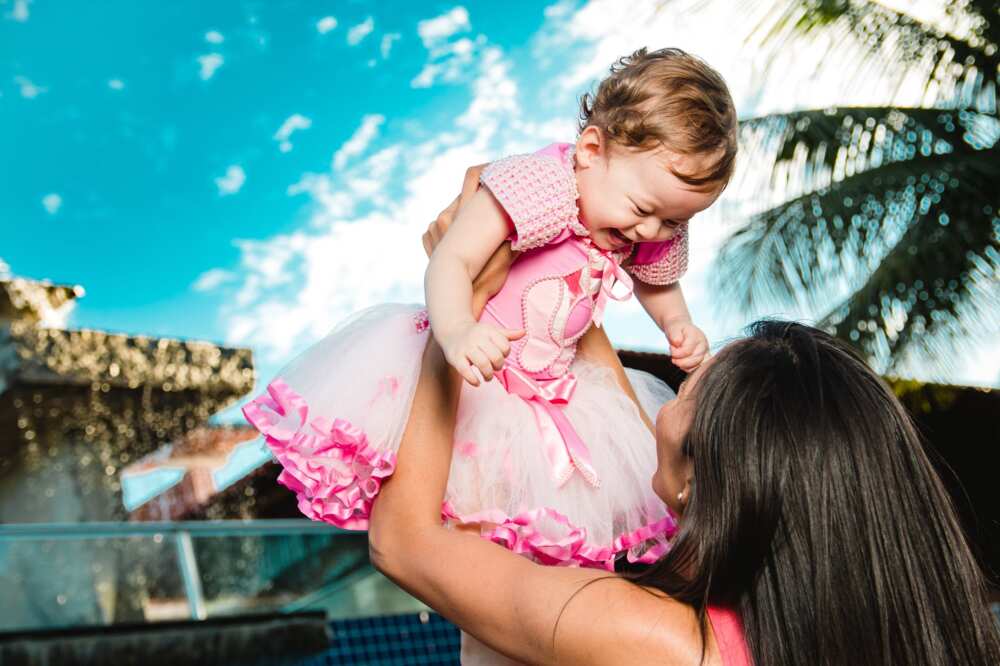 Chinese names are generally perceived to be complicated by foreigners, but is this the case? Well, it depends on how you understand their culture. Chinese babies are assigned two names, and you will realize that the Chinese first names for girls are different from those of boys. Both Chinese male and Chinese female names also have their respective meanings. Parents choose for their children the best combination that will help them grow to have good characters.
Chinese girl names
How many Chinese girls names do you know? You will find it fun to learn some of the most common Chinese names and meanings.
Popular Chinese names for girls
There are some common Chinese names for girls that you are likely to come across. They include:
An: Chinese Peace
Chanchang: Flourishing
Chun: Spring
Ehuang: Beauty-August
Fan: Mortal
Fang: Fragrant
Hong: Red (a sign of good luck)
Hui Yin: Cause
Huian: Obliging and quiet
Jing: Quiet
Li: Beautiful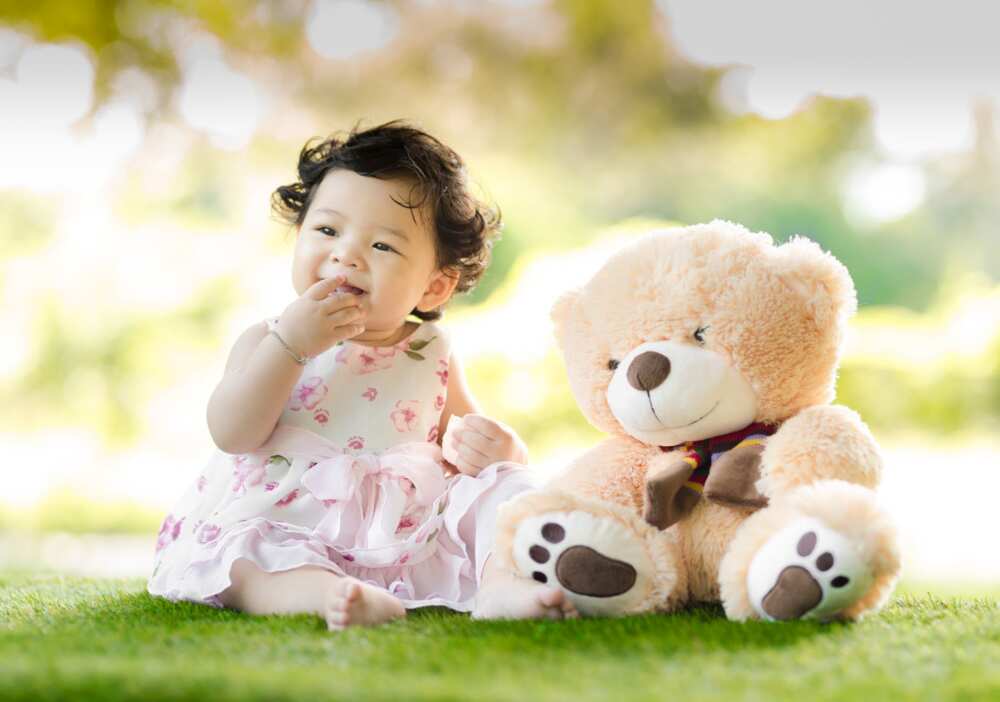 Mei Hua: Beautiful flower
Mei Lien: Beautiful lotus
Mei Xing: Beautiful star
Peizhi: Respectful
Quingling: Lucky years
Rong: Honor, glory
Roulan/Lan: Like an orchid
Song: Pine tree
Suyin: Simple sounding
Tung-Mei: Winter plums
Beautiful Chinese names
You may have identified the best Chinese girl name from the previous list, but that is not all. There are more pretty Chinese baby names that you may not know.
Ai: Love
Dongmei: Younger sister east or winter plums
Fangsu: Fragrant flower
Hualing: Flowery tuber
Huiling: Wise jade tinkling
Jia: Good, auspicious
Jie: Cleanliness
Lifen: Clever and fragrant like flowers
Ling: Clever, intelligent, spiritual
READ ALSO: Popular Japanese girl names and their meanings
Meirong: Beautiful countenance
Qi: Wondrous
Qiang: Red rose
Shuang: Lively cheerful
Xiaohui: Morning sunlight
Xiu: Fine, beautiful
Xiulan: Beautiful orchid
Xiurong: Beautiful glory
Ya: Elegant, learned, pure
Ying Yue: Reflection of the moon
Yu Yan: Beautiful smile
Yun: Clouds
Zhi Ruo: Beautiful herbal plant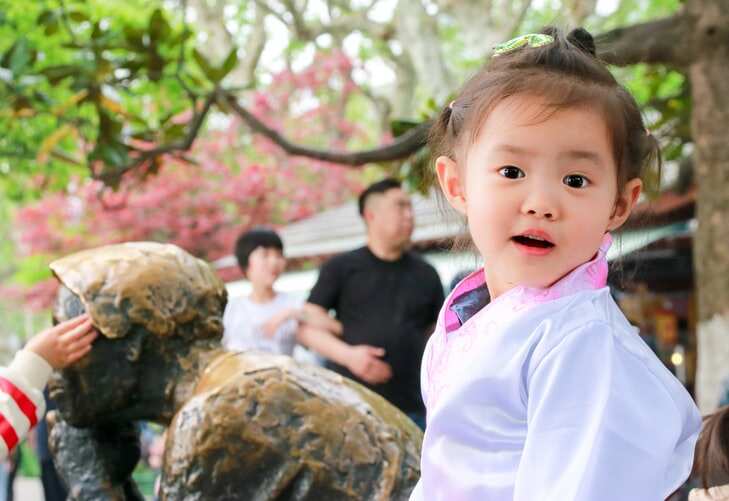 Other cool Chinese names for girls
We also have other female Chinese names on the list that most parents would also love to give their daughters.
Ah Lam: Peace
Alix: Dignified
Bai: Crystal clear
Bao: Treasure
Baozhai: Precious hairpin
Bingqing: Clear as ice
Biyu: Jasper, semi-precious stone
Caihong: A rainbow in the sky
Chen: The morning
Chow: Summertime
Chu Hua: Chrysanthemum
Chun: Springtime
Chuntao: Spring peach
Chyou: Sweet autumn
Daiyu: Black jade
Da-Xia: Long summer
Dai-tai: Leading a boy in hopes
Dandan: Cinnabar (red)
Diu: One who is down to earth and is a practical person
READ ALSO: French girl names: most popular baby names in France
Eu-fùnh: Playful phoenix
Eu-meh: Especially beautiful
Far: Flower
Fenfang: Fragrant
Feng: Maple
Fung: Bird
Guang: Light, glory
Genji: Who is most valuable as gold
Gho: Responsible and inspirational
Guan-yin: Goddess of mercy
Huiquing: Liberal good luck
Heng: Constant, steady, persistent
Hien: Persevering
Holea: Holy
Honf: Sign of good luck
Howin: A loyal swallow
Hu: Tiger
Hui ying: Bright, intelligent
Huian: Kind, peace
Huifang: Kind and fragrant
Huifen: Wise and fragrant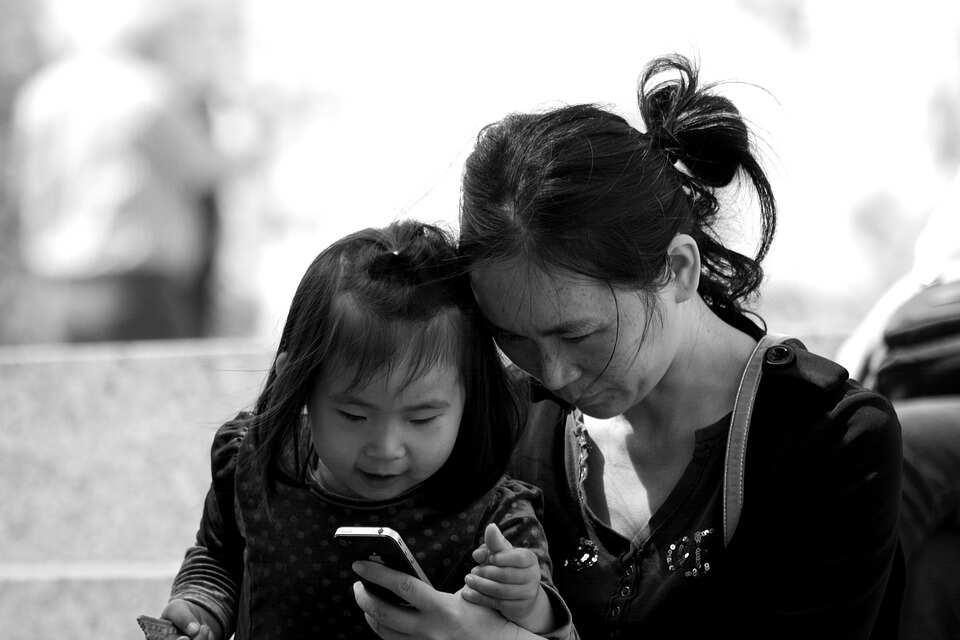 Jiayi: Household fitting
Jilpa: A teacher of life
Jin: Gold
Jing: Small bird
Jingfei: Still fragrance
Jinghua: Situation splendid
Jinghua: Leek flowers
Juan: Graciousness
Jun: Truth
Jiao: Delicate, tender
Jiaying: Good and clever
Kuai hua: Mallow blossom
Kwong: Broad
Lin: A grove, wood
Lai: Future
Lì húa: Beautiful pear blossom
Li mei: Beautiful plum blossom
LiMing: Pretty and bright
Linqin: Beautiful zither
Lixue: Pretty and pure as snow
Loi: Thunder
Luli: Lewy jasmine
READ ALSO: Christian names for boys with meaning
Mei Zhen: Beautiful pearl
Meihui: Beautiful wisdom
Mingxia: Clear halo
Mingzhu: Bright pearl
Niu: A girl
Ninghong: Tranquil red
Nuan: Wholehearted
Nuwa: Mother goddess
Nuying: Female flower
O-Huang: August
Pangfua: Clouds in the shape of a flower
Peijing: Admiring luxuriance
Ping: Duckweed
Qing: Dark blue
Qing: Yuan clear spring
Qingge: Clear pavilion
Qingling: Lucky years
Qinyang: Sunshine of my heart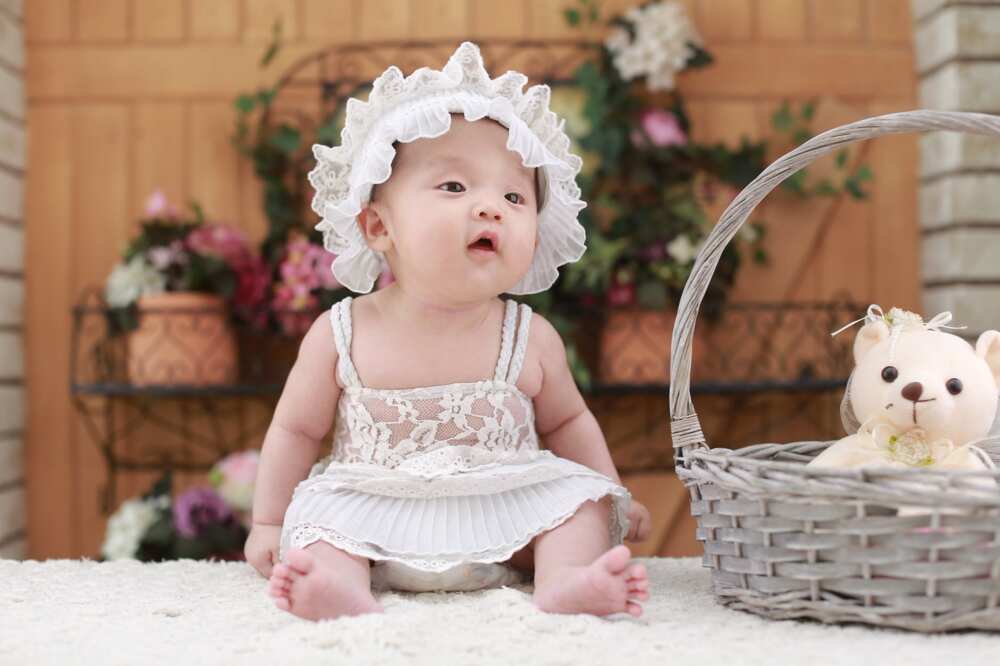 Shihong: The world is red
Shu: Fair
Shu fang: Kind, gentle and sweet
Shuchun: Fair, pure
Shui: Water
Shun: Smooth
Tao: Peach, a symbol of long life
Tè: Special
Teegan: Good-looking
Ushi: The ox
Wan: Gentle, gracious, lovely
Wei: Valuable, precious
Weici: Preserving the love
Wen: Refinement
Xiaodan: Little dawn
Xiaofan: Little ordinary
XUE: Snow
Yingtai: Flower eminent
Yuan: Original
Yue: Moon
Zhenzhen: Very precious
Zongying: Following a talent
You can see how lovely a Chinese name is. Which Chinese girl names do you like? Picking one for your girl should not be a problem since you now have many options to select from.
READ ALSO: Beautiful baby girl names and meanings in Africa
Source: Legit.ng