50+ wedding vows for him: Find the right words for your special day
Wedding days are important days in a person's life. They mark the beginning of a new chapter and represent the culmination of a couple's love and commitment, bringing together families and communities. As the bride, it is important to get the right wedding vows for him that are unique and resonate with your relationship.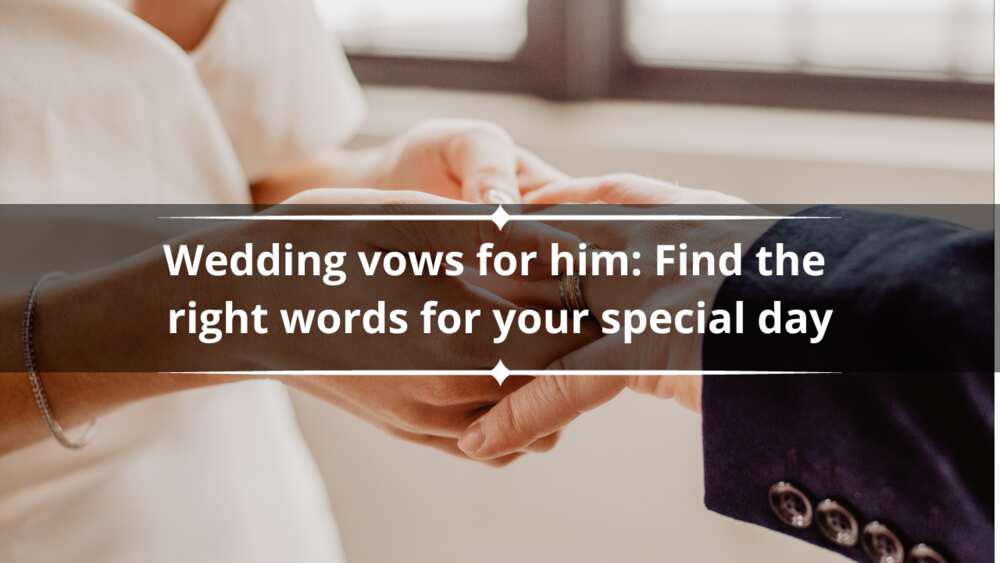 A wedding will not be complete without the right wedding vows. Whether you choose to recite the traditional ones according to your belief or the emotional ones that will make him cry, wedding vows for him must be accurate and personal.
Wedding vows for him
Writing your wedding vows is a deeply personal and meaningful process. Whatever path a couple chooses, the vows should reflect their unique love.
Wedding vows for him that make you cry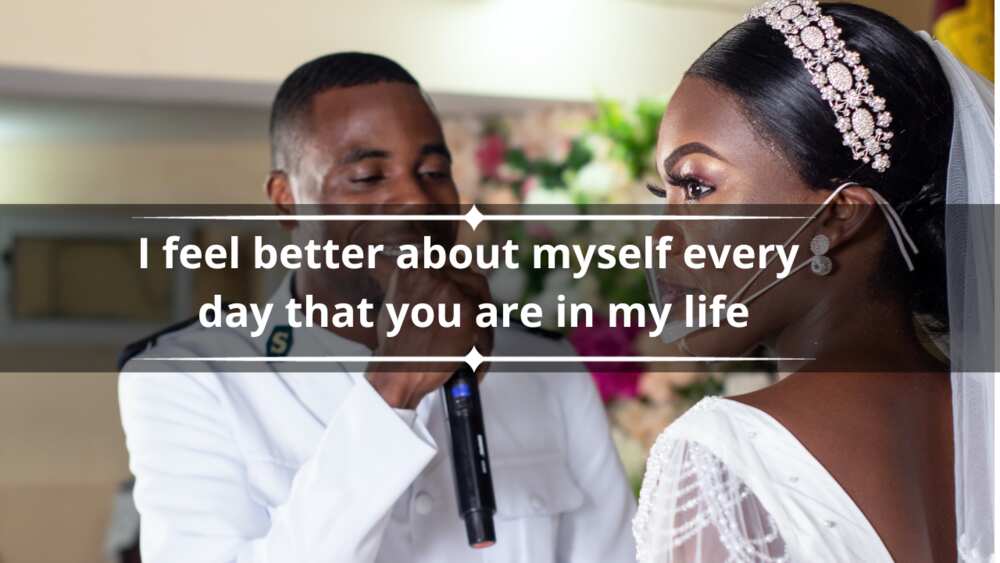 Wedding vows build an emotional bond between the couples. There is no crime in deepening the emotional bond between you and your husband by reciting vows that make him shed tears.
I vow to be your partner in building a beautiful future together, to share in your dreams and make them our own. I promise to cherish every moment we spend together and to be grateful for the love we have found.
In life's darkest moments, I vow to be your guiding light. When the world seems cold and uninviting, know that my warmth will comfort you. And when the burden of hard times feels too heavy for one person alone, let me be there for you as a strong shoulder to lean on.
On this very special day, I dedicate myself to offering you all the love and commitment that my heart can bestow. My aspirations and desires are solely focused on us building a future together. As time passes, we must remain aware of why we have chosen each other so as never to forget the bliss which brought us here today.
Today, I choose you, not just as my husband but as my lifelong companion. I promise to love you fiercely, to be your constant support, and always to strive to be the woman you fell in love with. With you, I am complete, and I vow to spend the rest of my life showing you just how much you mean to me.
What does it feel like to marry your best friend? Well, I am about to find out. And right now, I cannot imagine my life without you. You're a light that illuminates my life in ways I could have never imagined.
Because of you, I understand the true meaning of love—it is patience when I won't admit I'm wrong, it is tenderness when I am weepy, it is kindness when I need it. It is a belief that our futures are forever entwined. I love you and always will.
In your eyes, I see my future, and in your arms, I find my strength. I promise to always be your safe haven, your refuge from the storms of life. With you, I am complete, and I vow to cherish and nurture our love forever.
I feel better about myself every day that you are in my life. And by consecrating this marriage, I vow to make you feel just as happy, loved, and fulfilled as you make me.
I promise to grow with you, to learn from you, and to support your growth and dreams. I vow to always strive to be the best version of myself, for you and us. Together, we will create a love story that inspires.
I promise to be patient, to listen, and to understand. I vow to communicate openly and honestly, to be your confidant, and to create a safe and loving home for us. My heart is forever yours, and I promise to honour and cherish it.
Even today, I still feel the butterflies that I experienced when I first met you. That fresh new feeling of love is what keeps me coming back for more in this relationship, and I am so blessed to have you in my life.
When you support me through my struggles and achievements with the same compassion and understanding, it means more to me than anything in the world, and I am forever grateful for your unwavering support.
Short wedding vows for him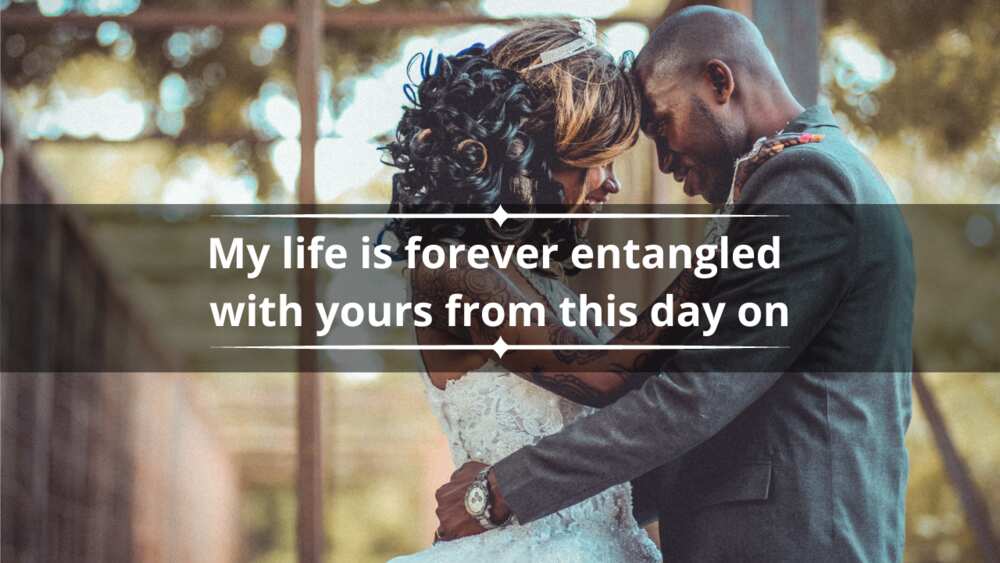 While some couples can recite a page while exchanging vows, others prefer short, clear, and concise vows. Here is a list to choose from.
You are my heart's deepest wish that came to life, and I am eagerly looking forward to the unending future we will create together.
I love you more fiercely with every second that slips through our hands. With you, I can make the most of my days.
Your love gives me hope. Your smile gives me joy. You make me a better man.
You make me laugh, you make me think, and above all, you make me happy.
Reach out and take my hand; I pledge to guide you through an eternity of love.
You are my dream come true, and I can't wait for the reality we get to build together.
As I have spent my whole life looking for my other half, I knew it was you from the moment we met.
Whatever our life brings, I vow to love and care for you always.
I vow to risk everything for you—to give over my life for you—to be the man you love.
When I am with you, everything else fades into the background. You flood my senses with joy. You are my life, my greatest gift. I'm so lucky to call you my loving husband.
You are my safe harbour, and I am grateful for your love now and always.
Give me your bad hair days, your long commutes, your burnt coffee, and your lost keys. Give me your every day, and I will give you my love to make it all alright.
I promise that each kiss will be filled with more love than the last and that our days together will grow in love and devotion.
My life is forever entangled with yours from this day on. My dreams are your dreams, and I'll build it all around you.
Marriage bridges two shores, binding us together as one unbroken path, on which I vow never to deviate, never to falter, and to always be by your side.
Traditional wedding vows for him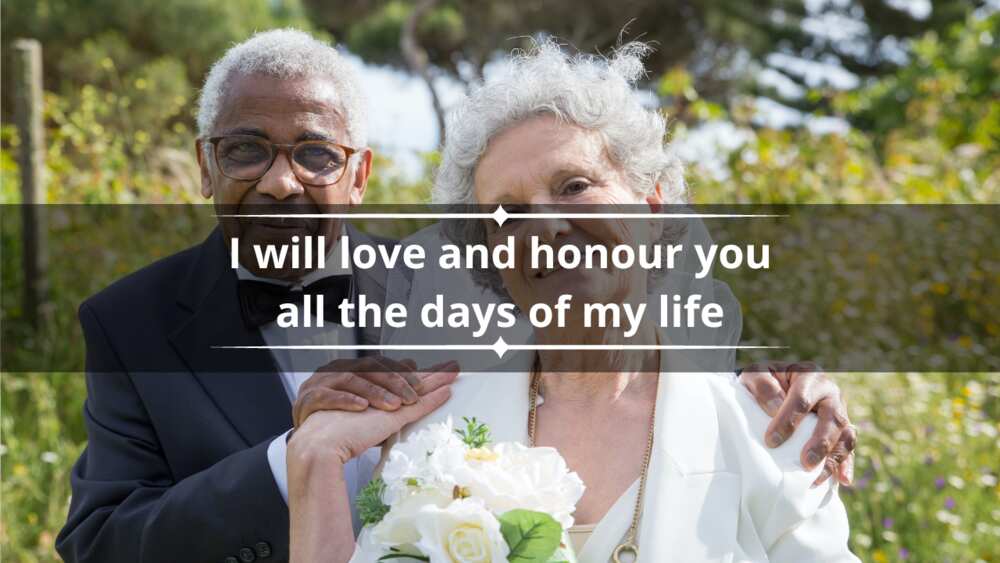 Traditional wedding vows are typically those that have been used for generations and are often associated with religious or cultural ceremonies. Here are some of the main traditional wedding vows examples you can choose from according to your belief.
Muslim: The vows: "I, (bride's name), offer you myself in marriage and following the instructions of the Holy Quran and the Holy Prophet, peace and blessing be upon him. I pledge, in honesty and with sincerity, to be for you an obedient and faithful wife.
Catholic: I, ___, take you, ___, as my lawful husband, to have and to hold from this day forward, for better, for worse, for richer, for poorer, in sickness and in health, until death do us part. I will love and honour you all the days of my life.
Protestant: I ___, take thee, ___, to be my wedded husband, to have and to hold from this day forward, for better, for worse, for richer, for poorer, in sickness and in health, to love and to cherish, till death do us part, according to God's holy ordinance; and thereto I pledge thee my faith.
Presbyterian: I, ___, take you, ___, to be my husband, and I do promise and covenant, before God and these witnesses, to be your loving and faithful husband in plenty and in want, in joy and in sorrow, in sickness and in health, as long as we both shall live.
Jewish: Haray at Mekudeshet lee Beh-taba'at zo keh-dat Moshe veh-Yisrael. Translated: Behold, you are consecrated to me with this ring according to the laws of Moses and Israel.
Unique wedding vows examples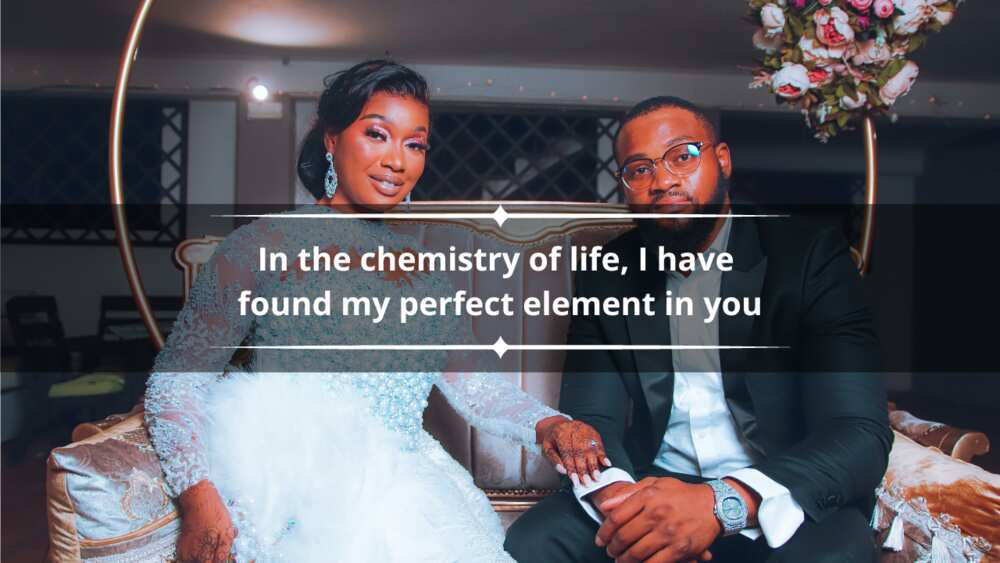 Every couple is different, and their meeting point and adventures also differ. On your wedding day, you can decide to include some of the adventures you take together as a couple in your vows.
I promise to be your fellow explorer, to seek out new horizons with you, and to embark on the greatest adventure of all—marriage. I vow to choose the path less travelled, as long as it's with you.
I promise to be your favourite travel companion, to explore the world with you, and to adapt to the changes in our journey. I vow to navigate life's twists and turns together, knowing that home is wherever we are together.
Just as our favourite ingredients combine to create the perfect dish, our love has blended into something extraordinary. I promise to savour each moment with you and to keep our love spicy, sweet, and delicious.
I couldn't have dreamed of someone as amazing and special as you. You're my life's joy. You're my delicate rose. You're my life jacket when I feel like I'm drowning. You're my absolute favourite and greatest gift I've ever received. I love you with all my heart and can't wait to spend forever with you.
As we begin this chapter of our lives together, I promise to be the supporting character in your story and the co-author of our love story. I vow to fill our lives with pages of joy and chapters of endless love.
In the chemistry of life, I have found my perfect element in you. I promise to be the scientist who continually experiments with love and the mathematician who counts my blessings with you by my side.
As we embark on this co-op adventure called marriage, I promise to be your player two. I vow to work together to conquer life's challenges, level up our love, and celebrate every achievement with you.
In the symphony of life, you are my perfect note. I promise to dance to the rhythm of our love, to sing with joy in our hearts, and to harmonise our lives into a beautiful and unforgettable melody.
I love you more than all the pixels in the universe, more than the sum of the prime numbers, and more than all the stars in a galaxy. You're my one and only critical hit in this grand RPG of life.
Wedding vow promises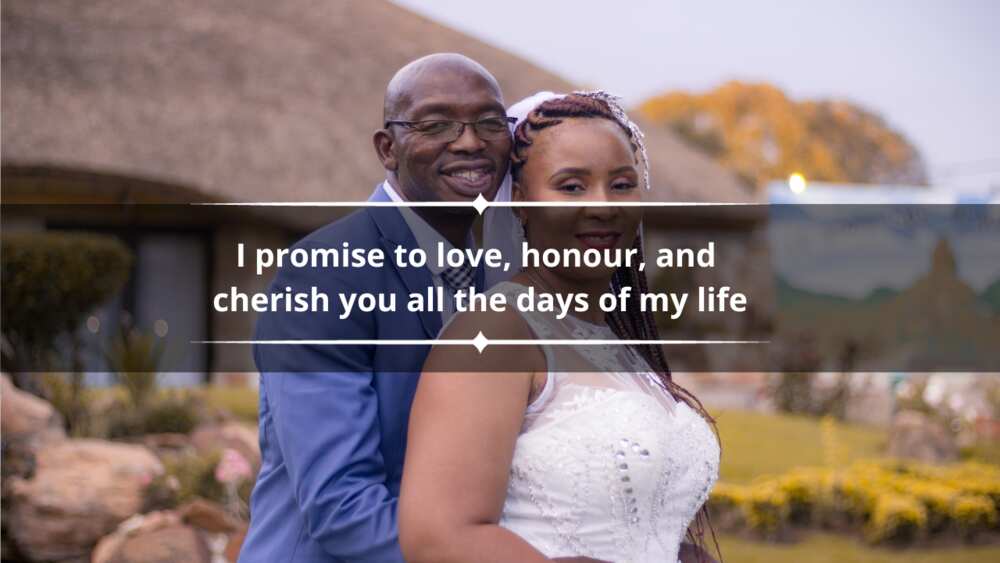 When crafting the perfect wedding ceremony, one of the most crucial aspects is figuring out how to end vows. Worry no more because you can use these promises to end the vows in style.
I promise to love, honour, and cherish you all the days of my life.
I vow to be your partner, confidant, and biggest supporter.
I promise to stand by your side through all of life's ups and downs.
I vow to make you laugh, comfort you when you cry, and be your rock.
I promise to love you deeply and without reservation.
I vow to be faithful, loyal, and true in all that I do.
I promise to treasure and respect the unique person that you are.
I vow to build a life with you filled with love and happiness.
I promise to be your shoulder to lean on and your haven.
I vow to grow old with you and cherish every moment we have.
Crafting wedding vows for him is one of the hardest things for many brides. It's a personal and heartfelt moment that will be remembered by both you and your guests for years to come. However, with the help of the list above, you can meet your desired results.
Legit.ng also highlighted the best prayers and messages one can use to encourage another person. Life throws numerous challenges, difficulties, and problems at us, and it is all too easy to feel crestfallen.
Still, a short message or prayer might be all that is needed to lift someone else's mood and make their day. These prayers and messages can be quite effective for a friend, relative, co-worker, or even a random stranger.
Source: Legit.ng