30 positive Friday quotes
When delivering a positive message, it is expected that it will reach a large audience. Positive messages focus on communicating acceptance, delivering good news or offering congratulatory messages to the recipients. Continue reading to get inspired or inspire someone you love with these positive Friday quotes.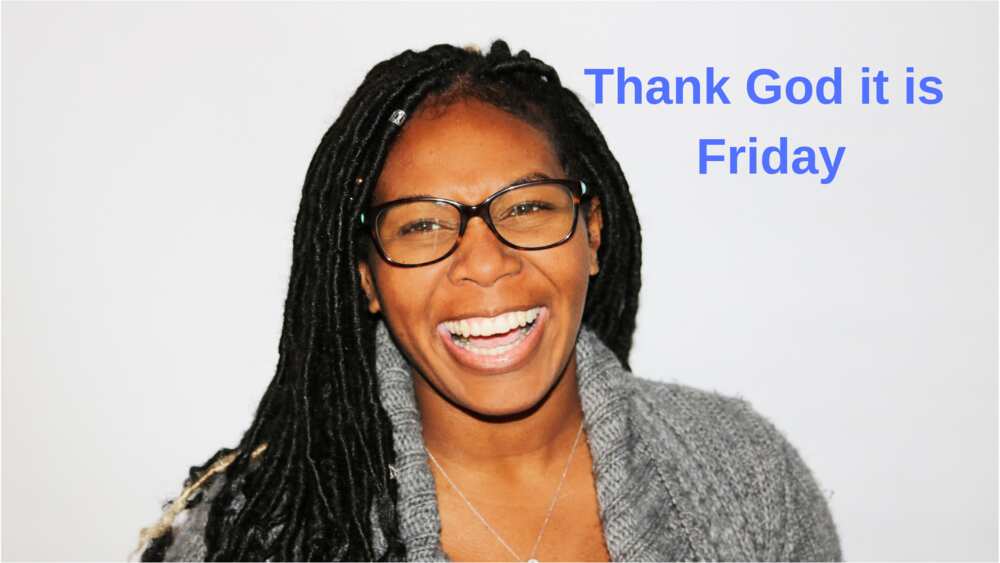 Positive quotes about Friday can help in a big way to get you through the day or cheer up your friends and beloved during the last working day of the week. These quotes will help you look forward to a great weekend.
Some positive Friday quotes
In some way, Monday to Thursday are the hardest days, but the last day of the week someone feels they are close to attaining freedom.
The weekend eve is for rejoicing work well done which makes you realise that your paycheck does not only entails the time you put in.
Most of the times it does not seem possible until you get to the end.
When you love your job, you realise that there is no day you work.
Being interested in what you do gives better results.
Ensure that your day is super fantastic, it is the end of the working week.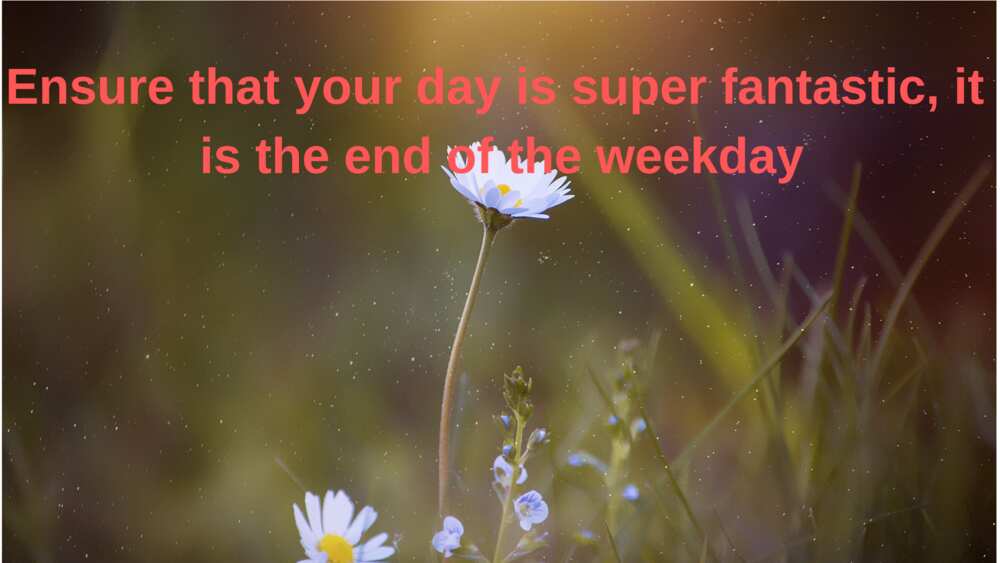 It is the end of the last working day, spread the love that was not shared all through the week, in a precious moment of bliss and peace.
At the end of the weekday, finish the work your assigned and look forward to the weekend full of fun.
"It is not that we spend five days looking forward to just two. It is that most people do what they enjoy most in those two days. Imagine living a life where every day is your Saturdays and Sundays. Make everyday your weekend. Make every day a play-day…" — James A. Murphy
In all the working days, the last day has the most smiles.
READ ALSO: 50 best Monday motivation quotes (with images)
The eve of a weekend is a day when you get to hang out with friends.
In this world nobody is perfect, we all need one another, and we were all made to work as a team.
Wish you to have an excellent and positive day for every day of the week.
If you need some motivation, put in mind that your payday is Friday.
Am always happy to see my friends, my weekend is my friend.
What are happy Friday quotes?
Peace of mind brings happiness. Every person is responsible for their own peace of mind. Happiness is not only gained but felt too. Things and people will never bring happiness; true happiness comes with associating it to a goal.
The weekend eve is associated with happiness because people begin to unwind in the evening of that day from probably a long week. Happy Friday sayings tend to lift the moods and spirits of a person. Most people look forward to the weekends and have a propensity to make plans like parties and getaways at the end of a weekday bubbling with joy and excitement. Moreover, others look forward to peace and quiet away from the hustle bustle of city life.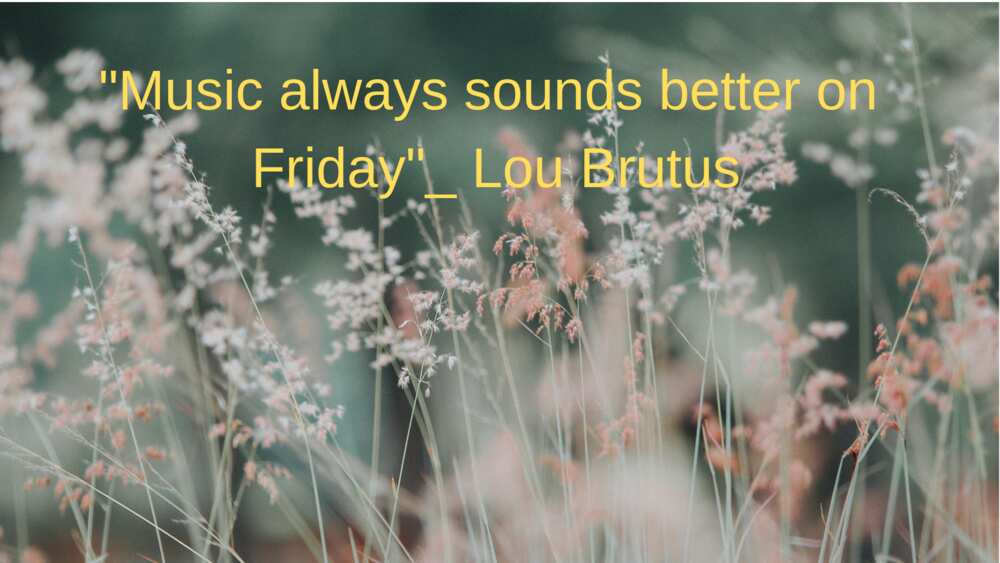 The most famous Friday saying is "Thank God it is Friday" even Katy Perry has done a song about it: "T.G.I.F"
Others prefer to listen to music on weekend eves because they get to enjoy it more.
"Music always sounds better on Friday" — Lou Brutus
For most working class people and scholars, Friday marks the end of having to wake up early in the morning while others are looking forward to spending quality time with loved ones.
Here are some happy Friday quotes and sayings:
Weekend eve equated to happiness.
Regardless of the way you feel, never throw in the towel, wake up, dress to kill and show up. Have an awesome weekend.
A sprinkle of the weekend eve deletes terrible memories of the week.
The end of a work week is the stepping stone to a great weekend.
Friday a week keeps other work days at bay.
"Friday marks the day to finish important goals set at the start of the week" — Byron Pulsifer
Weekend eve usually feels like a cherry on top of an ice cream cone.
Friday is a blink away from Monday but why does Monday feel like a century away from it?
After a long and stressful week, I like to pat myself on the back for taking less coffee on the last day, slow down my self-drive and make awkward jokes.
There are also happy funny Friday quotes which show people like to have fun and make funny jokes to bring happiness. Some people tend to go the extra mile to look good because they are happy hence the saying "Feel good Friday." Here are additional happy Friday inspirational quotes:
Welcome to Friday. In preparation for takeoff, please ensure all negative attitudes are properly stowed. I expect sunshine and good attitudes today for our trip. Enjoy the ride.
As the weekend is loading, throw away caution and start to let loose.
READ ALSO: Top 50 funny food quotes for food lovers
"I understand what's it like to work all week and on last day in the evening one just wants to go and leave their brain at the door, buy some popcorn and be thrilled by something" — Don Cheadle
The villains of the week are called Monday, Tuesday, Wednesday and Thursday.
"Friday is like a superhero that always arrives just in time to stop me from savagely beating one of my coworkers with a keyboard" _Rico
Some people have hilariously said they were short-changed and would like to return Monday in exchange for the last day of the week
"I know every day is a gift but where are the receipts for Mondays? I want to return it for another Friday"
One feels like they are in heaven especially on a Friday afternoon
"It is 4:58 on Friday afternoon. Do you know where your margarita is?" Amy Neftzger
Roses are red, violets are blue, and we all love the weekend
With such happy Friday quotes as well as positive quotes, there may be a tendency of one forgetting the other weekdays. People should refer to them to stay motivated all through Friday. Not only do you stay motivated but also happy and these are two fundamental things people are looking for in life.
READ ALSO: 35 funny Sunday quotes and sayings
Source: Legit.ng