Bert Kreischer's wife, kids, net worth, age, tour, movie, podcast
Bert Kreischer is a famous standup comedian, podcaster, television personality, and actor. He is best known for hosting multiple podcasts, including Bertcast and 2 Bears, 1 Cave. He has millions of followers on various social media platforms.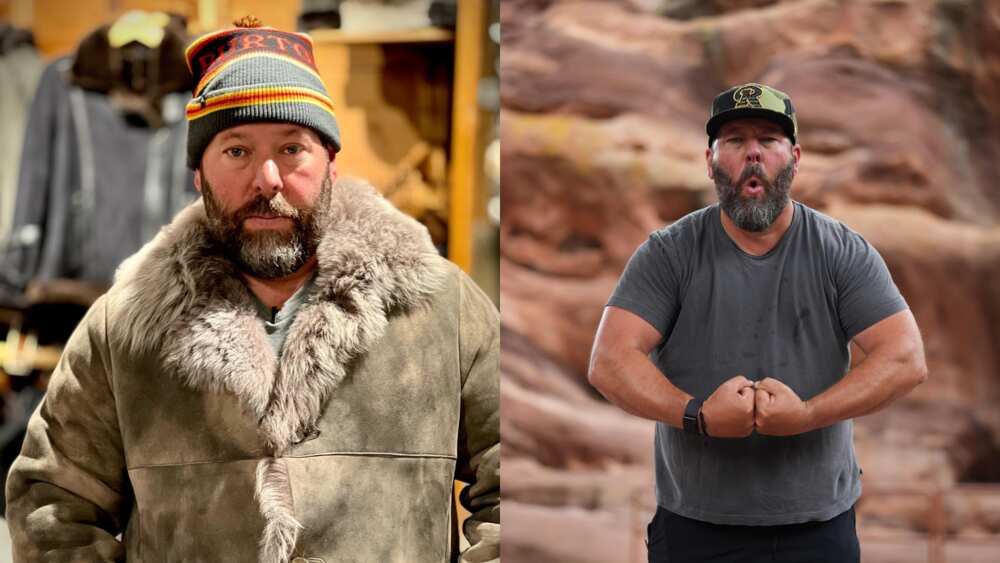 Bert Kreischer, alias The Machine, came into the limelight because of his podcasts. He is unafraid of speaking his mind and taking on daring challenges. His sense of humour also makes him lovable.
Profile summary
| | |
| --- | --- |
| Full name | Albert Kreischer Jr. |
| Nicknames | Bert, The Machine, Burnt Chrysler, or The Conqueror |
| Gender | Male |
| Date of birth | 3rd November 1972 |
| Age | 50 years (as of May 2023) |
| Place of birth | St. Petersburg, Florida, United States of America |
| Current residence | Valley Village, Los Angeles, California, United States of America |
| Nationality | American |
| Ethnicity | White |
| Zodiac sign | Scorpio |
| Religion | Christianity |
| Sexuality | Straight |
| Height | 5 ft 11 in (182 cm) |
| Weight | 225lb (102 kg) |
| Hair colour | Ash brown |
| Eye colour | Blue |
| Marital status | Married |
| Spouse | LeeAnn Kemp |
| Children | 2 |
| Father | Al Kreischer |
| Mother | Gege Kreischer |
| Siblings | 2 |
| Alma mater | Jesuit High School and Florida State University |
| Profession | Standup comedian, podcaster, television personality, and actor |
| Bert Kreischer's Instagram | @bertkreischer |
| Twitter | @bertkreischer |
| Facebook | @BertKreischer |
| YouTube | @bertkreischer |
Who is Bert Kreischer?
Albert Kreischer Jr., alias Bert, Burnt Chrysler, The Machine, or The Conqueror, is a standup comedian, podcaster, television personality, and actor. He often appears shirtless in his performances.
How old is Bert Kreischer?
The standup comedian is 50 years old as of 2023. He was born on 3rd November 1972, and his Zodiac sign is Scorpio.
Bert Kreischer's family background
The podcaster was born to his father, Al, and mother, Gege. His father worked as a real-estate attorney, while his mom worked in early childhood development. He has two sisters whose names are Annie and Kottie.
Where does Bert Kreischer live?
The standup comedian resides in Valley Village, Los Angeles, California, United States of America, with his wife and children. He was born in St. Petersburg, Florida, United States of America, raised in Tampa, and his nationality is American. His ethnicity is White.
Educational background
The podcaster went to a local elementary school before joining a private Jesuit high school. He then proceeded to Florida State University for higher studies.
He pursued an undergraduate degree programme in English. The podcaster partied a lot in his campus years, making Rolling Stone named him the top partyer at the Number One Party School in the country.
His college life inspired the 2002 film National Lampoon's Van Wilder. The titular character was played by Ryan Reynolds. While he was not involved in creating the film, he said he would not sue National Lampoon.
Career
Kreischer started his career as a standup comedian. He started his career at a bar and nightclub called Potbelly's in Tallahassee, Florida. A tape of his comedy was sent to a talent agent who invited him to New York City to perform.
He worked at Boston Comedy Club for a while. The entertainer appears shirtless in most of his shows. His comedy style normally involves storytelling.
In 2004, he starred in the DVD release of National Lampoon Live: New Faces – Volume 2. He also appeared in an episode of Shorties Watchin' Shorties on Comedy Central.
His standup comedy has seen him performing locally and internationally. He has appeared in special comedy productions, as listed below.
Comfortably Dumb (2009)
Bert Kreischer: The Machine (2016)
Secret Time (2018)
Hey Big Boy (2020)
Razzle Dazzle (2023)
He has also appeared on late-night talk shows with celebrated hosts, including Jimmy Kimmel, Conan, Rachael Ray, and David Letterman.
Bert Kreischer's tour
The comedian has an ongoing comedy tour. Fans can get Bert Kreischer's tickets, concert info, live streams, and tour updates from his website. The site also has a store where fans can purchase his branded merchandise.
Bert Kreischer's cruise
As part of his comedy, the standup comedian has teamed with other comedians and organised a cruise vacation. The four-day vacation is set to feature standup sets, late-night music, live podcast recordings, and the chance to mingle with the comedians.
Bert Kreischer's podcast
Besides being a standup comedian, Kreischer is a celebrated podcaster. He produces and hosts Bertcast, Open Tabs, and Something's Burning.
He started Bertcast in 2012. He also co-hosts the 2 Bears 1 Cave podcast with Tom Segura. His podcasts are available on multiple platforms, including YouTube, Apple, Spotify, and Google podcasts.
He has also been a guest on other podcasts, including The Joe Rogan Experience, H3 Podcast, and Doug Loves Movies.
Bert Kreischer's movies and TV shows
The standup comedian and podcaster is also an actor. He has seven acting credits.
| | | |
| --- | --- | --- |
| Role | Year | Role |
| Prepare to Meet Thy God | 2001 | Mr. Rekcor |
| Life with David J | 2001 | - |
| The Shield | 2004 | Alfred |
| Best in Town | 2006 | Documentary host |
| Top Gun Support Group | 2006 | Sam |
| Alpha Mail | 2007 | - |
| The Loud House | 2017 | Rip Hardcore (voice) |
During one of his standup comedy performances, the comedian said he was nicknamed The Machine after inadvertently helping a Russian mafia rob a train while on a trip to Russia.
A movie adaptation of this story called The Machine will be released in 2023. He will also be the voice of Brent O' Cummings on The Little Things. In 2014, the standup comedian published the book Life of the Party: Stories of a Perpetual Man-Child.
How much is Bert Kreischer worth?
Bert Kreischer's net worth is guesstimated at $8 million as of 2023. How much does Bert Kreischer earn? His estimated annual earnings are $500,000.
Who is Bert Kreischer married to?
Bert Kreischer's wife is LeeAnn Kemp. The two met twice before they started dating. The first time she met him, she thought he was a rude weirdo.
The third meeting left her mesmerised, and the two became a couple. LeeAnn dumped him after a couple of weeks. He cried and prayed to God to bring her back.
The two met and decided to work on their relationship. They had their wedding in December 2003 and have been married for about two decades.
Bert Kreischer's kids
The podcaster is a father of two daughters. Bert Kreischer's daughter, Georgia, was born in 2004. His second child, Ila, was born in 2006.
The father of two loves his children and is proud of them. When they were younger, he would yell he loved them during school drop-offs.
Bert Kreischer's weight loss journey
The podcaster's weight has fluctuated over the years due to different reasons. Even so, he is on a weight loss journey.
He is more physically active now and goes to the gym for health and fitness. His weight loss journey started after Tom Segura's jokes about his belly went viral.
At one point, he and Segura competed to see who would lose more weight. The winner would enjoy a fully paid trip to a location of choice by the loser. The loser would also shave his beard.
How tall is Bert Kreischer?
The podcaster is 5 ft 11 in or 182 cm tall. His weight is about 225lb or 102 kg, and he has ash brown hair and blue eyes.
Trivia
He is represented and managed by United Talent Agency in California.
Nike SB is his favourite sneaker brand.
He is petrified of heights and clowns.
He was a member of the Alpha Tau Omega fraternity in college.
He received Variety's Creative Impact in Comedy Award in July 2021.
He has a fondness for dogs.
Bert Kreischer is a famous podcaster, actor, and standup comedian from the United States. Away from work, he is a family man and father of two daughters.
Legit.ng recently published TG Omori's biography. Omori is a filmmaker, cinematographer and music video director from Nigeria.
Some music videos he has shot are Am I a Yahoo Boy, Soapy, Buga, and Holy Father. The cinematographer developed a passion for being a director quite early. At 15, he oversaw stage plays at his school and church.
Source: Legit.ng