100+ positive love affirmations to bring some romance into your life
Love is a beautiful feeling; everyone deserves to experience it. Like everything in life, you need to be positive and open to attract and receive it. Repeating positive words about it opens the door to many possibilities of finding love. Here are positive love affirmations to help you attract romance into your life.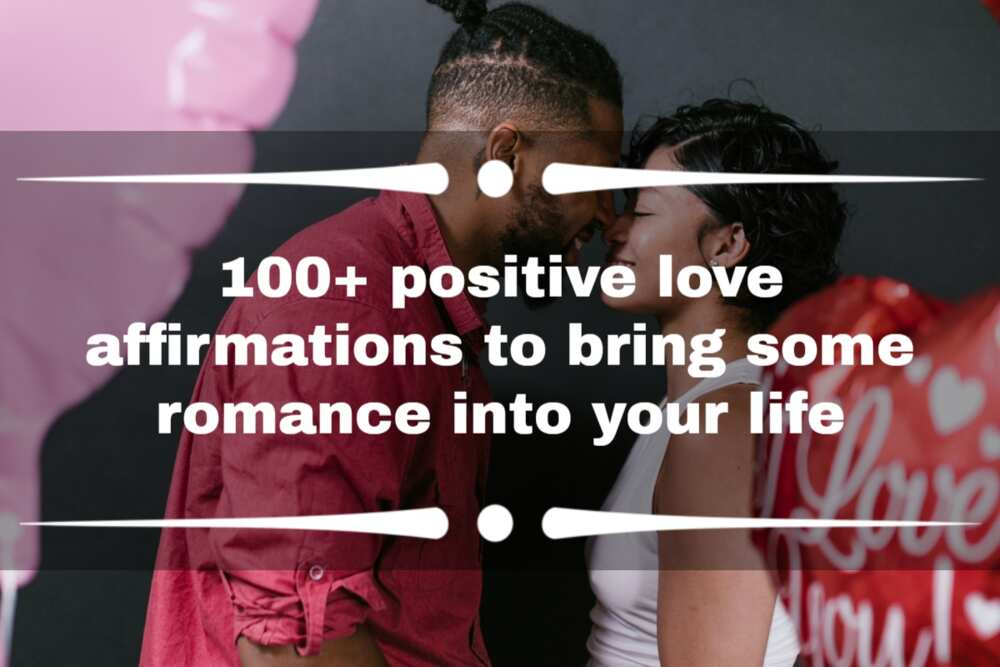 Love is a great feeling that everyone should get to experience. Positive love affirmations are statements you say to yourself to help attract love. When you speak affirmations, the universe has no option but to oblige. If you are looking for romance, here are the best positive affirmations to help you attract love.
Love affirmations to attract romance in your life
Love affirmation helps you manifest what you want in your love life, whether it's love from a partner, family, friends or even yourself. Below are great affirmations to help generate and attract feelings of love into your life.
A real connection starts with me.
I deserve tenderness and affection.
There are no barriers to me receiving romance.
I feel surrounded by deep affection everywhere.
I see tenderness everywhere I go.
I like who I am, and so does my partner.
I am worthy of deep affection in my life.
Deep affection is a regular part of my life.
The affection I seek also seeks me.
I am meant to have a lifelong romance.
I am worthy of a healthy, loving relationship.
My heart is open to letting someone's affection come in.
I'm worthy of a fantastic romantic story.
I give affection to others, and others give it to me.
I am attracting the perfect person for me.
The universe is guiding me to a deep connection.
I am at peace, knowing affection comes naturally to me.
My partner will want and accept me for who I am.
I embody the affection I desire to receive.
I deserve to be happy in my relationship.
I am letting deep connections into my life.
My actions will attract a union built on trust and mutual respect.
I am grateful for all the tenderness and affection I get.
I draw the type of people I desire in my life.
I am open to deep connections in all forms.
Affirmations for love in your life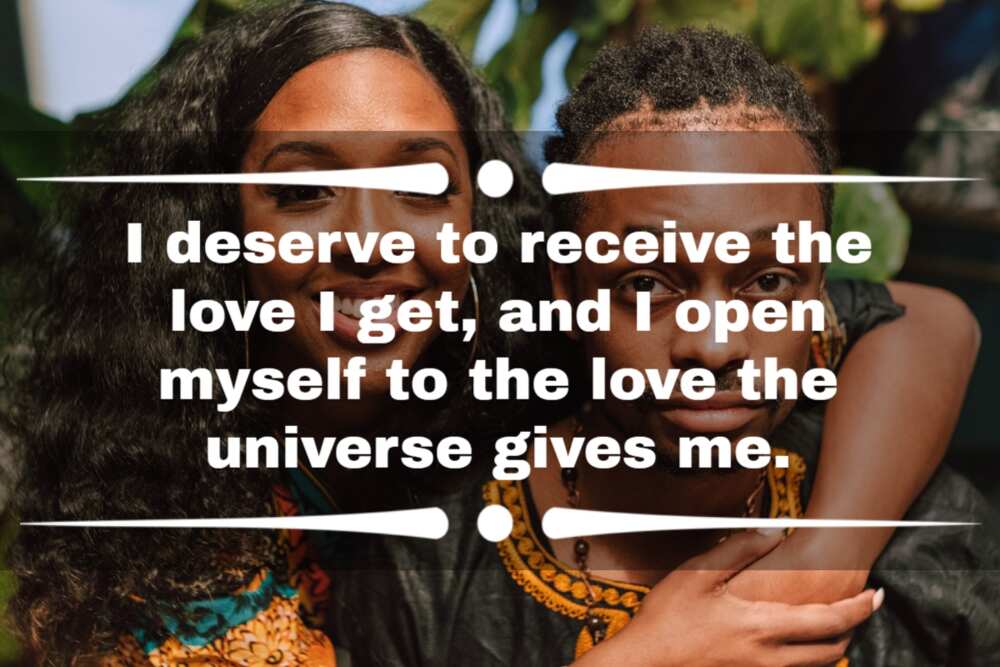 A positive mindset can lead to personal growth and counter negative thoughts regarding love. Below are some manifesting love affirmations to help you have a positive attitude and prepare you for new romantic love.
Romance is attractive to me, and I am drawn to it.
Sharing tenderness comes easily to me.
I radiate unconditional affection.
I am tremendously valuable and worthy of an exceptional romance with my soulmate!
I am surrounded by affection.
I am filled with the vibration of romance.
I exhale negativity and inhale happiness.
My inner beauty naturally radiates outwards.
I am accepted for who I am.
My partner and I are in a healthy relationship.
As I focus on caring for myself, I see people naturally gravitating toward me.
I only attract healthy connections.
I deserve to receive the affection I get, and I open myself to the connections the universe gives me.
I reflect the traits I desire to attract in a partner.
I am unique, engaging, and intelligent.
I deserve a genuine and authentic connection.
I am worthy of tenderness and care.
My heart is open to receive romance.
I believe in romance.
Relationship affirmations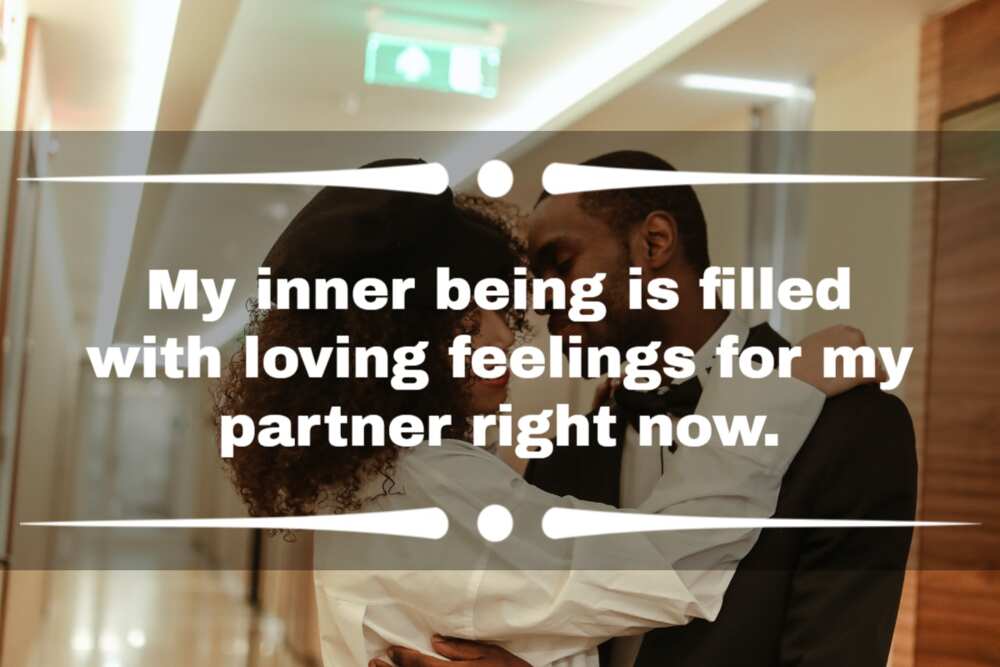 Human beings are relational, and creating great personal relationships is essential. You need to speak positive connections in your life. Here are some great relationship affirmations to help you attract and build great relationships.
The feelings between my partner and me are more potent than our fights and misunderstandings.
We are deeply connected and happy together.
My inner being is filled with loving feelings for my partner right now.
We are both pleased and in awe of our relationship.
My partner and I feel a deep connection and tenderness for one another.
I am open to receiving unconditional affection from my partner.
My partner and I look forward to some quality time together.
I enjoy spending intim*te moments with my partner.
I feel grateful for all the things that my partner does for me.
My partner and I deserve a long-lasting, happy, satisfying relationship.
With every day that passes, our relationship becomes more loving and passionate.
My partner and I are in a caring, committed, strong relationship.
My partner and I feel comfortable and safe whenever we are together.
My affection for my partner grows stronger with each passing day.
I am happy and content with the relationship I have with my partner.
I am grateful to have my partner in my life.
I am supportive of my partner, just as they are supportive of me.
My relationships are always fulfilling.
Affirmations to attract love in your life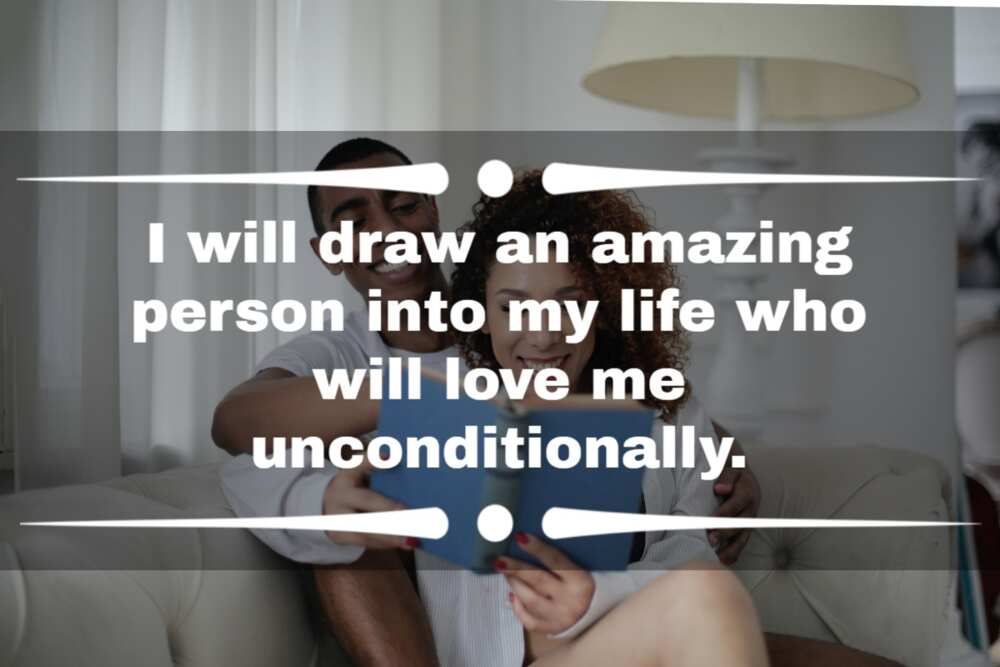 Affirmations to attract love will help you prepare the ground for a new connection to come into your life. Here are some great affirmations to help you attract your crush and start your love journey.
My natural loving nature attracts romance to me like a magnet.
I attract loving, supportive, and committed partners.
My true self is loveable, just as I am right now.
I trust the universe to give me my perfect match.
I am ready to give my heart to my soulmate.
I am attracting a trusting and loving relationship.
My life partner will come into my life at the right time
My positive energy will attract my soulmate.
I will be happy in my next relationship.
I have an undeniable connection to my soulmate.
I attract tenderness from everyone everywhere.
I attract loving relationships effortlessly.
I have an inseparable bond with my soulmate.
I will have my happy ending.
I am open to marriage and attracting my future spouse.
My soulmate will be drawn to me.
I attract only high-vibration-harmonious relationships that fulfil my heart's desires.
I am grateful for the presence of my soulmate.
Love comes to me from all angles and in all directions.
I trust that my intuition will lead me to my soulmate.
Others can't help but be attracted to me.
The universe is bringing my soulmate to me; they get closer daily.
I open my heart to myself and trust that true affection will follow.
I will draw a fantastic person into my life who will accept me unconditionally.
I deserve a lasting relationship that can stand the test of time.
Positive affirmations for relationships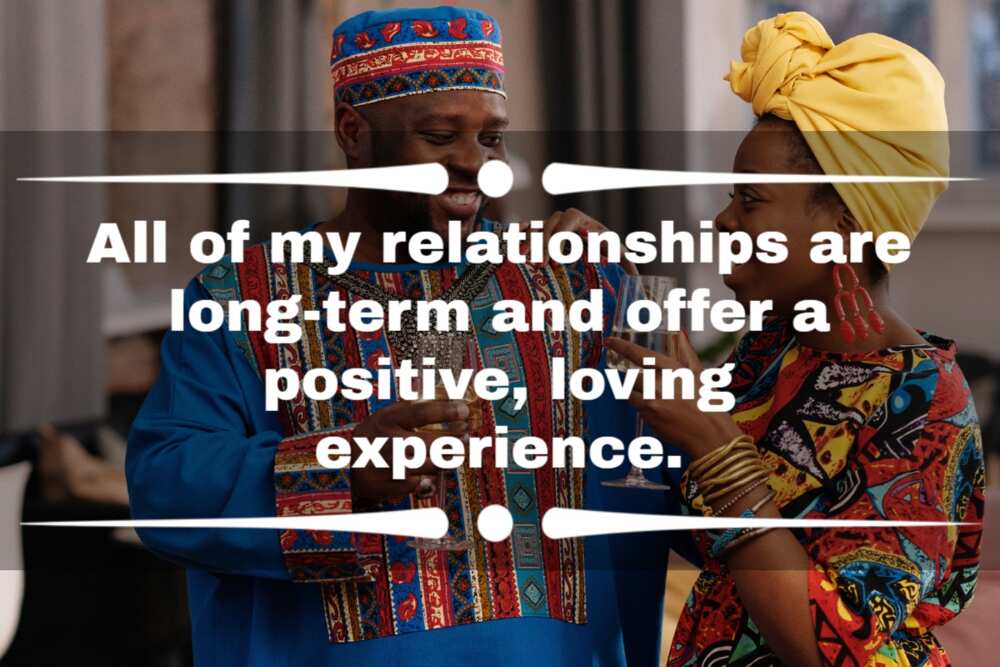 Affirmations are relationship development tools that will help you focus on attracting more positive relationships in your life. They will also help you nurture the good relationships that you already have. Below is a list of positive affirmations to help you in your relationships.
I spread affection to everyone around me, and it comes back to me in abundance.
I enjoy sharing my positive vibes with every person around me.
I am confident in what I look for in a partner.
My partner and I are a perfect match for each other.
We are in love, and it continues to grow with time.
I am grateful for the abundance of romance in my life.
I am open to a romance that brings positive experiences.
Love surrounds me and everyone around me.
All of my relationships are long-term and offer a positive, loving experience.
I know and trust that the universe will only bring me loyal, supporting and loving relationships.
I deserve a good partner in my life.
My dream romance will become a reality.
I stand in my relationship with an open heart and open mind.
We navigate difficult times together and lean on each other for love and support.
I feel accepted, cherished, and secure in my relationship.
Everywhere I go, I bring in tenderness.
My partner and I are soulmates, meant to meet and connect in this lifetime.
I accept affection in all forms and understand my partner's love language.
An abundance of affection flows through our daily life.
I am in a loving relationship that brings me a lot of joy.
The words you speak to yourself help you attract what you want in life. Many times people say negative things, especially when things are not working. You should change your mindset and declare positive things for your life. You can start with the above positive love affirmations to help you attract love into your life.
READ ALSO: 100+ most touching love messages for boyfriend he will love
Legit.ng published an article about love messages for boyfriends. Men, just like women, like to be complimented and appreciated by their partners. Once in a while, surprise your man with a heartfelt romantic message, and he will love you for it.
Sending your man a romantic message is a great way to express your feelings. The message doesn't have to be complicated but can be simple and to the point. Love messages help to maintain a solid and intriguing connection. Choose any of these messages and send your partner.
Source: Legit.ng