100+ morning affirmations for people who need a little motivation
A beautiful day begins with a beautiful mindset. When you wake up, take some time to think about what a privilege it is to simply be alive. When you begin acting like life is a blessing, it starts to feel like one. Morning affirmations are a great way to manifest a good day and have a positive mindset, even in the midst of chaos.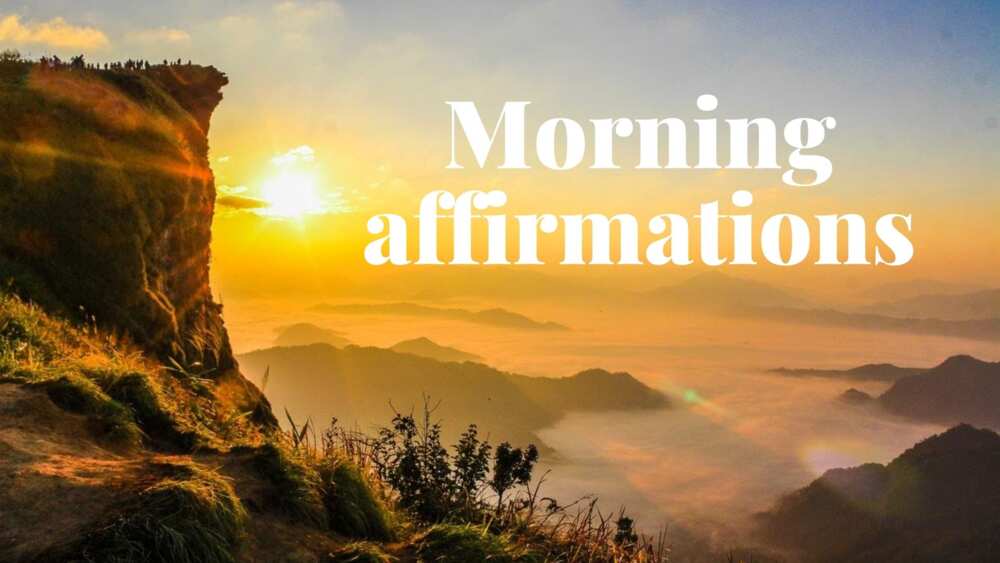 Affirmations are positive statements that target a particular area, behavior, or belief. They are used to overcome negative thoughts, energy, and self-sabotaging behaviors and beliefs. When you consistently repeat them and believe that they work, you are able to start making and viewing positive changes in your life.
Miracle morning affirmations
Affirmations can help you reshape limiting beliefs, emotions, and attitudes that may be preventing you from success and living your best life. Start your mornings with these powerful affirmations, act accordingly and positively throughout the day, and watch your life transform.
20 motivation affirmations
Your mindset forms a foundation for your life and plays a significant role in your overall success, motivation, and happiness. When you tune your mindset to positivity, you are able to stay motivated in this beautiful journey of life.
I am an unstoppable force of nature.
I am superior to negative thoughts and low actions.
When my intentions are clear, the universe cooperates with me, and I can accomplish anything.
I am filled with focus.
I allow myself to be who I am without judgment because this will allow me to be happiest in my life.
I think of only positive things, and positive things happen in my life.
I use obstacles to motivate me to learn and grow.
I possess the qualities needed to be extremely successful, and I have the confidence to apply those skills in ways that will enable my success.
The doors of opportunity are always open for me, and I take advantage of them without fail.
I am intelligent and focused.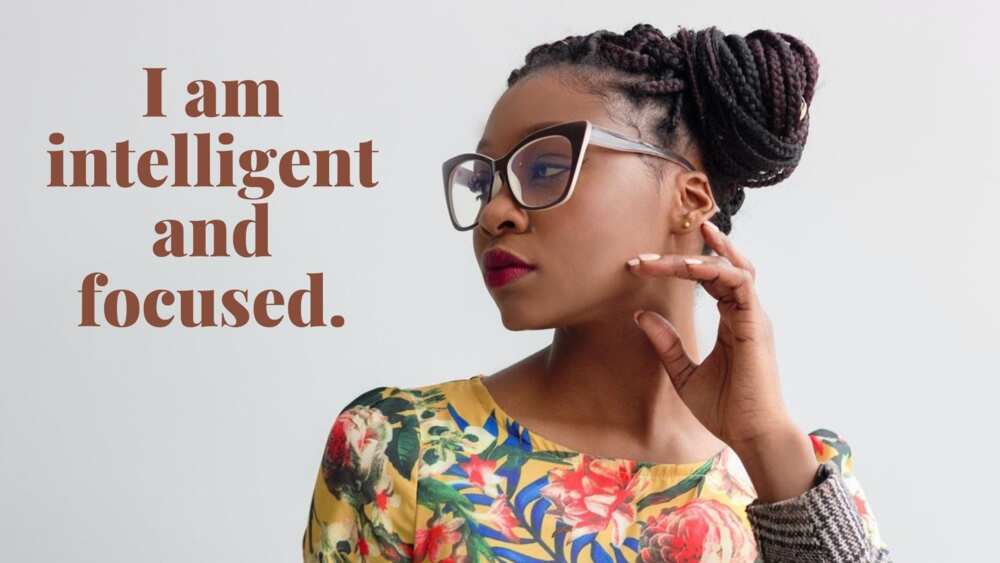 I wake up today with strength in my heart and clarity in my mind that gives me the ability to make the right decisions throughout my day.
I have too much potential to ever quit.
My life has meaning. What I do has meaning. My actions are meaningful and inspiring.
I permit myself to do what is right for me because that is how I allow myself to be the most authentic.
What I will do today is the best I was able to do. And for that, I am thankful.
I cannot be compared to others because I am unique.
My mind is full of brilliant ideas that I can use to benefit myself and others.
I possess incredible power within me to achieve anything I desire.
I make a difference in the world by simply existing in it and trying to make it a better place in whatever ways I can.
I give myself space to grow and learn because I understand that there is always room for growth.
20 positive affirmations for success
These success affirmations will guide you to visualize success as you reinforce your mindset to believe that these words will be manifested in your life. Success affirmations have the power to deliver you from self-limiting beliefs and they change your mindset to become that of a winner.
Amazing opportunities exist for me in every aspect of my life.
I believe I can achieve anything.
I have the knowledge to make smart decisions for myself.
Opportunities seem to fall right into my lap.
My ability to conquer my challenges is limitless, and my potential to succeed is infinite.
I believe things will always work out for the best.
It does not matter what others think of me, for I know who I am.
I am courageous. I am willing to act and face my fears.
Abundance and success are all around me.
I саn achieve greatness.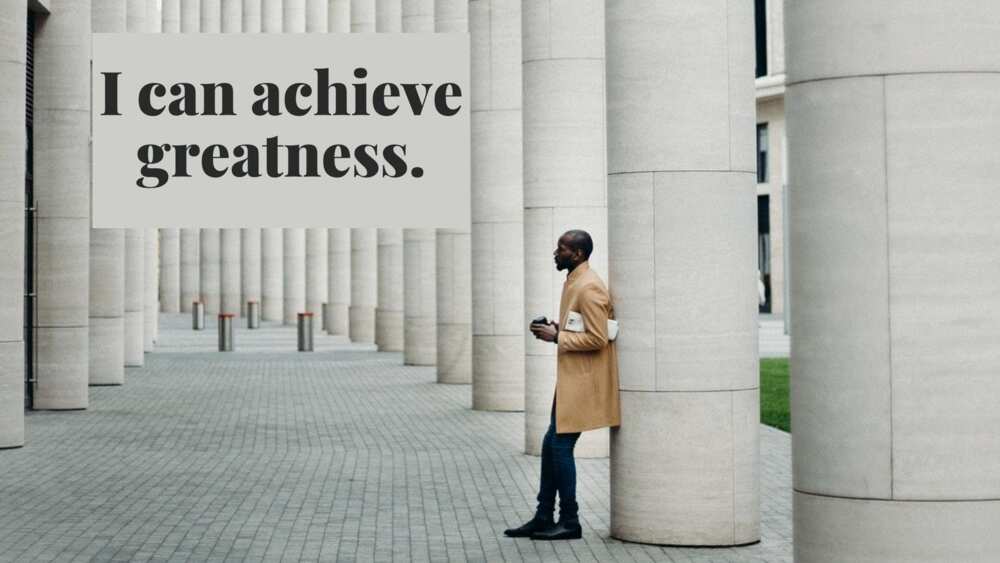 My goals and dreams always come true.
I am a powerful creator. I create the life I want and enjoy it.
When I go after what I want, it comes to me.
I have let go of old, negative beliefs that have stood in the way of my success.
I make good decisions.
I can never fail, for everything that happens contributes to me being better.
Success comes naturally to me.
Others look up to me as a leader because of my confidence.
I continuously push myself to learn and develop in areas of life that bring me happiness, freedom, and purpose.
Success and happiness are my birthrights.
20 positive affirmations for work
As you strive to achieve your goals, it is crucial to have your dreams and actions in alignment. Repeating these statements as often as you can will help you stay committed to your goals, even when you feel like giving up.
I am a magnet for ideas.
I am transforming into a more successful person.
I am confident in my abilities to reach the pinnacle of my profession.
Whatever challenges come my way, I can overcome them.
I am confident and good at what I do.
I am the best at what I do. I create exceptional results for my workplace.
I am solution-oriented. All problems are solvable.
I am decisive, confident, and take action.
To build discipline, I work on myself even when I do not feel like doing anything.
I make a difference with my work.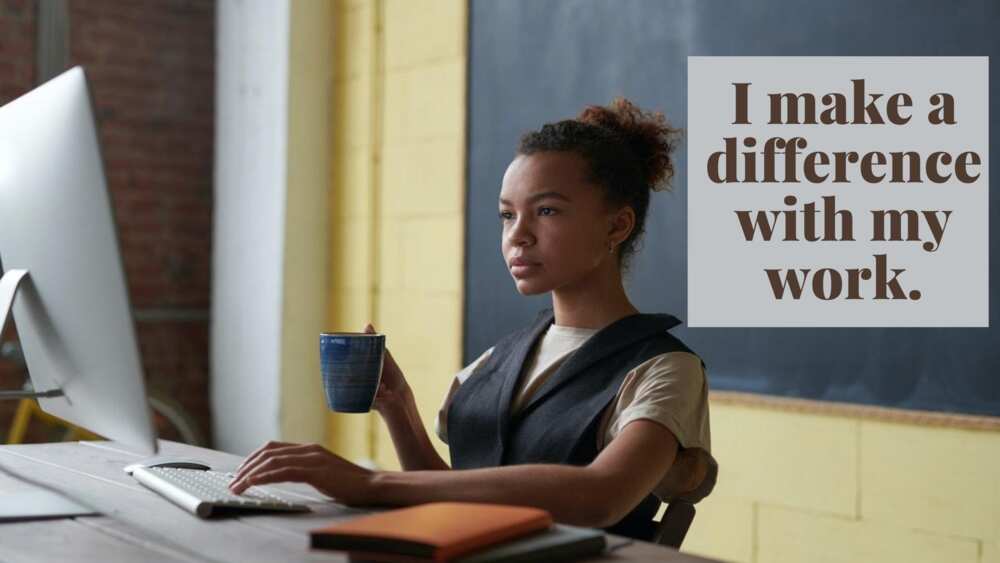 I have the strength to rise in the face of adversity.
My wins are on their way to me. I am waiting for them patiently as I keep working.
I feel refreshed, excited, and determined to excel today.
I am fueled by a passion for what I do and not the desire to prove something.
I am an example of integrity, even when no one is looking.
My goals are getting closer to completion every day.
I possess the humility needed to ask questions and keep learning.
I trust myself and my abilities.
I am improving as a professional every day.
I overcome work difficulties with ease.
20 positive affirmations for men
Every man can use these positive statements to achieve success, abundance in life, and fulfill their dreams.
I have come this far, and I will keep going.
Something wonderful is about to happen to me.
My life is filled with abundance and prosperity.
I am worthy, deserving, and capable of achieving everything that I want in every area of my life.
Great things are coming to me.
I am worthy of wealth and peace.
I am exactly where and who I need to be at this moment.
I am destined for greatness.
I see happiness and success wherever I go.
I have limitless potential.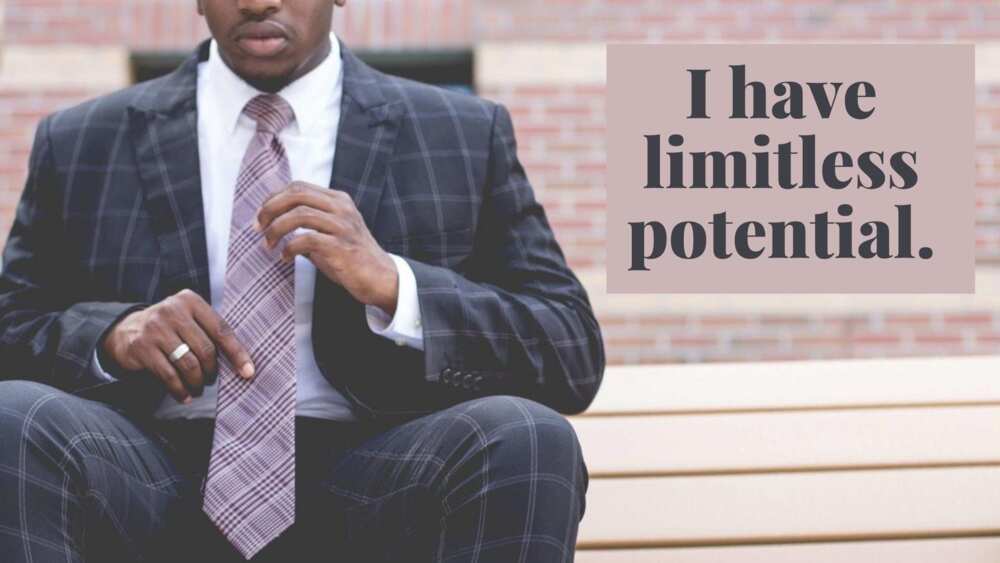 I have an infinite capacity for love and affection.
I will not feel embarrassed that I am not where I want because I will eventually reach there.
I teach others to believe in me by believing in myself.
I honor my life path.
I invest in myself because I am worth it.
I can overcome any challenge life gives me.
The universe always provides for me.
I attract success, good health, freedom, and love into my life.
My doubts will never kill my dreams. I will push until I get to where I want to be.
I am powerful, confident, and capable of reaching all my dreams.
20 positive affirmations for women
These statements will inspire and empower you to tap into the best version of yourself.
I embrace happiness as my natural state of being.
I love myself and treat myself with kindness.
I wake up with a peaceful mind and a grateful heart.
I am in charge of how I feel, and today, I choose happiness.
I move in alignment with my highest self. I affirm my ability to merge timelines and rejoice as everything comes to me with ease.
I let go of all that no longer serves me.
I am grateful for everything I have in my life.
I am more than what I see, feel, and think. The wisdom of the whole universe lives inside me.
Life is an incredibly exciting and beautiful journey.
Abundance and love flow from me.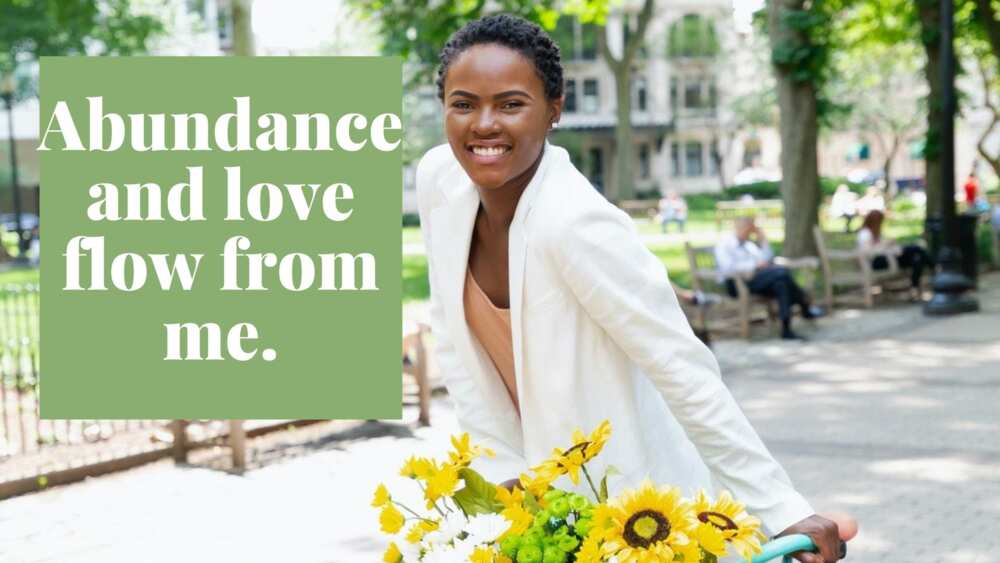 From this moment, I give up being perfect for being authentic.
I have all the happiness, love, and positive energy I need to have the most amazing day.
I am worthy of infinite and unending compassion.
I am worthy of accomplishment, success, and abundance.
The universe is friendly and helps me to achieve my dreams.
I allow love to fill every inch of my skin, and I will embrace the warmth this love gives to me.
I am grateful for this wonderful day and the endless possibilities it has to offer. I know something great is in store for me.
I have something special to offer the world.
My body is a tremendous gift, and I will treat it with love and kindness.
10 confidence affirmations
Make an effort to repeat any, most, or all of these statements for confidence in your life. They will enable you to maintain a healthy and happy spirit. Which are the most effective confidence affirmations?
I am motivated, positive, and confident in my life vision.
My actions are intentional, and they bring me closer to my goals.
Forget what others think of me. As long as I am happy with who I am, that is all that matters.
My body, mind, and spirit are powerful and profound.
I will live in the moment to provide a better tomorrow for myself.
I live in the present beautiful moment and trust in my future.
Everything in life happens for a reason. Even if I do not know what that reason is, it will benefit me.
I am proud of myself.
The past is the past. Today, I will focus on the present and live the legacy that I want to leave.
I am growing and changing for the better.
When you are confident in your actions, you are able to perform better and achieve good results. Stating any of these morning affirmations each morning will help you tune into your higher self and remain positive as you undertake your daily activities.
READ ALSO: 50+ encouraging happy thoughts to get you through the dark times
Legit.ng reported that happy thoughts help us overcome negative issues, doubts, and fears. When you practice thinking good thoughts and make it a habit, you might find yourself on the wave of positivity sooner than you ever imagined.
Happy thoughts and quotes will undoubtedly get you through the darkest times and help you acquire peace in your soul.
Source: Legit.ng