Affirmations for women for self love, confidence and motivation
It is no doubt that our thoughts become our words and then actions. Therefore, it is inevitable that everyone wants the freedom to choose their thoughts and intrapersonal dialogue instead of letting their minds control them. Have a look at some solid affirmations for women.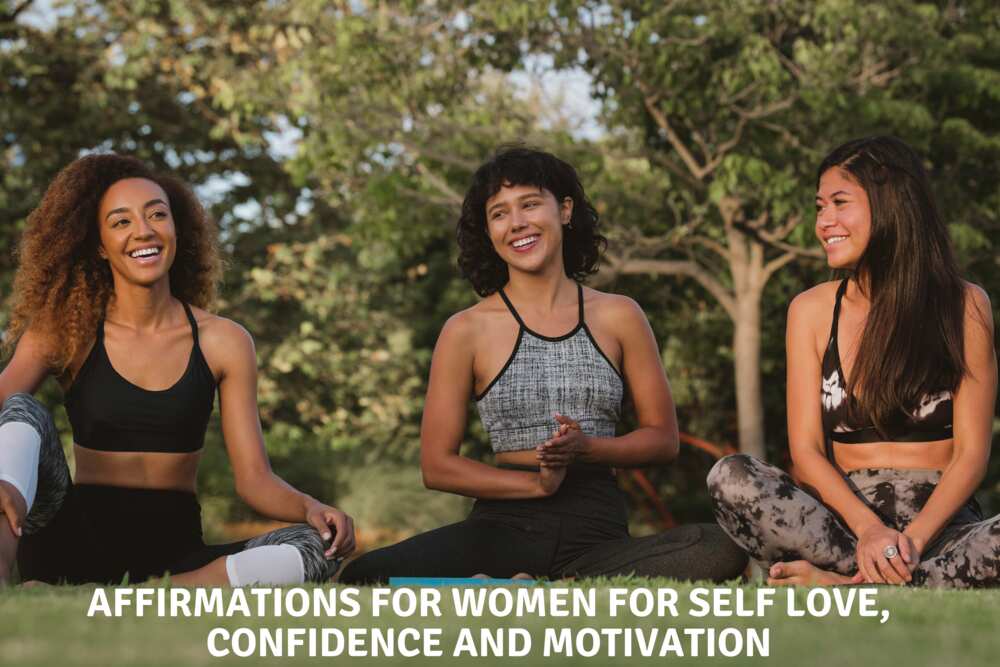 Positive thoughts deal with complex thoughts and emotions. So how do you harness the power of positive reviews? It comes from saying and meditating on affirmations.
Powerful affirmations make one trust life again. Here are some affirmations to use in your daily life.
Affirmations for women
As a woman, you have so many demands and goals you have set. You make commitments to both of them, hoping to achieve and do it perfectly. As soon as you hit speed-bumps, you begin to question your abilities to get the job done.
You need to engage in self-care activities such as using affirmations for self-love. These affirmations for women will help you stay healthy and balanced mentally, physically, and emotionally.
Have a look at some of the affirmations for women.
Words of affirmation for her
As a woman it is always good to stay positive and strong in everything you do. Below are some self love affirmations to help you feel great about yourself.
I embrace myself and all women in the world.
I have been blessed with an abundance of energy, wisdom, and money.
I deeply and completely accept myself.
I have everything I need to succeed in life.
I am calm and at peace.
My life is full of abundance and happiness.
I am proud of myself for all of my big and little victories.
I am confident in my abilities to make the right decisions.
I don't let others' thoughts or judgments affect me.
My life is bursting with love, happiness, and prosperity.
By being true to myself, I bring joy to other people
I am responsible for my actions, words, and thinking.
My goals and desires are as worthy as everybody else's.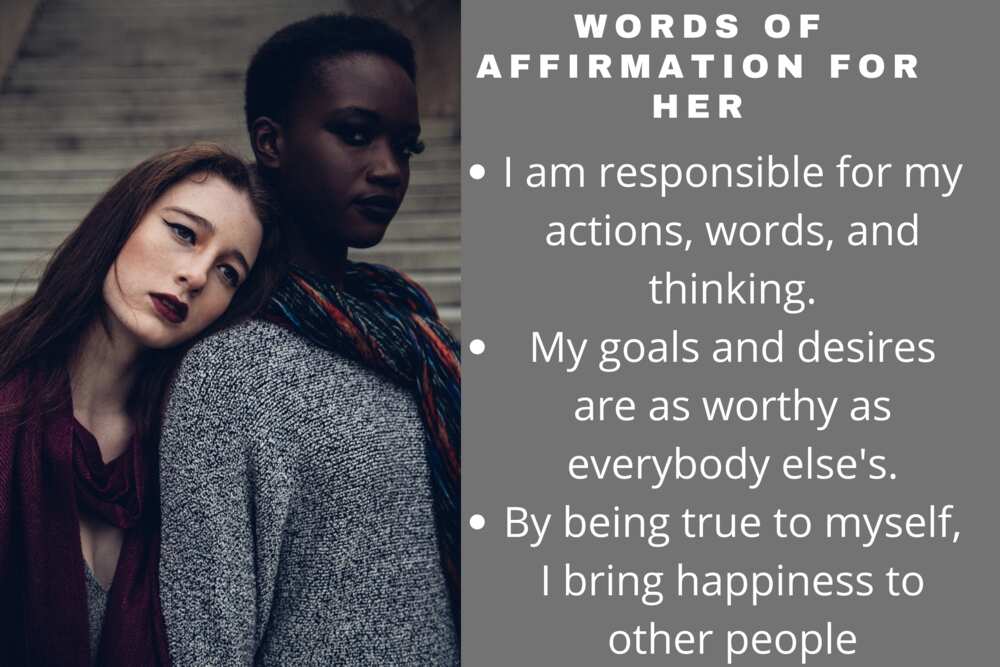 With each positive affirmation, you are reinforcing a vision of what you know can be true!
Daily affirmations for women
Daily affirmations for women help them rewire their brains and aid in making positive changes in their life. They are always a reminder of what every woman is capable of achieving.
Here are some daily motivational affirmations for women.
I attract energies and situations that fill me with joy every day.
The challenge helps us grow stronger and makes us tougher in the face of the next challenge.
I am living my own kind of joy that has nothing to do with someone else's. I am ecstatic for someone who is ecstatic, and some are ecstatic for me.
Today, I have a limitless number of options. I enjoy life and am prepared to take inspired and driven action against my objectives.
Times may be difficult, but it is a short phase of life. Things can get better. Things will get better.
I choose positivity. I choose happiness. I see both all around me.
I have the power to change my story.
I give myself permission to be relaxed and happy.
I choose to respond to this challenge with grace and positivity.
Despite any obstacles that might arise, I maintain a positive outlook today. I know what it takes to be successful.
Instead of passing judgement on others, I just test myself to see if I am the best person I can be. This is a better way for me to spend my time.
Positive affirmations for women
Negative thoughts are part of human nature and are deeply rooted in everyone. It is entirely a new and difficult task to uproot them.
Affirmations for self love will give the best solutions to positive thinking.
I protect my energy by making positivity a priority.
I am a positive influence and surround myself with people.
I am free to let go of anything that no longer serves me.
I surround myself with loving, positive energy.
I love living in my divine female body.
I combine femininity and intelligence beautifully.
My exquisite female body radiates loving-kindness to the world.
I give permission to my inner goddess to work her magic.
I embrace being a woman.
I empower myself and all women in the world.
I appreciate the female cycles that my body experiences.
Being a woman is the greatest gift the universe has given to me.
I am a wonderful daughter/mother/sister/partner to my mother/children/siblings/partner.
I am confident in my sexuality.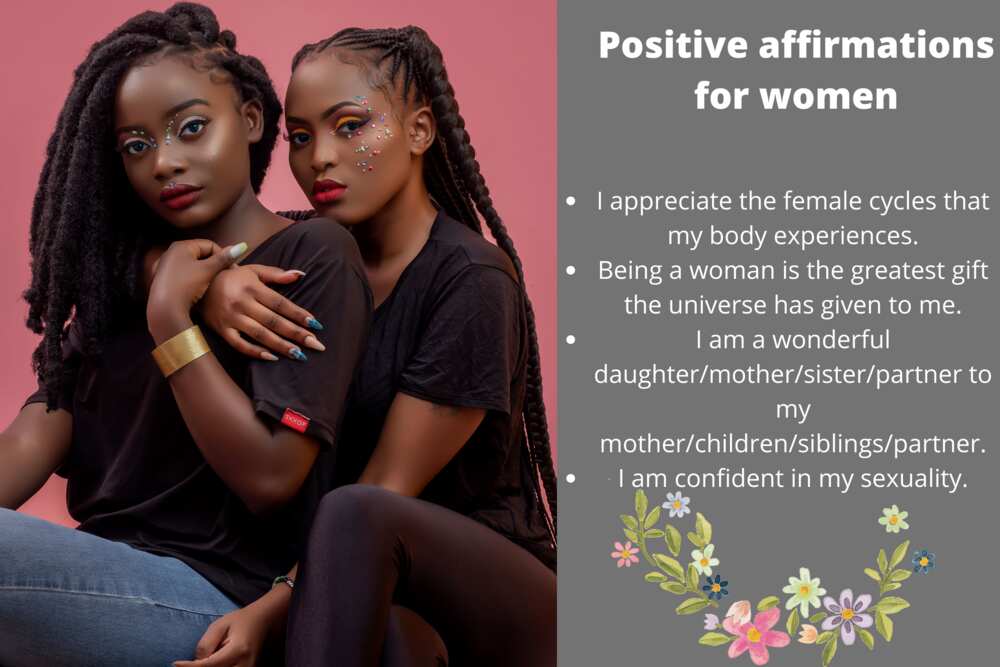 Positive affirmations for work
Positive affirmations replace negative thoughts that tend to take over when you are not monitoring your thoughts.
Everyone has a tough day at work, and to take a break for a few positive affirmations for work rejuvenates our energy to keep working.
Here are some affirmations for staying positive at work.
I practice self-care and recognize when I need to take a break. I feel good about taking care of myself.
I move at the perfect pace. I don't need to speed up or slow down.
I refuse to overcommit myself. I'm able to say no when I need to. I protect my time because I deserve it, and it's invaluable.
I am prepared to handle all tasks that come to me.
I am more than capable of leading projects.
I am open to constructive criticism and welcome improvement.
I keep calm and maintain my peace of mind in challenging situations.
I find ways to work smarter, not harder.
I am happy with my progress and will keep moving forward.
I have a successful career, which I love and enjoy.
With courage and hard work, I can achieve anything.
Morning affirmations
A simple morning affirmation will give you the mental strength to start each day with optimistic thoughts and self-belief.
However, changing your thought patterns with morning affirmations requires regular practice. Therefore, you can speak morning affirmations when you wake up or get ready for the day's tasks.
I am energized and ready to slay the day.
My career goals are manifesting each day.
I am going to make this day count.
I am aware of my gift to the world and share it freely.
I am compassionate with others and myself.
I am a positive being, aware of my potential.
There are no blocks I cannot overcome.
I love to meet other people and make new friends.
I am my best source of motivation.
Challenges are opportunities to grow and improve.
I attract positive people into my life.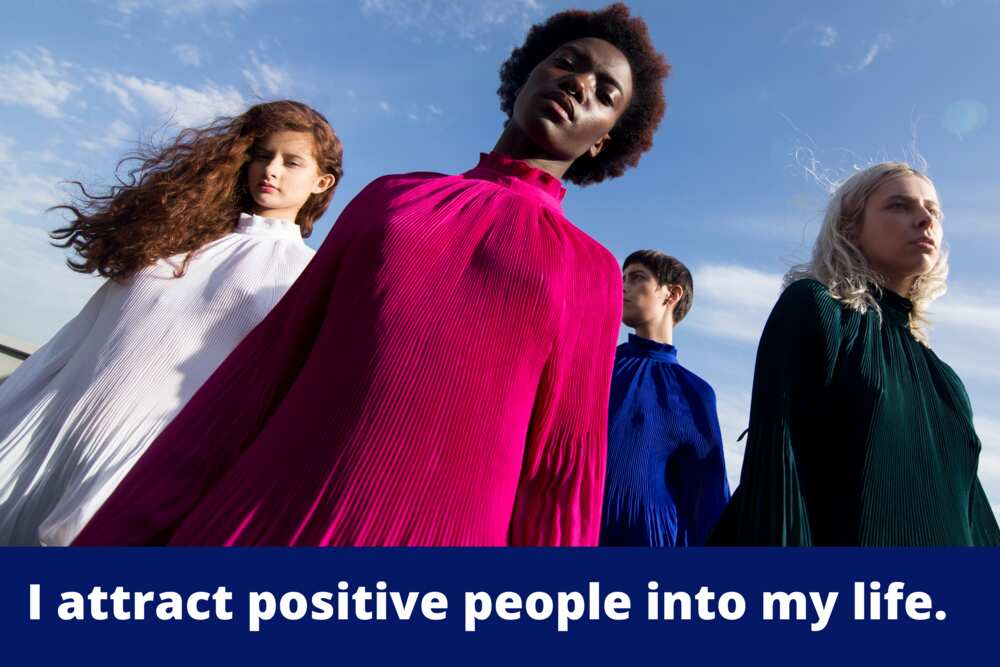 Confidence affirmations
Lack of confidence holds one back in performance and also affects relationships with other people.
Affirmations for confidence give you clarity on your confidence roadblocks as they help in challenging you to take actions to boost your confidence.
Confidence affirmations help you to improve your self-esteem and self-worth.
I acknowledge my self-worth; my confidence is soaring.
I have everything I need to create my opportunities.
I am comfortable allowing my light to shine in all situations.
I trust my intuition and listen to my inner voice.
My self-talk is loving and supportive.
I am happy with my growth at this moment.
I embrace the greatness within me.
I accept myself as I am and release the need for approval.
I am proud of my culture, upbringing, and experiences; they made me who I am.
I bring something unique to the table by simply being me.
I look good, and I feel great!
I don't need to be the loudest voice in the room to have an impact.
Self-love affirmations
Affirmations for self-love will, for certain, help you learn to see the positive side of yourself and life. Our every thought does have the power to influence our entire lifestyle. Here are some self-love affirmations.
My journey of self-love means giving my mind some time to rest.
My peace is mine; I won't give anyone the power to take it away from me.
Love is my birthright. I am a manifestation of this love. I am loving and loved by many.
My body is healthy. My mind is brilliant. My heart is at peace. My soul is tranquil.
I accept all that I am with love.
I love me, unconditionally.
I am free to evolve and release anything that takes away from my growth.
I protect my energy by making positivity a priority.
I am a positive influence and surround myself with people.
I am free to let go of anything that no longer serves me.
I surround myself with loving, positive energy.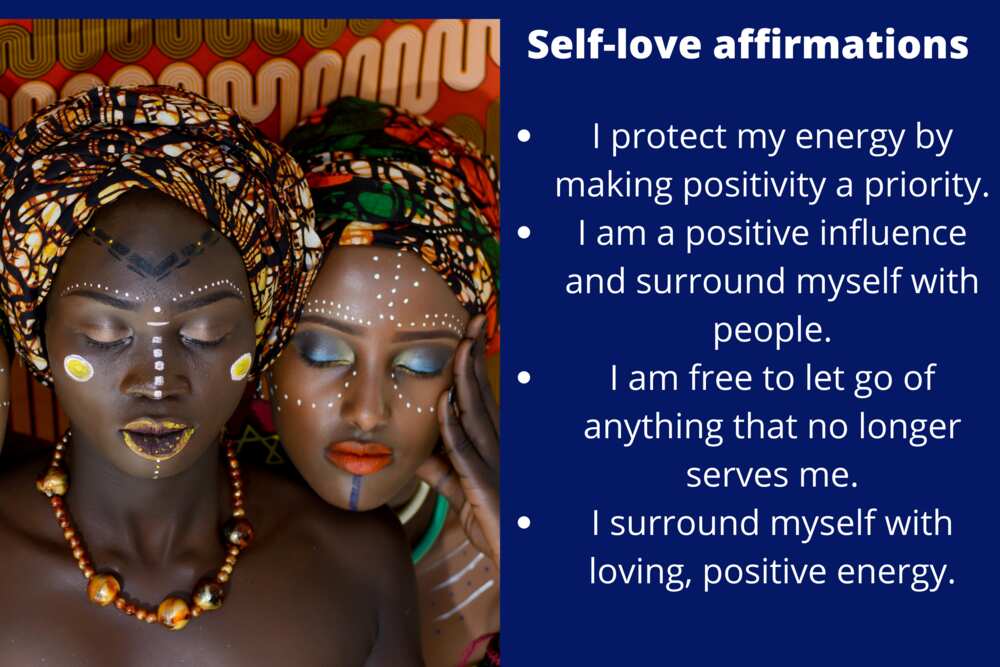 Motivation affirmations
Your thoughts can be detrimental to your personal development, hindering you from becoming your best version and achieving set goals.
One of the most effective ways to feel more confident and motivated is to use motivation affirmations. To get you started for your day, here are a few motivational affirmations.
Rather than being discouraged by how far I have left to go, I'm grateful for how far I've already come.
I am ready to create more success in my life and release any excuses. I'm productive and focused on attaining results.
I don't have to wait until I feel ready to act on my goals. The timing will never be right; I'm ready now.
I have complete power over my destiny and trust that Spirit will guide me to make the best decisions.
My mistakes do not define me or dictate my future success.
As you review these beautiful affirmations for women, always make positive thoughts a part of your daily routine. Every day affirmations will inevitably help you master new positive thinking skills.
READ ALSO: 50+ beautiful names that mean light you should give to your child
Legit.ng recently published an article on beautiful names that mean light that you should give to your child. Names that mean light or bright shine brightly and beautifully. They can commemorate a bright day or a flash of inspiration, as well as bestow brightness on your baby's future or shed light on a mid-winter birth.
In a world filled with darkness, babies are the hope and source of light for the parents. These little beams of sunshine bring joy to the world and make even the darkest and the toughest moments worth living.
Source: Legit.ng