How to see your liked posts on Instagram on Android and iPhone
Instagram is one of the biggest social media platforms, with over 1 billion monthly users. The platform started as a simple photo-sharing tool and has grown to include multiple content formats in posts, stories, and reels. Users can also interact on the platform in various ways, such as by liking, commenting, and sharing. This is the step-by-step guide to seeing your liked posts on Instagram on Android and iPhone.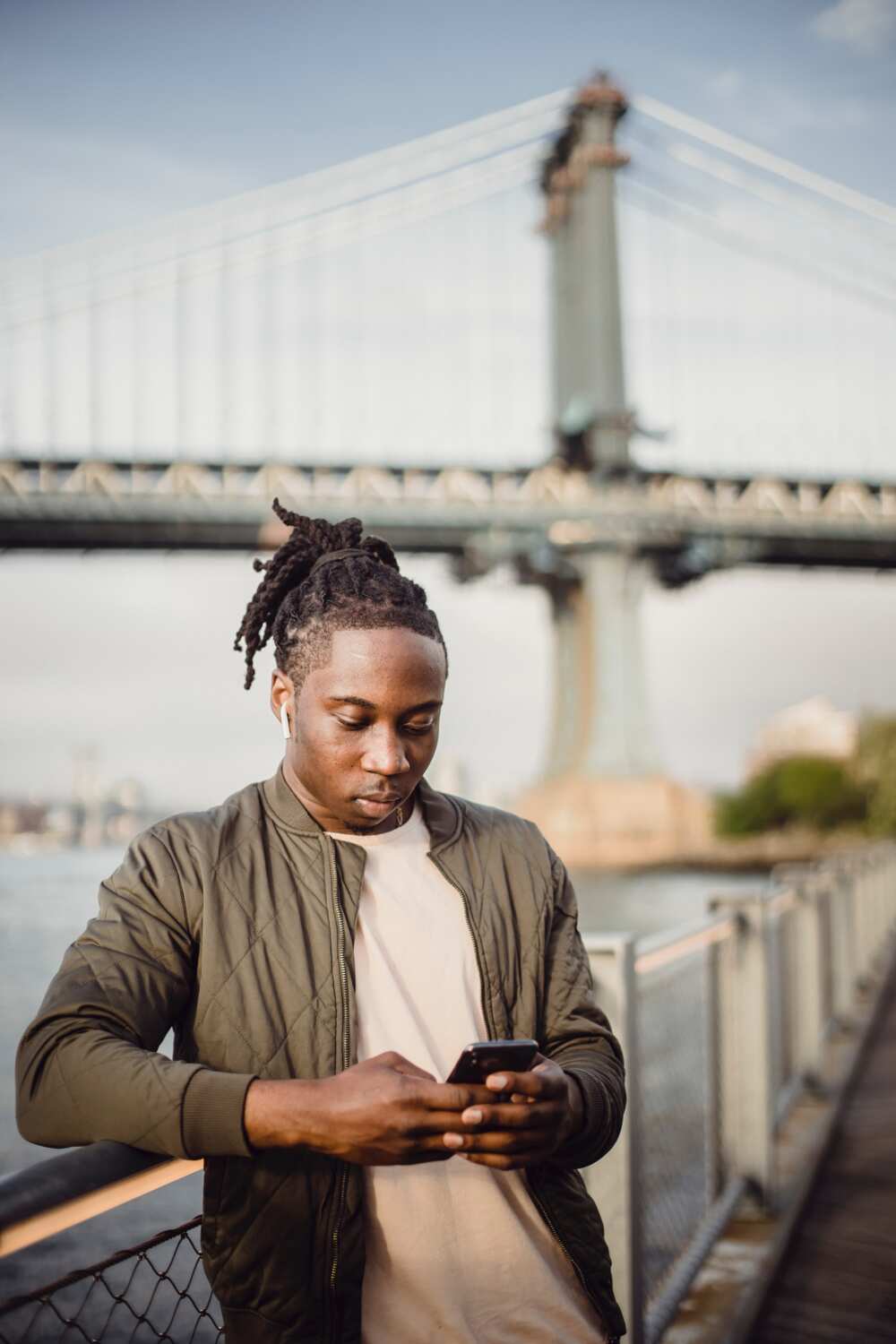 If you are on Instagram, you sometimes want to be able to go back to posts you've tapped previously. It can be challenging to track them if you are unfamiliar with the steps. However, it's possible to see those posts whether you use an iPhone or an Android device.
Reasons to view your previous likes on Instagram
Liking something on Instagram is not just a friendly gesture to let someone know you approve of their post. It's an excellent way to bookmark things that are interesting and important enough to look at again. There are many reasons why you want to check posts you've clicked on previously. Below are some reasons you might want to revisit a post:
It might contain helpful information, such as important announcements and schedules.
Reading all incoming comments as they provide meaningful engagement.
Finding new accounts to follow from the post.
Reading a caption on a post that you needed more time to read.
Revisiting helpful information to check out the details, such as products, services, contests, recipes, or tutorials.
Continue reading the comments to follow along with a discussion on a particular post.
How to see your liked posts on Instagram on Android
Viewing previous posts is essential to mark those you want to look at again. If you're an Android user, learn how to see what you liked on Instagram in the past:
1. Open the Instagram app on your Android device and click on your profile icon in the bottom-right corner. This will take you to the Profile tab.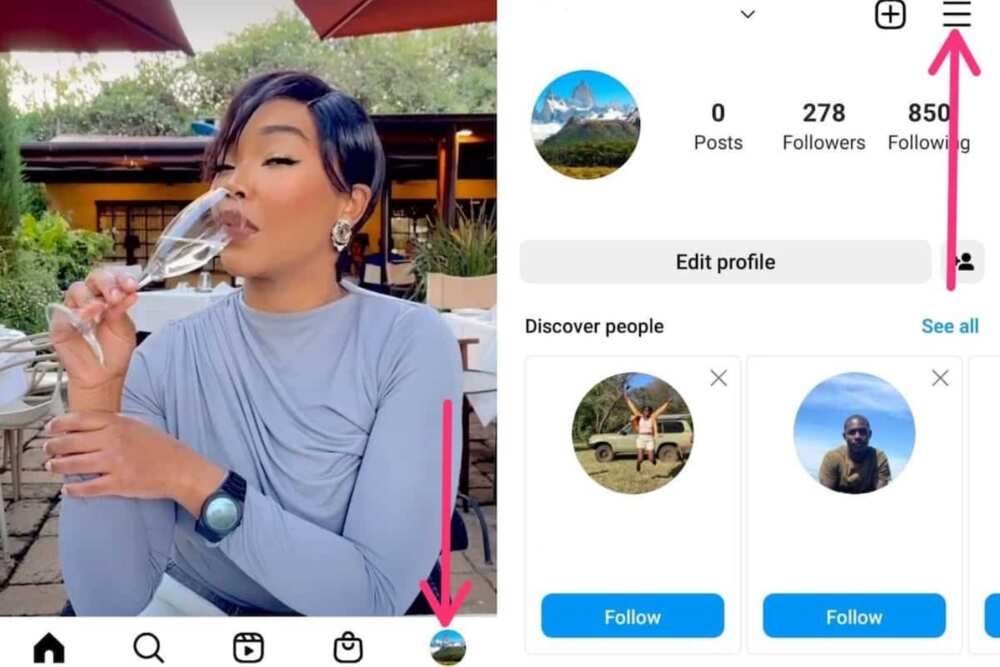 2. Tap on the hamburger icon (three horizontal lines) on the top right.
3. Select Your activity section.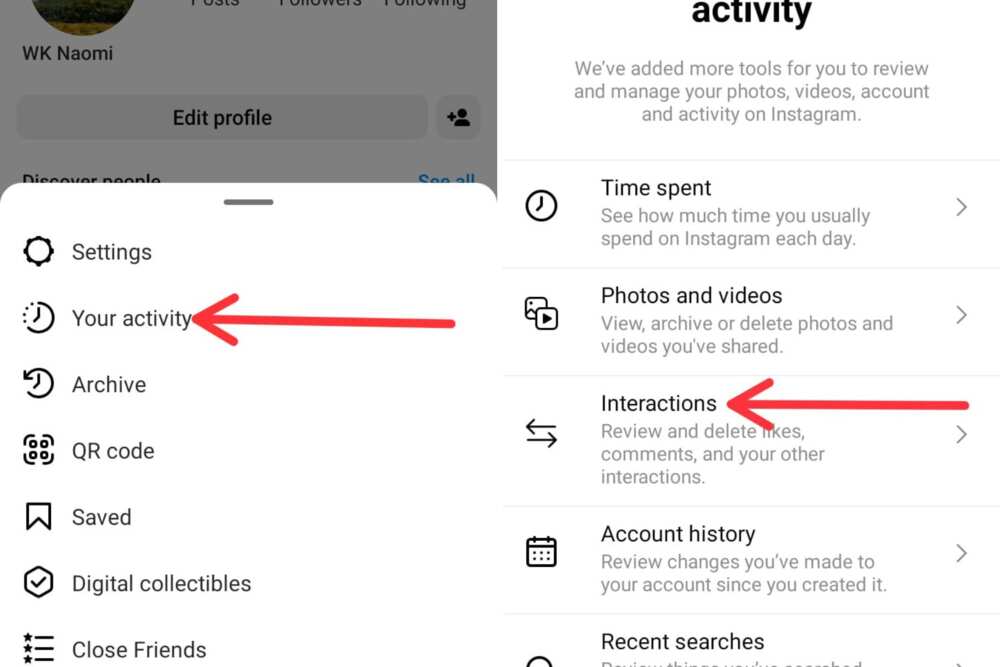 4. In Your activity section, click on Interactions.
5. Finally, click on Likes. This page will show the history of all the posts, videos, and reels you've previously liked on the platform.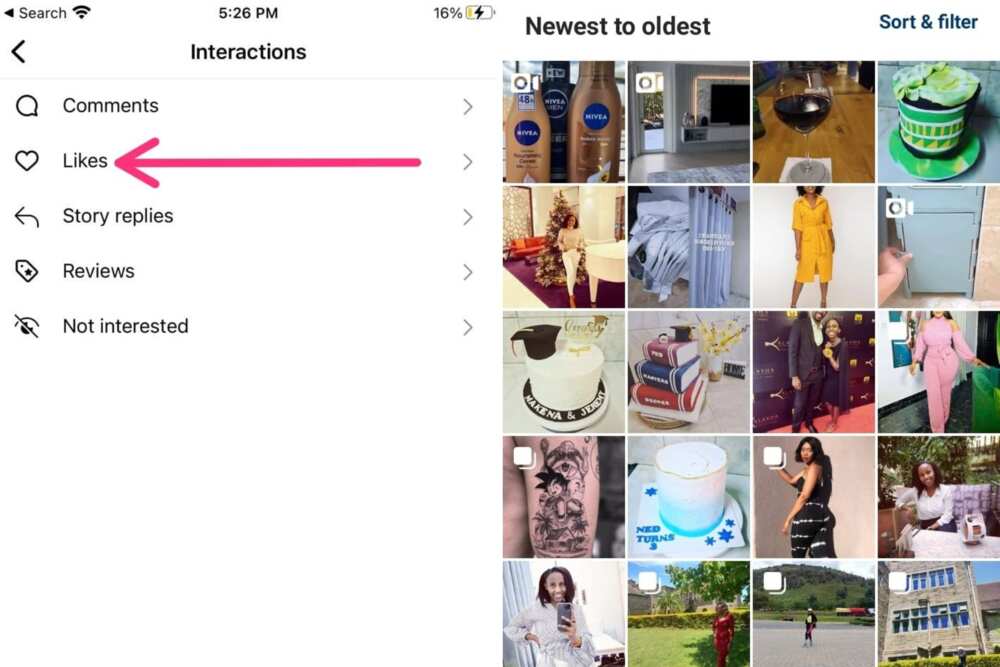 You can only see 300 posts on this page. They are, by default, arranged from the recent to oldest order in a grid format.
From here, you can now sort and filter your content. Additionally, you can now unlike multiple publications at once. You can only see the ones you've tapped on the mobile app. This feature is not applicable to the desktop version of Instagram.
How to see your liked posts on Instagram on an iPhone
If you're an iPhone user wondering how to find likes on Instagram, worry not, as it is quick and easy. You can view previous Instagram liked posts on the iOS app with the following simple steps.
1. Launch the Instagram app on your iPhone, and tap on your Profile icon in the bottom right corner of the screen.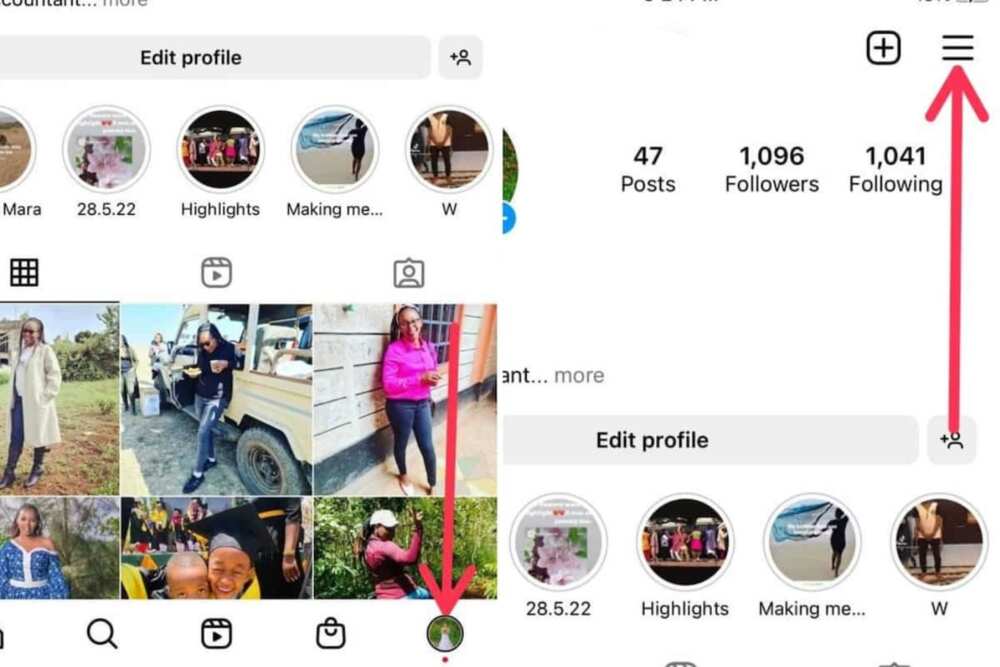 2. Under the Profile tab, tap on the three horizontal lines in the top right corner of the screen.
3. Tap on Your activity.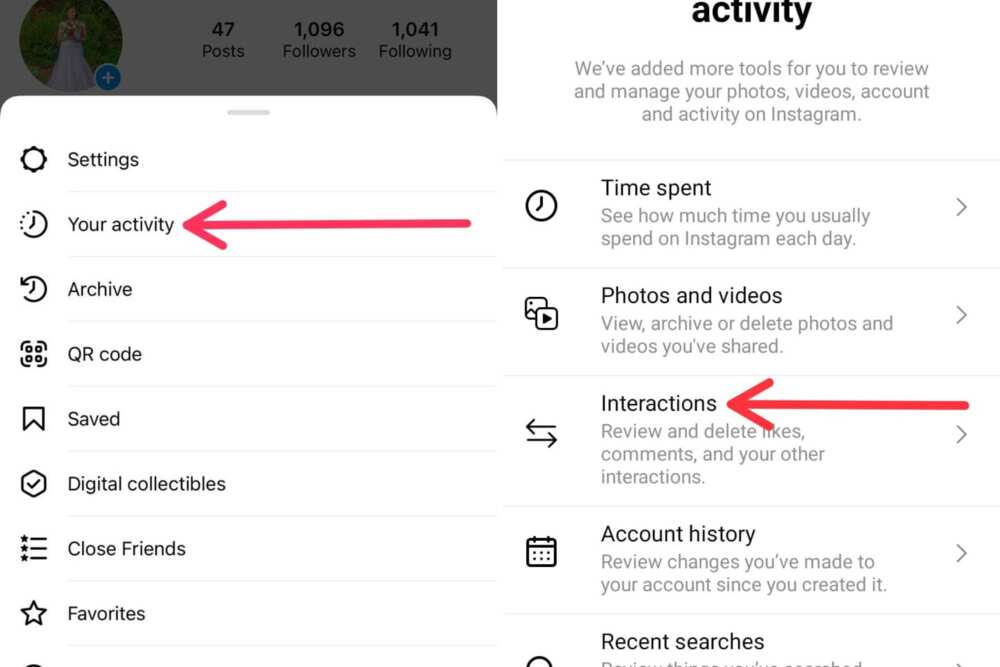 4. Tap the Interactions option.
5. Click on Likes to open your most recent liked content. Here you can see all your recently clicked photos and videos lined up together in a grid layout. You can switch to the full layout on your iPhone to see the content as it appears on your feed.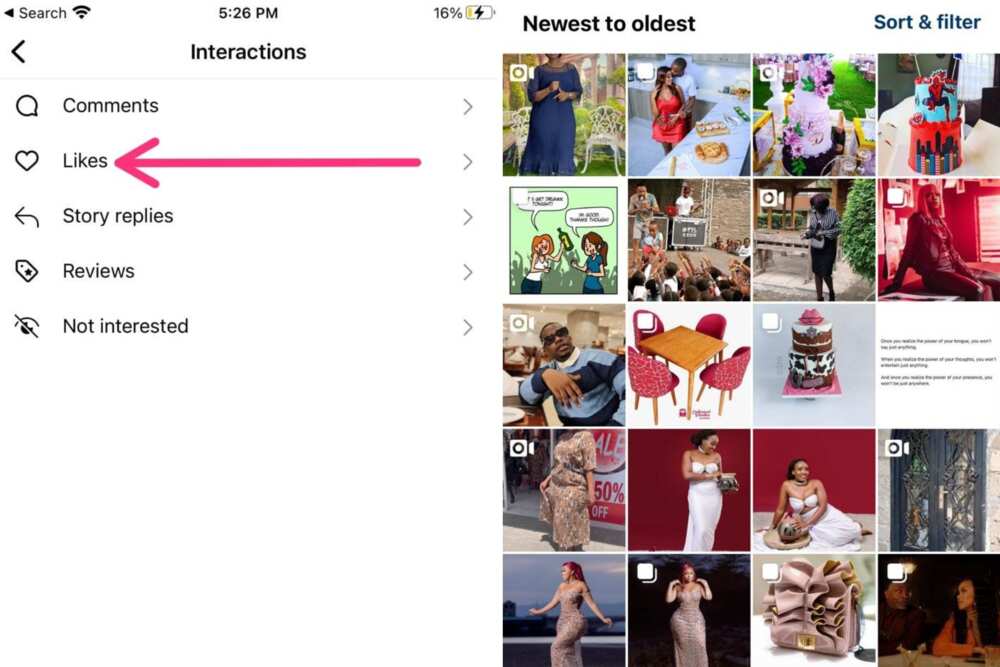 By default, the likes are from the most recent to the oldest. You can scroll down to see older clicks. You can also sort & filter to specify a date range or sort from oldest to newest.
How do you unlike your liked posts on Instagram?
It is not possible to unlike all of them at once, but you can easily unlike 300 most recent photos, videos, or reels. Here is how to do this on an Android or an iPhone device.
On the Likes screen, click and hold a photo or video and drag your finger over the heart button to undo it. Another way is to open an individual picture in the feed to unlike it.
How do you see what posts someone has liked on Instagram?
If you are wondering how to find liked posts on Instagram of someone else, you are out of luck. While before there was a feature that allowed you to see the activity of people you follow, it has been discontinued.
Is it possible to hide likes on Instagram?
It is possible to hide them through the Advanced Settings menu.
How do you hide likes on Instagram?
To hide the like counts on your photos, go into your feed, tap the three dots on a specific image, and choose Hide like count. If you don't want to see the likes and views on photos from other accounts, go to Settings > Privacy > Posts and put the Hide Like and View Counts toggle to On.
Why can't I see posts I have liked on Instagram?
You can't see them because the platform modified the app and removed the activity tab.
You may be one of those people who often double-tap a post on Instagram and see the little heart appear on the screen. You could also be one of those people who only double-tap a few photos and videos. Either way, the platform allows you to revisit them whenever you want. The above guide explains how to see your liked posts on Instagram on Android and iPhone.
READ ALSO: DStv packages in Nigeria: subscription prices and channels 2022
Legit.ng published an article about DStv packages in Nigeria. DStv is a leading satellite television operator on the continent. It is owned by MultiChoice and has a presence in over 40 countries in Africa, including Nigeria.
DStv has different packages to offer subscribers a fee. These packages have both local and international channels. You can watch documentaries, music, movies, animation, and sports channels.
Source: Legit.ng