43 sentimental songs about growing up to celebrate the coming of age
What songs about growing up can you remember? Ageing is an inevitable process; before you know it, you will be old. Some music artists have exceptional abilities to remind people about their transition from childhood to adulthood through their songs that will be relevant for generations.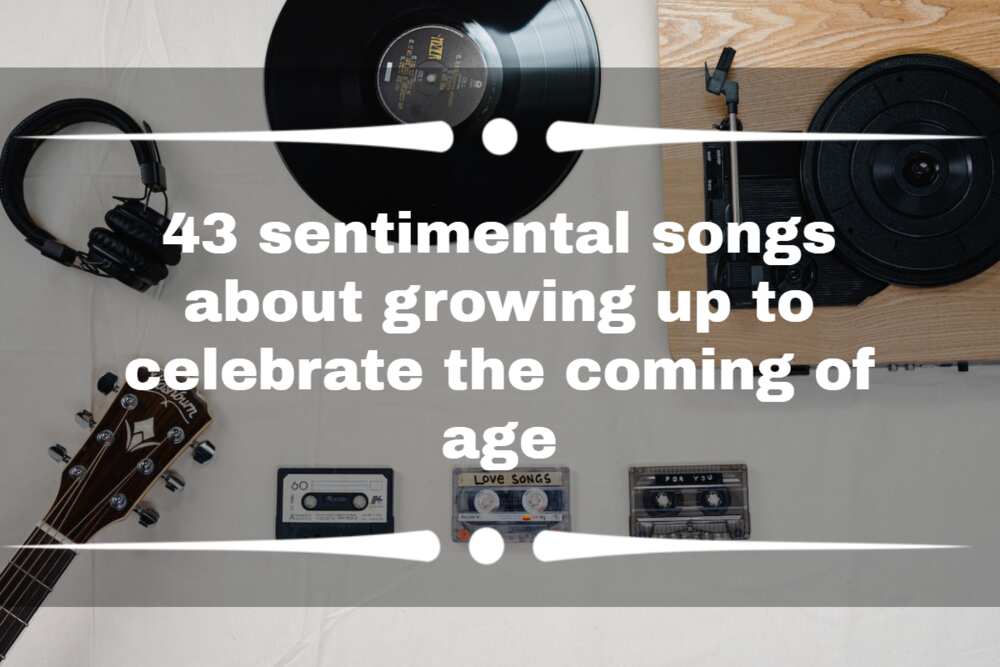 Certain songs will take you down memory lane to the good old days when you were young, and you will surely see how time flies as you grow up. You can reminisce about your younger days with these songs about growing up.
Songs about growing up
Numerous songs will remind you of your younger days. These songs can evoke various emotions; you may feel sad or happy depending on your experiences. Here is a compilation of different genres, ranging from hip-hop, country, soul, and RnB, to classics, about growing up.
Songs about children growing up
It is amazing how kids grow up fast and become adults. As a parent, nothing prepares you for the day your kids leave home and start their own lives. Here is a list of songs about kids growing up.
There Goes My Life by Kenny Chesney
This country song was released in 2004 and narrates how a man gets a daughter with his girlfriend and thinks his life will be ruined. However, his daughter grows up fast, becoming his main priority in life, and then a time comes when she has to leave home for college.
You can look back at your past, but you can do nothing to change whatever happened. This folk track was released in 1966 from the album Joni Mitchell - Live Radio Broadcasts.
In the song, a father talks to his son about growing up in a man's world and being kind to people. This country song was released in 2017 on the album Lee Brice.
Even though parents wish their kids all the best, it pains them to see their kids leave. Interestingly, all parents have to experience this when their kids come of age and have to leave home. The track is a 2007 release from the album Home at Last.
In My Daughter's Eyes by Martina McBride
There is a strong connection between mothers and their daughters, and the kids will likely emulate them as they grow up. This country song was released in 2003 from the album Martina.
The singer describes his relationship with his only son and considers the moments he spent with him the best days of his life The hit was released in 2000 from the album Latest Greatest Straitest Hits.
The songwriter narrates how he dreamed of being a musician when he was young and is delighted to have achieved it as an adult. This is a rock song released in 2021 from the album ELO 50th Anniversary.
After marrying and adopting a daughter, the artist becomes a responsible dad, not the crazy kid he used to be. The song was released in 2021 from the music album Country Again.
Glory Days by Bruce Springsteen
This song narrates how the artist caught up with his high school friend after many years apart. It was released in 1984 in the album Born in the U.S.A.
He appreciates the youthfulness of their love as they are young and wonders if things will remain the same in the later years. This rock song was released in 1967.
Sometimes parents can see their reflection in their children and even point out specific behaviours they can relate to. Reba McEntire released the country song in 2003 on her album Room to Breathe.
Sentimental songs about growing up
As you age or during your sunset days, all you need to listen to are good sentimental songs that not only entertain you but make you reflect on the days behind you. Here are some hits that will remind you of the good old days.
Because You're Young by David Bowie
The song describes a couple's romantic relationship in their youthful days from the perspective of an adult person. It is a 1980s rock-pop song released from the album Scary Monsters.
The artist recalls his old ways in his younger days and appreciates his current adult situation. The rock band released the song in 1995 from their album The Nazarene.
It highlights the artist's challenges while growing up with an ambition to be a musician. At the time, music, especially rock music, had a negative perception in society. The song was released in 2020 on the album Wheatus.
The artist prefers going against the grain in a world where people opt to conform to many things in the name of growing up. He chooses not to grow up and do things his way. This is one of the songs in the album Bone Machine, released in 1992.
Youth Of The Nation by P.O.D.
The shooting at Santana High School in Santee inspired the song. It depicts the many things youth go through that might drive them to do unthinkable things. It is a track under the album Satellite, released in 2001
The level of maturity is sometimes not determined by one's age but by one's behaviour. The artist's message is even if someone is young, they can be mature. The song was released in 1999 from the album Enema of the State.
Those missed opportunities in your teenage may come back to haunt you later in life. However, it is part of growing up and learning from life. The song was released from the album The Lion and the Cobra in 1987.
The track reflects on childhood, growing up, and becoming an adult. It shows how perceptions change as you go through the transition process. The band of four released the song in 2006 as part of the album Sam's Town.
Boys Will Be Boys by Dua Lipa
It highlights various issues women face, such as sexism and inequality, as they grow up and have relationships with men. This is one of Dua Lipa's songs in the album Future Nostalgia, released in 2020.
The artist dedicated the track to his eldest son, expressing the joy and strength a father can feel when his son is born. It is an everlasting feeling making you feel young despite growing in age. The folk song was released in 1974 on the album Planet Waves.
Sad songs about growing up
While growing up is usually regarded as a sign of maturity, it may come with some regrets. You cannot go back to relive your youthful days, and it is quite sad if you did not make use of them. Here is a compilation of sombre growing-up songs.
Growing Pains by Ludacris
The artist expresses how painful it feels to get older and leave behind the youthful days. Ageing is unavoidable, and he has no option but to move with time. The track is a 2001 release from the album Word of Mouf.
The song was about the lost dreams you had when you were young. As you grow, the dreams fade away, and you settle for whatever comes your way. Oasis released the song in 1994, and it is one of the hits in the album Definitely Maybe.
The artist believes that money enslaves many people throughout their life, and they do not find happiness in the end. Fulfilment and satisfaction are derived from doing the things you love as you get old. The Verve released the track in 1997 from the album Urban Hymns.
From the lyrics, the artist says how he will miss the comfort of his home away from his mother, sister, and pets. This is after he has grown up and left home to experience life independently. The song is from the album Oracular Spectacular in 2007.
Why Does It Always Rain On Me by Travis
The artist laments his situation and hopes that better things will come later. This is the second single from the artist's second album, The Man Who. It was released in 1999.
This track is about the transitions and challenges one has to go through to achieve whatever one wants. Mac released the song in 1975 from the album Fleetwood Mac.
While the artist tries to express how difficult it is to hunt a house, Barnett also narrates the sacrifices one has to make to build a life and achieve their goals. The hit is a 2015 release from the artist's album, Sometimes I Sit and Think, and Sometimes I Just Sit.
It is another song about growing up, which refers to losing the youthfulness and the advantages one had when they have grown up. LCD Soundsystem released the track in 2015 from their album LCD Soundsystem.
Then They Do by Trace Adkins
Then They Do is a song about the contentment of a father seeing their kids grow into adults and living their best lives possible. It is one of the tracks in his album Greatest Hits Collection, released in 2003.
It is about a high school romance that a couple experienced up to their senior year. Now that they are adults, they reflect on how their romance was. The track was released in 2011 from the artist's album Own the Night.
Popular songs about growing up
What popular coming-of-age songs can you recall? There are numerous songs about growing up, but some have been outstanding and hence known by many. Here is a list of familiar songs about ageing.
| | |
| --- | --- |
| Song | Artist |
| In My Room | The Beach Boys |
| What A Wonderful World | Louis Armstrong |
| 7 Years | Lukas Graham |
| First Time | Kygo ft. Ellie Goulding |
| Welcome To Paradise | Green Day |
| Stop This Train | John Mayer |
| Grew Up At Midnight | The Maccabees |
| I Wanna Grow Old With You | Westlife |
| Grow Old | Florida Georgia Line |
| Those Were the Days | Mary Hopkin |
| Rockabye | Clean Bandit ft. Sean Paul & Anne-Marie |
| Youth | Shawn Mendes ft. Khalid |
Ageing should not be a regretful experience since you have seen and learned a lot over the years. The above songs about growing up will make you realise that you have a lot to reflect on and celebrate.
READ ALSO: Top 30 richest musicians in the world in 2022: Who are they?
Legit.ng published about the richest musicians in the world. Music artists are some of the world's known personalities. However, does their fame and work translate to riches?
Entertainment is a multi-billion dollar industry, and music is one of the critical drivers of the industry. In an industry flooded with musicians, some have shown exceptional talent and earned significant income. Find out who makes it to the wealthiest musicians worldwide.
Source: Legit.ng