Best Nigerian lyrics from popular songs for every situation in life
Music is a universal language and a tool for self-expression. Although people's tastes in genres vary, lyrics usually stand out independently. The best Nigerian lyrics have surpassed borders and language barriers and are reaching consumers worldwide with their relatability.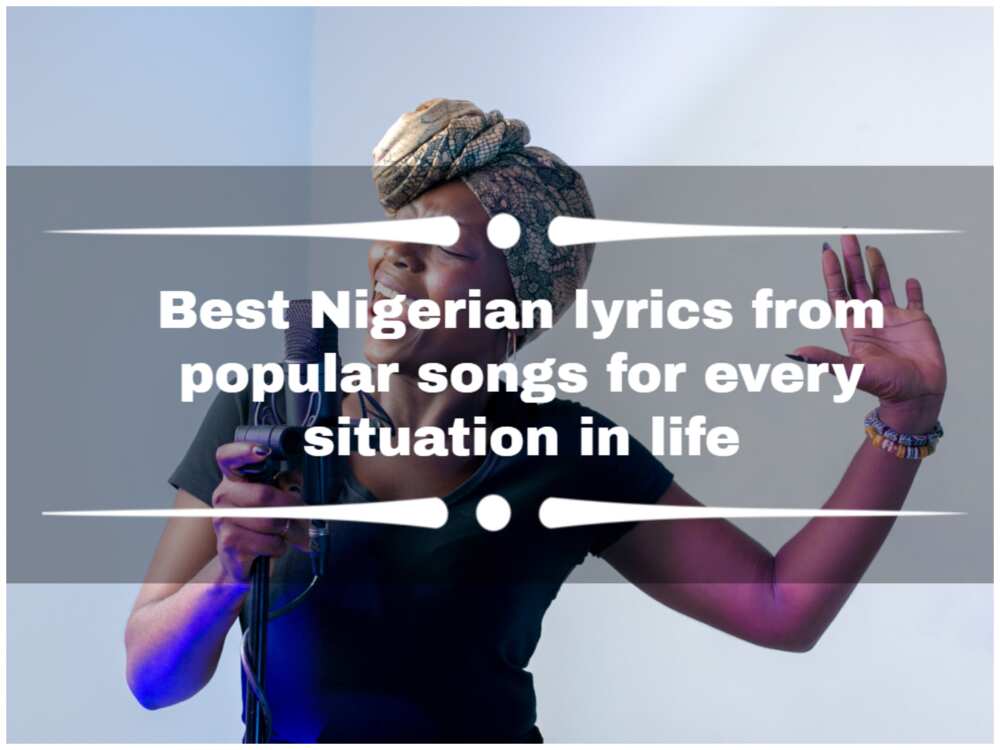 Nigerian artists often incorporate local sayings and proverbs into their lyrics. They connect with their roots using phrases that the common folk would understand. Such proverbs are used to pass potent messages, including warnings and teachings.
Nigerian love songs lyrics
Even the elementary use of lyricism is known to affect audiences. When combined with the universal language of love, lyrics can capture the motions of a relationship from start to finish. They include touching love messages that listeners can use on their loved ones. These are the best lyrics in Nigeria that talk about love, relationships and heartbreak.
Rock - Olamide
Rock by Olamide illustrates a typical 'boy meets girl' scenario as the guy tries to pursue the woman he desires. "Girl I just want make we rock", he sings as he declares his intentions to her. Olamide outlines how hard he has to work to make money to spend on her, a situation many modern men can relate to.
"Fit spend you my paper, after tonight I go like to dey see you later,
Personal vendetta against me cause of you I get many haters."
Ku Lo Sa - Oxlade
The 2022 song Ku Lo Sa was an instant hit, further popularised by TikTok content creators with a choreographed dance. According to the singer Oxlade, Ku lo sa means 'closer'.
Long-distance relationships can be tough, and Oxlade shares the struggle with his listeners in these relatable lyrics. He also talks about how much he wants the woman who has captured his attention and expresses the extensive lengths he would go through to impress and get her.
"So many reasons wey I wan dey for you my love, Na you I want oo Rita with my love oo,
See all the li ku ku things, you do dey make me no no, This distance is taking a hold of me for sure."
Last Last - Burna Boy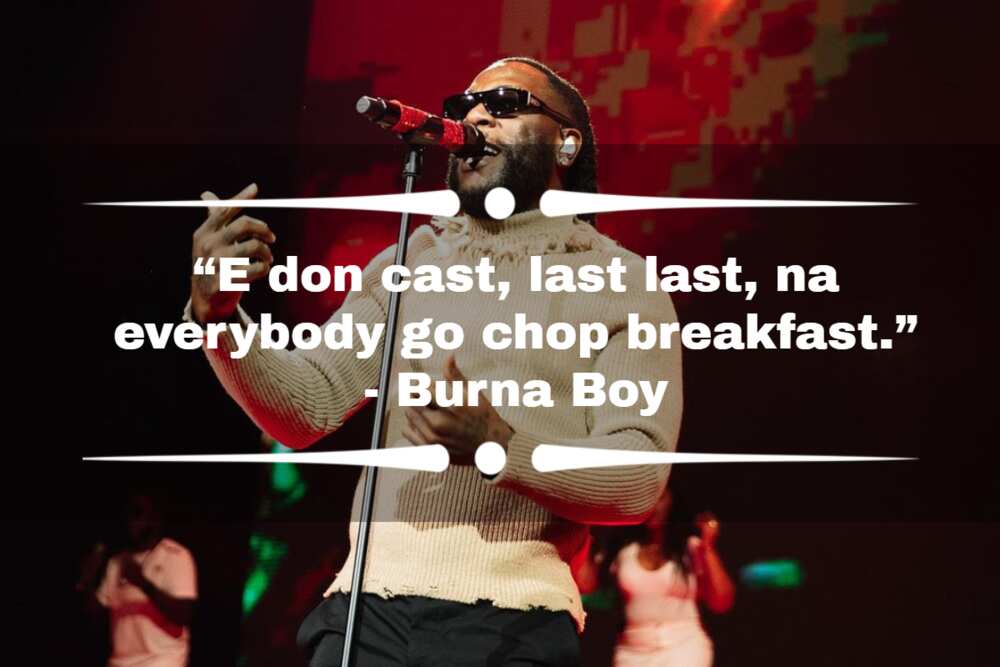 Burna Boy has experienced a meteoric rise to become one of the richest Nigerian musicians. His 2022 song, Last Last, has global audiences singing along, even those who don't understand the lyrics.
In the song, Burna talks about being heartbroken. Last last is Nigerian slang to mean "ultimately ", and chop breakfast translates to having a heartbreak. The singer highlights that everyone goes through heartbreak and eventually heals from it.
"E don cast, last last, na everybody go chop breakfast."
With a mix of Yoruba and English, he talks about the relatable struggle of drinking alcohol (igbo) and smoking pot (shayo) to deal with the heartbreak. Now, Burna Boy fans worldwide can party their heartbreak away with this upbeat song.
Yes/No - Banky W
Although the song came out in 2012, the lyrics still capture the emotions of yearning for the one you love. Banky perfectly explains the anxiety of dealing with someone who keeps you around but doesn't want a relationship.
"What am I to do? Tired of running around chasing you,
I can never think of replacing you, Cause na you I dey find baby make up your mind."
African Queen - 2Baba
There's a reason many still refer to Mrs Annie Idibia as an 'African queen'. The song released in 2004 by her husband, 2Baba, is still used as a dedication to lovers countrywide. The passion and reverence he poured into praising his lover in the song have made it a timeless lovers' anthem.
"Just like the sun lights up the Earth, you light up my life,
The only one I've ever seen with a smile so bright."
Nigerian lyrics that are relatable
Many artists have found a way to capture their audience through the mastery of lyricism. These Nigerian lyrics from popular songs allude to situations that many have experienced, regardless of race, nationality or social class.
Woman - Rema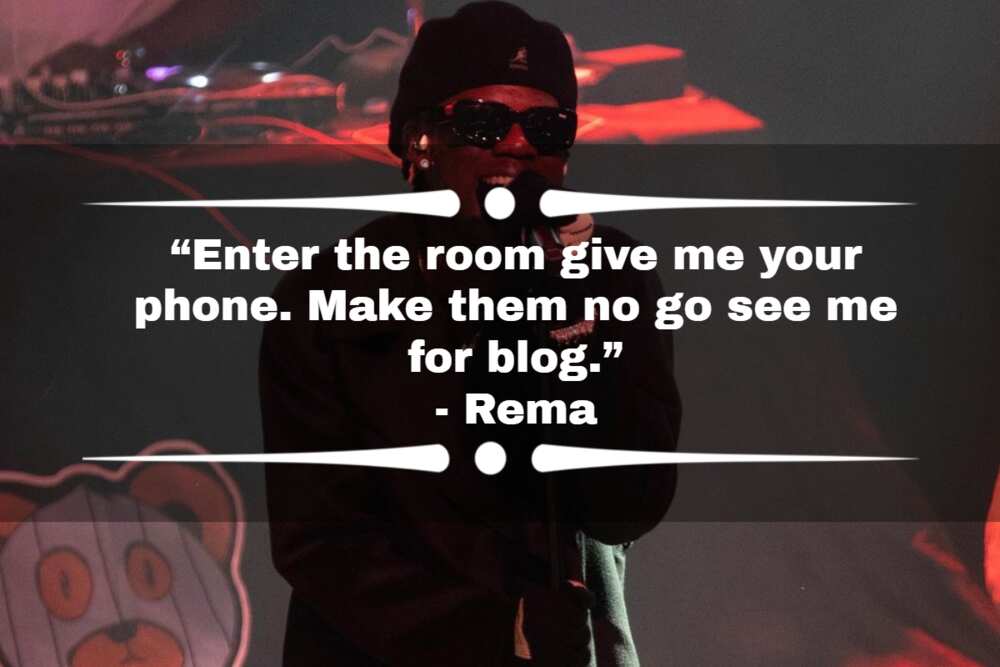 Rema gained global recognition as a lover boy, and his song Woman is proof of this reputation. In the song, he shares how apprehensive he is of his interactions with women. He requests her phone, wary of becoming the next topic of gossip. Even for those who are not celebrities, becoming a trending topic over a leaked video is a real fear.
"Enter the room give me your phone. Make them no go see me for blog."
Insecure - Chike
In the song's first verse, the singer takes us through a roller coaster of emotions from the perspective of an insecure partner. He expresses the pain of seeing his loved one shower someone else with the same love and attention that used to be reserved for him. He remembers the motions of a new relationship, and seeing his partner go through them with someone else makes him insecure.
"The way you smiling na the same way, Wey you dey smile at me na the same way
The way you laughing na the same way, Wey you dey laugh with me."
Anybody - Burna Boy
The 'African Giant' superstar gained much popularity among fans with this hit song. He encourages his listeners to focus on their purpose in life. He also addresses those who reject hard work and instead choose to benefit from other people's success, warning that it doesn't end well.
"You won chop kpe you never work, Shey na because me sef I never talk,
I look you dey laugh you gon, gon, gon, gongongon."
Bloody Samaritan - Ayra Starr
Ayra Starr hit the global spotlight with her hit song, Bloody Samaritan. With upbeat lyrics, she rebukes those who wish to dim her light. The song also encourages fans to break free of societal expectations and live the way they want. According to Ayra, she remains in control of her destiny.
"Vibe killer, bloody Samaritan, Protect my energy from your bad aura,
Na my pastor say I be my healer, everything I desire I go receive."
Airplane Mode - Fireboy DML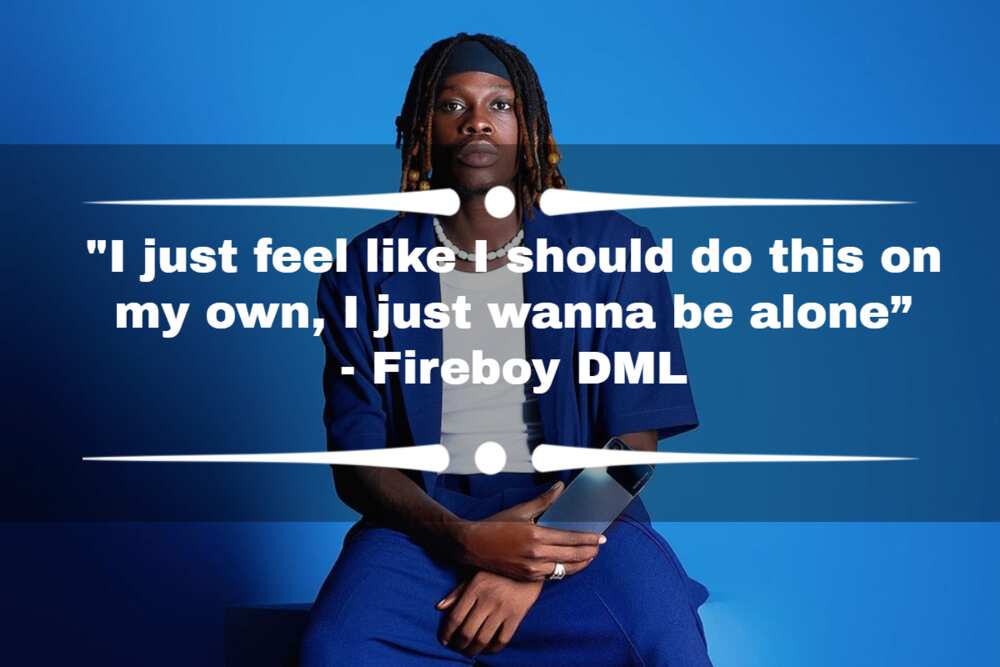 In the age of social media and everything digital, Fireboy expresses the peace that can come from putting one's phone on airplane mode. Airplane Mode is about cutting all connections to the outside world. It affirms that listeners can take a moment of solitude and focus on getting some peace of mind.
"I don't wanna see no message on my phone, nothing dey do me you should know
I just feel like I should do this on my own, I just wanna be alone."
Organise - Asake
"Organise, every other day I organise,
Some of us are wise, every other person over wise."
In Asake's Organise, he talks about people who act smarter than everyone else, even though they aren't. The lyrics are quite relatable as most people know an annoying person who considers themselves better and wiser than others.
Funny Nigerian lyrics
Various artists have found a way to be creative in the music they release. Some of these Nigerian artists have managed to use humour to capture the attention of their fans. These are some funny Nigerian lyrics that have left fans confused.
Lady - Rema
"Amaka body sweet pass hot eba"
The lines are funny because nobody would typically describe eba as "sweet'', especially hot and without an accompaniment like soup. While he's understandably trying to compliment his lady, his chosen comparison fails.
Gift - Iyanya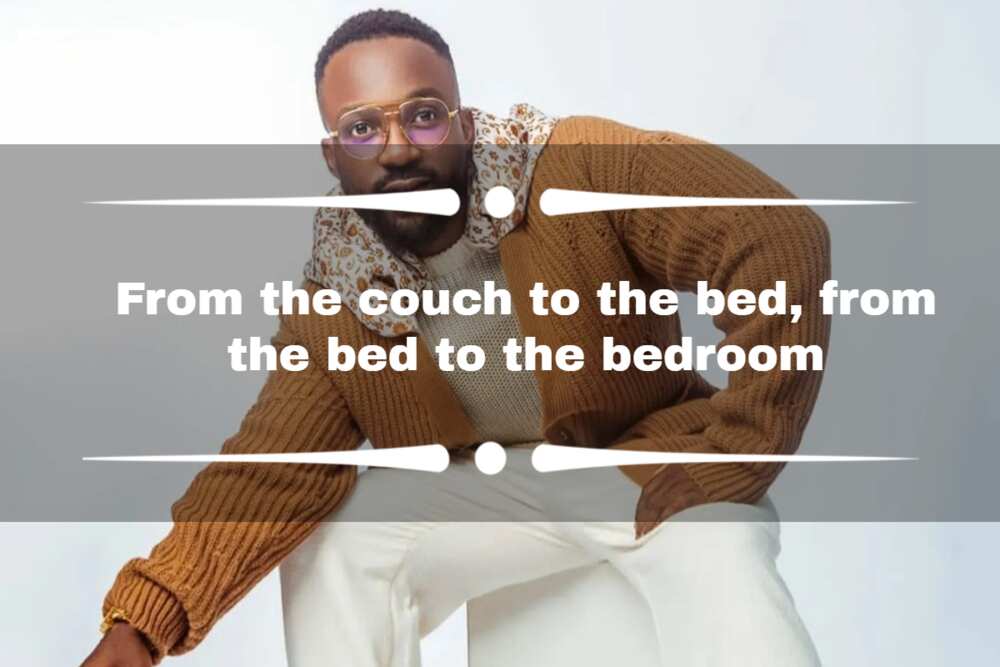 "From the couch to the bed, from the bed to the bedroom"
These lyrics make fans wonder how Iyanya's house was designed. How can he go from the bed to the bedroom? Is his bed in the kitchen?
Wash - Tekno
Trying to understand what Tekno means in these lyrics will leave you nothing short of confused. If she wants to learn karate, why would he volunteer to teach her mathematics instead? The lessons would be useless to her.
"If you like karate, I will teach you mathematics"
M.O.N.E.Y - Timaya
Musicians are known to brag about their wealth, but Timaya takes it to the next level in this song. Not only is the lyric impractical, it is also ridiculous to picture him booking a flight to America just because his phone's battery is low.
"I travel to America just to go charge my phone"
Hakuna Matata - Kaycee
"I be monkey you be banana, I will give anything that you wanna"
This analogy just doesn't make sense, and it's hard to imagine what Kaycee meant. Why would he be giving a banana everything that it wants?
Above are some of the best Nigerian lyrics of all time. From love songs to songs about annoying friends and acquaintances, they are relatable to the average audience. Fans can draw inspiration from these powerful words to help navigate different situations in life.
READ ALSO: Who is the best singer in the world? 10 contenders for the title
Legit.ng recently published an article on the best singers in the world. Singers are tasked with modifying songs in a way that leaves a lasting impression on music lovers. Different singers have different techniques that they have used to hone their craft.
There are several undeniably talented singers in the world. The stance on who is the greatest of all time varies due to different tastes. However, by awards won and popular opinion, these singers are considered among the best in the world.
Source: Legit.ng