With passionate work ethic and versatile prowess, Hannah Margaret Selleck is an American girl who has established herself and is a widely-recognisable horse rider and model. A look at her biography will shed more light on who she is.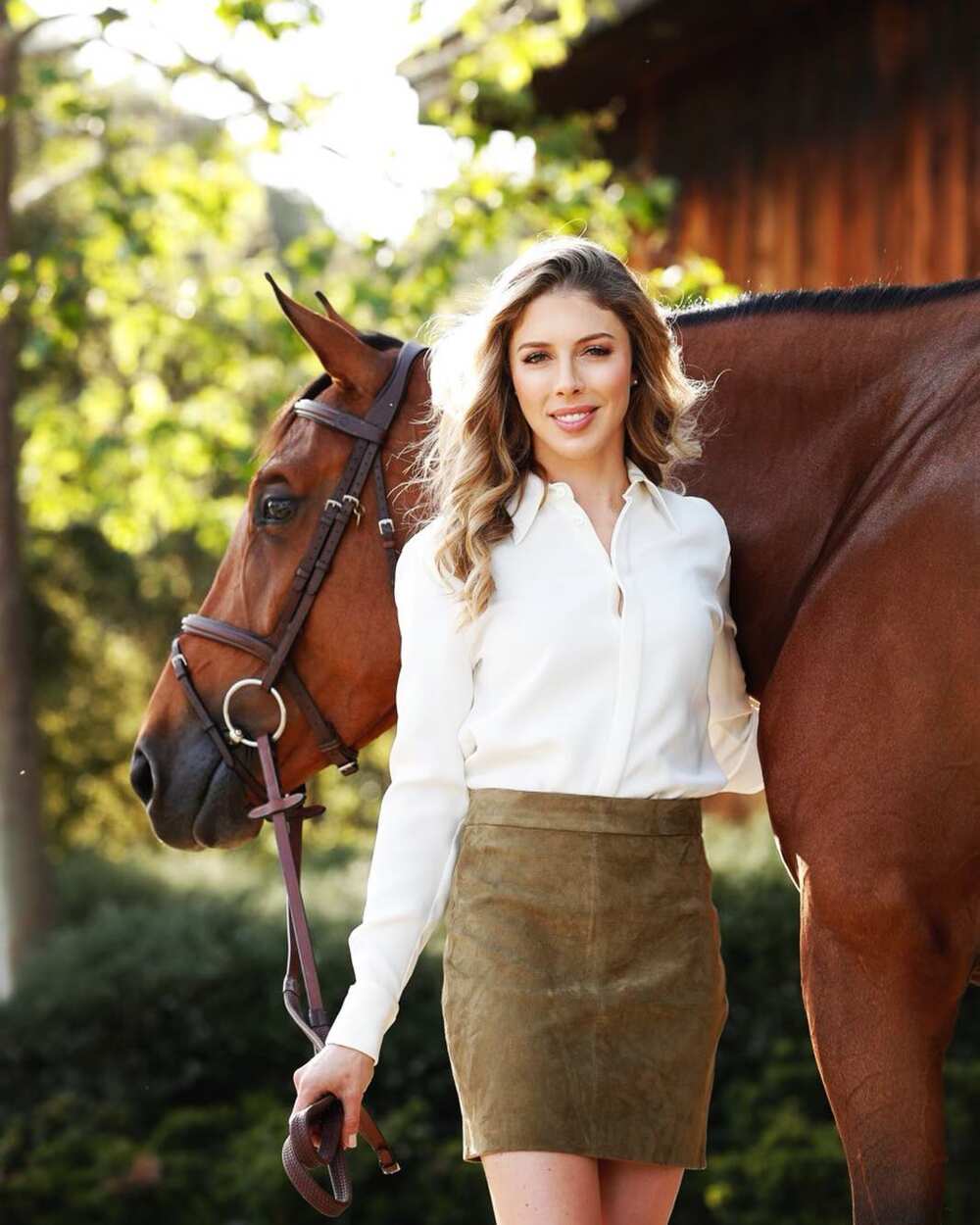 Hanna Selleck is one of Tom Selleck children. The famous Hollywood actor has two children, a son and a daughter. His son has followed suit and is an actor. However, his daughter opted for something different and has managed to create an illustrious career out of it.
Profile summary
Real name: Hannah Margaret Selleck
Date of birth: December 16th, 1988
Zodiac sign: Sagittarius
Place of birth: Los Angeles, California
Nationality: American
Ethnicity: White
Gender: Female
Education: Loyola Marymount University
Occupation: Horse rider, model
Hair colour: Blonde
Eye colour: Blue
Marital status: Unmarried
Who is Tom Selleck's daughter?
Hannah Selleck was born on December 16th, 1988, in Los Angeles, California. She is the daughter of the popular Hollywood actor and producer Tom Selleck and his second wife, Jillie Joan Mack. Both of her parents have made significant appearances in Hollywood films.
Tom is well-known for his performances in movies and shows like Three Men and a Baby, Mr. Baseball, Lassiter, and Friends. Her mother, Jillie, is recognised for films and TV shows like Silverfox, Frasier, and Magnum, P.I.
Hannah, on the other hand, found passion in something else away from acting, horse riding.
How old is Hannah Selleck?
As of January 2021, Hannah Margaret Selleck age is 32 years. She celebrates her birthday on December 16th every year.
How tall is Hannah Margaret Selleck?
She a height of 5 feet 8 inches (1.72 m) and weighs 65 Kilograms (143 pounds).
Educational background
Tom Selleck daughter attended high school in Los Angeles and was active in co-curriculum activities. She played soccer, did dance gymnastics, and took ice skating classes.
She holds a degree in Communication from the Loyola Marymount University. After graduating, she interned at a public relations firm in Beverly Hills for about six months.
What does Hannah Selleck do for a living?
Like most children of celebrities, most people expected that Tom Selleck's daughter would follow in her parents' footsteps and become an actress. However, this was not meant to be because she developed a passion for completely different professions, horse riding and modelling.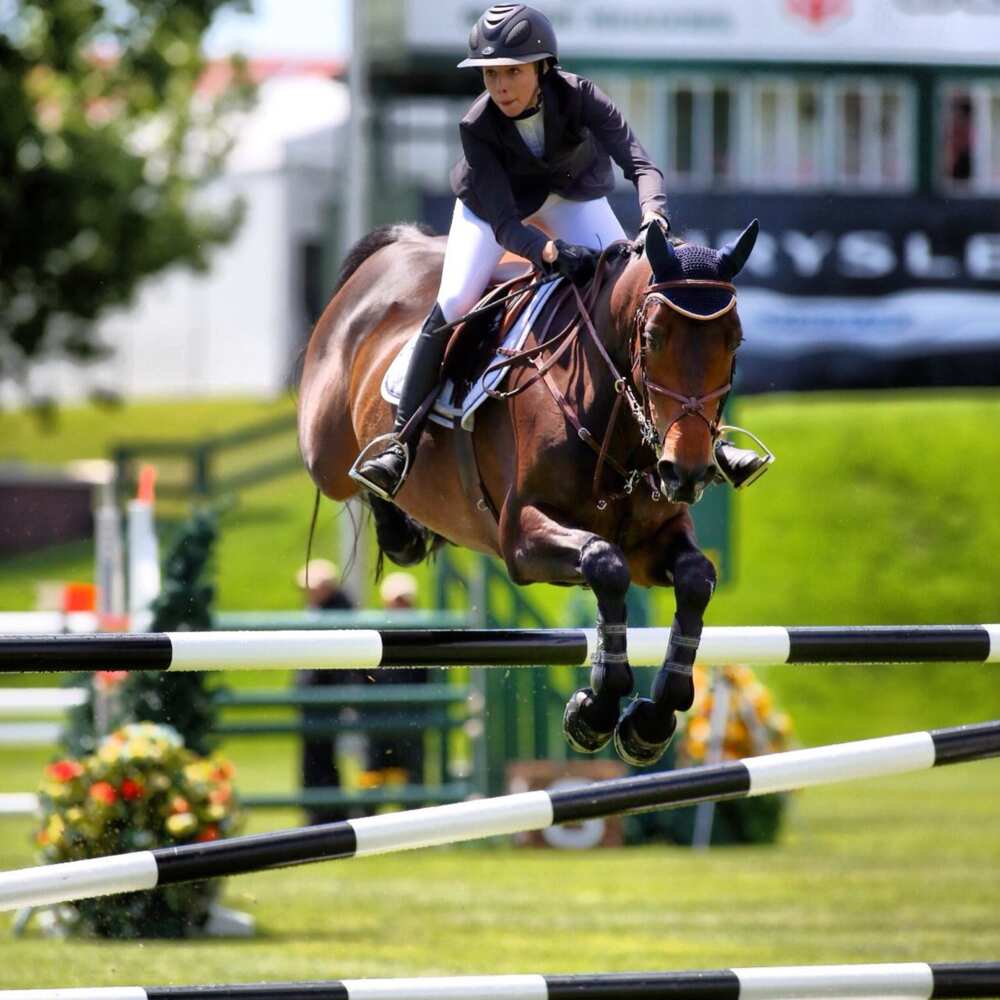 While she was growing up, Tom Selleck family moved to Thousand Oaks-Westlake Village, where they lived in a ranch house outside Los Angeles to focus more on farming and horse riding. Growing up on this ranch significantly contributed to her interest in being an Equestrian.
Hannah learned the sport from Tom Selleck, who had also groomed himself in horse riding for some of his movie roles, such as The Sacketts and Quigley Down Under. She has so far competed in numerous events and won several awards.
Apart from horse riding, Hannah is a model and has posed for some popular clothing and cosmetic brands, including Reviver Cosmetics.
She is also a world-class jumper and has competed at the Grand Prix level. Other prestigious events she has competed in include the Gucci Masters tournament in 2011 and the 2015 Longines Masters in her hometown of Los Angeles.
Awards and achievements
In her career, Hannah has achieved a lot. She has won the following awards:
In 2005, at the Prix de States Championship, she won a Silver Team Medal.
In 2006, she won a medal at the Equitation Championship (U-16 category).
Hannah also won medals in the Blenheim Summer Classic II Grand Prix and Silver Prix.
How much is Hannah Margaret Selleck net worth?
Margaret is a professional horse rider and a model. In partnership with her father, they rear horses on their family ranch in California. They sell these horses to sport organisations and use some in competitions. Her salary as a horse rider is estimated at $34,000
Tom Selleck's daughter is also a model and has endorsed popular cosmetic brands. All these have significantly contributed to her overall net worth, which is around $1 million- $5 million.
Hannah Margaret Selleck brother - Kevin Selleck
The professional horse rider has a half-sibling called Kevin from her father's previous marriage. Like his father, Kevin Selleck is an actor - he has played impressive roles in films like Magnum, P.I. and Scream 2. He is also a musician who has released chart-topping hits.
Kevin was born in 1966 in the United States of America, thus the elder of Tom Selleck Kids. His mother is Jacqueline Ray, a former model and actress. When his parents divorced, his dad took custody of him.
Is Hannah Margaret Selleck married?
Margaret is not married. However, she loves hanging out with her male friends, which can result in romance speculations.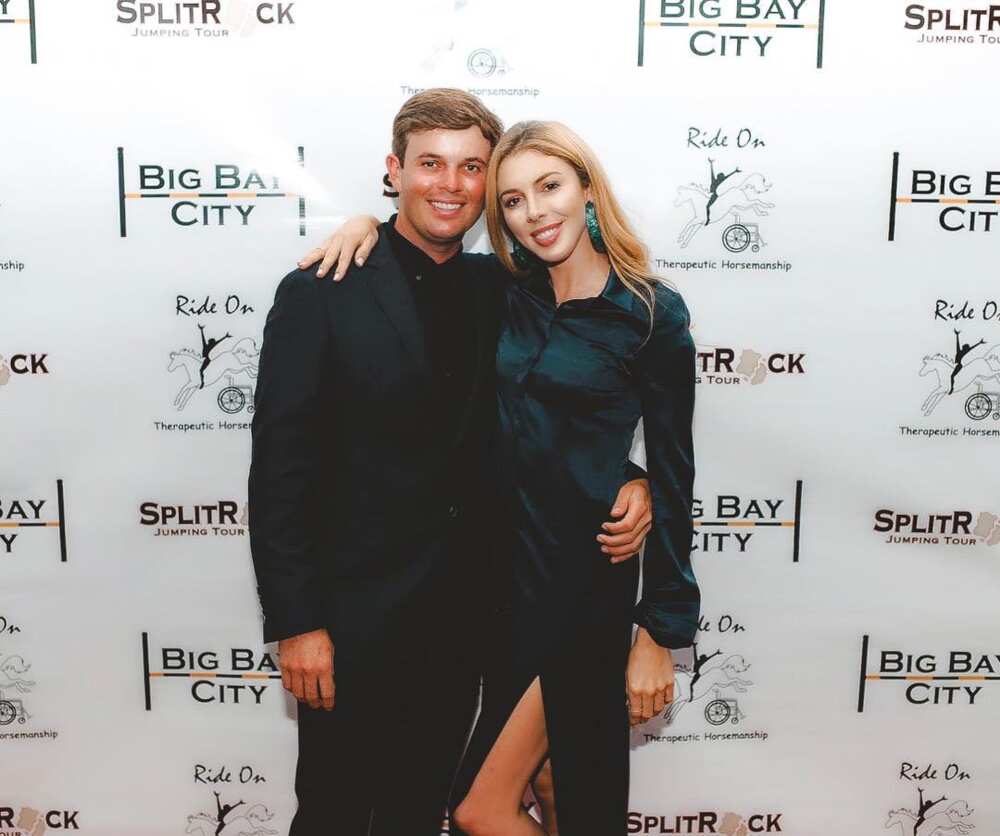 In 2018, she shared a photo of her and a male friend called Beto Gutierrez. She captioned the picture with the word "bae", eliciting rumours of a romantic relationship. Unfortunately, the two have never been spotted together again.
Hannah Margaret Selleck is a person who has stood out on her own and made a name for herself. As a daughter of Hollywood actors, she would have had it easy venturing into acting like her brother and becoming popular, but her thoughts were different. She put her focus on horse-riding, she is excelling at it.
READ ALSO: Yvonne McGuinness bio: What is known about Cillian Murphy's wife?
Legit.ng recently published an article on the biography of Yvonne McGuinness. She is the lovely wife of renowned Irish actor and singer Cillian Murphy. She is also the daughter of a respected Irish businessman called Gay McGuinness.
Yvonne is a multimedia artist who showed a passion for art from her childhood. She has specific interests in print art and video installations. She has also done some work as a sculptor. Her biography will provide you with details about her place of birth, educational background, and much more.