50 hurt quotes that will help you get through some tough times
Are you feeling hurt, or have you ever been hurt by something or someone? This is the worst experience that majority of us have ever gone through. It hurts quotes can play a significant role in encouraging you during such hard times. Take a look at some of these amazing hurt quotes that will let you know that you are not alone.
Many famous people such as Kobe Bryant, Andy Ruiz Jr, Lydia Davis, Vernon Howard, and Satchel Paige have composed helpful hurtful quotes on pain. Some have even come up with hurting quotes on relationships. Here are some of them.
Top hurt quotes to help you carry on
Are you feeling hurt? Here are some quotes to help you express this emotion.
There are many types of hurt quotes composed for both genders, young and old. A hurt quote comes along with many lessons that everybody can learn from. If you are feeling hurt, have a look at the following hurting quotes, and they might help you to ease your hurt feeling: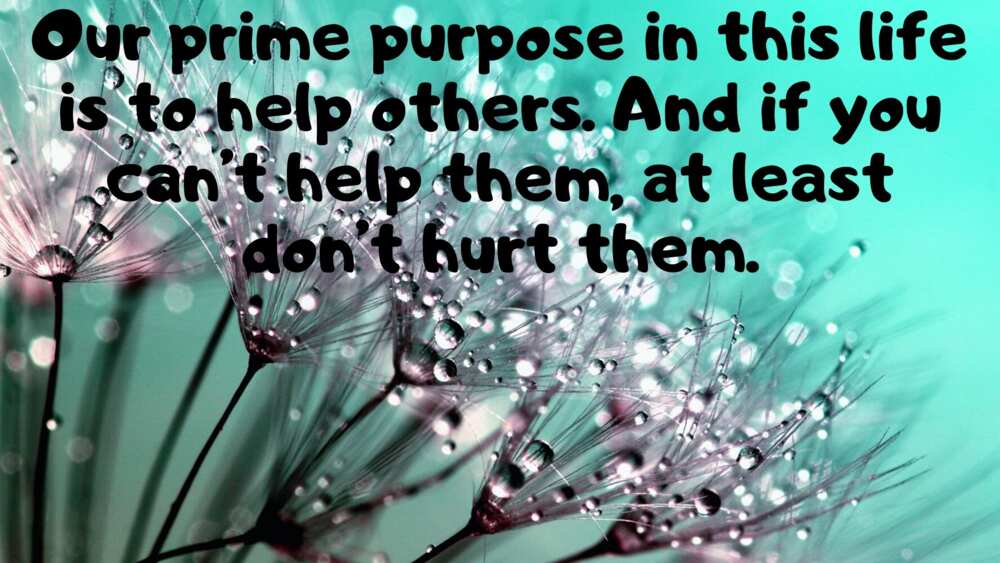 Our prime purpose in this life is to help others. And if you can't help them, at least don't hurt them.
The purpose of life, as far as I can tell… is to find a mode of being that's so meaningful that the fact that life is suffering is no longer relevant. - Jordan Peterson (Maps of Meaning)
So other people hurt me? That's their problem. Their character and actions are not mine. What is done to me is ordained by nature, what I do by my own. - Marcus Aurelius
A fountain gets muddy with but little stirring up, and does not get clear by our meddling with it but by our leaving it alone. The best remedy for disturbances is to let them run their course, for so they quiet down. - Baltasar Gracián
Many things cause pain which would cause pleasure if you regarded their advantages. - Baltasar Gracián
The avoidance of suffering is a form of suffering. The avoidance of struggle is a struggle. Hiding what is shameful is itself a form of shame. - Mark Manson
And once the storm is over, you won't remember how you made it through, how you managed to survive. You won't even be sure, whether the storm is really over. But one thing is certain. When you come out of the storm, you won't be the same person who walked in. - Haruki Murakami
If you evade suffering you also evade the chance of joy. Pleasure you may get, or pleasures, but you will not be fulfilled. You will not know what it is to come home. - Ursula K. Le Guin
Only people who are capable of loving strongly can also suffer great sorrow, but this same necessity of loving serves to counteract their grief and heals them. - Leo Tolstoy
Handling our suffering is an art. If we know how to suffer, we suffer much less, and we're no longer afraid of being overwhelmed by the suffering inside. - Thich Nhat Hanh
Step out of the history that is holding you back. Step into the new story you are willing to create. - Oprah Winfrey
Some changes look negative on the surface but you will soon realize that space is being created in your life for something new to emerge. - Eckhart Tolle
No matter how far life pushes you down, no matter how much you hurt, you can always bounce back.
Nothing on earth consumes a man more quickly than the passion of resentment. - Friedrich Nietzsche
If you see somebody that's hurting, don't look away. And if you are hurting, even though it might be hard, try to find that bravery within yourself to dive deep and go tell somebody. - Lady Gaga (Grammys 2019)
Pain quotes
In most cases, pain is a consequence of being hurt. Sometimes you might go through very painful experiences in life, and as a result, life might seem not worth living. Below are some of the helpful pain quotes to honor and strength your power:
You must go through that short-term pain to reach long-term gains. A meaningful life is about growth, not comfort. - Maxime Lagacé
Without pain, without sacrifice, we would have nothing - Fight Club
Be master of your petty annoyances and conserve your energies for the big, worthwhile things. It isn't the mountain ahead that wears you out – it's the grain of sand in your shoe. - Robert Service
Too many people believe that everything must be pleasurable in life, which makes them constantly search for distractions and short-circuits the learning process. - Robert Green
You may have had unfair things happen to you, but the depth of your pain is an indication of the height of your future. - Joel Osteen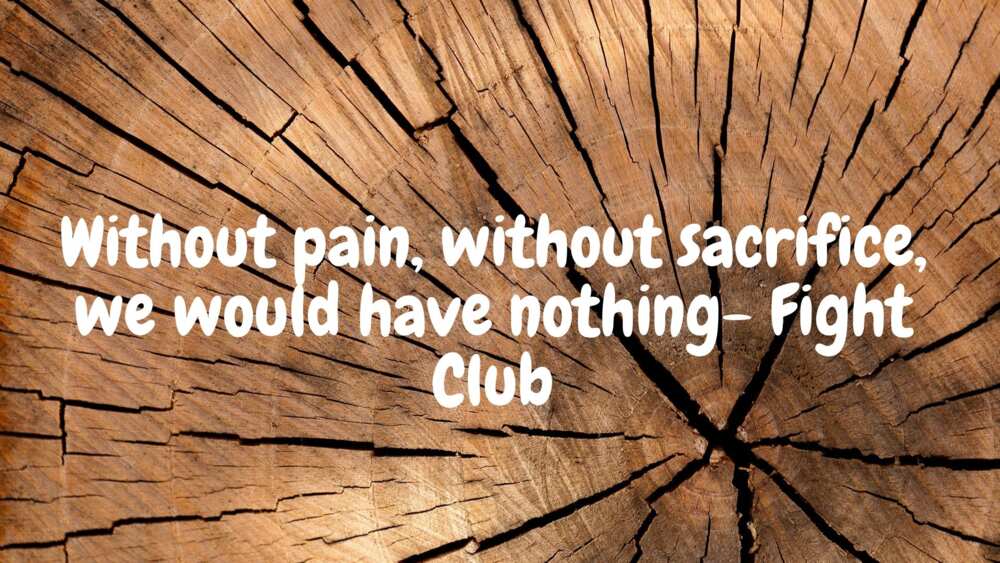 If you are distressed by anything external, the pain is not due to the thing itself, but to your estimate of it; and this you have the power to revoke at any moment. - Marcus Aurelius
God whispers to us in our pleasures, speaks in our conscience, but shouts in our pains: it is His megaphone to rouse a deaf world - C.S. Lewis
Smile, though your heart is aching. Smile, even though it's breaking. When there are clouds in the sky, you'll get by if you smile through your pain and sorrow. Smile and maybe tomorrow, you'll see the sun come shining through for you. - Charlie Chaplin
It is easier to find men who will volunteer to die, than to find those who are willing to endure pain with patience. - Julius Caesar
Remember anything you want that's valuable requires you to break through short-term pain in order to gain long-term pleasure. - Tony Robbins
The aim of the wise is not to secure pleasure but to avoid pain. - Aristotle
The real man smiles in trouble, gather strength from distress, and grow brave by reflection. - Thomas Paine
There is a saying in Tibetan, 'Tragedy should be utilized as a source of strength'. No matter what sort of difficulties, how painful experience is, if we lose our hope, that's our real disaster. - Dalai Lama
Behind every beautiful thing, there's been some kind of pain. - Bob Dylan
Pain nourishes courage. You can't be brave if you've only had wonderful things happen to you. - Mary Tyler Moore
Love hurts quotes
You may also want to know about love hurt quotes that can help heal the wounds from your past or present love life.
Quotes on hurting love include:
It hurts to see the one you love loves someone else. But it hurts even harder when you find out that you were just their bridge to cross over to their loved ones.
I have found the paradox, that if you love until it hurts, there can be no more hurt, only more love. - Mother Teresa
Love is blind, and love can be foolish. Our heart doesn't always love the right people at the right time. Sometimes we hurt the ones that love us the most, and sometimes we love the ones that don't deserve our love at all.
When you care for someone more than they deserve, you get hurt more than you deserve.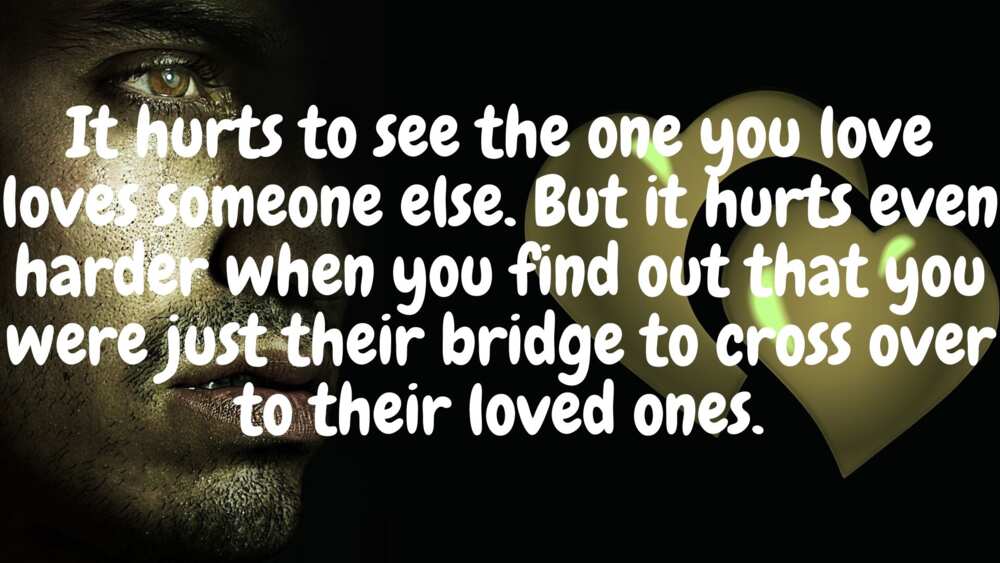 If you don't value your life start smoking, you'll die ten years early. Or, start drinking to excess every day, you'll die fifteen years early. Or you could love someone who doesn't love you back, you'll die every day.
God can heal a broken heart, but He has to have all the pieces.
When one is in love, one always begins by deceiving oneself, and one always ends by deceiving others. That is what the world calls a romance.
Of course! It takes a lot of strength to mend a broken heart. Channelizing energies into your work helps, but also to be able to accept situations for what they are instead of questioning those helps immensely. – Deepika Padukone.
A broken heart is just the growing pains necessary so that you can love more completely when the real thing comes along. -J.S.B. Morse
It takes only a minute to get a crush on someone, an hour to like someone, and a day to love someone, but it takes a lifetime to forget someone.
Every time your heart is broken, a doorway cracks open to a world full of new beginnings, new opportunities. – Patti Roberts
Some people come in your life and make you believe that your life is incomplete without them. Then they leave, creating a void in your heart that may fill back with time but will never be complete.
When love is lost, do not bow your head in sadness; instead keep your head up high and gaze into heaven for that is where your broken heart has been sent to heal.
I've been heartbroken. I've broken hearts. That's part of life, and its part of figuring out who you are so you can find the right partner. – Heidi Klum
One of the hardest lessons in life is letting go. Whether it's guilt, anger, love, loss or betrayal. Change is never easy. We fight to hold on, and we fight to let go.
5 best hurt quotes on broken friendship
Having a good friendship is one of the achievements one can be proud of in life. This is because having friends helps you grow positively. However, friendship can be broken by many factors. There are many hurt quotes to help you deal with such situations.
Hurt quotes on broken friendships include:
Broken friendship can become either a full stop or a comma in your life, the choice is yours to make it either of the two.
After a long way, I came to realize that you should not keep friendship with people who do not ask you how you are doing.
The moment your friends cease to share their complications with you, know that is the moment you lost your prime place in their hearts.
Try to let people go because every person in your journey is meant to be there but not all of them are meant to stay in it until the end.
I really do not hate you but my disappointment is that you changed and became everything you had promised you would never be.
How can I express my hurt feelings?
Many people find it hard to express their hurt emotions without words hurt quotes. Here is a list of the best ways to show that you are or have been hurt:
You need to be careful and choose the best words to express your emotions.
Be fully prepared for the end results.
You can write your feelings in the form of a letter, but you do not have to send it.
Using the statement "I feel" can help you deal with what you are going through.
Always try to neutralize your negatives with as many positives as possible.
It is good to hit the nail on the head when expressing your feelings.
Clearly understanding your motivations is very important because you will express your emotions towards your desires.
The above hurt quotes have a lot of encouraging words which may be very helpful to everyone who is sad for whatever reason. Apart from being encouraged, you will also be able to solve the issues in your life. Which hurts words are your favorites?
Source: Legit.ng