30 loneliness quotes and statuses to help you express your emotions
Humans are social beings. We constantly need to feel the love from family and friends. For that reason, we are scared of feeling alone. However, we often feel alone and isolated. Below you will find a great collection of inspirational and uplifting loneliness quotes to help you express your feelings and lift your spirits.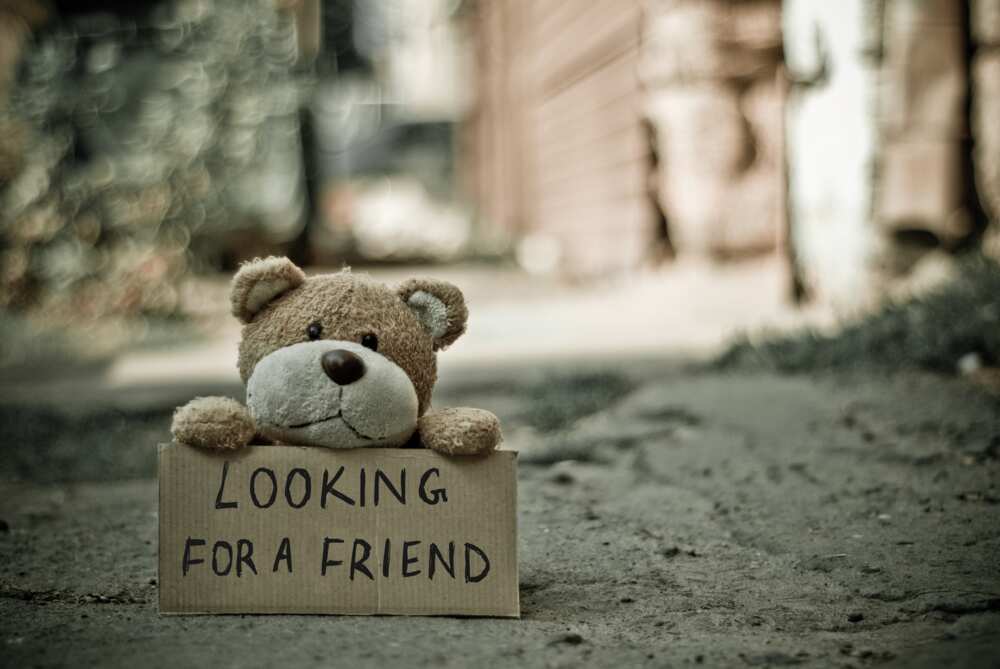 Loneliness may mean a lot of things for different people. One, it could be a state of isolation or remoteness. Two, it may mean sadness due to lack of companionship.
In life, it is not the lack of physical companionship that makes one lonely but the feeling of hollowness inside. Feeling empty inside can be more damaging than not having friends around to talk to.
The reality is that everyone feels lonely at some point. If prolonged, the feeling of solitude can deteriorate your physical and mental health.
An effective way of dealing with loneliness is expressing it. But how do you express loneliness in words? This is where feeling alone quotes come in handy.
They help you to fend off all the sadness and worries that you harbor inside. In turn, this helps you to harness positive energy.
Loneliness quotes that everyone can relate to
Given that loneliness is a part of human life, it is vital to know how to express it. Through words, you can create a positive mindset and focus on improving your social wellbeing.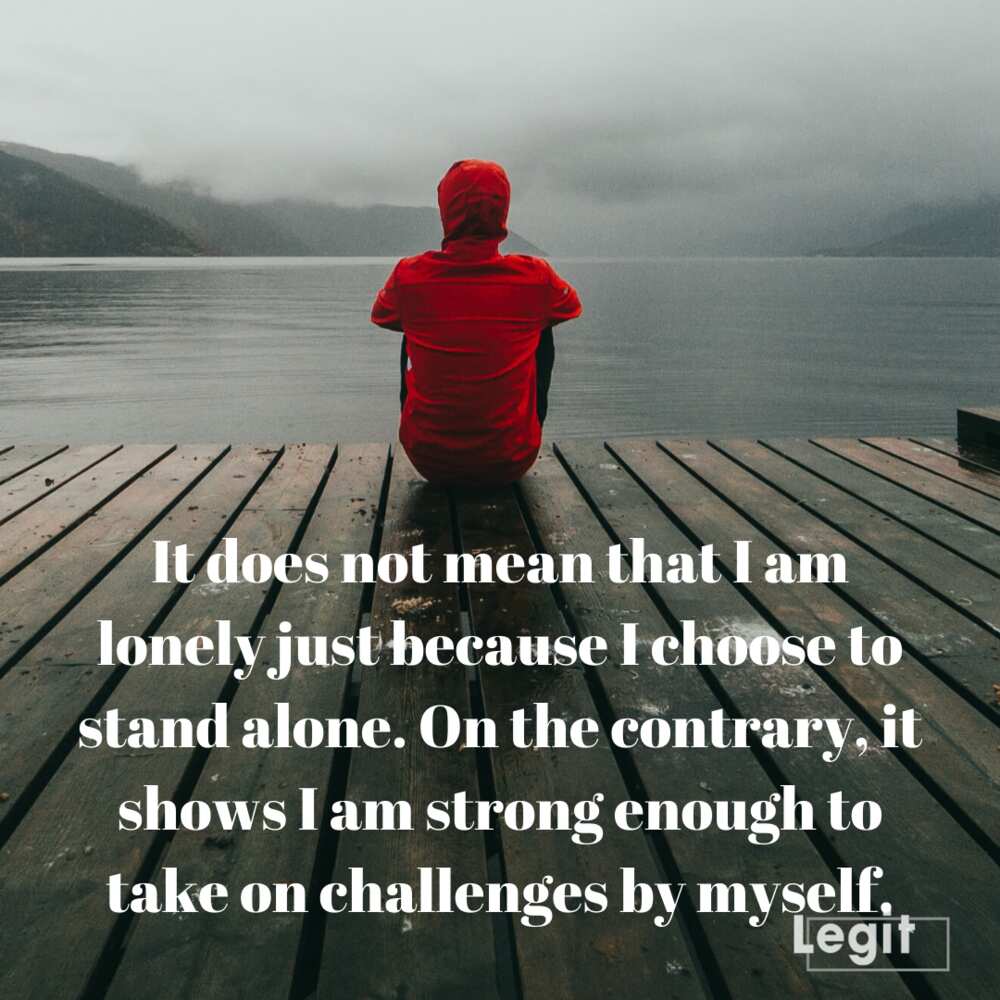 The good news is that there are many being alone quotes that anyone going through solitude can relate to. The quotes can be your source of encouragement and optimism when you feel like you are on your own. What is more, they allow you to conquer loneliness mentally first.
Here are 10 quotes on loneliness to get you started:
We need solitude. Because when we're alone, we're free from obligations, we don't need to put on a show, and we can hear our own thoughts. - Tamim Ansary
It does not mean that I am lonely just because I choose to stand alone. On the contrary, it shows I am strong enough to take on challenges by myself.
In life, you cannot always be strong. Sometimes you just need to be lonely, to cry out your fears and worries. At other times, it helps just to let be what you cannot change.
Lonely hours is the best time of life because it's the only time I share my deepest secrets with the most trusted person in the world, myself.
There are two ways I deal with loneliness. One, I look at the stars. Unlike people, the stars are always there for me. Two, I close my eyes for a while and focus on the people I love. They always make me feel I am not alone.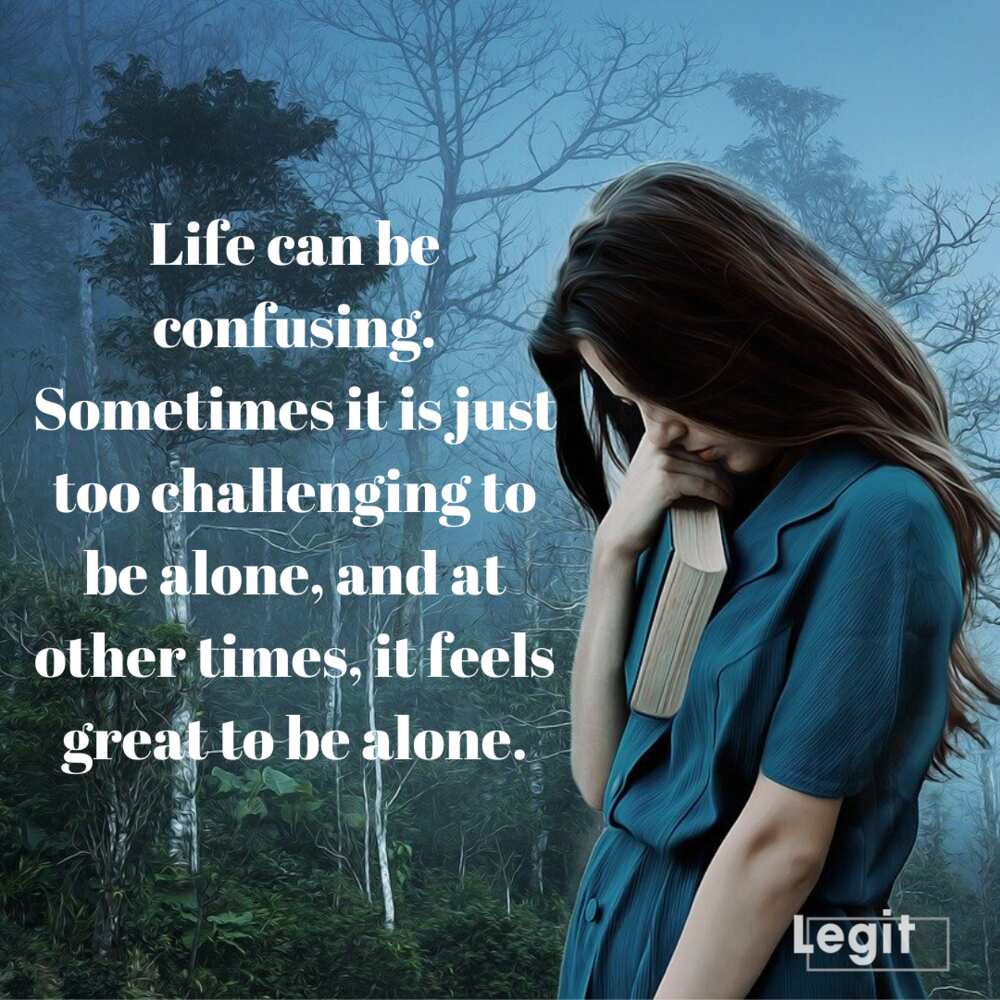 Loneliness, just like death, is part of this life. What is important is seeking the face of God. Through Christ, God conquers loneliness, death, and other human fears.
There is only one cure for loneliness, and that is love. Love is more profound than the desire for physical intimacy. It is the principal escape route for solitude.
I choose to be alone not because I am lonely but because I want to hear my voice. It allows me to distance myself from the distracting voices around me and to focus on my own.
Loneliness makes one an artist. In uttermost solitude, a musician sings with so much life while a writer passionately explains the unfathomable.
Life can be confusing. Sometimes it is just too challenging to be alone, and at other times, it feels great to be alone.
Quotes about loneliness from popular songs
Music is a great form of expression. It helps musicians to express their deepest fears and sentiments. Famous musicians have always expressed loneliness through their music. So, quotes on being alone are not new in the music world.
Some artists sing from personal experience while others express what they see around them. The sad reality is that solitude quotes are common in love songs.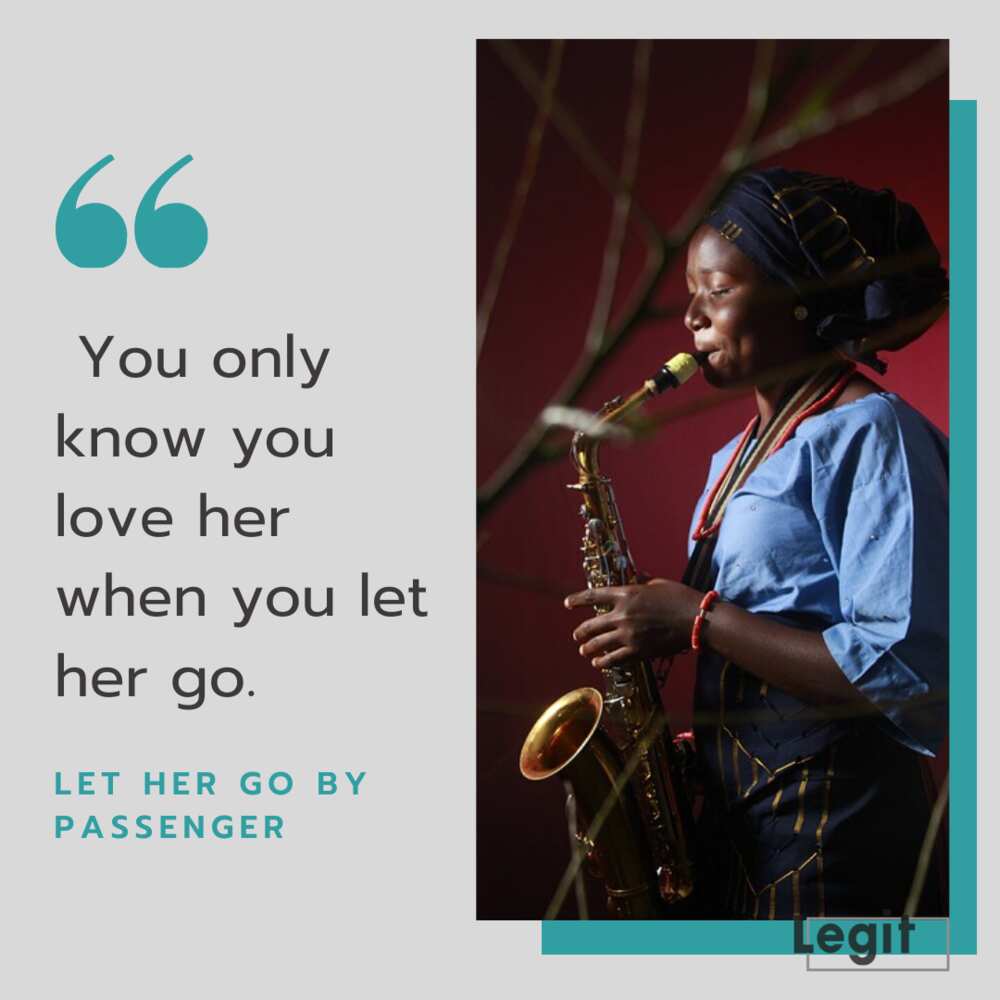 It is not so often that people give 100% in a relationship. As a result, there is bound to be someone who will feel lonely.
As a passionate music fan, you can pick some sad lonely quotes from the songs you listen to and use them. Here are 10 lonely quotes we picked out for you from popular tracks:
Why did you leave me? All I need is to find somebody; somebody like you. - (All I Want by Kodaline)
When we meet, which I am sure, you'll think that I have moved on. - (White Flag by Dido)
I'll take with me the memories to be my sunshine after the rain. (It Is So Hard To Say Goodbye To Yesterday by Boyz II Men)
You only know you love her when you let her go. (Let Her Go by Passenger)
I am the loneliest man alive/I'm gon' to run out of moves 'cause I can't groove to the blues. (The Creator by Tyler)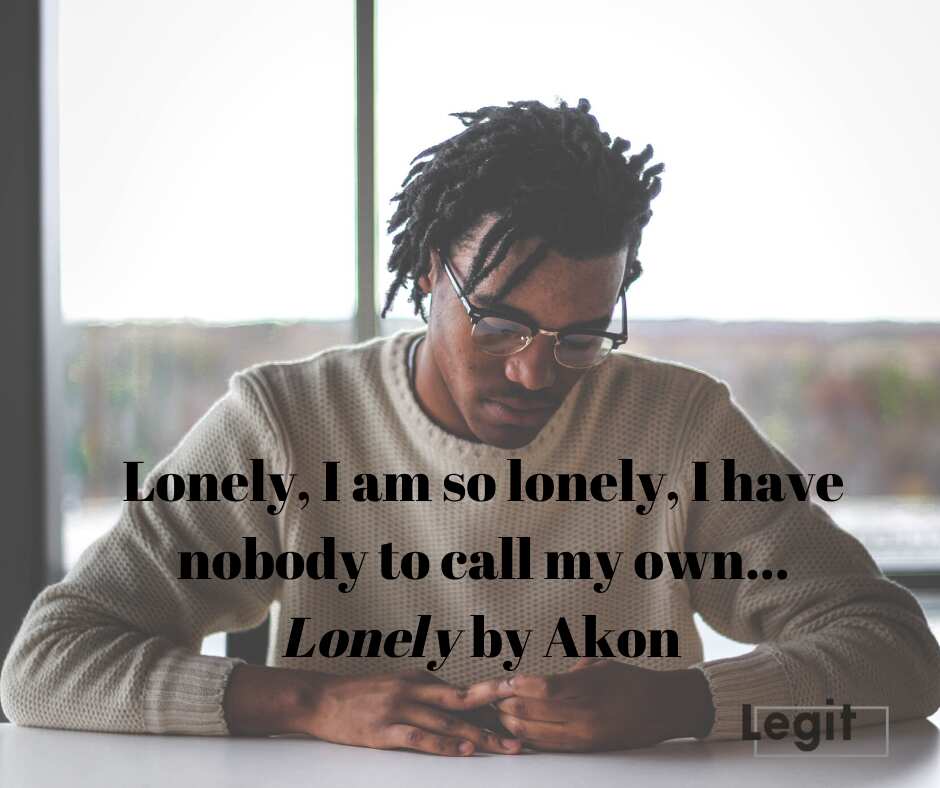 I see your blue eyes every time I close mine. It's like I am not with me. (I Never Told You by Colbie Caillat)
If only I'd thought of the right words, I wouldn't be breaking apart. (Pictures Of You by The Cure)
Won't you stay with me?...cause you are all I need. (Stay With Me by Sam Smith)
So Lonely, so lonely. (So Lonely by The Police)
Lonely, I am so lonely, I have nobody to call my own…(Lonely by Akon)
Feeling alone statuses that say exactly how you feel
We love to express how we feel on social media. Whenever we are angry at someone or something, people can tell from the status that we post. So, if you are feeling lonely, then it makes sense to post a status that expresses how you feel exactly.
It could be that you are lonely by choice, or perhaps it is the circumstances. Regardless, people will judge you based on the feeling alone status that you post.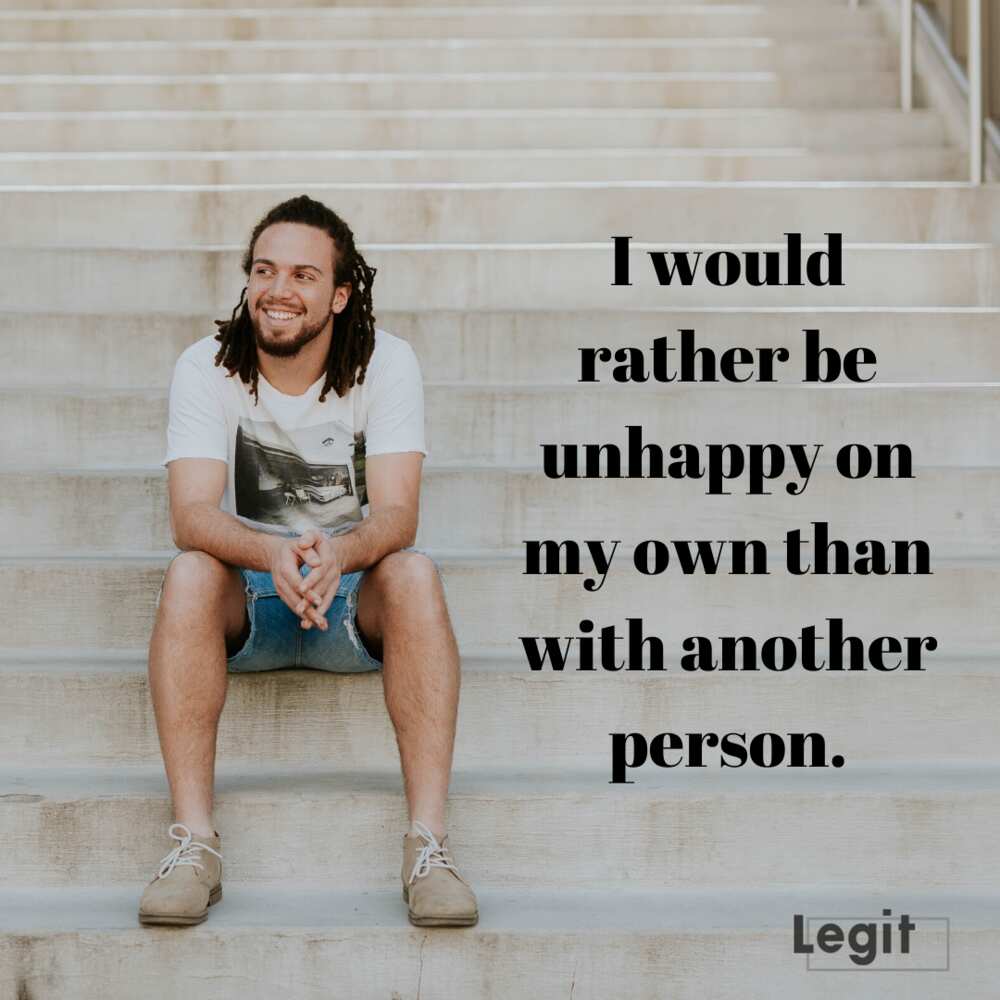 But, who said that it always has to be about you? You can also use a loneliness status post to encourage an avid social media follower.
Here are 10 lonely status posts:
I would rather be alone than be surrounded by bad company. At least it teaches me to fight alone and fight strongly. In the end, my victories are earned.
I do not think I am lonely. What you call loneliness, I call enjoying one's company.
I would rather be unhappy on my own than with another person.
Do not hate me for feeling better when people are not around me. It is just that they always leave when I try to let them in. I guess I am used to staying alone. After all, it is worse to have people who do not care around than having yourself.
There is nothing stranger than being a global celebrity and still feel lonely. It is even more terrible than poverty. So, I guess that richness is when you have real people around you.
Let not my smile confuse you. Sometimes the most elaborate smile harbors the deepest pain.
I do not know what hurts more than loneliness. I wish I could ignore you as you do me.
I am the guy that everyone replaces after a while. It also seems I care for people who do not feel the same. If this is not the worst feeling, then I do not know what is.
I agree that some walks are best taken alone. However, I do not think I can stay alone.
I am not alone at the moment, but I will be if I am without you.
Lonely quotes can go a long way in helping you express how you feel. They are, however, not just a reminder of solitude or desolateness but also of the will to go through the phase unbowed.
The same can be said about loneliness statuses. They may express your momentary loneliness but are a point of focus when looking to bounce back.
Given that loneliness is a part of life, it is imperative to use the right feeling lonely quotes and status to express your feelings clearly. The above loneliness quotes are, without a doubt, an ideal starting point.
Source: Legit.ng