List of all Tasha Cobbs songs so far
One of the most fantastic gospel artists among women nowadays presents ambitious and impressive worship tunes. Listening to Tasha Cobbs songs can lift your spirits, fill your heart with holiness and make an emotional revolution in your soul.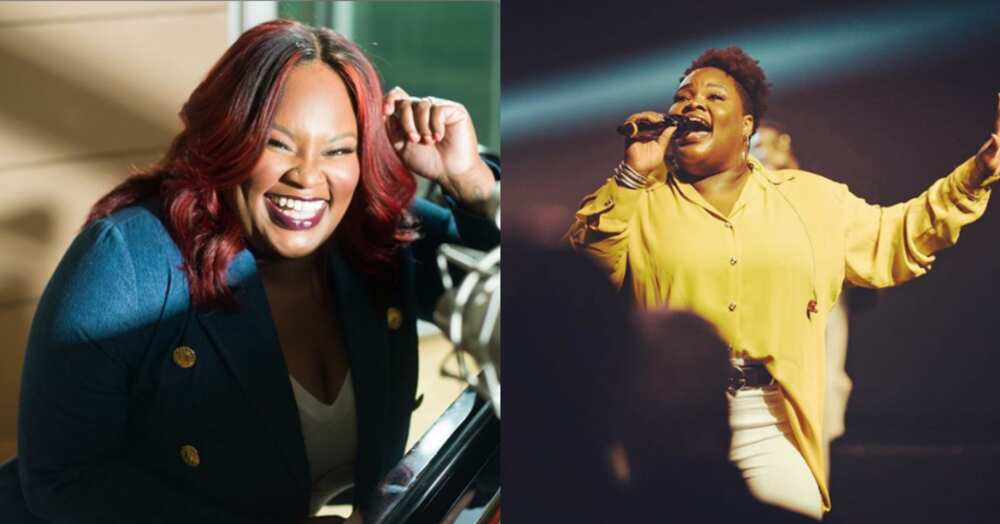 Tasha Cobbs music is recognised all across the world. This incredible singer was twice nominated for the prestigious Grammy Awards. The woman won Grammy Best Gospel Music Performance title for her Break Every Chain [Live] composition in 2013. However, her songs list is way longer than one winning tune.
Tasha Cobbs songs
Fans of foreign gospel songs fell in love with Tasha after her successful album presentation six years ago, in 2013. That Album is called Grace. It has made the American singer famous and brought her songs to top positions in different music charts.
READ ALSO: Top trending Tasha Cobbs songs 2019
It is curious that the first songs by Tasha Cobbs were presented three years before the release of Grace. The woman tried to start her career with a self-presented work called Smile. It did not bring her any awards or top chart positions, but it was noticed by Motown Gospel music group that helped to introduce three singer's albums to the world.
Tasha Cobbs album Grace
A fantastic gospel album Grace was presented to the world six years ago. It includes eight tunes plus two extras.
You might love to listen to these dramatic compositions:
Smile
Happy
Get Up
Confidence
Grace
For Your Glory
Love You Forever
Break Every Chain
Deluxe edition of this record includes two more songs:
Both titles from deluxe edition are very energetic. You might enjoy dancing along to these lovely beats and singing the powerful gospel lyrics together with Tasha.
As you can see, Tasha Cobbs songs list from her Grace album boasts Grammy-winner composition Break Every Chain and incredible For Your Glory that became a popular hit reaching the top position on the Hot Gospel Songs chart in 2015, according to Billboard report.
Tasha Cobbs album One Place Live
The second work under Motown Gospel music label saw the world in 2015. It is called One Place Live. It includes eleven incredible tracks that can improve your day and raise your mood.
This record has also been successful with many incredible songs sang individually. However, four songs presented on One Place Live album feature other famous artists.
Pretty and sensible Tasha Cobbs music sounds even more touching in duos with Jamie Grace (Solid Rock) and Bertha Cobbs (One Place). A fantastic work collaboration of William Murphy, Bryan Pierce, Tasha, and Paul S. Morton (I'd Do It Again) is also phenomenal.
Here is a successful and incredible song list from this record:
Immediately
Fill Me Up
This Is the Freedom
Sense It
Overflow
Jesus Saves
Jesus Did It
I'd Do It Again
Solid Rock
One Place
Put a Praise on It
By the way, the cooperation with Kierra Sheard in tune titled Put a Praise on It was hugely successful. This song by Tasha reached the third position on the Billboard chart in 2016.
Tasha Cobbs album Heart. Passion. Pursuit.
After its presentation in 2017, the record Heart. Passion. Pursuit attracted new listeners and found a place in the hearts of many fans of foreign gospel songs. Tasha Cobbs songs list from this album includes ten amazing pieces of musical heaven.
You can listen to many nice hits and memorable worship tunes that are lovely and heart-touching:
I'm Getting Ready (features Nicki Minaj)
Wonderful Grace
Your Spirit (features Kierra Sheard)
Forever at Your Feet
You Know My Name
The Name of Our God
Great God
The River of the Lord
Dove's Eyes
Gracefully Broken
The latest 2019 single by Tasha is This Is a Move.
You can always find more exciting videos with the amazing singer and enjoy her newest compositions on Tasha's official YouTube channel.
These are all the fabulous Tasha Cobbs songs so far. You can listen to any of her original and modest tunes and feel how your heart melts to a powerful, harmonious and beautiful female voice.
READ ALSO: Top 10 Steve Crown songs of all time
Source: Legit.ng