Maryse Ouellet (Mizanin) bio: WWE career, net worth, husband, kids
Maryse Ouellet was introduced to World Wrestling Entertainment (WWE) in 2006. She quickly rose to become one of the best women wrestlers in the industry. Other than being a two-time Divas Champion, she is an actress, reality star, model, and businesswoman.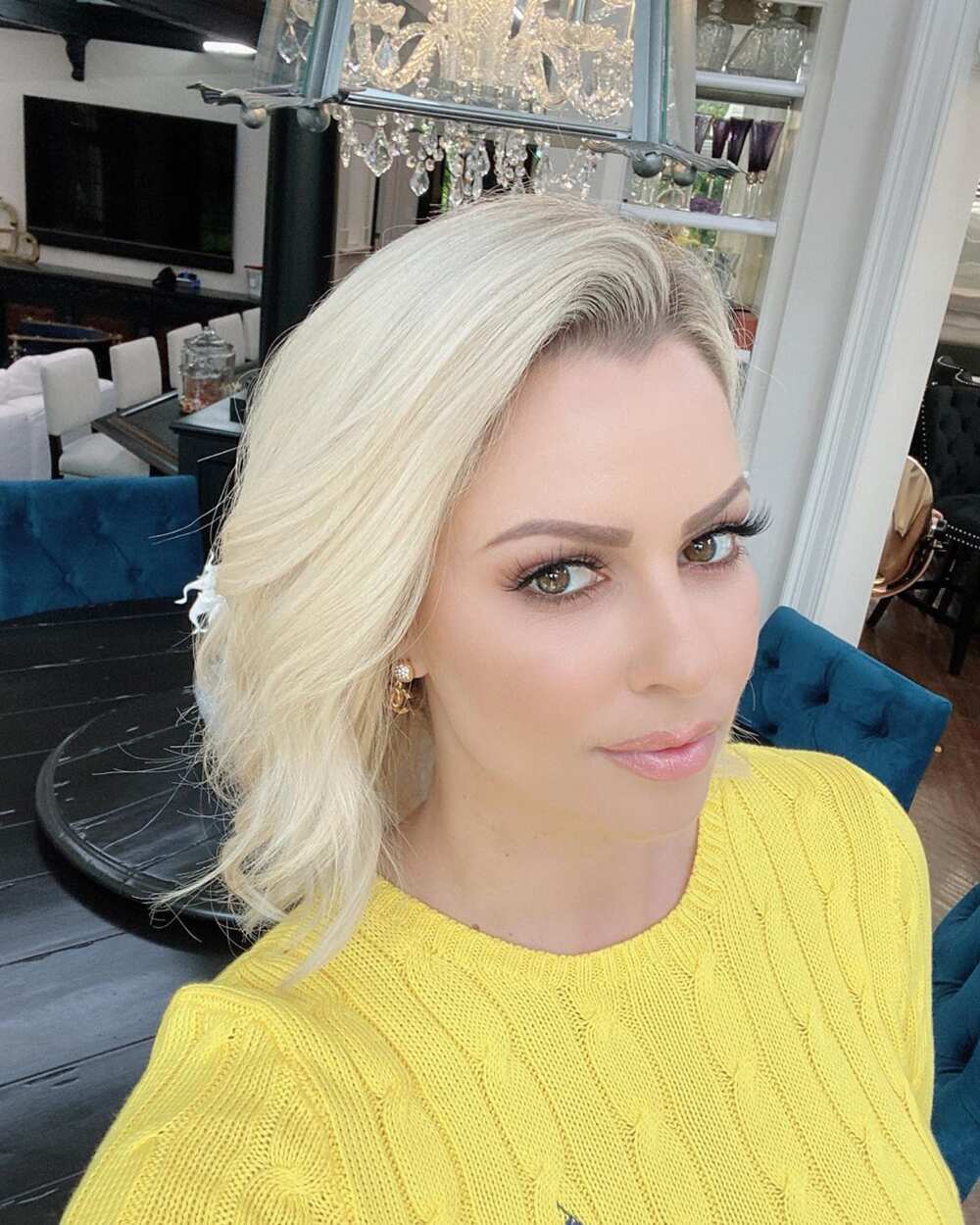 Before joining wrestling, Maryse was a glamour model who won Miss Hawaiian Tropic Canada in 2003. She joined professional wrestling through a WWE Diva Search competition in 2006.
Profile summary
Name: Maryse Oullet
Nicknames: The Sultry Diva, The French Phenom
Date of birth: January 21, 1983
Place of birth: Montreal, Quebec, Canada
Age: 37 years
Birth sign: Aquarius
Nationality: Canadian-American
Ethnicity: White
Hometown: Edmundston, New Brunswick
Current residence: Thousand Oaks, California, US
Parents: Guy Ouellet, Marjolaine Martin
Sibling: Michelle Ouellet
Religion: Roman Catholic
Children: Monroe Sky Mizanin, Madison Jade Mizanin
Body type: Athletic
Height: 5 feet 8 inches (1.73 m)
Spouse: Michael Gregory Mizanin 'The Miz'
Body measurements: 34-26-36 inches
Weight: 53 kg
Bra cup size: 34A
Shoe size: 9 (US)
Hair colour: Dyed blonde
Eye colour: Dark brown
Net worth: $5 million
Profession: Wrestler, model, reality TV star, entrepreneur
Maryse Mizanin age
How old is Maryse? The former WWE wrestler was born on January 21, 1983, in Montreal, Quebec, Canada. Currently, she is 37 years old. Her birth sign is Aquarius.
Maryse Mizanin body measurements
Maryse Ouellet has a well maintained athletic physique. She is 5 feet 8 inches tall and weighs about 53 kg. Her body measurements are 34-26-36 inches, and her bra cup size 34A.
Here is a Maryse Ouellet hot photo from her Instagram page.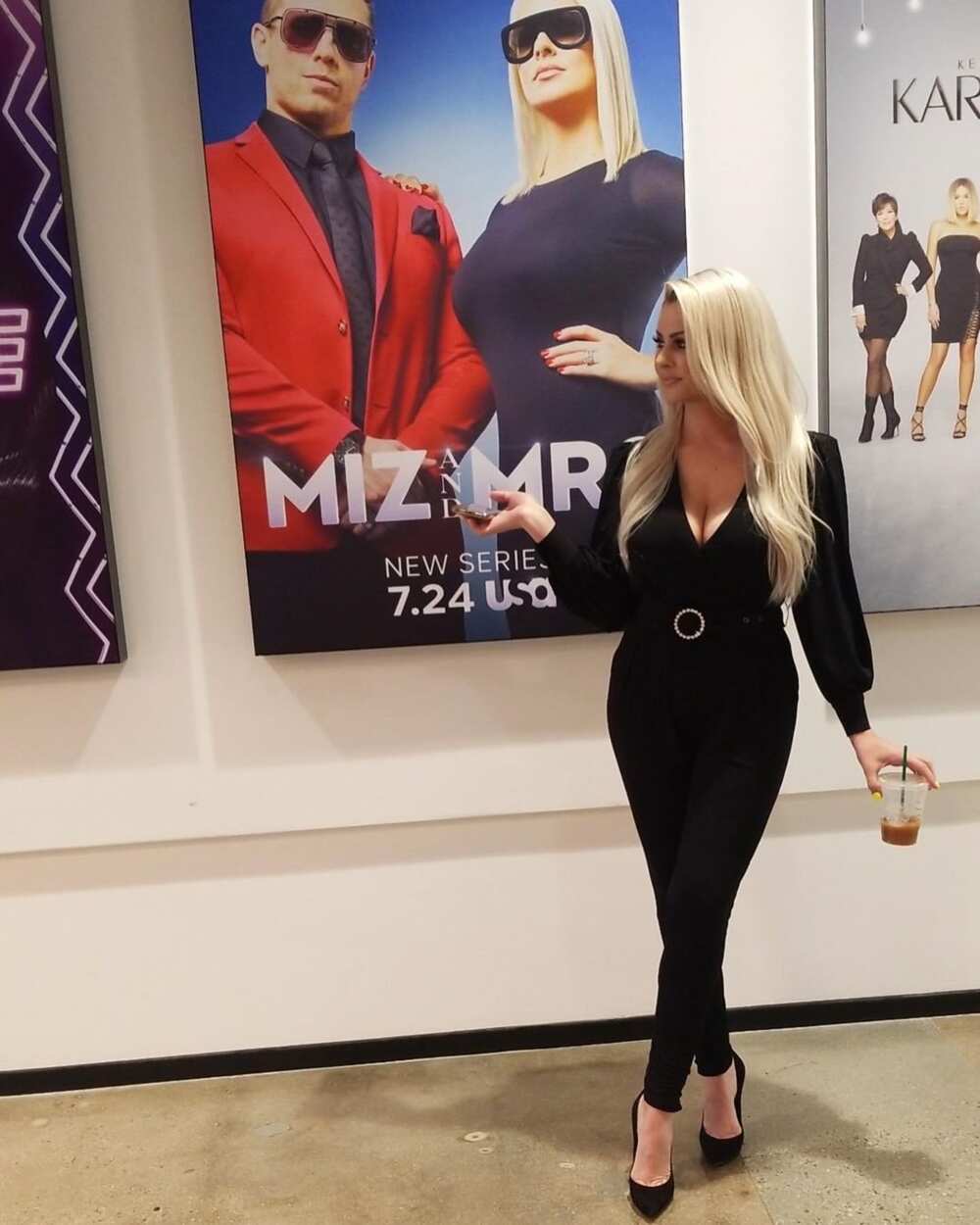 Her hair is dyed blonde while her eyes are dark brown. Her shoe size is 9 (US). She maintains her toned figure by regularly going to the gym.
Background
The former wrestler was born to Guy Ouellet and Marjolaine Martin. She was raised in Edmundston, New Brunswick.
What nationality is Maryse Mizanin? She is a Canadian-American.
She began modeling when she was in high school. She participated in beauty pageants, and in 2003, she won the Miss Hawaiian Tropic Canada title. In 2004, she finished second at the Miss Hawaiian Tropic international finals.
In 2007, she was on the cover of Playboy magazine. She also featured on the Girls of Canada calendar. At this time, her popularity as a glamour model began to rise.
Wrestling career
Here is a breakdown of her career in wrestling.
World Wrestling Entertainment (WWE)
In 2006, Maryse contested in World Wrestling Entertainment (WWE)'s Diva Search. She made it through to the finals but was eliminated.
In December 2006, she had her first in-ring match at an Ohio Valley Wrestling live event. She signed a developmental contract with Florida Championship Contract. She started as the Valet of Ryan O'Reilly and Lacey Von Erich.
She competed in singles and tag team competitions and managed Ted Di Biasse, Jr. in 2007. She then moved to SmackDown.
On March 7, 2008, she and Victoria, Michelle McCool, Cherry, and Eve Torres competed in a SmackDown swimsuit contest. On March 28, she partnered with Victoria in a 'Wet and Wild' match against Cherry and McCool.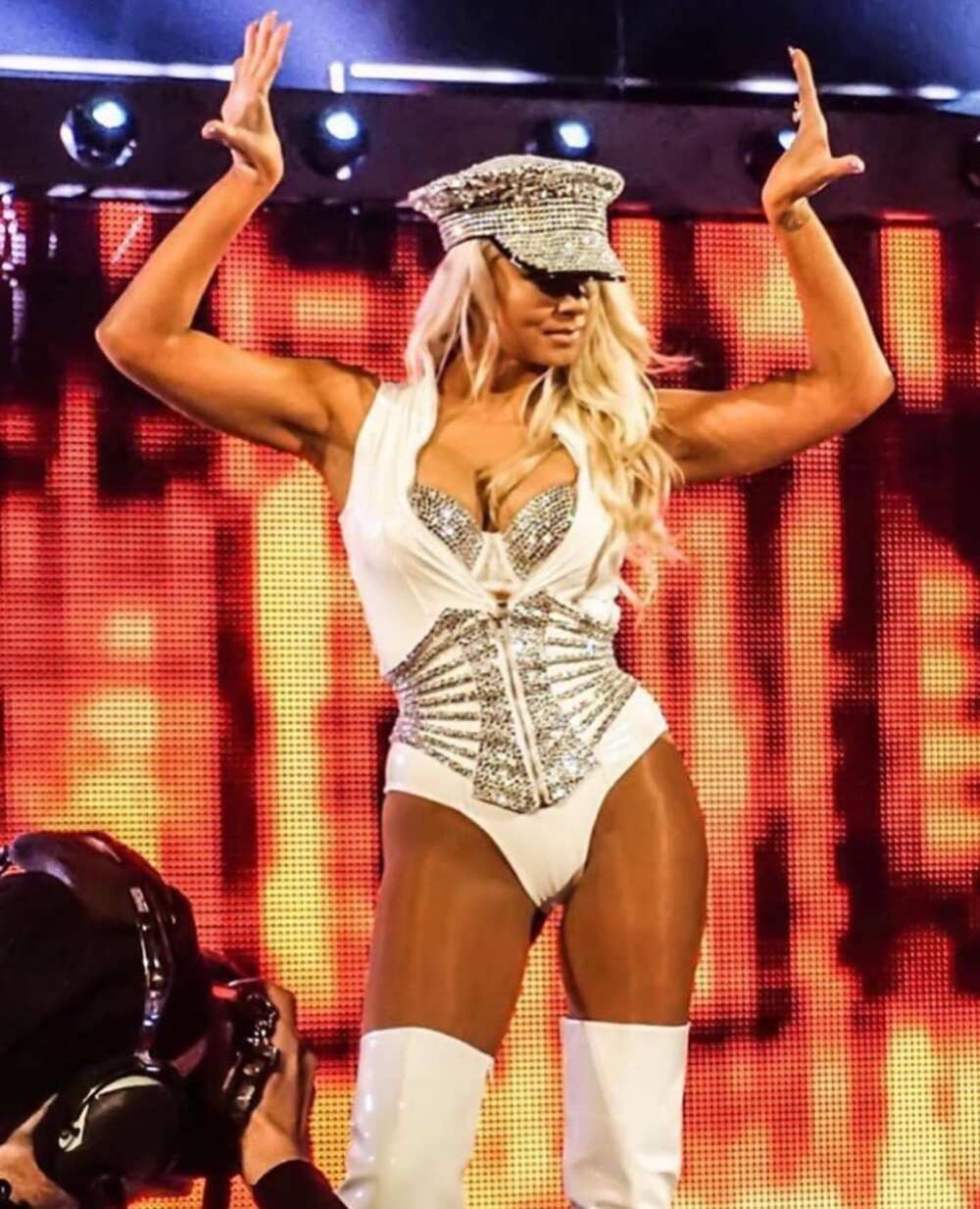 On the episode of SmackDown aired on May 16, Maryse lost to Cherry in her debut in-ring match. She, however, defeated her in the rematch held the following week.
She continued to compete in tag team matches with Natalya and Victoria against Maria and Michelle McCool. In August 2008, she suffered a broken nose after receiving a bulldog from Maria.
Divas Championship (2008-2010)
In September 2008, Maryse began to challenge Michelle McCool for the WWE Divas Championship title. They competed twice but Maryse lost on both occasions.
On November 23, 2008, she participated in a five-on-five elimination tag team match in Survivor Series. The Survivor Series was a pay-per-view event held in Boston. She completed as the sole survivor of her team but was eliminated by Beth Phoenix.
On December 14, 2008, she competed in an Eight-Diva Santa's Little Helper tag team match in the Armageddon pay-per-view event. She teamed up with Victoria, Jillian Hall, and Mickie James to compete against McCool, Kelly Kelly, Mickie James, and Maria. They lost the match.
In December 2008, Maryse wrestled Michele McCool and won her first WWE Divas Championship. She held the title for seven months.
She dislocated her knee on December 28, 2008 while wrestling the Bella Twins. She returned on January 23, 2009, and was the commentator on a Diva's tag team match.
On the match held on February 20, she teamed up with Michelle McCool to win against Eve Torres and Maris
She moved to Raw and made her first appearance on March 2 as a commentator. She defeated Melina in her in-ring game held the following week.
Maryse and Melina had a rivalry that led up to a tag team match on SmackDown. Maria and Melina defeated Maryse and McCool.
Maryse was drafted to the Raw brand, and on April 27, 2009, she had her first championship. On the Night of Champions pay-per-view event held on July 26, Maryse competed with James and lost her Divas Championship.
The match saw her get a knee injury that led to surgery. She returned on the episode of November 23 but disguised herself as 'The Gobbledy Gooker', the guest timekeeper.
In February 2010, she wrestled with Gail Kim and won the Divas Championship Title. She claimed the title for the second time.
On the episode of Raw aired on April 12, Maryse lost the title to Eve Torres. She did not regain it in the Over the Limit and Fatal 4-Way pay-per-view events.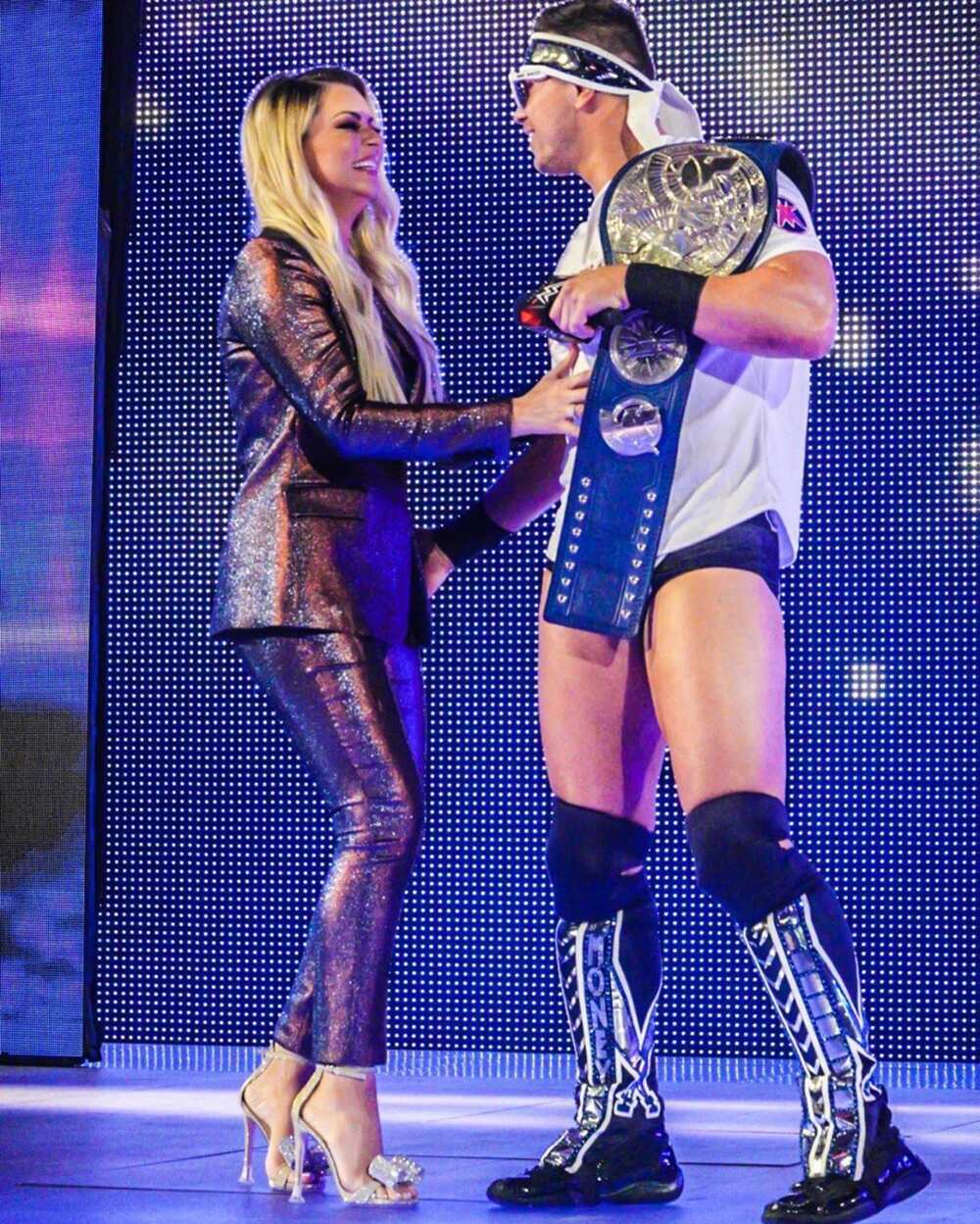 NXT and managing Ted DiBiase (2010-2011)
Maryse became the personal assistant to Ted DiBiase on the June 21 episode of Raw. On March 8, 2011, Maryse was selected to be the co-host of NXT alongside Matt Striker.
When DiBiase asked Mizanin to choose whether to work for NXT or with him, she chose NXT. In August the same year, she underwent surgery for an abdominal hernia. The wrestler ended her WWE contract on October 28, 2011 due to inactivity.
Independent circuit (2012)
In 2012, she appeared in the Back 2 Brooklyn event held by Family Wrestling Entertainment (FWE). She was also a commentator in some women's matches.
Return to WWE
The wrestler returned to WWE in April 2016 as The Miz's manager. She assisted her husband in the WWE Intercontinental Championship match against Zack Ryder.
She also helped The Miz retain his championship against Kane and several other occasions. They became known as the 'It' on-screen couple.
She stopped appearing on TV when she announced her pregnancy in September 2017. She was in attendance during the Miz and Baron Corbin match in the Survivor Series event held on November 19.
On January 22, 2018, she was honored as one of the legends who contributed to the success of Raw. The other wrestlers were Kelly Kelly, the Bella Twins, Torie Wilson, Lilian Garcia, Maria Kanellis, Michelle McCool, Jacqueline, Trish Stratus and Terri Runnels.
Maryse returned to manage The Miz on SmackDown in 2018. She and Miz competed against Brie Bella and Daniel Bryan at a SmackDown Hell in a Cell pay-per-view event held on September 16. They won the match.
Currently, she is signed to WWE under the name Maryse. She is the wrestling manager of her husband, The Miz.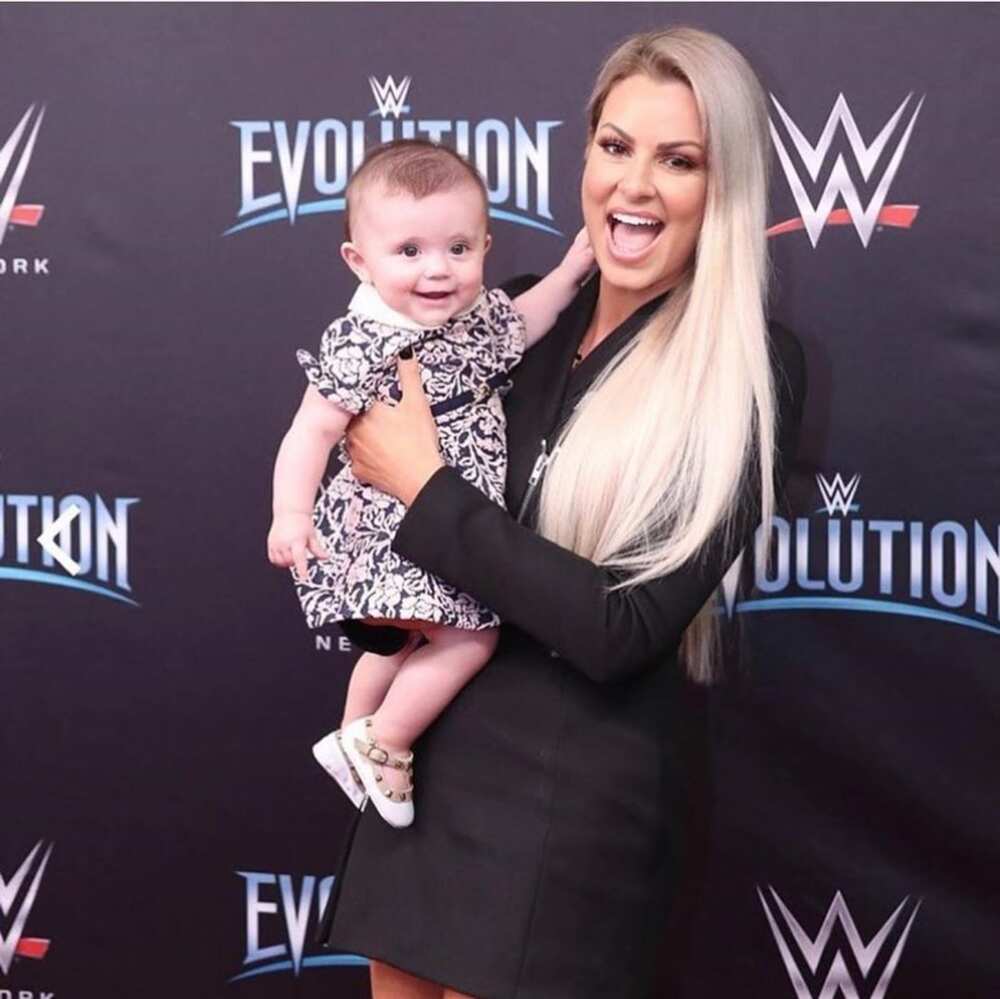 Wresting manager
Other than The Miz, Maryse has managed the following wrestlers:
Sylvain Grenier
Ryan O'Reilly
Deuce 'n Domino
Ted DiBiase
The Spirit Squad (Kenny and Mikey)
The Miztourage (Curtis Axel and Bo Dallas)
Maryse Mizanin wrestling moves
While wrestling, Maryse used the following moves:
Finishing moves
French Kiss
French TKO (Heel kick, to the back of the opponent's head)
Signature moves
Forward Russian leg sweep
French Pain (Camel clutch)
Hair-pull mat slam
Hair-pull facebuster
Leg choke
Modified sleeper hold
Running knee strike, to the head of a kneeling opponent
Spinning backbreaker
Short-arm clothesline
Championship and accomplishments
In 2009, Ouellet was ranked No. 9 of the top 50 female wrestlers in the PWI Female 50
She won the WWE Divas Championship title two times
Other media appearances
The wrestler has made appearances on film, TV, and even music videos. In April 2007, she appeared on the music video of Timbaland's song titled Throw It On Me.
She appeared in the video alongside other WWE Divas like Torie Wilson Ashley, Kelly Kelly, Brooke Adams, and Layla.
She, alongside Eve Torres and Michelle McCool, appeared on the January 2019 issue of Muscle & Fitness. She was also featured in an interview aired on Eurosport.
In 2008, she made a guest appearance on Redemption Song, a reality TV show hosted by Chris Jericho.
She was the feature of several newspapers, including Tokyo Headline, Sessions Magazine, and Le Journal de Montreal.
In 2015, she had roles in Sharknado 3: Oh Hell No!, Santa's Little Harper, and WAGS. The next year, she was selected to be a cast member of Total Divas.
In 2018, she and The Miz appeared in the TV series titled Miz and Mrs. It was a spin-off of Total Divas, and it explored the lives of the couple in and out of the wrestling ring.
Here is a list of Maryse Mizanin films and TV shows:
Films
The wrestler had roles in the following movies:
Octobre (1994)- She had the role of Pouilleuse
Sharknado 3: Oh Hell No! (2015)- She assumed the role of Park Police Guard #2
Santa's Little Helper (2015)- she acted as Biker Chick
Karla (2016)- She appeared as Natasha
Isle of the Dead (2016)- She acted as Mikaela Usylvich
The Marine 5: Battleground (2017)- She played the character of Ana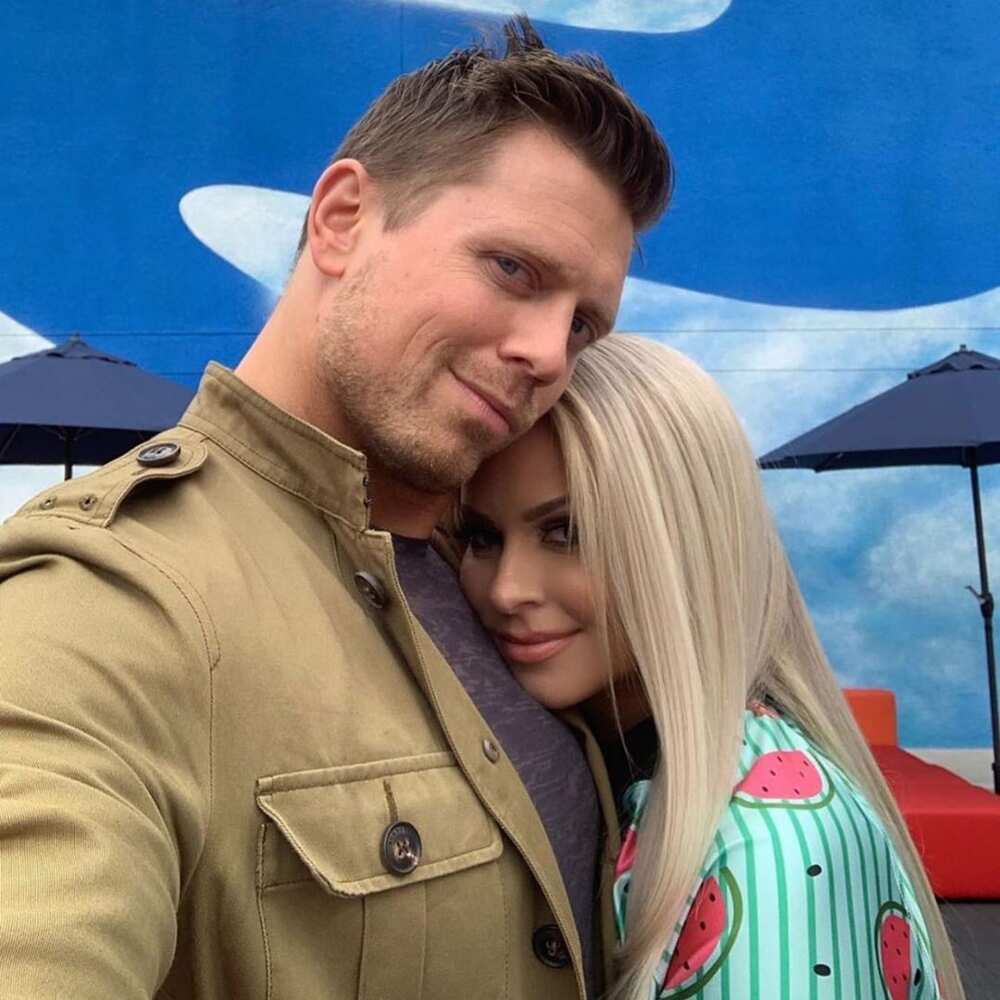 TV shows
Maryse appeared in the following TV shows:
Musee Eden (2010)- She appeared as Religieuse auditorium in one episode
Trauma (2011)- She portrayed the character of Femme de Lemire in one episode
WAGS LA (2015)- She appeared as herself on the episode titled Never Have I Ever
Total Divas (2016- 2018)- She was part of the main cast in season 6 and 7. She appeared as herself in 28 episodes
Total Bellas (2018)- She appeared as herself on the episode titled What Comes Up, Must Go Down
Miz & Mrs (2018 - present)- She appears as herself on the reality show with her husband. She is also the executive producer.
Personal life
Ouellet speaks fluent French and English but can only read Spanish.
She is the proprietor of the House of Maryse clothing and Jewellery line. In 2013, she began to work as a realtor in Los Angeles.
She graduated with a degree in Business Administration from College Montmorency de Laval.
Maryse has been featured on WWE Smackdown vs. Raw (2010, 2011, 2012, 2018 and 2019) games.
Ouellet is very active on social media. Maryse Ouellet Instagram page is filled with pictures of her two kids and her husband, The Miz.
Maryse Ouelett husband
The wrestler is currently married to Michael Gregory Mizanin, popularly known as The Miz. They first met in 2006 during the WWE Diva Search. The Miz was the host of the competition.
After seven years of dating, they got engaged in 2013. Maryse Ouellet became The Miz wife on February 20, 2014. Their wedding was held in the Bahamas.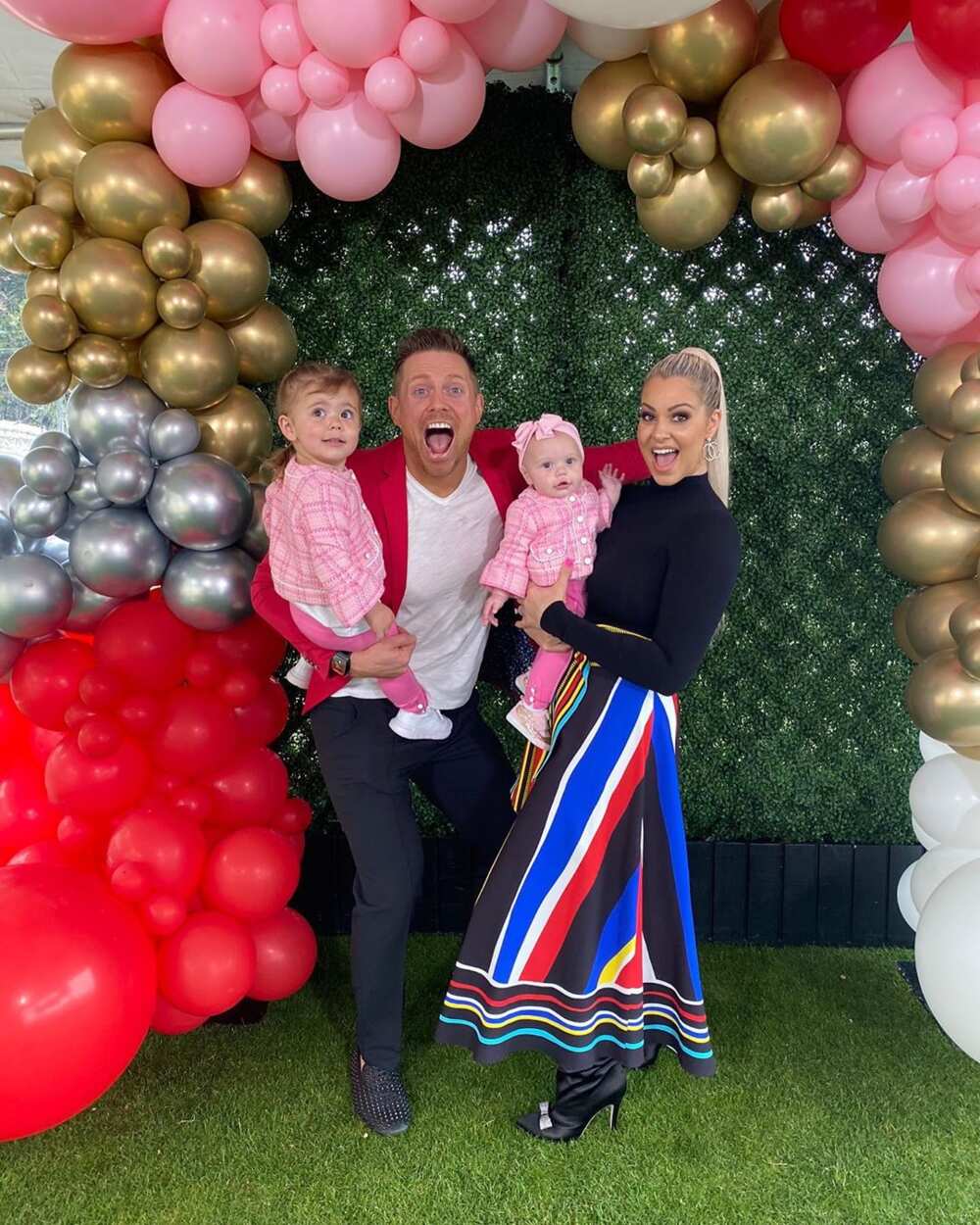 The Miz and Maryse welcomed their first kid on March 27, 2018. They named her Monroe Sky.
She revealed that she was expectant with her second child at Elimination Chamber that took place on February 17, 2019. Miz and Maryse baby number two was born on September 20, 2019, and was named Madison Jade Mizanin
Maryse Ouellet net worth
How much is Maryse net worth? Her estimated net worth is about $5 million. During her time in WWE, her salary was $200,000 annually.
Over the years, the wrestler has earned much of her income from her career in WWE. She has also earned her wealth from being an actress, glamour model, and businesswoman.
How much is Miz and Mrs worth? Their combined net worth is $14 million.
Maryse Ouellet is a woman with many titles. The former WWE professional wrestler is also a businesswoman, wrestling manager, and actress. She is married to WWE wrestler, The Miz.
Source: Legit.ng