50 butterfly quotes, sayings and short poems to lift your spirits
Butterflies are undoubtedly some of the most beautiful creatures in the entire world. Besides looking amazing, these little creatures are associated with transformation and change. There are numerous butterfly quotes out there related to hope, positivity, and patience. Various authors have also written beautiful butterfly poems that will undoubtedly lift your spirits.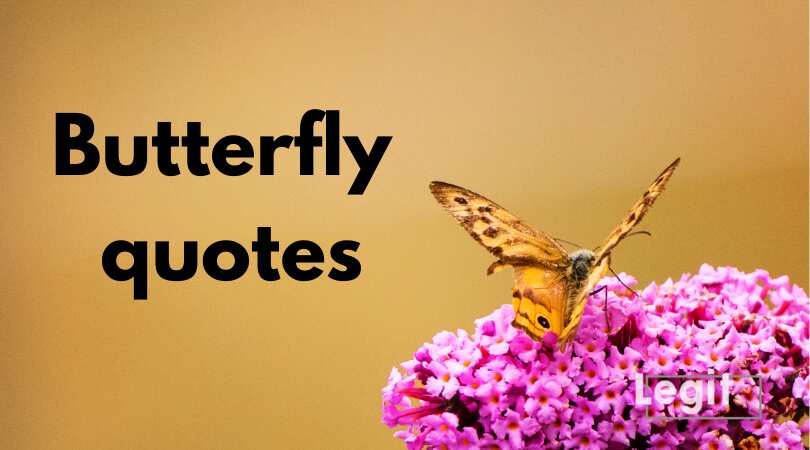 While most butterfly quotes touch on the aspect of change, some also explore the subject of love. These little creatures serve as reminders that we should embrace change, overcome fear, and fly towards our ambitions and happiness.
What are some fantastic butterfly quotes and poems?
Here is a look at some quotes, sayings, and poems that will undoubtedly bring a smile to your face.
Quotes about butterflies to inspire and teach
Here is a collection of inspirational butterfly quotes from which one can learn a thing or two. While these simple creatures are mostly appreciated for their beauty and simplicity, they also represent one of life's fundamental aspects, change.
Bees sip honey from flowers and hum their thanks when they leave. The gaudy butterfly is sure that the flowers owe thanks to him. – Rabindranath Tagore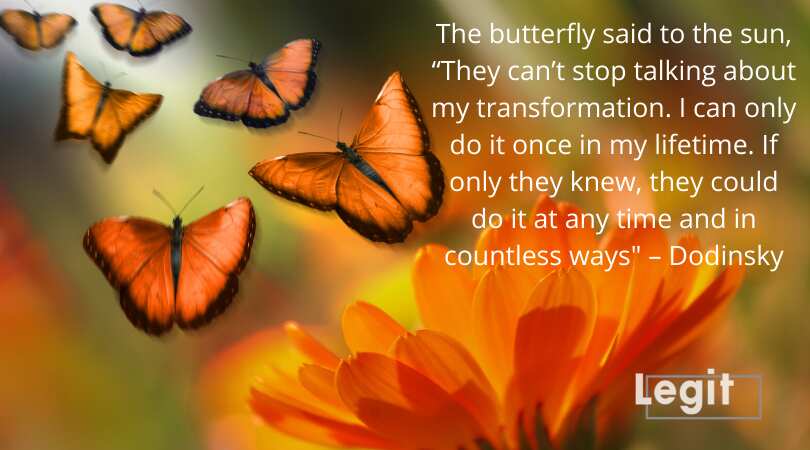 The winter solstice has always been special to me as a barren darkness that gives birth to a verdant future beyond imagination, a time of pain and withdrawal that produces something joyfully inconceivable, like a monarch butterfly masterfully extracting itself from the confines of its cocoon, bursting forth into unexpected glory. – Gary Zukav
When a small child, I thought that success spelled happiness. I was wrong, happiness is like a butterfly which appears and delights us for one brief moment, but soon flits away. – Anna Pavlova
The butterfly said to the sun, "They can't stop talking about my transformation. I can only do it once in my lifetime. If only they knew, they could do it at any time and in countless ways. – Dodinsky
Metamorphosis has always been the greatest symbol of change for poets and artists. Imagine that you could be a caterpillar one moment and a butterfly the next. – Louie Schwartzberg
A butterfly symbolizes the acceptance of each new phase in life. To keep the faith as everything around you changes. – Lisa Kleypas
To all the broken-hearted and anyone feeling sad, may your hearts heal, and may you feel happy in your lives. Flutter as the butterflies do. – Krystal
When, within our souls and psyches, we are made aware of a safe but insistent drumbeat, repeated like butterfly wings in motion, we sense the message that our inner self has begun its search for freedom. – Mary Meeker
Butterflies are nature's tragic heroes. They live most of their lives being completely ordinary. And then, one day, the unexpected happens. They burst from their cocoons in a blaze of colors and become utterly extraordinary. It is the shortest phase of their lives, but it holds the greatest importance. It shows us how empowering change can be. – Kelseyleigh Reber
Beautiful and graceful, varied and enchanting, small but approachable, butterflies lead you to the sunny side of life. And everyone deserves a little sunshine. – Jeffrey Glassberg
There is nothing in a caterpillar that tells you it's going to be a butterfly. – Richard Buckminster Fuller
When it comes to religion today, we tend to be long on butterflies and short on cocoons. Somehow we're going to have to relearn that the deep things of God don't come suddenly. – Sue Monk Kidd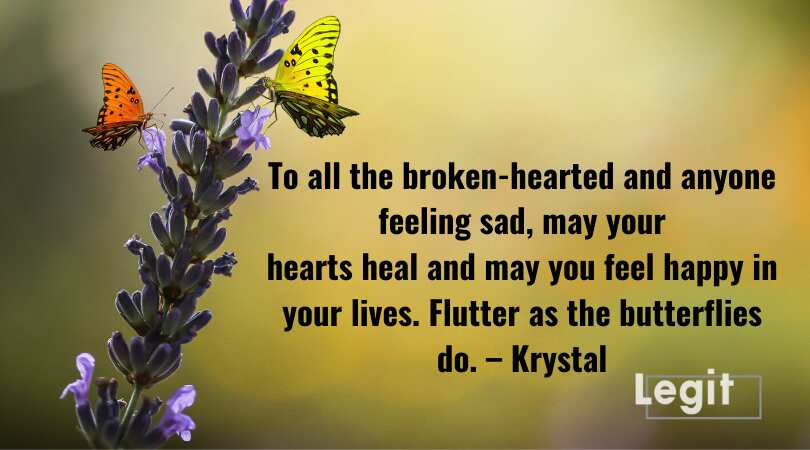 If you examine a butterfly according to the laws of aerodynamics, it shouldn't be able to fly. But the butterfly doesn't know that, so it flies. – Howard Schultz
Beautiful butterfly quotes about change
It is often said that change is the only constant thing in life. A caterpillar spins itself a cocoon, hibernates, and undergoes one of the most beautiful transformations seen in any living creature. Have you ever found yourself wondering how to navigate a problem in life? Well here are some quotes and sayings about change and hope.
When a caterpillar spins its cocoon, it goes through a transformative process and then emerges as a butterfly. Similarly, when we go through a practice of meditation and prayer, we loosen our egoic grip on a sense of self that is separate from the Whole and become vehicles of the emergent evolutionary paradigm of love, peace, compassion, wisdom, harmony, and oneness that seeks expression on the planet. – Michael Beckwith
For our people, butterflies are a symbol of hope. It's said that if you capture one in your hands and whisper your dreams to it, it will carry them up to the heavens so that the wish can be granted. – Sherrilyn Kenyon
A great beginning is sometimes at the point of what you thought would be the end of everything. – Dodinsky
Happiness is a butterfly, which when pursued, is always just beyond your grasp, but which, if you will sit down quietly, may alight upon you. – Nathaniel Hawthorne
I think that positivity, real positivity, is like the butterflies. Caterpillar, cocoon, winged creature. When I look at it, I not only see a winged beauty, but I also see a strong beauty. – C. JoyBell
The butterfly said to the sun, "They can't stop talking about my transformation. I can only do it once in my lifetime. If only they knew, they can do it at any time and in countless ways. – Dodinsky
For a new year to bring you something new, make a move, like a butterfly tearing its cocoon! Make a move! – Mehmet Murat Ildan
We lose our souls if we lose the experience of the forest, the butterflies, the song of the birds, if we can't see the stars at night. – Thomas Berry
I sting like a butterfly and punch like a flea. – Si Robertson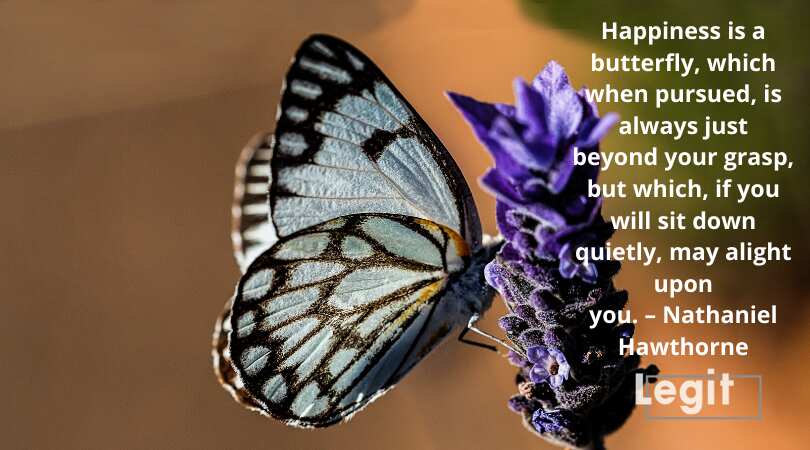 Love is like a butterfly, a rare and gentle thing. – Dolly Parton
You've got to be like a butterfly and have a metamorphosis. – Mike Markkula
Although the butterfly and the caterpillar are completely different, they are one and the same. – Kendrick Lamar
The great loneliness- like the loneliness a caterpillar endures when she wraps herself in a silky shroud and begins the long transformation from chrysalis to butterfly. It seems we too must go through such a time when life as we have known it is over- when being a caterpillar feels somehow false, and yet we don't know who we are supposed to become. All we know is that something bigger is calling us to change. And though we must make the journey alone, and even if suffering is our only companion, soon enough we will become a butterfly, soon enough we will taste the rapture of being alive. – Elizabeth Lesser
Fighting has taught me that the caterpillar takes a while to turn into a majestic butterfly. – Jesse Taylor
Once you let people know anything about what you think, that's it, you're dead. Then they'll be jumping about in your mind, taking things out, holding them up to the light and killing them, yes, killing them, because thoughts are supposed to stay and grow in quiet, dark places, like butterflies in cocoons. – Helen Oyeyemi
Happiness is a butterfly, which when pursued, is always just beyond your grasp, but which, if you will sit down quietly, may alight upon you. – Nathaniel Hawthorne
Butterfly sayings that will change the way you think
Here is a collection of sayings that will help you develop new perspectives towards life. Sometimes, all that one needs is to see something from an entirely new angle. A butterfly's metamorphosis from a caterpillar can undoubtedly teach you a thing or two.
When you find yourself cocooned in isolation and you cannot find your way out of darkness, remember, this is similar to the place where caterpillars go to grow their wings. – Necole Stephens
I embrace emerging experience. I participate in discovery. I am a butterfly. I am not a butterfly collector. I want the experience of the butterfly. – William Stafford
Death consists, indeed, in a repeated process of unrobing, or unsheathing. The immortal part of man shakes off from itself, one after the other, its outer casings, and – as the snake from its skin, the butterfly from its chrysalis – emerges from one after another, passing into a higher state of consciousness. – Annie Besant
Alongside the practical thought something else struggled and, like an escaped butterfly, took wing: the assurance of something wonderful awaiting her. Just around the corner. – Norah Lofts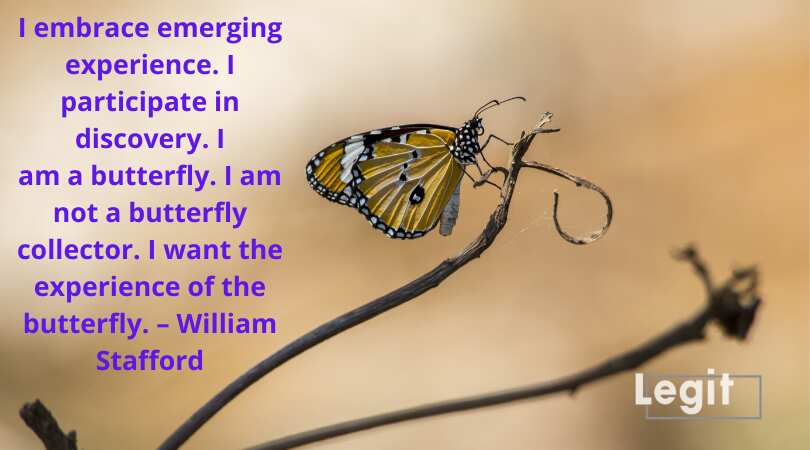 Cut a chrysalis open, and you will find a rotting caterpillar. What you will never find is that mythical creature, half caterpillar, half butterfly, a fit emblem for the human soul, for those whose cast of mind leads them to seek such emblems. No, the process of transformation consists almost entirely of decay." – Pat Barker
Butterflies are God's confetti, thrown upon the Earth in celebration of His love. – K. D'Angelo
I only ask to be free. The butterflies are free. – Charles Dickens
I'd be a butterfly, living a rover, Dying when fair things are fading away. – Thomas Haynes Bayly
He said it was because one day I was going to have to go through a metamorphosis like a caterpillar transforming into a butterfly and that scared me, so butterflies scared me. – Gayle Forman
Butterflies are nature's angels. They remind us what a gift it is to be alive. – Robyn Nola
I've always loved butterflies because they remind us that it's never too late to transform ourselves. – Drew Barrymore
We delight in the beauty of the butterfly, but rarely admit the changes it has gone through to achieve that beauty. – Maya Angelou
Everyone is like a butterfly; they start out ugly and awkward and then morph into the beautiful, graceful creatures that everyone loves. – Drew Barrymore
The mark of your ignorance is the depth of your belief in injustice and tragedy. What the caterpillar calls the end of the world, the Master calls the butterfly. – Richard Bach
Adding wings to caterpillars does not create butterflies; it creates awkward and dysfunctional caterpillars. Butterflies are created through transformation. – Stephanie Marshall
If nothing ever changed, there would be no such things as butterflies. – Wendy Mass
His talent was as natural as the pattern that was made by the dust on a butterfly's wings. At one time, he understood it no more than the butterfly did, and he did not know when it was brushed or marred. – Ernest Hemingway
Poetry about butterflies
Here is a look at some fascinating poems about butterfly lives and their influence on human.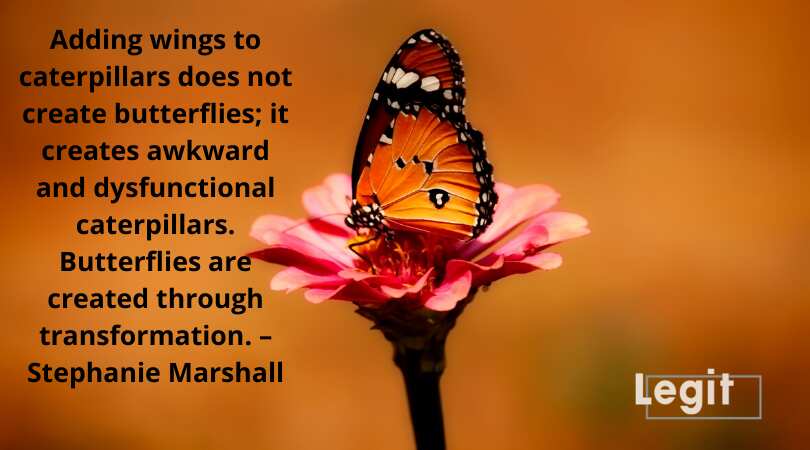 The song of the butterfly
Dear light, airy thing,
Butterfly!
That hovers there above the flowers,
Living only on dew and blossoms,
Itself a blossom, a flying leaf,
That, with what a rosy finger!
Someone has crimsoned
- Carl Loewe
A new spring
This excellent poem was originally written in German. It was translated by Charles Leland in 1855.
The butterfly long loved the beautiful rose,
And flirted around all day
While round him in turn with her golden caress,
Soft fluttered the sun's warm ray
I know not with whom the rose was in love,
But I know that I loved them all.
The butterfly, rose, and the sun's bright ray,
The star and the bird's sweet call.
- Heinrich Heine
Flying crooked
Flying crooked is a great butterfly poem highlighting the somewhat crooked pattern of the insect's flight.
The butterfly, the cabbage white,
(His honest idiocy of flight)
Will never now, it is too late,
Master the art of flying straight,
Yet has — who knows so well as I? —
A just sense of how not to fly:
He lurches here and here by guess
And God and hope and hopelessness.
Even the aerobatic swift
Has not his flying-crooked gift
- Robert Graves
Against Pride In Clothes
This poem about butterfly beauty highlights the effortless manner in which the small creatures look perfect and yet humans, with all their knowledge, can never match them.
How proud we are! how fond to shew
Our clothes, and call them rich and new,
When the poor sheep and silkworms wore
That very clothing long before!
The tulip and the butterfly
Appear in gayer coats than I:
Let me be dressed fine as I will,
Flies, worms, and flowers exceed me still.
Then will I set my heart to find
Inward adornings of the mind:
Knowledge and virtue, truth and grace,
These are the robes of richest dress.
- Isaac Watts
Butterfly quotes teach us that, change, even though it takes time and can be a little difficult in the beginning, can lead to beautiful results. They teach us the value of letting go of the old, in order to discover the new and help us realize the value of growth, patience, perseverance, adaptation, and faith.
Source: Legit.ng