10 weird outdoor advertisements you can only find in Nigeria
Nigerians are a set of happy people with some of the best comedians and entertainers in the world. They often find ways to meander through some of the challenges they face just to make themselves laugh.
You want to have fun or laugh? Just drive through some of the streets and roads. Take some time to read through some outdoor advertisements - billboards, signposts and those displayed on some vehicles. It will surely be a great day.
From those of churches passing some weird messages about their activities and proposed programmes to politics and other spheres of life, the adverts dot many parts of the country.
Below are 10 of such funny adverts:
1. Life Is Not Easy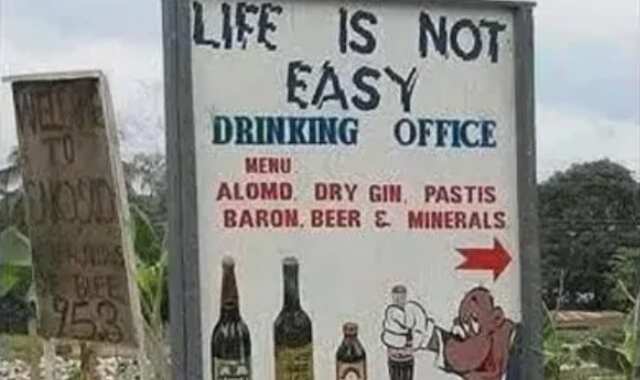 For a truth, life is not easy, but for such a message to become an idea for an advertisement for a drinking spot can be nothing but funny. Again, the advert describes the bar as an office. The question now is: Who owns the office? Is it the customer or the owner of the drinking spot?
2. That Anti-Malaria Advert
Since malaria is one of the commonest ailments in Nigeria, any drug or message that seems to be against it is welcomed and attractive enough. This concept is, however, scary with the photo that shows a giant grasshopper clutching a smiling family.
3. Who Wake The Sleeping Lion?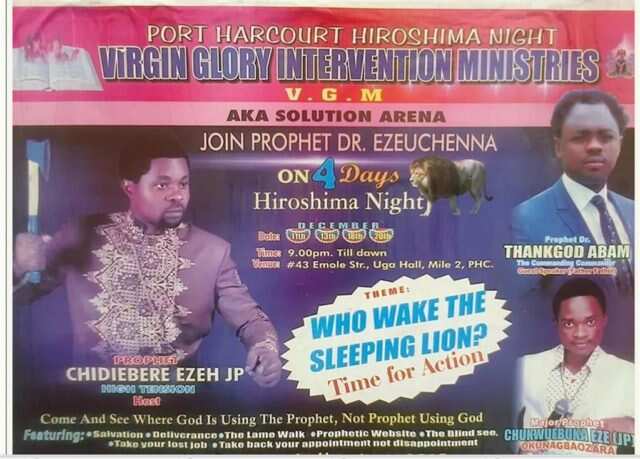 The church says it is four days of Hiroshima nights, a euphemism or maybe a semblance of the historical attack on Hiroshima many years ago. The weight of the event is also portrayed with the photo of a lion with the theme of the event: Who Wake The Sleeping Lion?
4. Ebola Must Go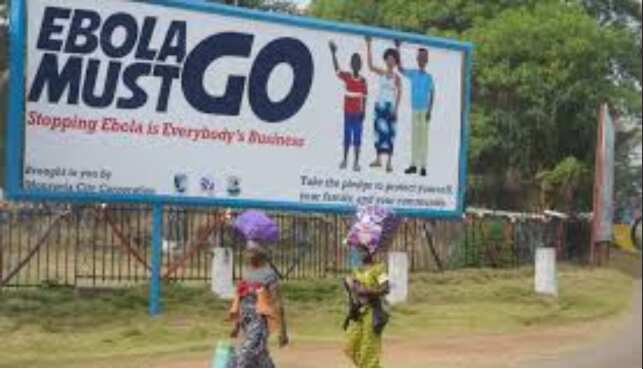 Where should Ebola go and how must it go? However, the message seems to be targeted at the average person to be conscious and cautious of the dreaded Ebola which had, until recently, ravaged some parts of Africa and crept into Nigeria.
5. Operation Point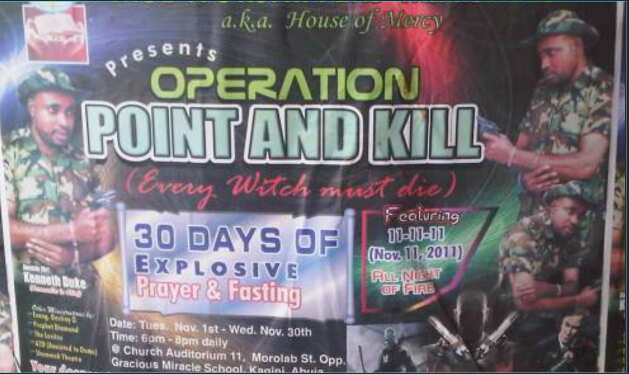 This is as weird as the advert is. It is a church advert designed with photographs of soldiers to depict how ready those that attend the programme should prepare. Then, Point and Kill is a term used by those who visit pepper soup spots. There, they point at the fish to be killed and prepared for them.
6. My Spouse Has Gone Mad Again!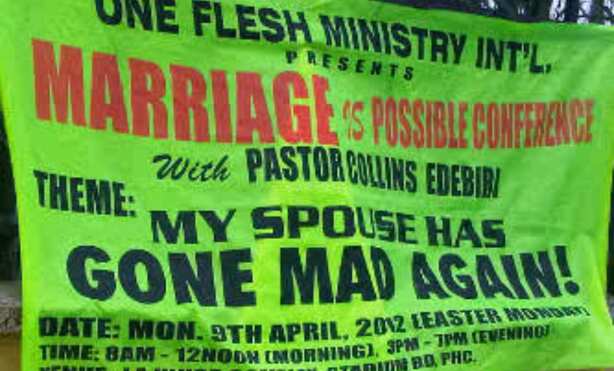 It is supposed to be a marriage conference where issues couples would be educated on the best ways to live together in peace and happiness. But, does the theme of the programme show that it can attract any serious-minded person?
7. The Dear Affy Advert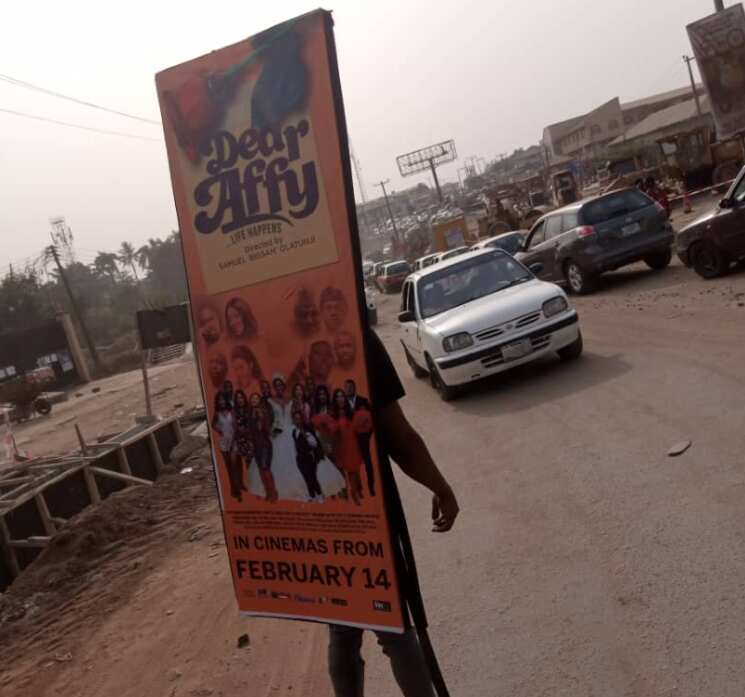 It is a movie and the message is informing people about it, when and where it is supposed to be shown. However, the advert may not go far because such ability is hampered by the limit the person backing it can reach.
8. Many Prayers, One Drink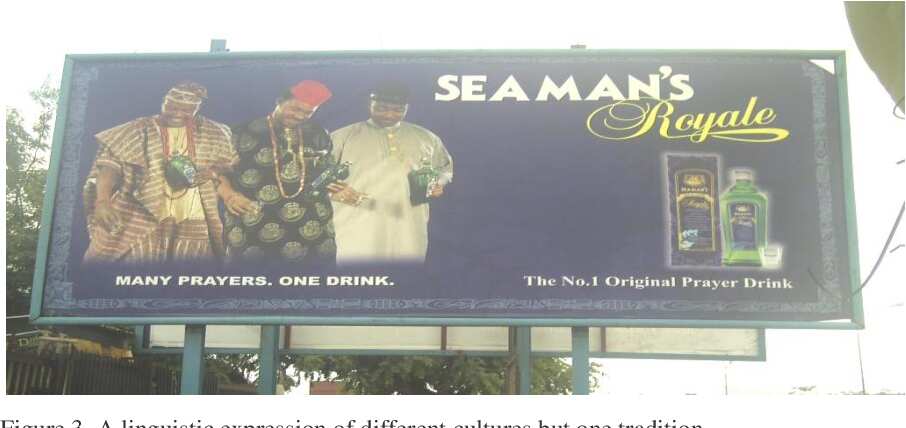 Only the deep thinkers will understand that this is not about religion, but one of the events when the drink is taken as important.
9. The Ad To Improve Individual Health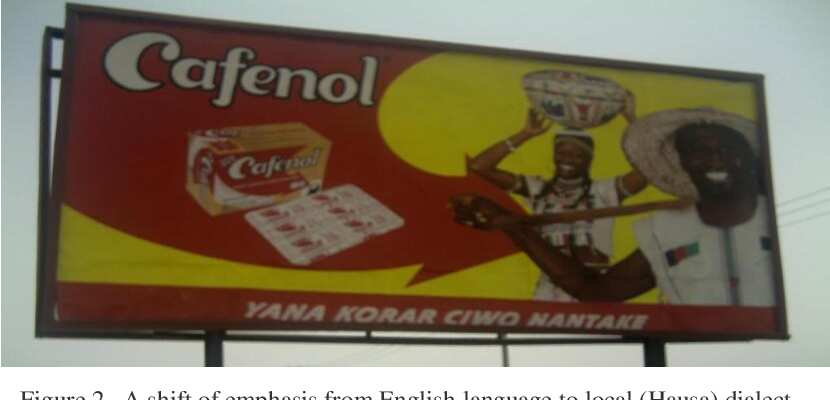 Except for those who have come in contact with the product before, it is difficult to understand what the advert means.
10. That Old Guinness Advert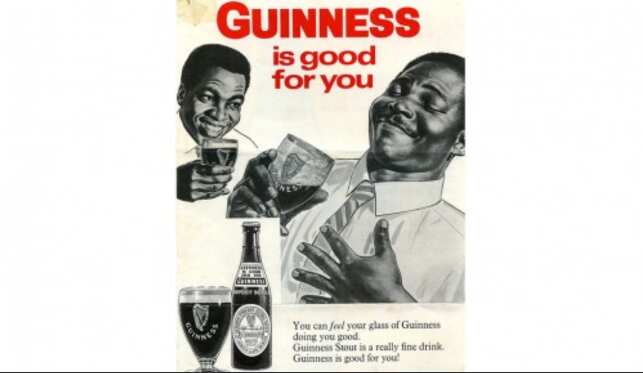 Some of our parents still remember this advert of a drink by a company that has continued to wax stronger by the day. Its adverts are no longer this way; major improvements have been made over the years.
It is noteworthy that one place you cannot find these kinds of concepts or adverts is Legit.ng, Nigeria's number online news and entertainment platform.
Legit.ng has continued to be at the forefront of effective concepts and ads to drive home goals of businesses.
This it does successfully with a highly professional digital-marketing team constantly leading in terms of trends, contents and use of technology.
With a marketing department that is available 24/7 to ensure prompt services, advertising with Legit.ng is a guarantee that an organisation will be embedded in the minds of the targets.
Brands in Nigeria who want results that are assured use Legit.ng.
Visit Legit.ng's corporate website or send an email to ads@corp.legit.ng to do business with us.
Source: Legit.ng