75 romantic good morning my love quotes and messages
A morning that starts with a sweet message from a loved one can be so good for the day. Sending a romantic good morning quote to your lover will not only make him or her to feel appreciated but it will also offer motivation as they go about their daily activities. Here, you will find some of the best "good morning my love quotes" that are bound to put a smile on the face of your sweetheart for the rest of the day. These quotes and messages help to show affection and care to the people you value most.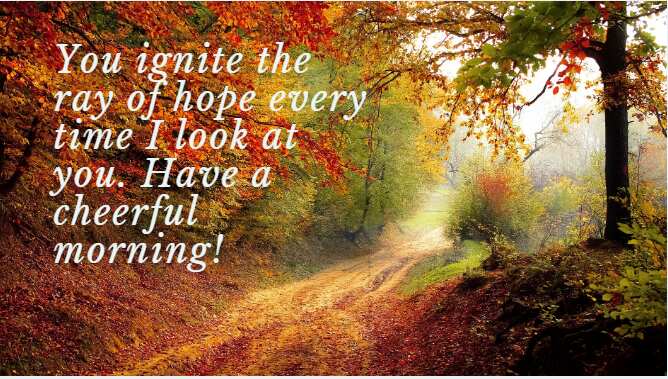 Who would not like to start a day with a smile on his or her face and the assurance that there is still someone somewhere who care for them? Well, here are the top good morning love quotes to help put a smile on the face of your sweetheart.
READ ALSO: Top 50 cute quotes and love messages for husband
Romantic good morning messages
There is nothing more beautiful as waking up to a good text from your sweetie. These quotes can help you also to make him or her feel special. Check these anonymous quotes and love SMSs and feel free to learn a tip or two on how to spice up your good morning message to a sweetheart.
The sun brings light to the day, but you bring light to my life. Bonjour sweetheart.
Every new day, every new sunrise, makes me fall in love with you again. Start your day well and have a great day ahead.
Each day is a miracle from God and waking up is a blessing made more unique by you. Bonjour dear.
Loving you is like a new day, fresh and true. Bonjour, sweetheart!
May this awesome day brings an extra fragrance of romance in your life filling your hear with affection. Have a fabulous day ahead.
May the sun shine more brightly on you today, may the flowers release a sweeter smell for you and may this day prove fruitful in every way! Bonjour.
I send this good morning message to my sweetheart as a way of appreciation for being there by my side at all times. Have a beautiful day, sunshine.
Be sure that I will always cherish every moment we spend together, my angel. Have a beautiful morning.
This daybreak I pray that you may experience a delightful and fruitful day. Have fabulous daybreak.
Good morning messages for your love
There is some kind of magic that a good morning message has on the recipient. It serves to brighten the day and set the right mood which will definitely be reflected on the radiance on a happy face. Are some additional quotes and SMS to help reach out to your sweetheart. These are especially crafted to make your distance appear irrelevant.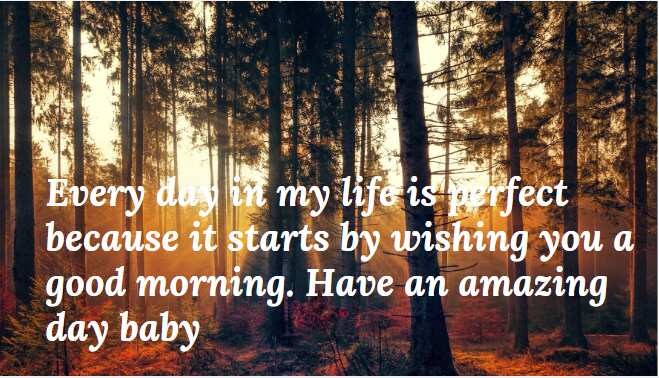 I cannot sip coffee with you right now, I cannot have breakfast with you, but my heart is and will always be with you. My mind is constantly thinking about you. Bonjour, dear!
Time to wake up, brush your teeth and grab a cup of coffee. The day looks promising for you, my sweetie. Bonjour.
Just as the sun misses the sky at night, I miss you. I miss you, sweetheart. I can not wait to hear from you. Bonjour!
Wishing beautiful daybreak to my most treasured person. Arise and shine. Bonjour!
The morning breeze makes my mind wander to you. The sun on my skin brings thoughts of, and even the birds singing makes me think of you. Bonjour my love!
That wonderful bird singing outside is my companion helping me to express my affection for you. It's a good day for you.
It's your love and beauty that helps me to get out of bed every day. Bonjour, princess.
I want to hold you in my arms and personally thank you for being a part of my life. Thanks and have a good day ahead.
It is weird how I use to think that I could handle everything that came my way. At least now I know that without you am next to being useless. Bonjour!
Arise and shine, my love, on this day, you will feel my love with an unrelenting measure.
Beyond my imagination is a life of sharing and cuddling with no other but you, my love. Bonjour!
READ ALSO: 75 good night my love messages, wishes and quotes
Morning love messages that will help you express your love
When done right, texting can be a superb way of bolstering your relationship and reduce the distance between you. Sending your sweetheart one a good morning message is one of the sweetest things you can do to brighten their day and reinforce your love for them. Searching for the best messages to text, keep reading, and you will find a good suggestion to tell your dear ones that you are always thinking of them. These messages will make them feel special and convey your best wishes.
Bonjour love! The sun is shining bright just like you today.
At times I find myself cursing the alarm clock for waking me up when I am dreaming of you. It's a bright forenoon. Arise and shine, mi amor.
Bonjour! Your teddy bear misses you so much and can't wait to hug you. Good morning message to my love.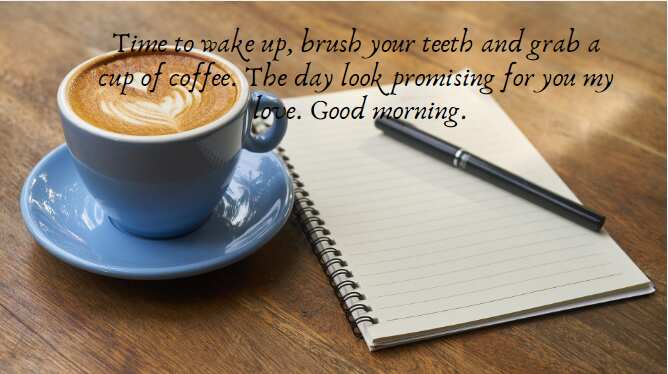 Allow me to wake up next to you my love have coffee with you and share an early day joke with you, for by your side I'll always be happy.
The spectacular morning due and the exquisite morning hue are symbolic of the affection I have for you. Bonjour. mi amor!
For me, breathing is as natural as loving you and wishing you a daybreak every day.
Meet a new day, my dear. May it bless you with some affection, hours of laughter, a burning passion and endless happiness.
I am entirely at your disposal that I was to be given the world, it would mean nothing without you.
When I wake up, think of how privileged I am to be alive and to have you as my dearest. Good morning.
Every person has his flaws and it the kind of focus we give on our best side that helps use live positively. Nice day!
It is easier to be valued and adored, but it becomes worthwhile to love. Bonjour and lots of love.
Use these good morning messages to convey your love
Just like you would feel if you were to receive a heartwarming message from someone you love, it does not hurt to go an extra mile and show your love to them too. Still looking for a way to make that special person happy, we continue to give you some cool messages that can help enlighten the day for your dearest. See below for more exciting messages!
Meet a new day, mi amor, filled with unconditional love and best wishes.
Every morning I get to enjoy seeing your lovely face and assuring smile. Your sweet lips and penetrating eyes make you all the much prettier this morning. Good day ahead sweetheart.
I would rather a lifetime with you than face this world alone. Bonjour and have a beautiful day.
Just like a beautiful morning is incomplete without the orange hue, my daybreak is incomplete without talking to you. Good morning.
The sun rises every morning and brings with it a radiance that is evident on your face. Arise and shine for it is yet another good morning.
Bonjour to the love of my life. The thought of you brings joy to my life and brightens my daybreak.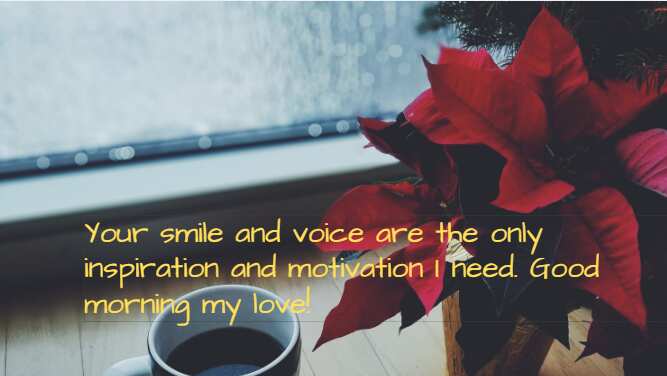 In the morning you are especially fragile and delicate, all the reason I want to hold you in my arms and never let go. Bonjour precious!
My love for you is unquestionable, and you make me want to hold you and not let go. Bonjour sunshine!
It's inconceivable to think of living a life without you by my side. Have a blessed morning.
My heart joins the birds in thanking God for letting me have you. Lots of love and Bonjour.
Beyond this emptiness is a desire to lay in your hands and feel your heart beating. Lovely morning!
READ ALSO: 50 romantic messages and love quotes for wife
A good morning message to lighten the day
The best feeling is knowing that you are mine and I am yours. This has been a compelling reason for me to wake up every morning prepared to face anything.
Let every morning be a fresh start of our, a source of everlasting joy and love. Good morning my dear!
A morning without you is like a dwindled dawn.
Hello beautiful? It is another day to go into the world and show some affection and kindness. Bonjour!
You ignite the ray of hope every time I look at you. Have cheerful daybreak!
Few things are priceless for me in this world, and I don't think I need to remind you that you are one of them. Bonjour!
A new day is already with us, and I can be happier knowing that we will be spending the day together. Good morning, darling!
Good morning precious, you spoilt me with your love and care and I cannot start a new day without thinking about you.
You are like the sun that provides me with warmth, you are like the air we breathe and blood that offers vitality. Have good daybreak.
Your smile and voice are the only inspiration and motivation I need. Good morning, mi amor!
As I embrace a new day, I want to see and feel you by my side. Good morning and lots of hugs and kisses.
Other beautiful good morning messages
A look at your calm, serene face and all my insecurities disappear, all my inhabitations regarding life fail, and I am at peace knowing you are here with me. Have a fabulous morning.
The best alarm so far is your tender kiss! Bonjour.
Bonjour sunshine! Am I not blessed to have you in my life?
Let this day presents you only with pleasant feelings and a joy you have not experienced before.
I hope your morning is gorgeous and bright as your smile.
I wrote this message for the sweetest person in my life, and now you are reading it. Bonjour!
You are the shore I desire to return to after a tiring and hectic day to quench my life. Have a nice day.
Wake up my dear and embrace the new day. Know that someone cares for you. Have a fantastic day.
The night is gone, and the daybreak has come. Now it is time for you to render me a tender kiss.
Good morning to the woman who creates a smile on my face and warms my heart. Lots of love, my dear.
You have found true love when you realise that you want to wake up besides someone every day even when there exit differences.
Because of you, I have a good understanding of what all those quotes about love mean. Bonjour!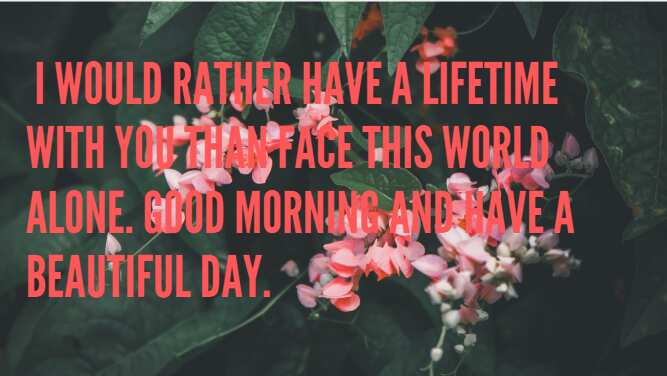 I will always offer you protection, and I'll always offer you shelter and a shoulder to lean on. Bonjour my sweetest!
Look at the upcoming sun and how bright to burns and then you will understand how deep my feelings for you are. Nice day!
Love is not needing an alarm clock because when it goes off for the first time, the thought of your partner lying beside you make it difficult to fall back to sleep. Bonjour!
In a world full of chaos and change, I'll live everyday as a new one knowing very well that you are by my side no matter the storm. Bonjour, good morning and lots of love.
It is hard to imagine a life without you, mi amor, and every time I am reminded of how lucky I am. Bonjour and have a beautiful day.
If I were to walk the moon, I would not like to walk it alone, for I would like to enjoy every moment of the journey with you. Hello, sunshine?
You are a true beauty, my dear. I am much honoured to hug and kiss you every day.
I love you not for what you are but because of what I become when I am with you.
I don't know if I ever said this before, but you are the best thing to ever happen to me.
If I knew you bring me so much joy, I would have looked for you harder so that I can spend more time with you.
Telling your sweetheart how much you care for them and sending a daybreak love quote can help brighten their day and increase their productivity. Yes, that is the power of a good morning love message. Good morning my love quotes are designed to help you put a smile on the face of your better half and restate your sweetheart for them without having to fumble with numerous words. Try one of these good morning messages to a lover and see the wonders they will make in your life and the life of your loved one.
READ ALSO: 50 I miss you quotes and messages (with images)
Source: Legit.ng