100+ romantic good night love message and text ideas for her
Be more creative in the way you wish your girlfriend a good night. Add some spark to your relationship by crafting a romantic and heartfelt good night message for her that she will love. This article provides you with some goodnight love message ideas and examples to help you convey your feelings and make her feel special.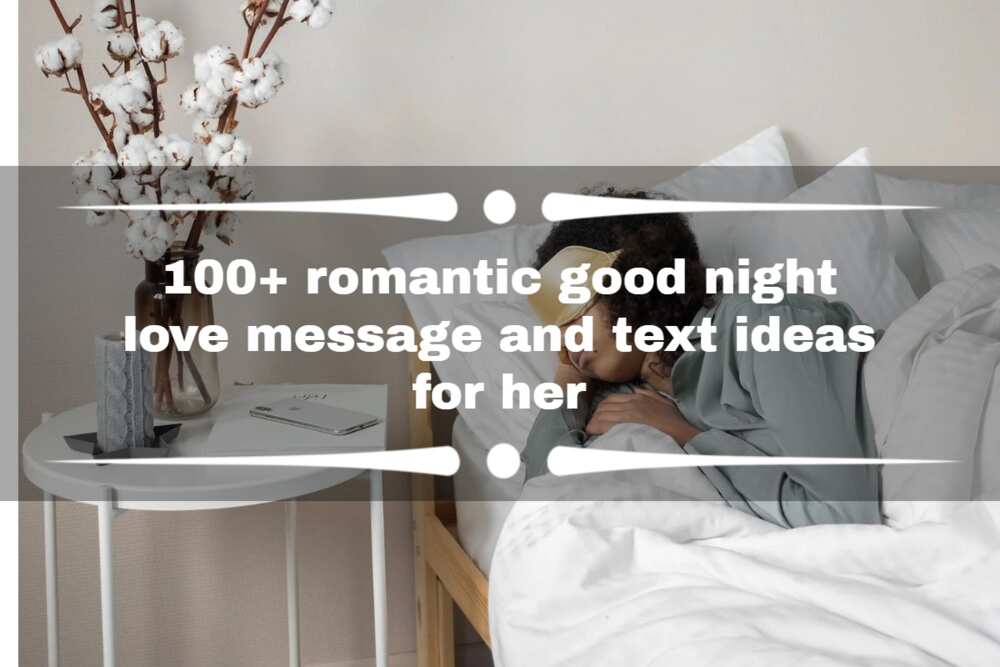 Be sure to write something personal and special for both of you and use examples as inspiration. You will create a message with beautiful words, and perhaps your beloved lady will keep it on her phone for a long time and maybe even remember it for her whole life.
100+ romantic good night message for her
Sending your woman a lovely goodnight message is among the best things you can do for them at bedtime. Here is a look at some great good night love message for her
Sweet good night message for her
Constant communication in a relationship helps strengthen the bond you share as a couple. Below are good night love messages for her you can use.
You are my attraction, and you are my inspiration; you are my best gift of life; you are my treasure! I will cherish you every night and day.
Honey, I wish you to go to one of the most mysterious phenomena of humanity - a dream!
It turns out that not all people have vivid dreams! May you have a bright and lucid dream! Miss you all the time.
No distance will prevent me from loving you! I am looking forward to meeting you in a dream and wish you the sweetest dreams.
Darling, go to bed and close your eyes soon. I will come to you in a dream with a gentle hug and kiss and will protect you all the time!
Only at a distance do I keenly understand how I need you! I miss you and wish you a sweet night-night, my dear.
There is nothing worse than time spent without you, my love! Madly miss you, and I look forward to seeing you.
If you could see my face now. It is in misery, longing and loneliness without you! I look forward to the long-awaited meeting.
Tonight I imagine covering you with a warm blanket, gently kissing you on the cheek, and whispering a tender confession in your ear.
My Pretty girl, I want to be with you now. I hope that soon you will fall asleep in my arms!
Every minute that we do not spend together is like a punishment for me. I will try to quickly fall asleep to wake up again to hear your voice.
Baby, you are not near me now, and I miss you madly. I wish you a sweet night-night and a vigorous morning!
Along with wishing you good rest, I send you the most tender hugs and one long, passionate kiss for the nighttime.
Sweet dreams, my sweetheart! Let you dream a beautiful and kind fantasy, the same as you are.
A third of our life we spend in a dream. I wish that your every nighttime was bright and inspired, but today let it be special.
My most beautiful diamond, I wish you a peaceful and quiet rest!
My pretty girl! I hope that today's dream will be special, the same as you.
In love and inspired by the beauty of a girl, a simple guy wishes the beautiful queen of his heart pleasant dreams!
As the moon whispers its lullaby and the stars twinkle in the night sky, I want you to know that you're always in my thoughts and dreams. Goodnight, my love.
May the night bring you peaceful rest and dreams as beautiful as you are. Goodnight, my angel.
Wrap yourself in the warmth of my love as you drift off to sleep tonight. May your dreams be filled with happiness and our future adventures together. Goodnight, sweetheart.
I'm sending you a virtual hug and a million kisses to accompany you into dreamland. You're the sweetest part of my life, and I can't wait to see you again tomorrow. Goodnight, my darling.
When I close my eyes, I see your beautiful smile and feel the warmth of your love. Distance may separate us tonight, but know that you're always in my heart. Goodnight, my love.
Romantic good night message for her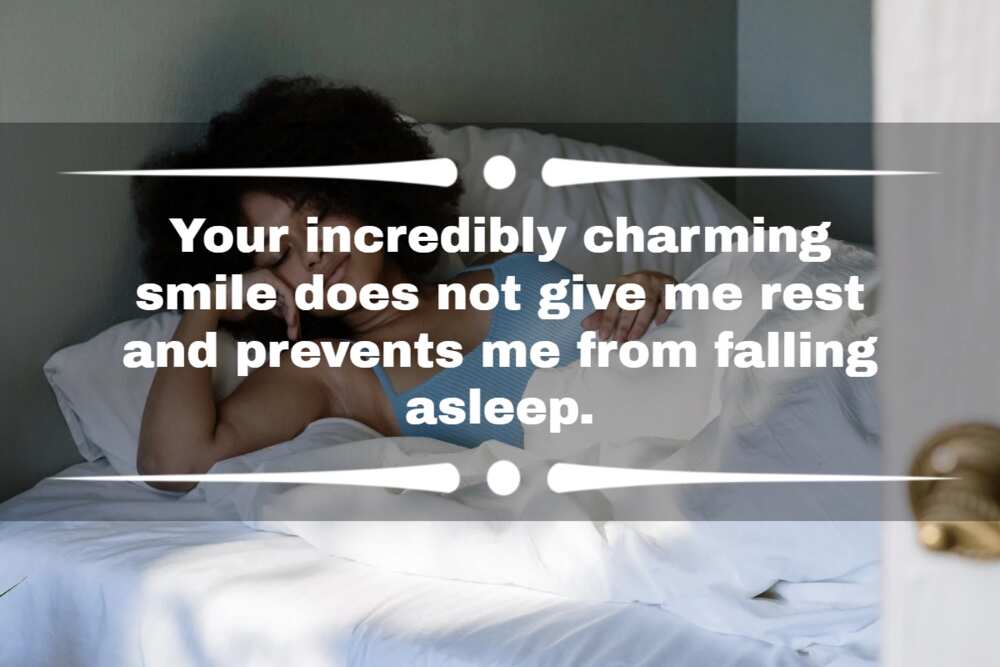 Sending a romantic good night message to your significant other is a beautiful way to express your love and appreciation for them. Below are romantic messages you can share.
Since I cannot personally put my little princess to sleep, I wish you my 1000 kisses for the night!
Sweet dreams, my dear girl! I miss you very much, and I am waiting for your morning SMS!
You are the most incredible and fantastic girl I have ever met in this life! I sincerely wish you good bedtime, quiet sleep and a vigorous morning!
My cutie, I want this night to wipe out all the bad things from your memory! And tomorrow morning, you will wake up even more beautiful, cheerful and full of energy!
All I want now is to be near you and gently embrace the whole night!
I am far away, but you are by my side now and forever. Thinking of you and wish you a quiet rest and pleasant dreams.
Sleep well, sweetheart. Know that you are not alone; I am always there, wherever you are!
My beloved baby, it is a pity that now I am not with you. I hope you sleep well and keep thinking of you.
. Let tomorrow be like a fairy tale; let there be more warm dreams, but for now, close your eyes and rest - have a pleasant night.
My most beautiful girl, forget about everything and have a good bedtime; tomorrow, with new forces, you will conquer this world!
Your incredibly charming smile does not give me rest and prevents me from falling asleep.
A night without you is a real test, but I, like a real man, is not afraid of difficulties and will overcome them.
No matter how far you are now, just know that I am thinking of you, miss you and waiting insanely to see you again!
My darling, you are the last thing I think about before I fall asleep and the first thing I think about when I wake up. I love you so much. Sweet dreams.
I send you a hundred passionate kisses and a gentle one with a post pigeon. I hope they will fly to you soon, but for now, I wish you a good bedtime!
Before you go to sleep, I want you to know; it took me years to find my soulmate; I will never let you go. Goodnight, my lady!
One day spent together, and my night was sleepless. You are the best girl on this planet, and I wish you the most magical dream!
My sweetie, I do not want to say goodbye to you even for one night. Therefore, I wish you to plunge into the darkness of the night to see a beautiful dream.
How do you say goodnight in a cute way?
A good night message for someone special can help strengthen your connection and let your significant other know that you're thinking about them.
May this rest be the quietest and longest so that my queen can sleep properly! Sleep tight, my love!
You made me a strong man worthy of your affection. I will protect you wherever you are. Sweet dreams, my love.
I send a gentle kiss to my sweet, kind and incredibly charming, as well as attractive and fantastic girl!
I go to bed with excitement and think about our meeting with trepidation. You have become very dear to me! Baby, you are beautiful, and no girl is better!
Every night I write the same thing, wishing you sweet dreams. It looks like a habit, but no! I want to do this, and it is vital for me to know that you will go to bed under my protection.
I just want you to know that before you fall asleep, I mentally kiss you, gently hug and whisper in your ear: "Sweet dreams, my little, beloved girl!"
Baby, nights without you are unbearable, and they are long and dreary. The morning without you is gloomy, and the day is grey. Only in the evening I begin to revive in anticipation of our meeting!
I am so happy at the thought that you are next to me! I think about you, miss you and want to see you again as soon as possible!
The sun, also, must sometimes rest, so, my love, go to bed, and tomorrow with new forces, go to light this world!
This reassuring night prayer will envelop you and hug you tenderly, giving you love through the night so early tomorrow. Sweet dreams, Good night, my love.
You gave me a beautiful day and a magical evening, which will be remembered for a long time!
A good rest is the key to a great start to the day! I wish you sweet dreams and a lovely rest. See you tomorrow, darling!
The bed is waiting for you for a long time, the dream is knocking at your window, my kitten. Good night.
I wish my little but incredibly smart, beautiful girl good rest and gentle dreams! I wish you wake up in a great mood.
I lie and think about your incredibly beautiful smile. I miss you so much, baby.
My love, I want to plunge into your arms now. You give me so much happiness. Sleep tight, and remember I am always there.
Today I couldn't concentrate on affairs and only because I was thinking about you all the time. Even now, instead of sleeping, all thoughts are about you, my beauty.
I let nothing disturb you tonight! I wish you sleep well, my darling.
Rest well, my love, and wake up refreshed for another amazing day together. Goodnight.
As the stars sprinkle the night sky, I want to remind you that you're the brightest star in my life. May your dreams be filled with love, happiness, and the anticipation of our future together. Goodnight, my princess.
The world may be asleep, but my love for you is wide awake. Let my words wrap you in a comforting embrace as you drift off to sleep. Goodnight, my beautiful one.
Before you close your eyes, remember that you are loved beyond measure. May your dreams be filled with all the things that make you smile. Goodnight, my sweet love.
I can't wait to wake up beside you and see your beautiful face in the morning. Until then, let the night embrace you and fill you with peace. Goodnight, my love, and sweet dreams.
Flirty goodnight texts for her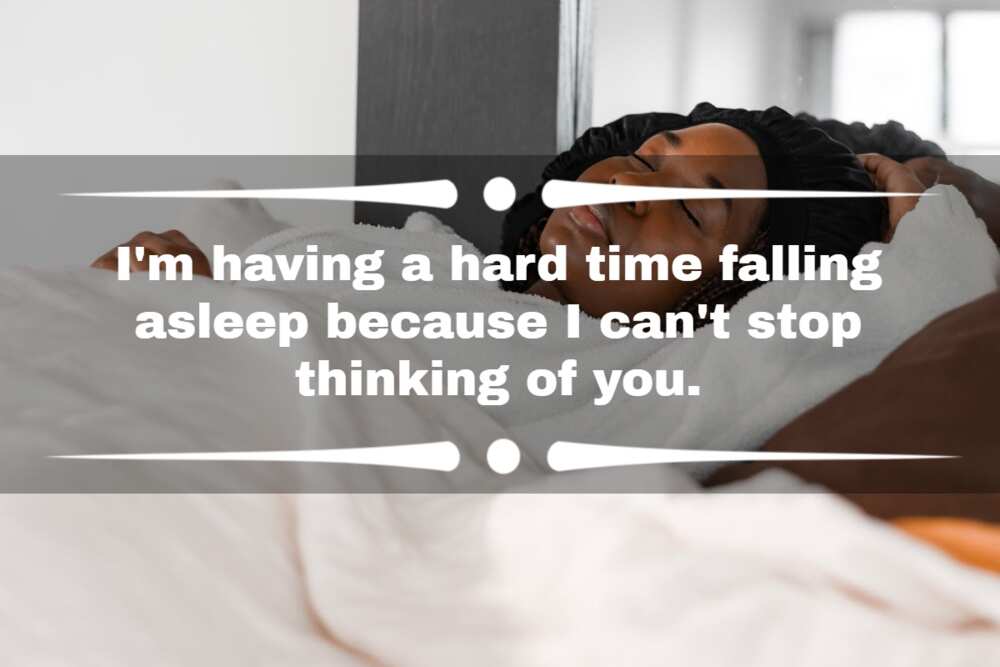 When it comes to keeping the romance alive in a relationship, sending flirty goodnight texts can be a great way to make your partner feel loved and appreciated. Here are flirty messages to use.
Based on everything I've been thinking about doing to you, my dreams will be really nice tonight.
I'm having a hard time falling asleep because I can't stop thinking of you.
Babe, I can't sleep. I just keep imagining all the things we could be doing to each other if you were here.
Do you enjoy mathematics? If that's the case, add a bed, take away your clothing, divide your legs, and multiply!
You remind me of a space rocket. You make me want to crawl inside you and fly you to the other side of the universe.
Hey babe, I just wanted to say I love you. I know you're busy, but I hope you have a good night.
Just thinking about you makes all incoming nightmares into the sweetest dreams. Good night!
Night with dreams filled with me. Good night.
Roses are red, and violets float above; let's hit the sack and make crazy love!
I can't wait to slide into bed with you and have your hair on my shoulder. That's heaven to me.
Hold my hand and make me feel warm. Be a pillow for my head and a blanket for my bed. Don't forget that I love you more than you could ever know.
Meet you in bed later, honey, and you can simply relax while I massage all the stress from your day.
I love how you fit me like a glove, but I love even more the fact that you make me feel like a woman. Hold me closer, kiss me deeper, and make me feel alive. If I had it my way, I would take you right now.
Can't stop thinking about you, my love. I hope you know how truly special you are. Sleep tight, my princess.
Wrapping my body around this pillow really just isn't doing it for me. It's missing the best part.
Falling asleep always makes me smile because I know I'm going to wake up to talk with the person that caused it.
My good night involves me thinking of you kissing me before I close my eyes.
I get happy right before bedtime because I know I will be spending my hours with you in my dreams.
What is a good night message to make her fall in love with you long distance?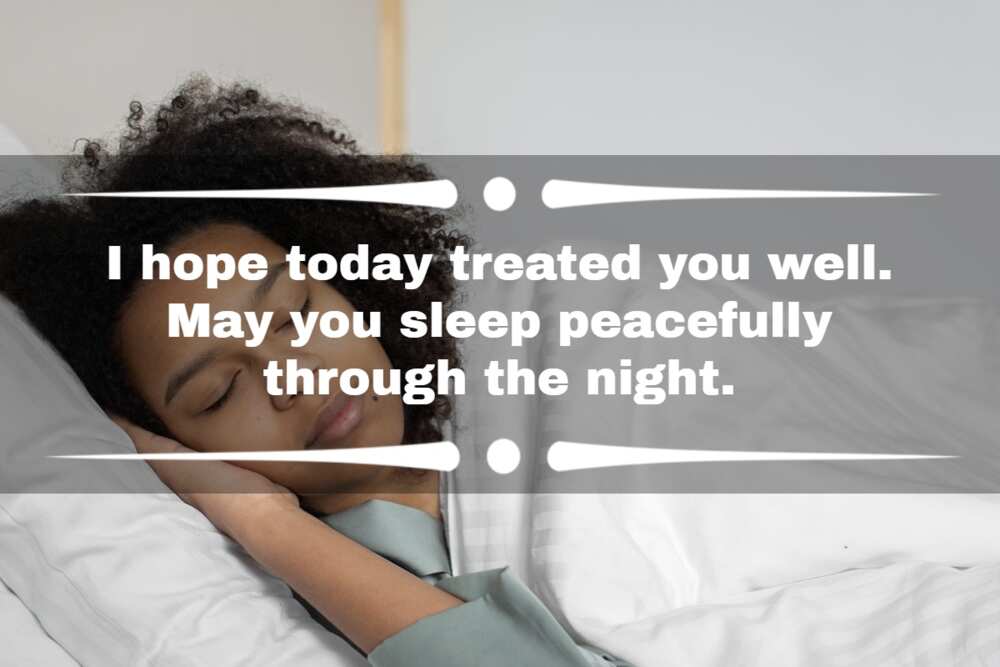 Take the opportunity to show your love to your partner by sending her a message that will undoubtedly make her feel cherished and appreciated.
I like it when you are lying next to me. I love hugging you before bedtime. I like kissing your tender lips. And I do not want to be away from you at all.
I always considered myself a lone wolf, but now I understand that I no longer want to be alone. I want to fall asleep with you every night, hugging you, kissing, and protecting you.
You have no idea how much you have made me smile today. I won't stop thinking about you all night! Goodnight, my love!
I want you to have the sweetest and happiest dream every night. Good night my sweetheart.
Good night, my sweet girl. The love I have for you makes waking up every morning worth it.
Good night to the woman of my dreams. I hope you have a night of sweet sleep.
Close your eyes, clear your mind, and listen closely as the stars climb the night sky to hang above your restful sleep. Good night my dear!
I miss you when we're apart, but at least I know I can see you in my dreams.
I wish I could fall asleep on my own here, but something is missing in my arms here, and oh, it's you.
The best part about being home is spending all night cuddled up with you. Please be here soon. Goodnight, love.
Really wishing that this pillow was your chest to rest my head on. Goodnight babe.
Dream of me tonight because I'm definitely going to dream about you.
Wish I can fall asleep as fast as I'm falling in love with you.
I really wish you were here with me so I could hug and kiss you goodnight instead.
You are my greatest treasure, my water and air. Meeting you was the best thing that ever happened to me! Sweet dreams.
Sleep tight and enjoy the lovely dreams coming your way.
I hope today treated you well. May you sleep peacefully through the night.
I hope you sleep well and have the best dreams. I love you so much. I can't wait to see you in the morning.
You are the only woman for me. That's why I always think about you from the moment I wake up to the moment I fall asleep.
I'm sending all my hugs and goodnight kisses to the woman who makes me feel like the luckiest man in the world.
The best way to start my day is to tell you good morning. The best way to end my day is by wishing you a good night.
Long good night message for her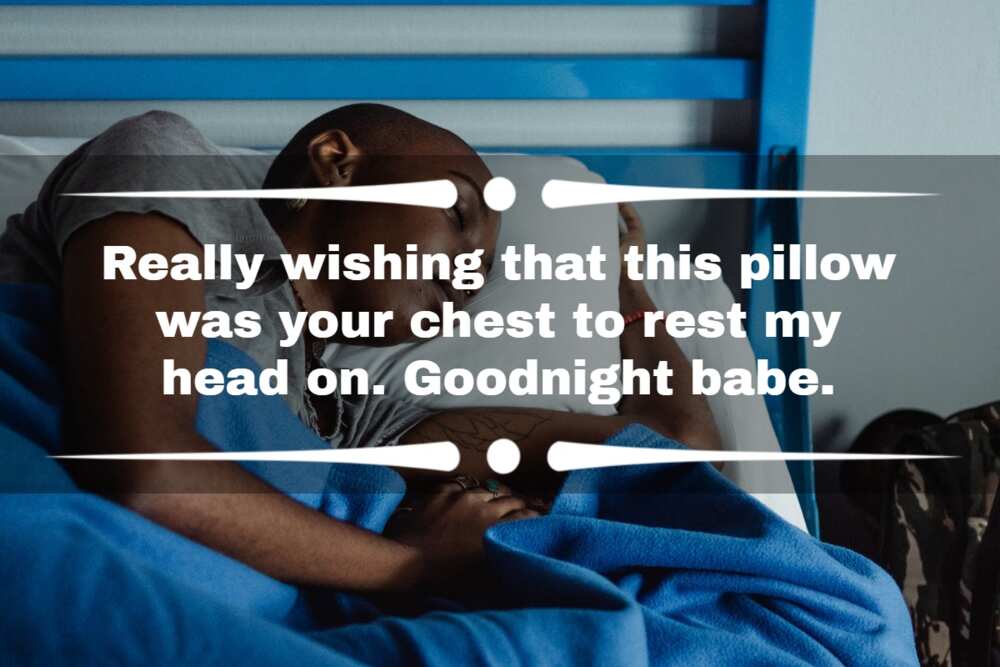 Use these lengthy messages to express those warm feelings you've been storing up. Your words of affection may be all she requires before falling asleep.
Every waking hour spent with you is loaded up with delight and wonder. Every waking hour spent with you gives me the motivation to move forward; thank you for that. I wish we could be together not only in my dreams at night. Good night, dear.
I simply needed you to realise that I become more infatuated with you with every minute the clock counts. As I send this message, I am falling in love with you once more. Sleep tight, my sweetheart.
Darling, you are the first person that comes to my mind every morning when I wake up and the last person on my mind when I go to sleep. You are the only person I would always want to see. Have a blessed night.
Occasionally, I might be distant from everyone else, perhaps, languid, yet, that cannot limit me from sending you stunning texts, my love! I will continue doing this until the night I hold you in my arms. Sweet dreams.
You are resting at this moment, and all my thoughts are filled with you, my sweetheart! You are the loveliest woman I have ever met. I am fortunate to have you. Sleep tight, dear!
With the setting of the sun, I remember how grateful I am to have spent the days I have with you, and my heart is swollen with expectation for the numerous nightfalls that we presently cannot experience together. Goodnight, sweetheart!
I used to go to sleep every night wishing to find true love. Every day I'd get more and more disappointed until I finally met you. Then all that waiting made sense, and my life gained a new meaning.
There are many days, which have passed, but then there are numerous ones to come. Among each one of those days, I will not let this night pass by without disclosing to you that I adore you. May everything you could ever want to work out as expected. Goodnight, my dear.
When sleep separates us, the fantasy of you stays with me. Therefore, for you, I leave this persevering message: even in the darkest night, the light of your affection leads me to the morning. Sleep tight, my dear.
I am amazed at the little twinklers in the sky. Each one seems to be so ingenious, winsome, caring, delightful, elegant, and charming, reminding me of the most romantic lady. Look at the sky and hear the stars' voices and wishes for a good night.
Do you know what I visualise right now? I imagine you being my blanket and pillow and hugging me tight, although I comprehend it is not likely to happen. Therefore I aspire you to have a good night and graceful illusions.
One day I begged God for Her. I desired Her to be good-looking, passionate, talented, kind-hearted and inspiring to me. I am obliged to God for sending you because you possess all the characteristics I craved to recognise in my second half. Have a blessed night, my one and only girl.
My winsome prince, your princess would be glad to meet you in her dreams tonight. Please send me a tender kiss before I close my eyes and dive into the most romantic fantasy my mind can picture. Kisses to your kingdom from mine.
My love, my heart, my everything. This is the time of day when I wish I could be there with you, and I hope you have a night that will give you a chance to reflect on the amazing things you have done.
We are planning to have a life together that I cannot wait for, and I hope that you know I am ready for all of it. This is one of the last nights we will have to be apart, and I am ready to start something with you that will last forever. I love you.
May an amazing day be followed by a really good night. May all the troubles and concerns just go away for a while and don't disturb you in your sleep. May this night bring you rest and tranquillity? Good night!
The plans we made for tomorrow will be some of the greatest things we have ever done, and tonight I want you to rest to ensure we have the best day tomorrow. I trust you. I believe in you, and I love you.
Good night. These two simple words really make a difference because they mean that you're not alone and there's always someone who guards your sleep. Sleep tight, and don't worry about a thing.
Someone once told me that you were the best decision I ever made, and the truth is that you chose me. You decided to love me, and I am so thankful for you every day. Thank you for loving me. Goodnight, my dearest.
At night, your beauty takes on different hues. You appear more appealing from a thousand miles away. Having you close to me at sparrow fart takes my breath away. I don't want to wait another day to express my feelings for you. I adore you! Have a good night.
When I go to bed every night, it's the thought of you that keeps me warm… the softness of your voice and the sweetness of your smile. You are my dream come true, and I treasure each moment we spend together.
You are the master and judge of my heart. Allow your hand to create my heart as you, please. Every night, I dream of making you my queen someday, and I won't be able to sleep until I do. Think about me as you sleep.
I simply cannot go to sleep without telling you how much I love you. If I don't share my feelings, my whole day seems incomplete. I wish you a good night and sweet dreams.
I want you to know that you are always in my thoughts, whether I am awake or asleep. Nothing would give me more joy than knowing I am in your thoughts right now too. Good night and sweet dreams.
I just wanted to say goodnight and let you know how much I love you. I know a goodnight text message isn't much, but it's the thought that counts. I can't get to sleep without letting you know how much I have on my mind these days. Good night beautiful.
How to impress a girl with good night message?
You can impress your girl by writing a romantic message. Use poetic or romantic language to create a sweet and affectionate atmosphere.
What is a romantic goodnight message to make her feel special?
A romantic message that will make her feel special should entail touching words that show how much you appreciate her. The key is to convey your genuine feelings of love, appreciation, and the desire for her to have a peaceful and joyful night.
A romantic good night message to my love is a simple gesture that can make a significant difference in your relationship. It demonstrates to your partner that they are the last person on your mind before going to bed and the first person on your mind when you wake up.
Legit.ng recently published paragraphs for your crush to express your feelings. Spotting your crush is excellent, but you can be miserable if you do not know what to say to them. Do not let the moment pass - these paragraphs will help you express what you feel.
It is normal not to know what to say to your crush when you first meet them. However, letting the moment go would be regrettable. Therefore, use these paragraphs to communicate your feelings and clarify your intentions.
Source: Legit.ng