Andrea Espada bio: age, height, husband and hot pictures
The world has many different women who have managed to make big strides in the entertainment industry. Andrea Espada is one of such wonderful, successful women. The elegant woman has risen to fame thanks to her gorgeous physique and for being a host of UFC Now. She has also worked as a host for the Colombian game show known as Estrella TV Presenta and Esto es Guerra to name but a few. Read on to learn more about the lady.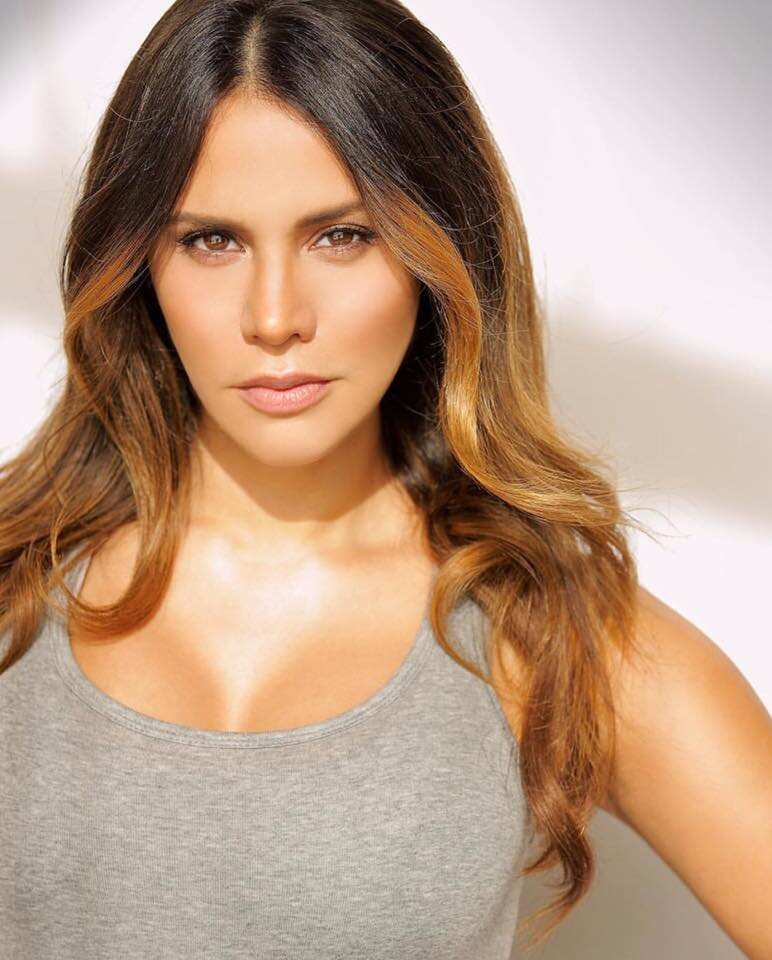 This article covers the following information:
Andrea Espada bio
Andrea Espada husband and son
Andrea Espada height and body measurements
Facts you should know about Andrea Espada
Andrea Espada hot photos
Read on to find out more.
Andrea Espada is a beautiful Colombian model, an influencer on social media as well as a TV star. She is also a talented actress and a comedian. Her career got a boost after Andrea moved to the United States of America. The beauty was born and raised in Colombia, where she got her basic education.
READ ALSO: Bianca Kajlich bio: age, height, net worth, husband and hot photos
Andrea Espada bio
The beautiful model was born on August 17th 1986. Andrea Espada age is 32 years old as of 2019. Her zodiac sign is Leo. She holds a Colombian nationality. There is little information regarding her family because she has kept her personal life private from the media. As a young girl, she spent most of her childhood in Colombia. She also got her primary and higher education in Colombia. The lady holds a bachelor's degree in Marketing and international business which she acquired from the Autonomous University of West Colombia. Andrea moved from Colombia to the USA immediately after graduating to pursue her present career.
After settling in America, she enrolled for a course in the entertainment business. In 2009, she started her career as an actress. Her first appearances were in films such as City of the Deadman, Noches con Platanito as well as Jack the Reaper. Andrea Espada has a recurring role in the series, Noches con Platanito from 2013 till 2018. The lady became more popular when she started as a host of Ultimate Fighting Championships (UFC) commonly known as UFC Now.
Aside from being famous for her acting and being a host on TV, Andrea is also famous for being a social celebrity. She signed up on Instagram in 2013 and became very famous for her presence on the media. The lady got more following as a result of sharing pictures of herself as well as short, hilarious videos. Andrea Espada also manages a YouTube channel where she mostly posts funny videos alongside her boyfriend and child.
READ ALSO: Laura Rutledge: age, height, husband and hot photos
Andrea Espada husband and son
The beautiful model and comedian has had many suitors. However, she has always kept her relationships and affairs private. Most of her followers and fans have been trying hard to find out whether she is seeing someone or if she is already married.
Andrea Espada has been in a serious relationship with an artist known as 4K PAPI. His real name is however not known. The two are believed to have met in 2014. They have appeared together many times during Andrea's photo sessions and video shoots. It is easy to tell that there is so much love between the couple and that they are a perfect match.
Andrea Espada already has one son from her previous relationship. His name is Ferran Espada, and it has not been revealed who the father is. The couple has gained so much fame due to their short clips on both YouTube, and Instagram. Her son is also involved in the showbiz business and is currently using the name Ferran the Fashion King.
Andrea Espada height and body measurements
It is through her looks that Andrea got so many likes and following. A quick look at her would tell you that she puts so much effort to maintain her great look. This is the reason why she is always attractive in front of the camera.
Andrea Espada is very tall, with a height of five feet seven inches (5.7). She weighs a total of sixty kilograms (60kgs). The lady has a great sporty body measurement of 36-26-36 inches. She wears a bra size of 34B. Her shoe size is 8 US. She also has dark brown hair, and her eyes are brown.
Facts you should know about Andrea Espada
She joined Facebook in 2010 and later signed up on Instagram in 2015.
Due to her popularity, she opened up a YouTube account known as The Royalty Family on April 12, 2017. She manages the channel alongside her boyfriend and her only son.
In the year 2009, she got a role in Jack the Reaper, a comedy-drama and later had a recurring role in the series, Noches con Platanito, in 2013.
She was a host for the television shown titled Estrella Presenta: Esto es Guerra in 2013.
Her YouTube channel, The Royal Family channel has almost two million subscribers.
READ ALSO: Kristine Leahy bio: age, height, boyfriend and hot pictures
Andrea Espada hot photos
The beauty of this woman is elegant. Charm and natural appeal combined with intelligence and professionalism — this is the secret of her success. Here we have some top pictures for you:
The TV star likes to share photos on her social media, so fans are happy to see their favourite model at work.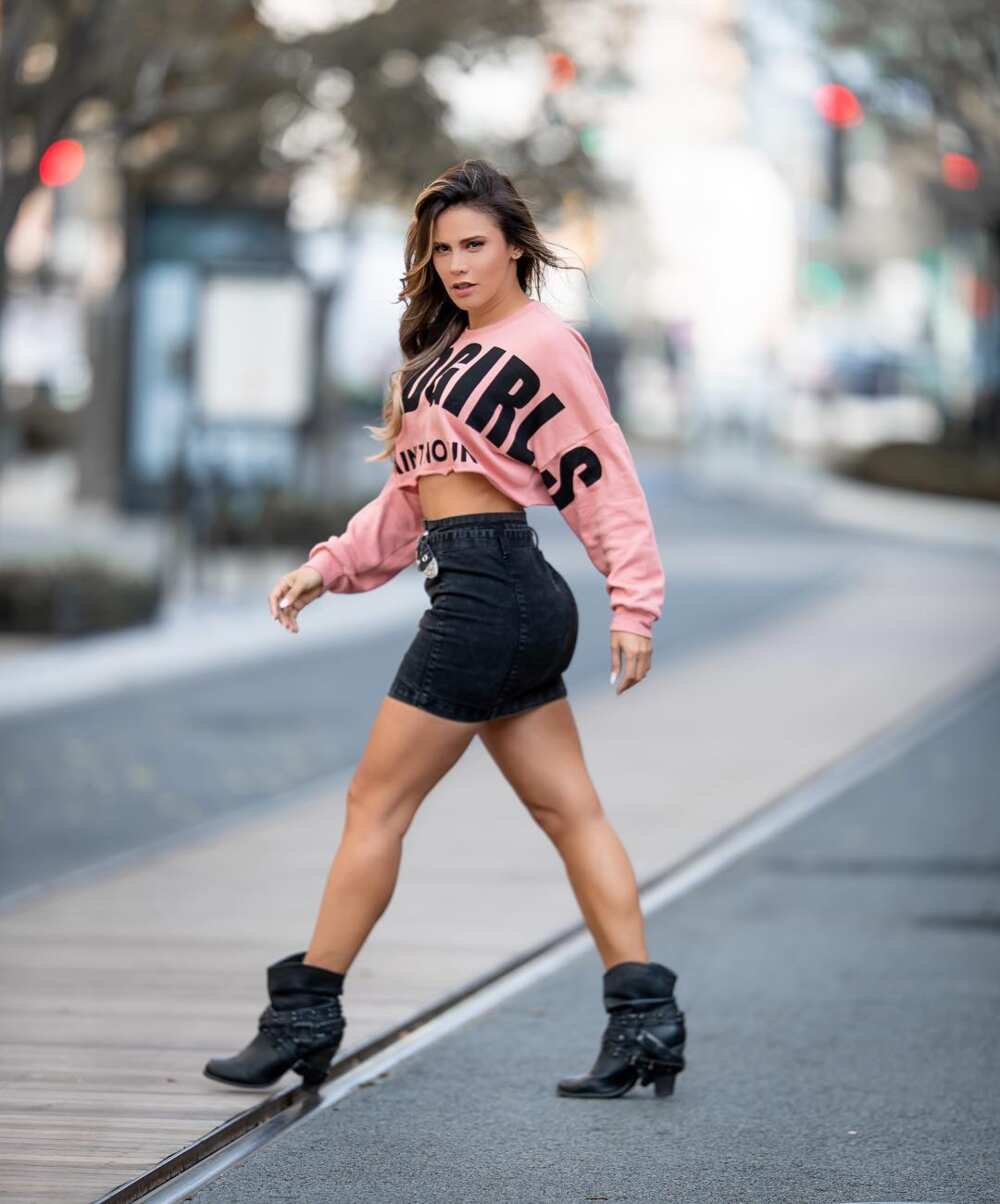 The photographers do not miss a chance to highlight her beauty.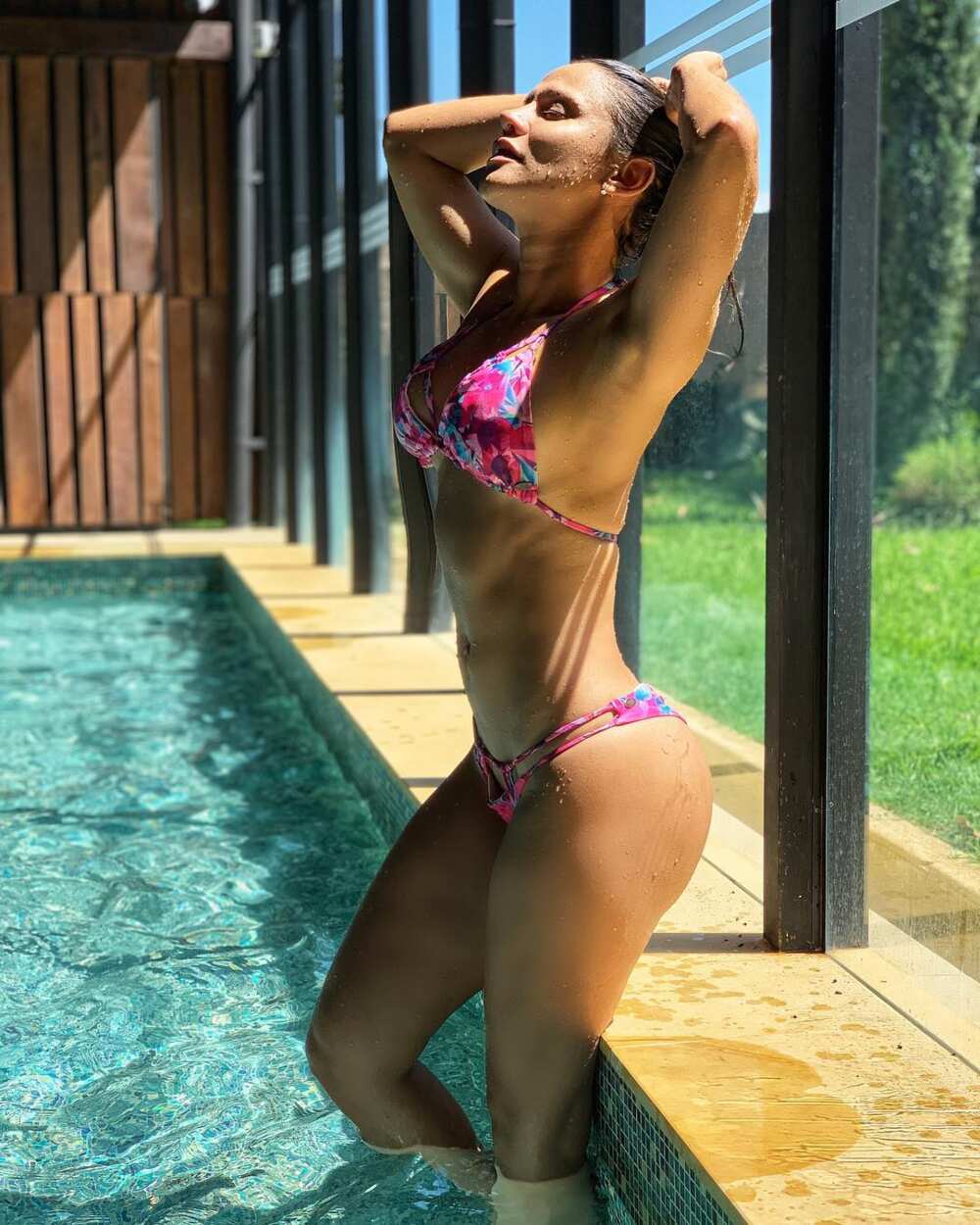 Just look at this look that melts the hearts of numerous fans.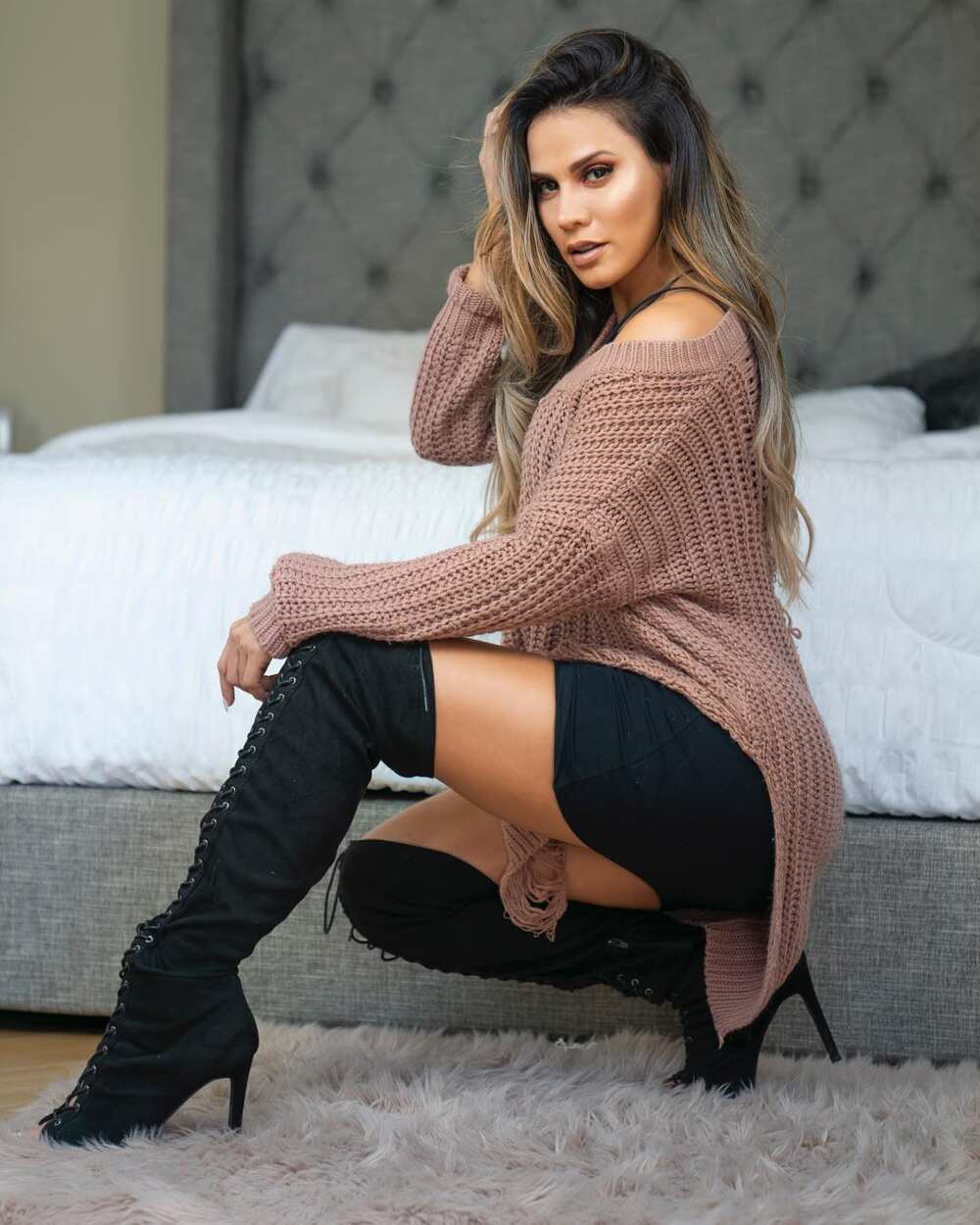 This is how models should look like.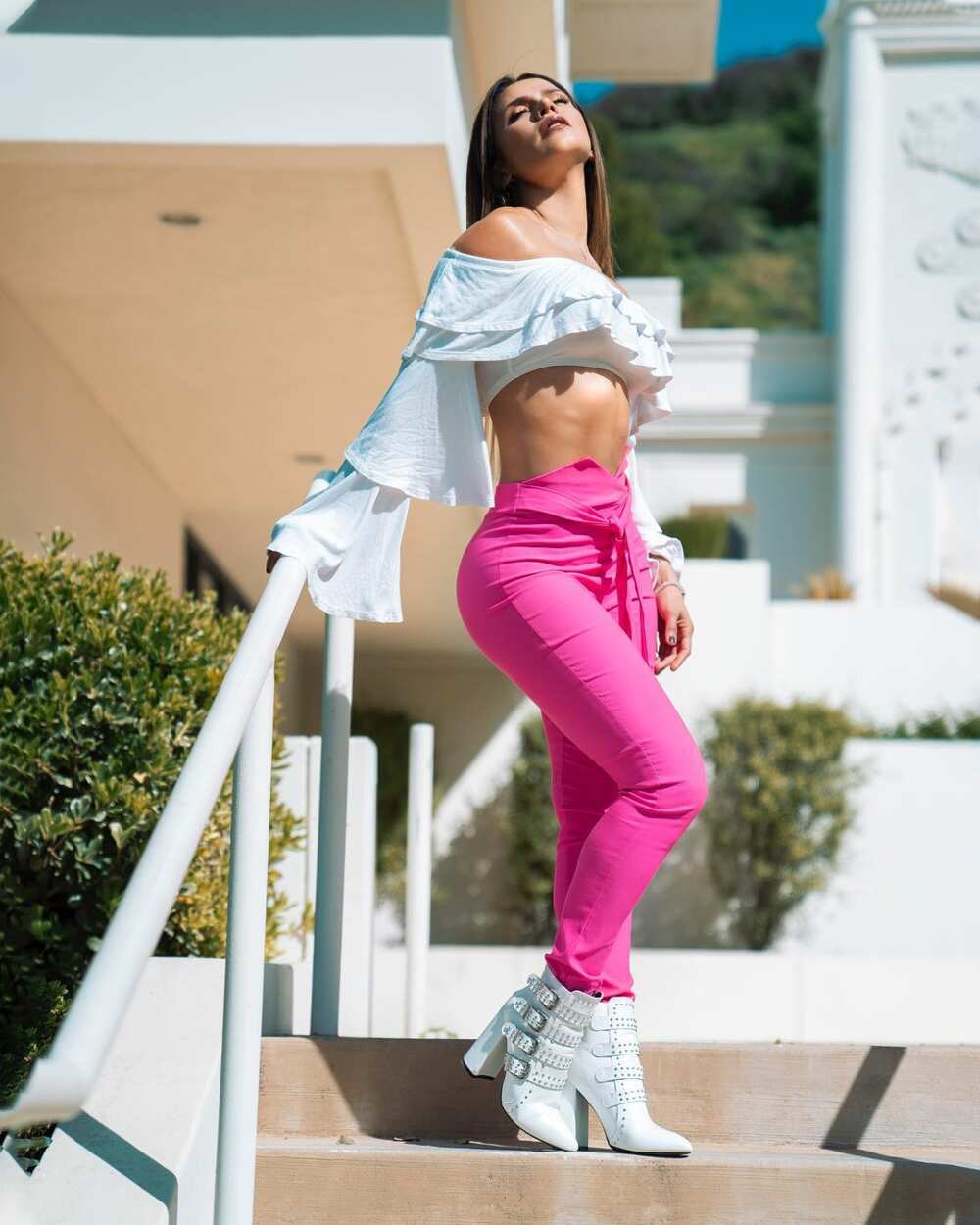 Now we know why these models are so popular.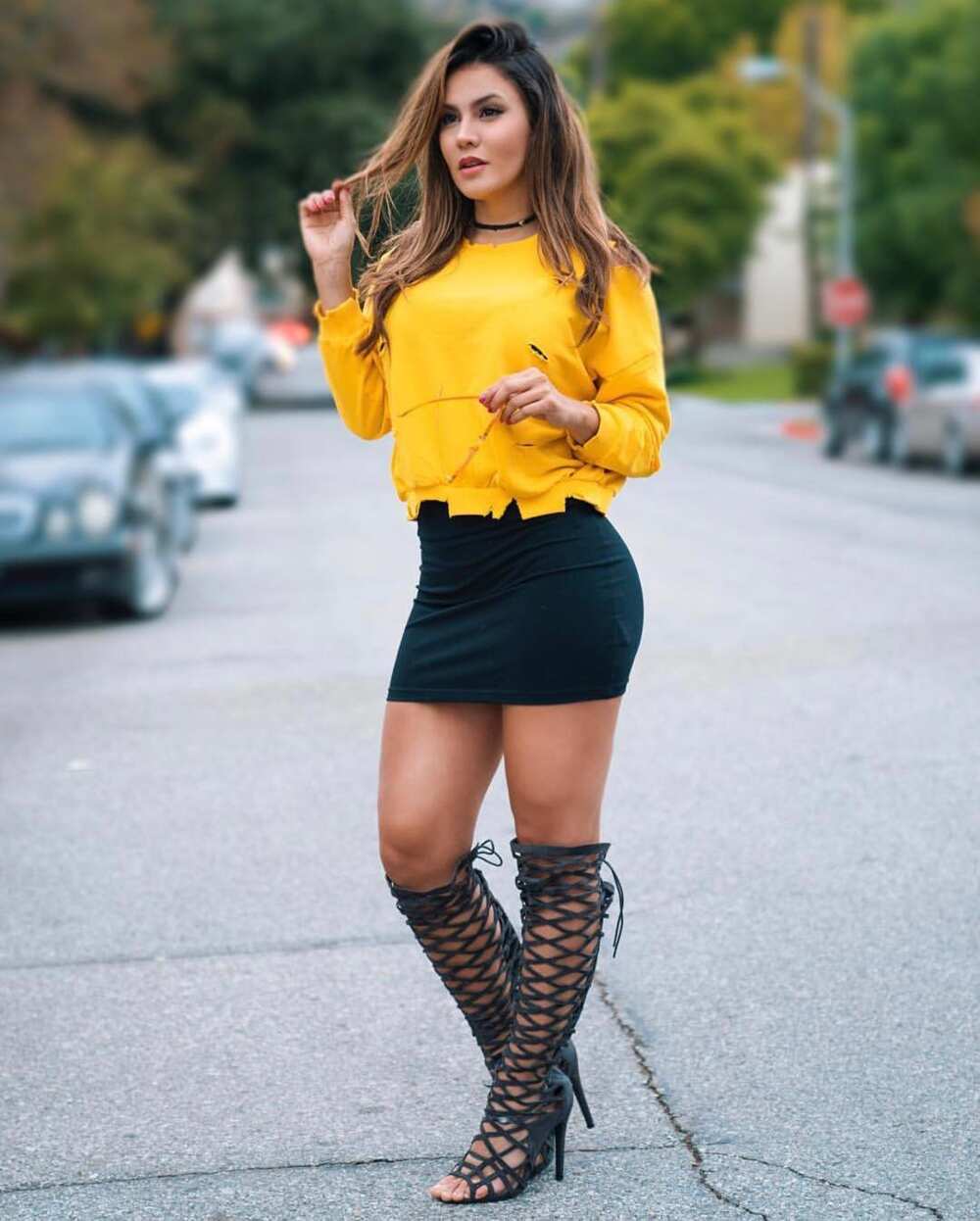 Over the years, Andrea's following continues to increase. She currently has a following of more than six million fans on Instagram alone. She has featured her boyfriend in many of her videos on YouTube including Mom versus Son eating challenge, Andrea Espada versus King Ferran, Mom versus son challenge, Spanish versus English spelling challenge and many more. Her son also manages an account on YouTube going by the name Ferralandia. Andrea Espada has collaborated with artists such as King Bach and Ray Diaz in several videos. She has not been awarded yet, but the chances are that she might get recognised for her work one of these days.
READ ALSO: Sophie Mudd bio: age, height, measurements and hot photos
Source: Legit.ng