Top 20 healing scriptures
If you do not believe in the energy of healing scriptures, then the time has come for you to reconsider such an attitude. You should not underestimate God's word and the power and support He has put in it. Once you read the Bible verses we have prepared for you, you will understand the meaning of healing prayers for a sick person as faith is an inherent component of the recovery process, apart from traditional remedies. So, read on to find trust in the care of God.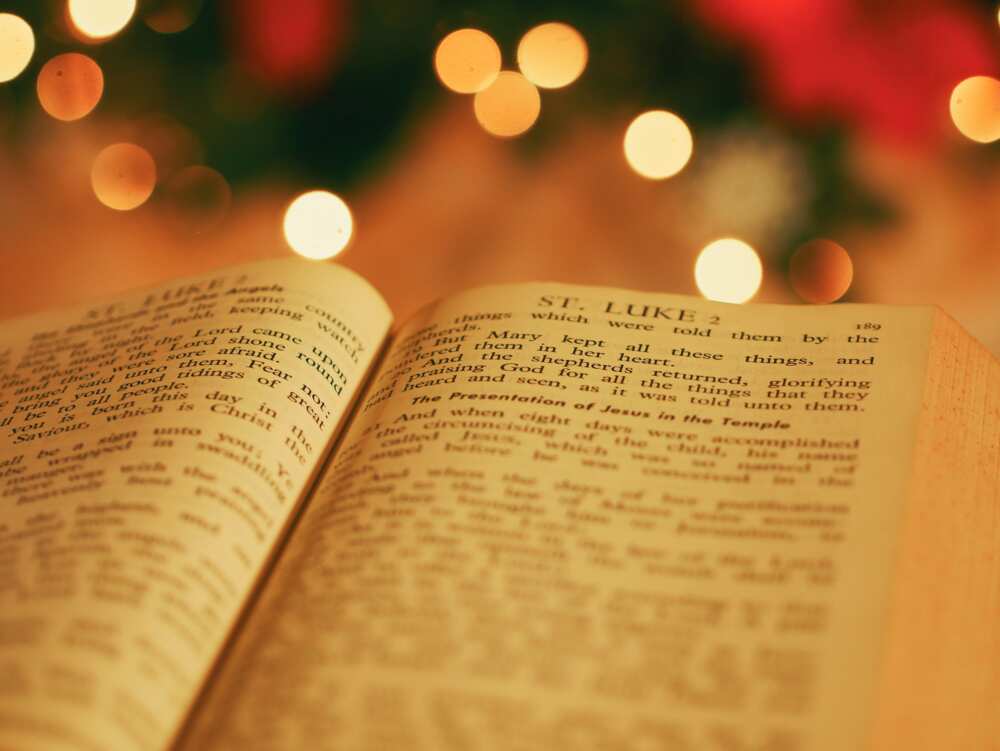 When you are sick, or someone of your significant ones is fighting a disease, it would not be a surprise that such grave circumstances and desperation might break your spirit. That is why it is vital to remember that there is always God here for you to guide you through the darkness and disappointment. All you need to do is follow His word to make it through and find peace for yourself.
Best healing scriptures for the sick
A lot of people are worried about how to heal oneself or the significant other when he or she is sick. Health is the most quintessential thing for a person in everyone's life. People are ready to give all their wealth in order to recover their health. Perhaps the most important thing is to pray to God so that He will clarify to you His path to healing, the path that He designed especially for you.
You must remember that God wants you to be healed. When you trust Him, He will give you His peace and guide you with His Holy Spirit along the path that you must follow. Read the following Bible verses about healing sickness and let them get deep into your heart, strengthening your faith in it:
"Jesus went on from there and walked beside the Sea of Galilee. And he went up on the mountain and sat down there. And great crowds came to him, bringing with them the lame, the blind, the crippled, the mute, and many others, and they put them at his feet, and he healed them, so that the crowd wondered, when they saw the mute speaking, the crippled healthy, the lame walking, and the blind seeing. And they glorified the God of Israel." — Matthew 15:29-31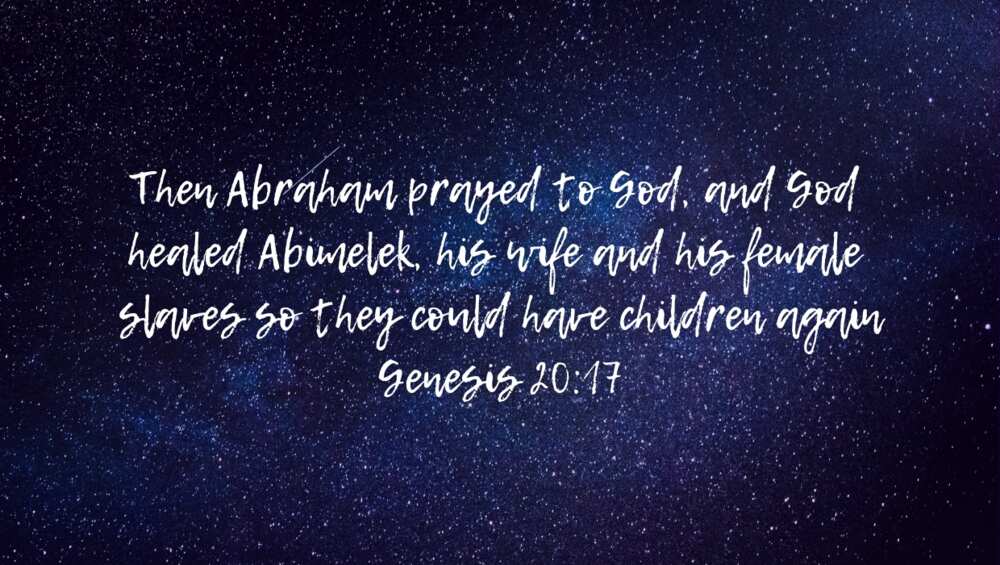 "They ran throughout that whole region and carried the sick on mats to wherever they heard he was. And wherever he went — into villages, towns or countryside — they placed the sick in the marketplaces. They begged him to let them touch even the edge of his cloak, and all who touched it were healed." — Mark 6:55-56
"Jesus left the synagogue and went to the home of Simon. Now Simon's mother-in-law was suffering from a high fever, and they asked Jesus to help her. So he bent over her and rebuked the fever, and it left her. She got up at once and began to wait on them. At sunset, the people brought to Jesus all who had various kinds of sickness, and laying his hands on each one, he healed them." — Luke 4:38-40
"As he approached the town gate, a dead person was being carried out—the only son of his mother, and she was a widow. And a large crowd from the town was with her. When the Lord saw her, his heart went out to her and he said, "Don't cry." Then he went up and touched the bier they were carrying him on, and the bearers stood still. He said, "Young man, I say to you, get up!" The dead man sat up and began to talk, and Jesus gave him back to his mother." — Luke 7:12-15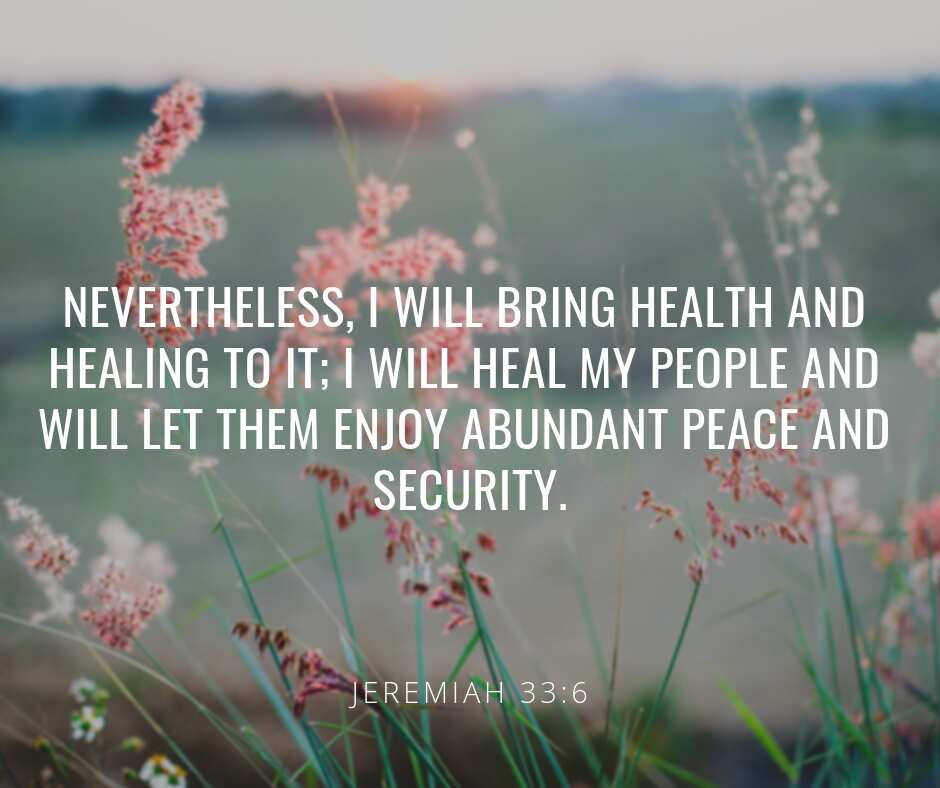 "One man was there who had been an invalid for thirty-eight years. When Jesus saw him lying there and knew that he had already been there a long time, he said to him, "Do you want to be healed?" The sick man answered him, "Sir, I have no one to put me into the pool when the water is stirred up, and while I am going another steps down before me." Jesus said to him, "Get up, take up your bed, and walk." And at once the man was healed, and he took up his bed and walked. Now that day was the Sabbath. So the Jews[a] said to the man who had been healed, "It is the Sabbath, and it is not lawful for you to take up your bed." But he answered them, "The man who healed me, that man said to me, 'Take up your bed and walk'?" They asked him, "Who is the man who said to you, 'Take up your bed and walk'?" Now the man who had been healed did not know who it was, for Jesus had withdrawn, as there was a crowd in the place. Afterward Jesus found him in the temple and said to him, "See, you are well! Sin no more, that nothing worse may happen to you." — John 5:5-14
"As Jesus went on from there, two blind men followed him, calling out, "Have mercy on us, Son of David!" When he had gone indoors, the blind men came to him, and he asked them, "Do you believe that I am able to do this?" "Yes, Lord," they replied. Then he touched their eyes and said, "According to your faith let it be done to you"; and their sight was restored. Jesus warned them sternly, "See that no one knows about this." But they went out and spread the news about him all over that region." — Matthew 9:27-31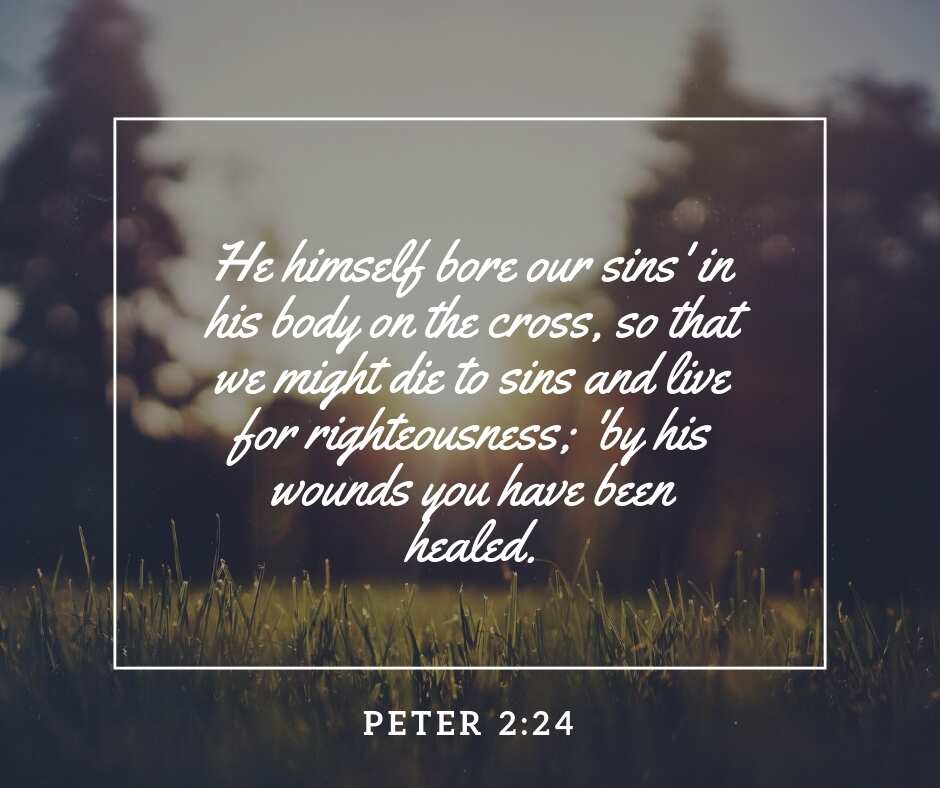 "Jesus reached out his hand and touched the man. "I am willing," he said. "Be clean!" And immediately the leprosy left him. Then Jesus ordered him, "Don't tell anyone, but go, show yourself to the priest and offer the sacrifices that Moses commanded for your cleansing, as a testimony to them." Yet the news about him spread all the more, so that crowds of people came to hear him and to be healed of their sicknesses." — Luke 5:13-15
"Jesus went throughout Galilee, teaching in their synagogues, proclaiming the good news of the kingdom, and healing every disease and sickness among the people. News about him spread all over Syria, and people brought to him all who were ill with various diseases, those suffering severe pain, the demon-possessed, those having seizures, and the paralysed; and he healed them." — Matthew 4:23-24
"They came to Bethsaida, and some people brought a blind man and begged Jesus to touch him. He took the blind man by the hand and led him outside the village. When he had spit on the man's eyes and put his hands on him, Jesus asked, "Do you see anything?" He looked up and said, "I see people; they look like trees walking around." Once more Jesus put his hands on the man's eyes. Then his eyes were opened, his sight was restored, and he saw everything clearly." — Mark 8:22-25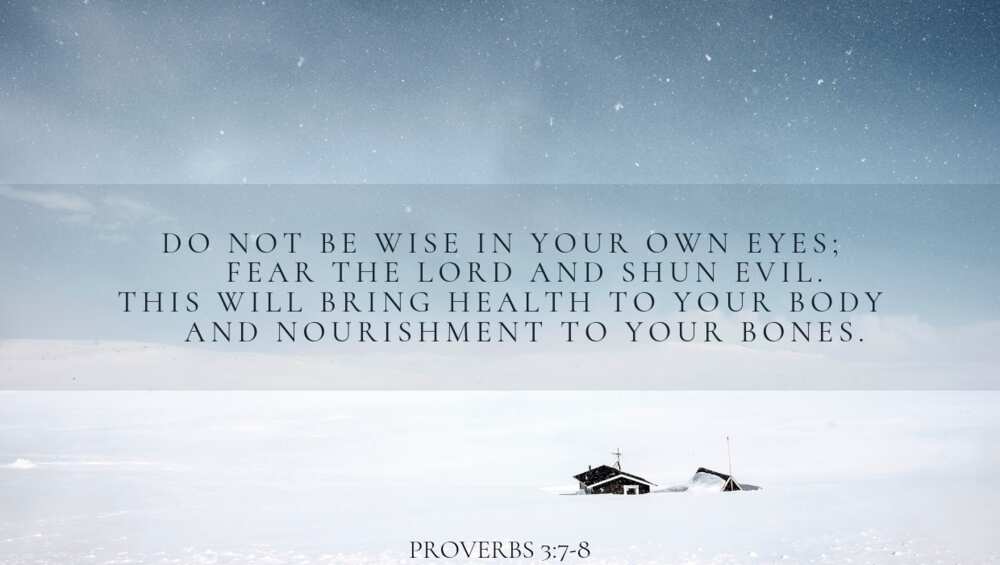 "But I want you to know that the Son of Man has authority on earth to forgive sins." So he said to the paralysed man, "I tell you, get up, take your mat and go home." Immediately he stood up in front of them, took what he had been lying on and went home praising God. Everyone was amazed and gave praise to God. They were filled with awe and said, "We have seen remarkable things today." — Luke 5:24-26
"As a result, people brought the sick into the streets and laid them on beds and mats so that at least Peter's shadow might fall on some of them as he passed by. Crowds gathered also from the towns around Jerusalem, bringing their sick and those tormented by impure spirits, and all of them were healed." — Acts 5:15-16
"A man with leprosy[a] came and knelt before him and said, "Lord, if you are willing, you can make me clean." Jesus reached out his hand and touched the man. "I am willing," he said. "Be clean!" Immediately he was cleansed of his leprosy." — Matthew 8:2-3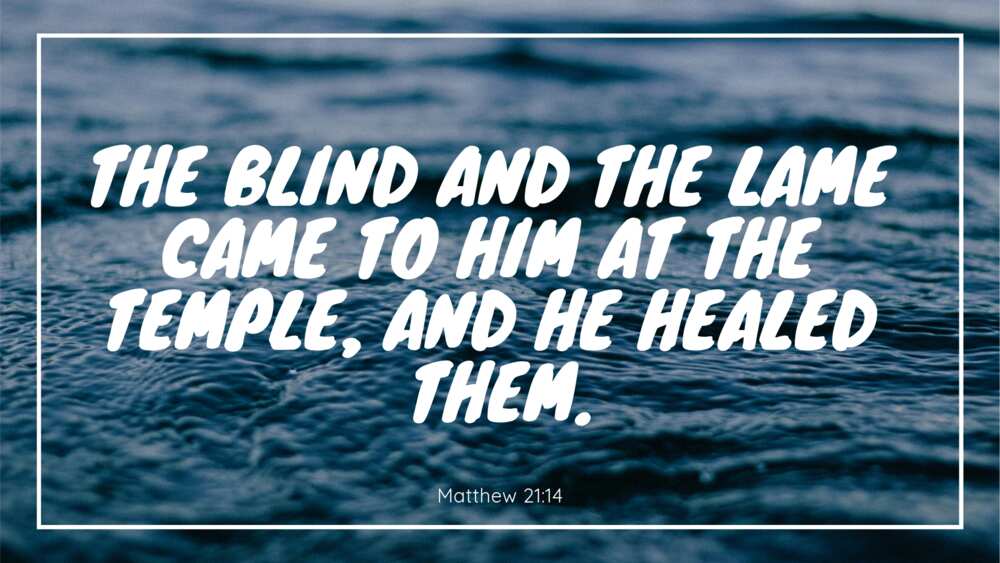 READ ALSO: Comforting Bible verses about death
"On another Sabbath he went into the synagogue and was teaching, and a man was there whose right hand was shriveled. The Pharisees and the teachers of the law were looking for a reason to accuse Jesus, so they watched him closely to see if he would heal on the Sabbath. But Jesus knew what they were thinking and said to the man with the shriveled hand, "Get up and stand in front of everyone." So he got up and stood there. Then Jesus said to them, "I ask you, which is lawful on the Sabbath: to do good or to do evil, to save life or to destroy it?" He looked around at them all, and then said to the man, "Stretch out your hand." He did so, and his hand was completely restored." — Luke 6:6-10
"When the crowds heard Philip and saw the signs he performed, they all paid close attention to what he said. For with shrieks, impure spirits came out of many, and many who were paralysed or lame were healed." — Acts 8:6-7
"Simon's mother-in-law was in bed with a fever, and they immediately told Jesus about her. So he went to her, took her hand and helped her up. The fever left her and she began to wait on them. That evening after sunset the people brought to Jesus all the sick and demon-possessed. The whole town gathered at the door, and Jesus healed many who had various diseases. He also drove out many demons, but he would not let the demons speak because they knew who he was." — Mark 1:30-34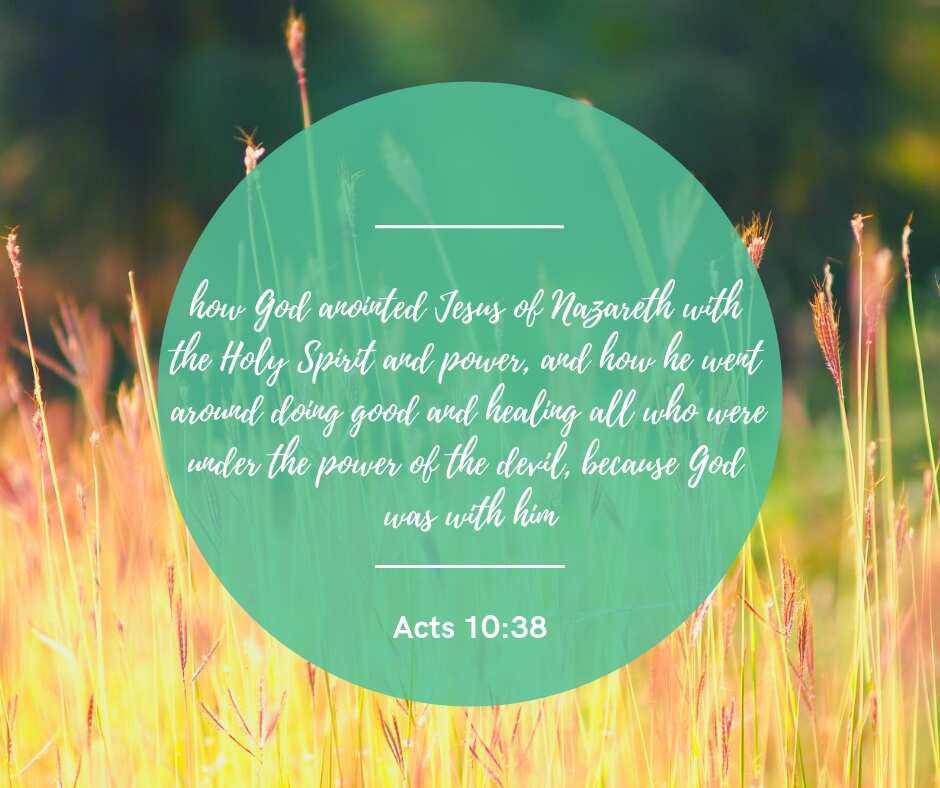 "So Jesus went with them. He was not far from the house when the centurion sent friends to say to him: "Lord, don't trouble yourself, for I do not deserve to have you come under my roof. That is why I did not even consider myself worthy to come to you. But say the word, and my servant will be healed. For I myself am a man under authority, with soldiers under me. I tell this one, 'Go,' and he goes; and that one, 'Come,' and he comes. I say to my servant, 'Do this,' and he does it." When Jesus heard this, he was amazed at him, and turning to the crowd following him, he said, "I tell you, I have not found such great faith even in Israel." Then the men who had been sent returned to the house and found the servant well." — Luke 7:6-10
"When Jesus came into Peter's house, he saw Peter's mother-in-law lying in bed with a fever. He touched her hand and the fever left her, and she got up and began to wait on him. When evening came, many who were demon-possessed were brought to him, and he drove out the spirits with a word and healed all the sick. This was to fulfil what was spoken through the prophet Isaiah: "He took up our infirmities and bore our diseases." — Matthew 8:14-17
"The Spirit of the Lord is on me, because he has anointed me to proclaim good news to the poor He has sent me to proclaim freedom for the prisoners and recovery of sight for the blinds to set the oppressed free, to proclaim the year of the Lord's favour." — Luke 4:18-19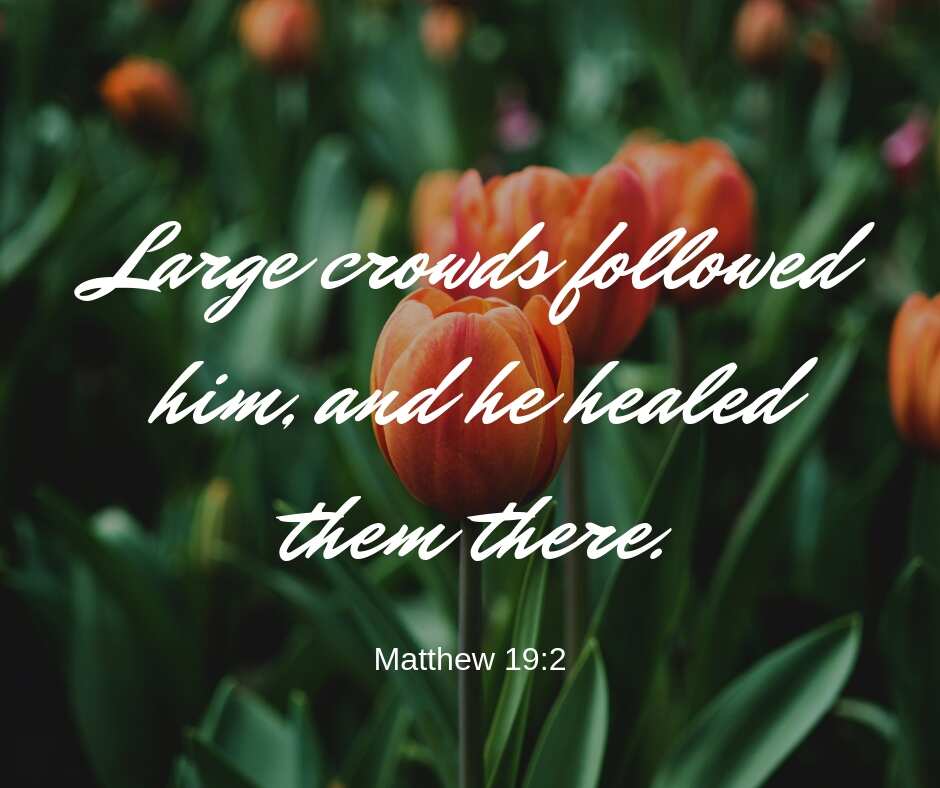 READ ALSO: The power of a praying wife
"One day Peter and John were going up to the temple at the time of prayer — at three in the afternoon. Now a man who was lame from birth was being carried to the temple gate called Beautiful, where he was put every day to beg from those going into the temple courts. When he saw Peter and John about to enter, he asked them for money. Peter looked straight at him, as did John. Then Peter said, "Look at us!" So the man gave them his attention, expecting to get something from them. Then Peter said, "Silver or gold I do not have, but what I do have I give you. In the name of Jesus Christ of Nazareth, walk." Taking him by the right hand, he helped him up, and instantly the man's feet and ankles became strong. He jumped to his feet and began to walk. Then he went with them into the temple courts, walking and jumping, and praising God. When all the people saw him walking and praising God, they recognized him as the same man who used to sit begging at the temple gate called Beautiful, and they were filled with wonder and amazement at what had happened to him." — Acts 3:1-10
"Is anyone among you sick? Let them call the elders of the church to pray over them and anoint them with oil in the name of the Lord. And the prayer offered in faith will make the sick person well; the Lord will raise them up. If they have sinned, they will be forgiven. Therefore confess your sins to each other and pray for each other so that you may be healed. The prayer of a righteous person is powerful and effective." — James 5:14-16
Now, we believe that these healing scriptures will regularly show you that God is around you no matter what, especially when you need Him in times of desperation, as He always cares for His beloved creatures. Reading these Bible verses, you will always be inspired to remember that darkness is just a momentarily path which leads you to the particular place where God, light and a better life are.
READ ALSO: How to fast and pray effectively
Source: Legit.ng