30 famous Bob Marley quotes about peace, love and life
Sunny rhythms of reggae and wise Bob Marley quotes about the very essence of life are the precious heritage we have after the passing of the great musician. He was a prominent figure; not only due to his music but also due to the inspiring, meaningful words he said.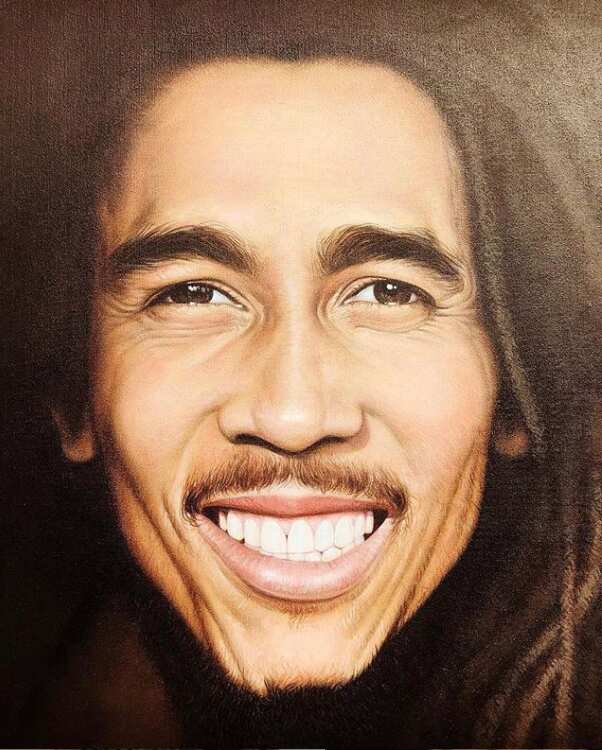 You probably have those days when you have no strength to move on and no guiding light to guide you forth. There is no motivation, no inspiration, and nothing to lift your mood. On such an occasion, it is good to search for emotional support in the words of other people, in their experience and life perception.
Discover the best Bob Marley inspirational quotes for any occasion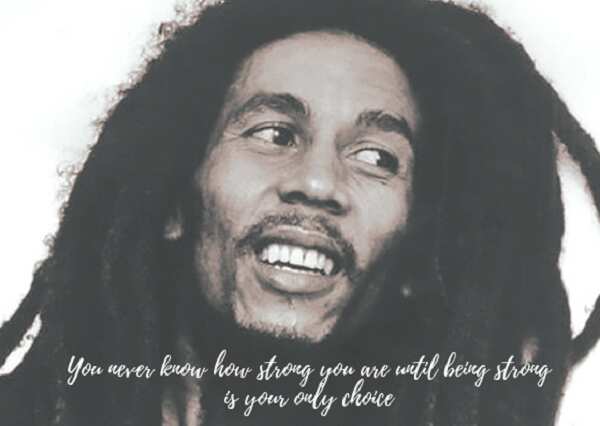 Even though the outstanding musician is no longer with us, his light remains in his songs and in the words he spoke in his interviews. We have picked out and collected those amazingly deep and sensible phrases he voiced out in everyday life situations.
Famous Bob Marley quotes that can change your life
What can change our life? Unforeseen circumstances, a happy occasion, a random meeting, even a phrase thrown by another person. We can our own lives too, if we want to and if we need to, and here is what the prominent musician thought about it.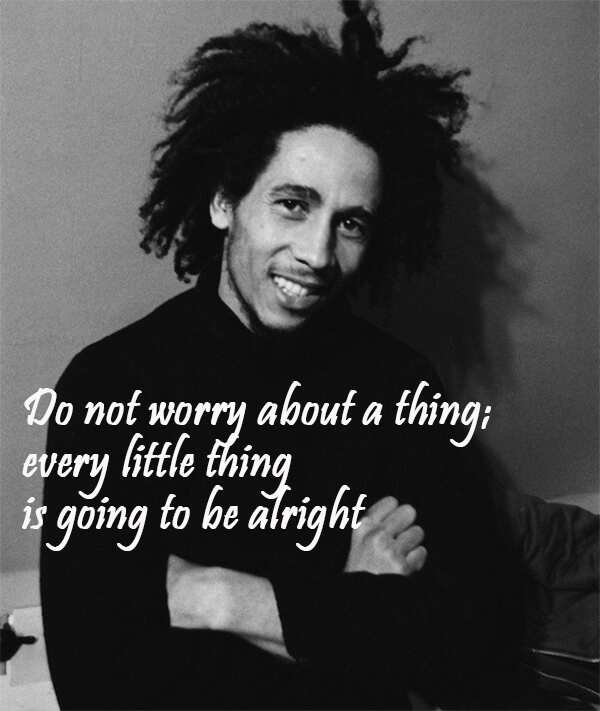 Do not worry about a thing; every little thing is going to be alright. – This is one of the most famous quotes of the great Jamaican. It is about letting things go on their own when you are suffocating in stress and anxiety. If you believe that every little thing will be alright no matter if you worry or not, it will definitely be alright. Your faith is the most potent force that will help you reach any success you want.
Every man has got a right to decide his own destiny. – This truth is often hard to accept because if one does, then he or she becomes responsible for everything that happens in their life. However, it is necessary to accept this truth to receive that really magical power which will help a person change everything for the better.
You never know how strong you are until being strong is your only choice. – A person may never discover all those powers that lie hidden in him or her until a moment comes. It is usually the moment of the highest extreme, and then there is no other choice except for waking all these powers up and bringing them to action.
READ ALSO: 45 great Harry Potter quotes from books and movies
Tell the children the truth. – Children always have the right to know the truth, whatever it is. If you are speaking about birds and bees, tell them the truth. If they need to know something about life, tell them the truth only. It will be easier for them to live if they know what reality is.
When one door is closed, another is open, do not you know. – Everyone should remember: when one opportunity seems to be lost, there is another chance waiting just around the corner. Perhaps, this is one of the simplest but also one of the most powerful quotes from Bob Marley. It helps not to give up even if the situation is very tough.
The most powerful Bob Marley quotes about relationships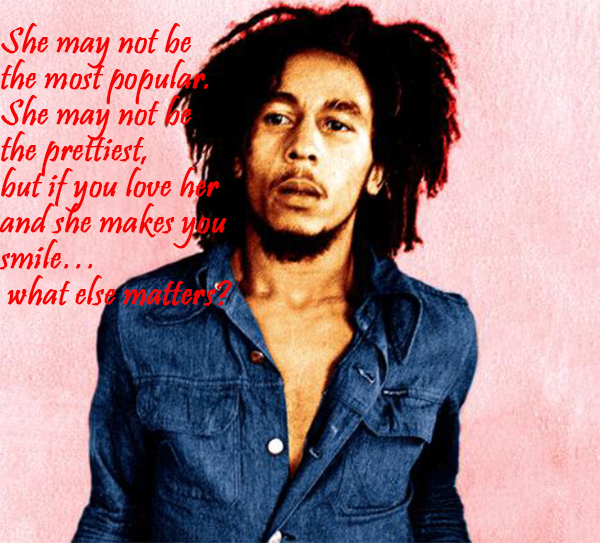 The musician was known to have relationships with a number of women. This often happens to celebrities who have crowds of fans. It is reported that nine relationships of his resulted in the birth of children. His love life may be the reason why his sayings about love are so touching.
The biggest coward of a man is to awaken the love of a woman without the intention of loving her. – What does it mean? A person is not an emotionless toy to play with and throw away after getting tired of it. This saying is an excellent instruction for everyone who is into starting a relationship: you should better avoid it if you are not ready to accept and handle the love of your partner.
You may not be her first, her last, or her only. She loved before; she may love again. But if she loves you now, what else matters? She is not perfect—you are not either, and the two of you may never be perfect together but if she can make you laugh, cause you to think twice, and admit to being human and making mistakes, hold onto her and give her the most you can. She may not be thinking about you every second of the day, but she will give you a part of her that she knows you can break—her heart. So do not hurt her, do not change her, do not analyse and do not expect more than she can give. Smile when she makes you happy, let her know when she makes you mad, and miss her when she is not there. – This heartbreakingly wise and probably the best of Bob Marley quotes about women just gives perfect instructions on how to cherish a person with all his or her past and future, simply enjoy togetherness and love.
READ ALSO: 25 best Alice in Wonderland quotes
If she is amazing, she will not be easy. If she is easy, she will not be amazing. If she is really worth it, you will never give up. If you give up, you are not worthy... The truth is that everybody is likely to hurt you. Still, you just ought to find the ones worth suffering for. – This is another wise statement about accepting people the way they are because otherwise, they will lose a part of their natural charm and wonderfulness.
She may not be the most popular. She may not be the prettiest, but if you love her and she makes you smile… what else matters? – This saying speaks about true values, not something passing and vain like popularity or beauty.
Bob Marley quotes about love that will make your eyes water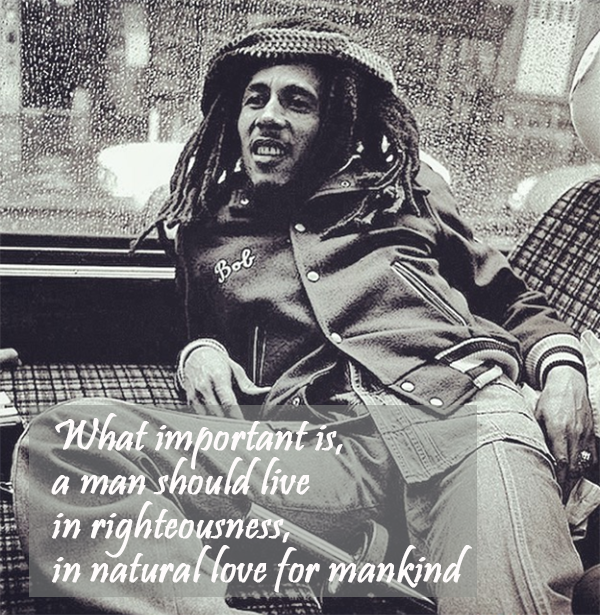 Love in the musician's sayings is not only the love in relationships. Everything in life is filled with love; it is one of the most powerful moving forces. Bob speaks about love and its place in a person's heart everywhere and at any moment.
Overcome the devils with the help of a thing called love. – Devils inside a person's heart can be really various. These are fears, offences, pain and uncertainty. Love can fight all those demons with its power because a loving person can fill one's heart with happiness instead of pain, with hope instead of fears, and with confidence instead of uncertainty.
What important is, a man should live in righteousness, in natural love for mankind. – Love is something very natural and omnipresent for Bob. Probably, this saying is one of the most powerful Bob Marley love quotes because it expands the meaning of love over all spheres of life, over all beings, everyone in the world.
You say that you love rain, but you use an umbrella to walk under it. You say that you love sun, but you seek shelter when it is shining. You say that you love wind, but when it comes, you close your windows. So that is why I am scared when you say you love me. – This smart saying is about acceptance and readiness to give all of your dedication to your true love. What the musician wants to say is that if you love somebody, you accept them with all they have and give them everything you have.
READ ALSO: 50 best Star Wars quotes every fan needs to know
Love the life you live. Live the life you love. – This one is about appreciating everything you have but creating your better world with your own hands. When you set goals, you need to be ready to love what you achieve. However, it is you who sets those goals, so you are the one who determines what you are struggling for. If so, it is up to you to strive only for what you want most of all.
One love, one heart. Let us get together and feel all right. – If only all people on Earth could bring up love inside their hearts, we could all be united in that feeling. Then, everything would be all right. Indeed, if love could rule the world, it would definitely be a much better place to live.
Deep and wise Bob Marley quotes about life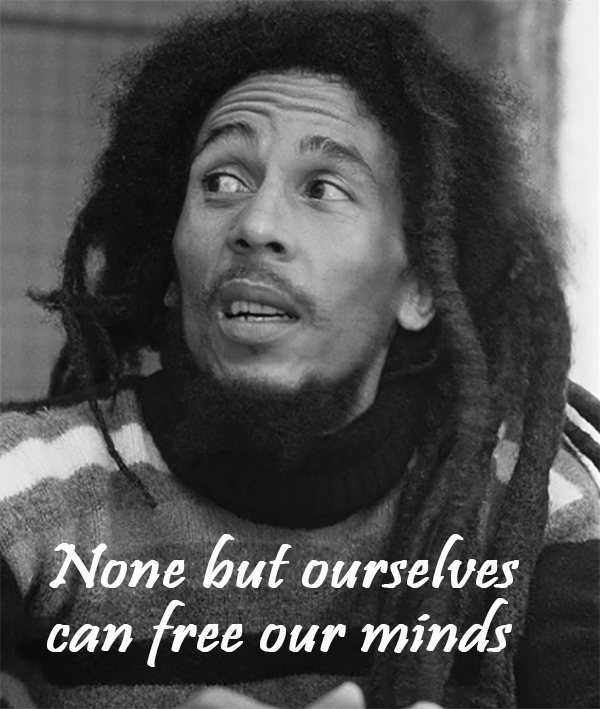 Life is a complicated thing. However, a lot depends on the angle at which you look at it. The famous Jamaican developed a very specific point of view about this that showed him the good sides most, even though he knew the hardest ones, too.
Though the road has been rocky, it sure feels good to me. – A lot is in the way you see your life. Even the rockiest road can be satisfying if you notice bright flowers and trees at its sides. If you concentrate on the sharp stones that hurt your feet, you can miss something beautiful in the landscape.
Judge not, before you judge yourself. Judge not, unless you are ready for judgement. – This one is almost like the Biblical statement about not judging other people because everybody has his or her own sins. Besides that, the one who judges other people can easily become somebody else's judgement object. It is not pleasant and not fair.
None but ourselves can free our minds. – We are the only ones who know our limits and boundaries. That is why only our own efforts can lead us to success when we strive for freedom. While we can be released by anybody physically, it is only up to us to fight our inner fears, lack of confidence, and other boundaries.
Life is one big road with plenty of signs. So, when you are on the ride through the ruts, do not complicate your mind. Flee from hate, mischief and jealousy. Do not bury your thoughts, put your vision to reality. Wake up and live! – It is important to keep in mind that we possess only one life, and there is no time to waste on hate or other negative emotions. There is no time to wait; all the dreams and intentions should be embodied because this is what is called real living.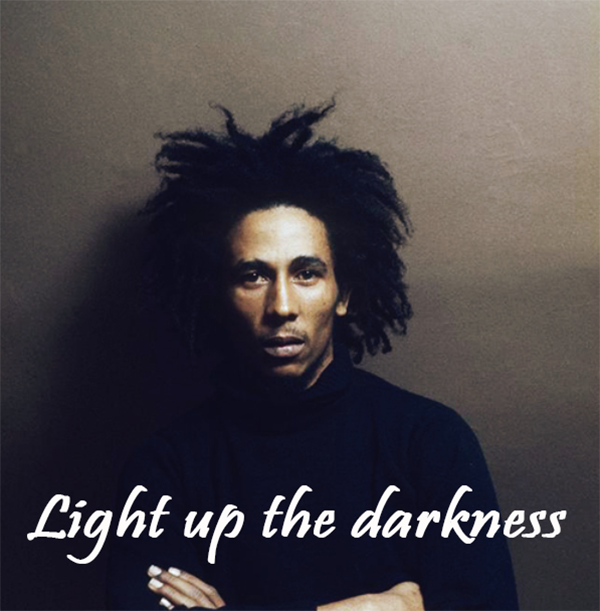 It is better to die fighting for freedom than to be a prisoner all the days of your life. – Fighting for freedom in everything is a distinctive feature of free and strong personalities. Marley was probably one of them. He knew what life was, and he knew how to live it best.
Light up the darkness. – The musician hints that there is light inside every one of us and that this light has the power to drive away any darkness. Maybe, the sense of someone's life is in sharing this light and in breaking the darkness for everybody else's sake.
If something can corrupt you, you are already corrupted. – This saying speaks about the inner intentions that we have but not always recognise inside us. Those people who have nothing evil in their souls will never give up to more evil. Those who already have it inside them, will fall first.
I have no education. I have inspiration. If I were educated, I would be a darn fool. – For the minds like Bob's, school education with all those limitations and permissions is a cage. Such people need freedom to develop their brain. Having education formally is not the same as having natural wisdom and peace of mind.
The most impressive Bob Marley quotes about peace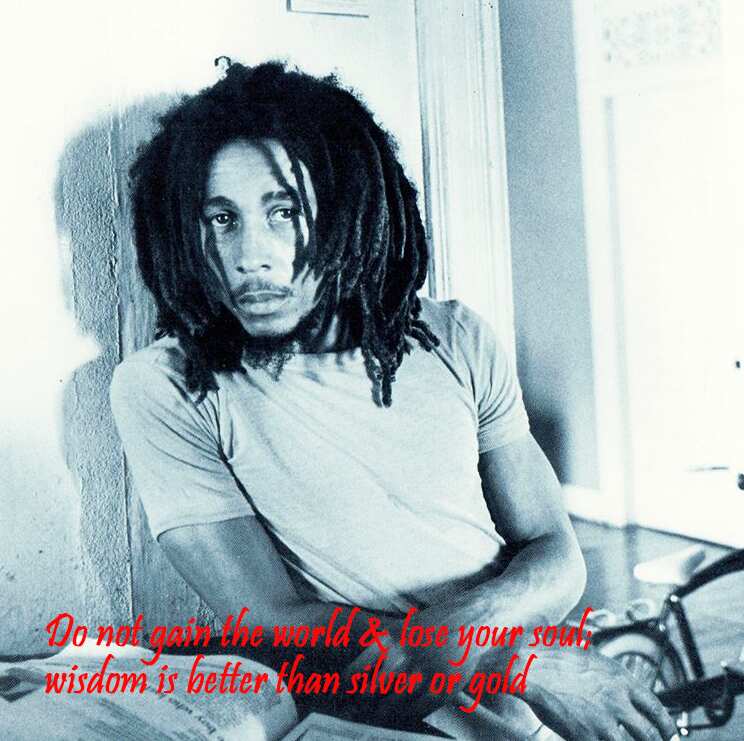 Peace and love have always been cherished in many cultures and by many nations. Still, not everyone understands the importance of bringing peace into this world. The musician made many efforts to help people understand the essence of creating peace for the sake of everybody.
Do not gain the world & lose your soul; wisdom is better than silver or gold. – The most important and valuable peace is the one inside a person. If your soul is filled with it, you can win whatever you want and retain your soul. It is much more important than to win everything but to lose the most valuable thing – your inner self.
The greatness of a man is hardly in the amount of wealth he has acquired, but in his integrity and his ability to cause a positive effect on those around him. – It is the creation of peace, too - to build up a positive atmosphere around you. What you reach out towards people will return to you, and the more love and friendliness you share, the more you will receive in return.
Prejudice is a chain. It can hold you tight. If you are prone to prejudice, you cannot move, you keep prejudice for years. Never get nowhere with that. – Prejudice is the readiness to judge and fight with people, their behaviour, their lifestyle or personalities. This is why prejudice is a destructive weapon that will hardly build something good.
READ ALSO: Top 35 famous Disney quotes to live by
Everything in the world is political. I will never be a politician or even think political. I just deal with life and nature. This is the greatest thing to me. – Dealing with politics can be destructive. This is why the best thing one can do is try to bring some more peacefulness into this world.
I only have one ambition, you know. I have only one thing I really like to see happen. I would like to see mankind live together - black, white, Chinese, everyone - that is all. – Even though this saying is not always picked out as one of the best Bob Marley quotes, it is something that characterises the type of his nature well. No wars, no quarrels, no humiliation due to the skin colour or eye shape. Only love, only peace.
Bonus: several inspiring and motivating Bob Marley music quotes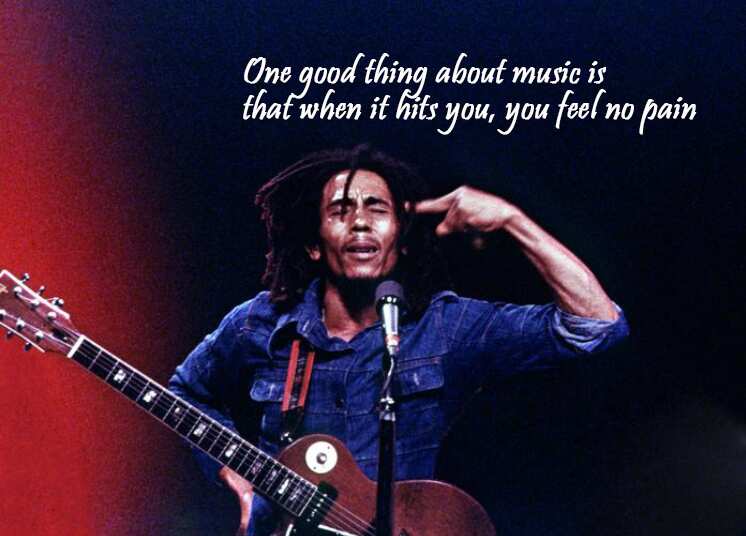 Speaking about music, the musician could put a piece of his amazing wisdom into each phrase. These sayings also carry a touch of genius and the stunning soul of the great Jamaican.
My music fights against the system that teaches to live and die. – Indeed, Bob's music was rather filled with the joy of living than the intention to die. Although dead very young, the musician seemed to live every day of his life just as if it was the last day. You can still hear it in is music.
One good thing about music is that when it hits you, you feel no pain. – Music is a strong weapon and a powerful enchantment. It can take your soul, and you will not even notice. However, who would deny that the power of music is one of the most pleasant?
My music will go on forever. Maybe it is foolish to say that, but when I know facts, I can say facts. My music will go on forever. – Indeed, Bob's reggae will live for many years more, even after its author is no longer alive. It is the sunny and careless nature of his music that will help it survive over many generations ahead.
These were the most meaningful Bob Marley quotes about the most important things: life and everyday troubles, love and devotion, freedom and peace of mind and soul, and everything else that was kept in his huge heart. Enjoy these optimistic and sharp phrases whenever you need them!
READ ALSO: 25 funny coffee quotes and sayings
Source: Legit.ng