Nigerian church decoration pictures for a wedding
You can find many Nigerian church decoration pictures on the Internet. However, a wedding day is one of the most important days in the life of every couple. Therefore, everything must be perfect on this occasion, especially a wedding ceremony in the church. We have gathered the most important tips and advice about decorating a church on your wedding day. So, read on and create your perfect wedding ceremony!
Traditional wedding décor
Traditional wedding decorations in Nigeria are always lavish and colorful. You can use various materials; however, it is crucial to remember that if you want the décor to look traditional, you should use two colors. Moreover, these two colors of your choice should lie opposite from each other on a color wheel.
For example, you can choose such color combinations as yellow/orange and black, orange and blue, white and red, and other similar pairs. However, you should always remember that a wedding is your special day. Thus, choose the colors you like, and everything will be perfect!
Traditional Nigerian church altar decoration pictures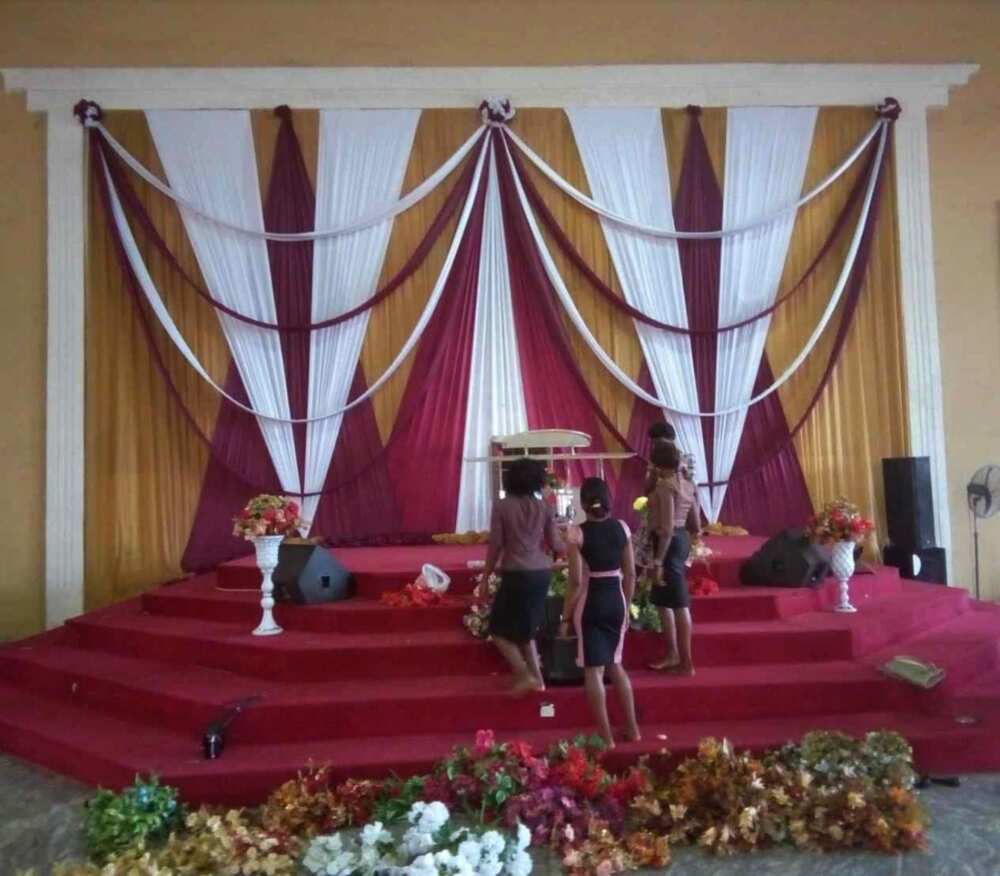 To get the feel of what a traditional church decoration in Nigeria looks like, check out the following images. Take note of the color combinations! The combination of red and white fabric seem especially popular in Nigeria.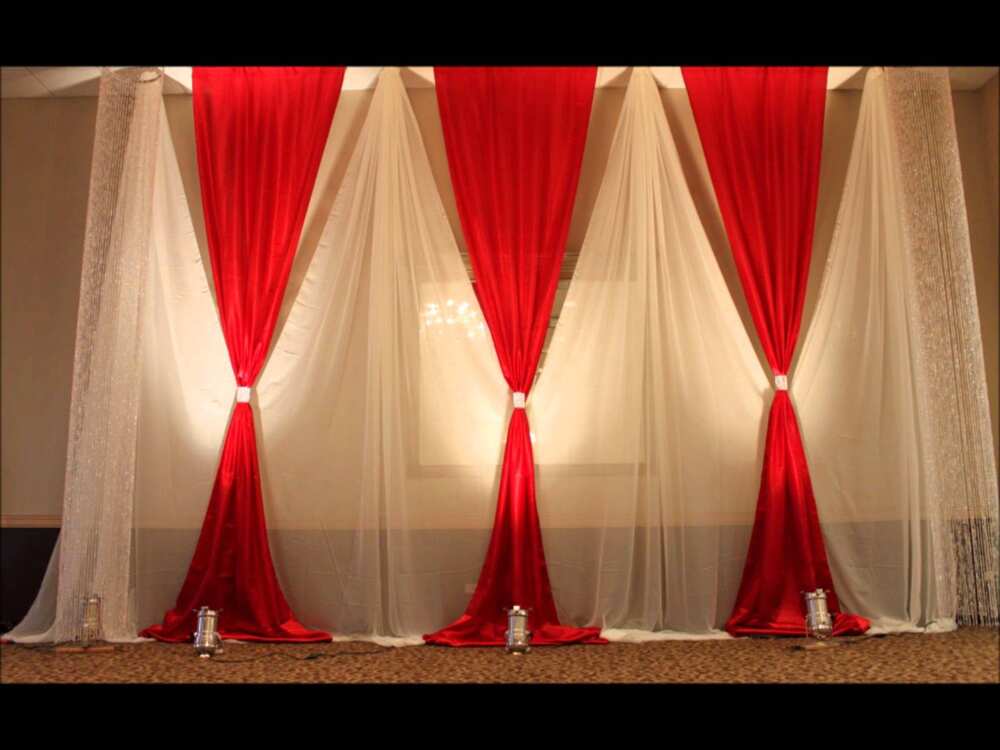 Church decoration designs
Nowadays, church decoration varies from wedding to wedding. There are no strict rules as to what materials, flowers, and lights should be used. One important rule, however, remains. Both, bride and a groom, should like church decorations. Of course, do not forget about the color scheme and theme of your wedding, if you already have one.
Church altar decoration with cloth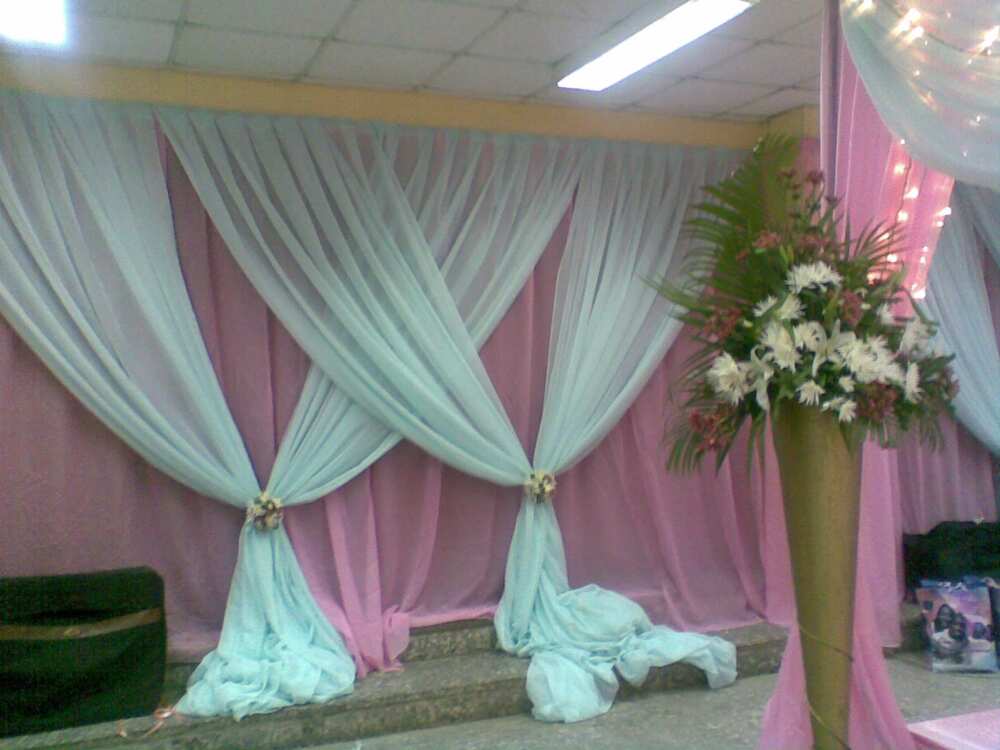 Church altar decoration with fabric still remains one of the most popular ways to adorn your wedding ceremony. Cloth is an immensely easy material to work with. You can fold and shape it in many ways. Moreover, today, you can find the fabric of any color and texture you like. Another considerable advantage of using this material is that it will not wilt like flowers and it will not deflate or pop like balloons.
Fabric is a universal decoration material. It can be used not only for altar decoration, but also for adorning church pews. You can attach cloth either to the backs of the chairs or to the sides of the pews. Ornamenting church pews with fabric will make the ceremony look especially festive.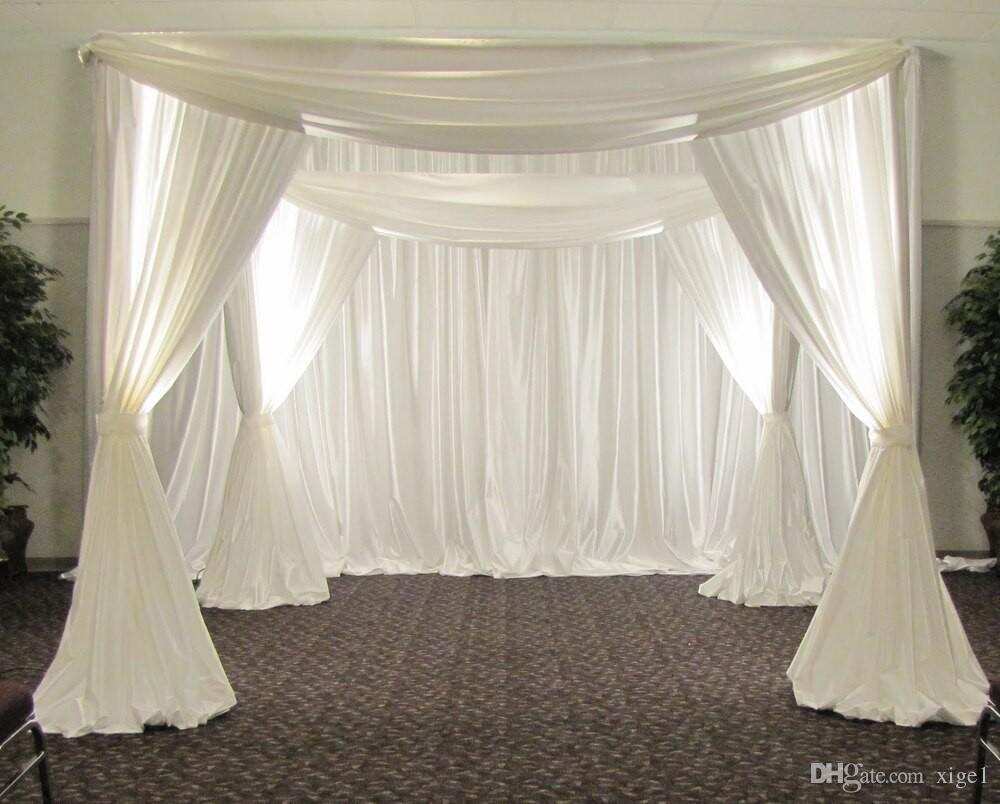 Check out how others used fabric for their wedding décor and get inspired!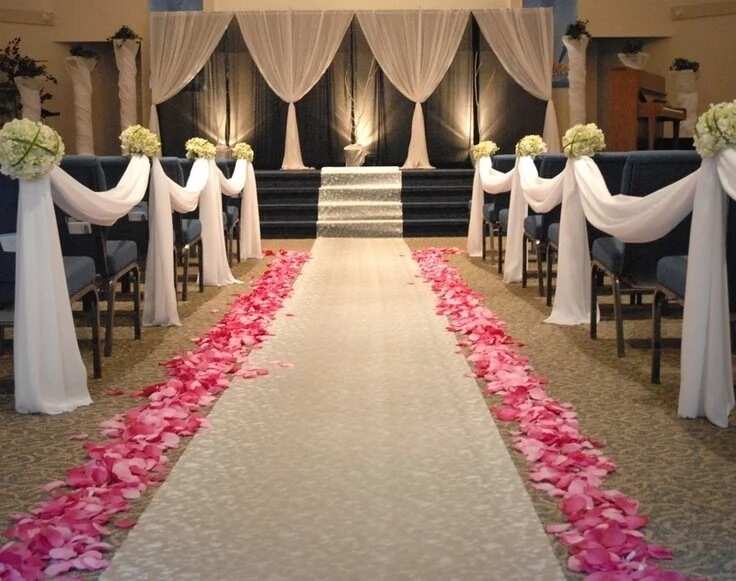 The use of white cloth on the pews makes the atmosphere at the wedding especially festive.
Church decoration with flowers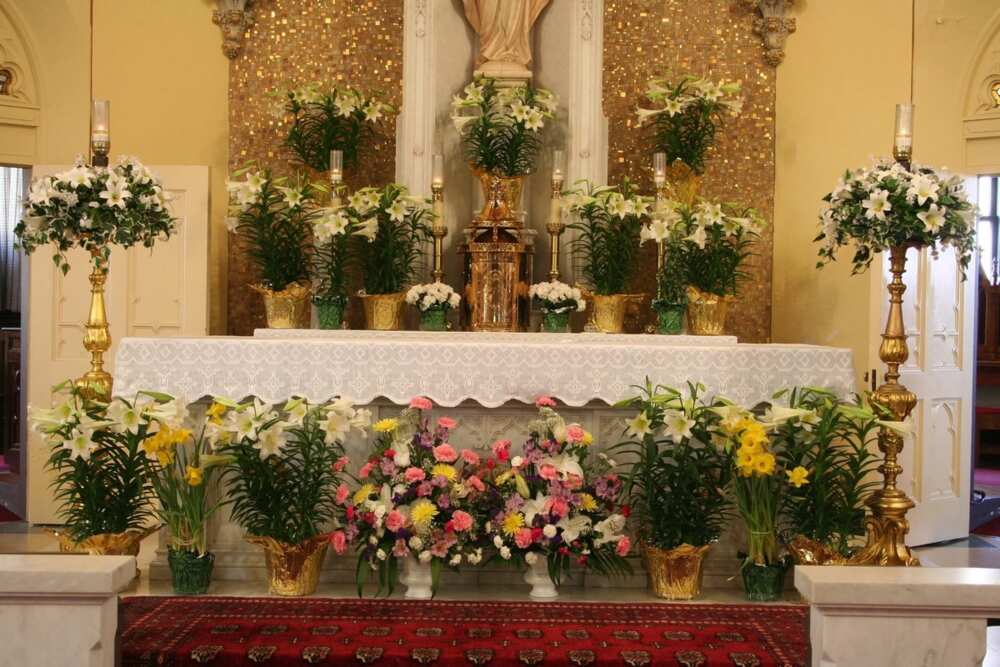 Flowers have always been one of the best materials for church decoration. They can create a unique festive atmosphere that will stay in the memory of your guests for a long time. Moreover, fresh blooms add a sense of luxury to all décor.
Flowers are frequently used for altar decoration. They are also suitable for adorning the aisle and pews. To enhance the atmosphere of the occasion, you can decorate even the entrance of the church. Such a step will definitely awe your guests.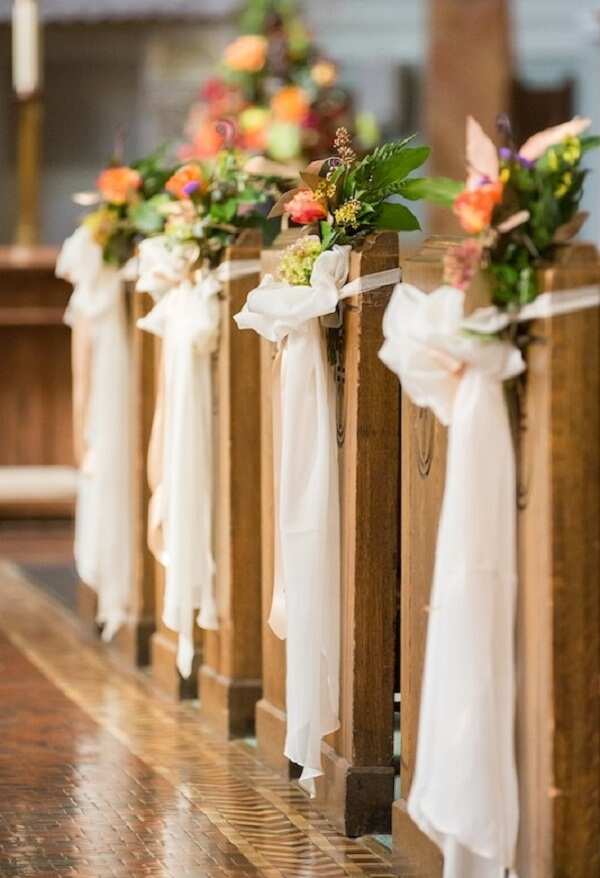 You can use flower blooms to create beautiful arches and place them at the altar region of the church. This will create a stunning background for photos. You can also choose to make extensive and volumetric arrangements of flowers and place them at the altar. This will look really spectacular.
A useful tip would be to use portable foundations for such arches and arrangements, as you will be able to move your flower compositions depending on the situation and demands of a photographer.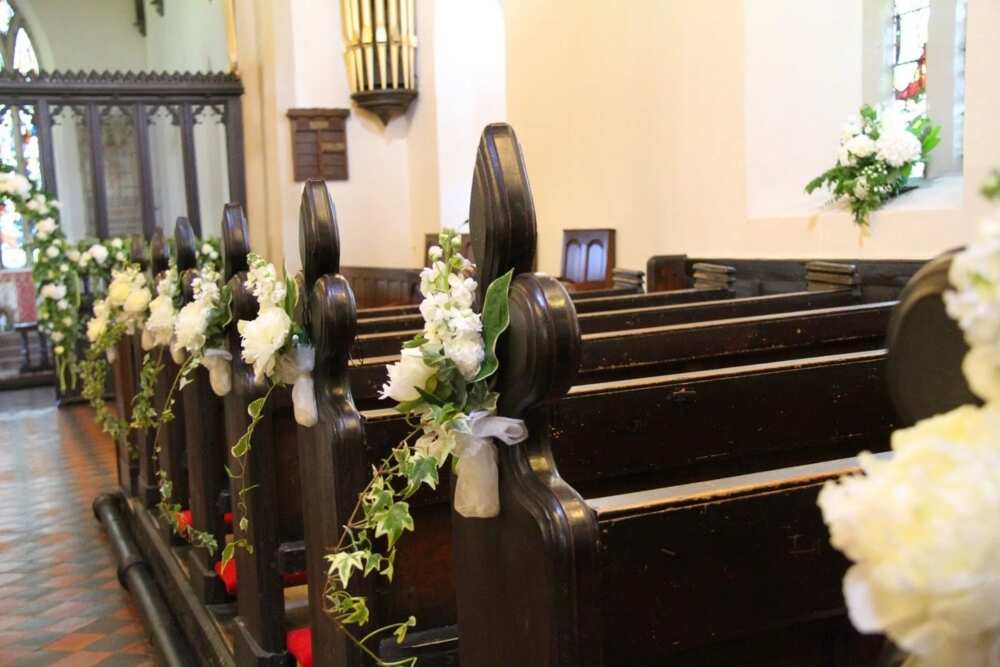 As for wedding decoration of the pews, there are several ways to handle it. First, you can place flowers at the backs of the chairs or the ends of the pews. Second, you can position high columns along the aisle and pews and arrange flowers at their tops. Such décor will look exquisite and lavish.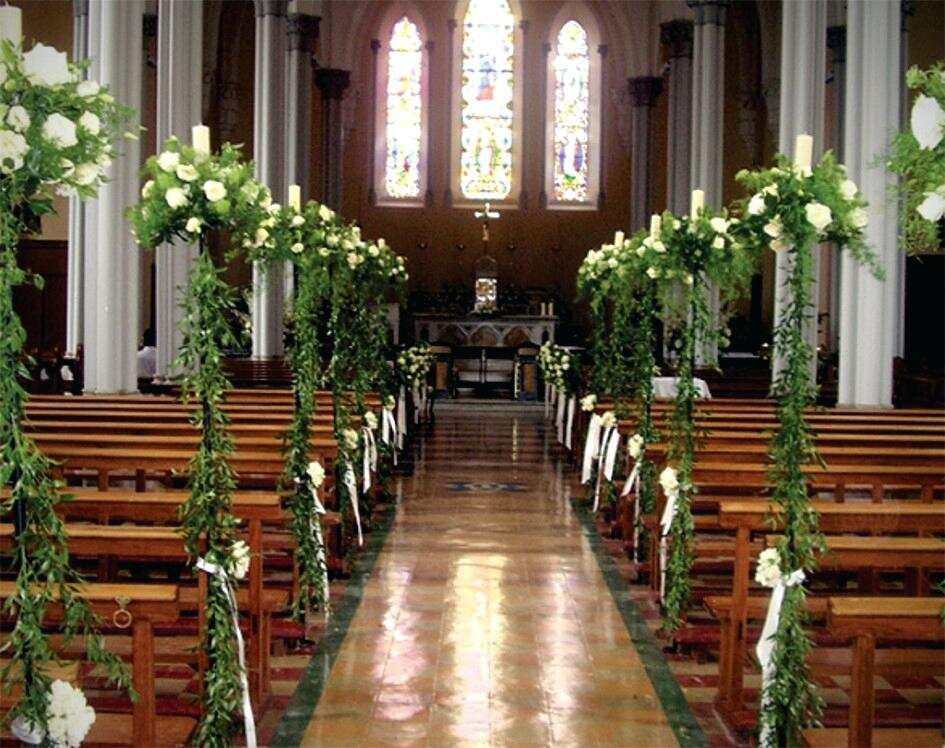 READ ALSO: Latest wedding decorations in Nigeria
Look at these gorgeous examples of decorating a church wedding with blooms. See anything you like? You can either copy these ideas or devise your own designs. Be creative!
Church decoration with balloons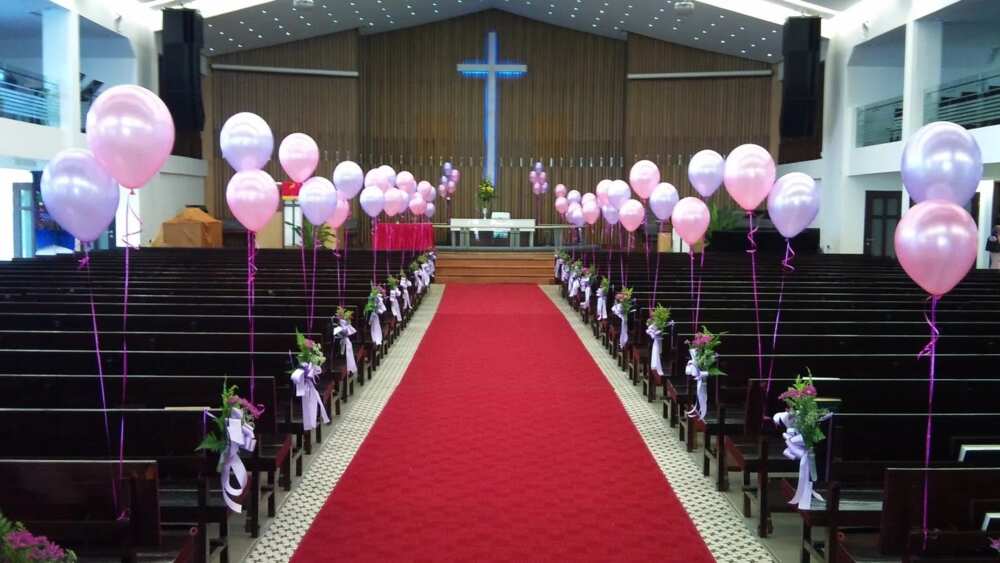 The time has come to stop thinking of balloons as decorations only for children's parties. Recently, a trend to use balloons for wedding decoration has gained tremendous popularity. The variety of balloons present on the market is stunning.
Moreover, balloons are available in different sizes and colors. They can float in the air, lie on the floor, be arranged into a composition, or just hang from a ceiling. The options are indeed numerous, and this allows to create a truly unique atmosphere for your wedding.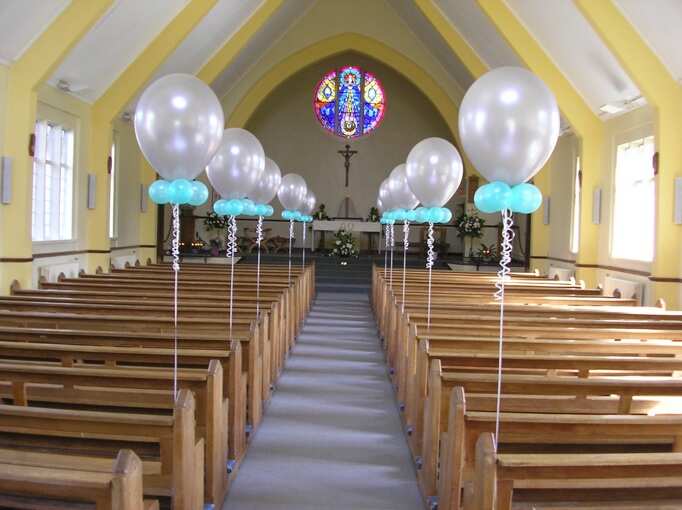 Simple arches made of balloons have long since become mundane. Modern trends are more interesting. First, you can create a wall of balloons in the altar zone, substituting traditional fabrics. Such a wall can consist of spheres of different sizes or colors.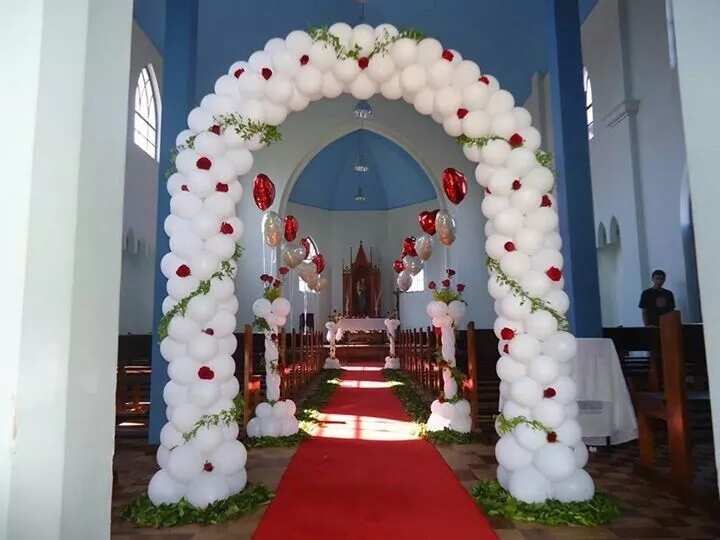 Second, you might want to tie floating balloons to the chairs or pews to create a more festive atmosphere.
Church decoration with lights and candles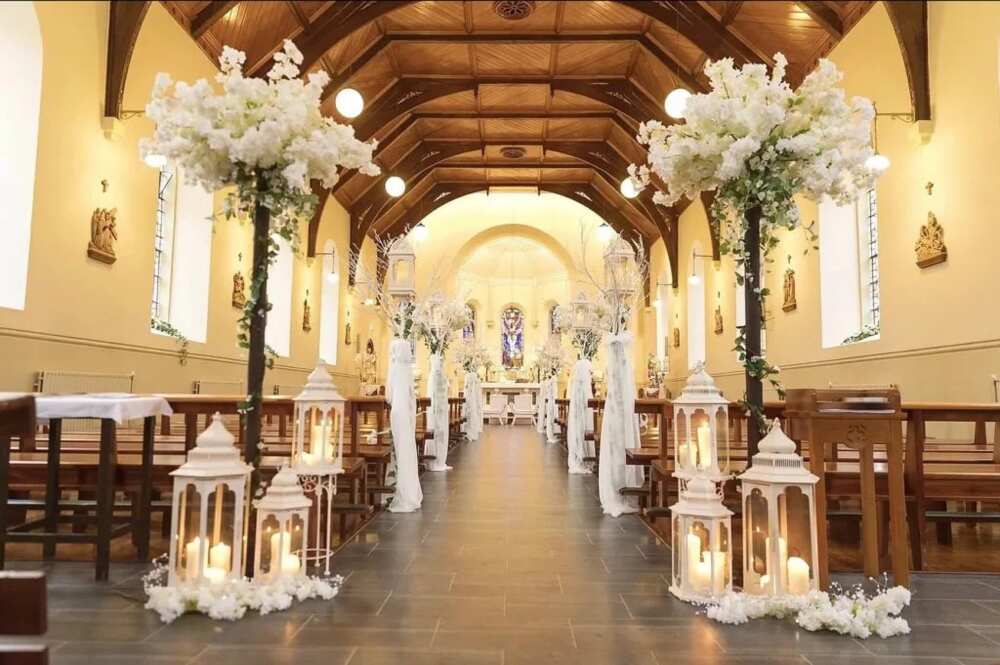 Various sources of light can also be used as a part of church decorations. More importantly, lights in particular can create a required atmosphere with ease. In terms of light, you can choose to use either candles or LED lights.
Candles are champions in creating a romantic atmosphere, and romantic atmosphere is the one you should be looking forward to creating on your wedding day. Altar decoration with candlelight looks particularly stunning. You can either combine candles in one arrangement with flowers or place them separately.
However, if you decide to use candles as an element of décor on their own, you should place quite a lot of them to create the desired mood. If you use too few candles, they will look like alien elements in your wedding décor.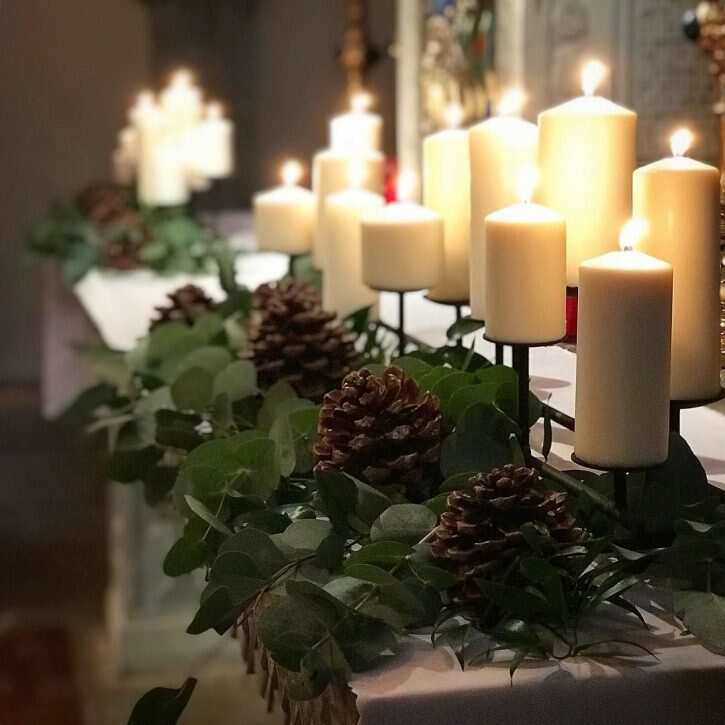 You should also remember that candles may be dangerous if neglected as they can easily start a fire in the church. This may be particularly unsafe if you place them near fabric or wood. Thus, a sound option for your church altar decoration may be to use fake LED candles or just LED lights.
Decorating a church with candles or lights can really create the right mood for your wedding. May these wedding decoration pictures help you with the ideas for your own wedding ceremony.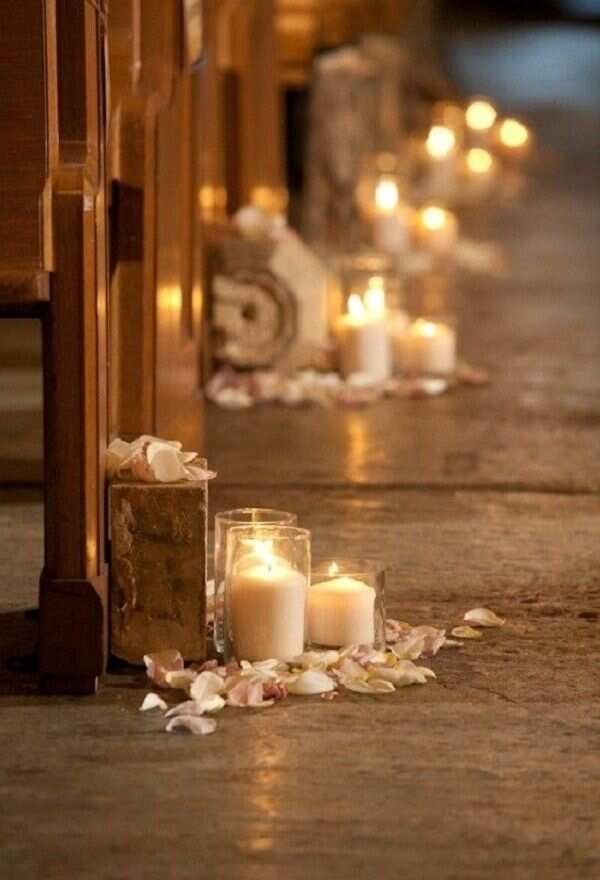 LED lights are also good in creating a romantic mood. In addition, they are easy to handle and are much safer than candles. LED lights can be placed anywhere in a church, depending on your design ideas.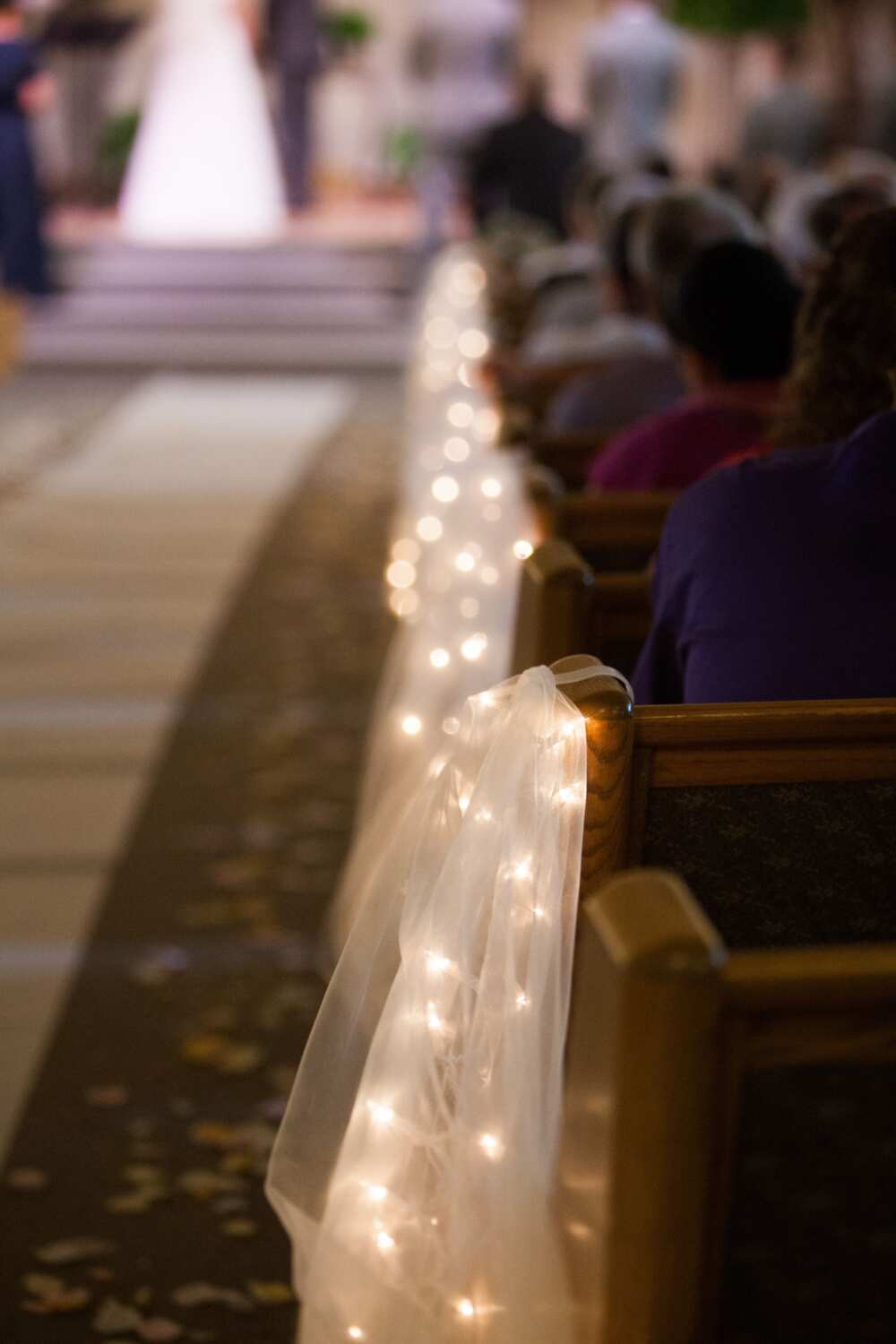 String LED lights look especially festive. It is recommended to use the lamps that emit a soft yellow glow to create a more intimate atmosphere.
Simple church decoration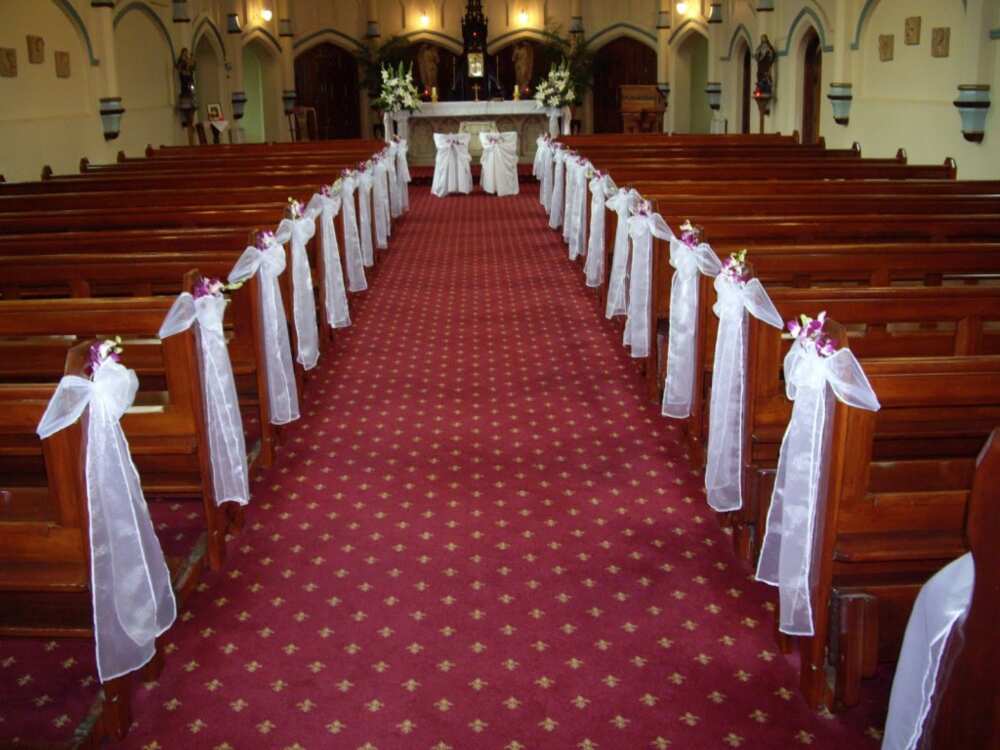 Not everyone wants the church decorations on their wedding to be lavish and bright. More and more people prefer simple church decoration to a luxurious one. This is understandable because you spend no more than one hour in a church during the wedding ceremony and then go to a place of the main celebration. Thus, it makes no sense to spend tons of money on decorating a church.
However, you cannot leave a church completely unadorned on your wedding day. Therefore, you may want to choose simple church decorations. These could be several arrangements of flowers near the altar. If you do not want to spend much money on the blooms, you could use paper flowers, which also look nice and pretty. Placing several strings of LED lights around the church will also create a festive mood without losing its simplicity.
Latest church altar decorations in Nigeria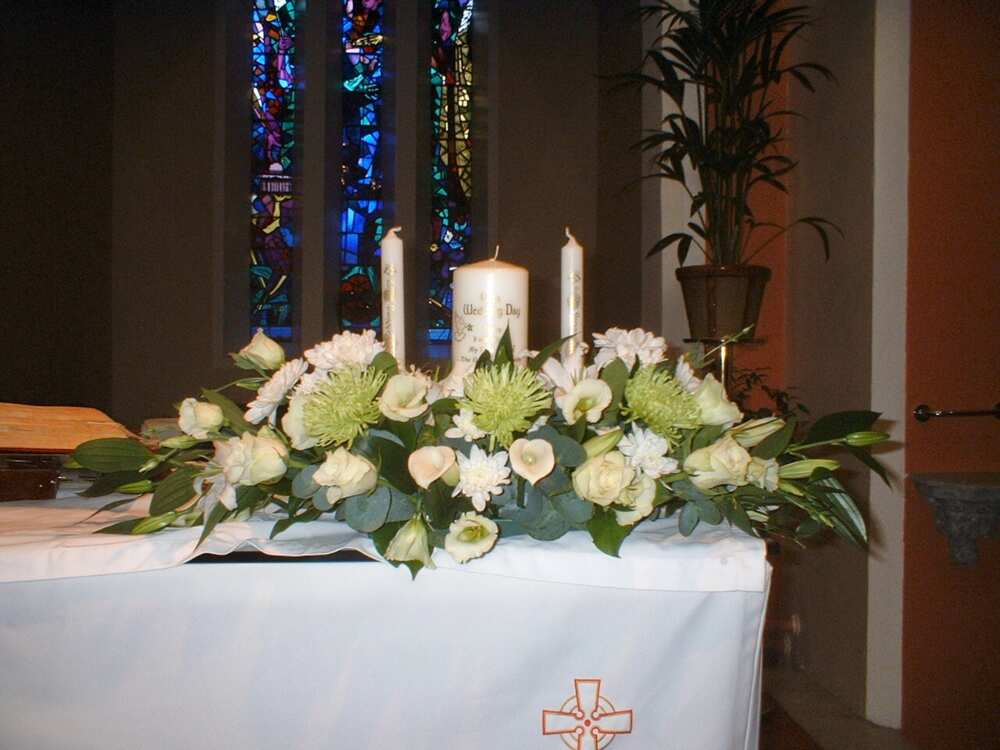 If you are interested in the latest church altar decorations in Nigeria, we have gathered some pictures for you.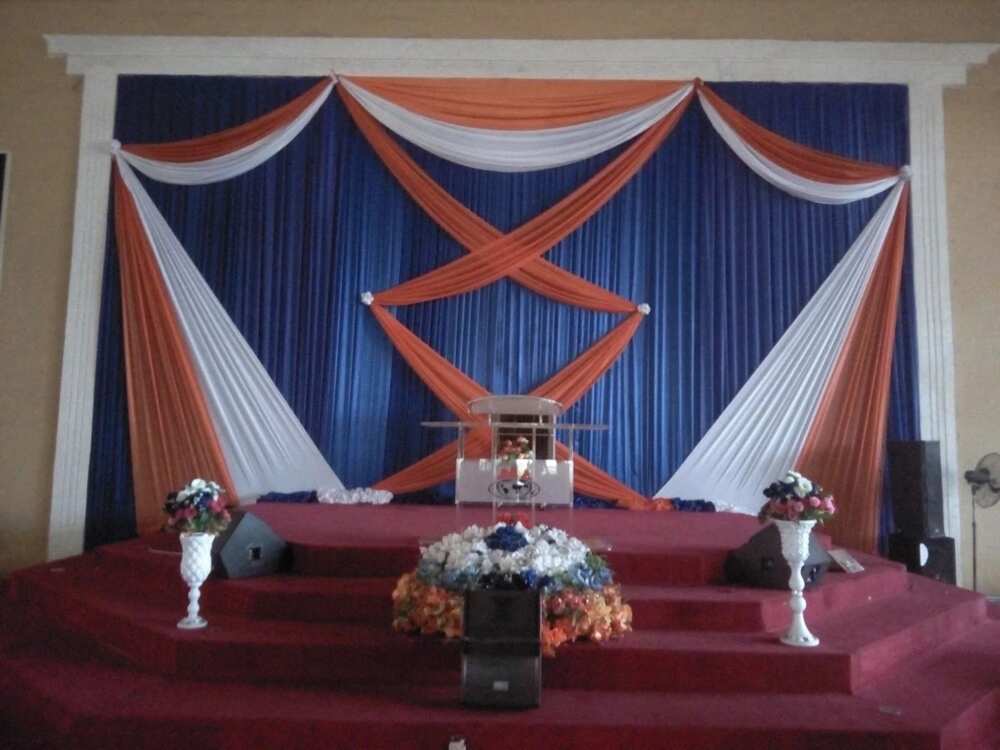 It might be needed to note that the latest church decorations in Nigeria are created using either fabrics or flowers.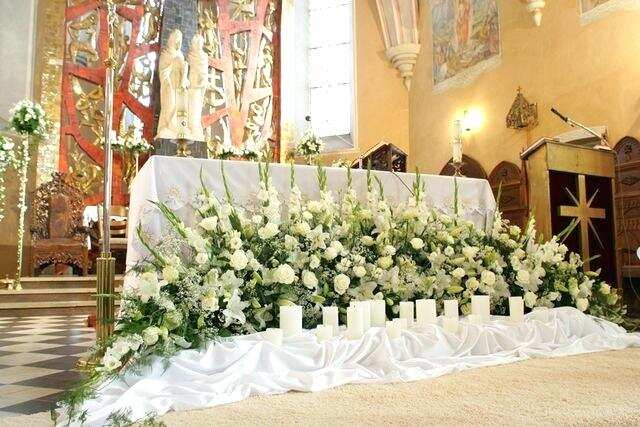 Decorating a church for your wedding may be a tedious task, considering the abundance of options. In this article, we discussed the best options for you. Fabrics, flowers, balloons, candles, and LED lights, - you can use any of them to create a special mood at your wedding ceremony. Choose the decorations according to your taste, do not forget about the color scheme and theme of your wedding, and you will create a perfect wedding ceremony.
READ ALSO: Simple wedding hall decoration ideas in Nigeria
Source: Legit.ng