Best colour combination for Nigerian wedding in 2018
If you are planning a Nigerian wedding, you might want to know about the up-and-coming best colour combination for the Nigerian wedding in 2018. They are numerous, and we are here to help you!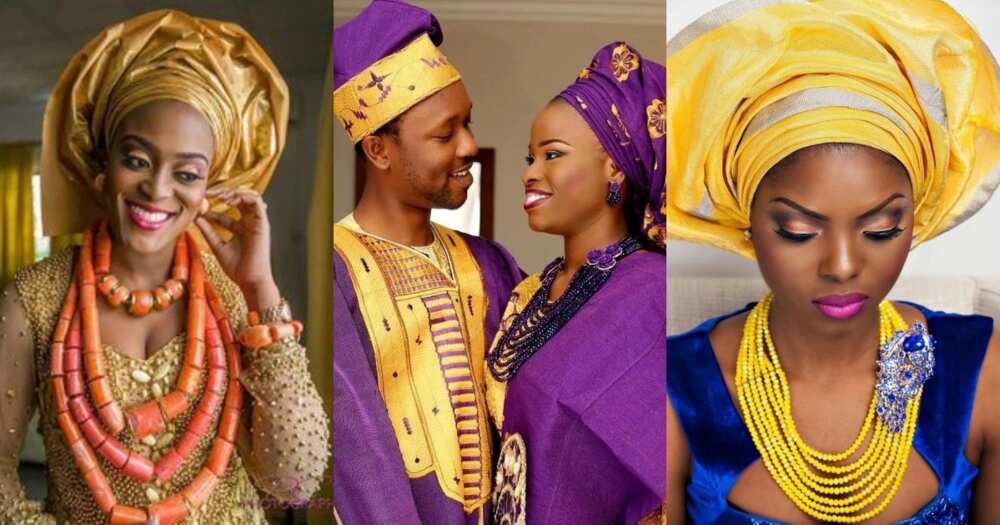 The best colour combination for Nigerian wedding
Choosing the right decoration for a wedding is a difficult task, and choosing the color scheme for the Nigerian wedding is, to put it mildly, a highly challenging job. There are so many beautiful styles and themes.
Even though the bride and the groom are those who know perfectly which colors are the best for their wedding, there are still many wedding color combinations to choose from when it comes to the most popular wedding colours in 2018.
The most popular Nigerian traditional wedding colours
We have the insight on which colours are going to be on the top. Here is a short list of the most desirable colour combinations for Nigerian wedding in 2018.
Peach and green
Those who are planning a beautiful wedding ceremony soon might like to pick this colour combination for their Nigeria wedding.
When it comes to the colour combination, it is a question of the highest priority. This matter is usually discussed by bride and groom in details before the big day. So, why not to choose peach and green for the Nigerian wedding colour scheme in 2018?
Peach and green have always been one of the most popular colour combinations chosen for many Nigerian weddings. Both of these colours are very popular, even when used alone. Peach and green colour combination for the wedding is bright, cheerful, and flattering to every skin tone.
You might also experiment with a similar combination, mint and peach, which is perfect if you are planning an outdoor wedding. This combination is calling out to you if you like contrasts. Mint is quite a cold and refreshing shade of green while peach is warm and floral. These shades put together to create a sense of elegance and joy.
This combination is often chosen by very young couples. While peach highlights a person's tone of skin, mint works as a contrasting shade. It embodies coolness and freshness, at the same time, it adds a burst of energy that draws viewers' attention, especially, in the pictures.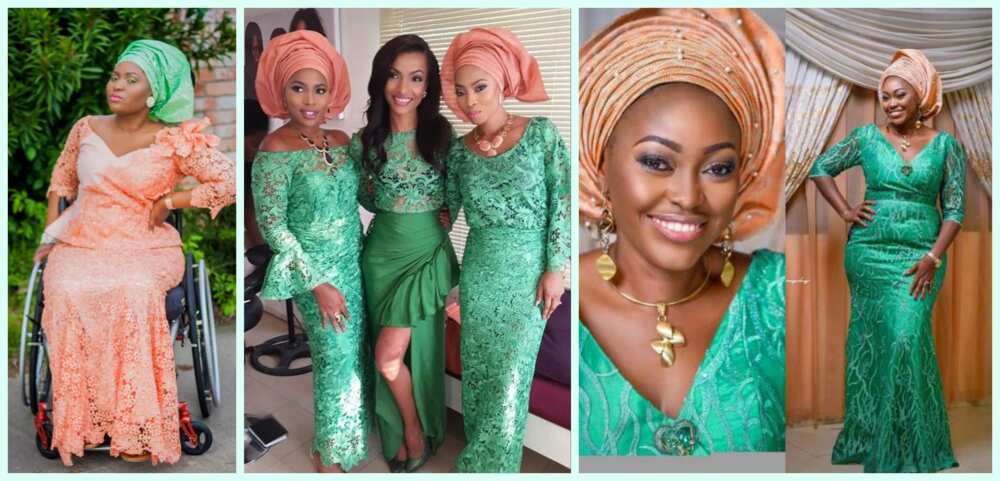 Blue and yellow
Wedding colour combinations with blue are hugely popular even nowadays. Even though blue is a dark and deep color, it looks very refreshing in every season. This color makes a couple look like if they were a royal family. More couples choose this colour for their special day as it looks fabulous with many other shades which list is nearly endless.
It means that you can choose from many options for your wedding color combination, but here we suggest you combining blue with yellow.
Blue also goes well with silver, pink, white, gold, orange and other. There are so many shades of blue, for example, navy, sky, aqua, dark, turquoise, cadet, royal, cobalt and so on. Each shade of blue can be dressed up or down, it can work effortlessly with any fabrics and print without looking dull or unappealing.
Blue is good to choose for a summer wedding when the weather is hot and blue gives you a feeling of freshness.
READ ALSO: African traditional wedding dress designs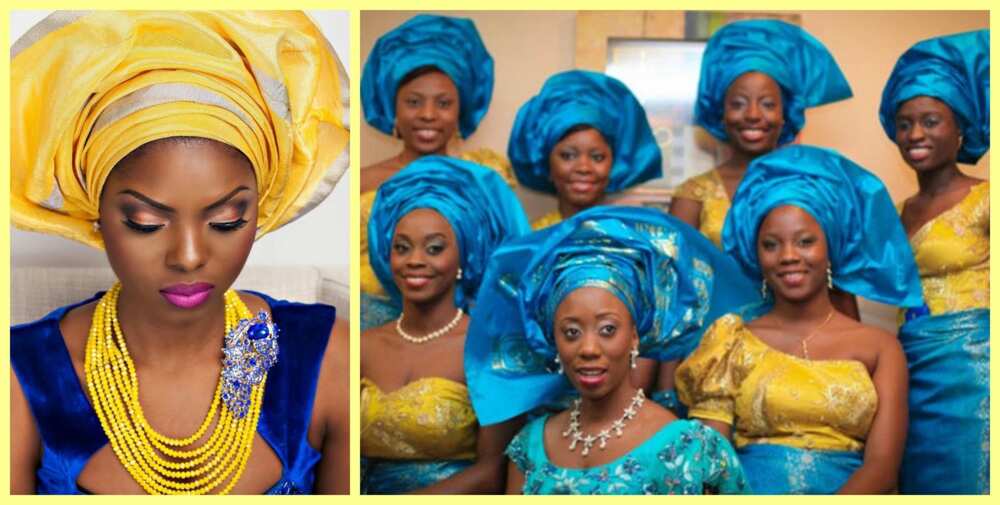 Champagne gold and black or white
No matter which latest wedding colours are at the top of the list during the particular year, champagne gold never goes out of style. The champagne gold colour can be combined with any kind of the shade, but this color looks especially good with dramatic shades like white or black.
We especially love the elegant champagne gold and black or white combination. This colour combination is a true classic. Champagne gold adds a classy touch to your decoration and makes it look more elegant.

Pink and silver
For many wedding gowns in Nigeria, braids choose pink pairing it with classic and warm shades. Pink is one of the main symbols of femininity. It gives a lot of inspiration to designers. Pink looks equally good alone as well as in pairings. It is often chosen for Nigerian wedding colour combinations. If you want to choose pink for your wedding dress, you may combine it with many shades.
Pink works especially well with white, ivory, beige and all pastel colours. They indeed make pink stand out without disrupting the balance. If you are into some bolder combinations, you might pair pink with silver and other metallics.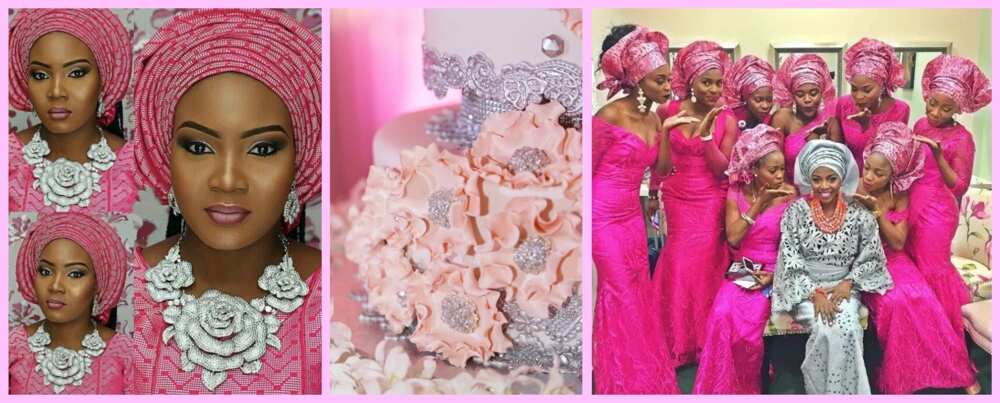 Green and gold
Are you trying to pick some unique colour combination for your wedding? Then, you might like a combo of green and gold. Many couples in Nigeria seem to be obsessed with this colour combination. When it comes to the colour scheme, you are not just choosing a colour for the bouquet or bridal wedding gown, you need to think about the whole picture. Every year, a green and gold combination is chosen for many weddings as it is both fresh and classy.
Green is one of the favourite colours of Nigerian fashionistas. It is associated with new life, freshness, health, beauty, and energy. You might ask why the green colour is good for combinations for traditional weddings? The thing is green is very forgiving, it can be easily paired with most colours.
When trying to pick the most suitable colour to combine with green, consider such shades as red, pink, gold, silver, white, yellow and other. Many couples choose gold and green combos as they make them look fresh and stylish.
READ ALSO: Bead designs for traditional wedding in Nigeria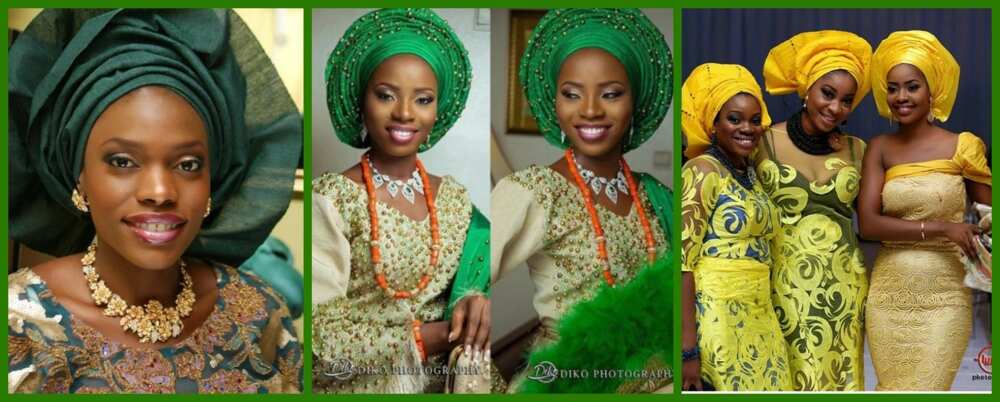 Orange and gold
Many stylish couples choose soft colours that promote elegance. If somebody thinks that orange cannot be elegant, he just needs to look at some orange color combination dresses of Nigerian brides. Combining fresh, inspiring, and bold colours with soft and elegant shades has become a trend promoted by many African fashion designers and desired by top celebrities.
Plenty of Nigerian traditional wedding outfits include orange as the major colour. Orange goes well with light tones like lilac, delicate peach, cream, light brown, soft pink, pale coral and sky blue.
White, gold and beige as the secondary shades combined with orange draw no less attention. This combination adds a burst of colour to your wedding decoration. Orange is a colour that symbolizes optimism and radiates warmth. Beige is a pale sandy colour with greyish tan and a light yellow undertone.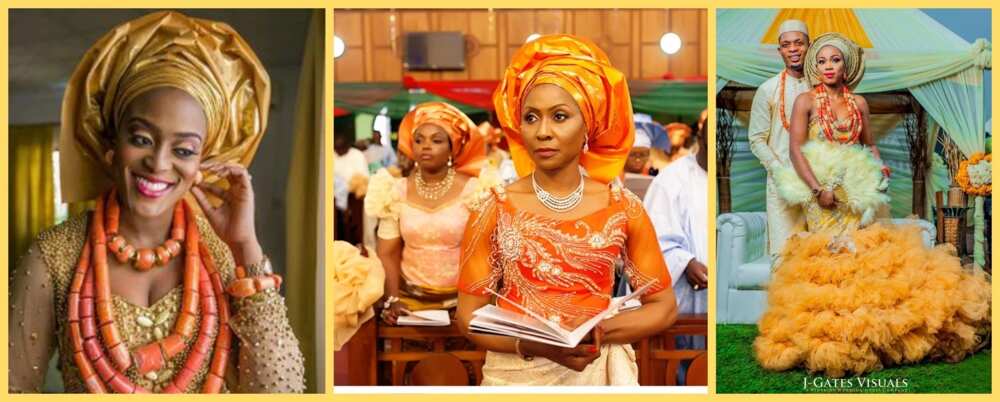 Wine and pink
What colour scheme will be incorporated into your wedding day depends only on the bride and groom. Many couples choose for their wedding attire quite unusual wedding colour combinations like wine combined with pink. It is one of the most popular Nigerian wedding colour combinations. Couples choose these colours to 'play' a little and express their personalities.
Wine is not only an essential part of Nigerian traditional wedding colour combination, but it is also a deeply symbolic colour. It is associated with an energy that enriches newlyweds' lives. Wine is also a trendy shade in Nigerian fashion. Many designers use it to create elegant and sophisticated pieces. Wine is a very striking colour, especially when paired with white or black which are regarded as the most classic colours. Interesting that in this combination neither wine nor white or black loose their distinctive role and don't overshadow each other.
READ ALSO: Wedding hairstyles in Nigeria: best styles for brides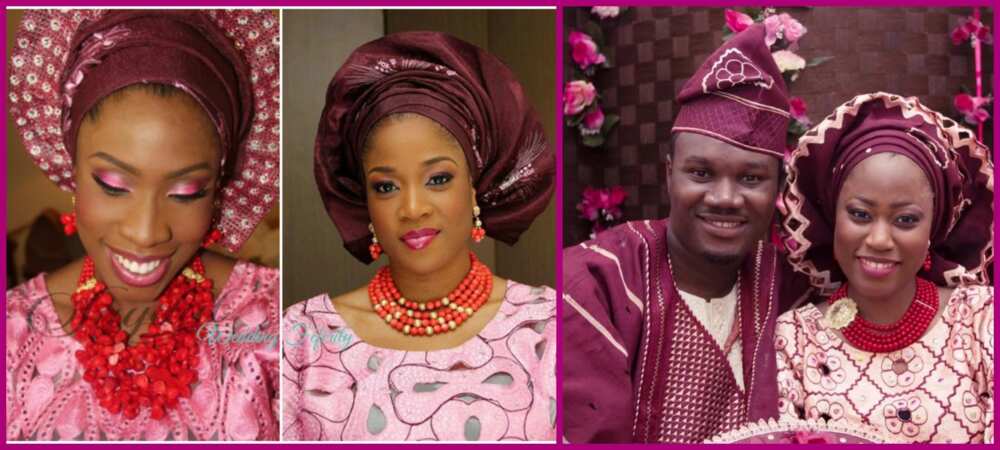 Turquoise and red
The bright turquoise colour combination made some waves in Nigerian wedding fashion during the last few years. This cool, and, subsequently, a hugely popular colour looks like the water of the sea penetrated by the sun's rays.
As one of the Nigerian traditional wedding colours, turquoise seems to be one of the best choices for both indoor and outdoor weddings. Turquoise goes well when paired with silver, white, gold, peach, yellow, red and other. The last combination is one of the most popular in Nigeria.

Violet and yellow
Violet has probably become the colour number one in 2018. This shade is deeper and darker than purple, lavender, cooler than plum but brighter than eggplant. Every bride would look stunning in a violet dress. Now, imagine that violet is paired with yellow, white, orange, gold or silver.
You might also consider purple, lighter and more neutral color which suits both men and women as it is formed of two colors: blue and red that symbolize masculinity and femininity. Warm purple tone can be paired with soft shades like cream, champagne, beige, and white.

Planning a wedding in Nigeria can be challenging, especially, when it comes to colour schemes. There exist a vast variety of beautiful color combinations for wedding, including attire for the bride, groom and bridesmaids.
In case, you were struggling with this task, you can use our tips to choose the combination that would suit you best.
READ ALSO: Delta traditional wedding attire
Source: Legit.ng